Canada's world-famous Icefields Parkway (Highway 93 from Lake Louise to Jasper) is a scenic highway through the Canadian Rockies connecting Banff National Park to Jasper National Park in Alberta. This 232 kilometre (144 miles) stretch of highway is one of the best scenic drives in Canada or anywhere in the world for that matter.
The Icefields Parkway drive is a stunning Canadian road trip with beautiful scenery along the way including mountains, waterfalls and glacial lakes. If you have a bucket list of Canadian experiences then driving the Icefields Parkway should definitely be on it!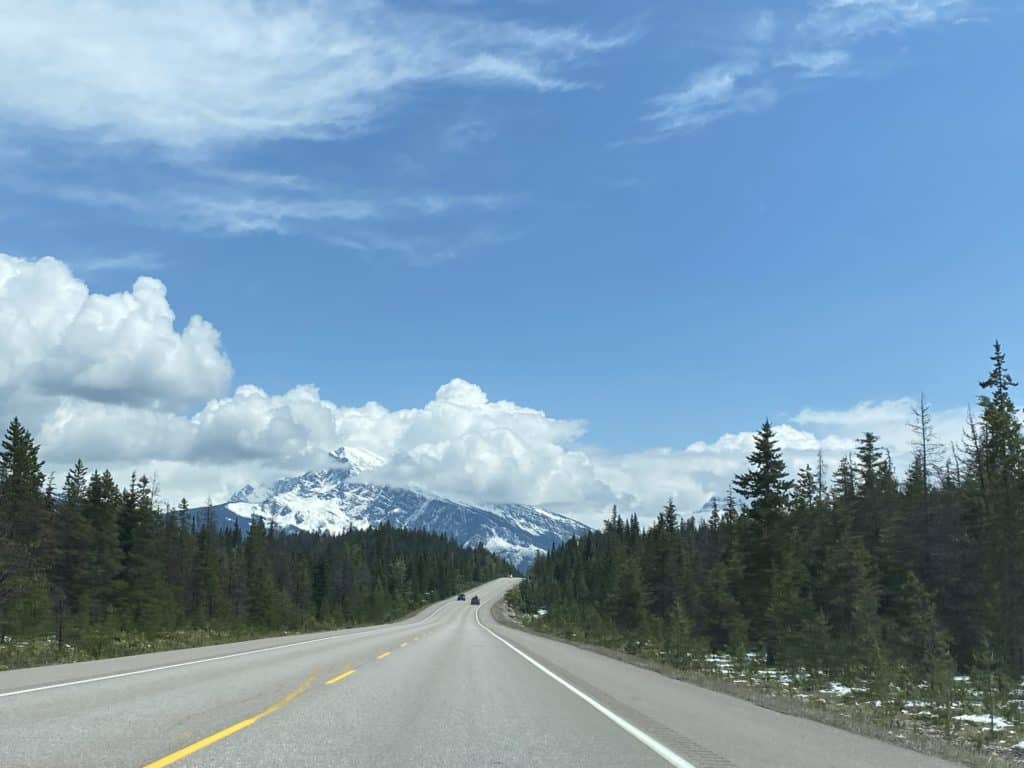 Our trip was in the latter half of June so we were quite surprised when we had to adjust our plans due to weather! We had planned to drive from Lake Louise to Jasper in one day and spend the night at Jasper Park Lodge, however, a snowstorm warning was in effect and travel was not recommended. We opted to cancel our night in Jasper and spend an additional night in Lake Louise instead.
It was a hard decision to make as we had been looking forward to staying at Jasper Park Lodge but it was the right thing to do. We took a short drive as far as Bow Lake anyway and visibility was so poor that even if we had attempted to drive to Jasper, it wouldn't have been a scenic drive. There were reports of accidents and road closures as well with many tourists stranded at the Jasper end.
We learned a valuable lesson though – always plan for bad weather if you're travelling in the mountains no matter the time of the year. It had never occurred to us that snow was a possibility mid to late June and we had only running shoes and windbreakers with us – my daughter had packed a hat but I needed to buy one!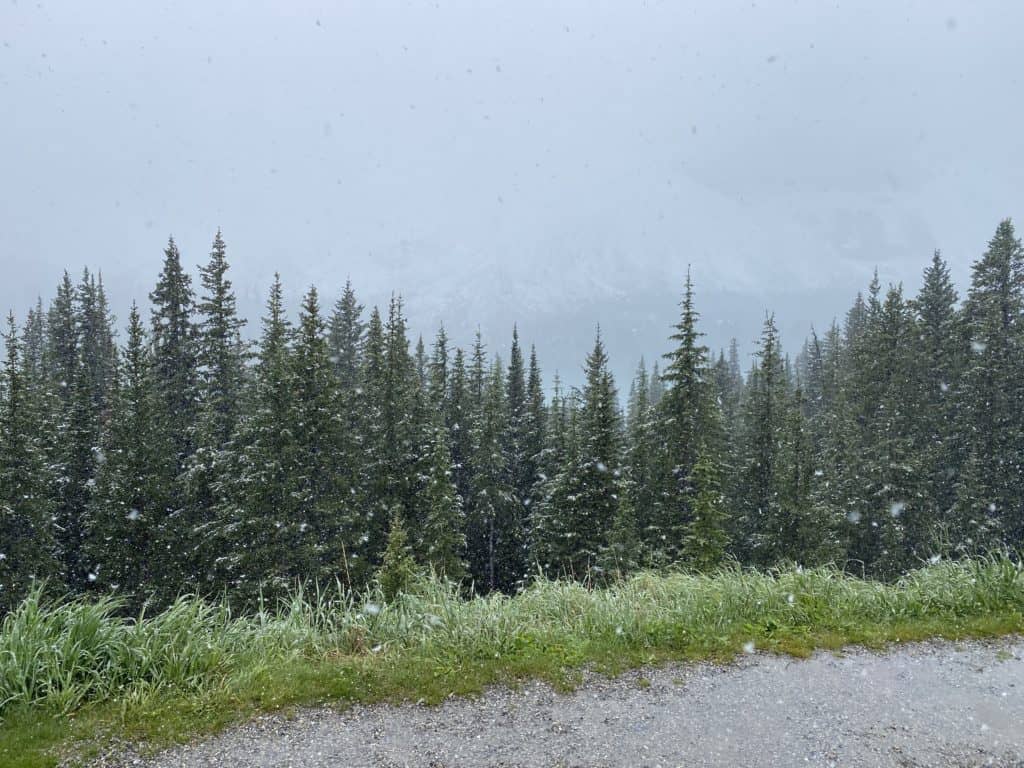 How Long Does It Take to Drive the Icefields Parkway
If you drove the Icefields Parkway from Lake Louise to Jasper (232 km) without any stops it would take approximately three hours but don't do that – there are many stops that you will want to include in your itinerary. We drove the Parkway in both directions over two full days – northbound from Lake Louise and then southbound from Jasper the following day.
Our original plan had been to drive from Lake Louise to Jasper in one day and spend the night at Jasper Park Lodge, drive back to Columbia Icefields the following day to stay at Glacier View Lodge and then back to Calgary the next day but the unexpected June snowstorm meant a change of plans.
The change of plans meant that we drove the northbound Icefields Parkway in two stages – Lake Louise to Columbia Icefields on the first day and then Columbia Icefields to Jasper the following day. After a brief visit to Jasper we turned around and headed south on the parkway back to Lake Louise with only a couple of stops for views and then on to the Calgary Airport Marriott where we were staying before our flight home the next morning.
This post may contain affiliate links. If you click an affiliate link and make a purchase then we receive a small commission at no additional cost to you.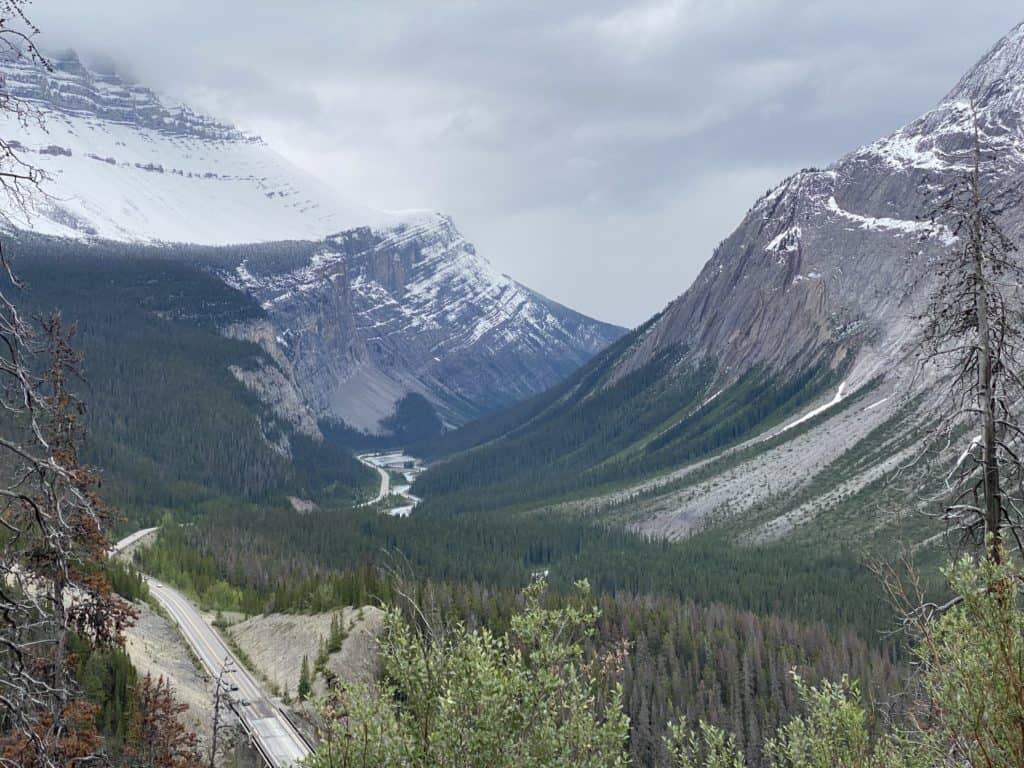 Icefields Parkway Weather and Road Conditions
As we learned, it's important to check the weather and road conditions before driving the Icefields Parkway – even in June! We checked 511 Alberta frequently (both the website and their twitter account) for updates on road conditions.
It's important to be aware that there is essentially no cell service while travelling on the Icefields Parkway. After leaving Lake Louise, we had a cell signal only when we stopped at Saskatchewan River Crossing, at Columbia Icefields and then not again until we neared the town of Jasper.
Saskatchewan River Crossing also has the only gas station along the Icefields Parkway (and it's only open seasonally early April until late October) so it's a good idea to have a full tank of gas before heading out.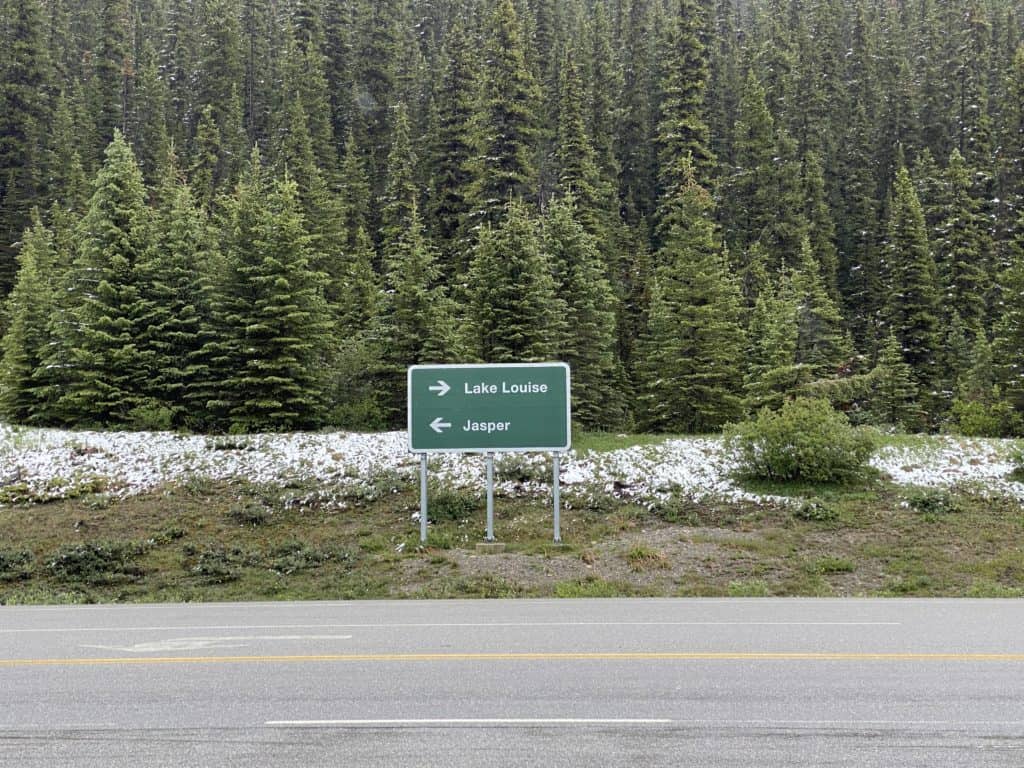 Parks Canada Pass
It's necessary to have a valid Parks Canada Pass in order to drive the Icefields Parkway route. There are two options available – Day Pass or annual Discovery Pass. All passes (day passes, temporary discovery passes and free passes) must be printed and displayed on the dash of your vehicle while traveling in the national park.
Passes can be purchased online at Banff/Lake Louise Tourism, at the park gates if driving to Banff National Park, and in person at the Visitor Centre in Banff or Lake Louise.
Discovery Passes can also be purchased online from Parks Canada and in person at designated retailers across Canada. Discovery Passes purchased online are mailed to you but Parks Canada will accept a confirmation email as proof of purchase (for one month from date of purchase) if you don't receive the physical pass prior to your date of travel.
Day Pass:
A Day Pass provides entry to national parks for the length of your stay and expires at 4 pm the day of departure. A day pass does not include entry to national historic sites. Adult, Senior and Family/Group options are available. Daily fee is $10.50 CAD for an adult, $21.00 CAD (in 2023) for a Family/Group (up to 7 people in a vehicle).
Discovery Pass:
A Discovery Pass includes entry to over 80 Parks Canada destinations and is valid for 12 months from date of purchase. Adult, Senior and Family/Group options are available. The price for a Discovery Pass (taxes included) for a Family/Group (up to 7 people in a vehicle) is $145.25 CAD (in 2023) and for one adult is $72.25 CAD.
We opted for a Discovery Pass as it was the best value for us – 3 adults visiting the parks for 6 and possibly 7 days. We also used it for admission to the Cave and Basin National Historic Site and we can use it until the end of June 2024 for visiting any national parks or national historic sites in Canada. We purchased our Discovery Pass at Mountain Equipment Company before we left home so that we could avoid any potential wait in line when arriving at Banff National Park.
Icefields Parkway Organized Tours
The best way to see the Icefields Parkway is driving yourself so that you can control where you stop and how long you spend, however, if you don't want to rent a car then you can still see the highlights of the parkway by booking an organized tour.
Options include:
Best Stops Along the Icefields Parkway
I read countless articles while researching our trip and we stopped at what are widely considered the best stops along the Icefields Parkway. We also stopped numerous times along the parkway just for the views – I couldn't tell you exactly where but there are many pull-over spots en route where you can safely enjoy the spectacular scenery.
I'm a fair weather hiker with a bad knee so we hadn't been planning on doing any serious hiking but even if we had those plans would have been derailed as we weren't adequately prepared for the winter-like weather conditions. If you're planning to spend more time hiking on your Icefields Parkway road trip then check out 9 Stunning Icefields Parkway Hikes by my friend Leigh McAdam of Hike, Bike, Travel.
Herbert Lake Viewpoint
Approximate distance from Lake Louise – 7 km; from Jasper – 225 km
Herbert Lake is a small glacial lake on the Icefields Parkway only a short distance from Lake Louise. This can be a quick stop – less than 10 minutes unless you plan to do some hiking (there's a short 1.6 km loop trail around the lake that is rated as an easy hike and family-friendly).
We stopped here while on a short drive on the unplanned second day in Lake Louise and didn't stop again the following day. It was cold with a bit of snow in the air and you can view the lake a very short walk from the car park so we just had a quick look before getting back in the car.
Herbert Lake is one of the few glacial lakes that warms up enough for swimming – wasn't an option for us but keep it in mind if you're visiting when the weather is pleasant!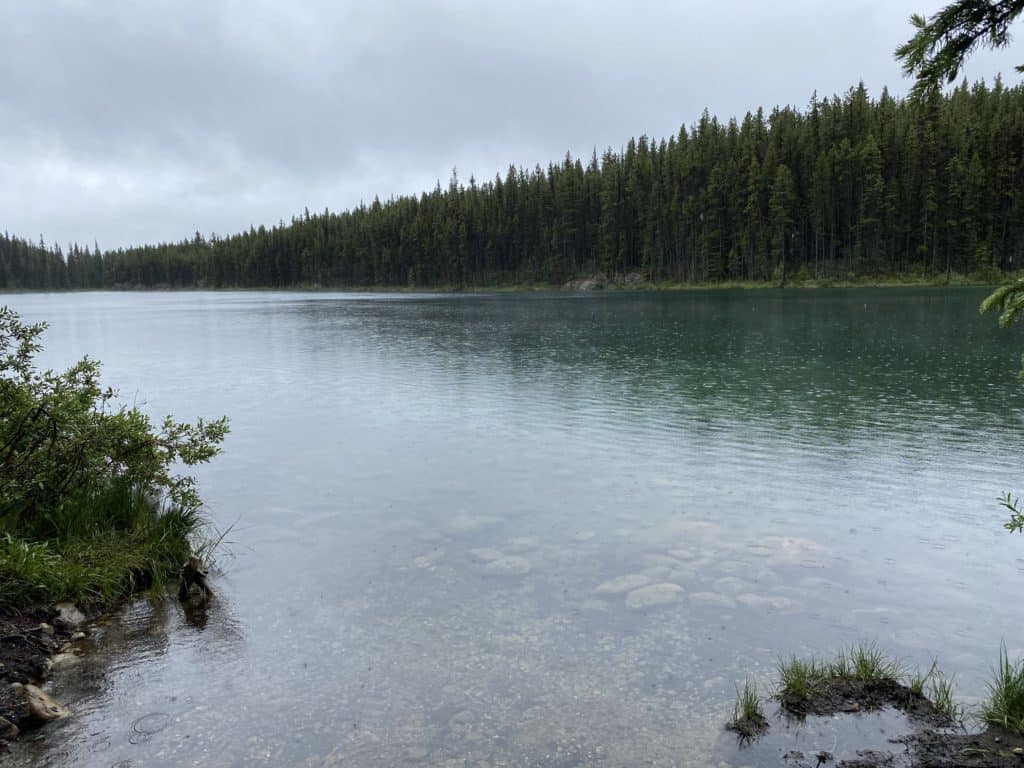 Crowfoot Glacier
Approximate distance from Lake Louise – 34 km; from Jasper – 198 km
Our second stop on the Icefields Parkway was Crowfoot Glacier. We had stopped here on our drive in the snow the day before as well and couldn't see a thing which reassured us that we were making the right decision not trying to drive to Jasper that day. Visibility was still reduced the next day with a fair bit of fog but much improved!
The spectacular Crowfoot Glacier, on Crowfoot Mountain overlooking Bow Lake, can be easily viewed from a roadside lookout point on the Icefields Parkway. Runoff from the massive glacier supplies water to the Bow River which runs from Banff National Park to Calgary.
The Crowfoot Glacier was named for its resemblance to a three-toed crow's foot but as the glacier recedes due to global warming that's becoming harder to see – one toe is gone and a second is slowly disappearing.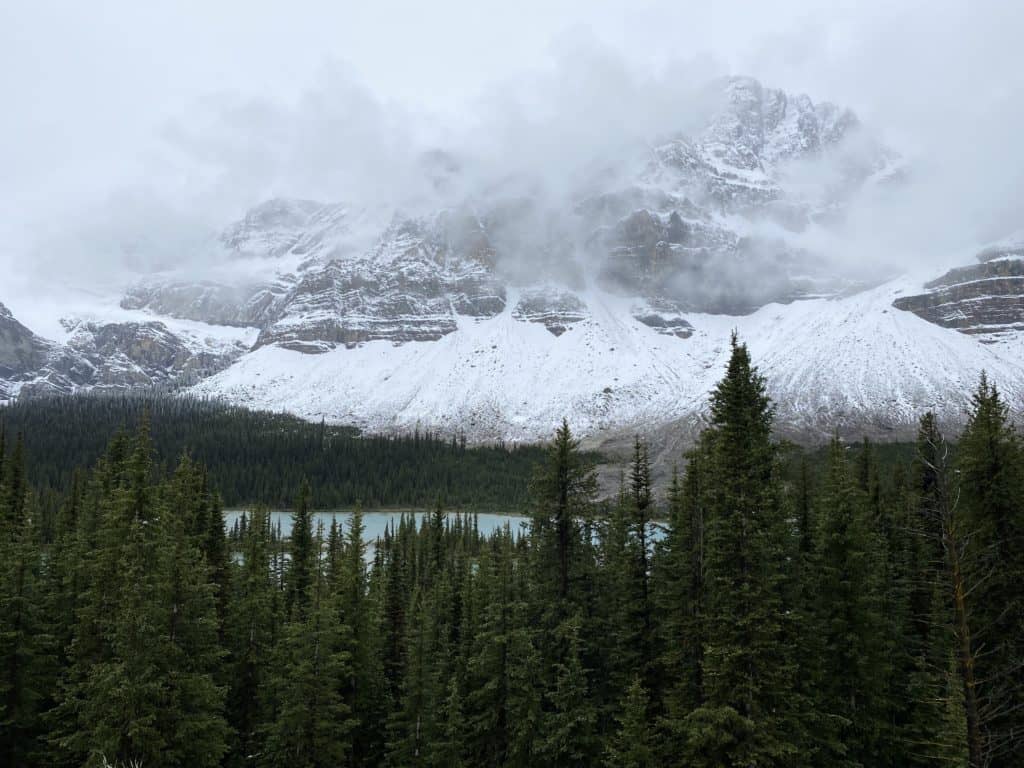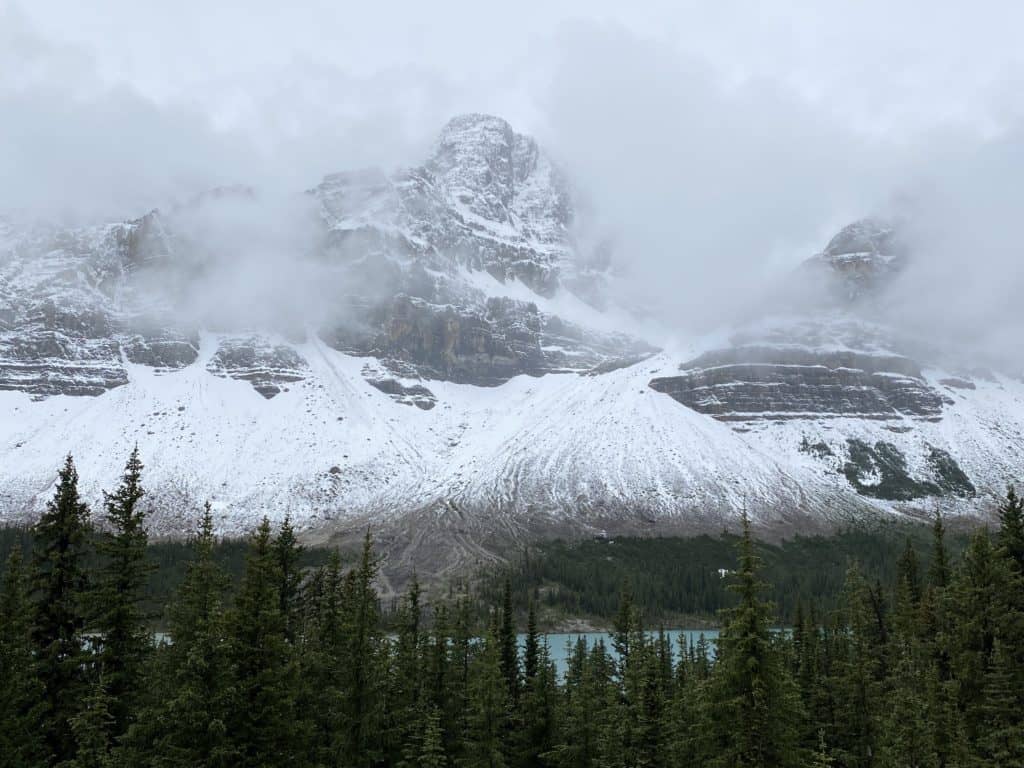 Bow Lake
Approximate distance from Lake Louise – 38 km; from Jasper – 194 km
Up next is Bow Lake which is at the base of the Bow Summit and just a short distance from the Crowfoot Glacier road stop. Bow Lake, one of the largest lakes in Banff National Park, is fed by meltwater from the Bow Glacier which gives it the distinctive hue.
We stopped at the roadside stop to view the lake first and then drove down to the Bow Lake parking lot by Num-Ti-Jah Lodge to have a walk around by the lake. There was some snow on the ground here and it was all quite stunning albeit a little chilly!
Even on a foggy, overcast morning the reflection of the mountain on the turquoise-hued waters of the lake was incredible.
This is a popular spot for hiking but we were content to spend about 30 minutes walking around and taking photos before getting back in the car to warm up again. There's an easy, family-friendly hiking path along the shoreline of the lake which would take about 30-60 minutes to walk as well as a more difficult hike to Bow Glacier Falls.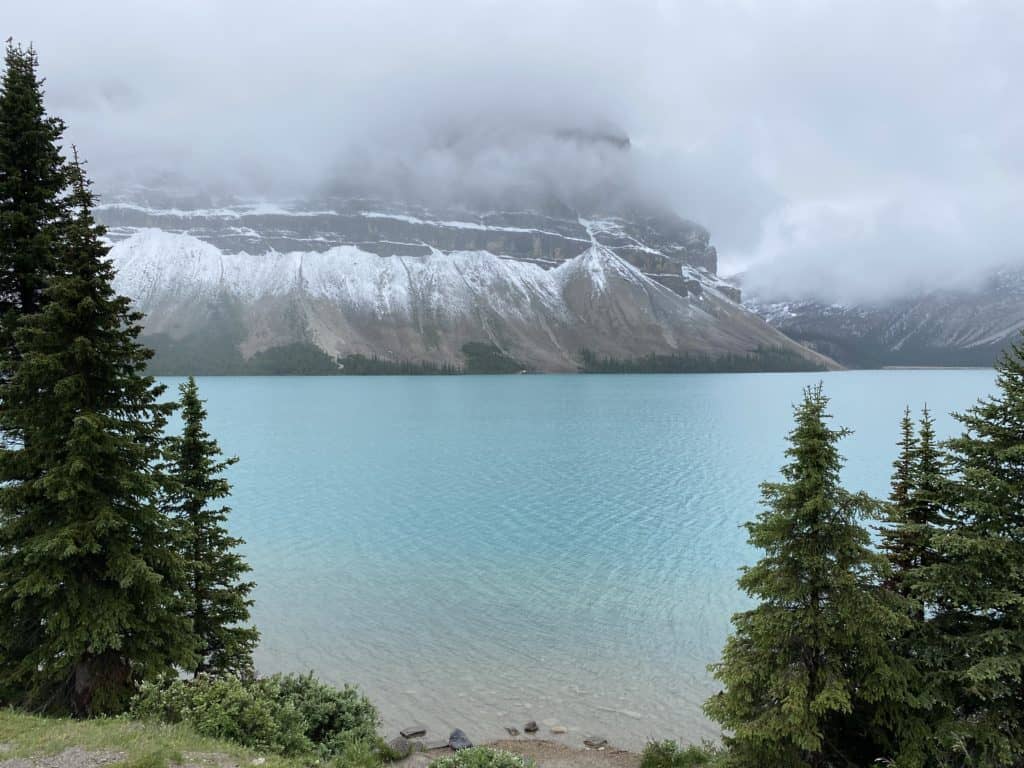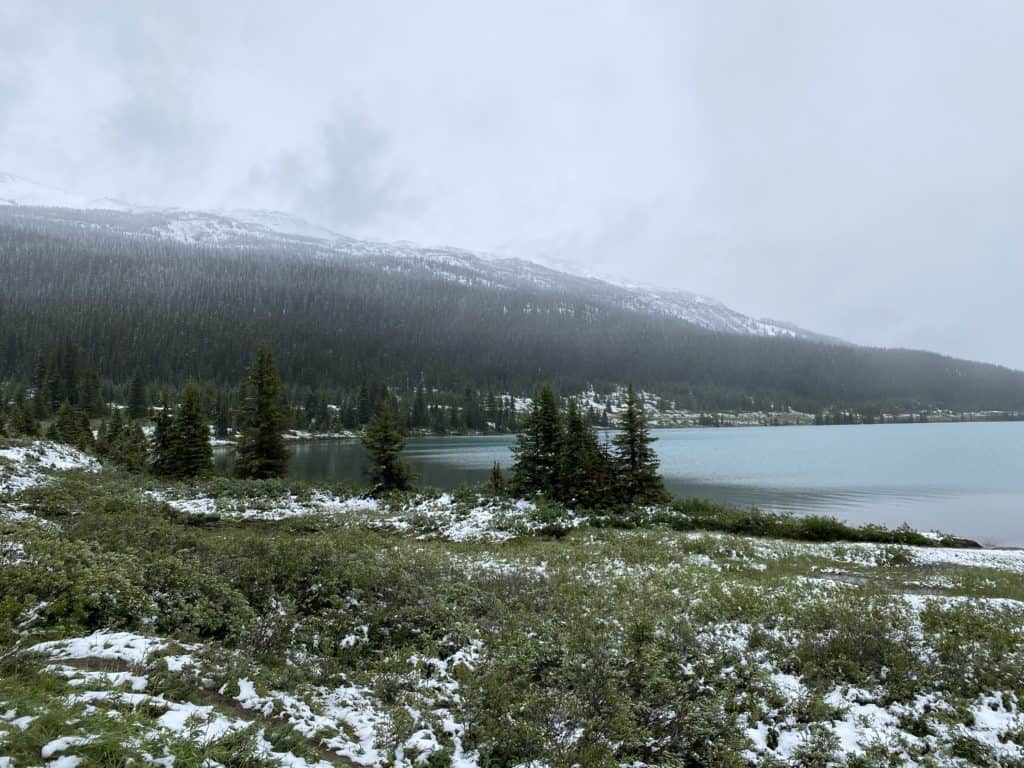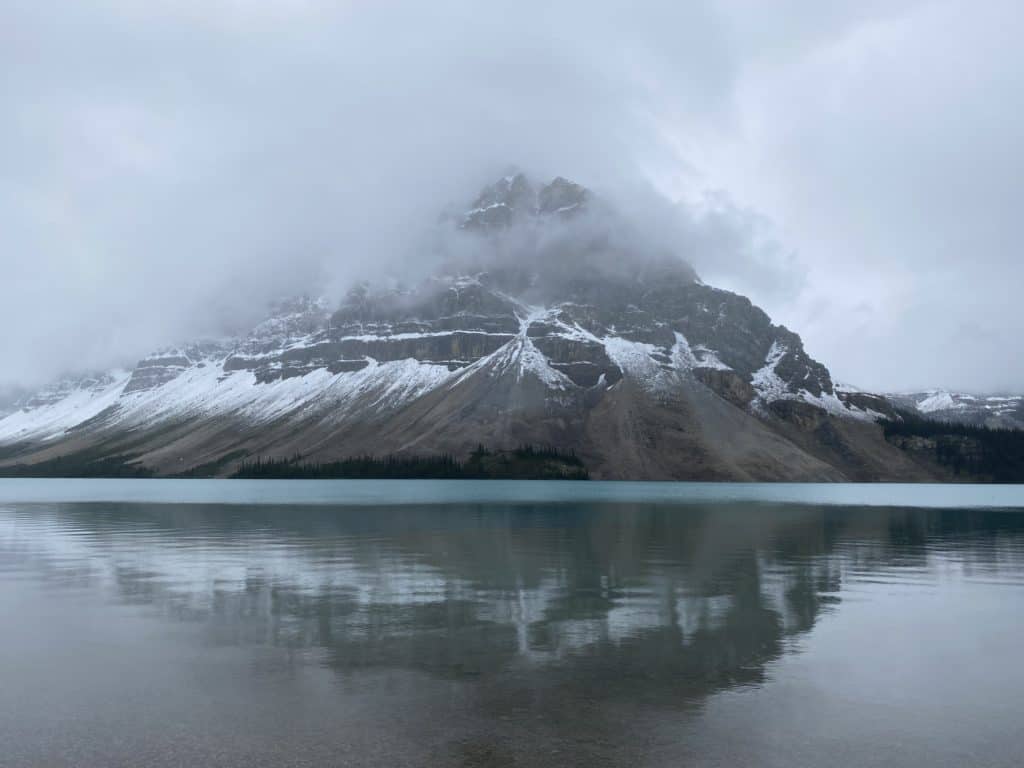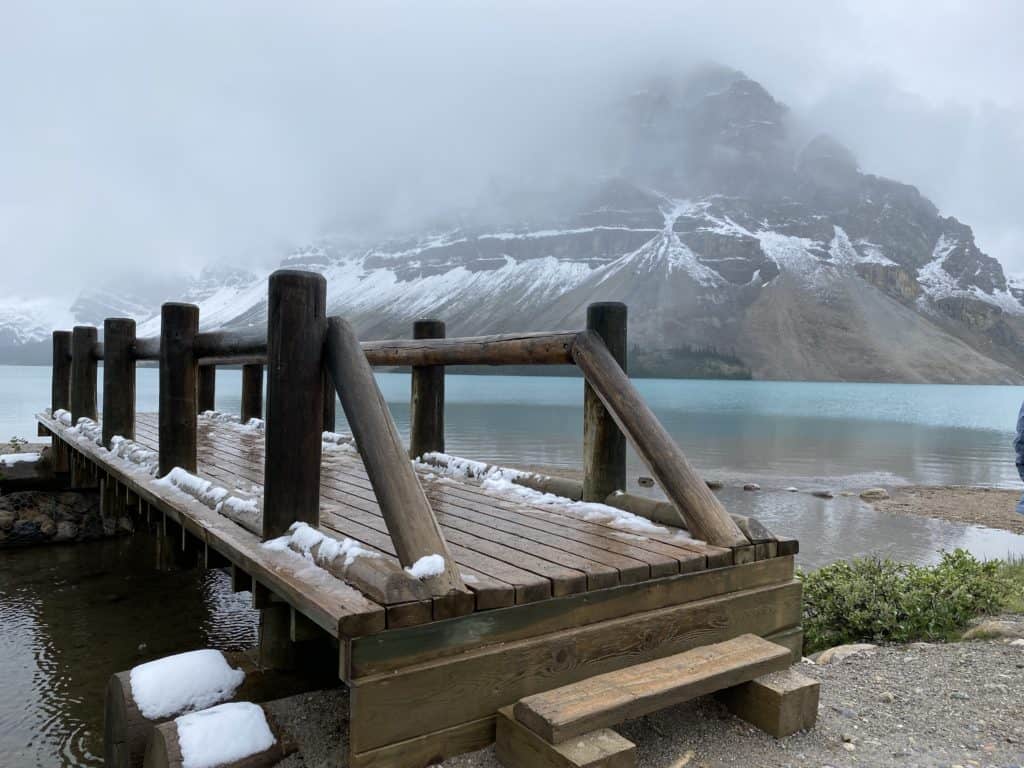 Peyto Lake
Approximate distance from Lake Louise – 45 km; from Jasper – 187 km
The next must stop along the Icefields Parkway is Peyto Lake which is among the most photographed lakes in the Canadian Rockies. This glacier-fed lake has a distinctive shape reminiscent of a wolf's head and is a breathtaking turquoise colour due to the summer run-off from glacier rock. This is a very popular spot so the large viewing platform can be crowded at times – even when it's snowing in June!
Peyto Lake was the most memorable stop of the day because of the amount of snow that had fallen (and was still falling)! We pulled into the parking lot off of Highway 93 and couldn't believe how much snow there was but decided to hike to the viewing platform anyway. We weren't the only unprepared ones hiking through the snow in running shoes and it was actually quite the fun atmosphere as everyone was excited about the snow!
The Peyto Lake Viewpoint (Bow Summit) is at approximately 2088 metres (6,800 feet) above sea level which is the highest elevation on the Icefields Parkway Drive from Lake Louise to Jasper – hence the most snow that we saw on our drive.
The walk from the main parking lot to the Peyto Lake Viewpoint is about 500 metres and generally takes approximately 10 minutes along a paved path. It's uphill though and when covered with close to a foot of snow and well-walked over the course of the morning it becomes a bit slippery – unless you had the foresight to wear hiking boots! It took us closer to 20 minutes to get to the top and we laughed a lot as we slipped and slid our way there!
The views at the top are epic – and worth the climb! I was worried about trying to go back down the slippery path without falling but we discovered when we reached the top that there is a second upper parking lot for buses and disabled visitors. We walked to that parking lot instead which was very close to the viewing platform and then walked down the bare roadway to the Lower Parking Lot which only took a few minutes.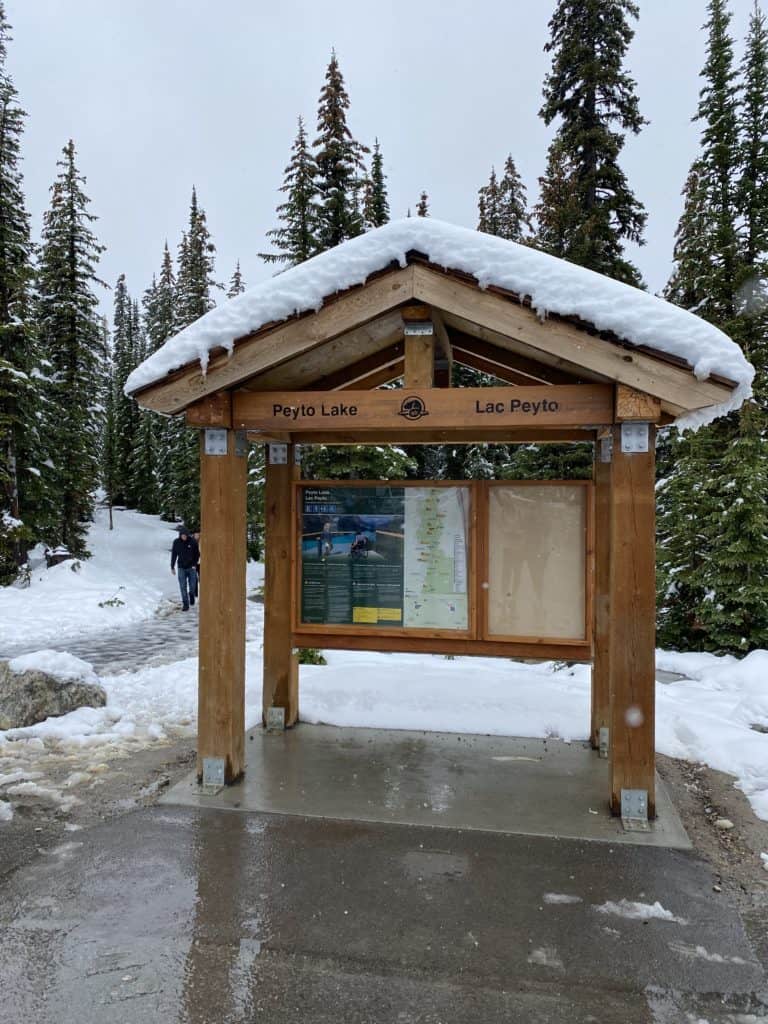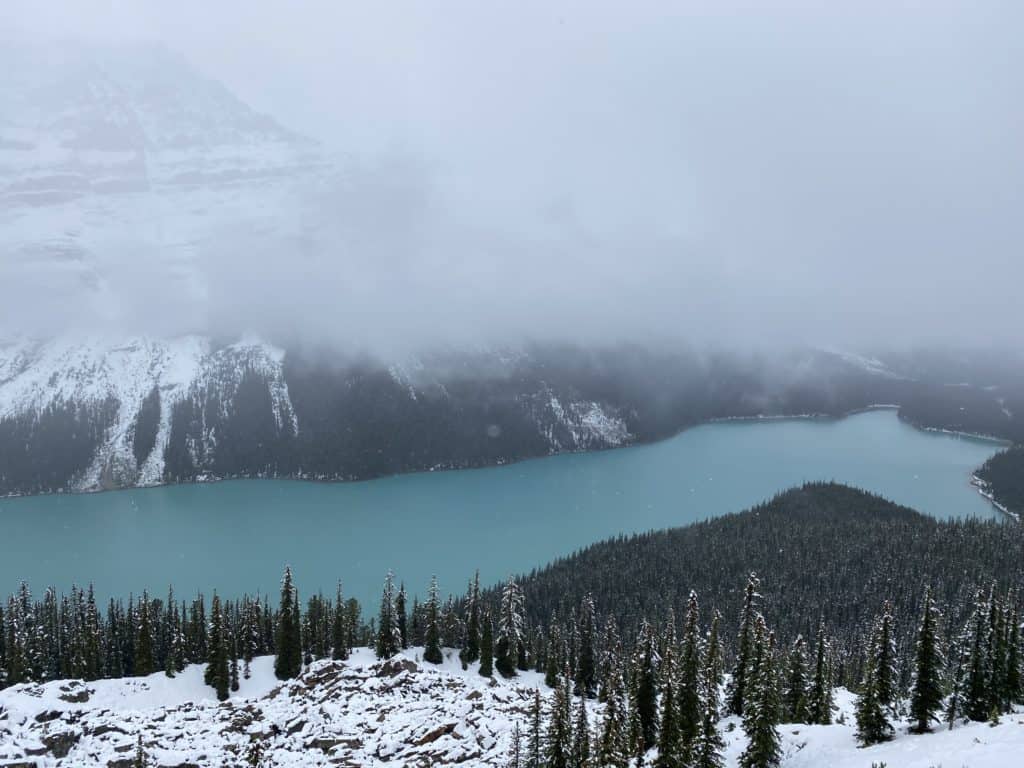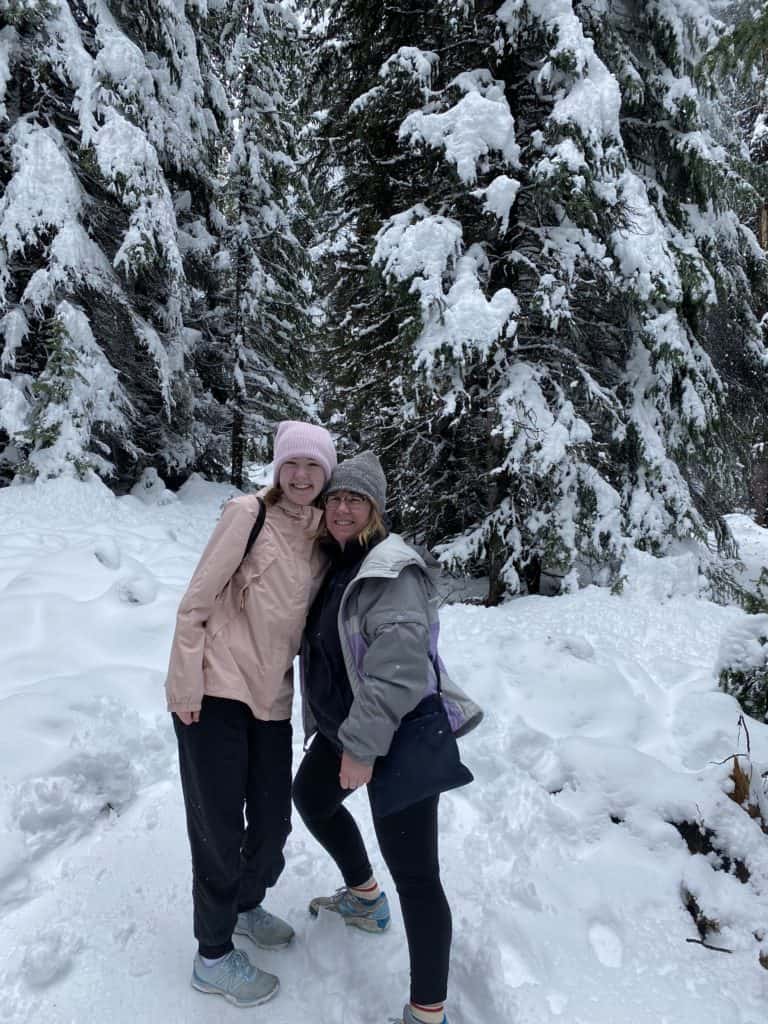 Saskatchewan River Crossing
Approximate distance from Lake Louise – 80 km; from Jasper – 152 km
Saskatchewan River Crossing is located where three rivers meet – the North Saskatchewan, the Howse and the Mistaya. There are public bathrooms, a gas station, a café and a convenience store/souvenir shop here which you won't find again until Jasper – so a practical stop rather than a scenic one.
We stopped here to use the bathrooms and stock up on snacks and were able to get a cellphone signal which confirmed that the road conditions were okay before heading farther north on the Parkway.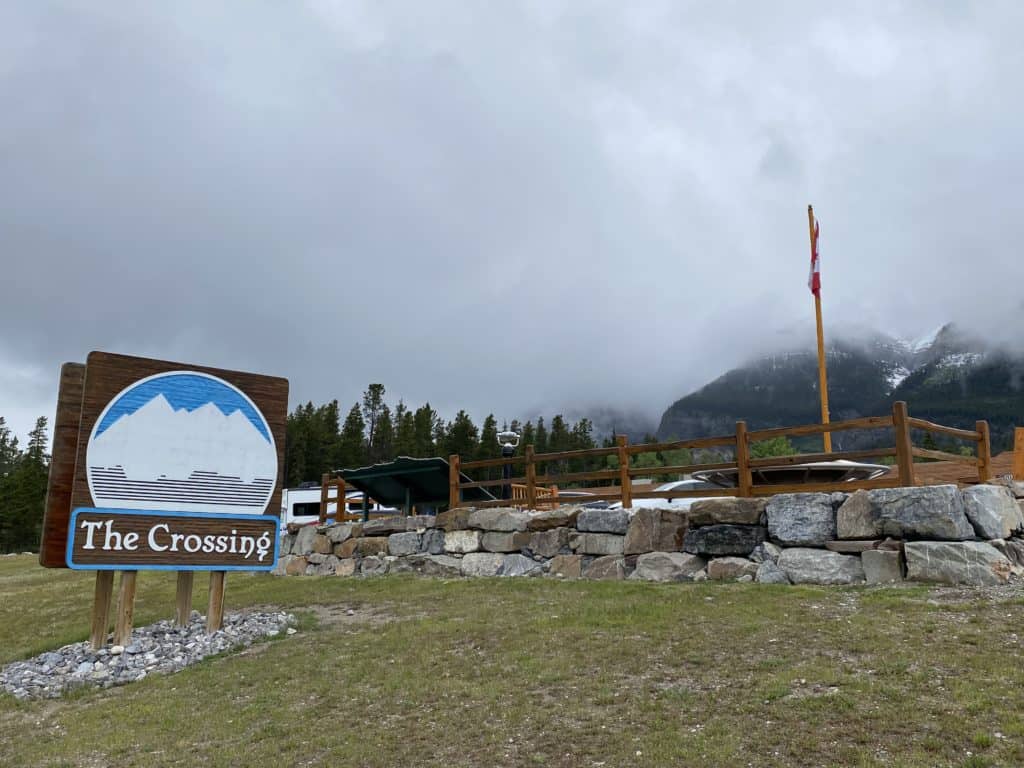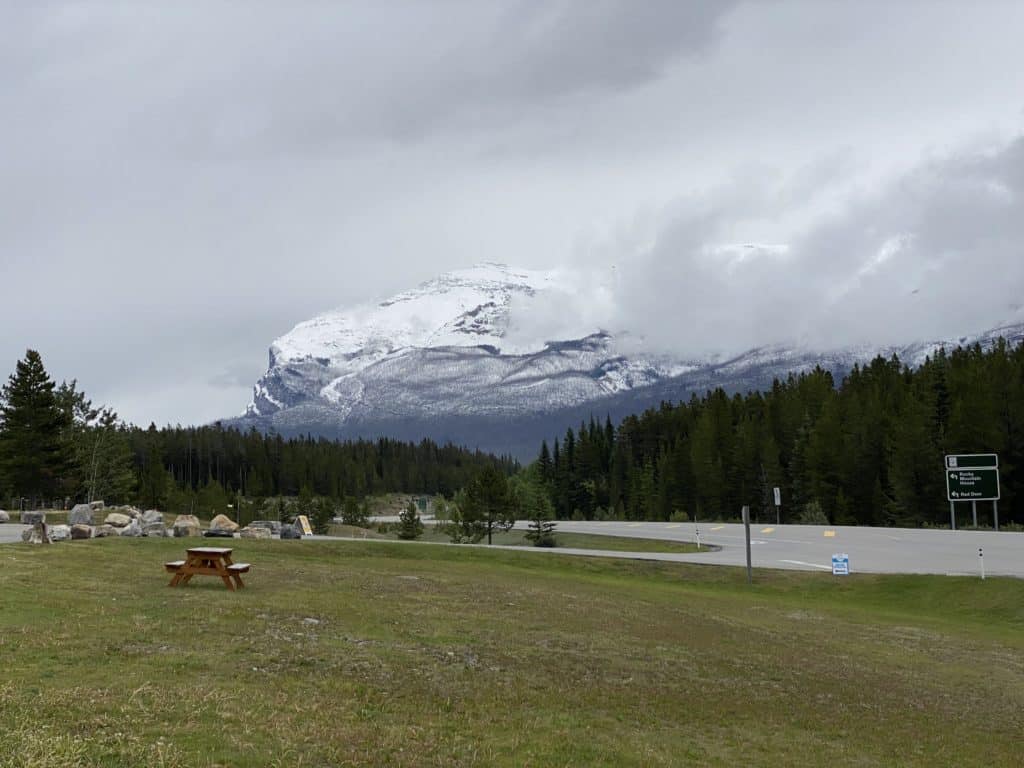 Columbia Icefields
Approximate distance from Lake Louise – 130 km ; from Jasper – 102 km
Our next stop was the Columbia Icefields – the 10,000 year old field of ice that straddles Banff and Jasper National Park. This was as far as we travelled on our first day of the Icefields Parkway drive as we had a reservation at Glacier View Lodge for the night. I'm so glad that we decided to stay at the lodge because enjoying the views of the glacier from our hotel room was an incredible experience. Definitely a bucket list Canadian hotel!!
Read An Unforgettable Stay at Glacier View Lodge on the Icefields Parkway
You don't have to be a guest at the lodge to enjoy the Columbia Icefields though – there's a lot going on here and the Columbia Icefield Glacier Discovery Centre is the hub where everything is happening! This is where you will check in to pick up tickets for the glacier tours and the Columbia Icefield Skywalk. It's a good idea to book ahead of time if you want to go on a glacier tour as they often are sold out. If you haven't pre-booked then you can check here for availability.
There are two restaurants at the Centre – one sit-down and one cafeteria style as well as a Starbucks, a gift shop and a Parks Canada exhibit about glaciers on the lower level. There's a large parking lot here where you will park and take a shuttle bus to both the glacier tour and the skywalk. There are also walking trails if you would like to do some hiking on your own.
Athabasca Glacier Tours
An Ice Explorer all-terrain vehicle transports visitors to the Athabasca Glacier where they can walk on the 10,000 year-old glacier. It takes about 30 minutes to drive to the glacier during which time your driver/guide will provide information about the glacier and the experience. There's also a good chance that you will see mountain sheep along the route! You will have about 20 minutes on the glacier (in designated areas) before loading back onto the Ice Explorer for the return trip.
On the return trip from the glacier, guests are dropped off at the Skywalk and can spend as much or as little time as they like before catching a bus back to the Discovery Centre. The Columbia Icefield Skywalk experience is included with the Athabasca Glacier tour. Tours depart every 15-30 minutes.
Columbia Icefield Skywalk
The Columbia Icefield Skywalk is a glass platform 1 km in length suspended from the cliffs 280 metres (918 feet) above the Sunwapta Valley and is a popular stop along the Icefields Parkway.
Is the Glacier Skywalk worth it? The Columbia Icefield Skywalk is a very cool experience but honestly I doubt we would have bothered if it hadn't been included with our glacier tour. As a separate activity it's priced around $40 per adult which is quite a bit for the same views that you get from the highway – especially for someone like me who is afraid of heights and had enough within a few minutes! Since it was included with our tour, we didn't feel compelled to spend long at the attraction – we enjoyed the breathtaking views, took some photos and then hit the road again.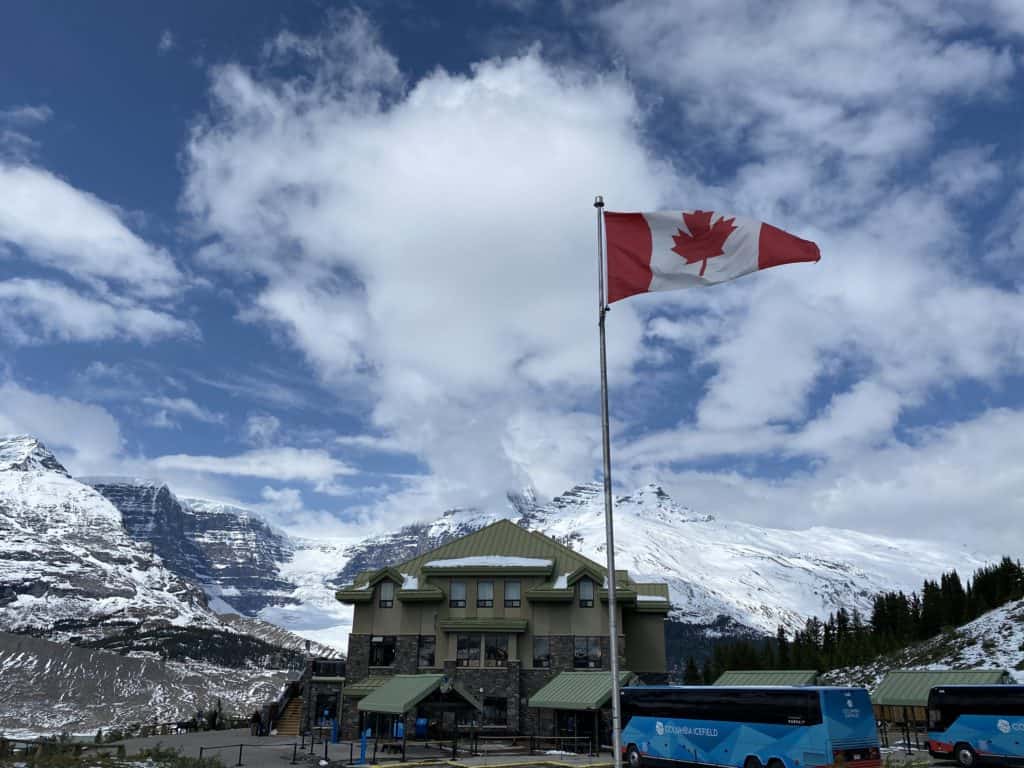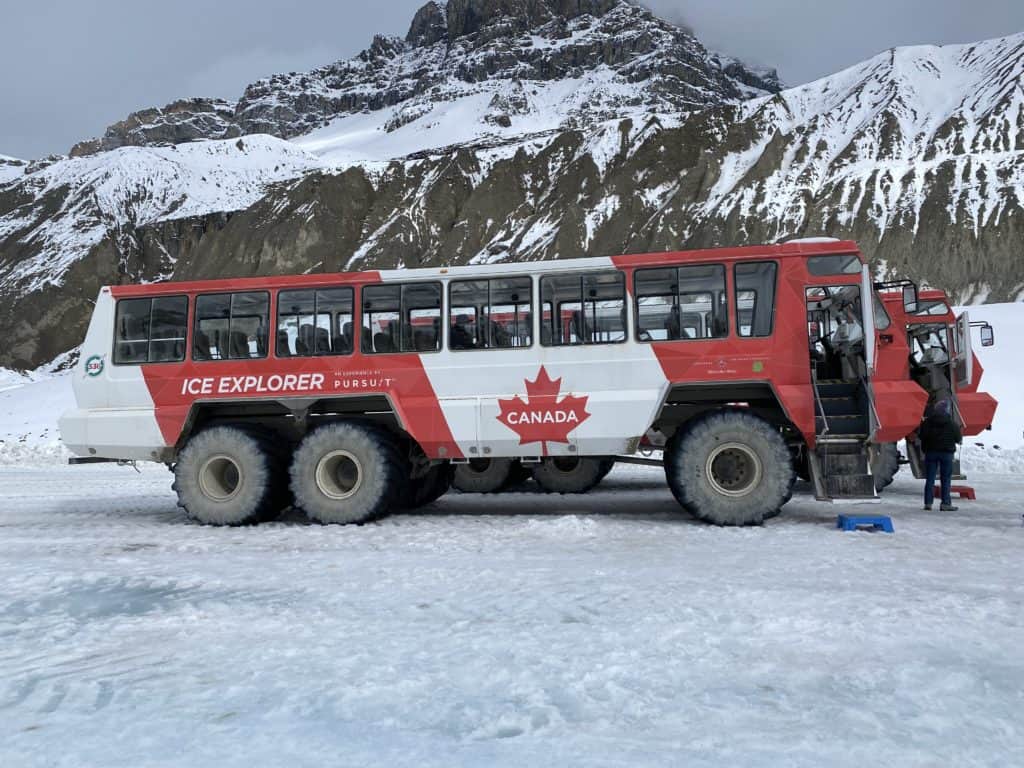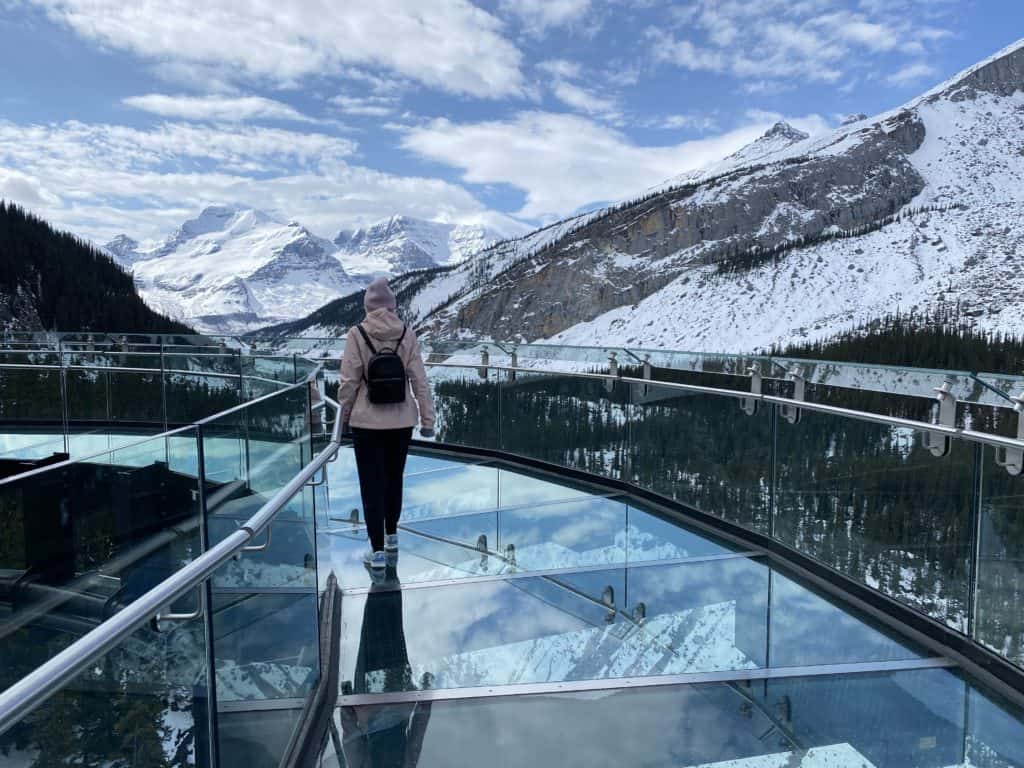 Sunwapta Falls
Approximate distance from Lake Louise – 179 km; from Jasper – 53 km
The next morning we started our drive to Jasper and our first stop was Sunwapta Falls which is actually a pair of waterfalls on the Sunwapta River fed by the Athabasca Glacier. The falls have a drop of about 18 metres (59 feet).
This is a beautiful waterfall and easy to visit as it's only a short walk from the parking lot to the upper falls. It's a bit of a hike (1.2 km) to get down to the lower falls so most people only visit the upper falls.
It was raining and cold when we stopped here so we only stayed long enough to see the upper falls and then headed back to the car.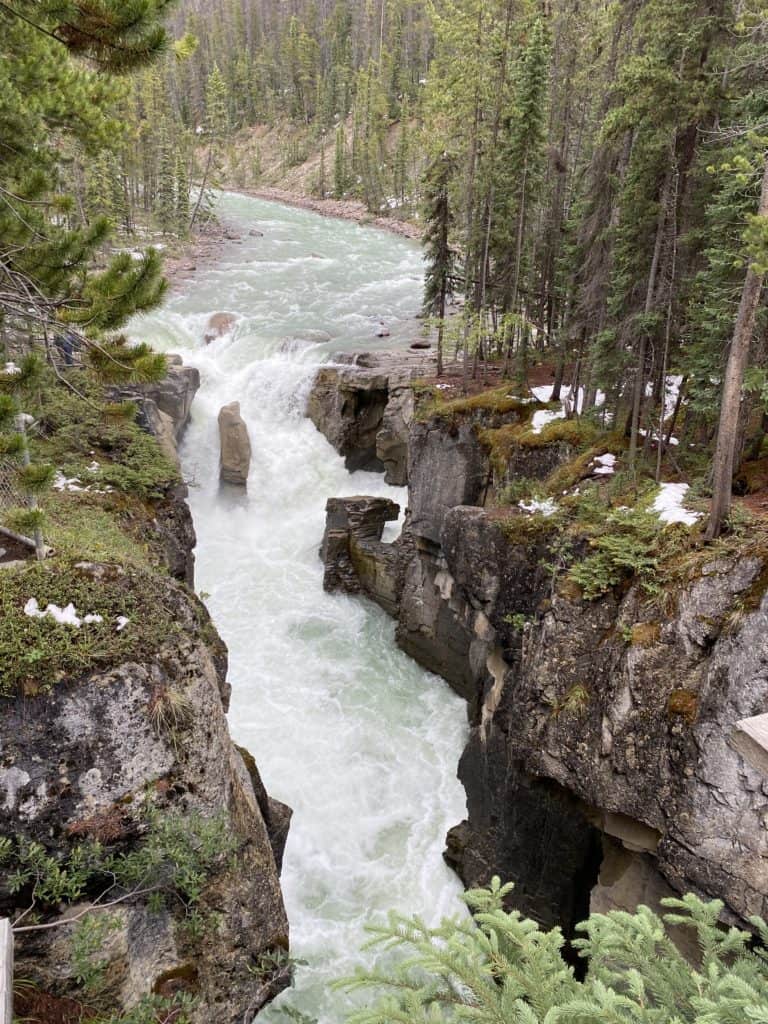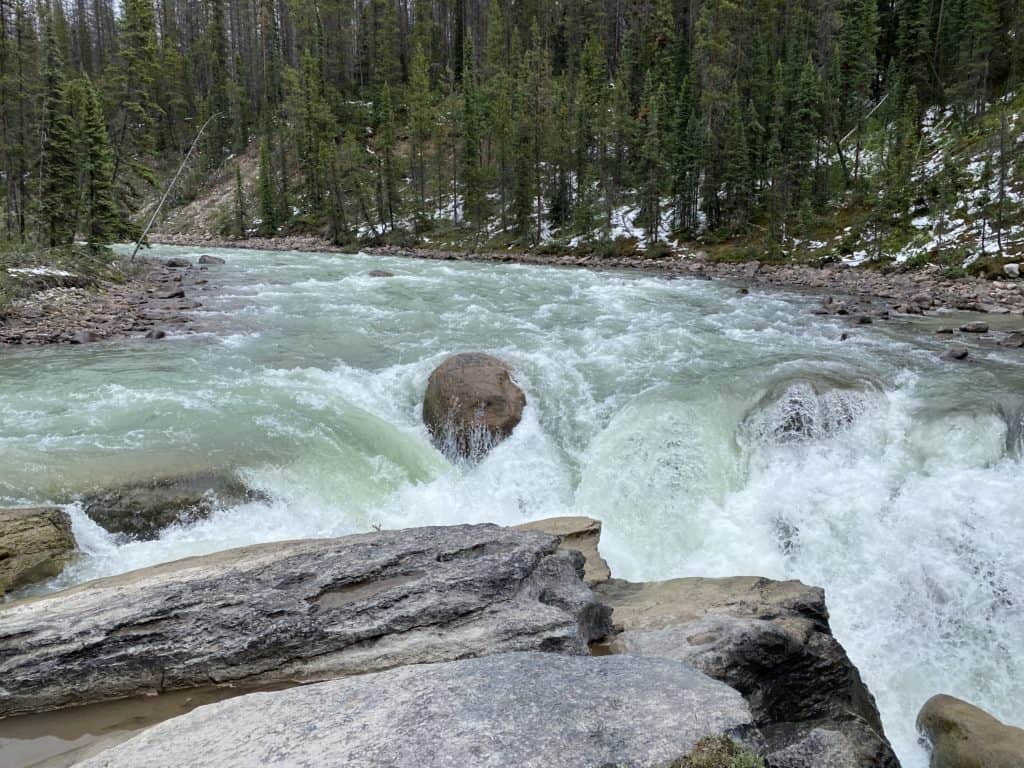 Goats and Glaciers
Approximate distance from Lake Louise – 195 km; from Jasper – 37 km
This is the next stop along the parkway but we missed it on our way to Jasper so stopped when we headed southbound later in the afternoon. Heading toward Jasper it will be on your left – if there's a sign then we missed it but had no trouble finding it heading back toward Lake Louise.
This is a quick stop at a pull-over with a lookout point that overlooks the Athabasca River and Mount Kerkeslin. The viewpoint gets its name because mountain goats apparently frequent the location as they like to lick the salt off of the rocks. It's a very pretty spot but, unfortunately, we didn't see any goats.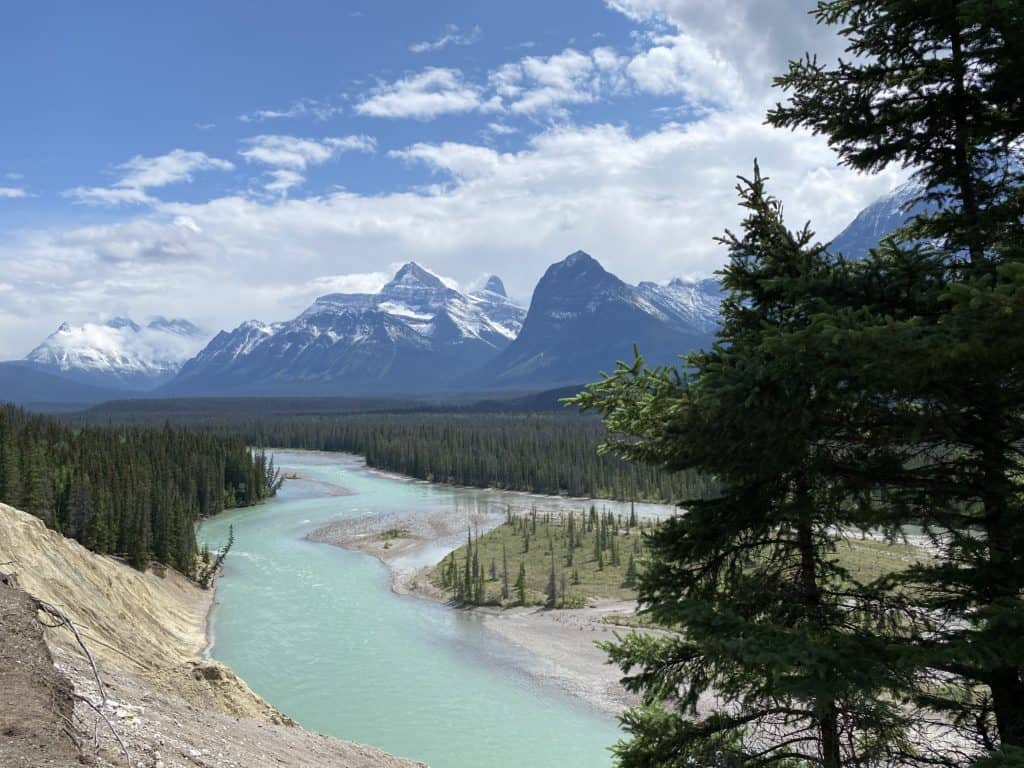 Athabasca Falls
Approximate distance from Lake Louise – 202 km; from Jasper – 30 km
Our final stop before reaching Jasper was Athabasca Falls which is considered one of the most beautiful in the Canadian Rockies. The falls on the Athabasca River in Jasper National Park aren't particularly high (23 metres) but the volume and force of the water flowing into the gorge makes them very impressive – you'll hear the roar before you see the falls.
The falls are easy to access via a short stroll on a paved trail from the parking lot and a walking path that has multiple viewpoints for seeing the falls. The rain started up as soon as we got out of the car so we didn't stay too long here either.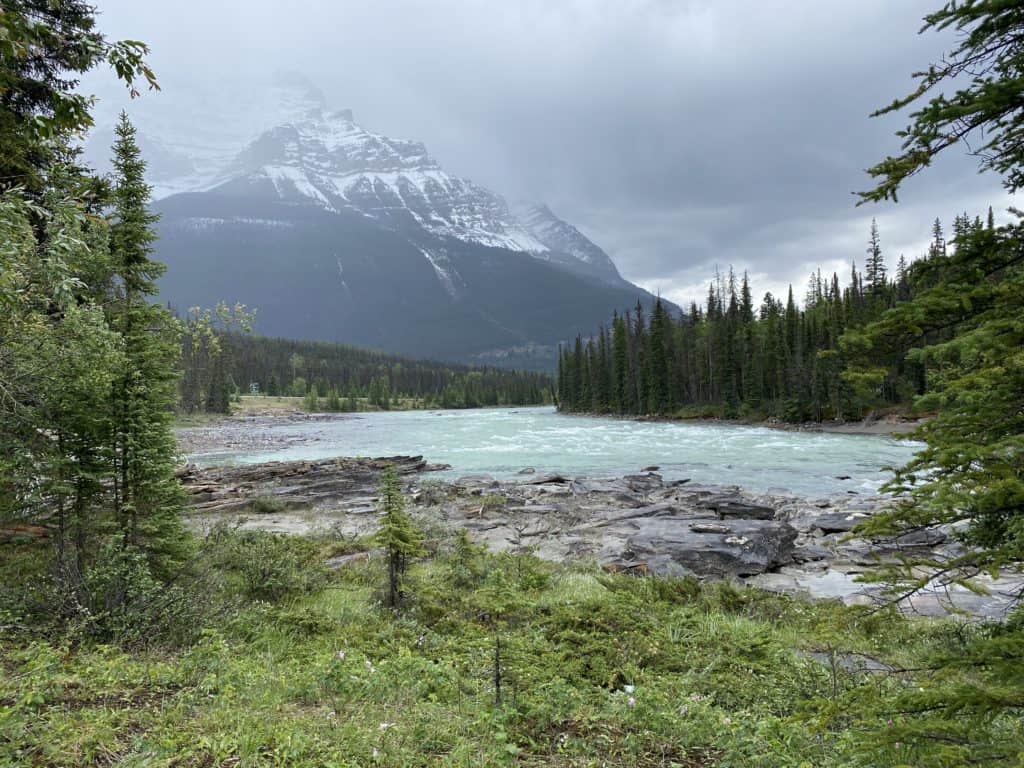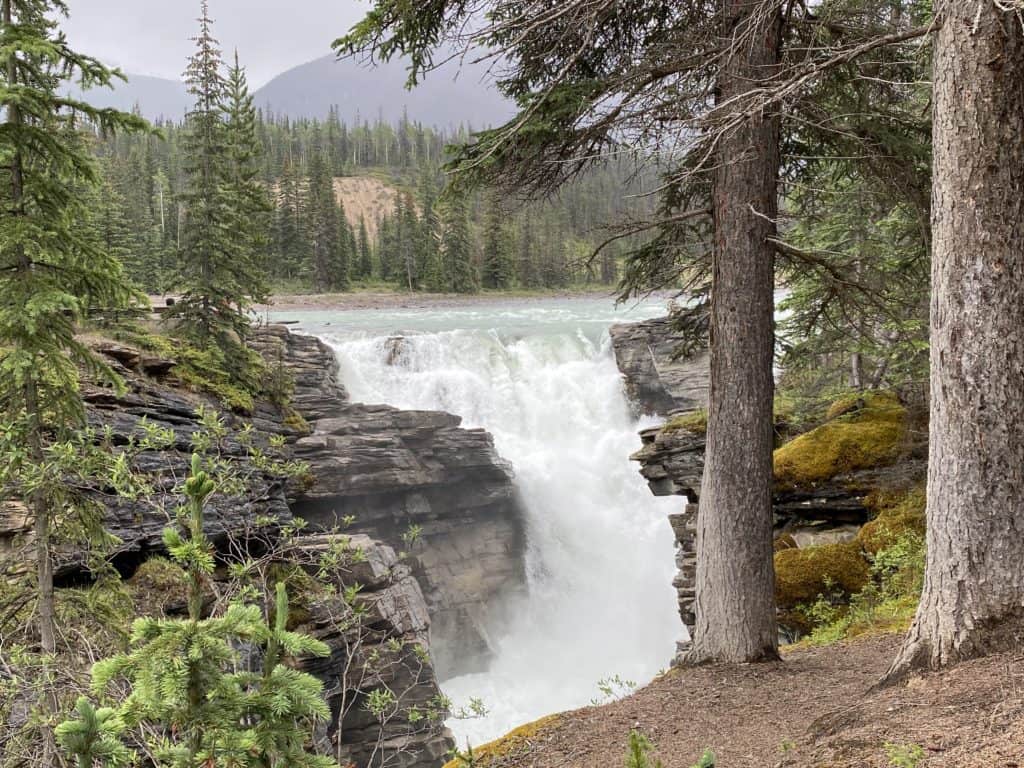 Town of Jasper
Distance from Lake Louise – 232 km
We arrived in Jasper and the sun came out transforming the day into a beautiful afternoon. We didn't have much time to spend (about an hour) as we needed to drive back to Calgary that night so we just walked around downtown, browsed the shops and had a snack at The Other Paw Bakery Cafe before heading south on the Icefields Parkway.
Our initial impression was that Jasper was a down-to-earth mountain town with a different vibe than the more upscale Banff and we would have enjoyed spending more time here. I was disappointed that we missed our day to explore the area around Jasper because of the snow storm so there's an excuse for returning some day!!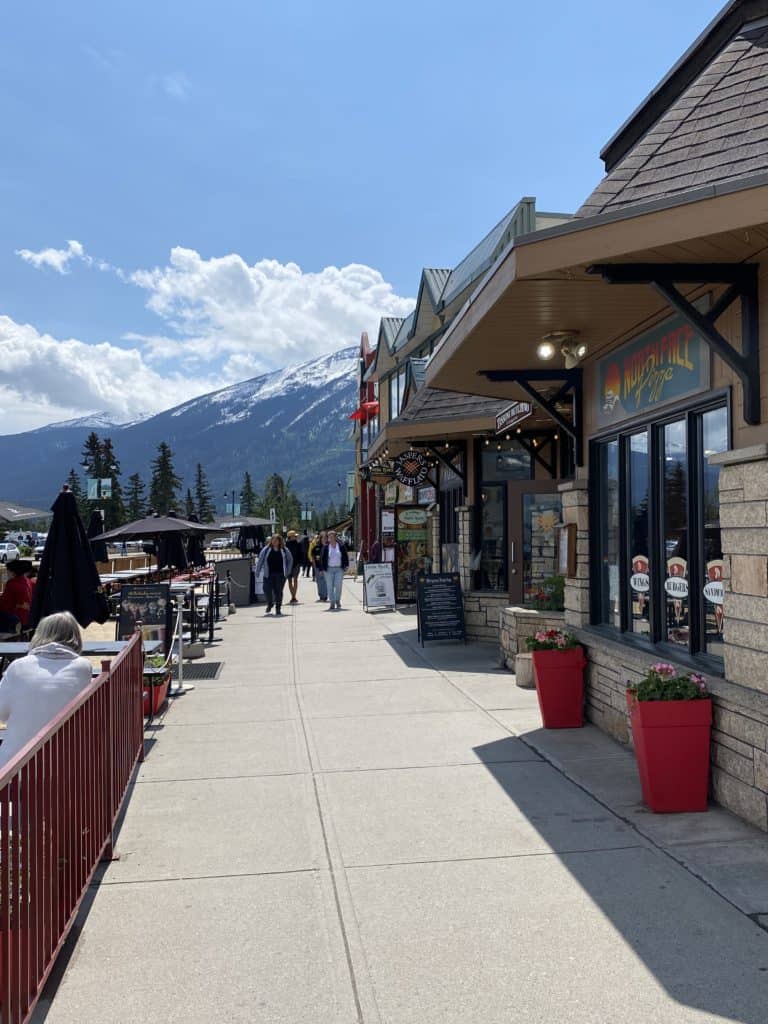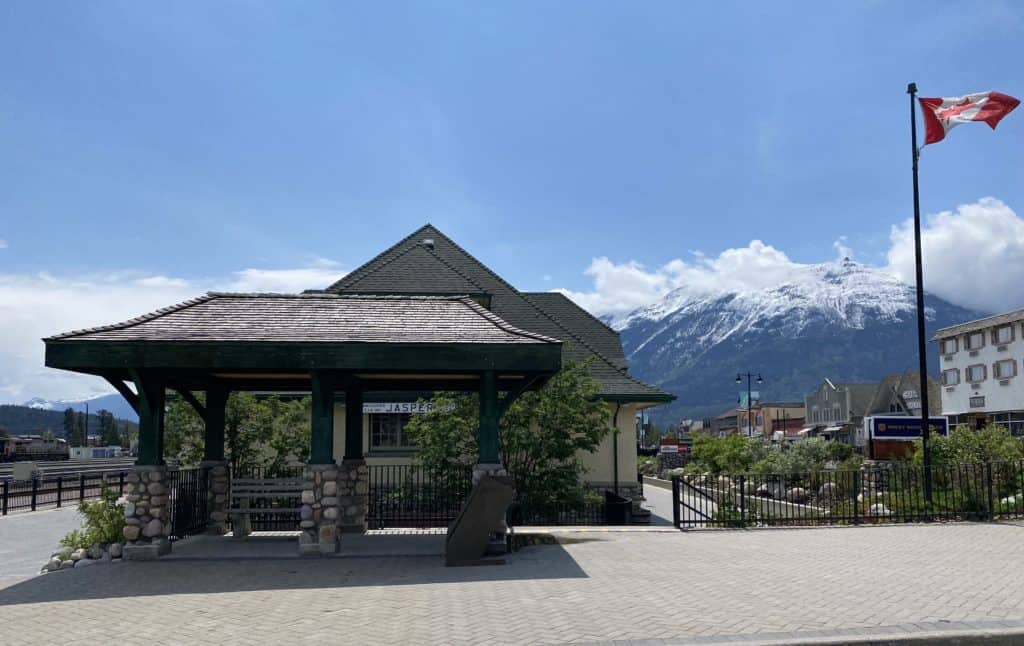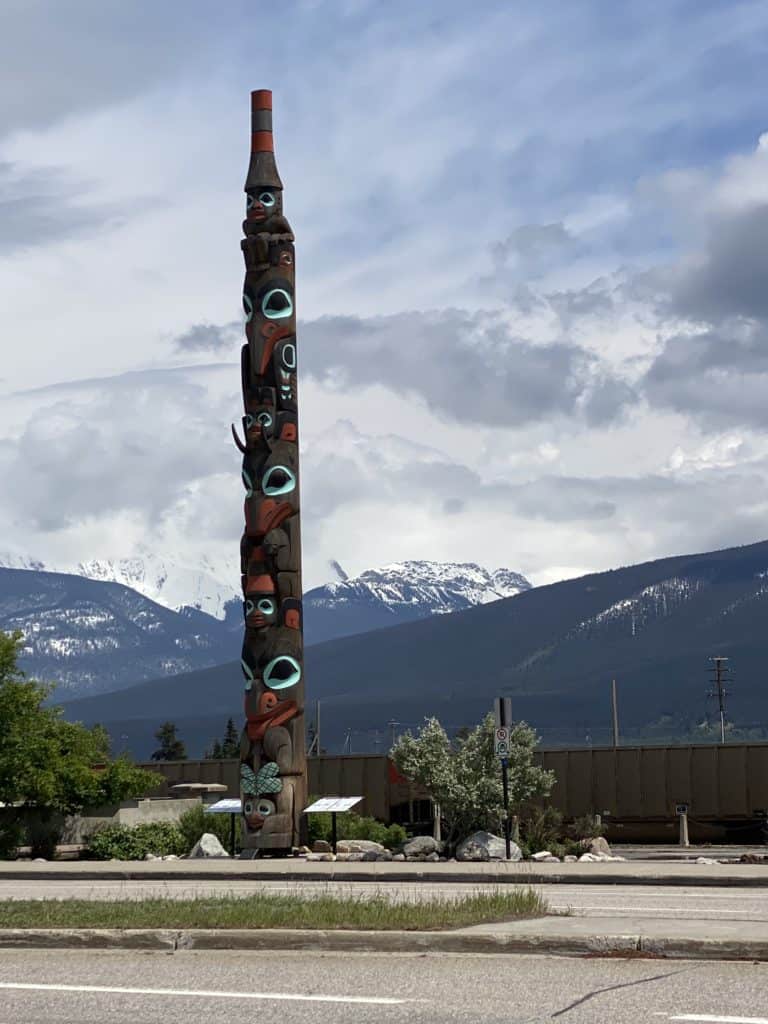 Pin This For Later