10 fun things to do in Victoria, the provincial capital of British Columbia, Canada.
One of our best experiences this past summer was a six night mother-daughter getaway to British Columbia. As part of this trip, my 15 year-old and I spent two nights in Victoria, the beautiful provincial capital located on the southern tip of Vancouver, Island. Although our visit wasn't nearly as long as we would have liked, we discovered that there are many fun things to do in Victoria.
Last updated April 2023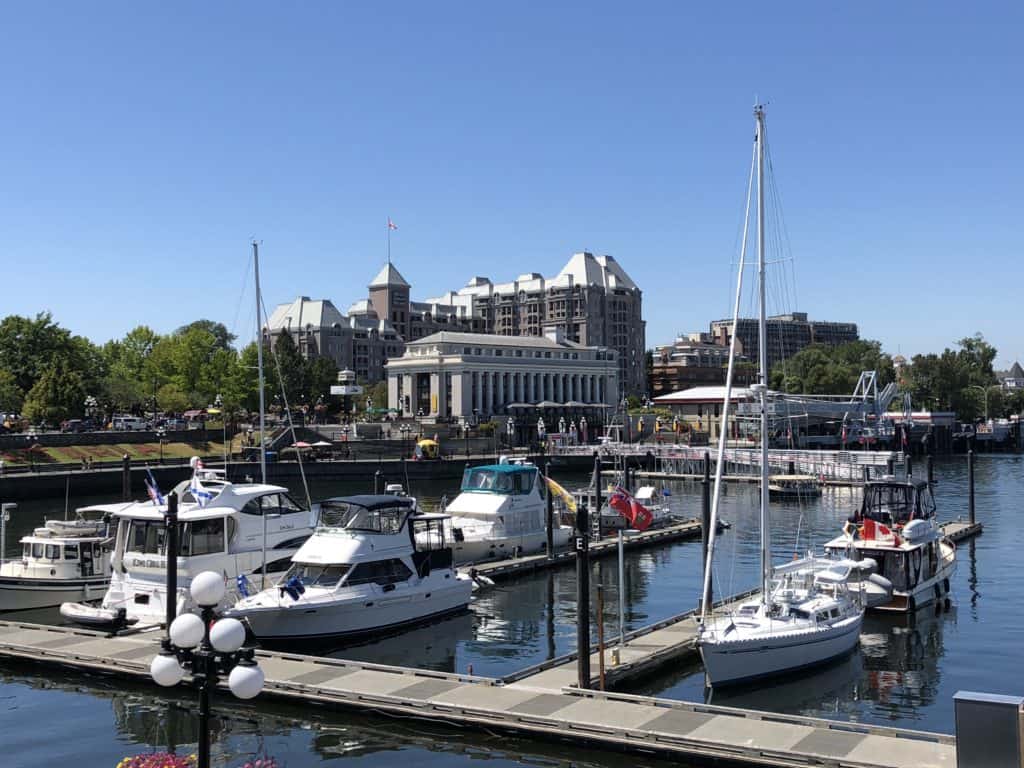 This post may contain affiliate links. If you click an affiliate link and make a purchase then we receive a small commission at no additional cost to you.
We are a participant in the Amazon Services LLC Associates Program, an affiliate advertising program designed to provide a means for us to earn fees by linking to Amazon.com and affiliated sites. As an Amazon affiliate I earn from qualifying purchases.
Victoria is a relatively small city with only 85,000 residents and feels a bit like a quaint English town with a mild climate and pleasant temperatures year-round. It's quite easy to explore the city on foot as much of the sightseeing and shopping is within easy walking distance of the harbour. We had only about a day and a half in beautiful Victoria and were able to do these 10 fun things that we recommend.
1. Stroll Victoria's Inner Harbour
The starting point for most visitors to the city is Victoria's photogenic Inner Harbour. Framed by iconic buildings such as the Fairmont Empress, the British Columbia Parliament and the Steamship Terminal, the harbour is the heart of the city and bustling with activity all day and evening during the busy summer season.
The buzz of harbour activity includes passenger ferries, water taxis, whale watching boats and float planes coming and going, kayakers and paddle boarders on the relatively calm waters, horse and carriage rides and street entertainers.
The boardwalks of the Inner Harbour are ideal for strolling and we enjoyed several walks around the area during our brief visit. Looking for a Starbucks? – there's one in the Steamship Terminal building on the waterfront.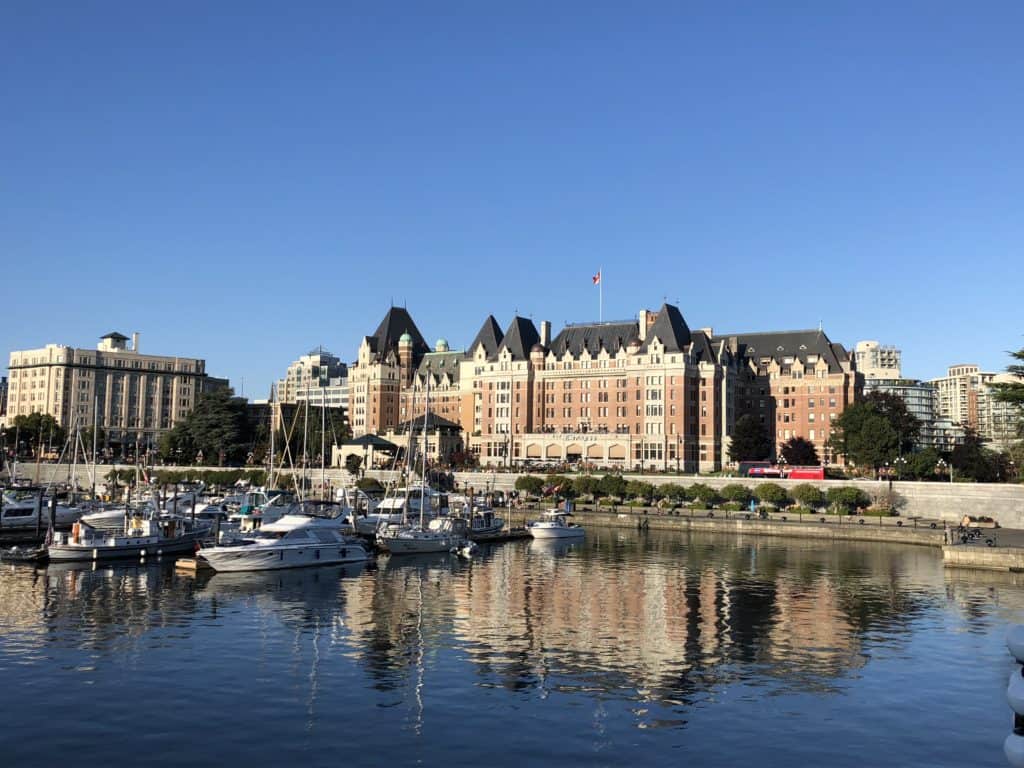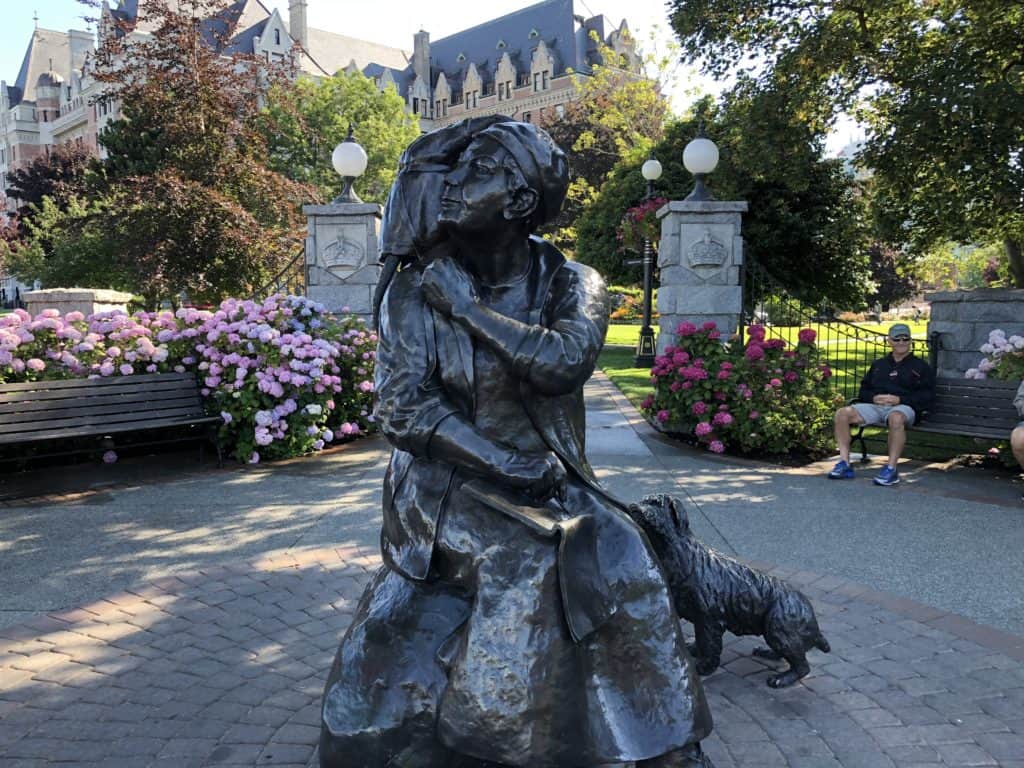 2. The Butchart Gardens
Butchart Gardens started early in the 20th century when Jennie Butchart decided to transform the limestone quarry behind her home into a Sunken Garden. The gardens continued to expand over the years and today the gardens, a National Historic Site of Canada still owned by the Butchart family, cover more than 55 acres of a 130 acre estate and welcome over one million annual visitors.
We arrived in Victoria early afternoon, checked into our hotel and decided to head directly to Butchart Gardens as it is located 23 km (14 miles) north of the city and we wanted to have enough time to explore before dinner. It was unseasonably hot during our July visit to Victoria so we didn't spend as much time as we otherwise would have but thoroughly enjoyed our walk through the beautiful gardens.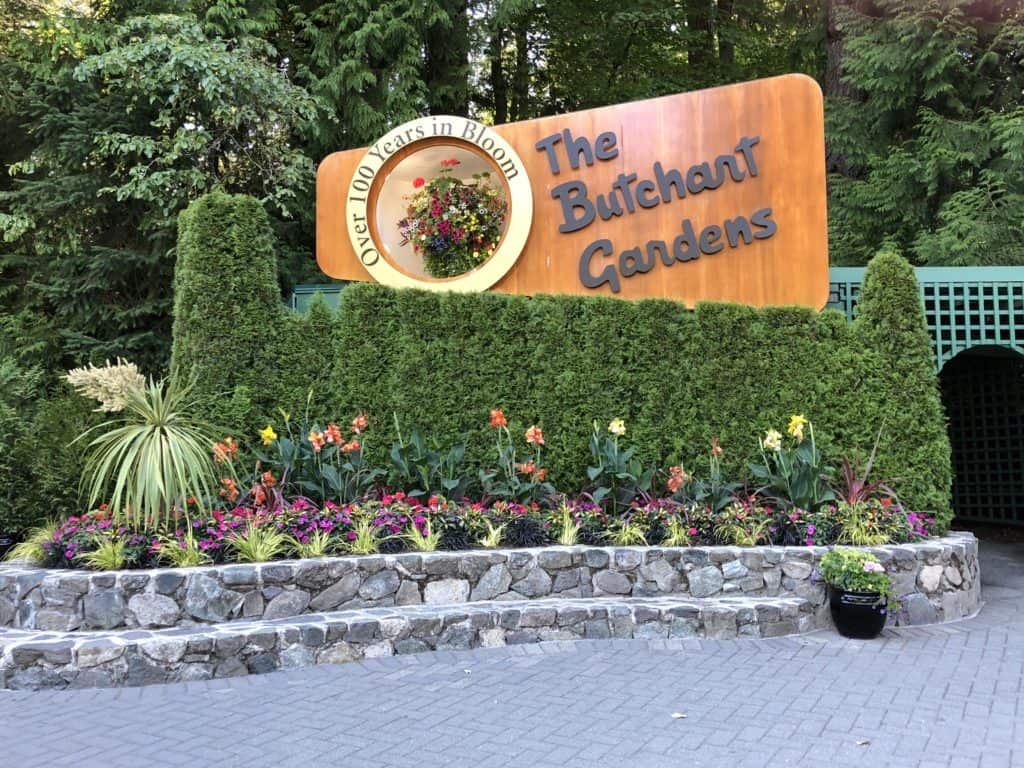 There is much for visitors to the Gardens to see including the original Sunken Garden, the Rose Garden which is at its most beautiful in July and August, a Japanese Garden, the Italian Garden which was once a concrete-surfaced tennis court, the Mediterranean Garden and more.
There is a restaurant serving afternoon tea, a cafeteria-style restaurant, a coffee shop, and a gift shop. During the months of July and August there is evening entertainment and a fireworks show but we decided to head back into Victoria to have dinner and a walk around the harbour.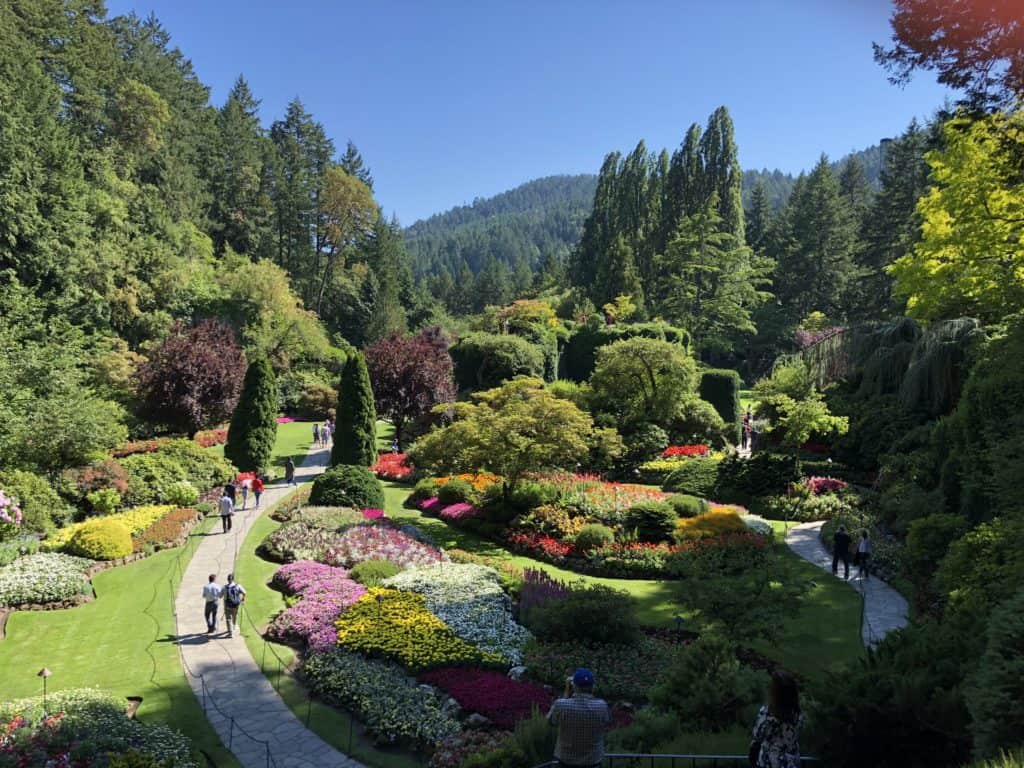 Tips for Your Visit: You will need a minimum of 2 hours to visit the gardens – more if you want to enjoy afternoon tea or lunch. When planning allow for time to travel back and forth to the gardens as well. If you don't have a car then you can either take a cab to the gardens or book a tour which includes transportation plus admission to the gardens.
We opted for a sightseeing tour that leaves from just outside the Fairmont Empress. The Butchart Gardens Express Shuttle can also be booked through Viator. If you choose that option then you will have to time your visit to the departure times for the bus. Pick up a Map & Guide at the entrance and also a Flower & Plant Guide to help identify the flowers and plants that you will see. 
Located at 800 Benvenuto Ave, Brentwood Bay, BC. Open year-round – hours vary by time of year. Admission rates also vary by time of year with the summer season being more expensive. Summer 2023 rates are: Adult – $39.50 CAD; Youth (age 13-17) – $19.75 CAD; and Child (age 5-12) – $3.00 CAD. Free parking.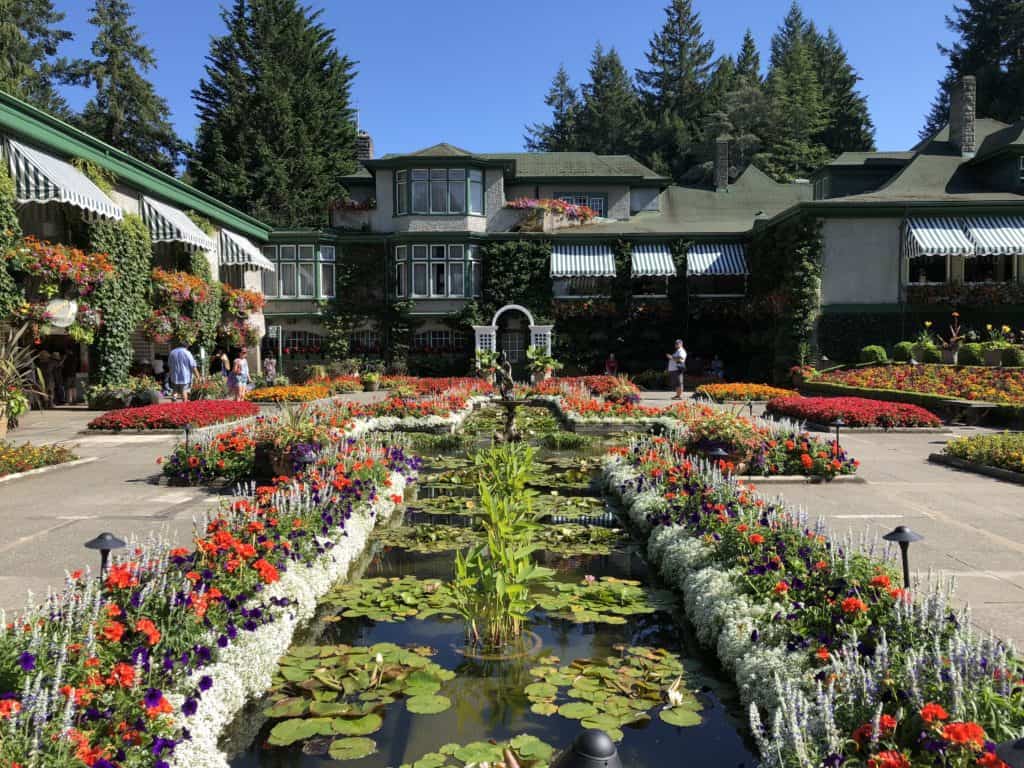 3. British Columbia Parliament Buildings
The Parliament Buildings, located on Bellevue Street facing Victoria's Inner Harbour, are home to the Legislative Assembly of British Columbia (the provincial government) and are open to the public year-round. Visitors may take a free guided tour to learn about the architecture of the building, the history of the province and British Columbia's parliamentary process or explore the building on their own self-guided tour.
The Romanesque style building was designed by British architect Francis Mawson Rattenbury who later also designed the Empress, the Steamship Terminal and the Vancouver Art Gallery (formerly Court House). Even if you don't take a tour you will end up here taking photos of this stunning building, the statue of Queen Victoria, the Cenotaph, the Front Fountain and the Knowledge Totem Pole.
Tips and Fun Facts: Although the public tours are free, you will have to sign up for them outside and proceed through security before entering the building. Self-guided tours are available fall, winter, spring and on weekdays during the summer. On summer weekends and holidays, visitors must either join one of the free public tours or reserve a private tour.
At dusk each evening the Parliament Buildings are lit up with approximately 3,500 light bulbs that outline the building's structure. The legislature was first illuminated in 1897 in celebration of Queen Victoria's Diamond Jubilee and has continued to be lit at night ever since.
Opening hours vary by time of year.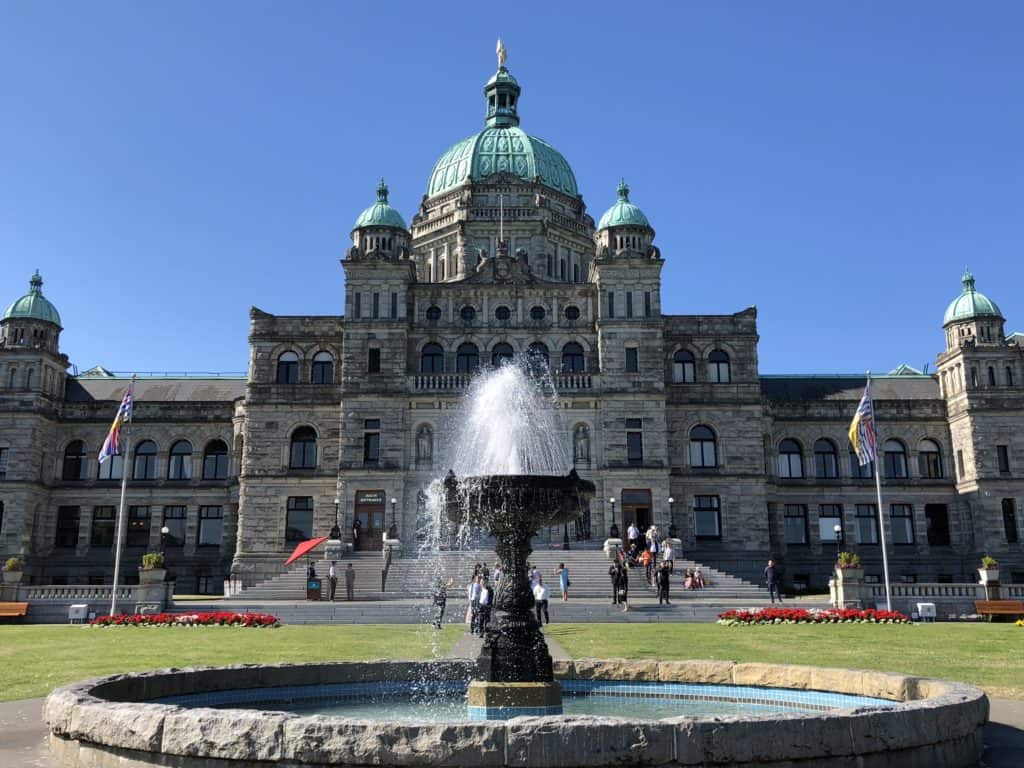 4. The Robert Bateman Centre
The Bateman Foundation suspended operations and closed its gallery & programs as of February 18th, 2023.
The Robert Bateman Centre gallery located in the Steamship Terminal on Victoria's Inner Harbour, displays the largest permanent collection of work by one of Canada's premier artists. Bateman is known for his realistic style of painting nature in a way that encourages the viewer to closely observe the natural world as well.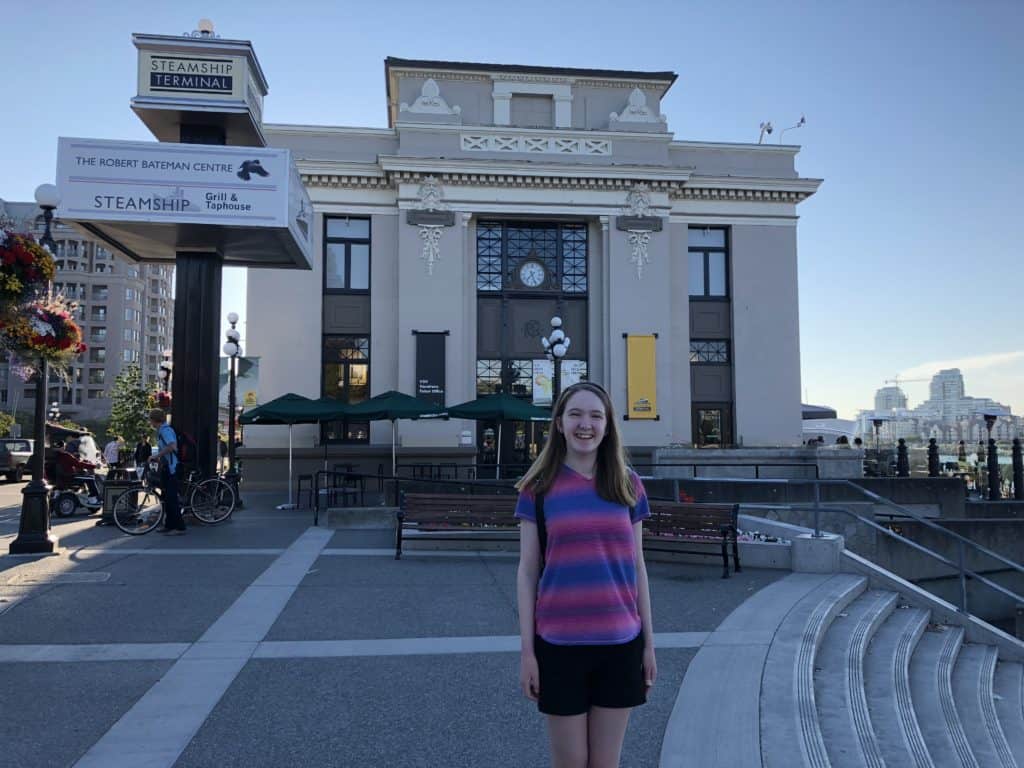 The exhibits at the Centre show "the major themes of his life's work, including his early experimentation with abstract art styles, his travels throughout the world, and his commentary on the state of our planet". We spent about an hour browsing the collections – my daughter wasn't familiar with Bateman prior to our visit and quite enjoyed learning about his work.
Fun Fact: In addition to being one of Canada's foremost artists, Robert Bateman is also a naturalist recognized by the Audubon Society as one of the 20th century's "heroes of conservation". He has received numerous honours and awards, including Officer of the Order of Canada and fourteen honorary doctorates.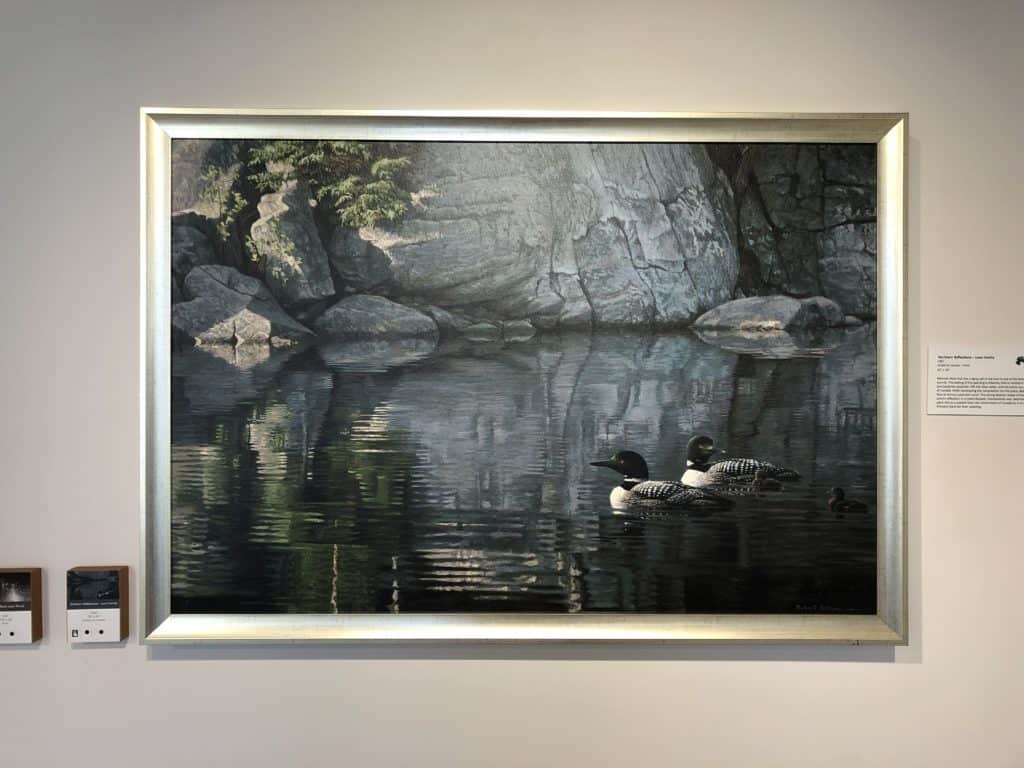 5. Visit Thunderbird Park
Thunderbird Park, next to the Royal British Columbia Museum, was established in 1941 when a display of totem poles from the provincial museum's collection was set up on the corner of Bellevue and Douglas Streets. Over the years, the original poles were moved to inside storage and the poles that you see on the grounds are replica versions carved by masters.
The Royal British Columbia Museum is located at 675 Belleville St., Victoria, BC.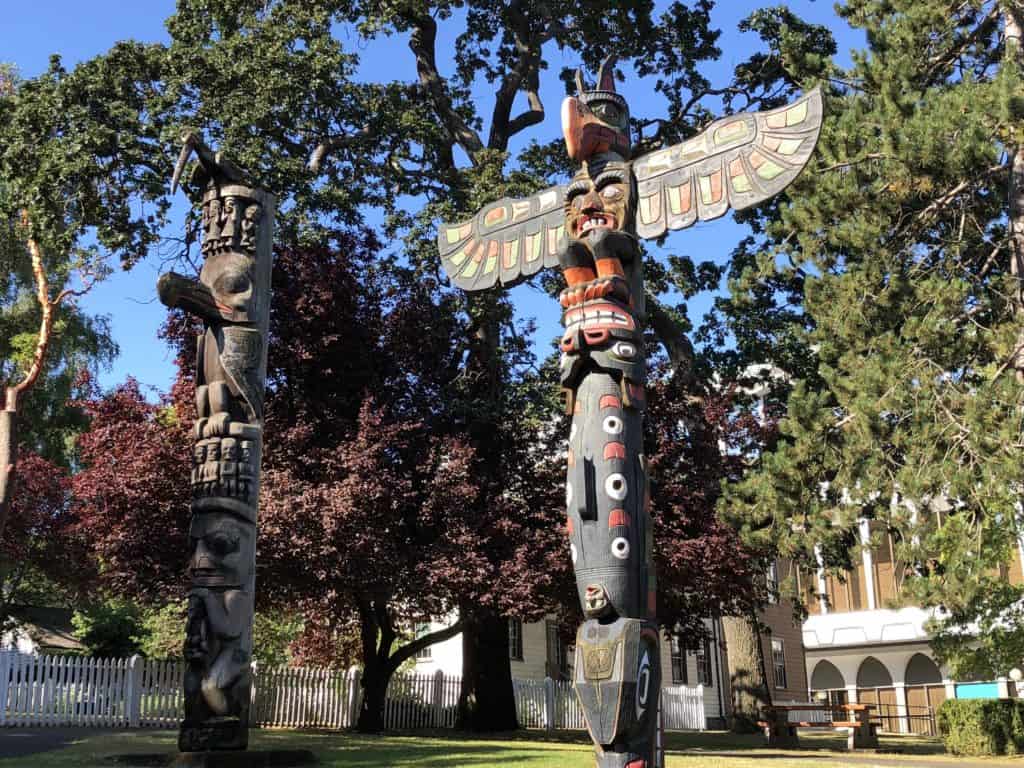 6. Fisherman's Wharf
Fisherman's Wharf is located on the Inner Harbour in Victoria a pleasant 30 minute walk from the Fairmont Empress. Fisherman's Wharf is a unique destination – a working harbour with commercial fishing boats, float homes, food kiosks, shops, and eco-tour businesses.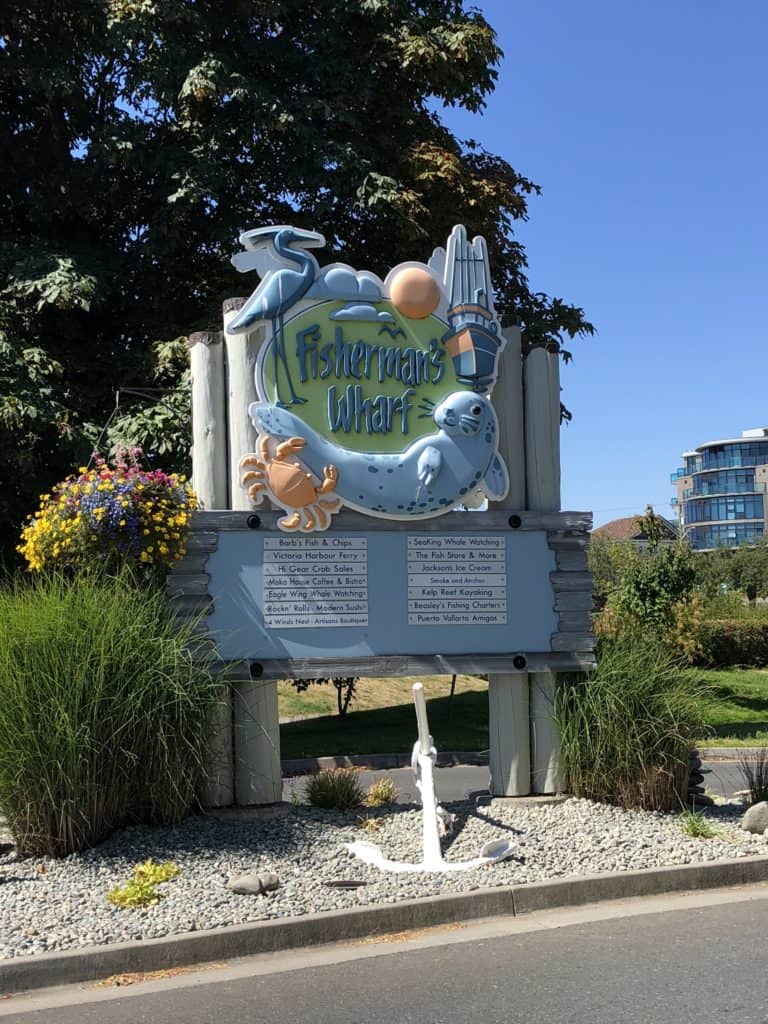 We enjoyed a walk around the area, fell in love with the colourful float homes, and watched the harbour seals playing around the fishing boats waiting for scraps to be tossed their way. We had a delicious lunch of fresh seafood at Barb's Fish and Chips (a floating restaurant with open-air picnic tables) before heading back towards our hotel.
Fisherman's Wharf is located just around the corner from Victoria's Inner Harbour or just a 10 minute walk from The Breakwater District at Ogden Point cruise ship terminal. Enter off St. Lawrence Street or Dallas Road. Paid parking is available.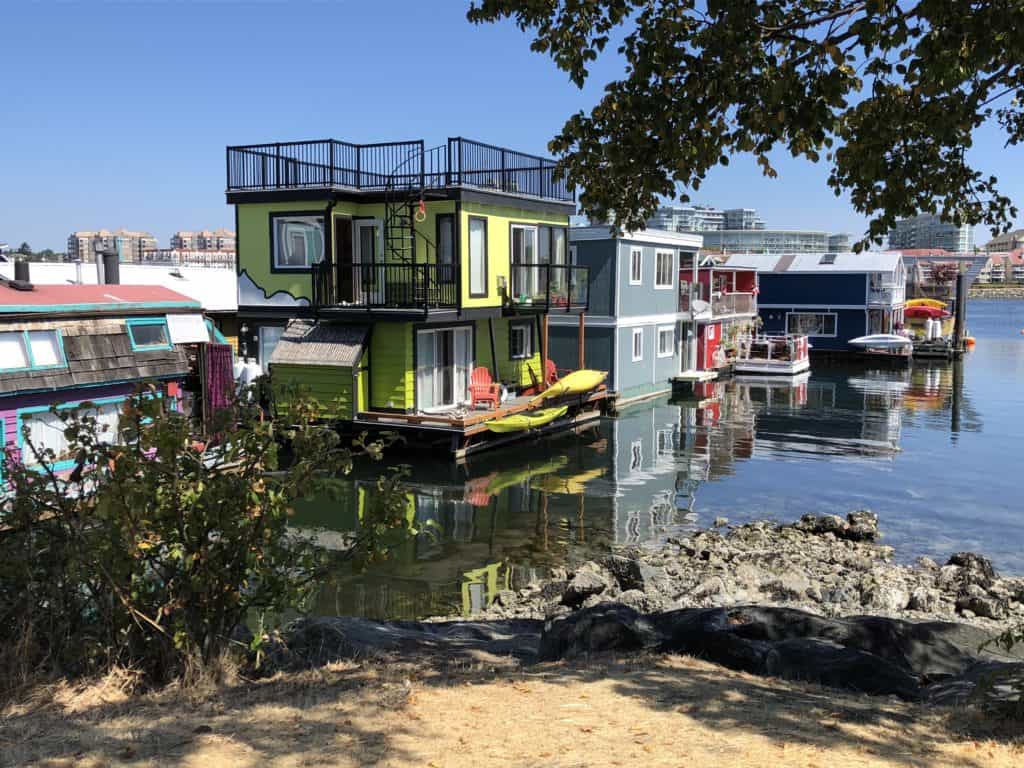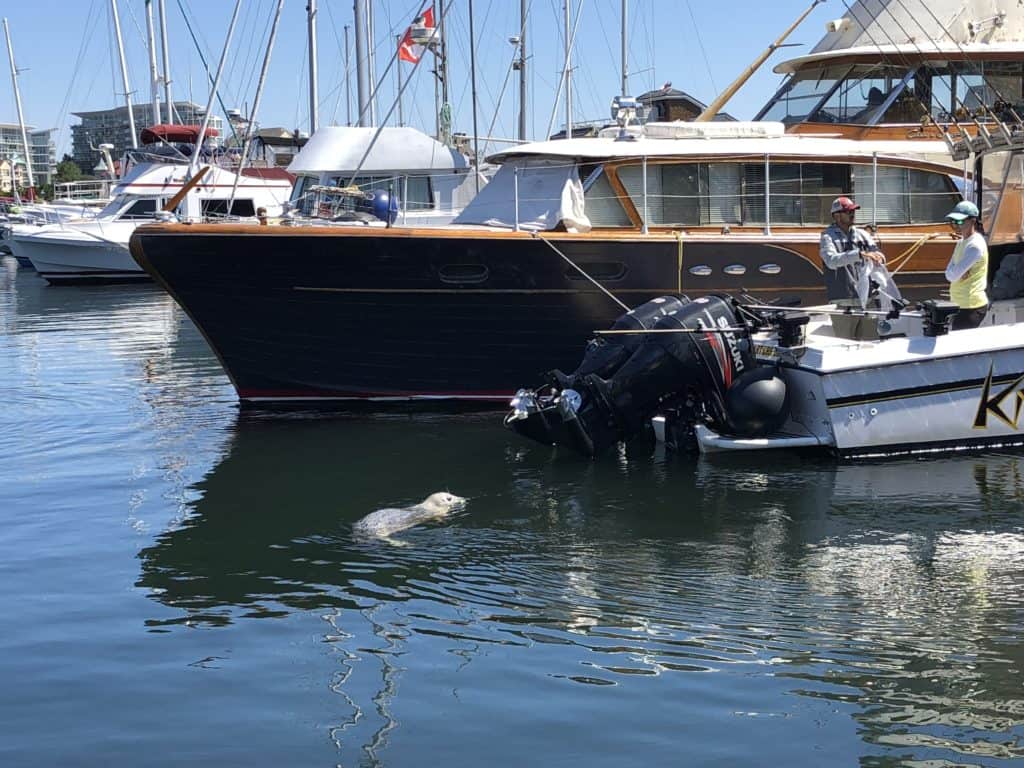 7. Take a Water Taxi
Don't miss an opportunity to take one of the water taxis that travel around the Inner Harbour – they're so cute and a great method of transportation as well! We had walked to Fisherman's Wharf but opted to take a water taxi back to the Empress Dock and enjoyed the perspective of seeing the city from the water.
Tip for Your Visit: A map of stops and current fares is available on the Victoria Harbour Ferry website.
Water taxis operate 7 days a week. Hours of operation are subject to change.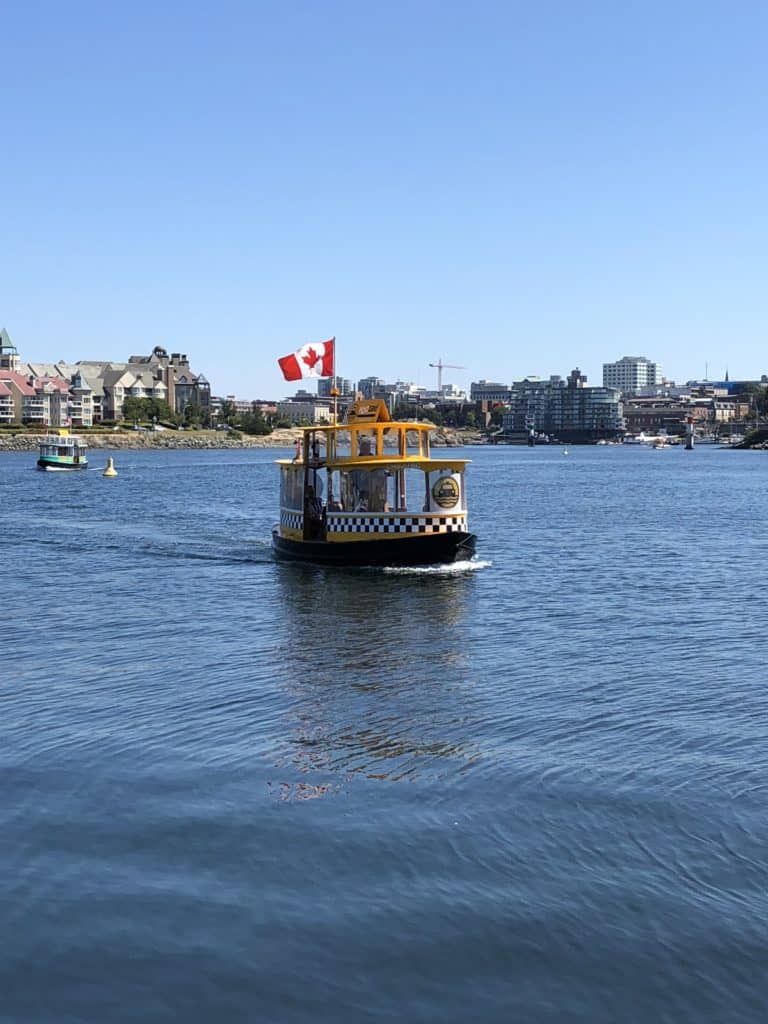 8. Enjoy Tea at The Fairmont Empress
I wanted to have tea at the Fairmont Empress the first time that I visited Victoria more than 20 years ago but we were on a group day tour from Vancouver and only had time to look around the lobby of the historic hotel. There was no way that my daughter and I were going to miss out on tea this trip!
Afternoon tea has been served at the Fairmont Empress since the hotel first opened its doors in 1908. Over the years, tea at the Empress has been enjoyed by royalty, celebrities and dignitaries – and you can partake in the same tradition.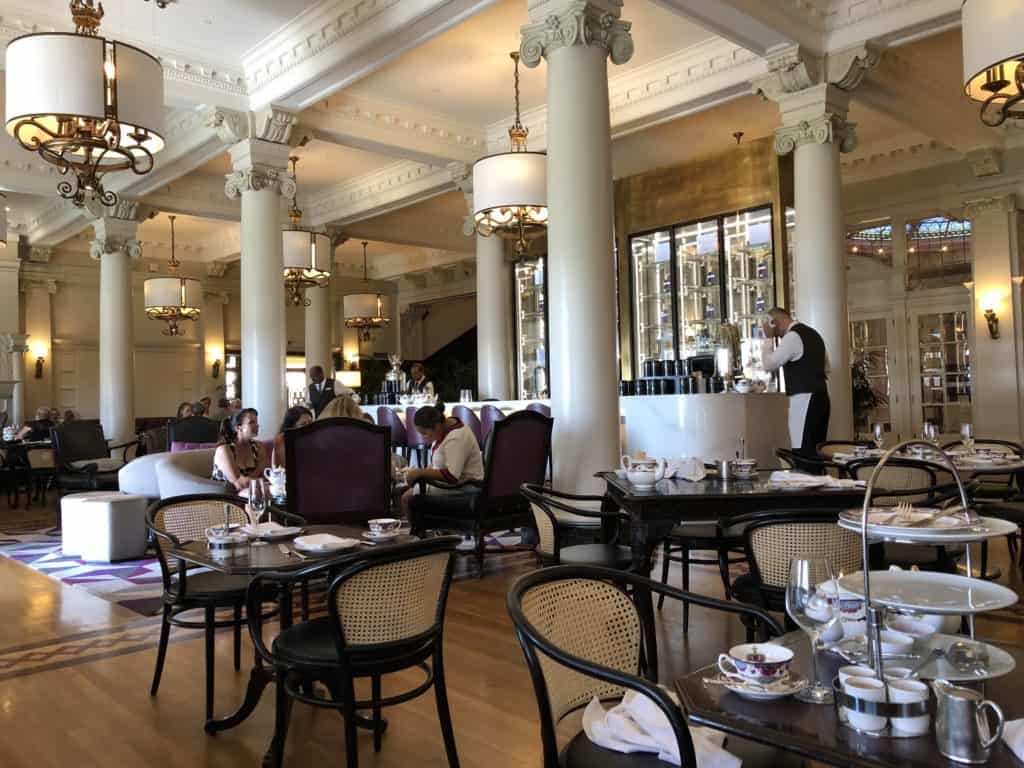 Today afternoon tea is served in the sophisticated lobby lounge to more than 400 people per day. The menu which we enjoyed included warm raisin scones with clotted cream and strawberry lavender preserve, smoked salmon on blini, English cucumber on rye, shrimp tartlet, roast beef on whole wheat as well as a selection of sweets including Queen Bee shortbread and caramel banana cake and, of course, tea!!
We had so much fun getting dressed up and enjoying my daughter's first experience having afternoon tea in such a beautiful setting. Everything was delicious and there was far more than the two of us could eat so we had to take some of the sweets back to our room with us.
Having tea at The Empress Victoria is a must so be sure to make a reservation prior to your visit. Walk-ins might be available but you definitely don't want to be disappointed if you are only in Victoria for a brief visit and can't get in.
Fun Fact: Half a million cups of tea are served annually at the Empress!
The Fairmont Empress is located at 721 Government St, Victoria, BC. Seatings are available daily 11 am – 4 pm. There is a dress code in effect. Afternoon tea is $89 CAD per person – please note that the price will increase to $95 CAD as of May 1, 2023. Children's Prince or Princess (age 12 and under) tea is $45 CAD increasing to $52 CAD on May 1, 2023.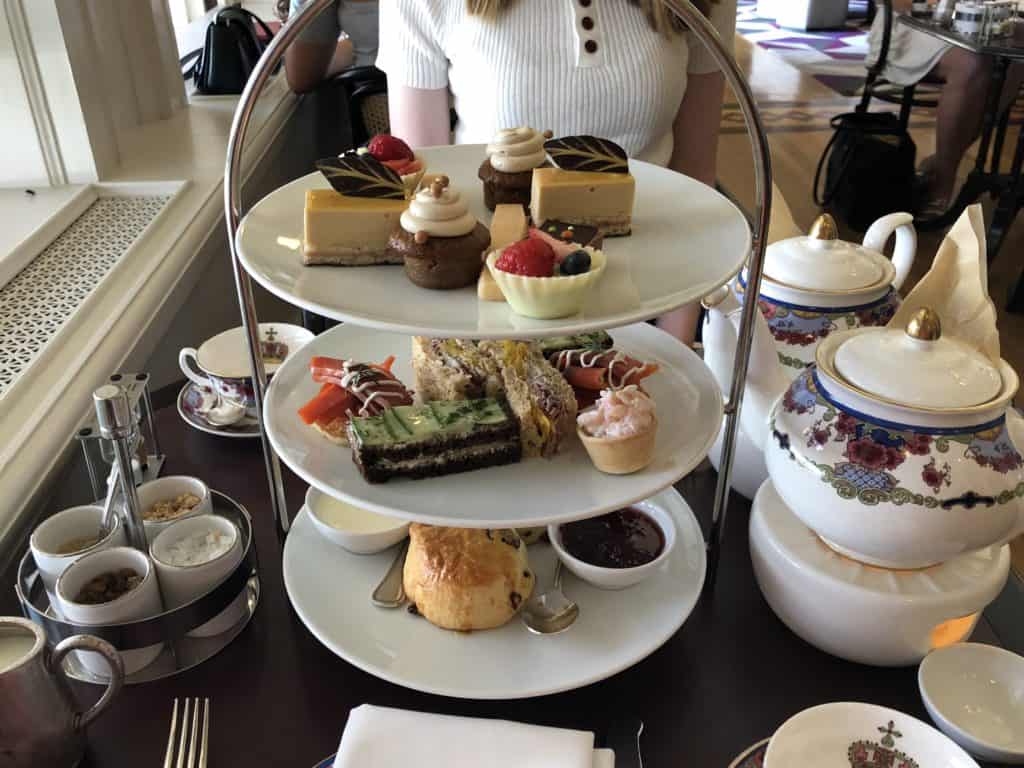 9. Visit Craigdarroch Castle
Did you know that there was a castle in Victoria? Neither did I until I started researching before our visit! Craigdarroch Castle, a National Historic Site, was built for wealthy coal baron Robert Dunsmuir and completed in 1890. Tragically, Dunsmuir died before his castle was completed and he never had the opportunity to live there.
Since his wife's death in 1908, the Castle has been used as a military hospital, a college, a conservatory for music and today it is a museum house open to visitors. The Castle has been meticulously restored and furnished with pieces from the time period that it was built providing visitors a glimpse of what life was like for the privileged in the 1890s. 
The Castle has 39 rooms, more than 20,000 square feet of interior space, and features exquisite stained glass and intricate woodwork throughout. Visitors take a self-guided tour that runs in one direction through the Castle.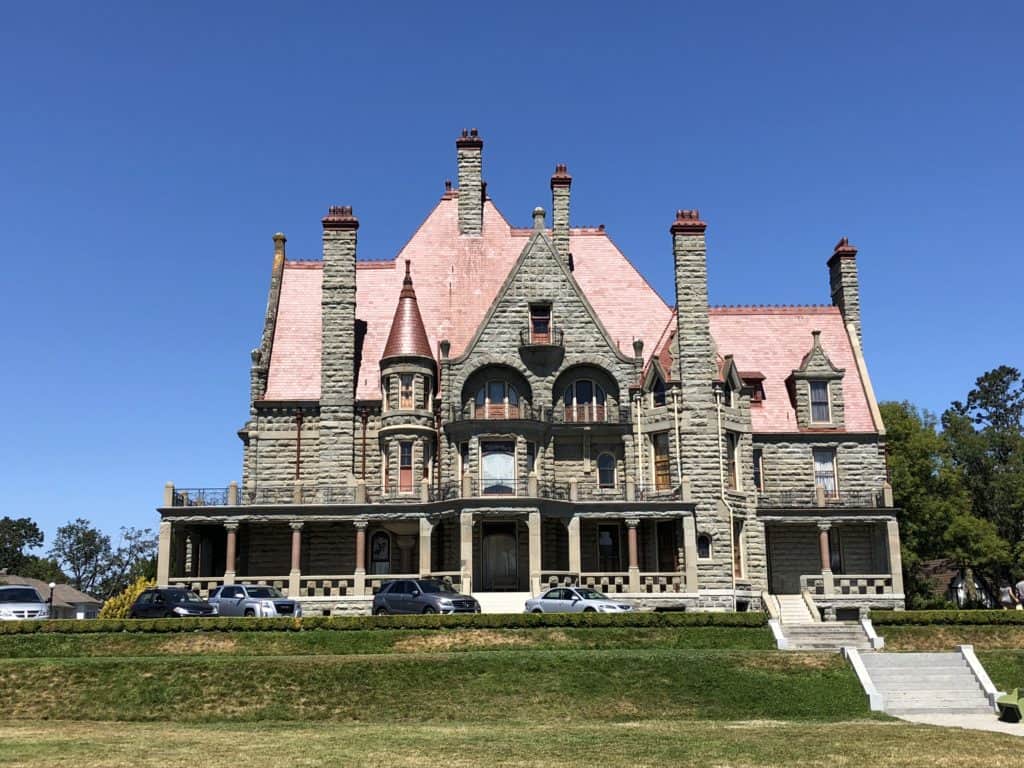 Tip for Your Visit: It's possible to walk to Craigdarroch Castle from the Empress Dock in about 30 minutes. Since it was so hot when we visited, we took a cab there and walked back. If you are planning to walk one direction only then I would advise doing it that way as there were no cabs waiting near the property when we were leaving. It would be necessary to call for a cab and wait.
1050 Joan Crescent, Victoria (just off Fort Street). 2023 Admission Fees: Adult – $20.60 CAD; Senior (65+) – $19.60 CAD; Students (13+ with valid ID) – $14.80 CAD; and Children (6-12) – $10.00 CAD. Parking available onsite. Open Thursday through Sunday, 10 am – 4 pm. Closed December 25, 26 and January 1 (hours subject to change).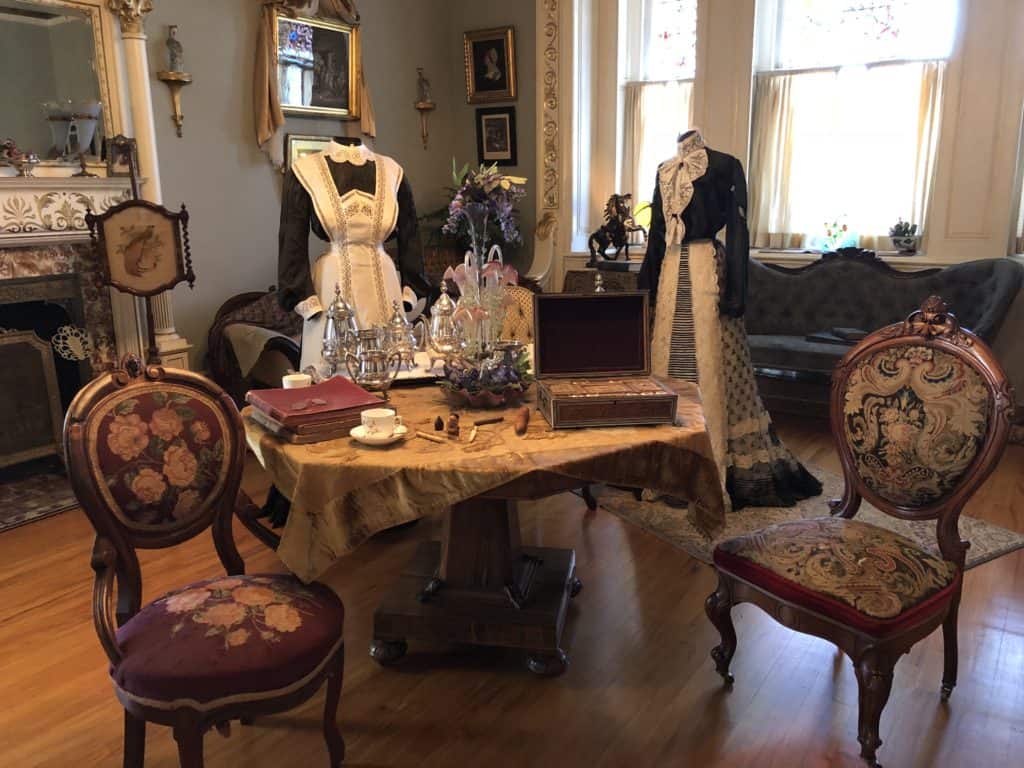 10. Shopping in Victoria
Victoria has many quaint shops and boutiques that we would have liked to have more time to explore but we simply ran out of time. We were able to browse a bit on our walk back to the hotel from Craigdarroch Castle but were under a bit of a time constraint as we had a reservation for afternoon tea at 5pm.
We did spend a chunk of time at Munro's Books of Victoria (1108 Government Street), a landmark bookstore in the heart of Victoria's Old Town which has been serving book lovers for more than 50 years. The store was originally owned by Jim and Alice Munro (Alice is a well-known Canadian short-story writer who won the Nobel Prize in Literature in 2013). Prior to his death in 2016, Jim passed ownership of the bookstore to four long-time employees who carry on his legacy.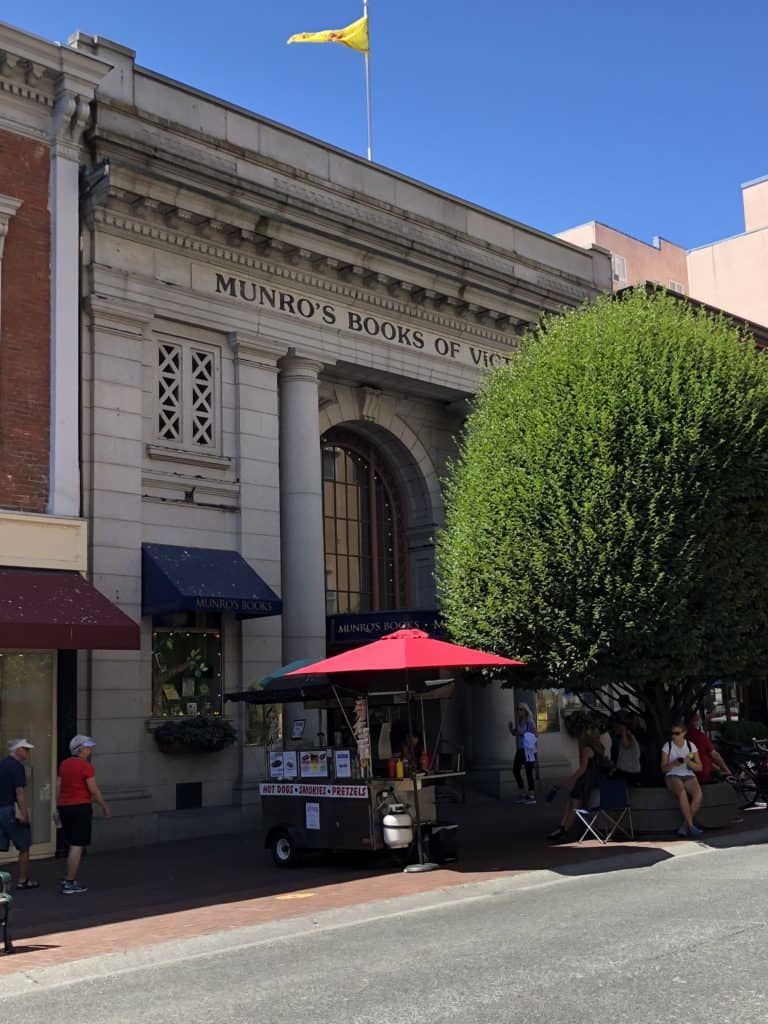 Additional Activities in Victoria
Since our visit to Victoria was brief, we didn't have time to do everything that we would have liked. These are the activities and attractions that have been added to our "next time" list.
Visit the Royal British Columbia Museum – a natural and human history museum founded in 1886
Tour the British Columbia Parliament.
A whale watching tour.
Visit Victoria's Chinatown – the oldest in Canada and second oldest in North America
Visit the Mile 0 Marker – the start of the Trans Canada Highway that spans the entire length of Canada and home to a statue of Terry Fox.
Visit the Art Gallery of Greater Victoria which has a permanent display of work by Canadian artist Emily Carr.
Hatley National Historic Site of Canada – another castle in Victoria located on the campus of Royal Roads University.
Day trips on Vancouver Island – Our visit wasn't long enough to accommodate any day trips this time but I would love to see more of Vancouver Island.
Where to Stay in Victoria
We stayed at the historic Fairmont Empress, a luxury hotel overlooking the city's Inner Harbour which is considered one of the world's top iconic hotels. The Empress, which first opened in 1908, completed a $60+ million restoration in 2017 that celebrates the hotel's historic past while transforming it into an elegant modern hotel.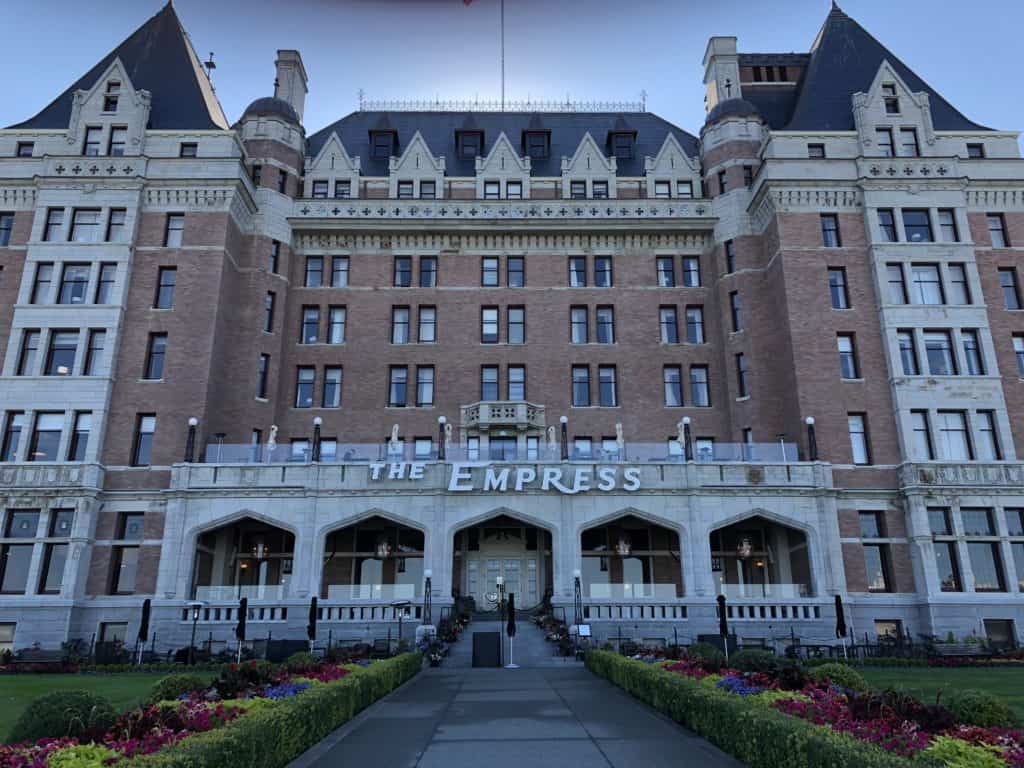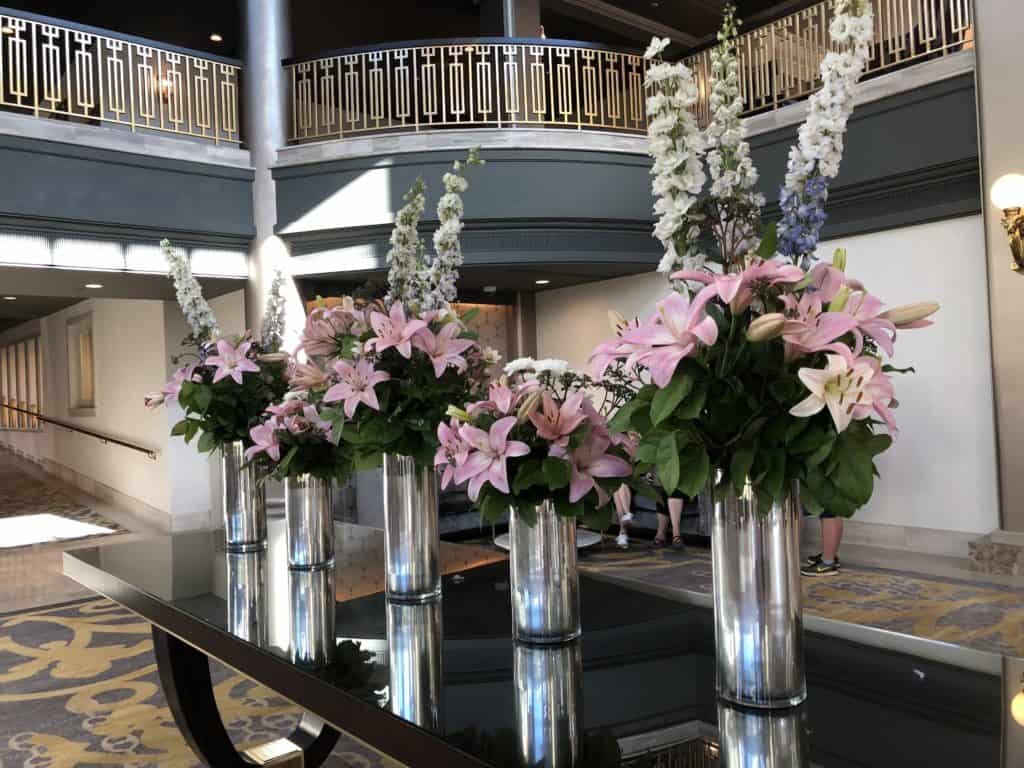 We booked a Fairmont Harbour View room with two double beds and loved looking out the windows at the busy harbour across the street. We dined at the hotel our first evening on The Veranda and enjoyed a delicious meal with a wonderful view and our 5 pm afternoon tea on our second evening was all that we needed for dinner. The location of the Fairmont Empress is ideal for exploring Victoria.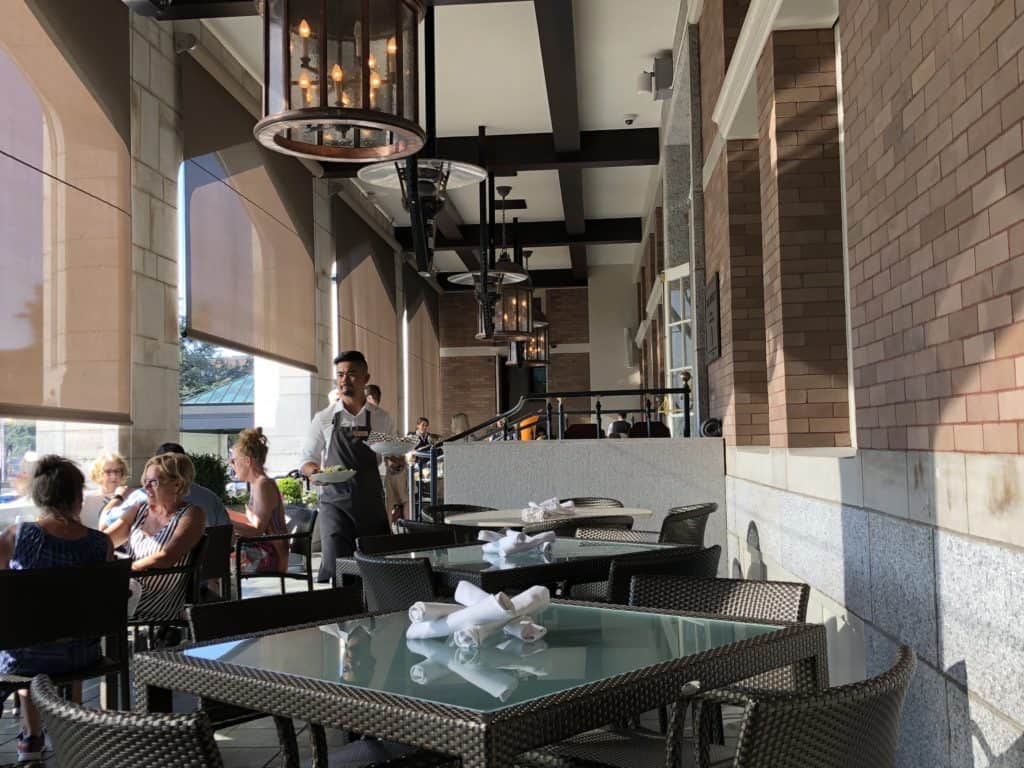 Pin This For Later