Visiting Peggy's Cove, Nova Scotia, Canada with kids
The picturesque village of Peggy's Cove is a small fishing community located about 40km from downtown Halifax.  It's an easy day trip for visitors to the city (even with kids) or an attractive stop for those following the Lighthouse Trail scenic drive along the Atlantic coast.
Most visitors to Peggy's Cove are there to see the historic lighthouse which is one of Canada's most photographed landmarks and one of Nova Scotia's most popular tourist attractions.  Very few people visit the province without making a pilgrimage to this site.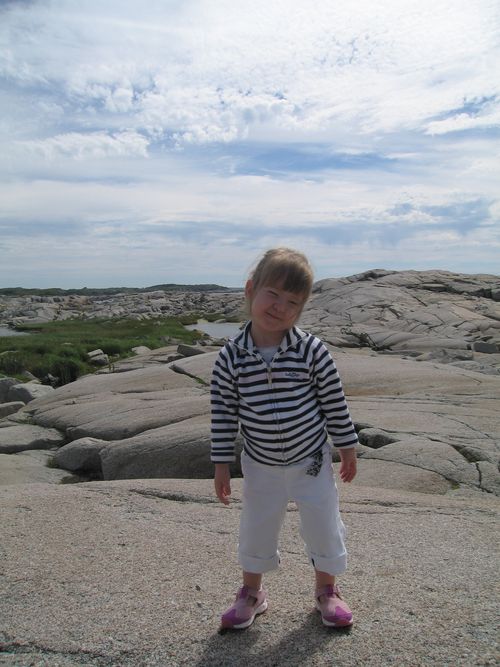 History of Peggy's Cove
According to one legend, Peggy's Cove was named for a young woman who was the sole survivor of a horrible shipwreck off the coast. It is said that this young woman later married a resident of the cove and it soon became known by her name. There are no documents to either confirm or refute the truth of this romantic story, however, this legend has now spawned a series of Peggy of the Cove children's books, as well as dolls and other paraphernalia so it's likely that the tale will prevail.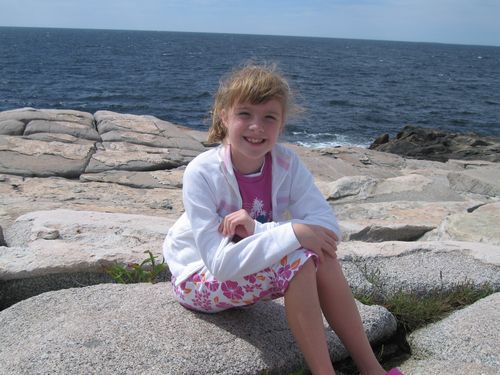 Katie on the rocks at Peggy's Cove
The Lighthouse at Peggy's Cove
The classic red and white octagonal lighthouse perched on the granite rocks of the cove was built in 1915 to replace an older structure and is operated by the Canadian Coast Guard. Tourists scramble around on the wave-washed rocks despite the many warning signs of the unpredictability of the surf.  Tragically, several people have been swept away so it is a warning that should definitely be heeded particularly when traveling with children.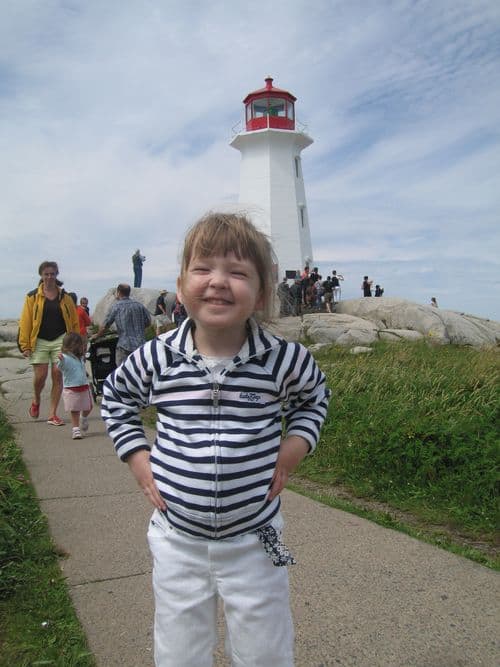 Emma and the Peggy's Cove lighthouse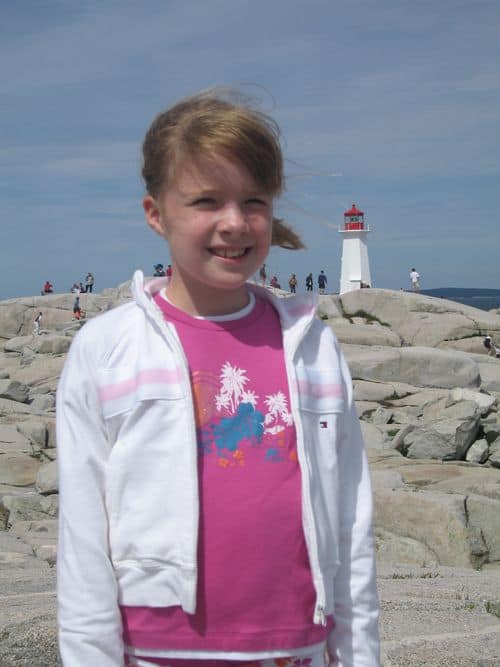 Katie and the Peggy's Cove lighthouse
Swiss Air Memorials
Peggy's Cove is now also known as the spot where Swiss Air Flight 111 crashed en route to Geneva from New York on September 2, 1998. There are nearby memorials in both Bayswater and the Whalesback for those who feel compelled to pay their respects.
Peggy's Cove with Kids
It doesn't take long to visit Peggy's Cove, however, it is one of the must-see attractions of Atlantic Canada. Our family stopped along the way from Halifax to Lunenburg and spent an hour or so in this scenic spot. That is just about the right amount of time to admire the stark, rugged beauty of the granite rock and the turbulent sea, visit the lighthouse, snap lots of pictures, browse the gift shop and be on your way.  Our visit was highlighted by the mournful sound of bagpipes echoing across the rocks as a young woman in full Scottish regalia stood off on her own piping a tune that seemed perfectly suited to the barren landscape.  We couldn't have imagined a more perfect day.
It's important to exercise caution on the rocks around Peggy's Cove as they can be precarious particularly if wet or on a windy day but rogue waves can hit even on a calm sunny day. Keep small kids close at hand and be sure that older kids understand the dangers and stay far back from the edge. It is safest to walk on dry, white rocks. Everyone should wear proper footwear and mind their step!
What You Need to Know
Peggy's Cove is a small rural community located on the eastern shore of St. Margaret's Bay in Nova Scotia's Halifax Regional Municipality, which is the site of Peggy's Point Lighthouse.
Peggy's Cove is located approximately an hour's drive (40 kilometres) from Halifax and the lighthouse may be reached on Highway 333 from Halifax or Highway 103 from Halifax to Exit 5 and then Route 333.
There are bus tours available from Halifax to Peggy's Cove for anyone who prefers not to drive.
The Peggy's Cove Region website is a great source of information about the area.