It has been more than 25 years since I first read a book set in India and I have been fascinated with the country's diversity, landscape, history and culture ever since. Although I haven't yet visited, I read as many books set in India as possible and enjoy learning more about the history, the people and their culture while dreaming about travelling there one day.
This list is made up almost entirely of books that I have read over the years although there are a few that I have in my TBR stack. I've included my favourites in historical fiction, contemporary fiction, romance, mystery and non-fiction and I'll add to the list as I read more books set in India that I enjoy.
You Might Also Enjoy Reading:
Books Set in Paris: A Literary Escape to the City of Light
Books Set in London: A Literary Escape to London Town
Flirty Romance Books Set in Fab Destinations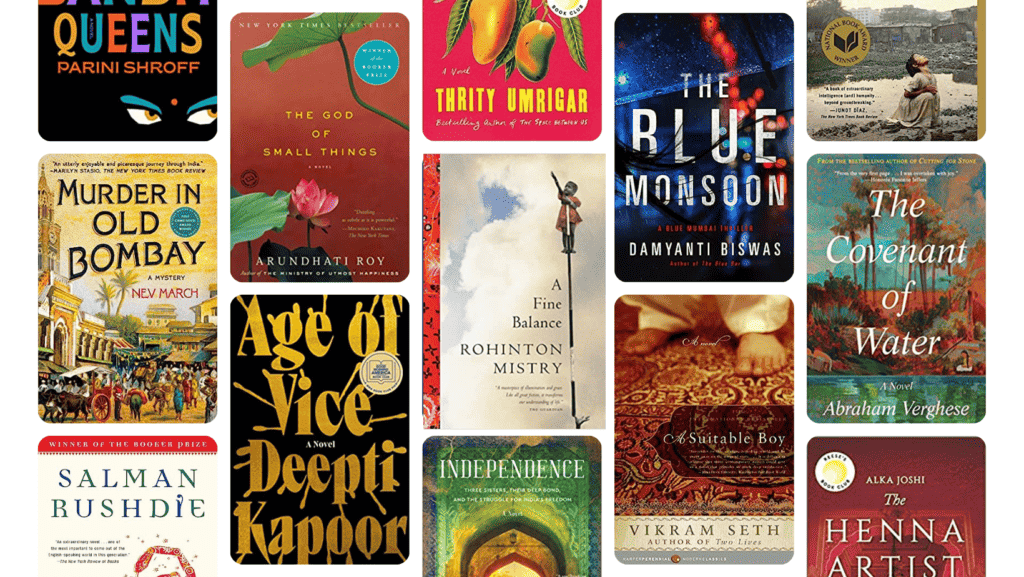 This post may contain affiliate links. If you click an affiliate link and make a purchase then we receive a small commission at no additional cost to you.
We are a participant in the Amazon Services LLC Associates Program, an affiliate advertising program designed to provide a means for us to earn fees by linking to Amazon.com and affiliated sites. As an Amazon affiliate I earn from qualifying purchases.
Historical Fiction Set in India
Historical fiction set in India is a great way to learn more about the history of the country if you (like me) aren't inclined to read extensively in the non-fiction genre.
1. A Fine Balance by Rohinton Mistry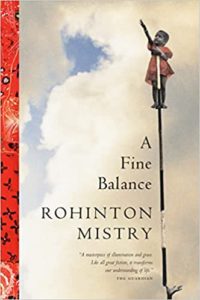 Setting: Bombay (present-day Mumbai)
This international bestseller by Rohinton Mistry tells the story of four ordinary people from different backgrounds – a widow, two tailors and a student – who form a family bond when their lives intersect in mid-1970s India during a time of political turmoil relating to the Prime Minister's declaration of a 'State of Internal Emergency'.
Published in 1995 to critical acclaim, A Fine Balance won the Giller Prize in Canada, the Commonwealth Writer's Prize and the Los Angeles Times Book Prize for Fiction and was also shortlisted for the Booker Prize and the International IMPAC Dublin Literary Award. It was later chosen as an Oprah's Book Club selection in 2001.
This book is one of my favourite novels of all time (I have read it twice and plan to read it again even though it's 600+ pages) and the one that sparked my interest in books set in India. Once you have read this book, the story and the unforgettable characters will never leave you as it makes you ponder hope, despair and the fine balance between the two. It's a grim depiction of life in India in the 1970s but also a celebration of the indomitable human spirit.
2. The God of Small Things by Arundhati Roy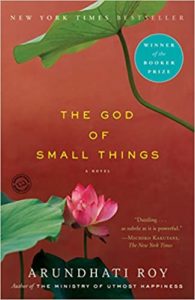 Setting: Kerala, South India
The God of Small Things by Arundhati Roy which won the Booker Prize in 1997 is a book that I read many years ago but it remains an all-time favourite read of mine. This was Roy's debut novel and she was the first Indian to win the prestigious literary prize although it was a controversial book in her home country because of the depictions of sexuality.
The main characters are Estha and Rahel, brother and sister fraternal twins, who are 7 years old and living in Kerala in the south of India in 1969 in the main timeline. The novel opens with the drowning death of their cousin but the narrative is non-sequential – it begins at the end and shifts backward and forward in time between 1969 and almost 25 years later when the twins are reunited as adults. The reader slowly learns what happened the night their cousin drowned, how their mother's forbidden love affair with someone from a lower caste is connected and how their lives were changed that night.
The God of Small Things is a story of a family and lost innocence set against a backdrop of politics, the caste system and 'Love Laws' that explores how "everything can change in a day" and how a few hours or small things can change the course of a life. This was a beautifully written, enthralling read – I found it difficult to put down and read it almost entirely in one sitting.
3. The Covenant of Water by Abraham Verghese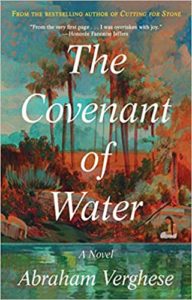 Setting: Kerala, South India
Oh how I loved Abraham Verghese's sweeping novel set in Southern India! Spanning the years 1900 – 1977, The Covenant of Water follows three generations of a family in a small Christian community in Kerala who have a peculiar affliction.
The story begins in 1900 when a 12 year-old girl is married to a man many years older than her and goes to live with him and his son on the family estate. As an adult, she becomes known as Big Ammachi which simply means 'big mother' in Malayalam (the language spoken in Kerala). Big Ammachi soon learns that her husband and his extended family are plagued by a mysterious condition that causes an aversion to water which is unusual since they live amidst the rivers and backwaters of Kerala.
When Big Ammachi finds an old genealogy chart she discovers that at least one person a generation has died by drowning and she is determined to unravel this mystery in order to spare her children and later her grandchildren. Her determination to find a cure for this condition is the thread that runs through her life as she experiences great joy as well as heartbreaking tragedy.
At its heart this is a story about family, love and loss but there is so much more woven into the narrative over Big Ammachi's lifetime. Over the course of nearly 8 decades, the story encompasses the history of South India and the formation of the state of Kerala including politics and the rise of Communism in Kerala post-independence as well as the Naxalite movement, and touches on issues relating to poverty, the caste system, religion, and women's rights.
There are also a number of interesting medical issues that are germane to the plot relating to the understanding of the Condition at the core of the novel as well as leprosy, childbirth, and neurosurgery. The lyrical prose is beautiful throughout but I especially enjoyed the evocative descriptions of the landscape of Kerala which brought the setting of the story to life for me.
I was completely absorbed in this fascinating epic which is equal parts heartbreaking and heartwarming. At 700+ pages, reading it is a commitment but I didn't want it to end and I relished every last page!
Thank you NetGalley and Grove Atlantic for sending a digital ARC of this book for review consideration. All opinions are my own.
4. Such a Long Journey by Rohinton Mistry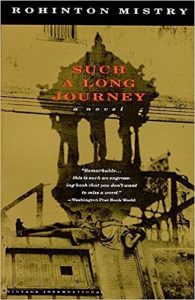 Setting: Bombay (present-day Mumbai)
It has been close to twenty-five years since I read Rohinton Mistry's first novel which was published in 1991. Such a Long Journey won the Governor General's Award in Canada, the Commonwealth Writers Prize for Best Book, and the Smith Books/Books in Canada First Novel Award. It was also shortlisted for the Booker Prize and was made into an acclaimed feature film in 1998.
The complex story is set in Bombay in 1971 at the time of the Indo-Pakistan war over what is now the independent nation Bangladesh. It's the story of Gustad Noble, an honest but naive bank clerk and devoted family man, who gets caught up in political corruption. Noble, whose personal life seems to be unravelling, is approached by an old friend asking for a small but illegal favour and is slowly drawn into a scheme involving large amounts of money.
Such a Long Journey is an unforgettable, heart-wrenching look at a hardworking, decent man who feels powerless to stop his life from collapsing set against a backdrop of political upheaval. It's a touching story of family and one man's journey but also a story of political turmoil and corruption in India in the '70s during the years that Indira Gandhi ruled as Prime Minister.
5. The Henna Artist Trilogy by Alka Joshi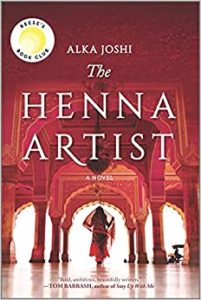 Setting: Jaipur
The Henna Artist is the first book of the Jaipur trilogy (the second and third books are The Secret Keeper of Jaipur and The Perfumist of Paris) about Lakshmi and her sister, Radha. In this first book which starts in the 1950s, seventeen-year-old Lakshmi escapes an abusive marriage and travels on her own to the pink city of Jaipur where she becomes a highly sought after henna artist to the wealthy women of the upper class. Several years later, Lakshmi's husband shows up in Jaipur with her teenage sister – a development which threatens the independent life that Lakshmi has established for herself.
The Henna Artist was a popular Reese's Book Club pick although it has been criticized as pandering to an international audience and containing historical inaccuracies. I would describe this as light historical fiction/romance that provides some insight into Indian culture and history although it's primarily about women striving for independence in a man's world.
Joshi is a skilled storyteller and I thought The Henna Artist was an entertaining debut novel that highlighted some of the issues faced by women in India during the time period beginning a few years after independence while also providing a sense of the beauty of the city Jaipur.
6. Midnight's Children by Salman Rushdie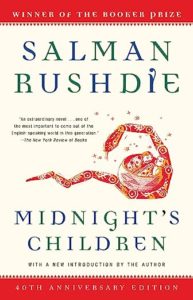 Setting: Many locations in India
From the Publisher: Saleem Sinai is born at the stroke of midnight on August 15, 1947, the very moment of India's independence. Greeted by fireworks displays, cheering crowds, and Prime Minister Nehru himself, Saleem grows up to learn the ominous consequences of this coincidence. His every act is mirrored and magnified in events that sway the course of national affairs; his health and well-being are inextricably bound to those of his nation; his life is inseparable, at times indistinguishable, from the history of his country. Perhaps most remarkable are the telepathic powers linking him with India's 1,000 other "midnight's children," all born in that initial hour and endowed with magical gifts.
Originally published in 1981, Midnight's Children has been named winner of The Best of the Bookers and selected by Modern Library as one of the 100 best novels of all time. More than 40 years after its publication, it is considered a brilliant work of fiction by one of the great literary voices of our time. I have been meaning to read this novel for some time but it kept slipping down my ever expanding TBR list – my goal is to read it before the end of this year.
7. Independence by Chitra Banerjee Divakaruni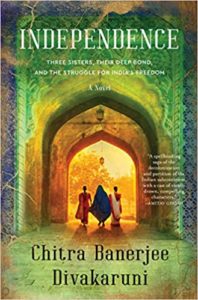 Setting: Bengal
I couldn't put down this moving story told from the alternating point of view of three sisters living in Bengal, India at the time of Partition in 1947. Deepa, Jamini, and Priya live in a village near Calcutta with their mother and their father – a respected doctor who is looking forward to India's independence from British rule. Unfortunately, there will be terrible human costs on the road to independence including the loss of their father who is killed in riots that take over the streets of Calcutta following a political meeting.
As the three young women and their mother struggle to survive this terrible loss and keep their own hopes and dreams alive, a decision is made to divide the country into two states – India for Hindus and Pakistan for Muslims – which leads to more horrific violence between the two religious groups and many thousands of people dead. Against this backdrop, the stories of the three sisters play out – Deepa who has dangerously fallen in love with a Muslim man, Priya who loves her childhood friend but also wants to attend medical school more than anything, and Jamini who wants someone to love and value her.
I knew little more than the basic facts about Partition so was most interested in the historical side of this story and was satisfied with the knowledge gained although I would have been happy to have more historical details. The author effectively weaves the real life stories of actual politicians and political turmoil with the stories of her fictional characters but the focus on the sisters and how their family was affected by Partition and the ensuing violence is what brings the history to life. Independence is a heartbreaking and uplifting story of the bond between sisters, love, betrayal and resilience told against a backdrop of violent political change.
8. A Suitable Boy by Vikram Seth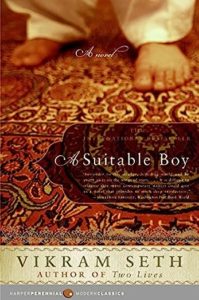 Setting: A fictional city in the north of India
From the Publisher: Vikram Seth's novel is, at its core, a love story: the tale of Lata's–and her mother, Mrs. Rupa Mehra's–attempts to find a suitable boy for Lata, through love or through exacting maternal appraisal. Set in the early 1950s in an India newly independent and struggling through a time of crisis, A Suitable Boy takes us into the richly imagined world of four large extended families and spins a compulsively readable tale of their lives and loves. A sweeping panoramic portrait of a complex, multiethnic society in flux, A Suitable Boy remains the story of ordinary people caught up in a web of love and ambition, humor and sadness, prejudice and reconciliation, the most delicate social etiquette and the most appalling violence.
A Suitable Boy is a sprawling family saga and an epic love story but also historical fiction that immerses the reader in the culture of India during the time period post-partition when the country is in transition. This is another book that I have been meaning to read for quite some time but at nearly 1,500 pages (one of the longest books ever to be published in a single volume in English) it is daunting (although it can be acquired in three volumes to spread out the experience a bit)!
9. Victory City by Salman Rushdie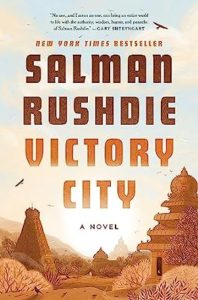 Setting: Southern India
From the Publisher: In the wake of an unimportant battle between two long-forgotten kingdoms in fourteenth-century southern India, a nine-year-old girl has a divine encounter that will change the course of history. After witnessing the death of her mother, the grief-stricken Pampa Kampana becomes a vessel for a goddess, who begins to speak out of the girl's mouth. Granting her powers beyond Pampa Kampana's comprehension, the goddess tells her that she will be instrumental in the rise of a great city called Bisnaga—"victory city"—the wonder of the world.
Over the next 250 years, Pampa Kampana's life becomes deeply interwoven with Bisnaga's, from its literal sowing from a bag of magic seeds to its tragic ruination in the most human of ways: the hubris of those in power. Whispering Bisnaga and its citizens into existence, Pampa Kampana attempts to make good on the task that the goddess set for her: to give women equal agency in a patriarchal world. But all stories have a way of getting away from their creator, and Bisnaga is no exception. As years pass, rulers come and go, battles are won and lost, and allegiances shift, the very fabric of Bisnaga becomes an ever more complex tapestry—with Pampa Kampana at its center.
This is the latest novel from Booker Prize-winning, internationally bestselling author, Salman Rushdie – described as a saga of love, adventure, and myth that is in itself a testament to the power of storytelling. I bought this book when it was published last winter because I decided it was high time that I read a novel by the man considered to be one of our greatest authors. It has been on my TBR shelf since but I will be reading it soon!
10. The Toss of a Lemon by Padma Viswanathan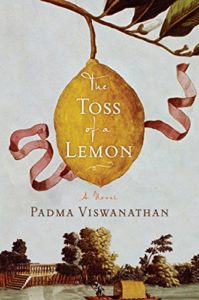 Setting: South India
Published in 2008, Padma Viswanathan's ambitious debut novel (based on stories told to her by her grandmother) tells the story of Sivakami who is married at 10 years of age in 1896, widowed within 10 years and left with two children to raise on her own. Sivakami dutifully follows the customs for widows of her Brahmin caste – she shaves her head, dresses in white and foregoes human touch from dawn to dusk each day – except for her one defiant act of moving back to her husband's home to raise her children with the help of a male servant. The novel follows Sivakami and her family through three generations over the first half of the 20th century.
Writing this article has reminded me how many books I own that I should read again. The Toss of a Lemon is a slow-moving, thoughtful book that I enjoyed very much when I first read it about 15 years ago. It's a lengthy read of 600+ pages but well worth the time commitment – a sprawling intergenerational novel that takes place at a time of great change in the country as it moves away from colonialism toward independence and provides a portrait of gender and caste rules in India in the early to mid-20th century.
11. Moth by Melody Razak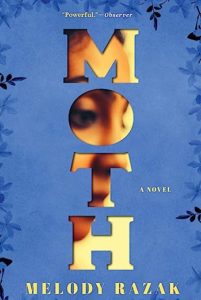 Setting: Delhi
From the Publisher: Delhi, 1946. Fourteen-year-old Alma is soon to be married despite her parents' fear that she is far too young. But times are perilous in India, where the country's long-awaited independence from the British empire heralds a new era of hope—and danger. In its wake, political unrest ripples across the subcontinent, marked by violent confrontations between Hindus and Muslims.
The conflict threatens to unravel the rich tapestry of Delhi—a city where different cultures, religions, and traditions have co-existed for centuries. The solution is partition, which will create a new, wholly Muslim, sovereign nation—Pakistan—carved from India's northwestern shoulder. Given the uncertain times, Alma's parents, intellectuals who teach at the local university, pray that marriage will provide Alma with stability and safety.
Alma is precocious and headstrong, and her excitement over the wedding rivals only her joy in spinning wild stories about evil spirits for her younger sister Roop. But when Alma's grandmother—a woman determined to protect the family's honor no matter the cost—interferes with the engagement, her meddling sets off a chain of events that will wrench the family apart, forcing its members to find new and increasingly desperate ways to survive in the wake of partition.
This debut novel which was one of the most anticipated historical fiction novels of 2022 is on my TBR list. It's the story of one Brahmin family in Delhi living through one of the most tumultuous times in India's history – the 1947 split of Pakistan from India – and explores the impact that the political decision and the ensuing chaos and violence had on women.
Contemporary Fiction Set in India
Contemporary fiction set in India provides insight into what life in India is like today and in more recent years.
12. Interpreter of Maladies by Jhumpa Lahiri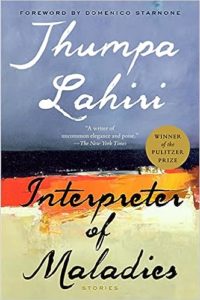 Setting: Various locations in India and U.S.
From the Publisher: With accomplished precision and gentle eloquence, Jhumpa Lahiri traces the crosscurrents set in motion when immigrants, expatriates, and their children arrive, quite literally, at a cultural divide.
A blackout forces a young Indian American couple to make confessions that unravel their tattered domestic peace. An Indian American girl recognizes her cultural identity during a Halloween celebration while the Pakastani civil war rages on television in the background. A latchkey kid with a single working mother finds affinity with a woman from Calcutta. In the title story, an interpreter guides an American family through the India of their ancestors and hears an astonishing confession.
Imbued with the sensual details of Indian culture, these stories speak with passion and wisdom to everyone who has ever felt like a foreigner. Like the interpreter of the title story, Lahiri translates between the strict traditions of her ancestors and a baffling new world.
This critically acclaimed collection of nine short stories about Indians and Indian-Americans published in 1999 won the Pulitzer Prize for Fiction and the PEN/Hemingway Award for debut works of fiction by an American author in 2000. The collection is also an international bestseller having sold more than 15 million copies worldwide.
13. Age of Vice by Deepti Kapoor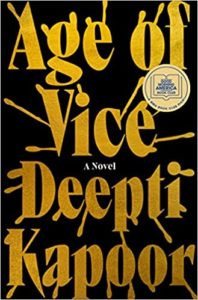 Setting: Villages of Uttar Pradesh, New Delhi, Goa
Buckle up because Age of Vice is a madcap and sometimes shocking ride through the underbelly of modern day India from the villages of Uttar Pradesh to New Delhi with a couple of side trips to Goa! The ambitious, sprawling (560 pages) crime thriller opens with a violent car accident that leaves five people dead on the sidewalk and then introduces three disparate characters – Sunny Wadia the son of a wealthy, powerful man; Ajay born into poverty and now an employee of the Wadia family; and Neda a young investigative journalist.
As the narrative weaves back and forward through time, we learn about each of their back stories, how their lives are intertwined, how the accident happened and its aftermath. It's a gripping story of ruthless power, political and moral corruption and organized crime in modern India – India's 'age of vice'. The ending is explosive yet leaves a fair bit unresolved as this is apparently the first book in a planned trilogy. It's not perfect and it's a bit too long but overall a riveting read by a talented writer.
14. Honor by Thrity Umrigar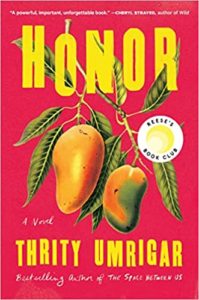 Setting: Mumbai and a small village on the Maharashtra-Gujarat border
A powerful, moving novel about two women in contemporary India brought together by a horrific violent incident. Meena is a young Hindu women living in a rural village whose brothers have been charged with attacking her and murdering her Muslim husband and Smita is an Indian American journalist who left India with her family two decades earlier but has returned to the country of her birth to tell Meena's story.
Honor is a sad and beautifully written story about the injustices suffered by women and girls in rural Indian villages in the name of tradition and a distorted sense of honor but it's also a story of love and of hope. As I was reading, I couldn't help thinking of Rohinton Mistry's great novel and the idea that it's a fine balance between hope and despair – in this case, despair at the brutal treatment of Meena for loving someone her brothers and community deemed unsuitable and hope that bringing attention to the injustice will mean a brighter future for Meena's daughter and girls like her.
15. The Bandit Queens by Parini Shroff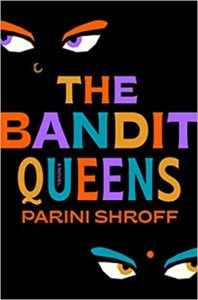 Setting: A rural village near Kohra in Uttar Pradesh
This is quite an enjoyable read about a group of women living in a small village in India. Geeta has been a social outcast for the five years since her husband went missing as everyone in the village assumed that she killed him. Now some of the other women in her micro-loan group would like to "remove their nose rings" – i.e eliminate their own alcoholic, abusive, no-good husbands – and they want Geeta to organize the murders.
The plot in The Bandit Queens touches on a number of serious issues in modern day India including poverty, alcoholism, domestic abuse, sexual assault, the caste system, and women's rights but it's told with a dark humour that tempers the sadness of the storylines. The result is a feel-good story of empowerment as the women take charge of their lives and discover that female friendship will provide the strength they need to deal with difficult circumstances.
16. The White Tiger by Aravind Adiga
Setting: Bangalore
I'm not entirely sure what I think of this book. I bought it shortly after it won the Booker Prize in 2008 and it had been languishing on my bookshelf for more than a decade until I finally picked it up last year. It's a very bleak portrayal of contemporary India laid out in a series of letters from Balram to the Premier of China telling his life story including how he went from being a servant to becoming both a murderer and a successful entrepreneur.
Perhaps it was the mood that I was in when reading the book but I didn't find myself caring much about Balram so never fully engaged in the book. Although I could appreciate the satirical social commentary about Indian society that the author was making, I never connected to the story. Obviously though, it was both critically acclaimed and loved by many readers.
17. A Burning by Megha Majumdar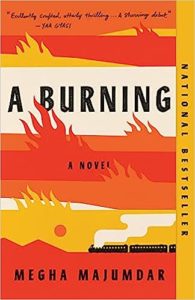 Setting: Kolkata
Three lives become entangled after a terrorist attack on a train – Jivan, a Muslim girl from the slums who is accused of terrorism after she makes a careless remark on Facebook; PT Sir, a gym teacher who becomes involved with a right-wing political party; and Lovely, an outcast who dreams of becoming famous.
A fast-paced story set in contemporary India about three characters whose lives are intertwined in the aftermath of a terror incident. The ambitious debut novel covers themes of justice, corruption and class in the context of a very quick read that can easily be devoured in a single sitting as it rushes toward the devastating conclusion.
18. The Museum of Failures by Thrity Umrigar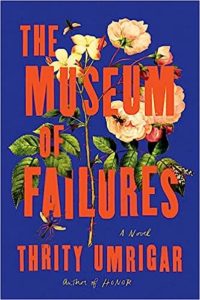 Setting: Bombay/Mumbai
Publication Date: September 26, 2023
From the Publisher: When Remy Wadia left India for the United States, he carried his resentment of his cold and inscrutable mother with him and has kept his distance from her. Years later, he returns to Bombay, planning to adopt a baby from a young pregnant girl—and to see his elderly mother again before it is too late. She is in the hospital, has stopped talking, and seems to have given up on life.

Struck with guilt for not realizing just how ill she had become, Remy devotes himself to helping her recover and return home. But one day in her apartment he comes upon an old photograph that demands explanation. As shocking family secrets surface, Remy finds himself reevaluating his entire childhood and his relationship to his parents, just as he is on the cusp of becoming a parent himself. Can Remy learn to forgive others for their human frailties, or is he too wedded to his sorrow and anger over his parents' long-ago decisions?

Surprising, devastating, and ultimately a story of redemption and healing still possible between a mother and son, The Museum of Failures is a tour de force from one of our most elegant storytellers about the mixed bag of love and regret. It is also, above all, a much-needed reminder that forgiveness comes from empathy for others.
I love Thrity Umrigar's books so I'm eagerly awaiting her latest which will be published in late September.
19. Secret Daughter by Shilpi Somaya Gowda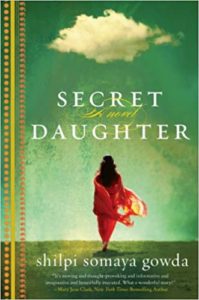 Setting: Partially set in Mumbai
A well-written and deeply touching story about three women – Somer, a physician in San Francisco who is unable to have children; Kavita, a mother in India who makes the heart-wrenching decision to give her infant daughter away in order to save her life; and Asha, adopted from an orphanage in Mumbai who is the connection between the lives of the other two women. The story follows the two families as Asha grows and eventually returns to India to learn more about where she came from.
Gowda's first novel, published in 2010, is a great choice for book clubs as it explores themes of motherhood, loss and cultural identity providing lots to think about and discuss!
20. The Unlikely Adventures of the Shergill Sisters by Balli Kaur Jaswal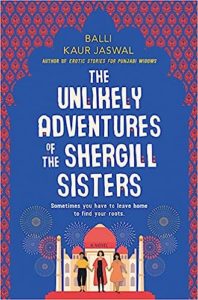 Setting: Delhi to Amritsar
An interesting family drama about three Sikh sisters who have grown apart embarking on a pilgrimage to India to fulfill their late mother's dying wish. While ticking off the items on the itinerary set by their mother, the three sisters struggle with their own personal issues, grief over the loss of their mother and the issues in their relationships with each other.
As they travel from Delhi to Amritsar, we also see some of the social issues in contemporary India, including the struggle for women's equality, from the perspective of non-resident Indians like these three sisters who were born and raised in London.
The story also illustrates some of the difficulties faced by the children of immigrants who may find themselves straddling two cultures and trying to balance their modern lives with their heritage. An enjoyable and thoughtful story from the author of Erotic Stories for Punjabi Widows!
21. Family Matters by Rohinton Mistry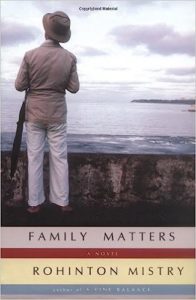 Setting: Bombay (present-day Mumbai)
When 79 year-old Nariman Vakeel, a retired teacher of English literature who has Parkinson's disease, falls and breaks his ankle, he is at the mercy of his family for care. Nariman has been living with his two step-children in a spacious apartment but they are reluctant to provide the physical care he requires so he must turn to his younger daughter who lives with her husband and two sons in a small, crowded apartment.
Nominated for the Booker Prize in 2002, Mistry's third novel perhaps isn't as powerful as A Fine Balance but it's still very good. A compassionate story of three generations of one Parsi family in Bombay in the mid-1990s but also a universal story of family, the indignity of aging and the human condition.
22. Shantarum by Gregory David Roberts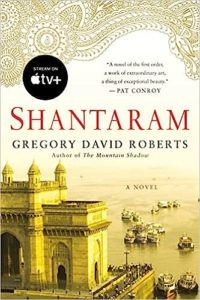 Setting: Bombay (present-day Mumbai)
Set in the underworld of Bombay in the 1980s, a convicted Australian bank robber and heroin addict escapes from a maximum security prison and flees the country for India where he disappears into the streets of Bombay eventually opening a free health clinic in one of the city's poorest slums and getting involved in organized crime.
This 2003 novel is a work of fiction but highly autobiographical and it's another long read at 900+ pages. The top Goodreads reviews are equally divided between loving and hating it and I probably land somewhere in the middle – it was an entertaining novel but not my favourite book set in India. There was also a television series on Apple TV+ based on the novel that debuted in fall 2022 but was cancelled after one season.
23. The Silent Raga by Ameen Merchant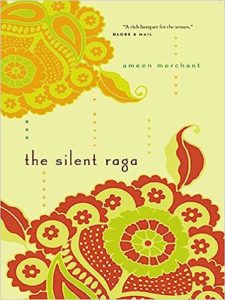 Setting: Madras
From the Publisher: Meet Janaki and Mallika, two sisters from a middle-class Brahmin family in Madras, India. Janaki is a musical prodigy, sublimely gifted on the veena, but will soon be eighteen and dreads her aunt's schemes for an arranged marriage. Eschewing tradition, she runs off with a Muslim Bollywood star. Years later, Mallika receives a letter from Janaki, who is returning to Madras.
In confident prose that resembles the rhythms and progression of an Indian raga, Ameen Merchant captures in rich detail the world of these Brahmin women, a world restricted by caste and cultural rules but also teeming with colour, music and food. It is a story about the traditions that bind us and the sacrifices we must make along the road to our own individual destinies.
I bought this debut novel 10 years ago because I loved the sound of it – particularly the musical aspect but I haven't read it yet. It's now on the top of the TBR pile on my bedside table so I will read it soon!
24. Such Big Dreams by Reema Patel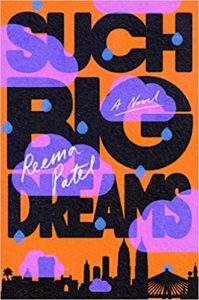 Setting: Mumbai
An enjoyable read about a young woman in Mumbai who is determined to make her own choices on how to live her life. Rakhi is a former street child working as an office assistant at a struggling human rights law practice and living in one of the city's slums when she is befriended by Alex, the new Harvard-bound intern from Canada.
Alex encourages Rakhi to apply to college programs in hotel management so that she can make more of her life and promises to help her with the applications in exchange for her showing him "the real India".
The novel gives a good sense of what life is like in Mumbai and the obstacles to success that people in Rakhi's circumstances face when trying to achieve their dreams.
Thank you NetGalley and Random House Publishing Group – Ballantine for sending a digital ARC of this book for review consideration. All opinions are my own.
25. The Inheritance of Loss by Kiran Desai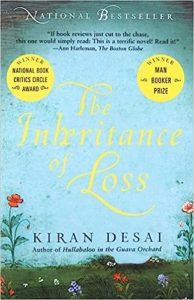 Setting: Near the Himalayas
From the Publisher: In a crumbling, isolated house at the foot of Mount Kanchenjunga in the Himalayas lives an embittered judge who wants only to retire in peace, when his orphaned granddaughter, Sai, arrives on his doorstep. The judge's cook watches over her distractedly, for his thoughts are often on his son, Biju, who is hopscotching from one gritty New York restaurant to another.
Kiran Desai's brilliant novel, published to huge acclaim, is a story of joy and despair. Her characters face numerous choices that majestically illuminate the consequences of colonialism as it collides with the modern world.
Another book on my TBR – Kiran Desai's novel, published in 2005, won the Booker Prize and the National Book Critics Circle Award for Fiction in 2006 and was nominated for several other literary awards.
26. Q & A by Vikas Swarup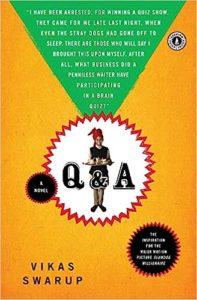 Setting: Mumbai and various other locations in India
Ram Mohammad Thomas is being held in a jail cell in Mumbai after correctly answering all 12 questions on India's most popular quiz show Who Will Win a Billion? He's suspected of cheating because nobody can believe that a poor orphan with no education could win such a contest. While sitting in jail, Ram explains to his lawyer via flashbacks how he was lucky that an event in his life provided the answer to each of the questions.
I loved Swarup's debut novel which inspired the award-winning film Slumdog Millionaire and should probably read it again! Q & A is a fun, easy-to-read book that takes the reader on a rollicking ride back and forth in time through Ram's life combining comedy, coincidence, tragedy and social commentary in an entertaining, original plot.
27. The Space Between Us by Thrity Umrigar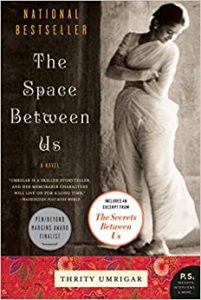 Setting: Bombay (now Mumbai)
From the Publisher: The Space Between Us is the story of two compelling and achingly real women: Sera Dubash, an upper-middle-class Parsi housewife whose opulent surroundings hide the shame and disappointment of her abusive marriage, and Bhima, a stoic illiterate hardened by a life of despair and loss, who has worked in the Dubash household for more than twenty years.
A powerful and perceptive literary masterwork, Umrigar's extraordinary novel demonstrates how the lives of the rich and poor are intrinsically connected yet vastly removed from each other, and how the strong bonds of womanhood are eternally opposed by the divisions of class and culture.
One of Umrigar's early novels (2005), I have had this book about two very different women in modern day India on my TBR shelf for quite some time along with the sequel The Secrets Between Us which was published in 2018.
Romance Set in India
Sometimes you just want the escapism of a romance set in a fabulous destination (like India) with a happy-ever-after ending!
28. A Holly Jolly Diwali by Sonya Lalli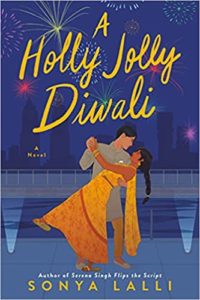 Setting: Mumbai and Goa
A cute romance about Niki, a very practical young Indian-American woman, who is let go from her data analyst job and makes the impulsive decision to take a last-minute trip to India (Mumbai and Goa) to celebrate a friend's wedding. While there she meets Sam, an attractive musician, who helps her realize that she might be happier if she took more risks and followed her passions instead of doing what she thought a good daughter should.
Most of the story takes place post-Diwali but I enjoyed reading a holiday rom-com that was centred on a celebration other than Christmas. I also enjoyed that Niki's solo trip to India helped her become more independent and also to connect to her Punjabi roots.
Mysteries and Thrillers Set in India
I have recently discovered several series of mysteries, thrillers and crime novels set in India (both historical and contemporary) that I am enjoying.
29. The Widows of Malabar Hill by Sujata Massey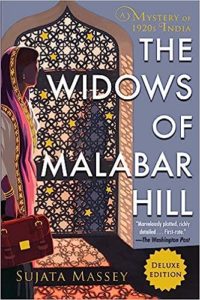 Setting: Bombay (now Mumbai)
The first book in a historical mystery series set in Bombay (now Mumbai) in the early 1920s about a young woman who is the first female lawyer in the city. Perveen Mistry is an Oxford-educated lawyer who has recently returned to Bombay to join her father's law firm and is working on the execution of the will of a wealthy Muslim man who has left behind three widows.
The widows live in strict purdah and Perveen is concerned that they are being taken advantage of by a guardian. When a murder takes place in the home on Malabar Hill, it becomes clear that Perveen's investigation might be more dangerous than she expected. There is a second timeline that takes place five years earlier which provides insight into Perveen's background and the reason for her interest in women's rights.
The Perveen Mistry series is inspired by the real life women who were the first female lawyers in India. The Widows of Malabar Hill starts a bit slow but is an interesting story and enlightening with respect to life in Bombay during that time period particularly in terms of culture, tradition, and religion. An enjoyable read and I'm looking forward to reading the three follow-up books in the series.
The other books in the Perveen Mistry series are The Satapur Moonstone, The Bombay Prince and The Mistress of Bhatia House.
30. Murder in Old Bombay by Nev March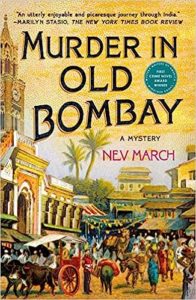 Setting: Bombay (now Mumbai)
From the Publisher: In 1892, Bombay is the center of British India. Nearby, Captain Jim Agnihotri lies in Poona military hospital recovering from a skirmish on the wild northern frontier, with little to do but re-read the tales of his idol, Sherlock Holmes, and browse the daily papers. The case that catches Captain Jim's attention is being called the crime of the century: Two women fell from the busy university's clock tower in broad daylight. Moved by Adi, the widower of one of the victims ― his certainty that his wife and sister did not commit suicide ― Captain Jim approaches the Parsee family and is hired to investigate what happened that terrible afternoon.
But in a land of divided loyalties, asking questions is dangerous. Captain Jim's investigation disturbs the shadows that seem to follow the Framji family and triggers an ominous chain of events. And when lively Lady Diana Framji joins the hunt for her sisters' attackers, Captain Jim's heart isn't safe, either.
The first in a series, this debut historical crime novel set in 19th century Bombay was nominated for numerous award including an Edgar Award for best first novel by the Mystery Writers of America when it was published in 2020. I have it on hold at the library so it will be my next mystery read. The subsequent books in the series Peril at the Exposition (2022) and The Spanish Diplomat's Secret (2023) are not set in India.
31. The Bangalore Detectives Club by Harini Nagendra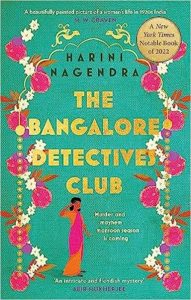 Setting: Bangalore
19 year-old Kaveri has been married to Ramu for three years but has just moved to Bangalore to live with him as his wife after completing her education. Kaveri is an intelligent young woman who loves to solve math problems and would like to continue her education so is pleased to discover that Ramu's views on women and marriage are more progressive than many in their community.
The couple attends a dinner party at a local club with a group of doctors and their spouses but dinner is interrupted by a murder in the garden. Kaveri's curiosity draws the two of them into the case searching for clues that will reveal the real killer before a vulnerable local woman is tried and convicted of the crime.
Named a New York Times Notable Book of 2022, this is the first book in a new cozy mystery series set in Bangalore in colonial India featuring a spirited (and perhaps a bit headstrong) young bride, Kaveri, and her doctor husband, Ramu, as amateur sleuths.
I loved the setting and this was a charming debut even though the killer seemed obvious to me from the outset. I enjoyed it enough that I will read the second book in the series, Murder Under a Red Moon, to see what the future holds for Kaveri and Ramu. There's also a bonus chapter of delicious recipes for readers to try their hand at Indian cooking.
32. Six Suspects by Vikas Swarup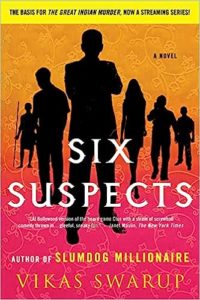 Setting: New Delhi and other locations in India
Seven years ago, Vivek "Vicky" Rai, the playboy son of the home minister of Uttar Pradesh, murdered bartender Ruby Gill at a trendy restaurant in New Delhi. Now Vicky Rai has been killed at the party he was throwing to celebrate his acquittal and the police arrest six guests with guns in their possession.
Swarup's second novel is the one crime/mystery novel that I read years ago and not just recently. Six Suspects is a complex whodunnit (loosely based on a real-life murder) set in contemporary India that is more about the character of the suspects than it is about the plot. The novel is also the basis for a 9 episode streaming television series called The Great Indian Murder.
33. The Blue Monsoon by Damyanti Biswas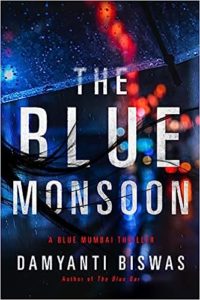 Setting: Mumbai
Publication Date: October 24, 2023
It's monsoon season in Mumbai and Senior Inspector Arnav Singh Rajput has been called to the scene of a grisly homicide. A mutilated and castrated body has been found on the steps of a Kaali temple with tantric symbols drawn into his flesh. As Arnav investigates this shocking crime, he is also balancing the care of his pregnant and wheelchair bound wife, Tara, and their teenage daughter who is still traumatized by her prior kidnapping.
Tensions build when additional victims are found and there's pressure from above to solve the crime as quickly as possible. The discovery that there is a mole in the police department means that Arnav can only trust his junior officer, Sita Naik, and the two of them race to find the killer and protect Arnav's family amidst the torrential rainfall, waterlogged streets and rising floodwaters of the monsoon.
The Blue Monsoon is an entertaining crime novel with a complex plot set on the gritty streets of Mumbai. It's a sequel to The Blue Bar (Blue Mumbai series) but can be read as a standalone although reading them in order would provide better insight into the main characters of the series.
Told from multiple points of view, it's an atmospheric police procedural/crime thriller with vivid descriptions of Bombay and includes themes relating to family relationships, police corruption, politics, religion, the caste system and the treatment of women woven into the plot, I enjoyed it and plan to read The Blue Bar now because I want the back story!
Thank you NetGalley and Thomas & Mercer for sending a digital ARC of this book for review consideration. All opinions are my own.
Non-Fiction
Novels are great for providing a sense of place and informing the reader about the culture and history of a place but if you're seeking more in-depth factual information then you will want to turn to non-fiction books about India.
34. Castaway Mountain by Saumya Roy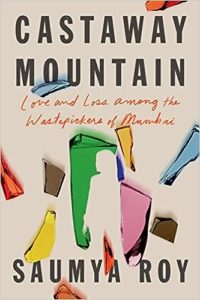 Setting: Mumbai
From the Publisher: All of Mumbai's possessions and memories come to die at the Deonar garbage mountains. Towering at the outskirts of the city, the mountains are covered in a faint smog from trash fires. Over time, as wealth brought Bollywood knock offs, fast food and plastics to Mumbaikars, a small, forgotten community of migrants and rag-pickers came to live at the mountains' edge, making a living by re-using, recycling and re-selling.
Among them is Farzana Ali Shaikh, a tall, adventurous girl who soon becomes one of the best pickers in her community. Over time, her family starts to fret about Farzana's obsessive relationship to the garbage. Like so many in her community, Farzana, made increasingly sick by the trash mountains, is caught up in the thrill of discovery—because among the broken glass, crushed cans, or even the occasional dead baby, there's a lingering chance that she will find a treasure to lift her family's fortunes.
As Farzana enters adulthood, her way of life becomes more precarious. Mumbai is pitched as a modern city, emblematic of the future of India, forcing officials to reckon with closing the dumping grounds, which would leave the waste pickers more vulnerable than ever.
Although it reads like a novel, Castaway Mountain is narrative non-fiction that explores the consequences of urban overconsumption and is a searing indictment of our global failure to deal with waste. The book was selected as one of NPR's Books We Love 2021.
35. Behind the Beautiful Forevers by Katherine Boo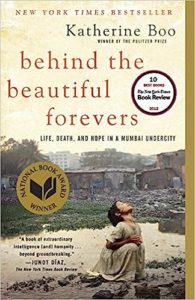 Setting: Mumbai
Behind the Beautiful Forevers is the story of the families living in Annawadi, a makeshift settlement in the shadow of luxury hotels near the Mumbai airport. Based on years of reporting, Pulitzer Prize-winning author Katherine Boo introduces the reader to the residents of Annawadi who share their hopes and dreams for a better life.
It has been about 10 years since I first read this critically acclaimed book but it was beautifully written, heartbreaking and unforgettable. First published in 2012, Behind the Beautiful Forevers was a Pulitzer Prize Nominee for General Nonfiction and was the winner of several prizes including National Book Award for Nonfiction.
Related Articles
50 Books Set in London: A Literary Escape to London Town
36 Books Set in Paris: A Literary Escape to the City of Light
Flirty Romance Books Set in Fabulous Destinations
Pin This For Later