Reading a book about Paris is always a good idea! Whether you're a fan of Emily in Paris, planning a trip, or just in the mood to dream about Paris, these books set in Paris will transport you to the City of Light!
This list is made up almost entirely of books that I have read over the years although there are a few that I have in my TBR stack and one that will be published later this spring. I've included my favourites in romance, historical fiction, contemporary fiction, non-fiction, classics and children's books and I'll add to the list as I read more books set in Paris that I enjoy.
You might also enjoy reading:
Escape With These 30 Flirty Romance Books Set in Fab Destinations
21 Must-Read Books Set in Canada
50 Books Set in London: A Literary Escape to London Town
35 Books Set in India: A Literary Journey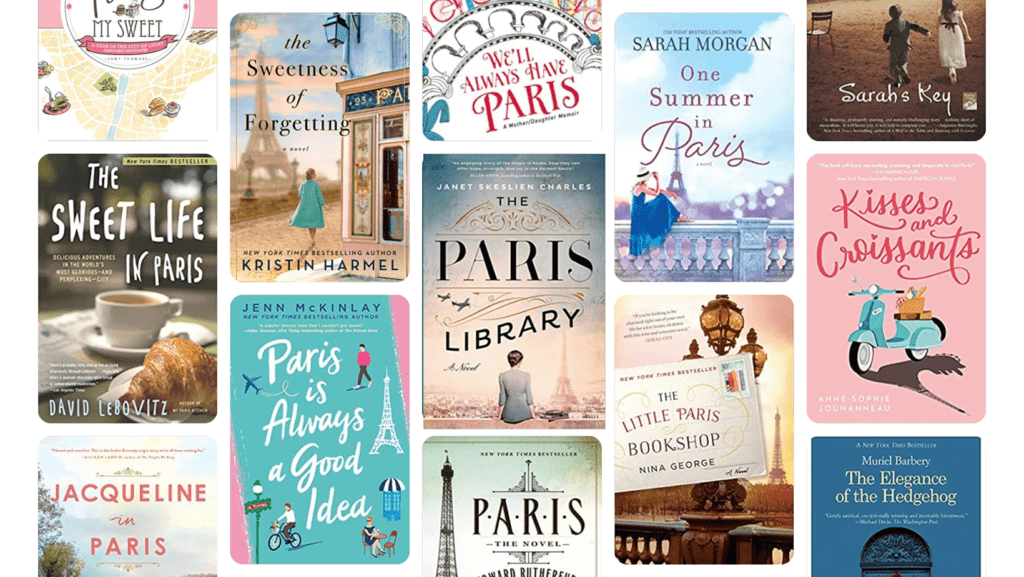 This post may contain affiliate links. If you click an affiliate link and make a purchase then we receive a small commission at no additional cost to you.
We are a participant in the Amazon Services LLC Associates Program, an affiliate advertising program designed to provide a means for us to earn fees by linking to Amazon.com and affiliated sites. As an Amazon affiliate I earn from qualifying purchases.
Romance Books Set in Paris
You can't go wrong with a romance set in the most romantic city in the world!
1. One Summer in Paris by Sarah Morgan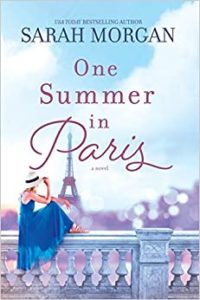 I picked this up from my local library because I recently read a great book by the author and this pretty cover called to me!
Grace had planned a surprise romantic getaway to Paris with her husband for their 25th anniversary but he surprises her by asking for a divorce. Reeling from the shock, Grace travels to Paris by herself where she meets Audrey, a young woman from London who left heartache behind to spend the summer in Paris working at a bookshop. The two women living in neighbouring apartments over the bookstore travelled to Paris to find themselves but found unbreakable friendship instead.
One Summer in Paris is a light read about two women who develop an unlikely friendship over the course of one summer in Paris. The setting is beautiful, the friendship between the two is delightful and the support they provide to each other as they grow emotionally and gain confidence is heartwarming. I didn't care for one aspect of the ending but it was an enjoyable read up until that point.
2. Kisses and Croissants by Anne-Sophie Jouhanneau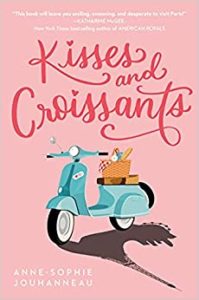 I haven't read this yet but my teen daughter has and she loved it! A YA romance about a young American ballerina who meets a charming French boy while spending the summer in Paris to pursue her dreams of becoming a professional dancer. Mia's summer was supposed to be about ballet – but there's a reason Paris is called the City of Love…
3. Anna and the French Kiss by Stephanie Perkins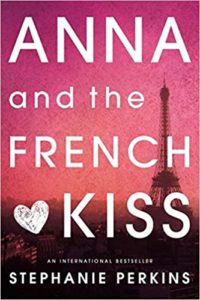 A teen romance about a girl from Atlanta whose father sends her to boarding school in France for her senior year. Anna is less than thrilled until she meets Étienne St. Clair, the perfect boy. The only problem? He's taken, and Anna might be, too, if anything comes of her crush back home.
4. Paris is Always a Good Idea by Jenn McKinlay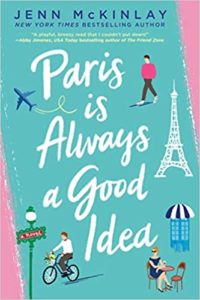 This one is only partially set in Paris but I still think it's a great choice if you are looking for a literary escape to Paris!
Chelsea is a 30 year-old fundraiser for a cancer charity who realizes that she hasn't been happy since her mother's death seven years earlier so decides to retrace the gap year trip that she was on at the time of her mother's diagnosis – hoping to find herself (and love) again.
Chelsea's plan is to return to Ireland, France and Italy to track down the three men that she fell in love with on her gap year and see if she can find happiness with any of them. Things don't go quite according to plan and are complicated by an annoying coworker who pushes all her buttons.
Chelsea's escapades in Europe are funny and there are heartfelt bits as well as she deals with her grief over the loss of her mother and how she can move on with her life. What I enjoyed most though was travelling vicariously to Ireland, Tuscany and Paris with Chelsea. If you're looking for a fun, light read then this rom-com is a good idea!!
5. The Paris Connection by Lorraine Brown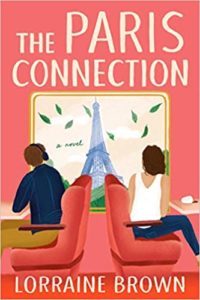 A fun, light, enjoyable read! Hannah and her boyfriend, Simon, have been on a romantic getaway in Venice and are on their way to Amsterdam for his sister's wedding. They accidentally get separated on the overnight train and Hannah ends up in Paris instead where she spends the day seeing the city with Léo, a young Parisian man who she met on the train.
The best part of this book is exploring Paris with the two as Léo takes Hannah to see all of his favourite places in the city. The descriptions of the city made me want to hop on a plane and return to la belle Paris!!
6. The Loveliest Chocolate Shop in Paris by Jenny Colgan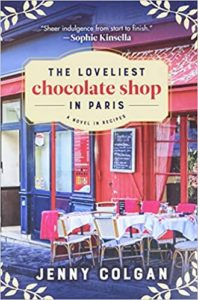 "Award-winning author Jenny Colgan takes her charming romances to Paris in this heartwarming, bittersweet story of life, love and chocolate." I love Jenny Colgan books and I love Paris so this seems the perfect fit for me. It's currently sitting on my shelf of TBR books but I plan to read it soon!
Anna Trent is a supervisor in a chocolate factory in the UK who doesn't actually know how to make chocolate. A twist of fate gives her the opportunity to work at the most elite chocolatier in Paris but Anna expects to be outed as a fraud by her new boss who creates gourmet confections. Anna can't match him in the kitchen, but she might be able to give him a second chance at love.
7. The Littlest Bookshop on the Seine by Rebecca Raisin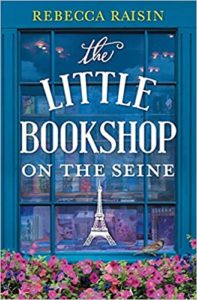 The Little Bookshop on the Seine is a sweet love letter to Paris and charming old bookshops! Bookshop owner Sarah Smith jumps at the opportunity for a job exchange with her Parisian friend Sophie expecting to have the experience of a lifetime – six months to explore Paris, work in a beautiful bookshop and spend more time with her globetrotting boyfriend. Nothing goes according to plan but Sarah is determined to get the shop and her life in order so that her dreams of a Parisian happily-ever-after can come true!
I have always dreamed about living in Paris and have never made that dream come true so instead I live vicariously by reading stories (fiction or non-fiction) about people that pack up their lives and move to the City of Light.
Historical Fiction Set in Paris
With a city as rich in history as Paris is, it's not at all surprising that it's a popular setting for historical fiction.
8. The Paris Library by Janet Skeslien Charles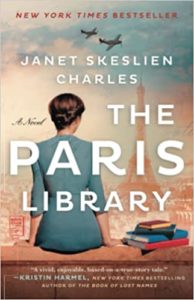 This is an enjoyable historical fiction novel with a dual timeline – Paris during the years of WWII and Montana in the mid-80s – that I'm including it because I loved the Paris timeline! Odile Souchet features in both timelines – as a young French woman working at the American Library in Paris during the war years and as the widowed neighbour of teenager Lily in a small town in Montana in the mid-80s.
The Paris Library is an easy book to read and the author does an excellent job of weaving together historical fact and fiction. As a book lover, I particularly enjoyed the central role that the library and books (and the dewey decimal system) played in the story and was intrigued to discover after reading the book that most of the librarians were actual people who worked at the American Library in Paris during the war years.
Overall, an enjoyable read touching on the importance of books and reading in our lives, the horrors of war and the importance of friendship.
9. The Paris Dressmaker by Kristy Cambron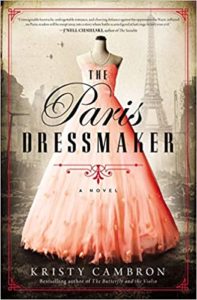 I love historical novels and I love Paris but I decided to read this book because of the most beautiful book cover I've ever seen! This was my first time reading anything by this author and I thought it was a well-written and interesting story about the Parisiennes who stayed behind in the city during the Nazi occupation and found ways to contribute to the resistance. It requires some focus as there are two main characters, Lila and Sandrine, who each have their own stories (and two timelines) that don't converge until the end but an enjoyable read.
10. Sarah's Key by Tatiana de Rosnay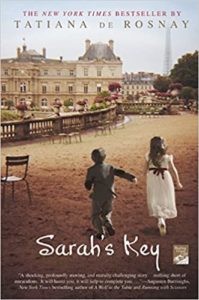 It has been quite a few years since I first read Sarah's Key but it remains one of my all-time favourite historical fiction novels. A moving dual timeline narrative that tells the story of 10 year-old Sarah who locks her brother safely in a cupboard in their family's apartment before she is arrested by the French police in the Vel d'Hiv roundup in Paris in July 1942 and a journalist in 2002 writing an article marking the anniversary of the roundup who learns of Sarah and is compelled to trace her ordeal.
11. The Perfumist of Paris by Alka Joshi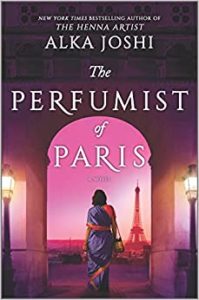 Set in both Paris and India, The Perfumist of Paris is an enjoyable conclusion to Alka Joshi's Jaipur trilogy!
It's 1974 and Lakshmi's younger sister, Radha, is now in her early '30s and living in Paris with her husband, Pierre, and their two daughters. Radha loves her work at a perfumerie although her employment is the source of marital conflict since Pierre thinks she should abandon her career and be content with her role as wife and mother. A project requiring the creation of a signature scent for a new client provides Radha an opportunity to travel back to India, reunite with her sister, Lakshmi, and consult with the courtesans of Agra about scents. While in India, Radha learns that the son she never told her husband about is heading to Paris to find her.
The Perfumist of Paris is an enjoyable story about Radha finding herself, recognizing what she needs to be happy, accepting her past and the familiar struggle between having a rewarding career/creative outlet and being a good mother. I found it quite interesting as well to learn about the processes of developing perfumes (the author has done her research!) and thoroughly enjoyed being immersed in the sights, sounds and smells of Paris and India in the '70s.
12. Jacqueline in Paris by Ann Mah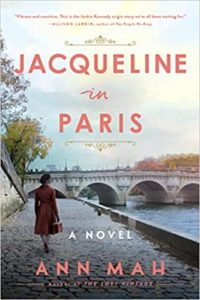 This is an interesting historical fiction novel about a legendary woman before she became a household name. In 1949 Jacqueline Bouvier sails from the U.S., despite her mother's reservations, to spend her junior year abroad studying in Paris and boarding with a Parisian family. During the year she makes lifelong friends, falls in love for the first time, gains confidence in her own intelligence and capabilities and sows the seeds for a lifelong love affair with Paris.
Jacqueline's time in Paris also fosters an understanding of how hard life was in France during the war and brings her face-to-face with a post-war world that includes spy networks and the rise of communism.
Jacqueline in Paris is a character driven novel without a great deal of plot but still an enjoyable read as it conveys the sense of what it was like to be in Paris in 1949/50 as the city and the country were recovering from the hardship and deprivation of the war and also provides some insight into an iconic woman during her coming of age in the City of Light.
13. The House I Loved by Tatiana de Rosnay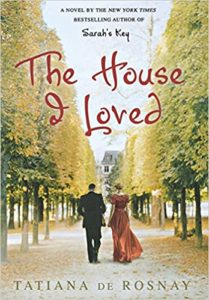 This is another favourite of mine from several years ago also by Tatiana de Rosnay. Rose Bazelet is determined to fight the destruction of her family home in 1860 Paris. Entire neighbourhoods are being razed by order of Napoleon III so that Baron Haussman can transform Paris into a modern city but Rose refuses to leave even after everyone else has fled.
14. Paris: The Novel by Edward Rutherfurd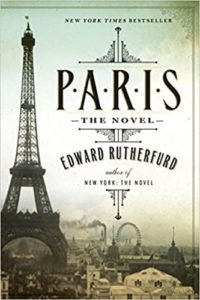 I have read all but one of Edward Rutherfurd's epic works of historical fiction and Paris is one of my favourites! As in his other novels, Paris follows generations of families through centuries and ties them to the history of the city from medieval times through to the 1960s although this novel jumps back and forth in time rather than sticking to a linear timeline.
Rutherfurd's exhaustively researched books are long (this one is 809 pages) but don't let that put you off – they are also a wonderful journey through history and hard to put down. Perfect for anyone who loves history and travel!
15. The Postmistress of Paris by Meg Waite Clayton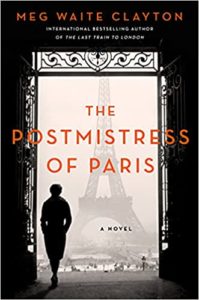 A fascinating and suspenseful WWII historical novel that takes place in Paris and Marseilles about a wealthy young American woman helping artists escape from France following the Nazi occupation in 1940 whose life becomes intertwined with Edouard, a Jewish photographer, and his young daughter, Luki. The narrative shifts mostly between Nanée and Edouard, however, the occasional chapter from Luki's perspective shows the heartbreaking impact that war and separation from family had on young children.
This is the sort of novel where I love reading the author's notes at the end of the book as they invariably send me down a rabbit hole of Google searches to learn more about some of the real life people involved. Although Nanée, the main female character in this book is fictional, the author's inspiration in creating her was real life Chicago heiress Mary Jayne Gold who worked with journalist Varian Fry to smuggle artists and intellectuals out of Nazi-occupied France. I wasn't familiar with either Gold or Fry or the organization they worked with before reading The Postmistress of Paris and I'm always interested in learning more about the brave individuals who risked their own safety to help save lives in war-torn Europe.
16. The School of Mirrors by Eva Stachniak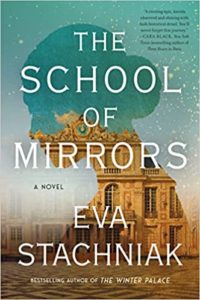 An interesting historical fiction novel set in Paris and Versailles that spans several decades in the latter half of the 18th century. The focus of the first part of the book is the court of Versailles and the young girls from poor families who are taken there and groomed to become courtesans for King Louis XV. Véronique Roux is one of these girls who is brought to Versailles at the age of 13. By age 14, she is pregnant with the king's child and gives birth to a daughter who is taken from her.
The focus of the story then shifts to the daughter, Marie-Louise, who lives as a child with guardians in Versailles and later in Paris with an accredited midwife who takes her in and treats her as a niece. Marie-Louise also becomes a midwife, marries and starts a family in Paris during the volatile time leading up to the French Revolution.
The pacing is a bit slow at times, however, the novel is meticulously researched and well-written with detailed descriptions of life in Paris and Versailles during the time period. The School of Mirrors shines a light on the reality for women in 18th century France including limited legal rights regardless of class, rampant abuse of young girls and women by men in power, unrelenting poverty for many and the dangers of childbirth to mother and child. It's also a story of the strength of women who are survivors and of the love that endures between a mother and daughter despite their physical separation.
17. The Lost Girls of Paris by Pam Jenoff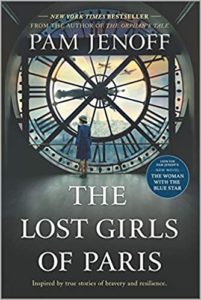 This is another book that has been on my TBR shelf since one of my daughters read it and I plan to read soon! One morning in 1946, Grace Healey finds an abandoned suitcase containing photographs of 12 different women under a bench in Grand Central Terminal. When she learns that the women were all part of a network of female secret agents who never returned home, she sets out to find the truth about what happened to them.
Contemporary Fiction Set in Paris
Here are a few recommendations if you prefer a modern Paris setting.
18. The Elegance of the Hedgehog by Muriel Barbery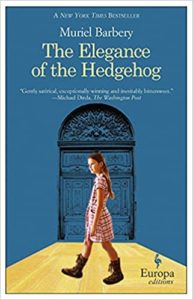 I likely wouldn't have read this if it hadn't been a book club read for me several years ago and I thought it was brilliant (though not everyone in my book club did)! The Elegance of the Hedgehog takes place at a posh apartment building in Paris and is about the unlikely friendship between a suicidal 12 year-old girl, a concierge who has taught herself art, philosophy and music, and a Japanese pensioner who has recently moved in. This book won quite a few literary awards but if you look at the Goodreads reviews you will see that it seems to be a loved it or hated it book – I loved it!
19. Paris by the Book by Liam Callanan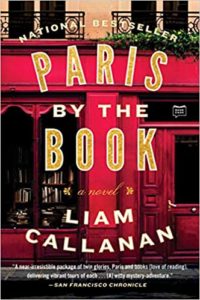 After an eccentric novelist goes missing, his wife and daughters find plane tickets to Paris that he has left behind and fly there to search for him. Upon arrival they find an unfinished manuscript of his set in Paris and then buy an English-language bookstore while searching for clues to his mysterious disappearance. It's about a bookstore and Paris and I can't resist that combination!
20. The Little Paris Bookshop by Nina George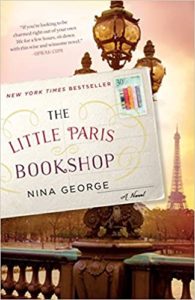 I read this charming international bestseller a few years ago and loved it because it features two destinations I love – Paris and the south of France – and it's all about the healing power of books!
Monsieur Perdu is a literary apothecary – a man who prescribes novels for the hardships of life to those who come to his floating bookstore on the Seine. While Perdu mends the broken hearts and souls of others by providing them with the book they need, he is still heartbroken over the disappearance of his great love who left behind a letter he has never opened. After finally opening the letter, he departs for the south of France to try and make peace with his loss. Travelling in the barge heading south along the country's rivers, he dispenses his wisdom and books showing how literature can heal the human soul.
21. The Sweetness of Forgetting by Kristin Harmel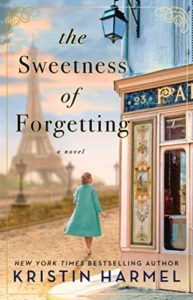 A touching story about family, love, loss and regret. Hope is trying to keep her family bakery in Cape Cod afloat while dealing with a recent divorce, a troubled teenage daughter and her grandmother, Rose, who has Alzheimers and is gradually slipping away. Hope's grandmother married her grandfather in Europe during World War II and returned with him to the U.S. where she opened the bakery.
Rose has never spoken much about her life in France but in a lucid moment she asks Hope to travel to Paris to find out what happened to a list of people. As Hope begins to research the names, she realizes that her grandmother may have a secret past and the answers she's searching for may be found in Paris and in the traditional family recipes that her grandmother brought with her from France.
A beautiful and bittersweet story that connects to World War II and the Holocaust and the brave people who put their own safety at risk in order to save others from fascists. The book is particularly enlightening with respect to the role of the Grand Mosque of Paris in saving Jewish people in World War II.
This 10th anniversary edition of the book includes a number of recipes for the pastries that are sold in Hope's family bakery which is fun for anyone who would like to try their hand at baking some of the delicious sweets described in the story.
22. Gourmet Rhapsody by Muriel Barbery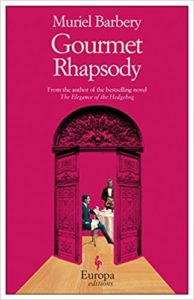 This novel which takes place in the same upper-class French apartment building made famous by The Elegance of the Hedgehog was Barbery's first novel but was re-released after the popularity of the second novel. Gourmet Rhapsody focuses on another resident of the rue de Grenelle apartment – Pierre Arthens, an arrogant food critic who is on his deathbed reliving his life and memorable meals while hoping for one more taste of something exquisite (he's not sure what) that will top everything that came before.
Paris in Non-Fiction
I don't read a great deal of non-fiction, however, it's surprising just how many of the ones I have read are about visiting or living in Paris!
23. We'll Always Have Paris by Jennifer Coburn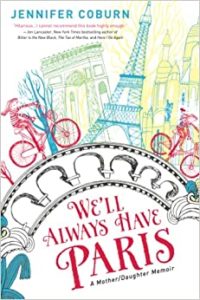 In We'll Always Have Paris, Jennifer Coburn tells the story of several mother-daughter summer trips to European cities beginning in 2005 when she took 8 year-old Katie to Paris and London. Jennifer lost her father to cancer as a teenager and is consumed by the fear that she will also die prematurely and wants to ensure that she leaves her young daughter with wonderful memories. When planning that first trip to Europe she imagines herself on her deathbed telling Katie "we'll always have Paris".
In subsequent years, the two also travel through Italy and Spain, to Amsterdam and back to Paris but as much as the memoir is about the experiences of the duo in Europe, it is also the story of how those travels helped Jennifer address her fear of dying and learn to live in the moment.
We'll Always Have Paris is a thoroughly enjoyable read for both those who love travel and those who enjoy a good mother/daughter story. Be forewarned though that before you have closed the book on the final page, you will be planning a European adventure of your own.
Full review of We'll Always Have Paris
24. Paris to the Moon by Adam Gopnik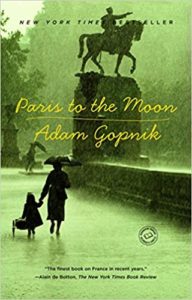 It has been more than 20 years since I read this delightful book about an American family living in Paris in the late '90s but I still remember how much I loved it. Adam Gopnik, a writer for New Yorker magazine who moved to Paris for 5 years with his wife and infant son, chronicles his life as an American with a small child in Paris – both the challenges and the magic of the experience. Perfect for anyone who has dreamed of running away to Paris!
25. The Sweet Life in Paris by David Lebovitz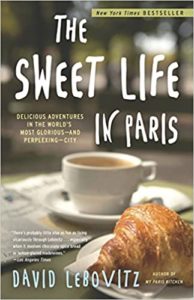 I loved every page of David Lebovitz' account of what it's really like to live in Paris as an American expat. It had me laughing out loud and the recipes at the end of each chapter are a delicious bonus!
The book is comprised of humourous anecdotes about various aspects of life in Paris from the difficulty of getting a good cup of coffee to the inability of Parisians to wait patiently in a queue to the apparent indifference of shopkeepers toward selling their wares.
Each chapter of the book is only a few pages long making it very easy to enjoy in little tidbits whenever time allows. The unique aspect of the book is that each of these short chapters includes a recipe at the end.
Read a full review of The Sweet Life in Paris
26. Paris My Sweet: A Year in the City of Light by Amy Thomas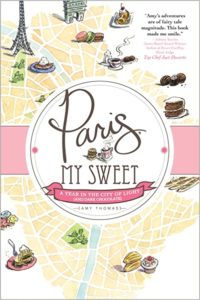 Yet another running away to Paris book – there seems to be a theme here! Amy Thomas leaves Manhattan to work in Paris for Louis Vuitton for a year where she experiences all the charms of the city especially the patisseries and boulangeries.
27. Paris Times Eight by Deirdre Kelly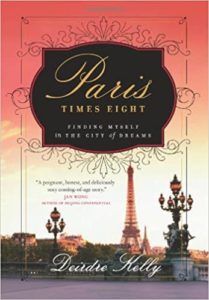 A memoir about self-discovery related to eight trips to Paris over several years beginning when the writer was a teenager and then as a budding writer, a dance critic and a fashion writer.
28. The Book Lover's Guide to Paris by Emily Cope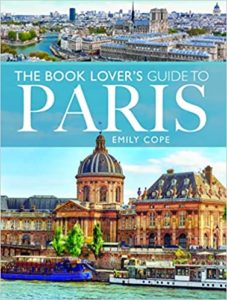 A great mini guidebook with numerous photos focused on literary sites in Paris organized by time period beginning with Victor Hugo's 19th century Paris through to contemporary writers. Includes interesting books shops and libraries to visit and places to stay that have a literary connection. I need to plan another trip to Paris because I now have a long list of places I want to visit that I missed on previous trips!
29. A Moveable Feast by Ernest Hemingway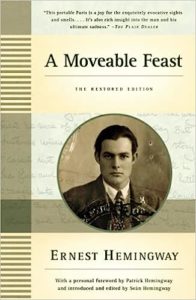 "If you are lucky enough to have lived in Paris as a young man, then wherever you go for the rest of your life, it stays with you, for Paris is a moveable feast." During the last years of his life, Hemingway wrote this deeply personal memoir about his years as an unknown writer living in Paris in the 1920s as part of The Lost Generation.
Literature Classics Set in Paris
I can't write a list of books set in Paris without including at least a few literature classics.
30. The Hunchback of Notre Dame by Victor Hugo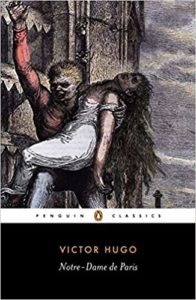 A mad priest, a vagabond playwright, a social-climbing soldier, and a deformed bell-ringer — all are captivated by a gypsy girl's beauty and charm. Two of them will betray her, but the others will remain loyal, even in the shadow of the gallows. These outlaws find sanctuary within the walls of medieval Paris' greatest monument, the grand Cathedral of Notre Dame.
I read Victor Hugo's masterpiece many years ago as a teenager when I was on a kick of reading as many classics as possible. It's a book that I think I should return to now as I think I would appreciate it all the more as an adult.
31. A Tale of Two Cities by Charles Dickens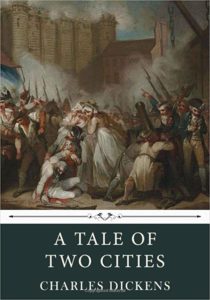 Dickens' most popular work of historical fiction, set in both London and Paris against the backdrop of the French Revolution and the Reign of Terror, is about a young woman named Lucie Manette, her doctor father who was imprisoned in the Bastille for many years and two men that both love her – Charles Darnay and Sydney Carton. This is another classic that I first read and loved as a teenager and read again a few years later but I think it's time to read it for a third time!
32. Les Misérables by Victor Hugo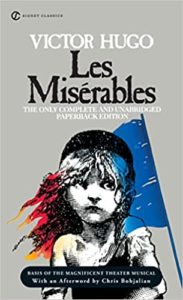 Victor Hugo's epic masterpiece, first published in 1862, is considered one of the greatest novels of the 19th century. The story of injustice, love and redemption follows a former convict named Jean Valjean as he tries to put his criminal past behind him following a 19 year imprisonment for stealing a loaf of bread. The novel progresses from his release in 1815 to a student uprising in 1832 engaged on behalf of the working class.
I'm embarassed to admit that I've not read Les Misérables as the musical based on it is an all-time favourite of mine that I have seen many times – but in my defence it is over 1,400 pages long so it will be a bit of a challenge when I do take it on as a project!
Children's Books Set in Paris
When my daughters were younger, I loved to share books that inspire a love of travel and adventure in kids with them. These are a few of the children's books set in Paris that we have enjoyed.
33. This is Paris by Miroslav Sasek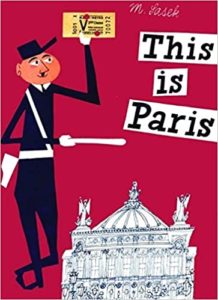 Czech artist and illustrator, Miroslav Sasek, published the first picture book in his delightful This Is series in 1958. Many have been reissued in recent years and a new generation of children and parents can now enjoy the series of books about many of the world's great cities and countries.
34. Madeline by Ludwig Bemelmans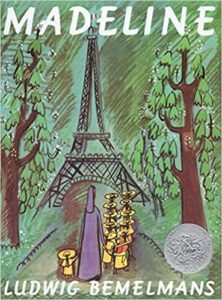 This classic about 12 little girls that lived in an old house in Paris that was covered with vines was a favourite of both of my daughters – and me too! The award-winning book about an endearing little girl and whimsical drawings of Paris is still popular more than 75 years after it was first written.
35. KeeKee's Big Adventures in Paris, France by Shannon Jones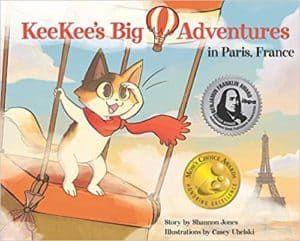 Part of a children's series about a charming calico cat named KeeKee that travels the world in her hot air balloon, this is a lovely picture book for kids under the age of 7 or 8 to enjoy with their parents at storytime or for early readers to tackle themselves. It introduces readers to the highlights of Paris including famous landmarks, culture, language, and food as KeeKee explores the city.
Read a full Review of KeeKee's Big Adventure in Paris, France
36. Eloise in Paris by Kay Thompson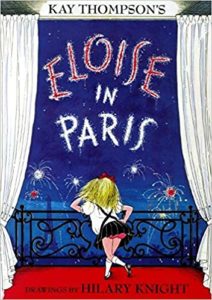 Children will love discovering Paris along with Eloise, resident of The Plaza Hotel in New York City, as she visits familiar Parisian sights from the Arc de Triomphe to the Seine to the Champs Élysées to outdoor cafés.
Pin This For Later