Planning a quick visit to family-friendly Amsterdam? Here's our itinerary for a weekend in Amsterdam with kids.
During a recent spring break in March, my husband, our daughter and I traveled to Europe and split our time between two cities – 4 nights in Amsterdam followed by 4 nights in London. We arrived on a Friday afternoon and departed on Tuesday morning but managed to see a fair bit considering that jet lag impacted our first day in the city. In retrospect though, it would have been nice to have an additional day in Amsterdam just to wander the city. This is our itinerary for a long weekend in Amsterdam with kids.
This post may contain affiliate links. If you click an affiliate link and make a purchase then we receive a small commission at no additional cost to you.
We are a participant in the Amazon Services LLC Associates Program, an affiliate advertising program designed to provide a means for us to earn fees by linking to Amazon.com and affiliated sites. As an Amazon affiliate I earn from qualifying purchases.
Day One – Orientation to Amsterdam
We flew to Europe overnight from Toronto connecting through Munich and arriving in Amsterdam early in the afternoon. We checked into our hotel near the Museum Quarter and tried to deal with our jet lag by taking a walk through the historic canal district of the city.
Emma was exhausted but the fresh air and some ice cream helped her perk up a bit and get a second wind. Our first impression of Amsterdam was that there were a lot of bicycles – even more than we had seen in Copenhagen on our very first family trip to Europe several years earlier.
We also learned very quickly that it was important to be careful when crossing the street as there are traffic lights for cars, bicycles and pedestrians. You must be sure to attempt crossing only with the pedestrian walk signal or you could be run down by a bicycle. By the time we had returned from our first walk around the canal district, I had been completely charmed by Amsterdam and was looking forward to more sightseeing the following day. We had an early dinner overlooking the canal at the Hard Rock Cafe just a short walk from our hotel and then called it a night.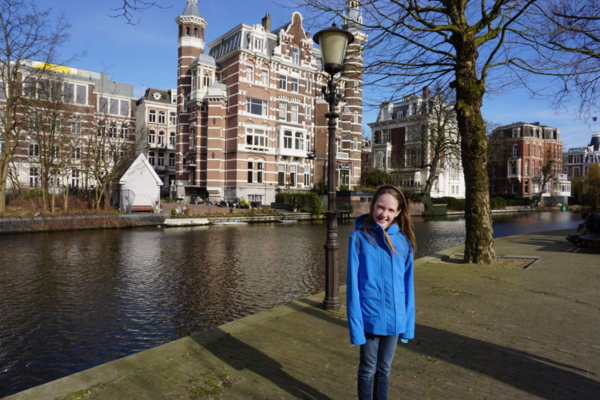 Day Two – Museums and a Canal Cruise
After a quick breakfast at the Starbucks nearest our hotel we headed directly to the Van Gogh Museum on Museumplein via Vondelpark which is the largest city park in Amsterdam. Van Gogh is one of Emma's favourite artists so she was excited to visit a museum dedicated to his artwork.
The museum contains the world's largest collection of works by Vincent Van Gogh including his masterpiece Sunflowers. Photography is not allowed in the museum, however, there are photo spots set up for taking pics and posting on social media.
Tickets can be purchased in advance in order to avoid the queue but we took our chances and our wait wasn't too long. (We were lucky, however, as we were visiting in March and arrived first thing in the morning. At a busier time of day or year I definitely would have purchased the tickets in advance.)
The museum features four floors of exhibits displaying some of Van Gogh's best known works including Sunflowers, The Potato Eaters, Almond Blossom, Self-Portrait with Grey Felt Hat, and Self-Portrait as a Painter as well as works by some of his contemporaries such as Gauguin, Monet and Pissarro. The work is displayed chronologically so it's interesting to see Van Gogh's progression as an artist.
The museum offers children's activities and events as well as a family multimedia guide available in Dutch and English all which are geared towards kids in the 6-12 years age range. Emma chose to do the Treasure Hunt which had a list of questions based on works in the museum and it was difficult enough that she had to search to find all of the answers.
By the time we had finished our visit, Emma was hungry so we paused for a snack at the light-filled Museum café Le Tambourin which has a lovely view overlooking the Museumplein and serves delicious pizza.