Planning a quick visit to family-friendly Amsterdam? Here's our itinerary for a weekend in Amsterdam with kids.
During a spring break trip to Europe, my husband, our daughter and I traveled to Europe and split our time between two cities – 4 nights in Amsterdam followed by 4 nights in London.
We arrived on a Friday afternoon and departed on Tuesday morning but managed to see a fair bit considering that jet lag impacted our first day in the city. In retrospect though, it would have been nice to have an additional day in Amsterdam just to wander the city. This is our itinerary for a long weekend in Amsterdam with kids.
Last updated March 2023
This post may contain affiliate links. If you click an affiliate link and make a purchase then we receive a small commission at no additional cost to you.
We are a participant in the Amazon Services LLC Associates Program, an affiliate advertising program designed to provide a means for us to earn fees by linking to Amazon.com and affiliated sites. As an Amazon affiliate I earn from qualifying purchases.
Day One – Orientation to Amsterdam
We flew to Europe overnight from Toronto connecting through Munich and arriving in Amsterdam early in the afternoon. We checked into our hotel near the Museum Quarter and tried to deal with our jet lag by taking a walk through the historic canal district of the city.
Our daughter was exhausted but the fresh air and some ice cream helped her perk up a bit and get a second wind. Our first impression of Amsterdam was that there were a lot of bicycles – even more than we had seen in Copenhagen on our very first family trip to Europe several years earlier.
We also learned very quickly that it was important to be careful when crossing the street as there are traffic lights for cars, bicycles and pedestrians. You must be sure to attempt crossing only with the pedestrian walk signal or you could be run down by a bicycle.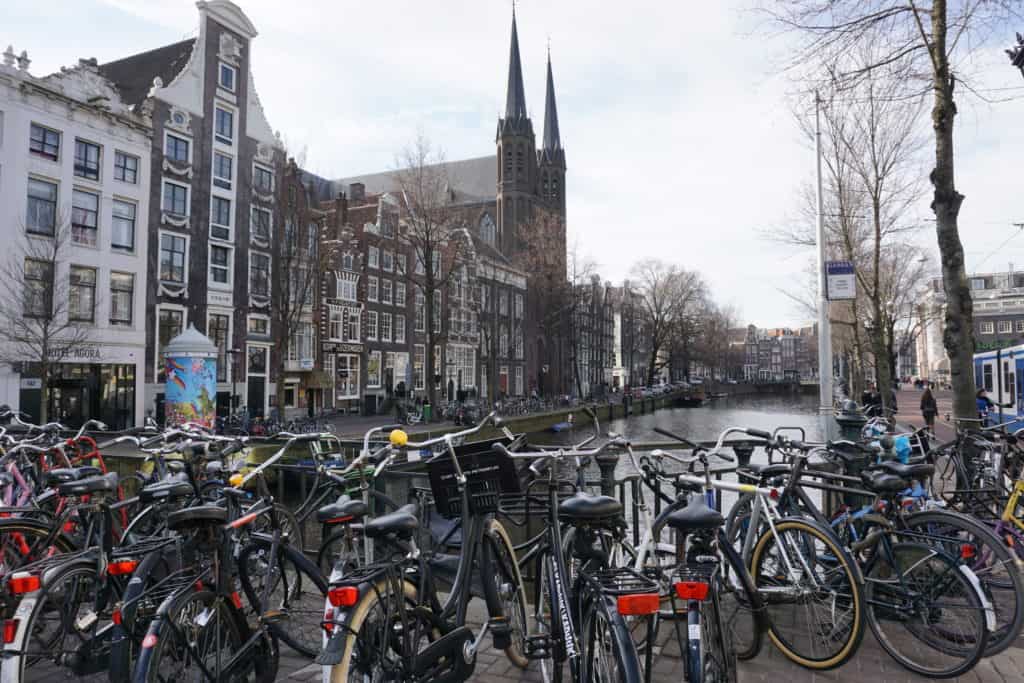 By the time we had returned from our first walk around the canal district, I had been completely charmed by Amsterdam and was looking forward to more sightseeing the following day. We had an early dinner overlooking the canal at the Hard Rock Cafe just a short walk from our hotel and then called it a night.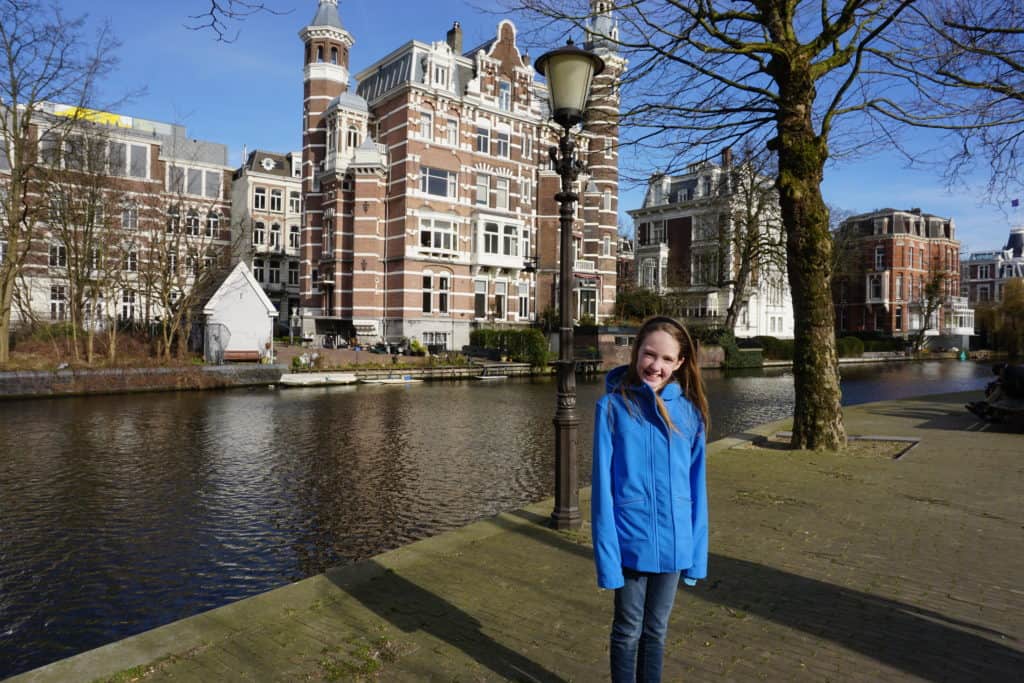 Day Two – Museums and a Canal Cruise
After a quick breakfast at the Starbucks nearest our hotel we headed directly to the Van Gogh Museum on Museumplein via Vondelpark which is the largest city park in Amsterdam. Van Gogh is one of our daughter's favourite artists so she was excited to visit a museum dedicated to his artwork.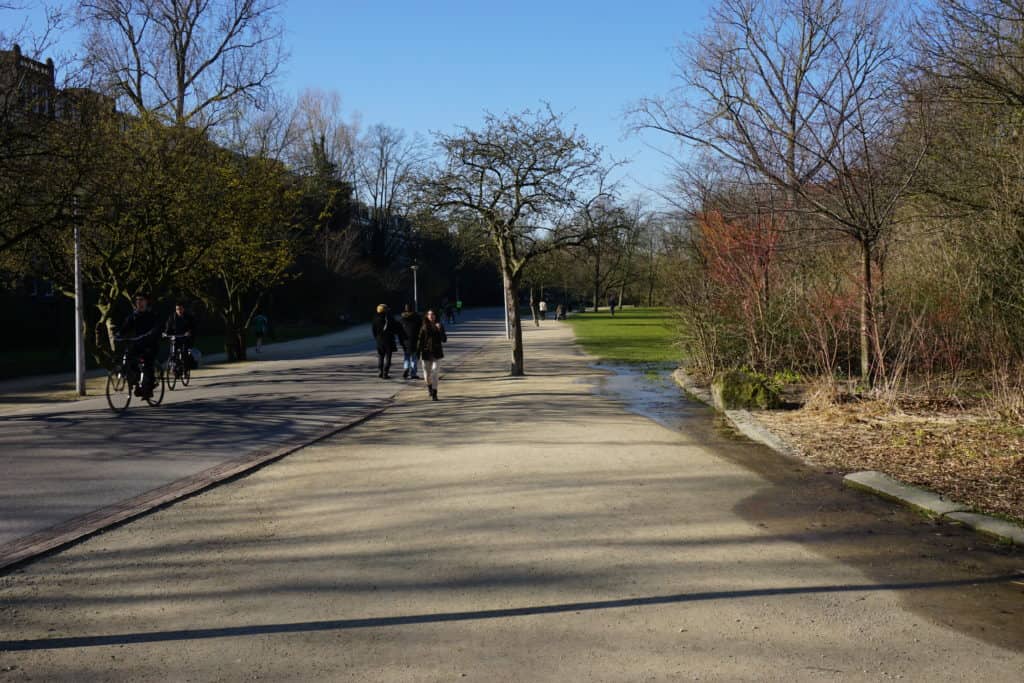 Van Gogh Museum
The Van Gogh Museum contains the world's largest collection of works by Vincent Van Gogh including his masterpiece Sunflowers. The museum's collection also includes his drawings and letters which provide a fuller picture of the man behind the art. The museum is celebrating its 50th anniversary in 2023 with special exhibitions and a festive programme.
Photography is not allowed in the museum except in certain designated areas including the Entrance Hall and the photo spots/selfie walls set up for taking pics and posting on social media.
Located at Museumplein 6. Opening hours vary by time of year. Tickets are available online and include admission to the permanent collection and current exhibitions. All visitors are required to pre-book a timed-entry ticket. 2023 prices: Adults: 20 Euros; Visitors under 18: free.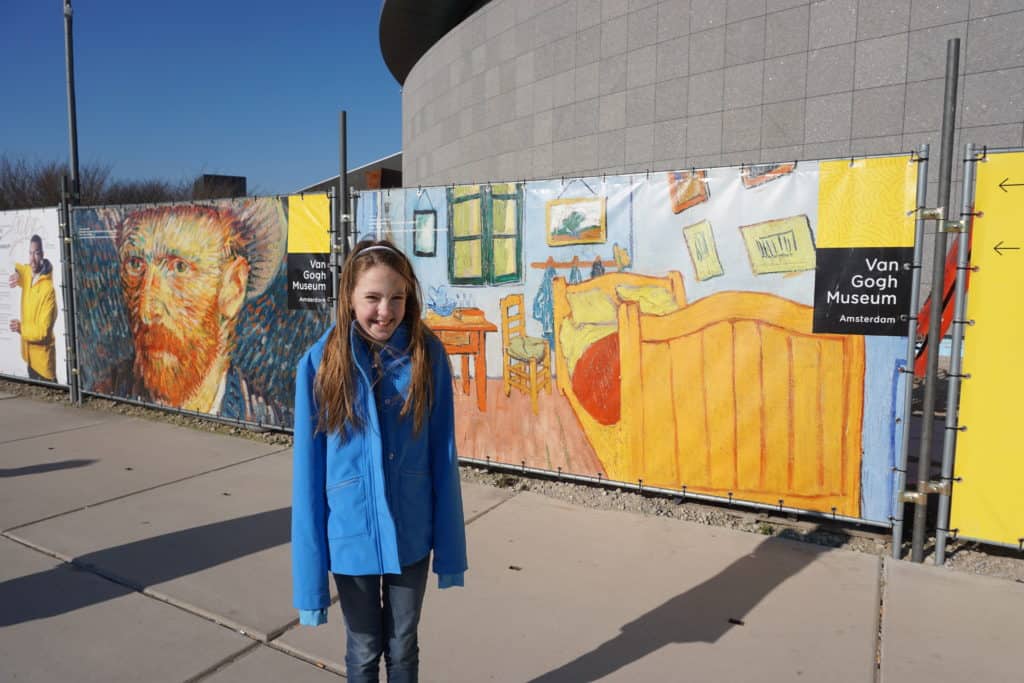 The museum features four floors of exhibits displaying some of Van Gogh's best known works including Sunflowers, The Potato Eaters, Almond Blossom, Self-Portrait with Grey Felt Hat, and Self-Portrait as a Painter as well as works by some of his contemporaries such as Gauguin, Monet and Pissarro. The work is displayed chronologically so it's interesting to see Van Gogh's progression as an artist.
The museum offers children's activities and events as well as a family multimedia guide available in Dutch and English (3.50 Euros for adults and free for children under 13) which are geared towards kids in the 6-12 years age range. Our daughter chose to do the Treasure Hunt which had a list of questions based on works in the museum and it was difficult enough that she had to search to find all of the answers.
There is also a Van Gogh Checklist for visitors aged 12+ and a treasure hunt designed for younger children aged 4-6. The museum's website also has a section on Van Gogh for children that you can check out at home.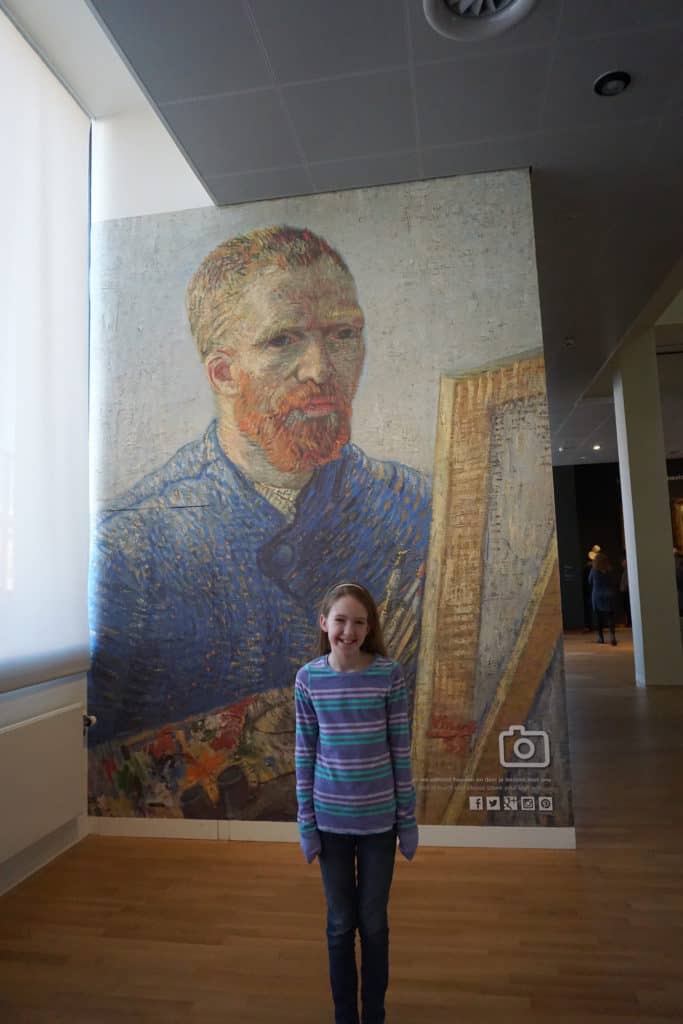 By the time we had finished our visit, Emma was hungry so we paused for a snack and a drink at the light-filled Museum café Le Tambourin which has a lovely view overlooking the Museumplein and serves delicious pizza. (Open 10 am – 5 pm)
Read reviews and book tickets/tours in advance for the Van Gogh Museum on TripAdvisor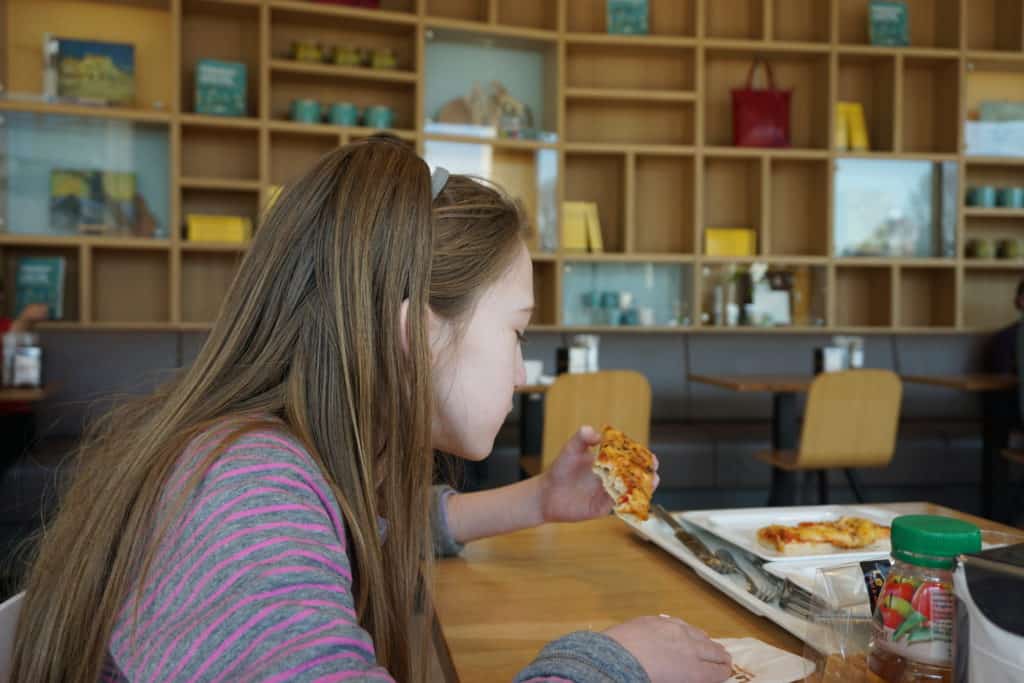 Amsterdam Canal Cruise
You can't visit Amsterdam without taking a canal cruise so that was next on our agenda! Amsterdam's canal ring, developed in the 17th century to facilitate trade and reclaim land, was named a UNESCO World Heritage Site in 2010 and is the most distinctive aspect of the city. Canal cruises are now the most popular tourist attraction in the Netherlands with over 3 million people taking one each year.
There are several businesses offering the cruises and as far as I know the experience that they offer is similar. We chose Blue Boat Company Canal Cruises because it was the first kiosk that we saw on our walk back from the Van Gogh Museum to our hotel opposite the Hard Rock Cafe.
A canal cruise is included with the I amsterdam City Card, however, we hadn't purchased the card because we weren't going to have time to visit most of the included attractions. Discount e-tickets for the canal cruise may also be purchased online ahead of time. Pricing is around 15 Euros for adults and 11 Euros for children.
We had a lovely sunny afternoon for our 75 minute city cruise and the view of Amsterdam from the boat sailing along the canal was spectacular. I could not stop taking photos of all the buildings and the houseboats moored alongside the canals and discovered when I returned home that I had a ridiculous number of canal photos. (You can see some of my favourite photos in Canals of Amsterdam.)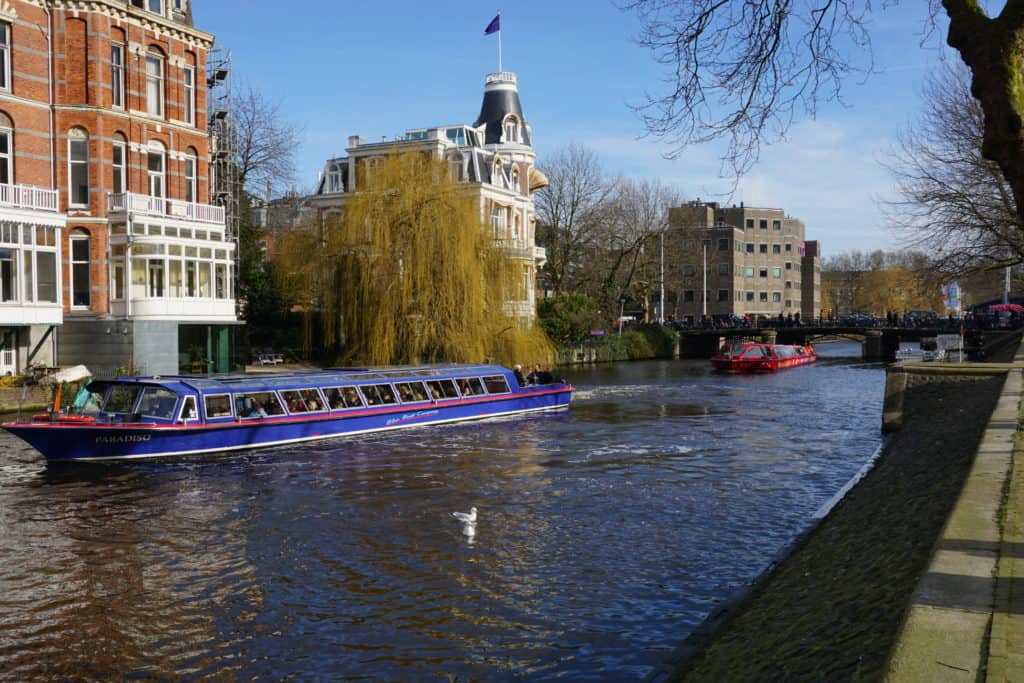 Rather than a tour guide, our boat had a personal audio system with commentary available in 19 languages so we were able to listen to an English recording that provided historical facts about the city and interesting stories as we cruised along.
A canal cruise is one of the most memorable ways to get to know Amsterdam and to understand the city's connection to the water – a must on a first-time visit to the city but an enjoyable way to spend an hour for return visitors as well.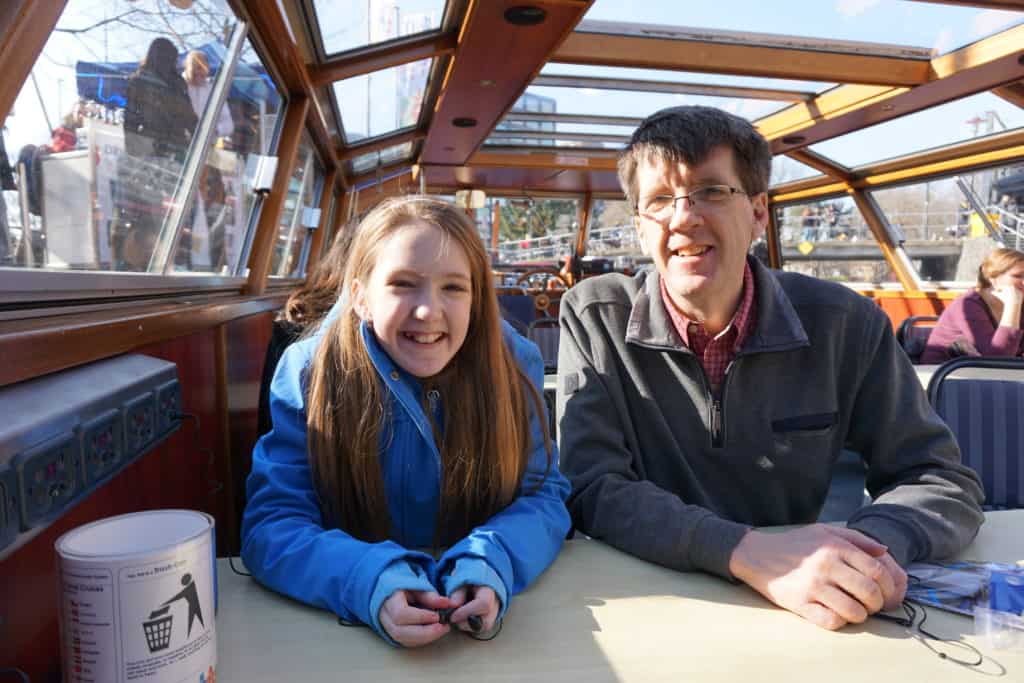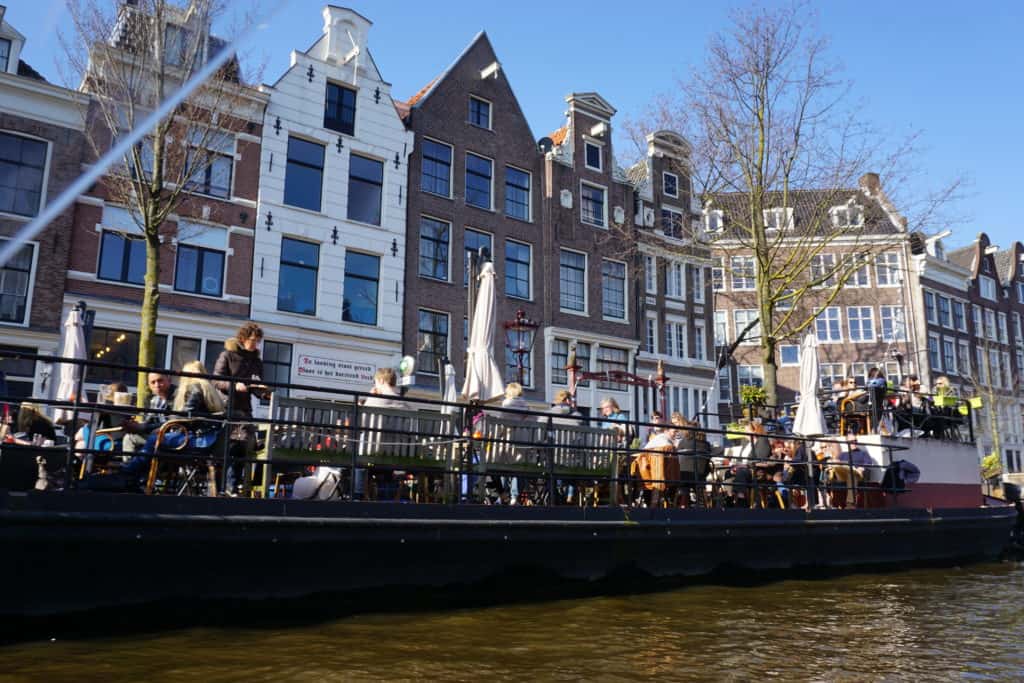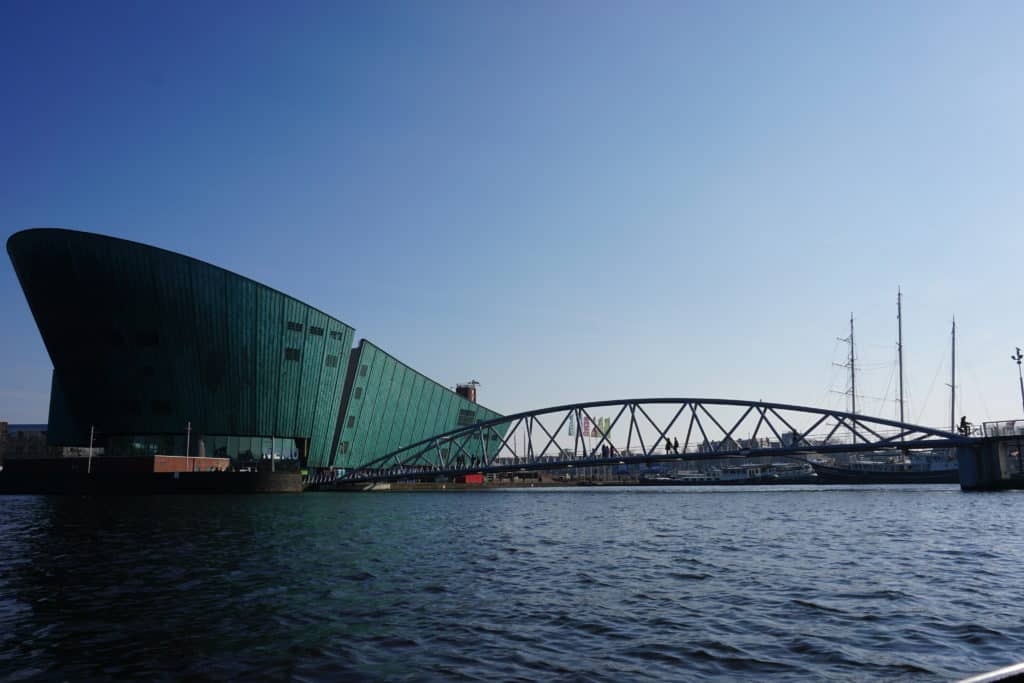 Kattinkabinet Museum (Cat Museum)
Prior to our trip, Cassie who writes the travel blog Ever in Transit recommended that we visit Kattenkabinet, a unique museum devoted entirely to art works depicting cats including sculptures, paintings and posters so after our canal cruise we headed off in search of the museum. We had some trouble finding the museum located on Herengracht in the Canal District but I was glad that we persevered.
We only spent about 30 minutes but thoroughly enjoyed exploring the museum which is housed over two floors of a historic 17th century house. The museum was founded by Bob Meijer in honour of his ginger cat, John Pierpont Morgan (1966-1983) and includes the J.P. Morgan Memorial on the upper floor. There are apparently several cats living in the building which often roam the museum but, unfortunately, we didn't meet them during our visit.
Located at Herengracht 497, 1017 BT Amsterdam. Open Tuesday to Sunday from 12 – 5 pm. Tickets can only be purchased in advance from the website. 2023 Admission prices: Adults – 10 Euros; Students – 5 Euros; Children under 12 are free.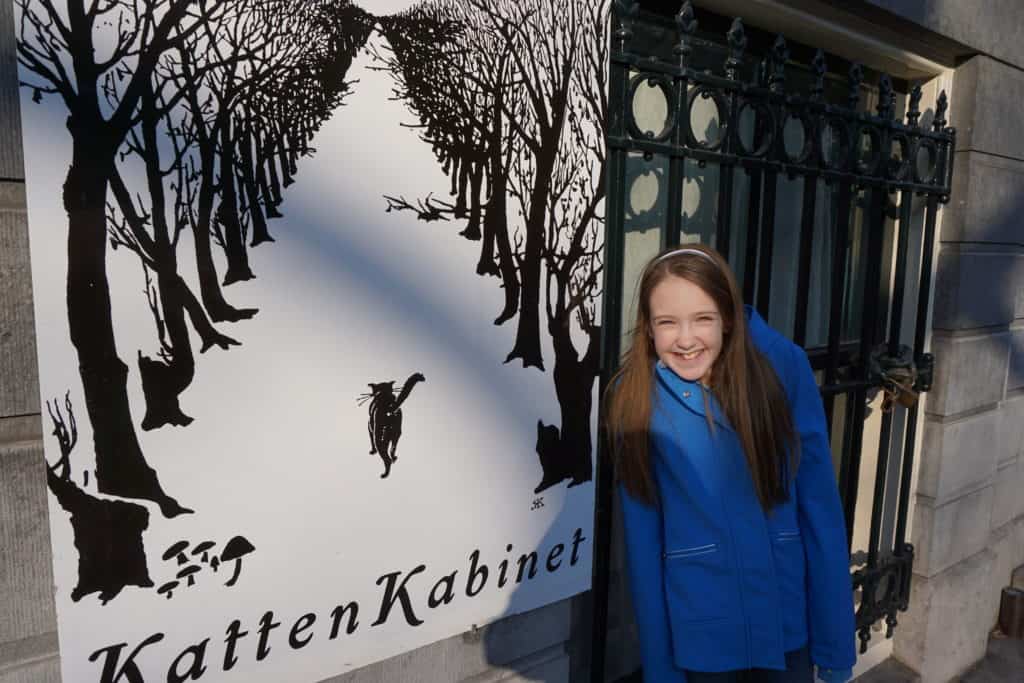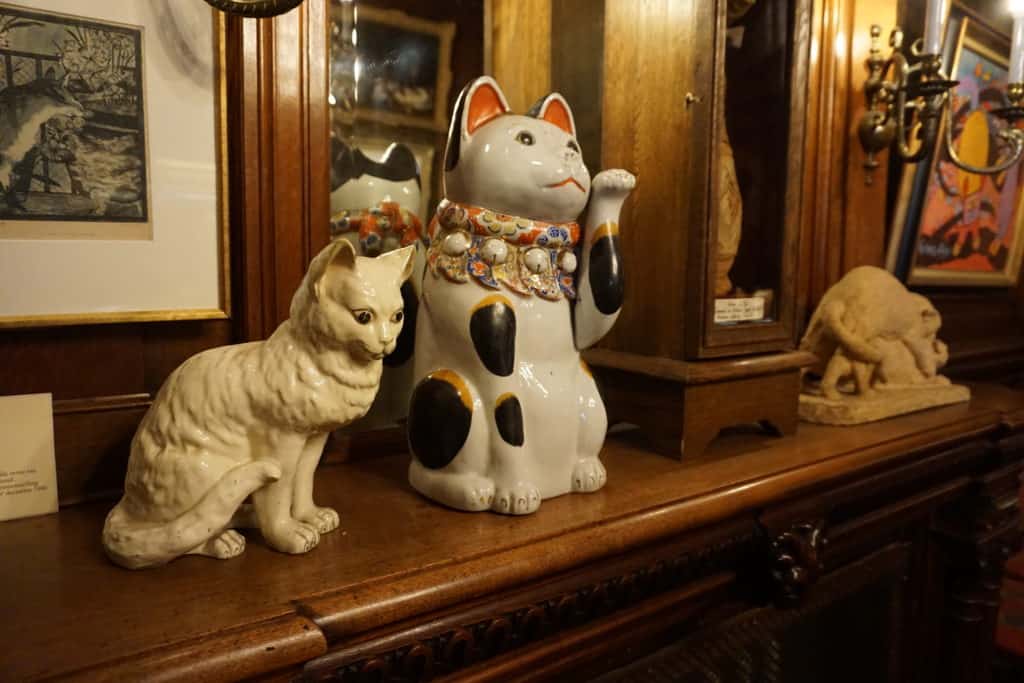 Dinner at Traditional Dutch Restaurant
We wanted to dine at a traditional Dutch restaurant while in Amsterdam and our concierge recommended The Pantry which was located in the Leidseplein within walking distance of the hotel. The cozy restaurant felt a bit like visiting a Dutch home with dark paintings on the wall and Delft pottery throughout and our meals were quite tasty – the perfect end to our first full day in Amsterdam.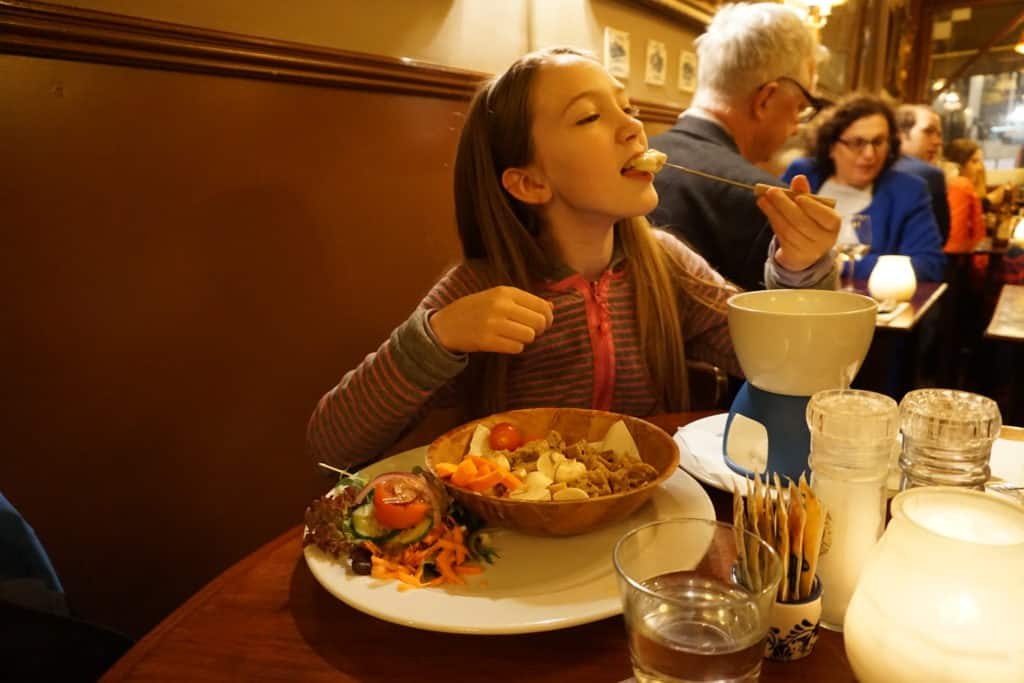 Day Three – Anne Frank House and More Museums
Museums were the focus of our third day in Amsterdam.
Anne Frank House
On our third day in Amsterdam, we got up early and headed back to the historic canal district to visit the Anne Frank House on Prinsengracht.
Our daughter read The Diary of Anne Frank prior to our trip to Amsterdam so she was familiar with the history and how Anne's story ended but I was still worried about how she would react to the museum. The website for the Anne Frank House recommends the museum for children from age 10 and up and has excellent material online for preparing children to visit as well as pointing out certain exhibits that might be particularly disturbing.
Using the free audioguide (available in 9 languages), visitors to the museum walk through each of the rooms where Anne and her family hid and will see historical documents, photographs, film images, original objects belonging to those in hiding and to the helpers and many quotations from Anne's diary.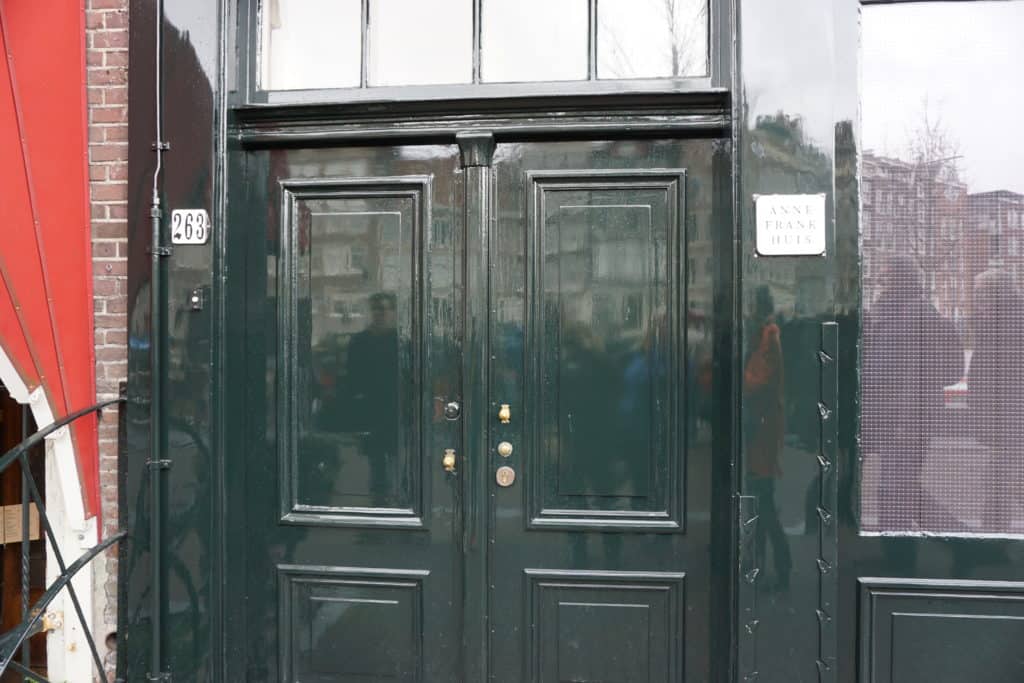 Anne Frank House is a very emotional place to visit as seeing the physical space brings the story to life and one can't help but imagine the fear of those who were hiding in the confined quarters. Throughout most of our time in the museum I could feel my eyes welling up with tears but I managed to keep my emotions contained out of concern for my daughter. We made it as far as the final exhibit "Reflections on Anne Frank" where 22 writers, actors, museum visitors and people who knew Anne Frank talk about what she means to them and then I couldn't hold back the tears anymore.
Visiting the Anne Frank House is not easy but it is something that everyone who visits Amsterdam should do. It's important not only to acknowledge Anne's experience but also to be reminded of the horror of the Holocaust and why we have to ensure that it never happens again. I believe it is especially important for young people who are so much further removed from World War II than my generation.
You will need time to decompress after visiting this museum as it is emotionally exhausting. We stopped to have a snack in the cafe and browsed the bookshop before leaving and heading back out into the canal district.
Anne Frank House is located at Prinsengracht 263-267. The entrance to the museum is around the corner, at Westermarkt 20. Open daily 9:00 – 22:00 with some exceptions. The Anne Frank House can only be visited with a ticket bought online for a specific time slot. Every Tuesday at 10am CEST all tickets become available for a visit six weeks later. 2023 Admission Prices: Adult – 16 Euros; Children 10-17 years old – 7 Euros; Children 9 and under – 1 Euro. Photography is not allowed in the museum.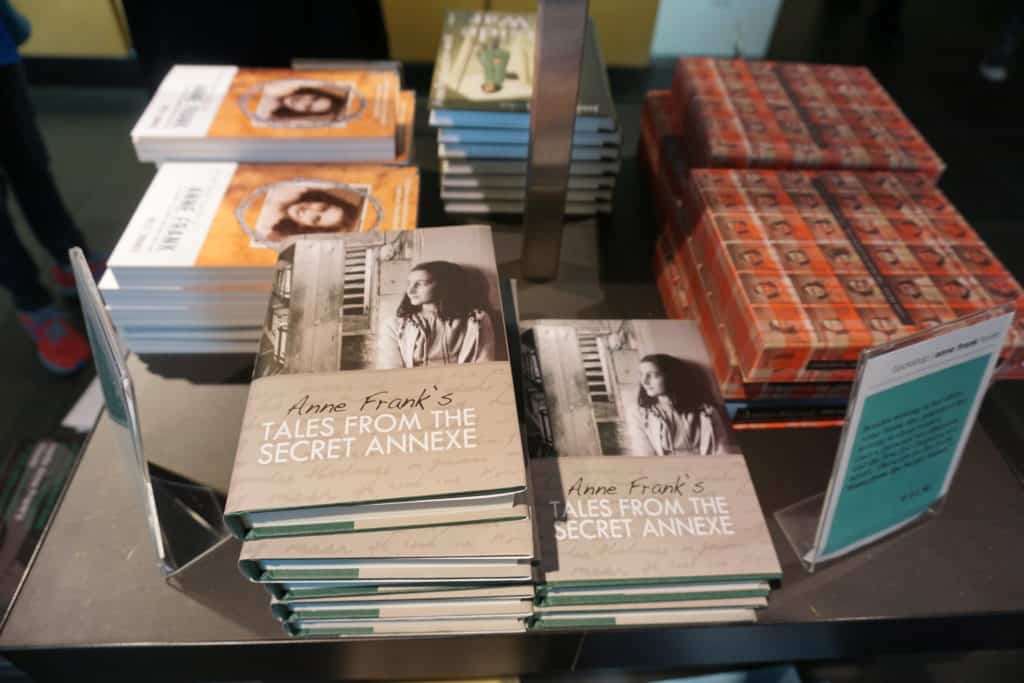 Tulip and Cheese Museums
Following our visit to the Anne Frank House we decided that we needed to find something lighthearted to do so we chose to visit two smaller museums located nearby on Prinsengracht.
The Amsterdam Tulip Museum is a small private museum featuring multimedia presentations as well as exhibits about the history of the tulip and art work featuring tulips as well as a lovely shop with tulip-themed merchandise. (Located at Prinsengracht 116)
The Amsterdam Cheese Museum is primarily a cheese shop with ample opportunity to sample and purchase cheese but also has exhibits on the lower level which you can browse to learn more about the history of Dutch cheese making and see some of the implements used. When we visited there were costumes available as well to have fun taking a family photo dressed up like traditional Dutch farmers. (Located at Prinsengracht 112)
We didn't spend much more than 30 minutes at either museum but they were just what we needed.
Read: 3 Quirky Museums to Visit in Amsterdam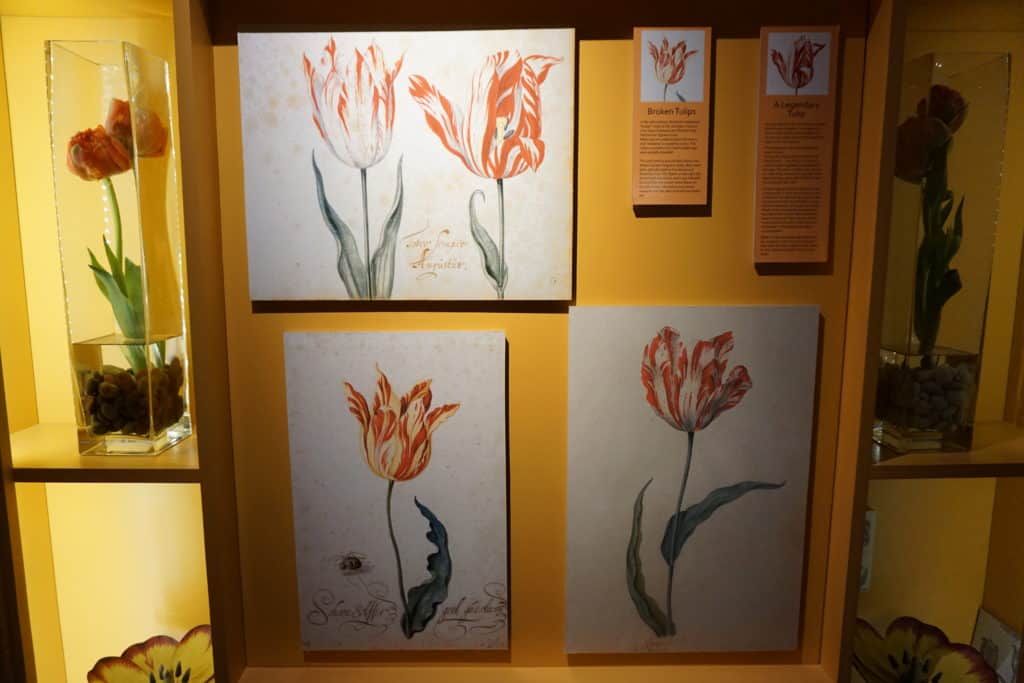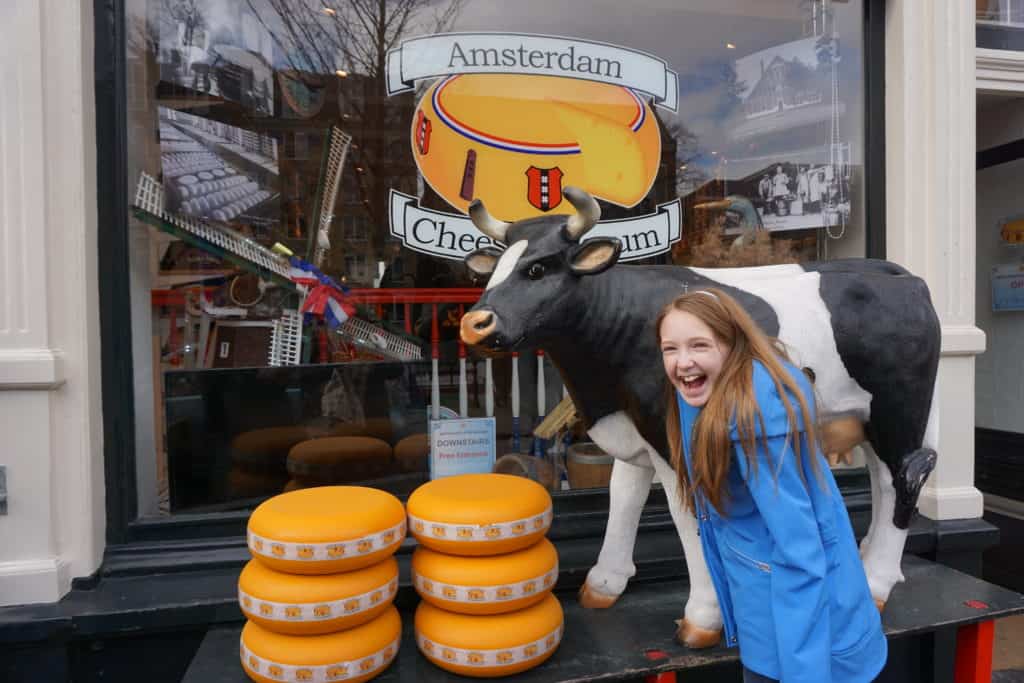 By the time we had finished at the Anne Frank House and the two smaller museums it was early afternoon so we set out on a walk to Dam Square. We were running short of time so had a quick look around and saw the Royal Palace of Amsterdam even though we didn't have time to go inside.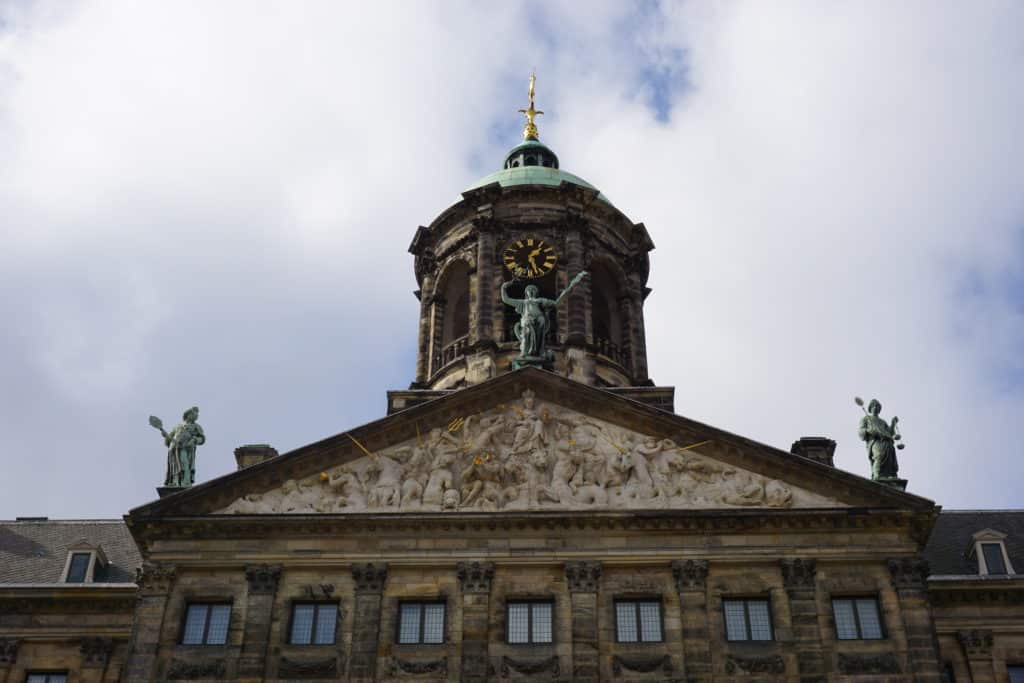 Amsterdam's Bloemenmarkt (Flower Market)
We headed back toward Museumplein via Bloemenmarkt on Singel. Bloemenmarkt was founded in 1862 and is the world's only floating flower market with its flower stalls standing on houseboats. The market is open year-round so we were able to see tulips and bulbs for sale even though it was so early in the season.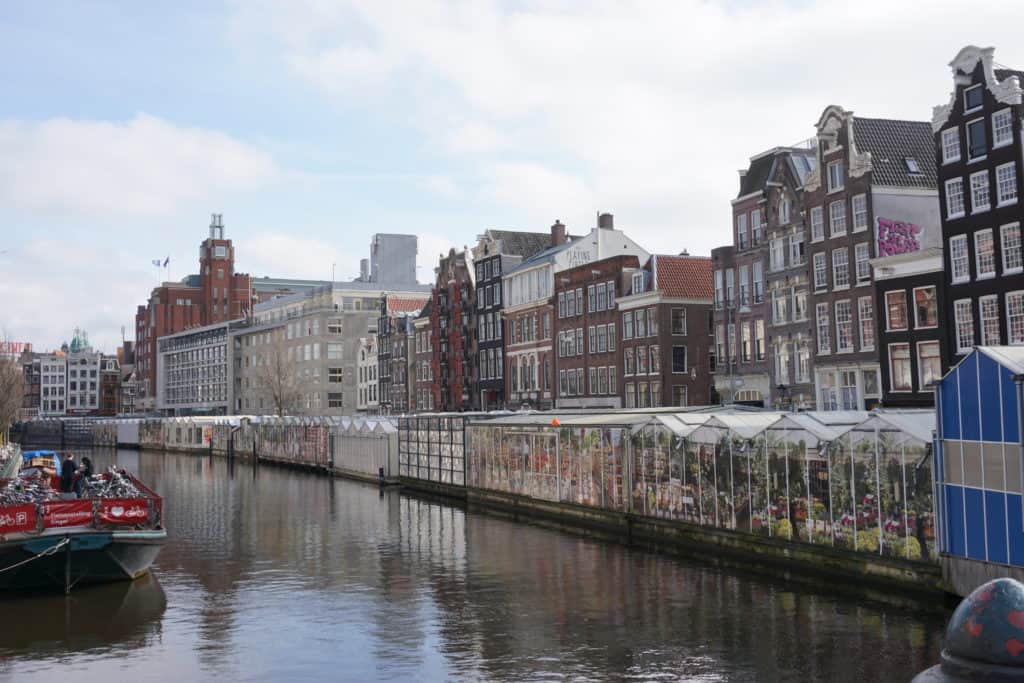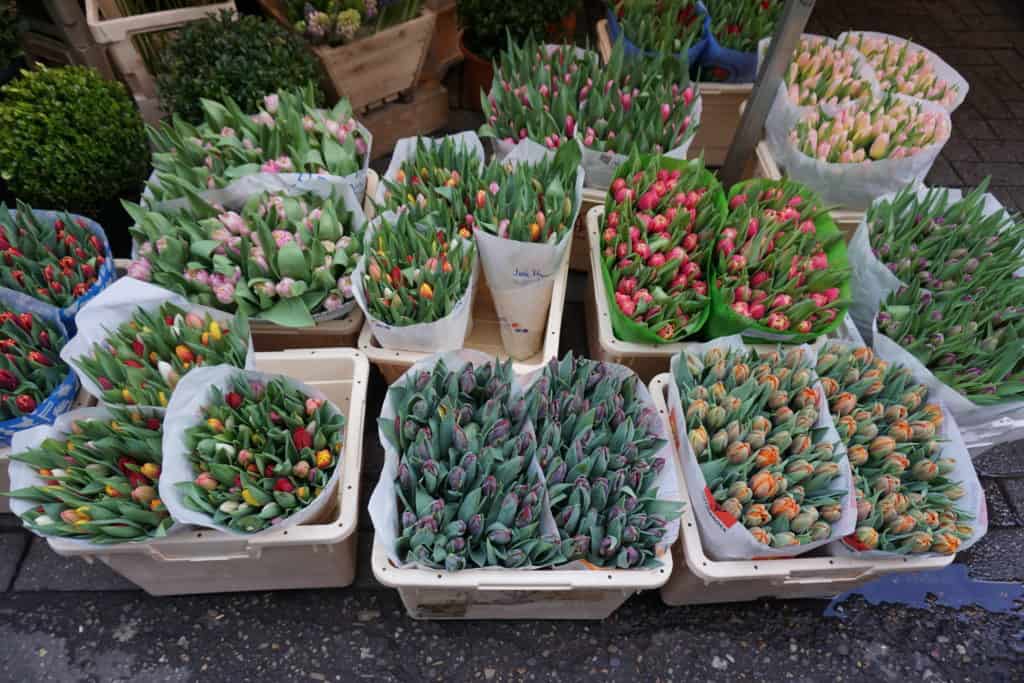 Visiting the Rijksmuseum
It was getting late in the afternoon by the time we reached Museumplein but we decided that we needed to visit the Rijksmuseum anyway. We were scheduled to take a private tour outside of the city the following day so we wouldn't have another chance to visit and the museum had been at the top of my list of things to do in Amsterdam.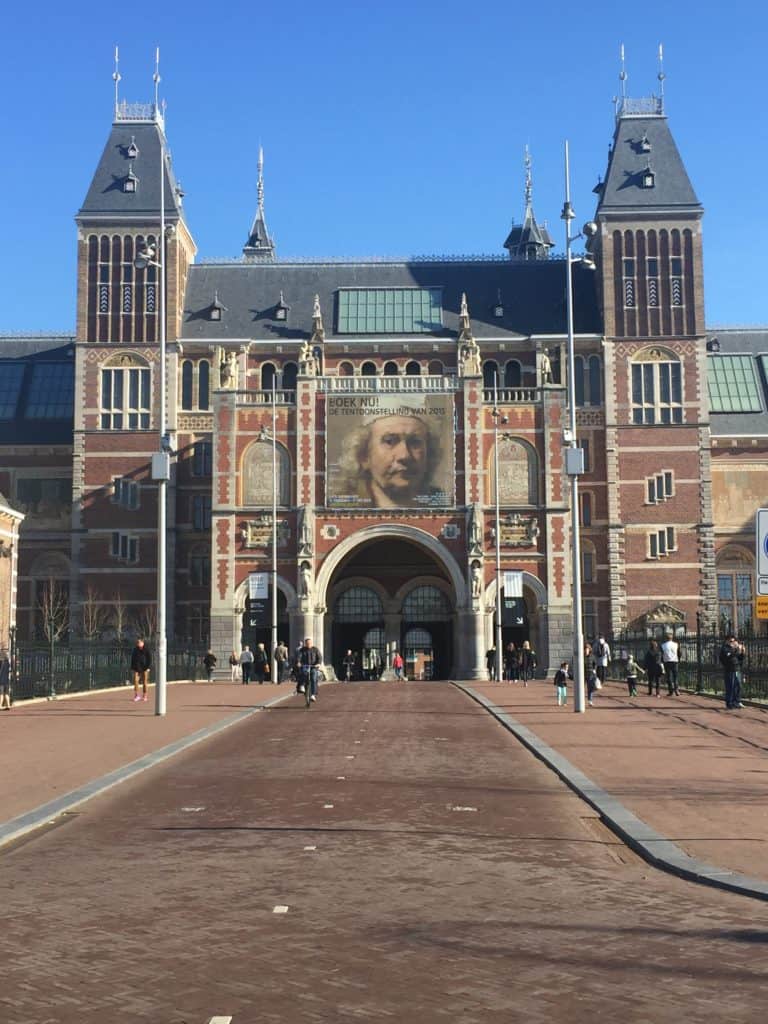 The Rijksmuseum is the country's national gallery and is simply too large to see in one day let alone two hours but we decided that a brief visit was preferable to missing it entirely. We arrived shortly after 3pm and it was closing at 5pm so we knew that we would only be skimming the surface.
As the largest museum in the Netherlands, the Rijksmuseum showcases more than 800 years of Dutch history and includes masterpieces by artists such as Rembrandt, Vermeer, Haarlem and Van Gogh. The building, originally opened in 1885, was closed for a 10 year long renovation and reopened in 2013 to much fanfare. The architecture and interior design is stunning and as worthy of admiration as the works of art on display.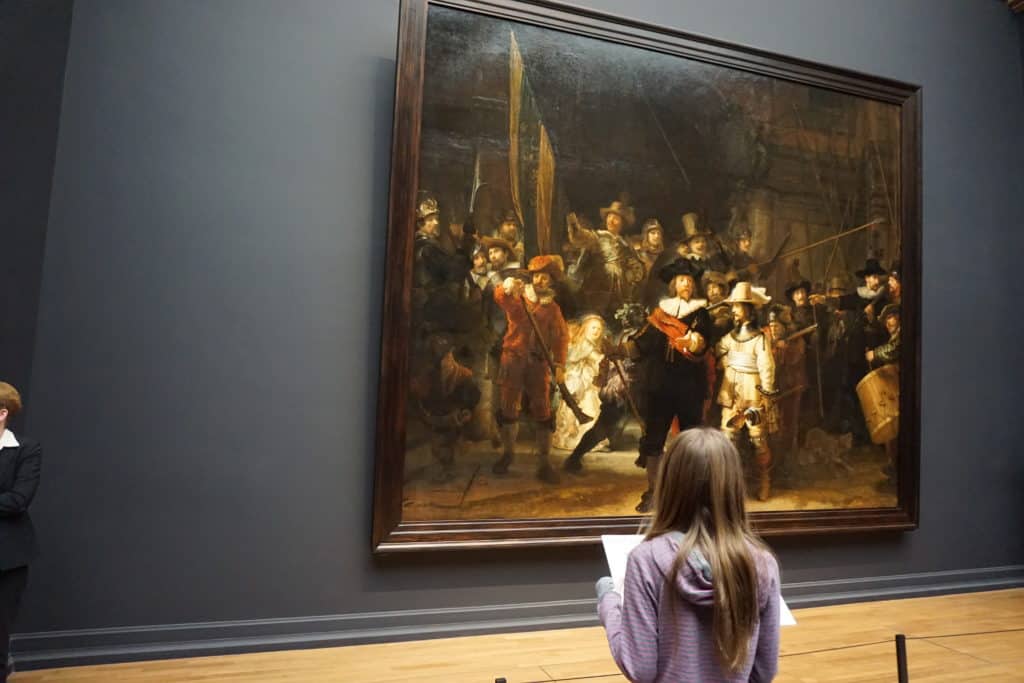 With our limited time available, we decided to focus on the most significant works by the Dutch Masters particularly Rembrandt's The Night Watch and Vermeer's The Milkmaid. Regardless of when you visit The Night Watch Gallery is likely to be the most crowded area in the museum.
Located at Museumstraat 1, Amsterdam. Open daily 9 am to 5 pm including all public holidays. 2023 Admission fee for Adults is 22.50 Euros. Admission is free for ages 18 and under. Tickets are only available online and all visitors are required to book a start time for their visit.
Read reviews/book tickets in advance for the Rijksmuseum on TripAdvisor
Day Four – Day Trip from Amsterdam
A priority was seeing a bit of the countryside outside of Amsterdam so we organized a private tour with Gerk Kazemier (Holland Personal Tour Guide) opting for his Windmills & Traditions tour. We chose the Windmills & Traditions tour because it offered a variety of stops that we thought would appeal to both us and our 11 year-old daughter.
Our daughter is a bit of a cheese fanatic and was keen on the cheese tasting as well as trying on wooden shoes, whereas my husband and I were interested in seeing the Dutch countryside and some of the country's famous windmills. This tour took us north of Amsterdam to Alkmaar, Edam, the island of Marken and to Zaanse Schans (a windmill park just outside of Amsterdam).
A similar Day Trip to Zaanse Schans, Edam, Volendam, and Marken can be booked through Viator.
Read: A Private Day Tour from Amsterdam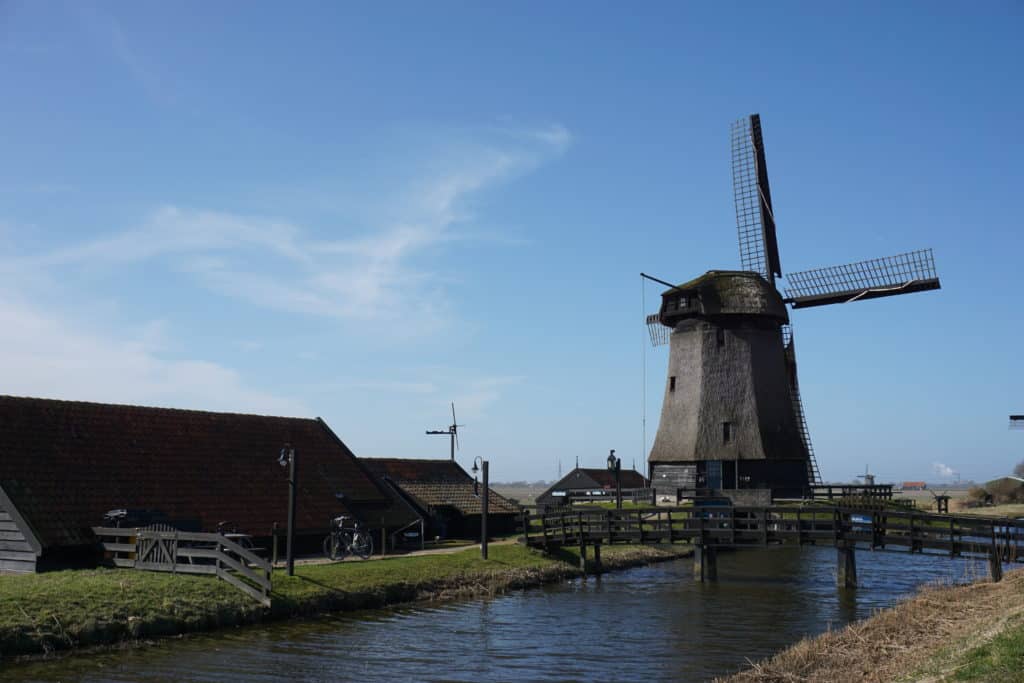 We left Amsterdam the following morning taking the train to London via Brussels. We had a wonderful long weekend in the city even though, ideally, we would have liked to have one more day to explore Amsterdam a bit more.
Where We Stayed in Amsterdam
We stayed at the Amsterdam Marriott Hotel overlooking Leidsesquare. The entrance to Vondelpark is just outside the hotel front doors and it is just a short walk to Museumplein where we visited both the Van Gogh Museum and the Rijksmuseum.
We chose the hotel primarily for the location and the fact that we could get a decent-sized room with two beds and a sitting area at a reasonable price. We were quite pleased with our accommodations which were similar to other Marriott brand hotels where we have stayed and the room was spacious by European standards allowing three of us to stay comfortably.
The hotel's concierge staff was very helpful in recommending restaurants and making dinner reservations for us as well as answering any questions.
Walking is our preferred method for getting around cities, particularly in Europe, and we were able to walk everywhere in Amsterdam from our hotel. The only time that we needed a cab was to get from the airport to the hotel upon arrival in the city and from the hotel to the train station when we were departing. The Amsterdam Marriott was ideally located for us and we would choose to stay here again if we returned to Amsterdam.
What We Ate
We had a short list of food items that we wanted to be sure to try when we were in Amsterdam which included traditional Dutch food, Dutch pannenkoeken (pancakes), stroopwafels, and, of course, cheese. I was the only one that ate a Dutch pancake (apple and cinnamon sugar) and I confirm that it was every bit as good as I had heard that it would be. The consensus was that Dutch food was very tasty, the stroopwafels were a nice treat and the cheese was delicious.
Our daughter is our cheese aficionado and she was in heaven every time that we entered a cheese shop and saw the rounds of cheese piled up around her and samples out for tasting. The country is, after all, the largest cheese exporter in the world for good reason! We did our part by purchasing several rounds to bring home with us although one was devoured during our stay in London. (It's a good idea to check your country's regulations regarding bringing food home with you prior to your trip. The cheese shops in the Netherlands will vacuum pack your purchase so that it will travel better.)
On our four nights in the city we dined at Hard Rock Cafe Amsterdam, The Pantry (a traditional Dutch food restaurant), a charming little Italian restaurant called Fiorentino, and at the Midtown Grill at the Amsterdam Marriott hotel where we were staying.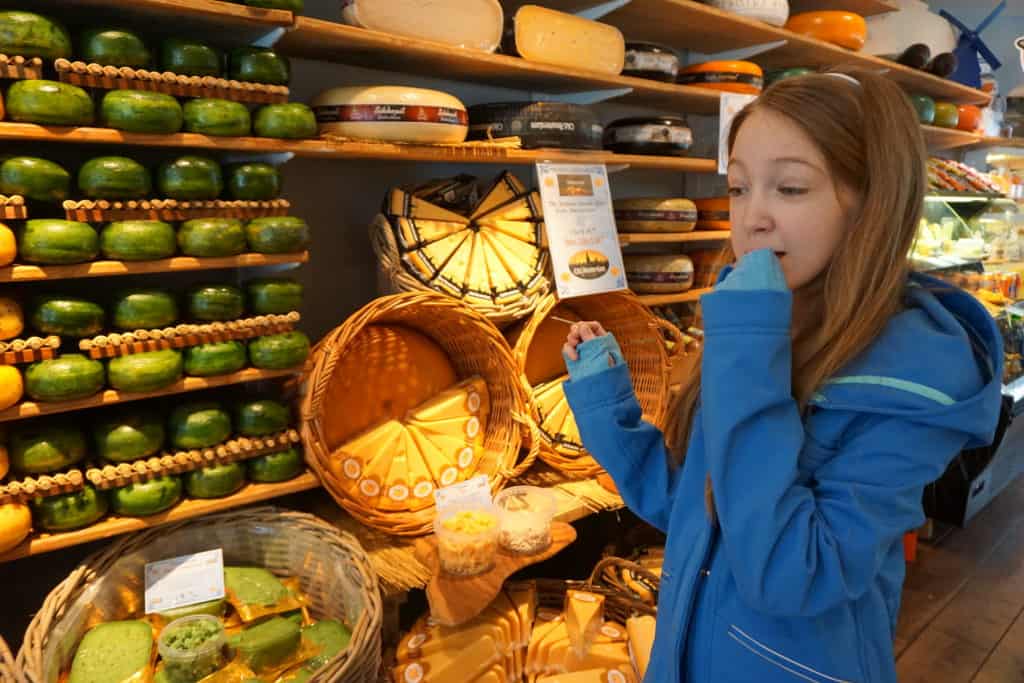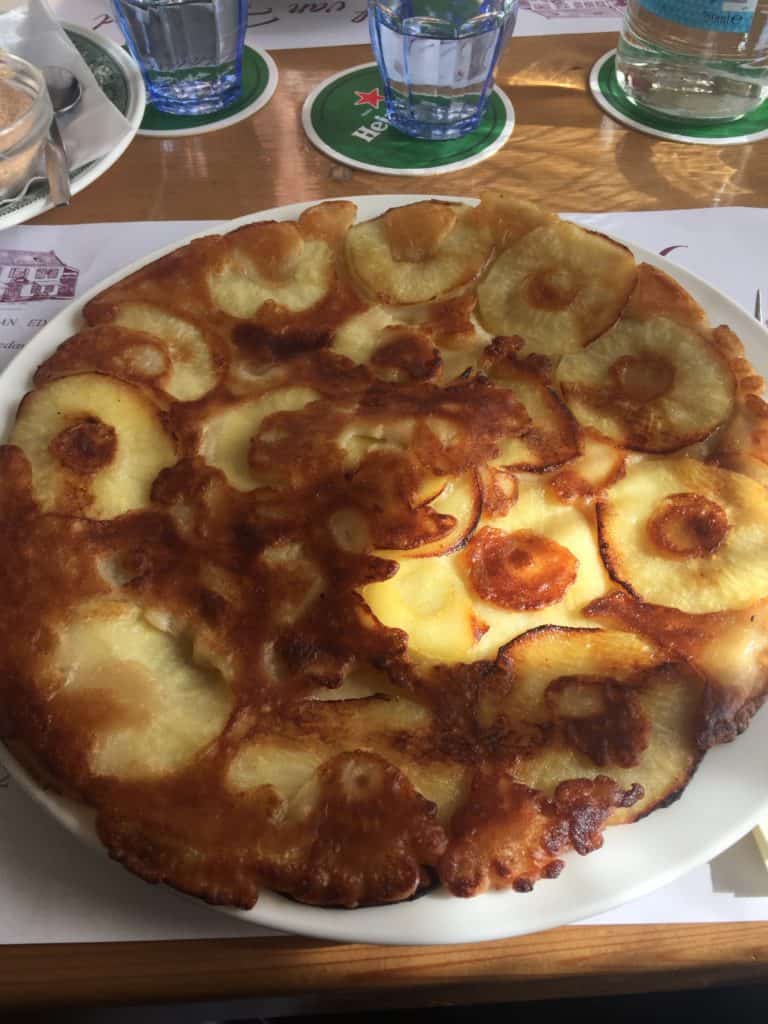 The I amsterdam website was very useful when I was planning our trip to Amsterdam.
Pin this for later