On our recent trip to Amsterdam we visited the major museums but also found three small quirky museums that were fun as well – Amsterdam Cheese Museum, Amsterdam Tulip Museum, and Kattenkabinet (an art museum focused on cats).
On a recent spring break trip to Amsterdam and London, we visited some of the world's best known museums including the Rijksmuseum, the Van Gogh Museum, and the Anne Frank House. However, we also enjoyed visiting three small lesser-known museums – Amsterdam Cheese Museum, Amsterdam Tulip Museum and Kattenkabinet.
For more spring break ideas read 10 Destinations for Spring Break in Europe
This post may contain affiliate links. If you click an affiliate link and make a purchase then we receive a small commission at no additional cost to you.
These three small museums located in the historic Canal District of Amsterdam were all interesting in their own right and ideal for just popping in for a quick look around. We spent about 30 minutes in each as opposed to the much greater time commitment required for the better-known museums.
Both the Amsterdam Cheese Museum and the Amsterdam Tulip Museum are located just down the street from the Anne Frank House so we stopped by both of them after we were finished there.
Amsterdam Cheese Museum
The Amsterdam Cheese Museum was probably my 11 year-old daughter's favourite as it is part museum but mostly a cheese shop. Visitors enter the cheese shop on the main level where there is a great variety of cheeses on display and plenty of samples to taste. Admission to the museum is free, however, we couldn't leave without purchasing a couple of rounds of cheese to take home with us as well as a bag of Mini Stroopwafels.
The actual museum is located on the lower level of the shop. Here you can browse the exhibits to learn more about the history of Dutch cheese making and see some of the implements used. There are also costumes available so you can have fun taking a family photo dressed up like traditional Dutch farmers.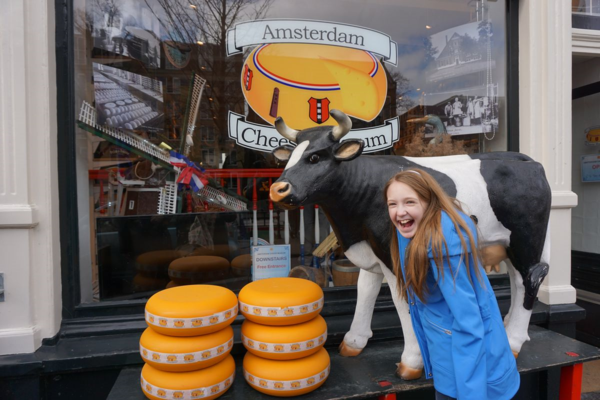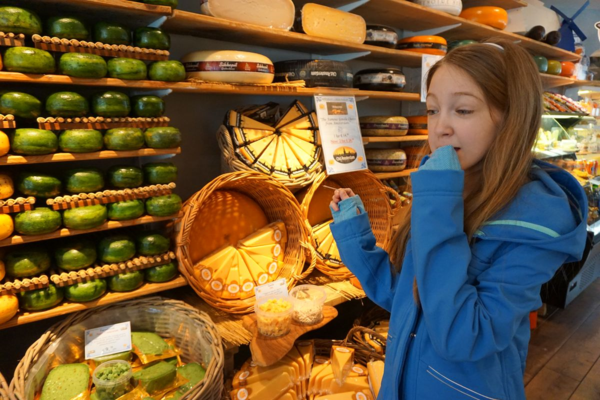 Enjoying the samples at Amsterdam Cheese Museum