A review of children's book KeeKee's Big Adventures in Paris, France.

KeeKee's Big Adventures in Paris, France is the first book in a new children's series about a charming calico cat named KeeKee that travels the world in her hot air balloon. The books are written by Shannon Jones and illustrated by Casey Uhelski.
This is a lovely picture book for kids under the age of 7 or 8 to enjoy with their parents at storytime or for early readers to tackle themselves. It introduces readers to the highlights of Paris including famous landmarks, culture, language, and food as KeeKee explores the city.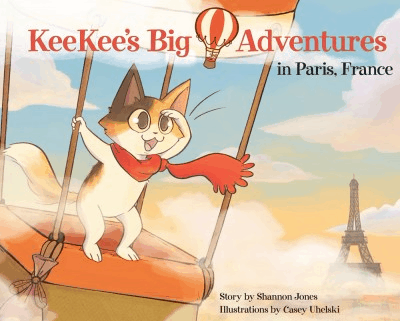 The KeeKee's Big Adventures website has activities for parents and kids and a KeeKee Club for members will be launched this week. Parents preparing for a trip to Paris with their children will love the online activities – including a recipe for making Croque Monsieur, colouring pages, French/English word games, and a pocket guide that can be downloaded and printed for kids to carry with them when they are in Paris. Club members will have access to behind the scenes information and will be able to vote on upcoming locations for KeeKee to visit.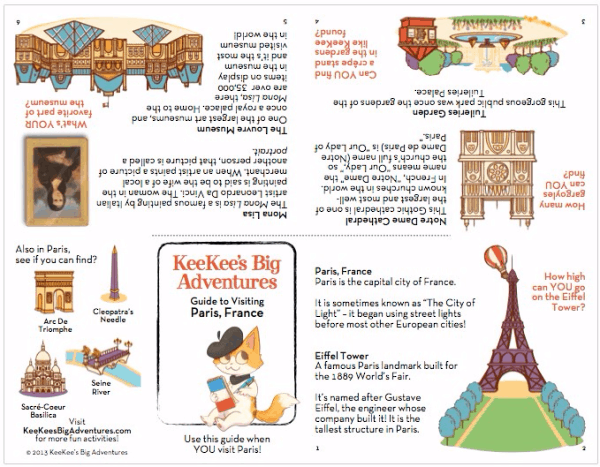 This delightful book would be excellent for introducing young children to Paris prior to a trip or just for teaching them about other countries in a fun way and piquing their curiousity about the world. Next up for KeeKee the calico cat is Rome, Italy and the book about her adventures is scheduled to be released in November 2013.
KeeKee's Big Adventures in Paris, France is available from KeeKee Shop in hardcover or eBook format. I was provided with a review copy of KeeKee's Big Adventures in Paris, France which I am giving away to one lucky reader. Just use the Rafflecopter form below and one entry will be randomly selected to receive the book. (Shipping in Canada or the United States only.)
We are a participant in the Amazon Services LLC Associates Program, an affiliate advertising program designed to provide a means for us to earn fees by linking to Amazon.com and affiliated sites.
Related Links
Paris with Kids? Mais, Bien Sûr!
Explore the World with Little Passports
Cooper's Pack Travel Guides for Kids
Have you liked our Facebook page yet? I post articles from the blog there as well as photo albums from our travels and other travel news. Or, if you prefer to follow on Google+, I'm there too. You may also subscribe to the free RSS feed or sign up for an email subscription to keep up-to-date on our travel adventures.