Planning a family trip to Paris? Here are our favourite things to do in Paris with kids.
Our family recently spent nine days exploring the City of Light. Leading up to that vacation, I was asked many times where we were going for the break and when I answered "Paris" the reaction was invariably the same – complete and utter surprise that we were taking our children. It had never occurred to me that I shouldn't take my kids, however, it seemed quite clear that there are a lot of people who don't think of Paris as a child-friendly vacation destination.
Paris is one of the world's most popular cities drawing millions of visitors each year to experience the museums, art galleries, famous landmarks, shopping, and great food. It may not be the first city that springs to mind when considering a family vacation, however, a family trip to Paris can be a lot of fun for kids.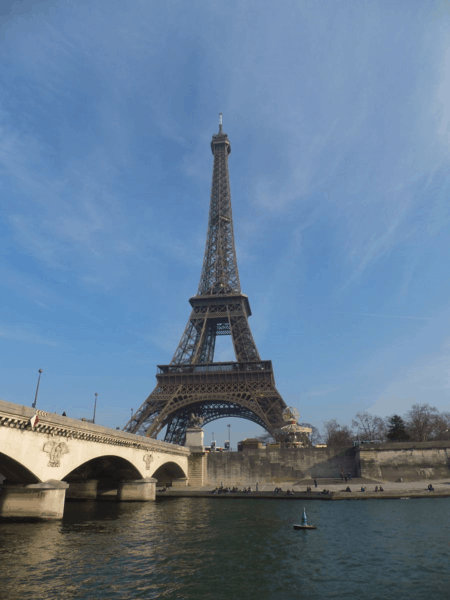 It's certainly an easy city to get kids excited about as they most likely have heard about famous landmarks such as the Eiffel Tower and there are a number of books and movies set in Paris that can be used to familiarize them with the city prior to your visit. (Madeline, Ratatouille and The Hunchback of Notre Dame are good examples.) In fact, the one thing that my 8 year old was most excited about before our trip was seeing the Mona Lisa up close – and she wasn't disappointed despite the small size of the painting and the crowds surrounding it. The look of pure joy on her face when she first saw that painting would convince anyone that kids can enjoy themselves in Paris.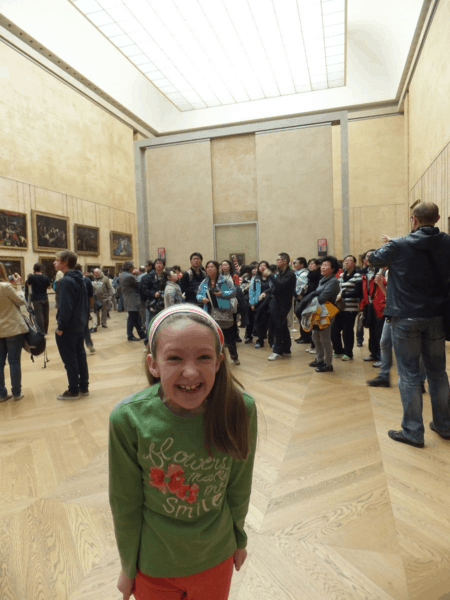 First glimpse of the Mona Lisa
One of the charms of Paris is that it is such a lovely city to see on foot so it's best for families to choose accommodations in a central neighbourhood which will allow for walking to many of the main attractions without tiring out little legs.
We stayed at Le Prince Régent Résidence & Spa in the 6th arrondissement (St. Germain-des-Près/Latin Quarter) which was ideally located for walking to most everywhere that we wanted to visit in the city.  
Most families will prefer either renting an apartment or staying in a hotel such as this which has apartment-style suites as the additional living space and a kitchen to prepare some meals will be most appreciated. (Read reviews of




We thoroughly enjoyed our spring trip to Paris and even had lovely weather up until the very last day. We found there to be plenty of family-friendly activities to choose from depending on a family's particular interests. Here are a few of our recommendations of the best things to see and do in Paris with kids based on our Parisian experiences.

Parks and Gardens

Paris has an abundance of green spaces that are perfect for families to spend some time relaxing or playing in and they are free to visit although you will have to pay for activities such as rides on old-fashioned carousels or attending puppet shows.

Two of our favourite gardens in central Paris are Luxembourg Gardens and Tuileries Gardens where tourists and residents alike flock to enjoy the beautiful weather. One of the most popular activities for kids in the gardens is sailing boats on the ponds but, unfortunately, our March visit was too early for boating season so that will have to wait for another time.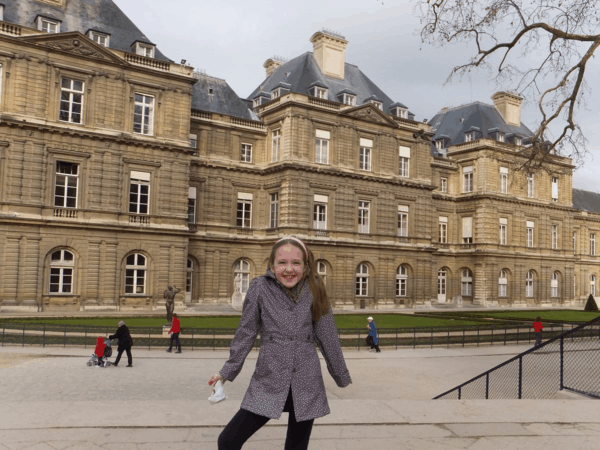 Emma in Luxembourg Gardens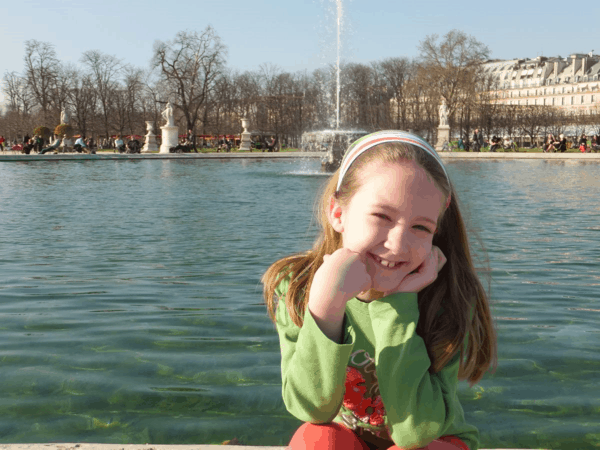 Enjoying a break in Tuileries Gardens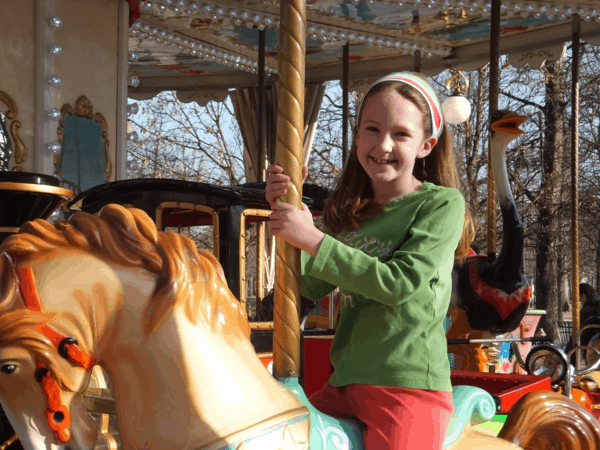 Riding a carousel in the Tuileries Gardens in Paris

Museums
Paris is also home to some of the world's best art museums and most can be successfully visited with properly-prepared kids of any age.   With younger kids it can be fun to look at photos of some of the art work that they will see beforehand and then have a scavenger hunt at the museum to find the pieces.  Most museums also offer guided tours for families who are willing to pay for a private experience.

On our recent trip we had enjoyable visits to the Louvre to see the Mona Lisa and the Venus de Milo, the Musée d'Orsay for the impressionist works of art, and the gardens of Musée Rodin to see some of Auguste Rodin's famous sculptures, including The Thinker.

My 8 year old happens to love art so it's easy for us to visit museums but for children who are less enthusiastic it would be best to choose either the Louvre or the Musée d'Orsay and plan to spend no more than a couple of hours. The Musée Rodin is a great choice for any kid because visitors can choose to skip the indoor museum and visit the gardens alone which is inexpensive and a much more enjoyable way to experience art for active kids who don't like the quiet of a museum.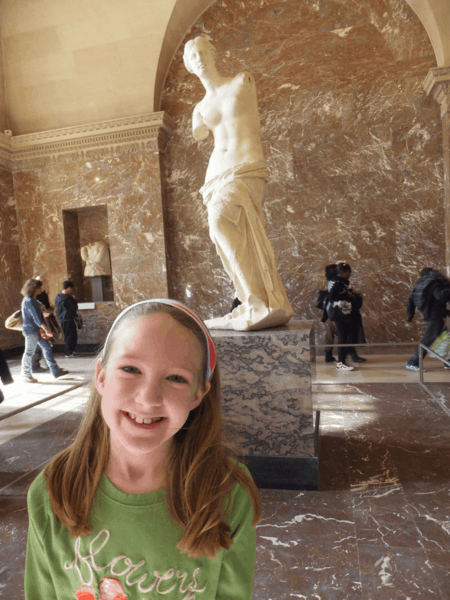 Seeing the Venus de Milo at the Louvre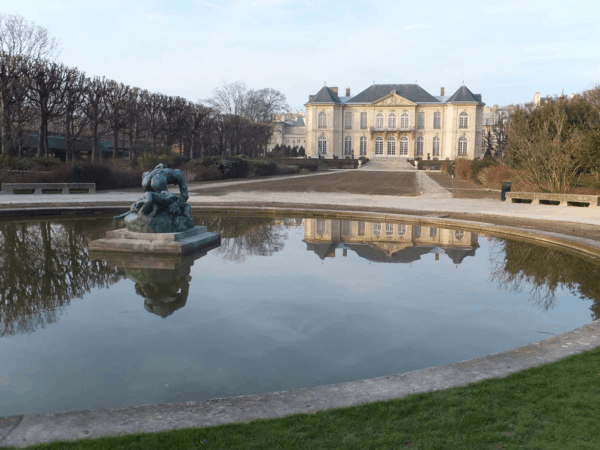 The gardens at the Musée Rodin

Landmarks
Paris is a city with many famous landmarks to visit like the Eiffel Tower, the Arc de Triomphe and Notre-Dame Cathedral.  There are few children who won't be excited by the prospect of climbing to the top of one of these and looking out over Paris from the higher vantage point.

Visitors can also cruise the Seine River for a view of the city's famous landmarks from the water and an up close view of the many bridges. Sitting back and enjoying the view from a river boat also provides an opportunity to rest little legs that may be tired from all the walking in Paris and on a warm day there is nothing better than cruising down the Seine with a light breeze on your face.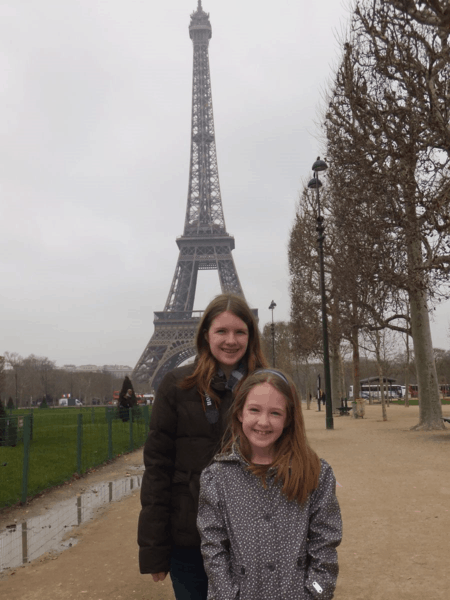 Katie and Emma walking to the Eiffel Tower

Day Trips
A day trip out of the city can be just the break that a family needs after a few hectic days of sightseeing.  We visited both the Palace of Versailles and Disneyland Paris which are just a short train ride from central Paris.  Versailles is a stunning palace with equally impressive gardens that will appeal to the princess in any little girl and, of course, very few children would turn down the opportunity to visit Disney for the day. 

We also booked a private tour to Normandy (a 2.5 hour drive away). My husband and I have both long wanted to visit the Canadian D-Day sites and we felt that it would be of great educational value to our daughters. It ended up being one of the more memorable days of our trip and taught my girls far more about World War II than they could ever learn from a textbook.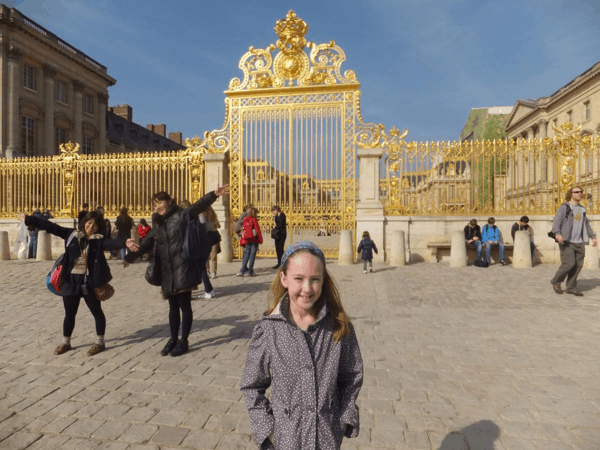 Outside the Palace of Versailles

So should you take your kids to Paris? Of course! The endless list of things to do in Paris makes the city a perfect destination for families and if anyone even thinks about complaining then a visit to the nearest patisserie to purchase a sweet treat will generally restore the mood. With 9 days in the city we were able to see nearly everything that we had planned, however, Paris left us longing to return for more.

This article may contain affiliate links which help support this site at no additional cost to you. We are a participant in the Amazon Services LLC Associates Program, an affiliate advertising program designed to provide a means for us to earn fees by linking to Amazon.com and affiliated sites.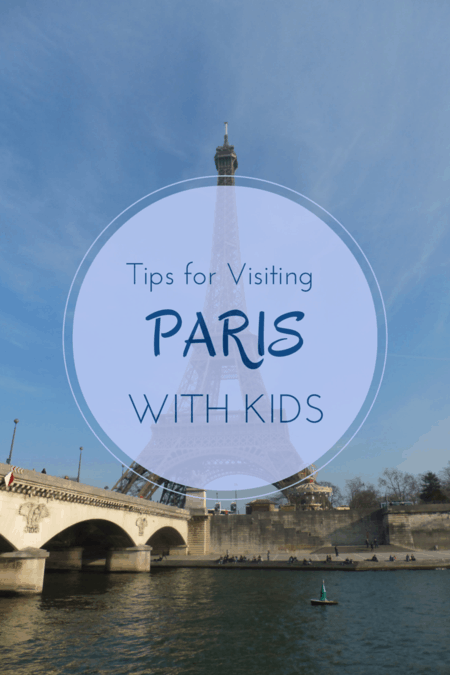 Related Links

Enjoying A Spring Day in Paris' Jardin Des Tuileries

Le Prince Régent Résidence & Spa

Love Locks on a Parisian Bridge

A D-Day Tour of Normandy with Kids

Visiting the Palace of Versailles with Kids

9 Tips For Taking Kids to an Art Museum