The Jardin du Luxembourg is a great place to take kids for some outdoor playtime on a visit to Paris as the gardens are packed with activities that are sure to keep the entire family entertained for a couple of hours.
The Jardin du Luxembourg (Luxembourg Gardens), at approximately 22 hectares, is the second largest public park in Paris and a delightful place to take your kids for some outdoor playtime while vacationing in the city. 
This article may contain affiliate links which help support this site at no additional cost to the consumer.
The gardens have a prime location on the Left Bank in the 6th arrondissement near Sorbonne University and are popular with visitors as well as Parisians. The gardens can be quite a lively spot, particularly when the weather is nice, because there are so many things to do there.
We flew overnight from Toronto to Paris and arrived at Le Prince Régent Résidence & Spa before 10am on a Saturday morning.  As our room was not yet ready, we left our luggage with the reception desk and headed out for a walk and some fresh air.  Luxembourg Gardens was only a few minutes away so we headed there to while away some time.  As this was early in March, the flower beds were in the process of being prepared, the pond (Le Grand Bassin) was empty, and the weather was a bit overcast and brisk but we still enjoyed our walk in the gardens.  There were a few other people out walking in the gardens and more runners than I had ever expected to see in Paris.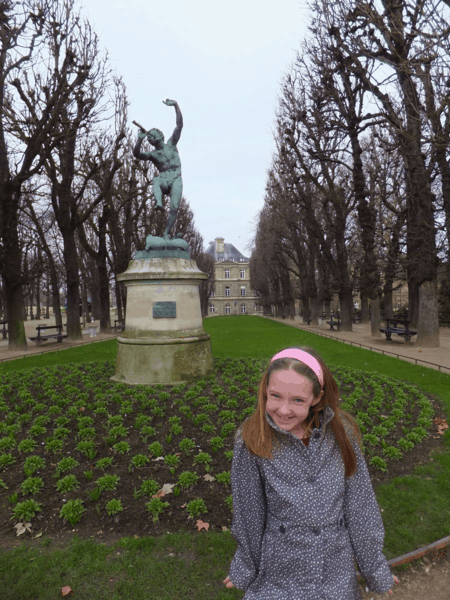 Excited to arrive at Luxembourg Gardens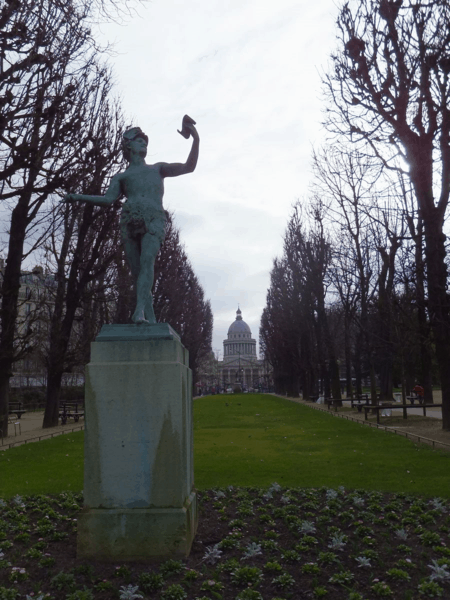 A view of the Pantheon from Luxembourg Gardens
The grounds that became known as the Jardin du Luxembourg were purchased by Marie de Médici, who was the widow of Henri IV, early in the 17th century and construction began on a palace and gardens.  The gardens were completed in 1625 but continued to be expanded through the 17th, 18th and 19th centuries.  The formal gardens are centred around a large fountain (Le Grand Bassin) and several allées of trees radiate out from the fountain.  Beginning in the 1800's, the gardens became home to many statues including Queens of France and female saints such as St. Geneviève (the patron saint of Paris), monuments to writers and artists, a model of Bartholdi's Statue of Liberty, and a monument to student resistance fighters from World War II.          
The Palais du Luxembourg (Luxembourg Palace) was also originally built to the specifications of Marie de Médici to remind her of her childhood home in Florence, Italy.  Today the palace is home to the French Senate and also houses temporary art exhibits.  Regrettably, we didn't have time to explore inside the Palais.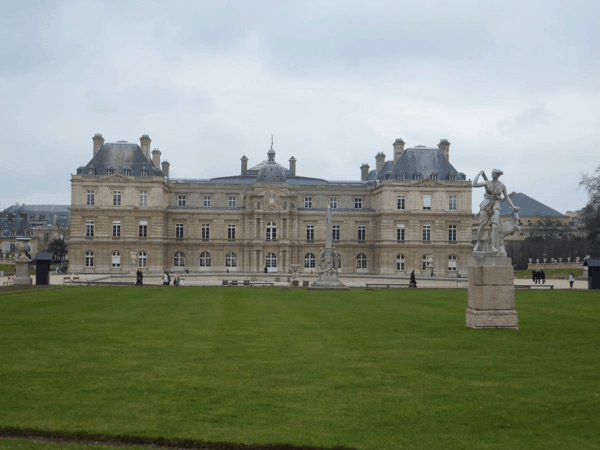 Palace of Luxembourg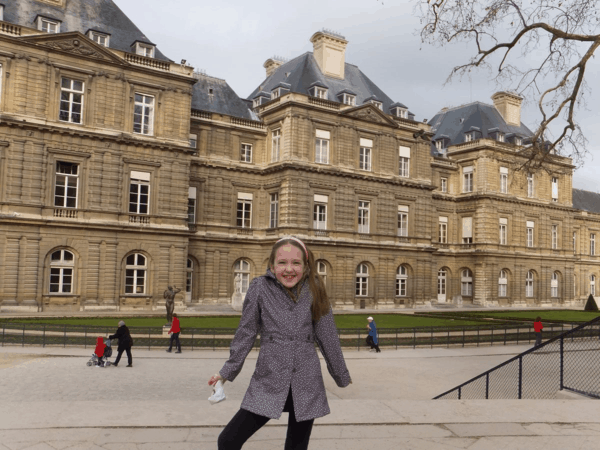 Posing in front of the Palais de Luxembourg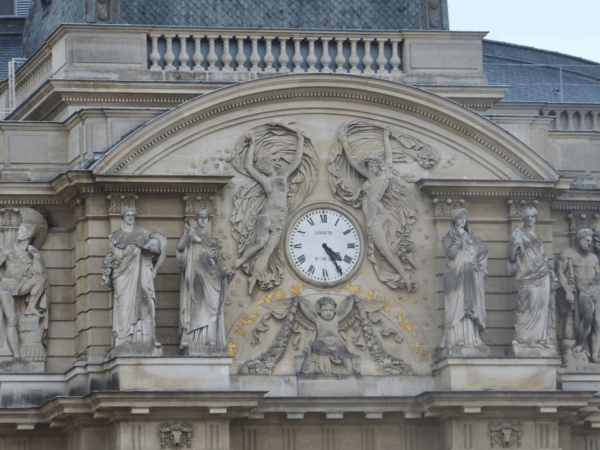 Clock face on Luxembourg Palace
The gardens contain more than 100 statues, monuments and fountains and Emma loved strolling the gardens to find her favourites.  Around the central garden space and Le Grand Bassin are a series of French queens and female saints which she found quite intriguing.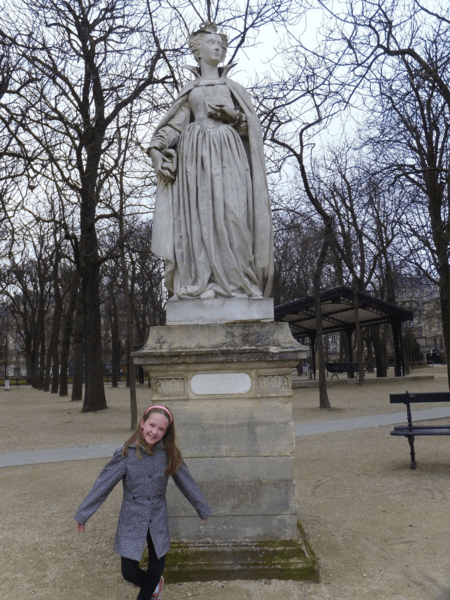 Posing with Statues in Luxembourg Gardens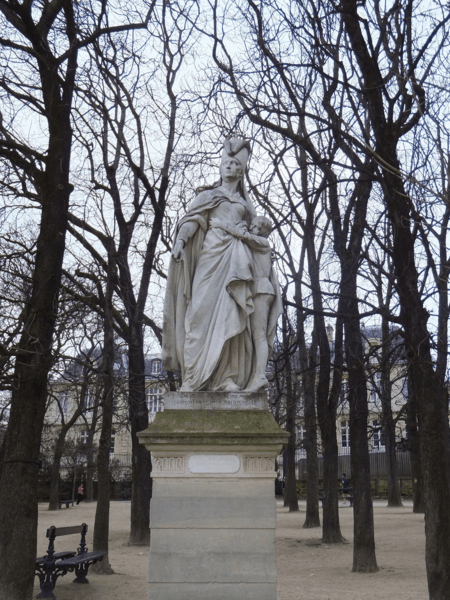 Resistance Monument in Luxembourg Gardens
Emma's favourite statue by far was Pan as he is one of her favourite mythological creatures.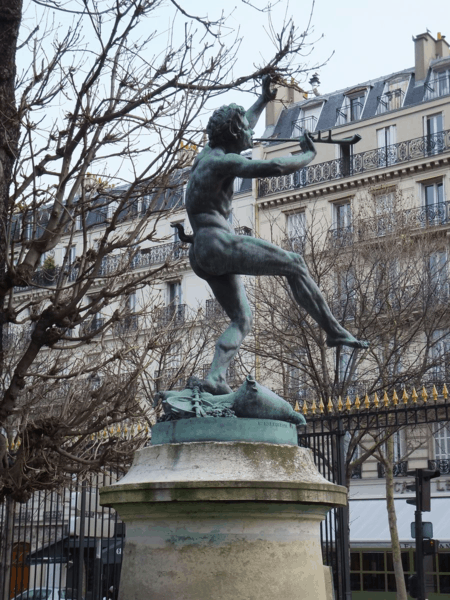 I was most impressed by the 17th century Fontaine de Médicis (The Medici Fountain) which was designed to resemble a grotto in an Italian Renaissance garden.
The Luxembourg Gardens are a popular spot on the Left Bank because there is so much to do.  Visitors walk or jog the pathways or simply pull up a chair around Le Grand Bassin to soak up the atmosphere, read a book or watch children sail boats among the ducks.  There is an enclosed playground for young children, donkey and pony rides, a carousel, carriage rides and a Théâtre des Marionnettes (puppet theatre).  There are also food stands and outdoor cafés which makes it a great place for a snack break in the midst of a busy day of sightseeing.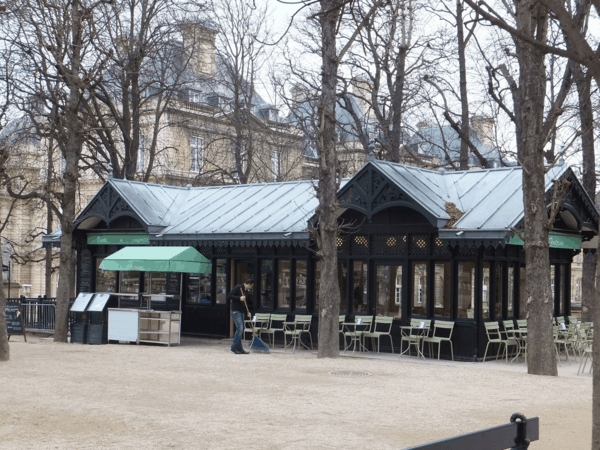 We returned on our last day in Paris to attend a performance at the Children's Puppet Theatre.  We had promised Emma at the beginning of our stay that we would do this before we left but as the performances only take place on Wednesdays, Saturdays and Sundays we had not been able to fit it in before our last Sunday.  The performances are in French, however, Emma, who speaks minimal French, enjoyed the production of Le Petit Chaperon Rouge (Little Red Riding Hood) which we attended. 
The shows tend to be familiar fairy tales and English speaking kids should have no trouble understanding the gist of the story being acted out by the puppets.  Each of the shows feature a French character called Guignol who was very popular with, and familiar to, the young crowd attending our performance.  There is also a great deal of interaction with the audience and physical humour in the performance.  Emma loved the show and it was enjoyable to take part in an activity with the neighbourhood French families that packed the small theatre.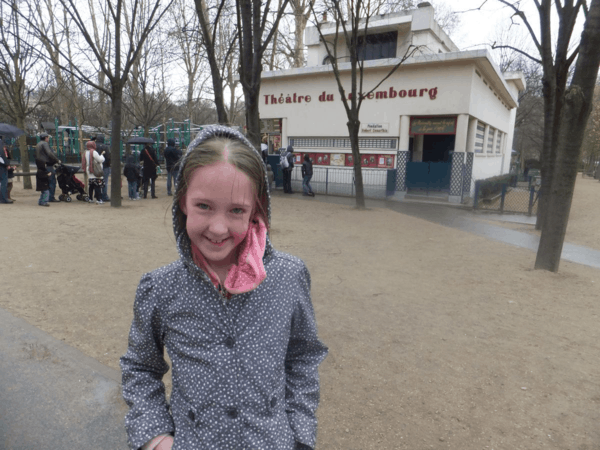 Emma outside the Théâtre de Luxembourg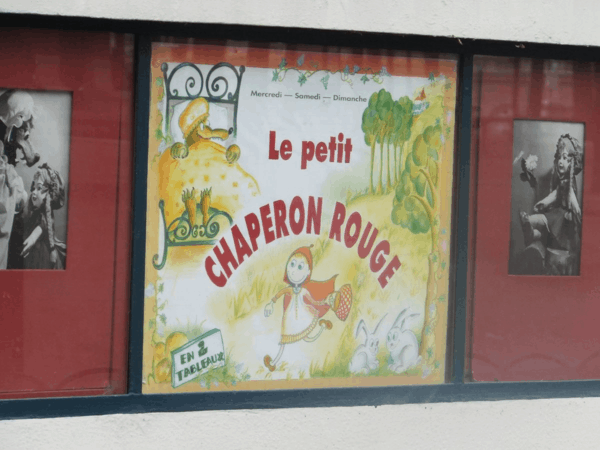 Le Petit Chaperon Rouge (Little Red Riding Hood)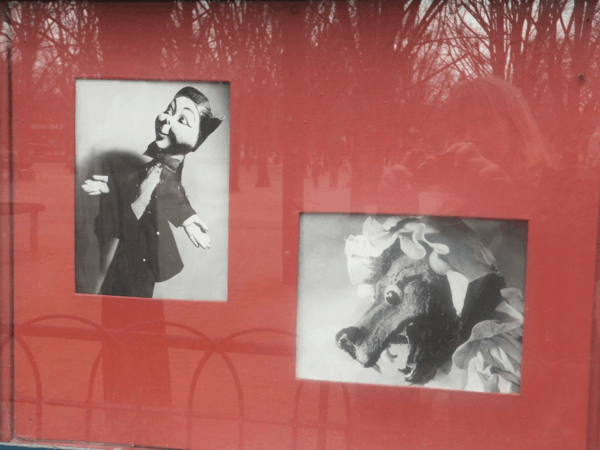 Guignol – the popular French character
The weather was not much better than it had been on the first day that we walked in the gardens, however, there had been a marked change in appearance as there were many flowers planted and the pond had been filled with water much to the delight of several ducks.  It was easy to imagine just how beautiful Luxembourg Gardens would be in a few short weeks when everything had greened up.  It would be lovely to visit during the summer season in order to take full advantage of all the activities which would be available.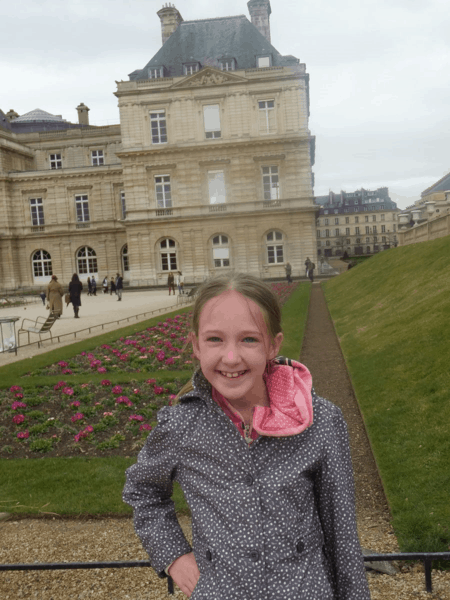 Enjoying the flowers at Luxembourg Gardens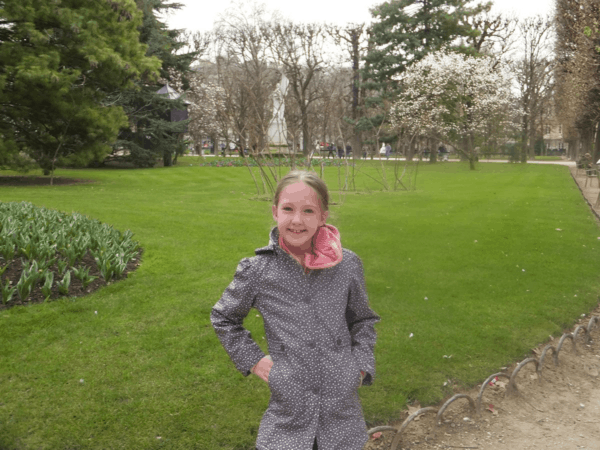 As beautiful as it is, Luxembourg Gardens has the feel of a neighbourhood park and I expect if I was living in the Latin Quarter or St. Germain-des-Près that I would spend far too much time sitting with a book and thoroughly enjoying life on the Left Bank.
Looking for a hotel in Paris? Check reviews and current rates on TripAdvisor.

What You Need To Know

The Luxembourg Gardens are located in the 6th arrondissement near Sorbonne University.

The gardens are open from 7am til dusk from April through October and 8am until dusk from November through March. 

Théâtre du Luxembourg has 40 minute long performances on Wednesdays, Saturdays, Sundays and school holidays.  The theatre is covered and heated.  It is recommended that guests arrive 30 minutes prior to the performance.  The fee is 4.70 Euros per person. 

The fenced-in children's playground located next to the theatre has an entrance fee.
Related Links
Paris with Kids? Mais, Bien Sûr!
Enjoying a Spring Day in Paris' Jardin des Tuileries 
Visiting the Palace of Versailles with Kids

A Whirlwind Visit to the Musée Rodin
Love Locks on a Parisian Bridge
Le Prince Régent Résidence & Spa
A D-Day Tour of Normandy with Kids
Have you liked our Facebook page yet? I post articles from the blog there as well as photo albums from our travels and other travel news. Or, if you prefer, you can subscribe to the free RSS feed or sign up for an email subscription to keep up-to-date on our travel adventures.