Visiting the Louvre with kids can be fun and educational provided that everyone is properly prepared and the visit is focused and limited to 2 or 3 hours.
The Musée du Louvre is a landmark in Paris and at more than 650,000 square feet is one of the largest, and busiest, museums in the world.  There are more than 35,000 objects exhibited in the museum and it is said that it would take a visitor up to 9 months to see them all. Visiting a museum such as the Louvre with kids may seem like a daunting proposition but a successful visit is possible. 
A Brief History of the Louvre
The Louvre has been a fixture in Paris since the late 12th century when it was built as a fortress on the banks of the Seine by King Philippe Auguste who wanted to protect the city from the Anglo-Normans.  Over the centuries, the fortress underwent extensive renovations and was transformed into a grand palace.
Following the revolution, the Assemblée Nationale decreed that the Louvre and the Tuileries would be used for displaying art and the Museum Central des Arts subsequently opened in 1793.  The Louvre now houses a stunning collection of art from the Middle Ages through to 1848, including the most famous painting in the world.
In the 1980s an extensive modernization project was undertaken with architect I.M. Pei at the helm.  Nineteen eighty-nine saw the opening of the glass pyramid which is now the impressive focal point of the building's modern entrance and a perfect backdrop for some courtyard posing before visiting the museum.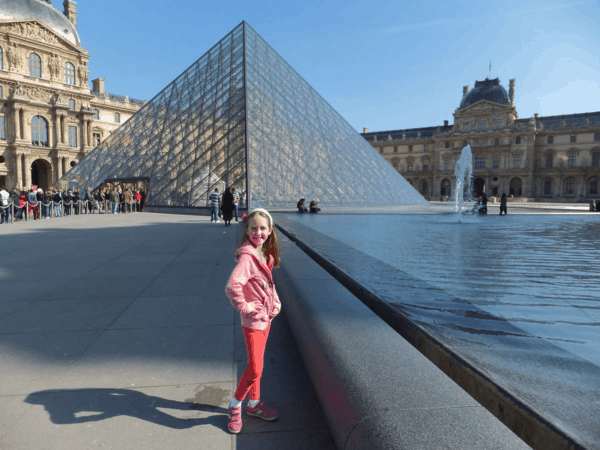 In the courtyard of the Louvre
Tips for Visiting the Louvre with Kids
When planning a family trip to Paris, parents are going to read a lot of well-meaning advice suggesting that the Louvre be avoided.  I'm the sort of mom, however, that believes that I shouldn't have to skip things that I badly want to do just because I have kids with me and, when I'm in Paris, I plan to visit art museums.  I believe that you can take kids to any art museum – even the Louvre – provided that the adults have adjusted their expectations to take into account the interests and attention span of the children.
1. Prepare for the Visit: With a museum collection as extensive as this, it is imperative that families prepare for the visit beforehand.  Preparation is important for a successful visit to any museum and absolutely essential for one that is as large as the Louvre.  Prior to our trip to Paris, we reviewed art books including, The Pocket Louvre, in order to get a sense of which works of art we most wanted to see.  
2. Focus on a Few Exhibits: The larger the museum's collection the more important it is going to be to focus on two or three exhibits.  Trying to see too much will likely cause kids to become overwhelmed and either lose interest or have a meltdown.  Emma knew that she wanted to see the Mona Lisa and the Venus de Milo because they were the works that she recognized from books and had heard about.  Based on her interests, we decided that our focus for this visit would primarily be seeing those two works of art and then anything else that struck our fancy.  
3. Limit Time at the Museum:  It's important to limit time spent in a museum or everyone will end up exhausted and grumpy.  The Louvre is exhausting even for older kids and adults so it's wise not to plan to spend hours there in an attempt to see as much as possible.  Much better to enjoy a short visit than to be miserable after a long one.  We planned to limit our time at the Louvre to just a couple of hours and then walk through Tuileries Gardens to the Champs Elysées and eventually on to the Arc de Triomphe.  

4. Take Breaks During the Visit: It's important to take breaks when visiting art museums with kids.  Mine need plenty of snack breaks so we stopped at one of the cafés in the Louvre for something to eat before we even started exploring the museum and when we found an inviting set of stairs in the atrium we stopped for a rest there too.  
5. Plan Fun Activities: We decided that we could tackle the Louvre on our own but another option would have been hiring a tour guide to plan an itinerary suitable for a family.  Planning fun activities such as scavenger hunts or printing out thematic trails to follow would also be useful in keeping kids engaged. 
6. Be Flexible. Perhaps the most important tip for visiting the Louvre is to be flexible.  If the plan for visiting the museum is not working then be prepared to either change it or bail on the visit altogether.  The Louvre is not going anywhere so if the kids are miserable then by all means get them out before they decide that they hate art museums.  If you have to cut your visit short then you can use it as an excuse to return to Paris someday!
Our Visit to the Louvre
We walked to the Louvre from our apartment in St. Germain-des-Près and the kids were hungry by the time we arrived so we stopped at a café on the first level and had a snack before seeing anything.  
Emma was so excited about seeing the Mona Lisa that we decided we might as well head directly there as she was not going to be able to focus on anything else until she had seen that painting.  I had been concerned that she might be disappointed by the crowds or the size of the masterpiece but I had no need to worry – she was thrilled to see DaVinci's famous lady for herself.
From there we went in search of the Venus de Milo which was also a priority.
After both of those goals were accomplished we were free to wander the other exhibits a bit.  Emma is keen about Greek mythology so she enjoyed a gallery of statues of various gods, goddesses and mythological creatures.
Katie doesn't enjoy art museums as much as Emma and I do so she amused herself by taking photos of me taking photos.  It kept her entertained so I wasn't about to complain.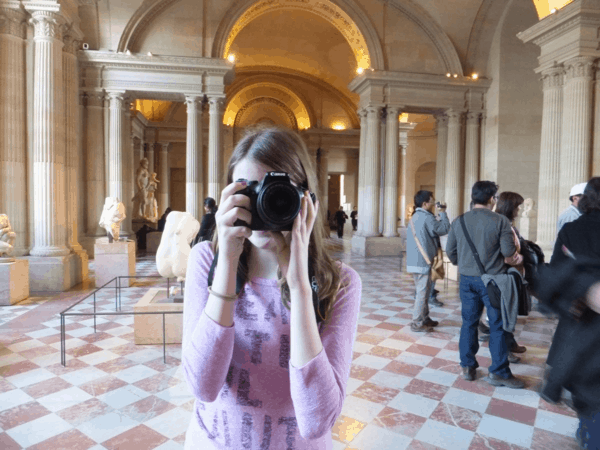 At this point we thought that we had seen enough but Emma insisted that there had been a photo of a pink bed in The Pocket Louvre that she wanted to see.  I had no idea what she was talking about and was soon wishing that I had paid more attention when she had been reading the book at home as she was adamant that she wasn't leaving the museum without seeing that bed.  After consulting the floor plan we concluded that it must be in the Napoleon Apartments and headed there.  This part of the Louvre was practically deserted and we enjoyed wandering through the lavishly decorated rooms without any crowds to contend with.
We found the bed that Emma had seen pictured (it was indeed beautiful) and she was then content to wrap up our visit to the Louvre.
We spent approximately 2 or 3 hours at the Louvre and then headed outside for a walk in Tuileries Gardens.  If the weather is pleasant then the gardens are the perfect way to decompress after a museum visit and enjoy some fresh air and exercise.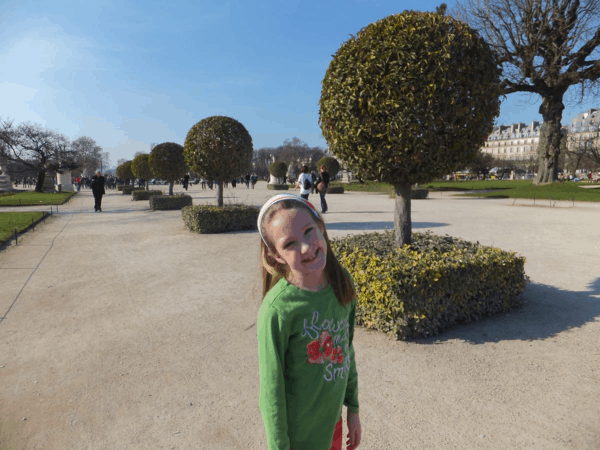 Starting our walk in Tuileries Gardens outside the Louvre
What You Need To Know
The Louvre is located in Paris' 1st arrondissement on the Right Bank;
The Louvre is open every day (except Tuesdays).  The museum is also closed on December 25, January 1, and May 1. Opening hours are from 9am-6pm on Monday, Thursday, Saturday and Sunday and 9am – 9:45pm on Wednesday and Friday;
Admission prices are available here – in 2012 adult admission to the permanent collection was 11 Euros.  Admission is free to visitors under the age of 18.  Admission is free for all visitors on the first Sunday of each month and on July 14th (except for temporary exhibitions in the Napoleon Hall);
Visitors can avoid waiting in line buy purchasing advance tickets online or by purchasing a Paris Museum Pass;
The museum is accessible by car, bus, batobus (Louvre stop, quai François Mitterrand), and Métro (Palais-Royal-Musée du Louvre station);
Coat and luggage check is available free of charge.  Strollers and wheelchairs are available free of charge;
Audio guides may be rented and are available in 7 languages;
There are numerous cafés and restaurants located throughout the Louvre;
Guided tours are available.  There are also a variety of thematic Visitor Trails available on the website which can be printed ahead of time.
This article may contain affiliate links which help support this site at no additional cost to you. This post may contain affiliate links which help support this site at no additional cost to you. We are a participant in the Amazon Services LLC Associates Program, an affiliate advertising program designed to provide a means for us to earn fees by linking to Amazon.com and affiliated sites.
Related Links
9 Tips for Taking Kids to an Art Museum
Paris With Kids? Mais, Bien Sûr!

A Whirlwind Visit to Musée Rodin
Visiting the Palace of Versailles with Kids

Have you liked our Facebook page yet? I post articles from the blog there as well as photo albums from our travels and other travel news. Or, if you prefer, you can subscribe to the free RSS feed or sign up for an email subscription to keep up-to-date on our travel adventures.