It's time to start planning your summer reading! Here are my 21 picks for travel inspired books to read this summer – mostly lighter reads for the beach or by the pool with some historical fiction thrown in as well as one non-fiction travel book. Most of my selections are recently published but I have also included a few older books that are new to me. I might not be able to travel very far this summer but at least I can visit some fabulous destinations via these books and so can you!
You might also enjoy
35 of the Best Books To Read Summer 2023
35 of the Best Summer Beach Reads 2022
29 of the Best Summer Beach Reads in 2021
21 Books to Read This Summer: A Travel Inspired List to Fuel Your Wanderlust (2019)
We are a participant in the Amazon Services LLC Associates Program, an affiliate advertising program designed to provide a means for us to earn fees by linking to Amazon.com and affiliated sites. As an Amazon affiliate I earn from qualifying purchases.
This post may contain affiliate links. If you click an affiliate link and make a purchase then we receive a small commission at no additional cost to you.
1. The Heart Beats in Secret by Katie Munnik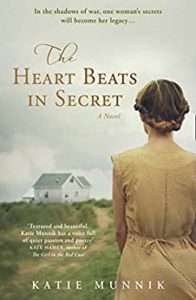 Setting: Scotland and Québec
Scotland, 1940
In a house on the east coast, Jane faces motherhood alone. With her husband away at war, there is no one to protect her from small town suspicions and she must learn to keep her secrets to herself.
Three decades later her daughter Felicity leaves their life behind for Montreal, glad to flee the unknowns that have plagued her so far. But her personal battles are nothing compared to the unrest here, where a commune in rural Quebec and a child of her own might be her saviours.
The child grows up to be Pidge, a woman surprised to find that she will inherit her grandmother's Scottish house, yet curious about the ingredients that make up a family's history. Amidst the flying feathers of the wild goose that stalks the kitchen, Pidge will find unexpected answers to the questions that have beset these women through the years.
The Heart Beats in Secret is a powerful story of three women and the secrets and bonds that have defined them. It explores the wilderness of the heart, the secrets concealed with every beat and the many ways it is possible to be a mother.
I read this book a few weeks ago and quite enjoyed the story of these three generations of women and their secrets – including a twist that I wasn't expecting at the end. The author weaves back and forth in time and place from Scotland in 1940 to Montréal and rural Québec in the late 1960s and early 1970s and to Ottawa and Scotland in 2006 as she tells the stories of Jane, Felicity and Pidge.
2. Due North by Lola Akinmade Åkerström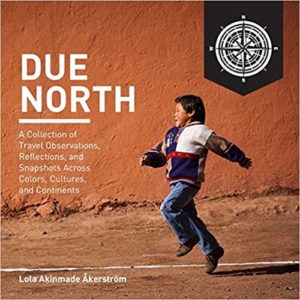 Due North, 2018 Lowell Thomas Gold Award Winner – Best Travel Book, is a collection of travel observations, reflections, and snapshots spanning two decades across colors, cultures, and continents by award-winning travel writer and photographer Lola Akinmade Åkerström.
I don't read much non-fiction, however, my reading list for this summer includes this book by award-winning travel writer and photographer, Lola Akinmade Åkerström.
3. Cool Water by Dianne Warren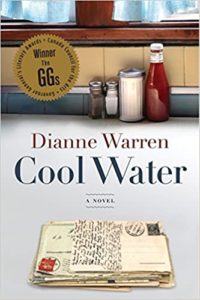 Setting: Saskatchewan, Canada
Juliet, Saskatchewan, is a blink-of-an-eye kind of town — the welcome sign announces a population of 1,011 people — and it's easy to imagine that nothing happens on its hot and dusty streets. Situated on the edge of the Little Snake sand hills, Juliet and its inhabitants are caught in limbo between a century-old promise of prosperity and whatever lies ahead.
But the heart of the town beats in the rich and overlapping stories of its people: the foundling who now owns the farm his adoptive family left him; the pregnant teenager and her mother, planning a fairytale wedding; a shy couple, well beyond middle age, struggling with the recognition of their feelings for one another; a camel named Antoinette; and the ubiquitous wind and sand that forever shift the landscape. Their stories bring the prairie desert and the town of Juliet to vivid and enduring life.
This novel, published in 2010, won the Governor General's Literary Award in Canada. I bought it years ago, however, I hadn't got around to reading it until recently. The novel tells the story of several of the townspeople in the small town of Juliet, Saskatchewan and takes place over the course of one summer day.
Cool Water is set in the prairies but it reminded me very much of the small town where I grew up in rural Northern Ontario and I expect it bears similarities to other small towns across the country. The novel reminds us that everyone has a story that runs deep even in places where it seems like nothing much is happening.
4. The Brideship Wife by Leslie Howard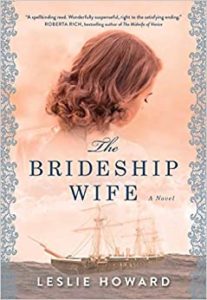 Setting: England and British Columbia, Canada
England, 1862. Charlotte is somewhat of a wallflower. Shy and bookish, she knows her duty is to marry, but with no dowry, she has little choice in the matter. She can't continue to live off the generosity of her sister Harriet and her wealthy brother-in-law, Charles, whose political aspirations dictate that she make an advantageous match.
When Harriet hosts a grand party, Charlotte is charged with winning the affections of one of Charles's colleagues, but before the night is over, her reputation – her one thing of value – is at risk. In the days that follow, rumours begin to swirl. Soon Charles's standing in society is threatened and all that Charlotte has held dear is jeopardized, even Harriet, and Charlotte is forced to leave everything she has ever known in England and embark on a treacherous voyage to the New World.
From the rigid social circles of Victorian England to the lawless lands bursting with gold in British Columbia's Cariboo, The Brideship Wife takes readers on a mesmerizing journey through a time of great change. Based on a forgotten chapter in history, this is a sparkling debut about the pricelessness of freedom and the courage it takes to follow your heart.
I thoroughly enjoyed this captivating story about a chapter in Canadian history that I knew little about. Charlotte is a likable character who is ahead of her time fighting hard to establish her independence when the expectations for women of her class made it very difficult for her to live as she would prefer.
5. East Coast Girls by Kerry Kletter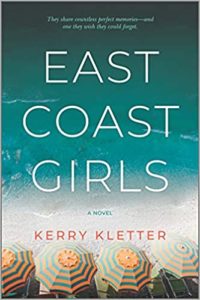 Setting: Montauk, New York
Childhood friends Hannah, Maya, Blue and Renee share a bond that feels more like family. Growing up, they had difficult home lives, and the summers they spent together in Montauk were the happiest memories they ever made. Then, the summer after graduation, one terrible night changed everything.
Twelve years have passed since that fateful incident, and their sisterhood has drifted apart, each woman haunted by her own lost innocence. But just as they reunite in Montauk for one last summer, hoping to find happiness once more, tragedy strikes again. This time it'll test them like never before, forcing them to confront decisions they've each had to live with and old secrets that refuse to stay buried.
I haven't read anything by this author before, however, all of the reviews that I have read praise her writing. East Coast Girls sounds like an interesting examination of female friendship set in the seaside town of Montauk, New York and a great summer read.
6. Out of the Easy by Ruta Sepetys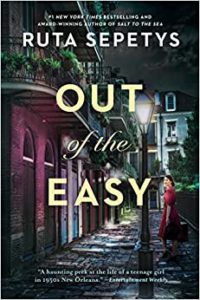 Setting: New Orleans
It's 1950, and as the French Quarter of New Orleans simmers with secrets, seventeen-year-old Josie Moraine is silently stirring a pot of her own. Known among locals as the daughter of a brothel prostitute, Josie wants more out of life than the Big Easy has to offer. She devises a plan get out, but a mysterious death in the Quarter leaves Josie tangled in an investigation that will challenge her allegiance to her mother, her conscience, and Willie Woodley, the brusque madam on Conti Street.
Josie is caught between the dream of an elite college and a clandestine underworld. New Orleans lures her in her quest for truth, dangling temptation at every turn, and escalating to the ultimate test.
New Orleans has been on my travel bucket list for some time so I was pleased to find this historical novel written by New York Times best-selling author Ruth Sepetys. I loved one of her more recently-published novels, The Fountains of Silence, which was on my winter travel reading list so I'm looking forward to this as well.
7. My Brilliant Friend by Elena Ferrante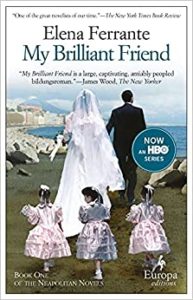 Setting: Naples, Italy
Beginning in the 1950s in a poor but vibrant neighborhood on the outskirts of Naples, Elena Ferrante's four-volume story spans almost sixty years, as its main characters, the fiery and unforgettable Lila and the bookish narrator, Elena, become women, wives, mothers, and leaders, all the while maintaining a complex and at times conflicted friendship. This first novel in the series follows Lila and Elena from their fateful meeting as ten-year-olds through their school years and adolescence.
Through the lives of these two women, Ferrante tells the story of a neighborhood, a city, and a country as it is transformed in ways that, in turn, also transform the relationship between two women.
This is the first in a series of four novels known collectively as The Neapolitan Novels by Italian author Elena Ferrante (translated by Ann Goldstein) about the life-long friendship between Lila and Lenu. I have only just started reading it but can't put it down so I know that I will be purchasing the others soon. The books were published between 2012-2015 but I have only just discovered them and there's also a series based on the books on HBO if you need more of this pair after finishing the books.
8. The Tourist Attraction by Sarah Morgenthaler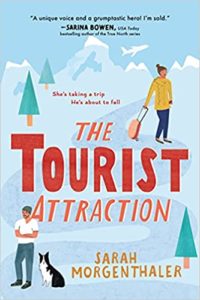 Setting: Alaska
When Graham Barnett named his diner The Tourist Trap, he meant it as a joke. Now he's stuck slinging reindeer dogs to an endless parade of resort visitors who couldn't interest him less. Not even the sweet, enthusiastic tourist in the corner who blushes every time he looks her way…
Two weeks in Alaska isn't just the top item on Zoey Caldwell's bucket list. It's the whole bucket. One look at the mountain town of Moose Springs and she's smitten. But when an act of kindness brings Zoey into Graham's world, she may just find there's more to the grumpy local than meets the eye…and more to love in Moose Springs than just the Alaskan wilderness.
If you enjoy a well-written romantic comedy set in a great destination then you will love this book! It was such a fun read that I breezed through it in about 2 days and it had me dreaming about a return trip to Alaska. And I just discovered that there are two more Moose Springs books in the works featuring some of the town's other residents to look forward to.
9. The Switch by Beth O'Leary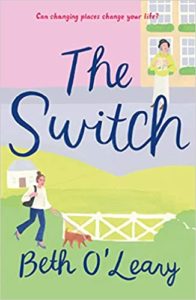 Setting: London and Yorkshire
When overachiever Leena Cotton is ordered to take a two-month sabbatical after blowing a big presentation at work, she escapes to her grandmother Eileen's house for some long-overdue rest.
Eileen is newly single and about to turn eighty. She'd like a second chance at love, but her tiny Yorkshire village doesn't offer many eligible gentlemen.
So they decide to try a two-month swap.
Eileen will live in London and look for love. She'll take Leena's flat, and learn all about casual dating, swiping right, and city neighbors. Meanwhile Leena will look after everything in rural Yorkshire: Eileen's sweet cottage and garden, her idyllic, quiet village, and her little neighborhood projects.
But stepping into one another's shoes proves more difficult than either of them expected. Will swapping lives help Eileen and Leena find themselves…and maybe even find true love? In Beth O'Leary's The Switch, it's never too late to change everything….or to find yourself.
Doesn't this sound like a fun premise? I love anything set in England – both London and the countryside or in this case both – so this tale of a grandmother and granddaughter each trying to manage completely out of their element appealed to me immediately.
10. All We Left Behind by Danielle R. Graham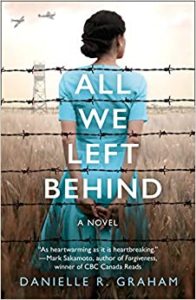 Setting: British Columbia, Canada
A powerful and incredibly moving historical novel inspired by an untold story of the Second World War.
Vancouver 1941
As the war rages around the world, Hitler's fury is yet to be felt on the peaceful shores of Mayne Island. Sweethearts Hayden and Chidori are in love.
But everything changes after Pearl Harbor.
Now seen as the enemy, Chidori and her family are forced into an internment camp. Powerless to help them, Hayden joins the air force to bring about an end to this devastating war – the thought of Chidori is all that keeps him alive.
Can they both survive long enough to be reunited? Or will the war be the only thing to separate their love?
Another work of historical fiction set in Canada about a shameful aspect of our history – the internment of Japanese Canadians during World War II. I don't remember this being covered to any great detail in my history classes so I could stand to learn more about it.
11. The Hidden Beach by Karen Swan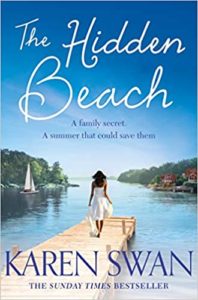 Setting: Stockholm and the Swedish archipelago
In the oldest part of Stockholm, Bell Everhurst is working as a nanny for an affluent family. Hanna and Max Von Greyerz are parents to seven year-old Linus and five-year old twins Ellinor and Tilde, and Bell has been with the family for more than two years.
One early Spring morning, as she's rushing out to take the children to school, she answers the phone—and everything changes. A woman from a clinic she's never heard of asks her to pass on the message that Hanna's husband is awake. Bell is confused. She clearly just saw Max walking out of the house a few minutes earlier, but the woman mentioned Hanna by name . . . When she gets hold of her employer, the truth is revealed: Hanna's first husband fell into a coma seven years earlier, following an accident. But now he's awake. And life is going to change for them all.
I read a Karen Swan book last summer and it was the perfect read for the beach and cottage – easy and entertaining – and I expect this one to be the same. I was also pleased to find a novel that is set in Stockholm. We visited on a Northern European cruise a few years ago and loved the city but I haven't found many books set there.
12. The Engineer's Wife by Tracey Enerson Wood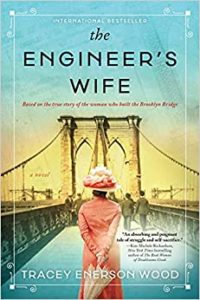 Setting: New York City
She built a monument for all time. Then she was lost in its shadow. Discover the fascinating woman who helped design and construct an American icon, perfect for readers of The Other Einstein.
Emily Warren Roebling refuses to live conventionally―she knows who she is and what she wants, and she's determined to make change. But then her husband Wash asks the unthinkable: give up her dreams to make his possible.
Emily's fight for women's suffrage is put on hold, and her life transformed when Wash, the Chief Engineer of the Brooklyn Bridge, is injured on the job. Untrained for the task, but under his guidance, she assumes his role, despite stern resistance and overwhelming obstacles.
Lines blur as Wash's vision becomes her own, and when he is unable to return to the job, Emily is consumed by it. But as the project takes shape under Emily's direction, she wonders whose legacy she is building―hers, or her husband's. As the monument rises, Emily's marriage, principles, and identity threaten to collapse. When the bridge finally stands finished, will she recognize the woman who built it?
I haven't read this one yet but it's in my summer reading stack and it seems to have everything that I love in a book. It's a historical novel set in one of my favourite places – New York City – and it's a little known story about a woman defying expectations at a time when women were expected to curb their own ambitions.
13. Just for the Summer by Sue Moorcroft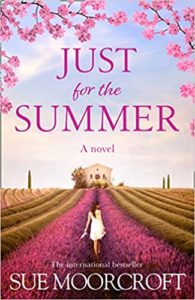 Setting: France
In theory, nothing could be better than a summer spent basking in the French sun. That is, until you add in three teenagers, two love interests, one divorcing couple, and a very unexpected pregnancy.
Admittedly, this isn't exactly the relaxing holiday Leah Beaumont was hoping for – but it's the one she's got. With her sister Michele's family falling apart at the seams, it's up to Leah to pick up the pieces and try to hold them all together.
But with a handsome helicopter pilot staying next door, Leah can't help but think she might have a few distractions of her own to deal with…
This sounds like an entertaining summer read if you enjoy romance novels set in beautiful destinations. We honeymooned in the south of France and spent two weeks in Provence when our daughters were younger so I know I will enjoy escaping to this beautiful destination again via this novel. And to be completely honest, I just fell in love with the illustration of lavender fields on the cover! I still dream of seeing those fields one day as the lavender bloomed early the year of our visit and I missed it.
14. The Grace Kelly Dress: A Novel by Brenda Janowitz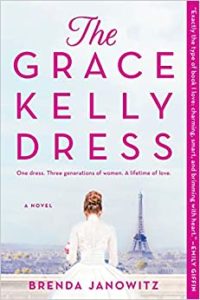 Setting: Paris and New York City
Two years after Grace Kelly's royal wedding, her iconic dress is still all the rage in Paris—and one replica, and the secrets it carries, will inspire three generations of women to forge their own paths in life and in love.
Paris, 1958: Rose, a seamstress at a fashionable atelier, has been entrusted with sewing a Grace Kelly—look-alike gown for a wealthy bride-to-be. But when, against better judgment, she finds herself falling in love with the bride's handsome brother, Rose must make an impossible choice, one that could put all she's worked for at risk: love, security and of course, the dress.
Sixty years later, tech CEO Rachel, who goes by the childhood nickname "Rocky," has inherited the dress for her upcoming wedding in New York City. But there's just one problem: Rocky doesn't want to wear it. A family heirloom dating back to the 1950s, the dress just isn't her. Rocky knows this admission will break her mother Joan's heart. But what she doesn't know is why Joan insists on the dress—or the heartbreaking secret that changed her mother's life decades before, as she herself prepared to wear it.
As the lives of these three women come together in surprising ways, the revelation of the dress's history collides with long-buried family heartaches. And in the lead-up to Rocky's wedding, they'll have to confront the past before they can embrace the beautiful possibilities of the future.
I have a bit of a things for books set in Paris and this one is the story of three generations of women living in the City of Light in 1958 and in New York City sixty years later. Weddings, family secrets, beautiful cities – it sounds like the perfect summer read!
15. Big Summer by Jennifer Weiner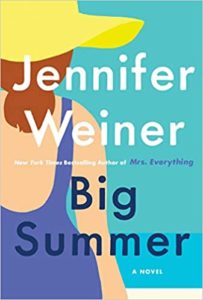 Setting: Cape Cod
Six years after the fight that ended their friendship, Daphne Berg is shocked when Drue Cavanaugh walks back into her life, looking as lovely and successful as ever, with a massive favor to ask. Daphne hasn't spoken one word to Drue in all this time—she doesn't even hate-follow her ex-best friend on social media—so when Drue asks if she will be her maid-of-honor at the society wedding of the summer, Daphne is rightfully speechless.
Drue was always the one who had everything—except the ability to hold onto friends. Meanwhile, Daphne's no longer the same self-effacing sidekick she was back in high school. She's built a life that she loves, including a growing career as a plus-size Instagram influencer. Letting glamorous, seductive Drue back into her life is risky, but it comes with an invitation to spend a weekend in a waterfront Cape Cod mansion. When Drue begs and pleads and dangles the prospect of cute single guys, Daphne finds herself powerless as ever to resist her friend's siren song.
A sparkling novel about the complexities of female relationships, the pitfalls of living out loud and online, and the resilience of the human heart, Big Summer is a witty, moving story about family, friendship, and figuring out what matters most.
I have always wanted to visit Cape Cod during summer vacation but it has yet to work out for me. In the meantime, I read summer books set in Cape Cod! I'm not familiar with this author, however, one of the reviews described it as "frothy entertainment" and that sounds like the ideal beach (or lakefront) read to me.
16. The Second Home by Christina Clancy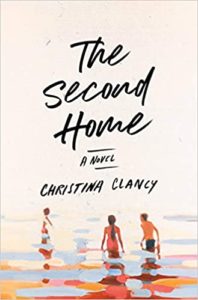 Setting: Cape Cod
After a disastrous summer spent at her family summer home on Cape Cod, seventeen-year-old Ann Gordon was left with a secret that changed her life forever, and created a rift between her sister, Poppy, and their adopted brother, Michael.
Now, fifteen years later, her parents have died, leaving Ann and Poppy to decide the fate of the Wellfleet home that's been in the Gordon family for generations. For Ann, the once-beloved house is tainted with bad memories. Poppy loves the old saltbox, but after years spent chasing waves around the world, she isn't sure she knows how to stay in one place.
Just when the sisters decide to sell, Michael re-enters their lives with a legitimate claim to the house. But more than that, he wants to set the record straight about that long ago summer. Reunited after years apart, these very different siblings must decide if they can continue to be a family―and the house just might be the glue that holds them together.
Told through the shifting perspectives of Ann, Poppy, and Michael, this assured and affecting debut captures the ache of nostalgia for summers past and the powerful draw of the places we return to again and again. It is about second homes, second families, and second chances.
And here we have Cape Cod again but, perhaps, a little more serious as it's about a family of siblings torn apart because of a family secret reuniting after the death of their parents. I find it interesting that the author chose to shift perspectives between the three siblings so that the reader has access to each version of the story as they try to decide if they can continue to be a family.
17. My Summer of Love and Misfortune by Lindsay Wong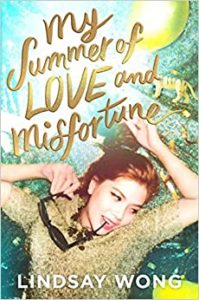 Setting: Beijing, China
Crazy Rich Asians meets Love & Gelato in this hilarious, quirky novel about a Chinese-American teen who is thrust into the decadent world of Beijing high society when she is sent away to spend the summer in China.
Iris Wang is having a bit of a rough start to her summer: Her boyfriend cheated on her, she didn't get into any colleges, and she has no idea who she is or what she wants to do with her life. She's always felt torn about being Chinese-American, feeling neither Chinese nor American enough to claim either identity. She's just a sad pizza combo from Domino's, as far as she's concerned.
In an attempt to snap her out of her funk, Iris's parents send her away to visit family in Beijing, with the hopes that Iris would "reconnect with her culture" and "find herself." Iris resents the condescension, but even she admits that this might be a good opportunity to hit the reset button on the apocalyptic disaster that has become her life.
With this trip, Iris expects to eat a few dumplings, meet some family, and visit a tourist hotspot or two. Instead, she gets swept up in the ridiculous, opulent world of Beijing's wealthy elite, leading her to unexpected and extraordinary discoveries about her family, her future, and herself.
This is probably best described as teen fiction but it sounds good to me too! I loved the Crazy Rich Asians trilogy so if this story of a Chinese-American girl sent to spend the summer in China is anywhere near as good then it will be a fun read. Perhaps I'll get my 16 year-old to read it as well to see what she thinks!
18. Summer Darlings by Brooke Lea Foster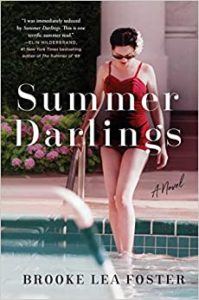 Setting: Martha's Vineyard
Set during the splendid summer days of 1960s Martha's Vineyard, this page-turning debut novel pulls back the curtain on one mysterious and wealthy family as seen through the eyes of their nanny—a college student who, while falling in love on the elegant island, is also forced to reckon with the dark underbelly of privilege.
In 1962, coed Heddy Winsome leaves her hardscrabble Irish Brooklyn neighborhood behind and ferries to glamorous Martha's Vineyard to nanny for one of the wealthiest families on the island. But as she grows enamored with the alluring and seemingly perfect young couple and chases after their two mischievous children, Heddy discovers that her academic scholarship at Wellesley has been revoked, putting her entire future at risk.
Determined to find her place in the couple's wealthy social circles, Heddy nurtures a romance with the hip surfer down the beach while wondering if the better man for her might be a quiet, studious college boy instead. But no one she meets on the summer island—socialite, starlet, or housekeeper—is as picture-perfect as they seem, and she quickly learns that the right last name and a house in a tony zip-code may guarantee privilege, but that rarely equals happiness.
Rich with the sights and sounds of midcentury Martha's Vineyard, Brooke Lea Foster's debut novel Summer Darlings promises entrance to a rarefied world, for readers who enjoyed Tigers in Red Weather or The Summer Wives.
My dreams of visiting Cape Cod extend to Martha's Vineyard which is what drew me to this historical novel set in the 1960s.
19. Summer People by Elin Hilderbrand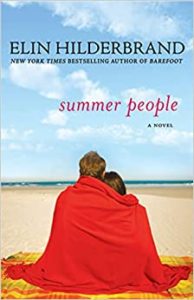 Setting: Nantucket
Every summer, the Newton family retreats to their beloved Nantucket home. But this season will not be like any other in Summer People, a spellbinding novel from New York Times bestselling author Elin Hilderbrand.
When Arch Newton, a prominent New York attorney, dies in a plane crash on his way home from a business trip, his beautiful widow, Beth, can barely keep things together. Above all, though, she decides that she must continue the family tradition of going to Nantucket, and at the same time fulfill a promise that Arch made before he died.
Beth invites Marcus, the son of Arch's final and most challenging client, to spend the summer with her and her teenage twins, Winnie and Garrett, who have mixed reactions to sharing their special summer place with this stranger. Always a place of peace before, Nantucket becomes the scene of roiling emotions and turbulent passions as Marcus, Winnie, and Garrett learn about loss, first love, and betrayal. And when they stumble upon a shocking secret from Beth's past, they must keep it from destroying the family they've been trying so hard to heal.
There always seems to be an Elin Hilderbrand novel on my summer reading lists because you can count on her books to be the perfect summer read. Her books are generally set on Nantucket (where the author lives) during summer vacation and she's a great storyteller. This one was written several years ago but I hadn't read it yet and it looked interesting so it's on my list.
20. The Jane Austen Society by Natalie Jenner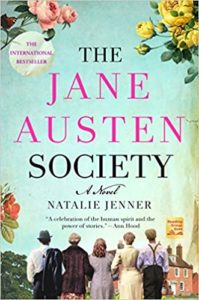 Setting: Chawton (village in England)
Just after the Second World War, in the small English village of Chawton, an unusual but like-minded group of people band together to attempt something remarkable.
One hundred and fifty years ago, Chawton was the final home of Jane Austen, one of England's finest novelists. Now it's home to a few distant relatives and their diminishing estate. With the last bit of Austen's legacy threatened, a group of disparate individuals come together to preserve both Jane Austen's home and her legacy. These people―a laborer, a young widow, the local doctor, and a movie star, among others―could not be more different and yet they are united in their love for the works and words of Austen. As each of them endures their own quiet struggle with loss and trauma, some from the recent war, others from more distant tragedies, they rally together to create the Jane Austen Society.
A powerful and moving novel that explores the tragedies and triumphs of life, both large and small, and the universal humanity in us all, Natalie Jenner's The Jane Austen Society is destined to resonate with readers for years to come.
I love Jane Austen so this book appealed to me instantly and I wasted no time ordering it for my summer reading. I'm hoping the novel conveys a strong sense of the small English village of Chawton as I have always wanted to visit this part of England to see where Jane Austen lived.
21. One Perfect Summer by Brenda Novak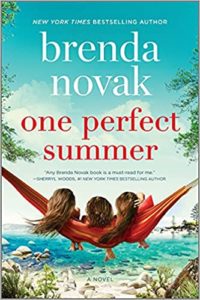 Setting: Lake Tahoe
When Serenity Alston swabbed her cheek for 23andMe, she joked about uncovering some dark ancestral scandal. The last thing she expected was to discover two half sisters she didn't know existed. Suddenly, everything about her loving family is drawn into question. And meeting these newfound sisters might be the only way to get answers.
The women decide to dig into the mystery together at Serenity's family cabin in Lake Tahoe. With Reagan navigating romantic politics at work and Lorelei staring down the collapse of her marriage, all three women are converging at a crossroads in their lives. Before the summer is over, they'll have to confront the past and determine how to move forward when everything they previously thought to be true was a lie. But any future is easier to face with family by your side.
I think this is a fascinating topic for a novel – in no small part because I have recently had a similar discovery after taking an Ancestry DNA test – and a family cabin in Lake Tahoe sounds like the perfect setting for these women to spend some time getting to know each other.
What's on your reading list this summer? Let us know in the comments below.
Pin This For Later