Highlights of an Alaskan family cruise and land tour.
One of our most memorable family vacations was a multi-generational Alaskan cruise that we took with my husband's parents. They had been planning to go several years earlier but had cancelled as it would have meant being away at the time of our younger daughter's birth.
We chose a cruise that departed from Vancouver on June 23rd (as soon as summer break had started) because I wanted to cruise as close to the summer solstice as possible so that we would be able to experience the Midnight Sun as we sailed north. 
Read 15 Reasons to Set Sail on an Alaskan Cruise
This post may contain affiliate links. If you click an affiliate link and make a purchase then we receive a small commission at no additional cost to you.
We are a participant in the Amazon Services LLC Associates Program, an affiliate advertising program designed to provide a means for us to earn fees by linking to Amazon.com and affiliated sites. As an Amazon affiliate I earn from qualifying purchases.
Our Alaskan Cruise Itinerary
We flew to Vancouver the day before our cruise and stayed at the Fairmont Vancouver Waterfront that night and it was just a short walk to the Canada Place Cruise Ship Terminal the next day. We had about a day and a half to sight-see in Vancouver before boarding the Diamond Princess for our 7 day northbound cruise.
The cruise sailed from Vancouver, British Columbia to Whittier, Alaska and we elected to supplement the cruise with a 5 day cruise tour which went over-land to Denali Park and as far north as Fairbanks, Alaska.
The ports of call for this cruise were Ketchikan, Juneau and Skagway as well as scenic cruising in Glacier Bay and College Fjord. The cruise ended in Whittier, Alaska (just outside Anchorage) and our Princess Cruise Tour began when we boarded a train headed for Mt. McKinley Princess Lodge, Denali Princess Lodge and the Fairbanks Princess Lodge.
Boarding the Diamond Princess
The first full day of the cruise was a sea day which gave us plenty of time to explore the ship. Neither of my children had ever been to a kid's club on vacation prior to this but they both discovered that they quite enjoyed the Princess Kid's program.
Our younger daughter, Emma, was in the Princess Pelicans room which is for 3-7 year-olds and our older daughter, Katie, was in Shockwaves which is for 8-12 year-olds. Princess also has a separate area that is exclusively for teen guests.
Both girls enjoyed meeting other kids and Emma particularly liked the crafts and activities which were often centered around an Alaska theme. Emma also enjoyed frolicking around the pool despite the fact that the weather was less than balmy.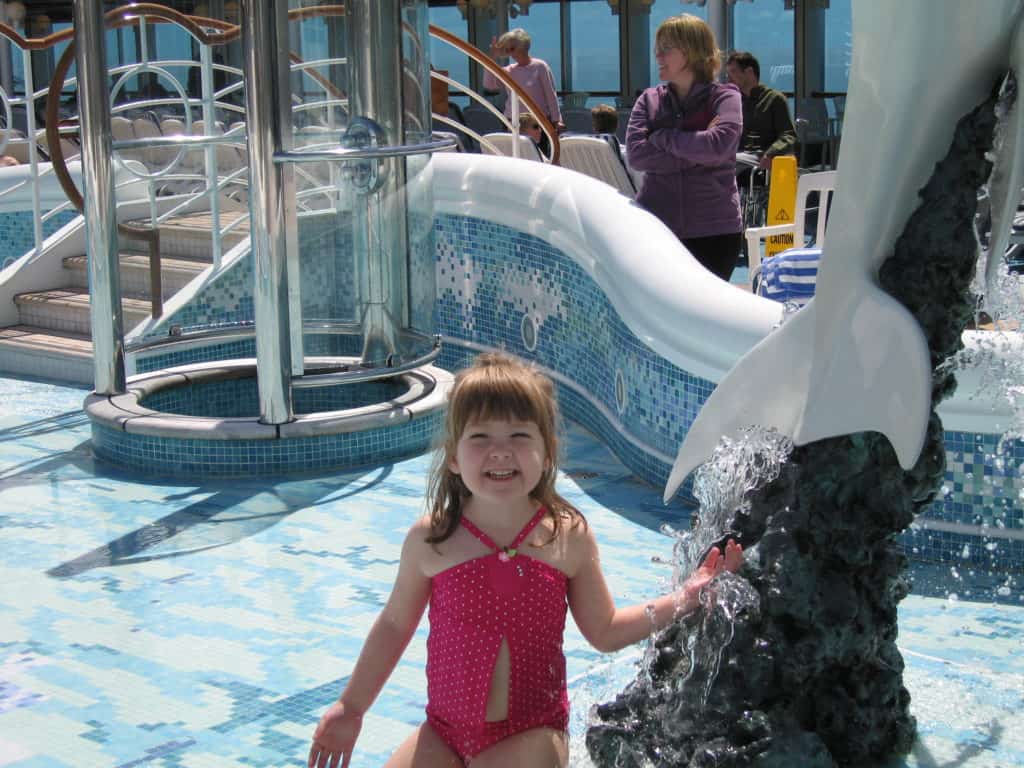 As an Amazon affiliate, I earn from qualifying purchases.
Alaskan Port of Call: Ketchikan
Our first port of call in Alaska was the city of Ketchikan which is situated along the shores of Alaska's Inside Passage within the Tongass National Forest. Our plan was to simply walk around town for most of the day before attending the Great Alaskan Lumberjack Show which we had purchased tickets for ahead of time.
We soon learned that Ketchikan proclaims itself to be the Salmon Capital of the World. Huge runs of salmon migrate from the open ocean into the protected waters of Ketchikan which led the Tlingit to set up summer fish camps in the area. The city of Ketchikan was later established when commercial fisheries discovered the salmon rich waters and constructed major salmon canneries.
Three indigenous tribes, the Tlingit, the Haida, and the Tsimshian, lived in the area of northern British Columbia and southeast Alaska and the influence of this native culture is readily apparent in Ketchikan.
Ketchikan is famous for having the world's largest collection of totem poles which visitors can see at the Saxman Native Village, Totem Bight State Historical Park, and the Totem Heritage Center. Poles can also be viewed at a number of public locations scattered around town. We decided to skip the tours of the parks because I thought that the girls, Emma in particular, would lose interest fairly quickly so we settled for admiring the ones that we saw in town which were very impressive.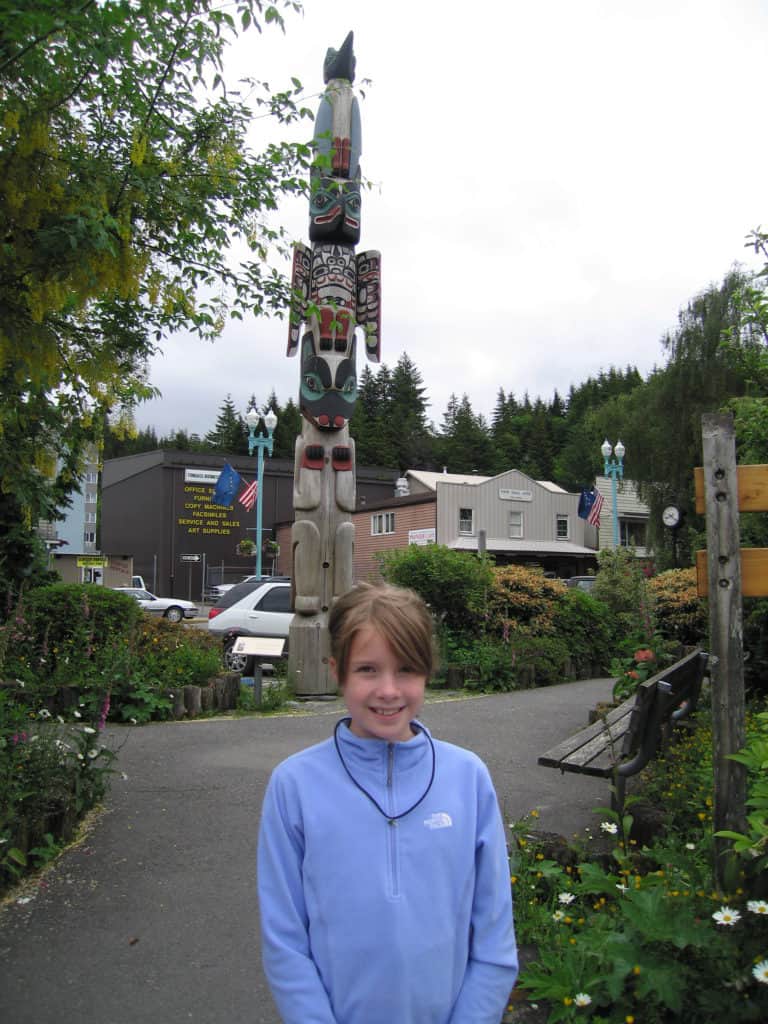 The famous Creek Street which was a red-light district filled with brothels during the era of Prohibition is now a lively tourist boardwalk filled with restaurants, boutiques, galleries and gift shops. We found a restaurant in the area called Sam McGees, named after a famous poem by Robert W. Service that I remember having to memorize in elementary school.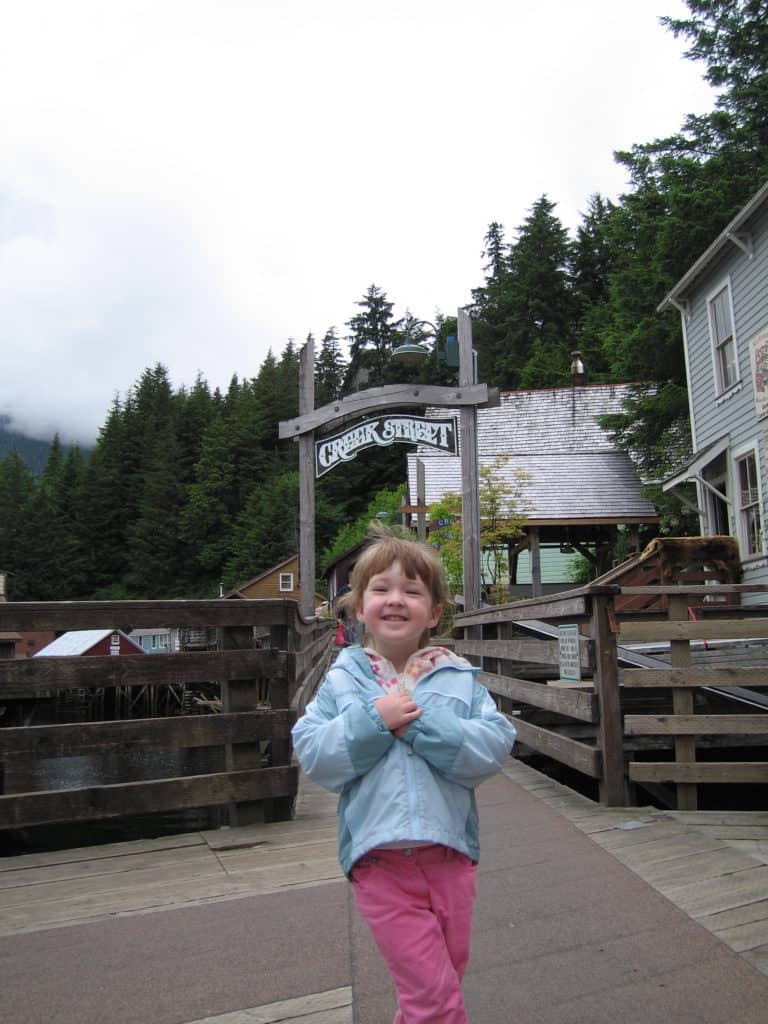 We hiked around the surrounding area a bit enjoying the fresh air and the fact that, although overcast, it wasn't raining, which is apparently unusual for Ketchikan which has a temperate rain forest climate.
We visited the Deer Mountain Tribal Hatchery and Eagle Center which provides an educational look at Alaska's salmon hatchery program and showcases various birds that have been rescued and rehabilitated. We were able to walk through the eagle enclosure and view the resident pair of flightless bald eagles which were fascinating to see up close.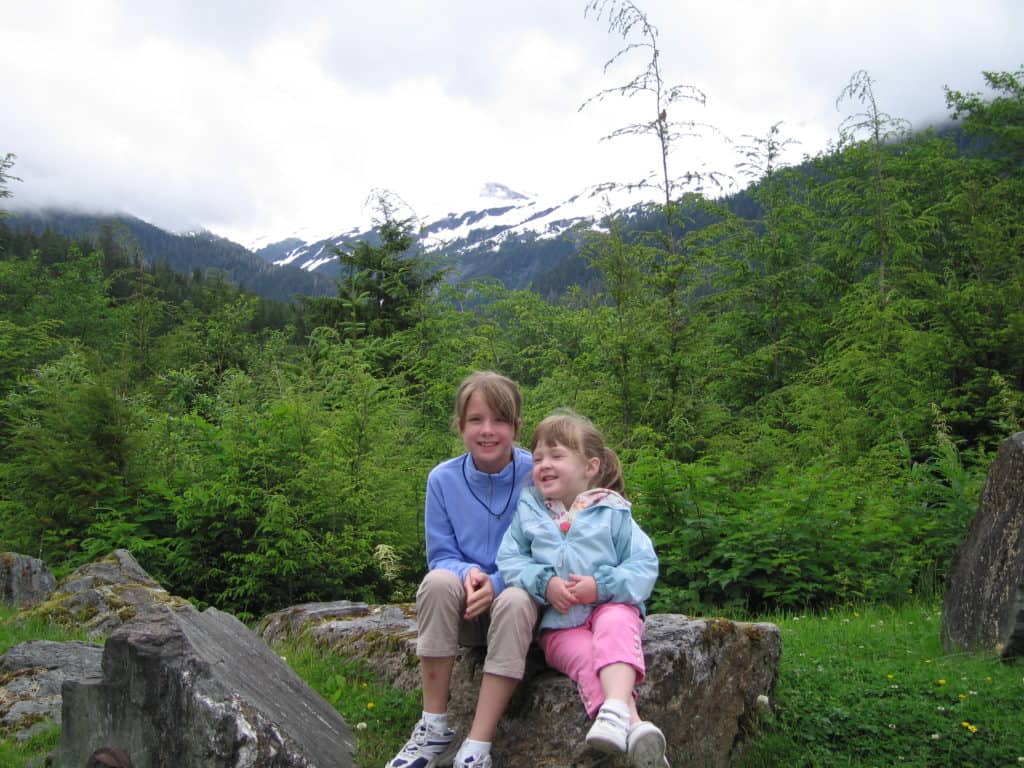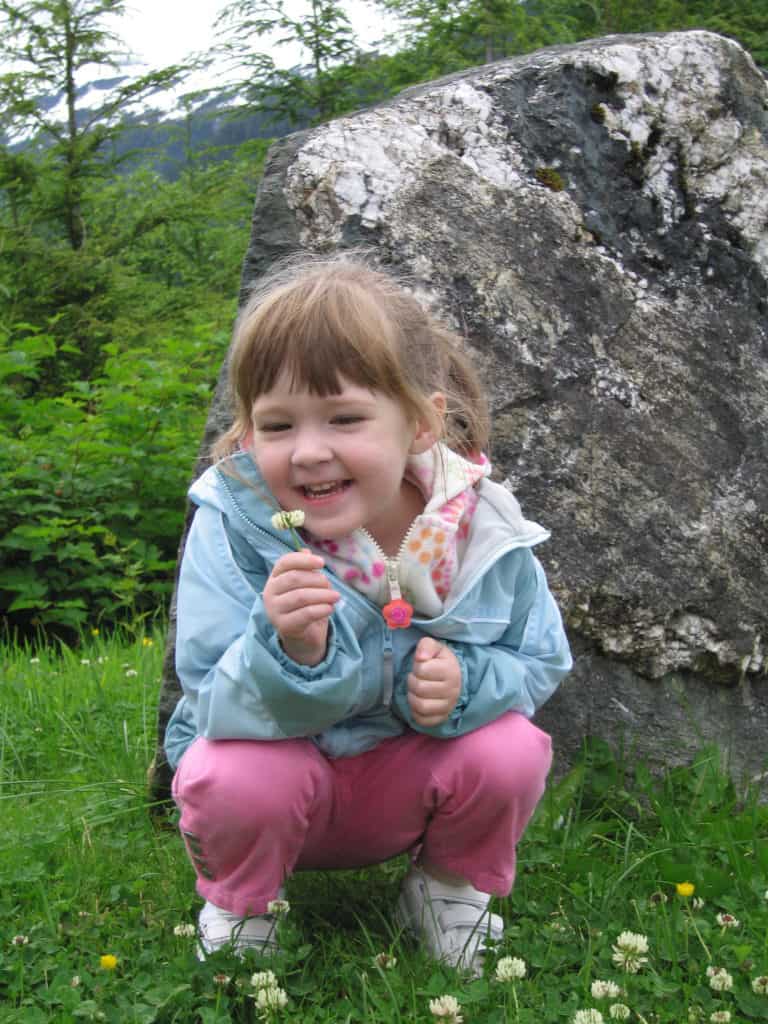 Our visit in Ketchikan culminated in the Great Alaskan Lumberjack show, a popular competition between a team of American and a team of Canadian lumberjacks featuring events such as log rolling and tree climbing.
The show which was good, albeit touristy fun, is featured as one of the top 10 things to see in Alaska by the Travel Channel. The girls loved it and were even presented with a souvenir log slice by one of the lumberjacks during the show. Afterward, Emma insisted on meeting the lumberjacks and having her photo taken with them, obviously mistaking them for characters at a theme park.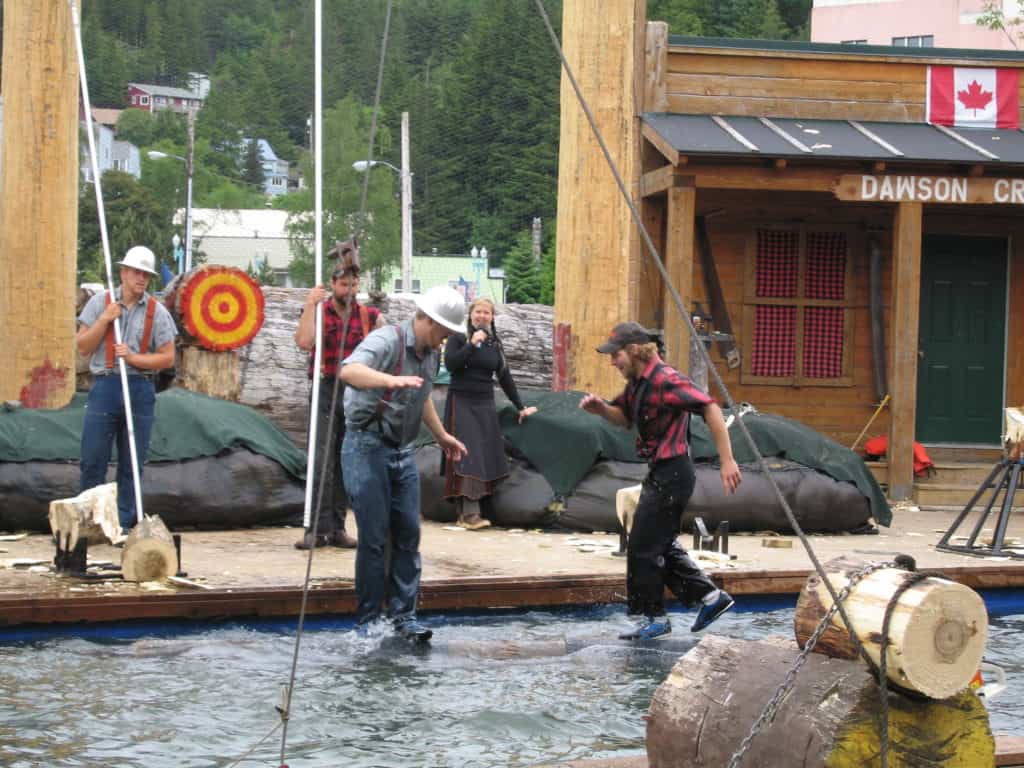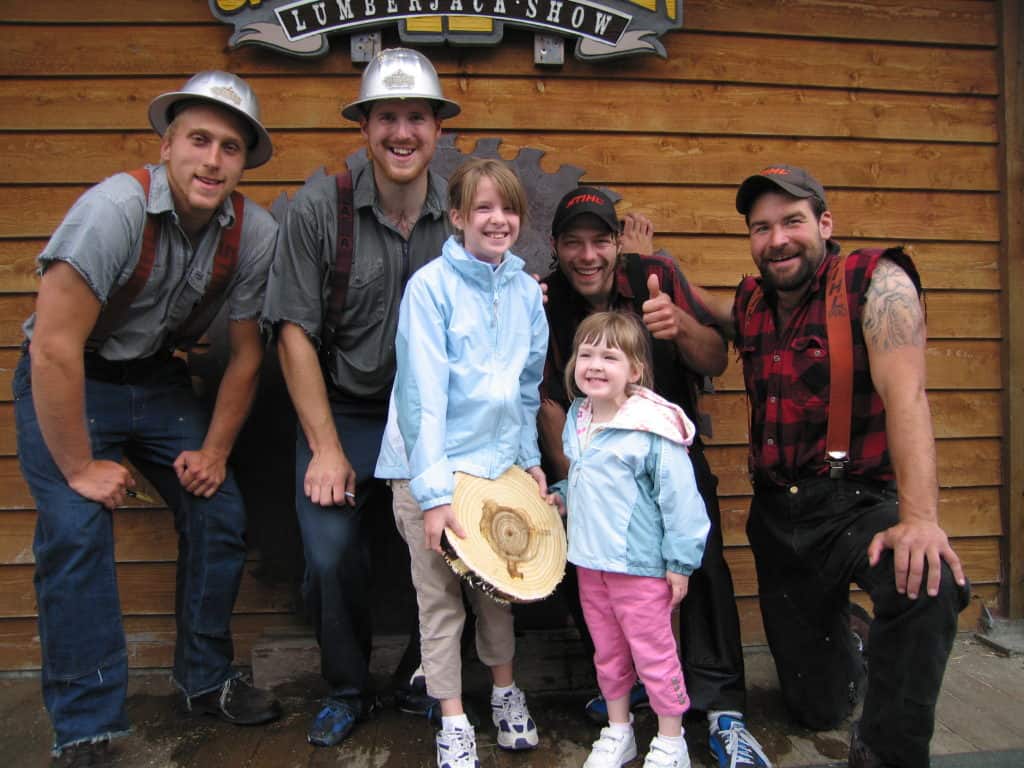 Port of Call: Juneau, Alaska
The second port of call on our cruise was the city of Juneau which is the capital of Alaska and the third largest city in the state behind Anchorage and Fairbanks. Juneau is very unique as a state capital in that it is only accessible by sea or by air. It cannot be reached by road from anywhere else in the state. There is a state-run public ferry called The Alaska Marine Highway System.
We had booked a shore excursion through the cruise line that included a whale watching boat trip followed by a stop at The Mendenhall Glacier. We had a great time on the cruise, sighting a number of whales, bald eagles and sea lions sunbathing in large packs along the shore. We also had some excellent smoked salmon on board the boat. Our almost 4 year-old couldn't get enough which was the start of an obsession with smoked salmon that continues until today.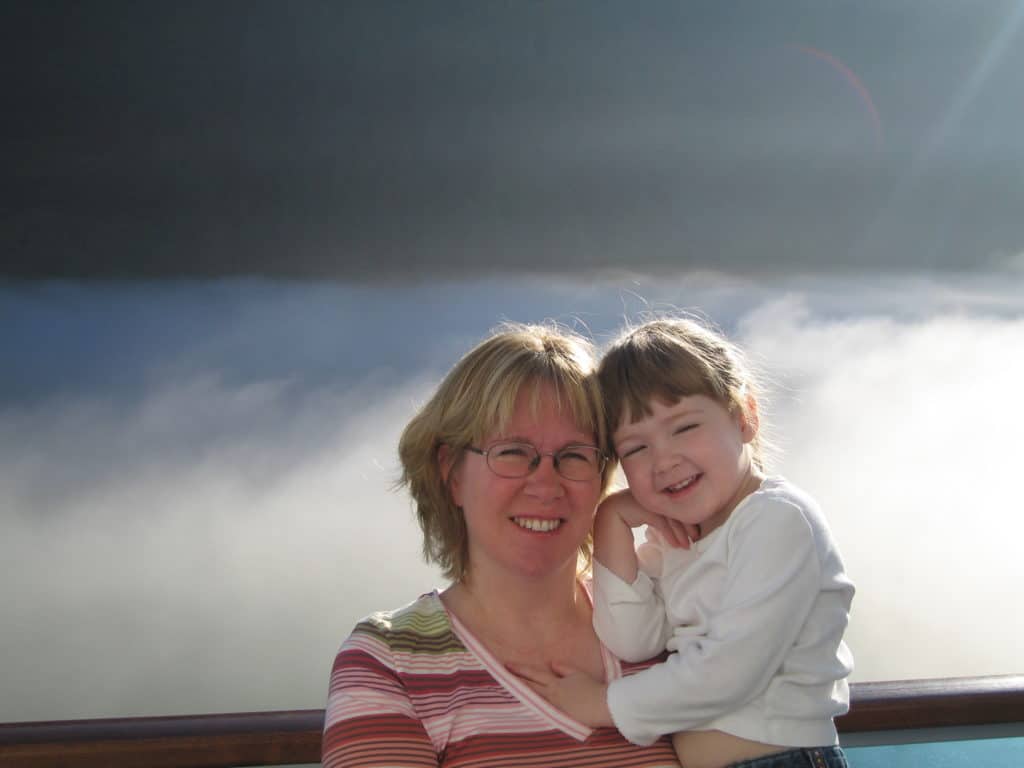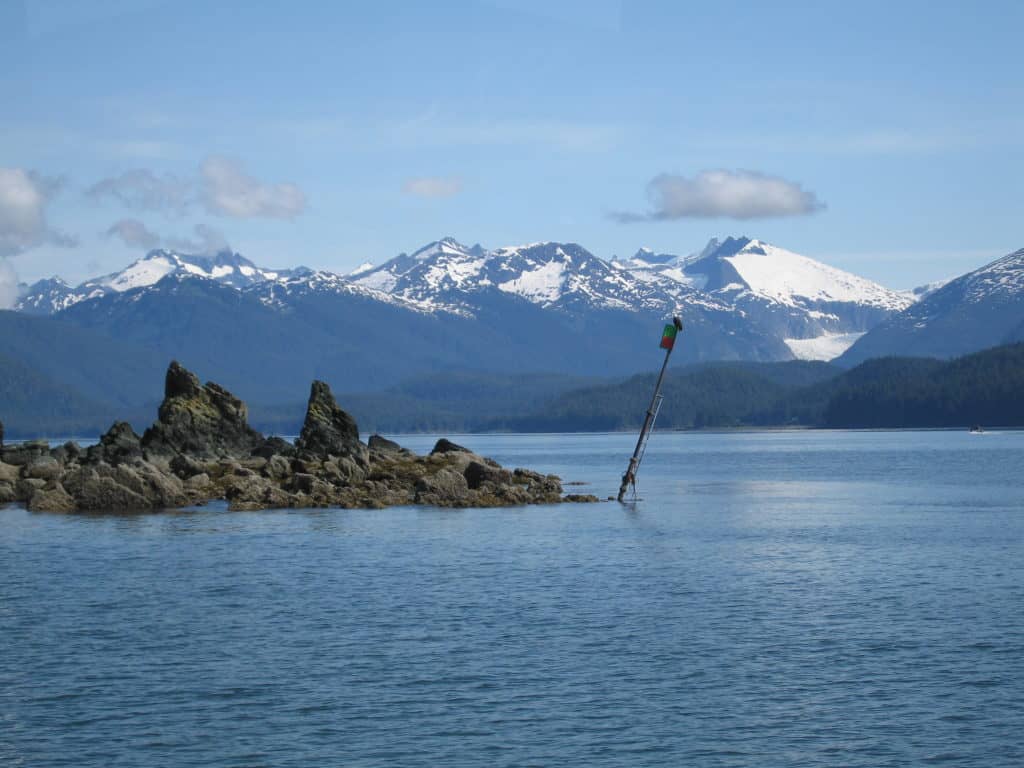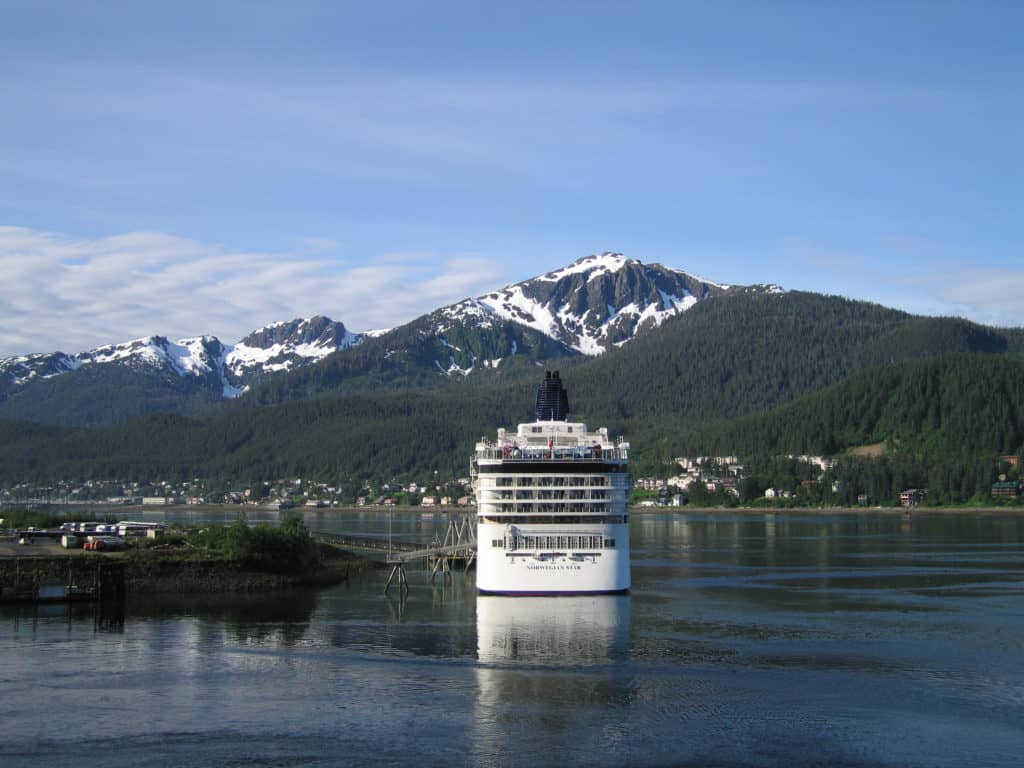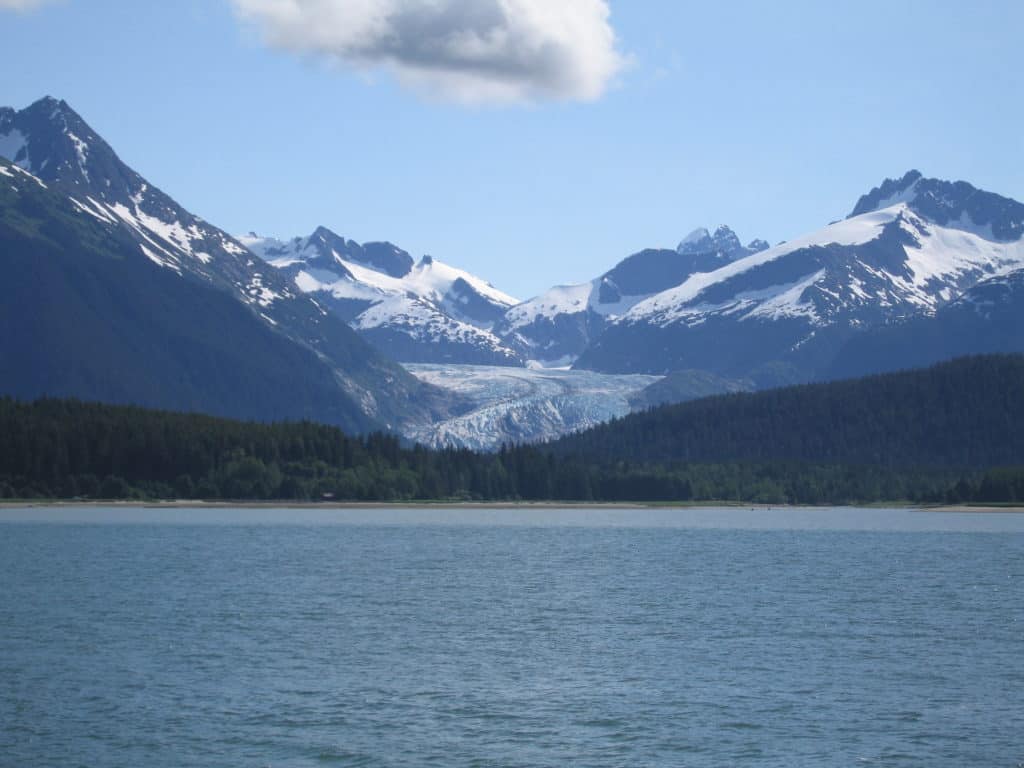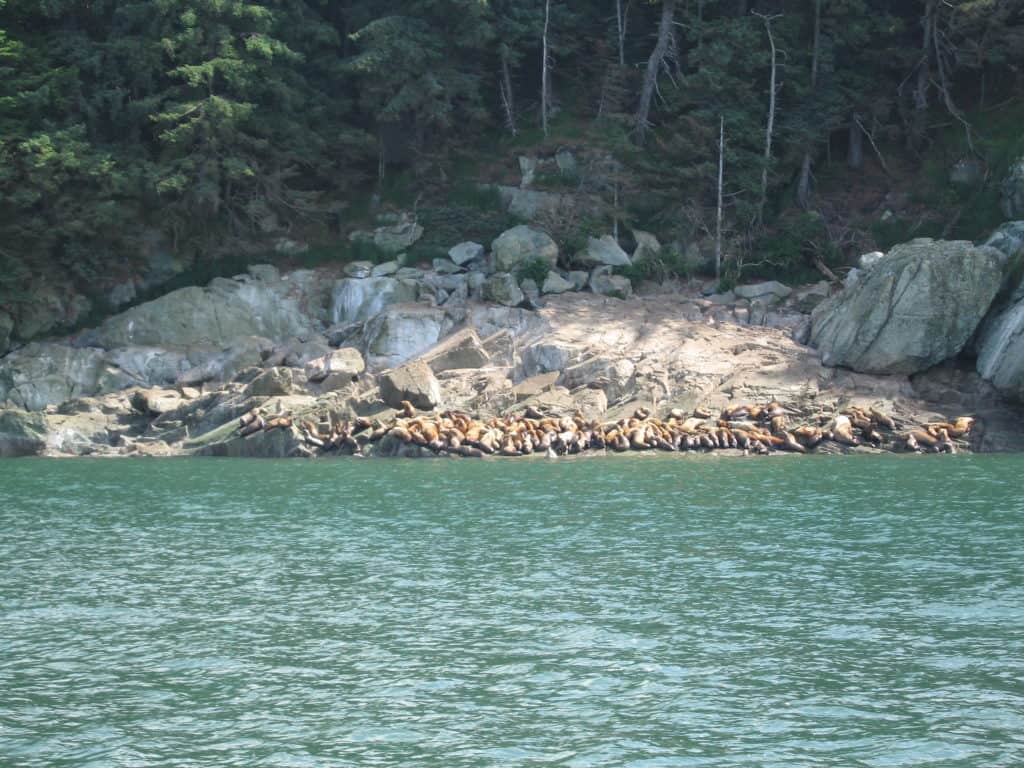 Mendenhall Glacier is the most popular attraction in Juneau and it isn't hard to see why. The bluish-white glacier which is part of the much larger Juneau ice field is a truly impressive sight. It is the most accessible glacier in Alaska and it also has the distinction of being the most visited glacier in the world. At it's widest point it is about a half mile wide with ice that is 300-1800 feet deep. The glacier has receded 1.75 miles since 1958.
The Mendenhall Glacier Visitor Center which is on site is administered by the United States Forest Service and has exhibits on glaciers, videos and park rangers who are available to answer questions. The area around the Center also has elevated boardwalks for safe bear viewing.
We walked around the boardwalk and I have to admit that I was somewhat relieved not to see a bear at such close quarters. Despite being so close to the glacier it was quite a warm sunny day and Katie thought she was going die from the heat – it was the first of several times that I had to assure her that I had never heard of anybody that died from heat in Alaska.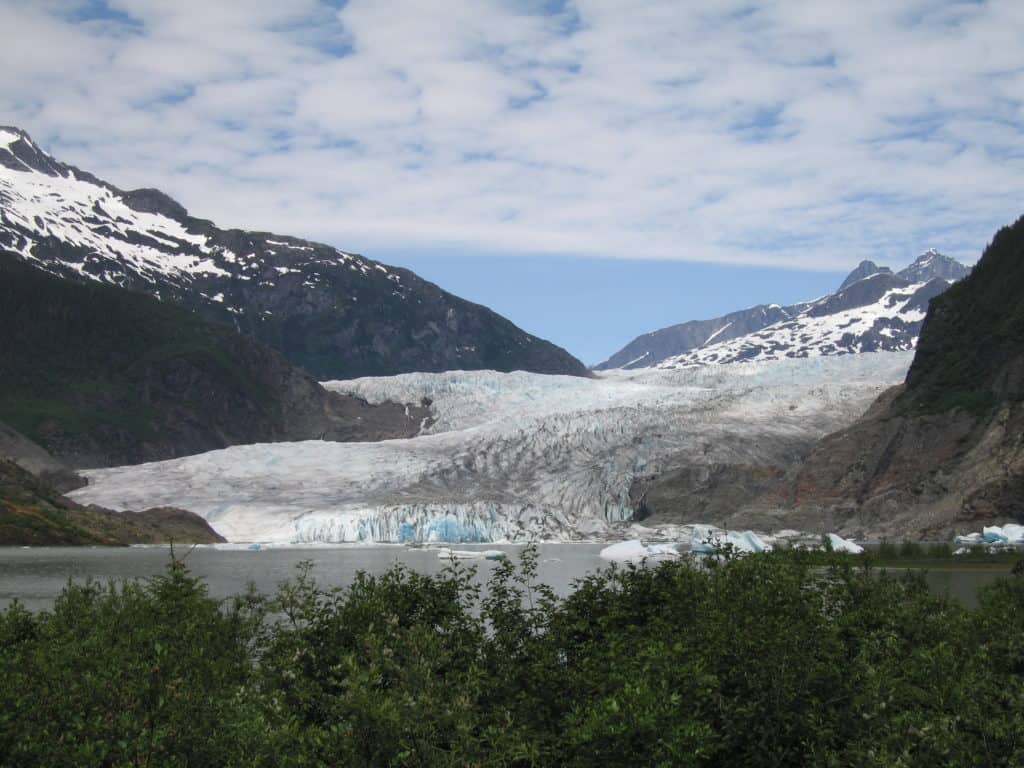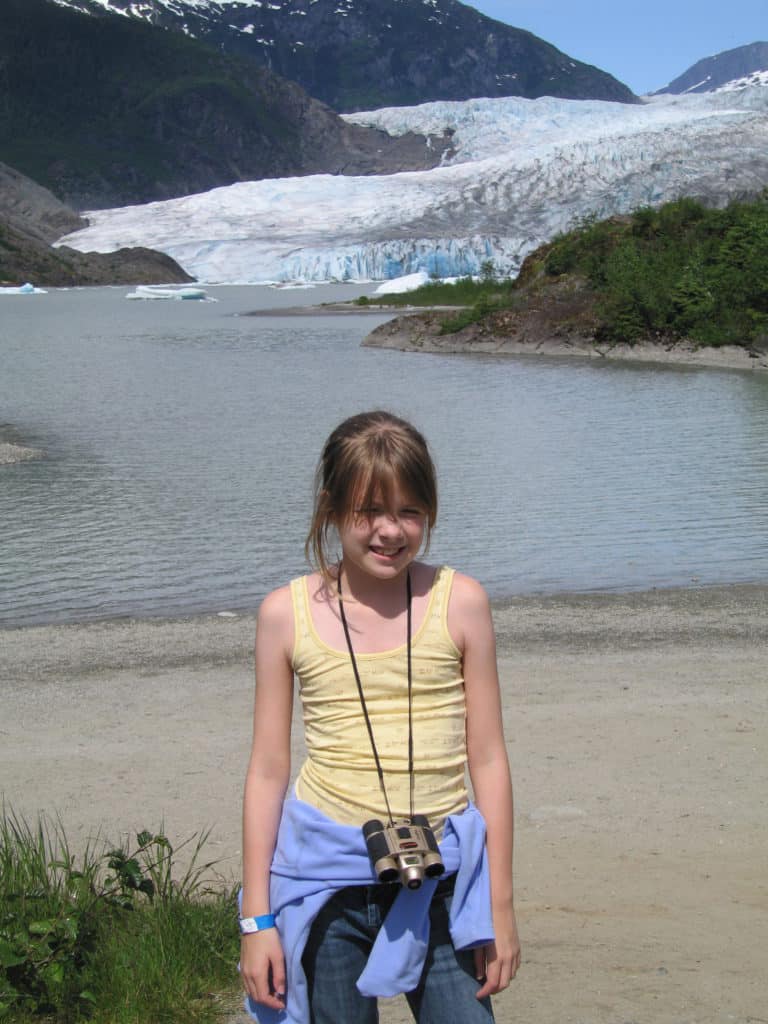 Once the tour had ended and we were dropped off back in town we did some wandering on our own and happened to meet Iditarod champion Libby Riddles, who had been doing a presentation aboard our ship, with a couple of her sled dogs. It was the first of many encounters with sled dogs on our trip and for Katie and Emma it was love at first sight. Alaska is definitely a great destination if you have animal lovers in your family.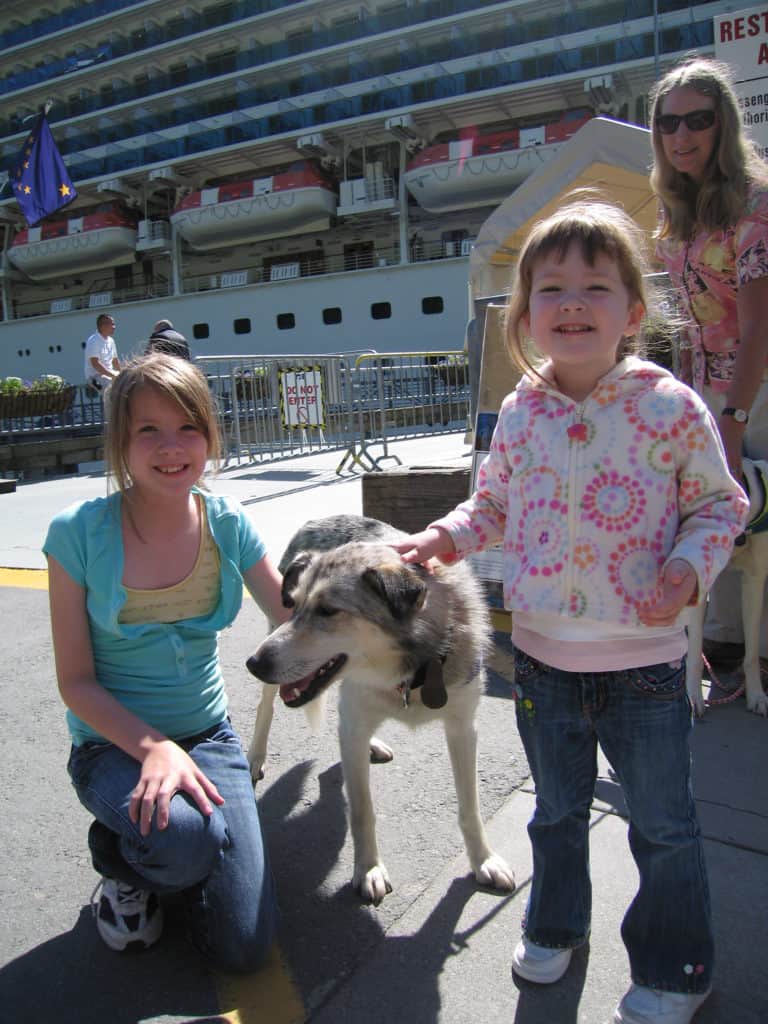 As it was a sunny, clear day we decided to take the Mount Roberts Tramway in order to enjoy the panoramic views of Juneau. The tramway travels from 27 to 2000 feet in just six minutes.
Emma was absolutely terrified on the way up so it just might have been the longest six minutes of my life and I definitely wasn't enjoying the view. Once we got to the top she was fine and we spent some time in the observatory, where I was able to appreciate the incredible view, and the nature center before heading back down again.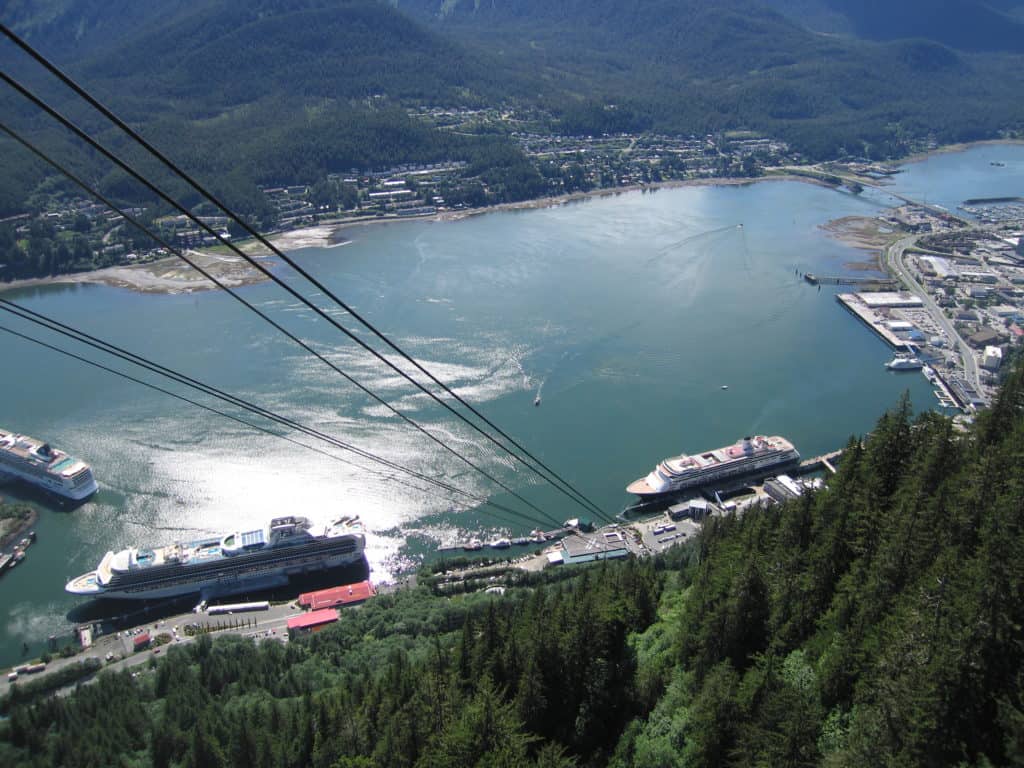 Port of Call: Skagway, Alaska
The third port of call on our Alaskan cruise was the historic frontier town of Skagway where we had booked a full day shore excursion that took us on a bus tour in one direction and then a return trip on the White Pass & Yukon Route Railway.
We had a great tour guide/bus driver named Lindsay, but known as L-Way, who was enthusiastic and full of information about Skagway and Alaska in general. The weather was once again beautiful and sunny and Lindsay informed us that the residents of Skagway were actually giddy with excitement because it had been like that for two days in a row. Skagway is another port where it rains more often than not, however, we seemed to be having an incredible streak of luck when it came to weather for our vacation in Alaska.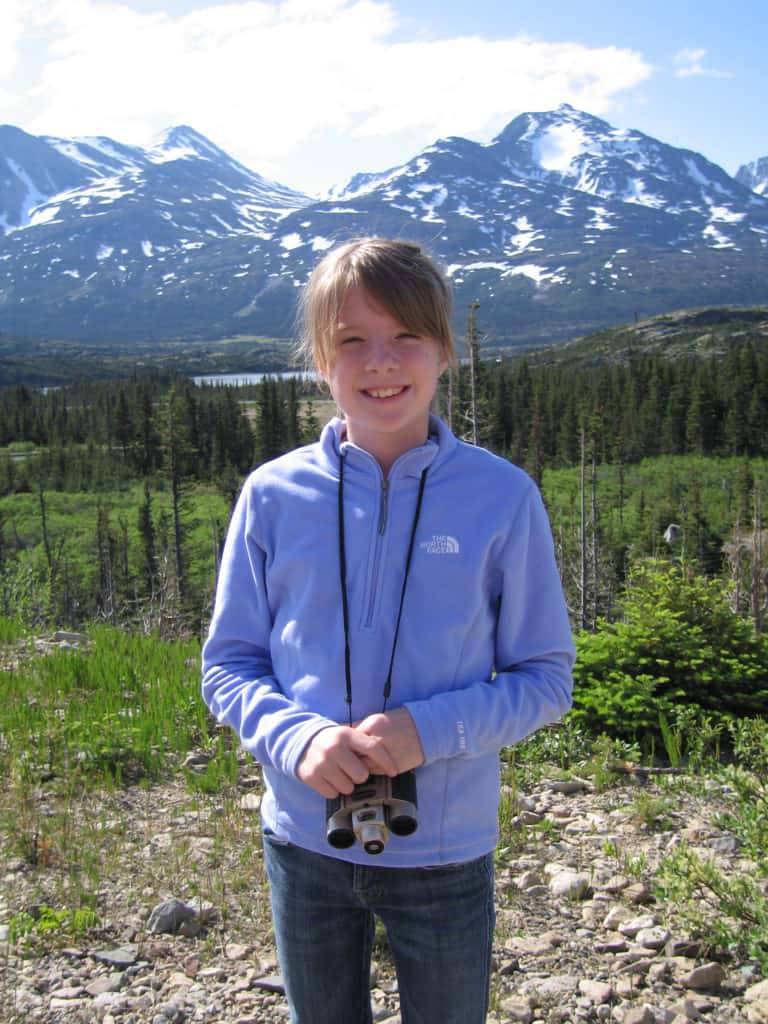 Our bus stopped several times for photos including once at a glacial lake which was an incredible green colour. The beauty of Alaska is simply indescribable.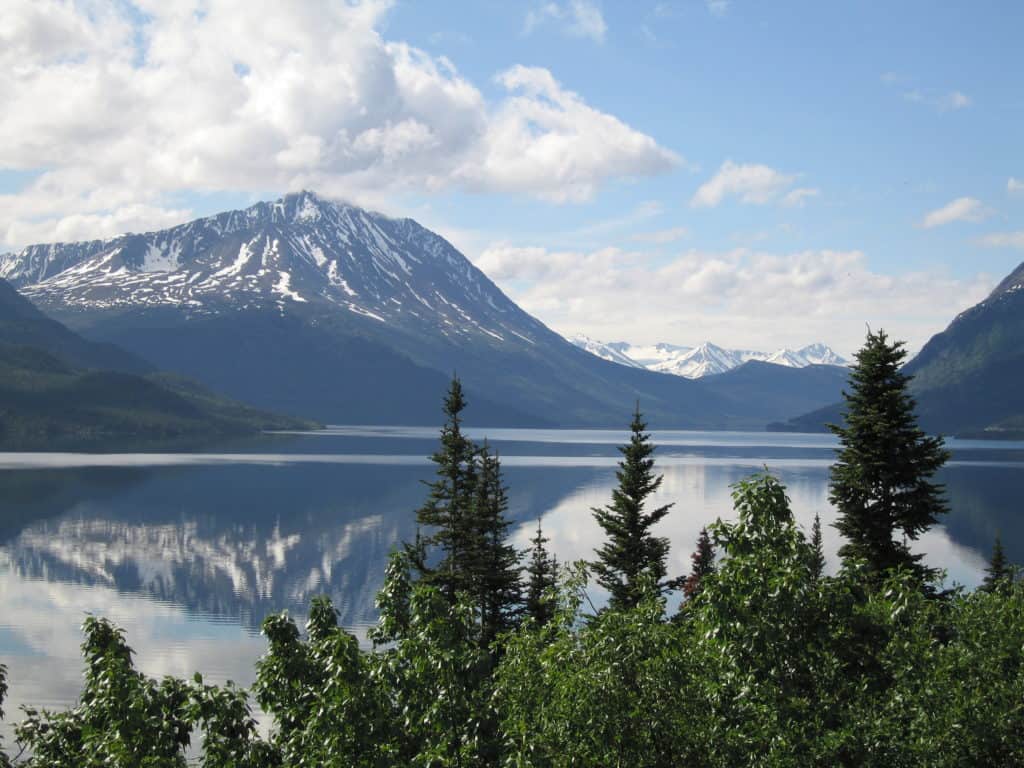 We were very excited by the fact that the excursion went to the Yukon territory as well. We stopped at a trading post where there were sled dogs available for dry land runs pulling go karts. This is how a lot of racers keep their teams in peak form during the off season.
There were a number of dogs tied up and waiting their turns to pull a kart. As soon as the driver starts selecting and untying dogs they all go crazy with excitement barking and jumping as if to say "Pick me, Pick me".
The dog sled/go kart ride was insane fun – it is unbelievable how fast they go and how bumpy the ride is. After our ride, Katie and Emma were able to spend some time petting the dogs who were tied up.
Our coach bus also stopped in Carcross, Yukon and we had enough time for our short walk around and were able to get our passports stamped "Carcross/Tagish First Nation" outside the Carcross Post Office.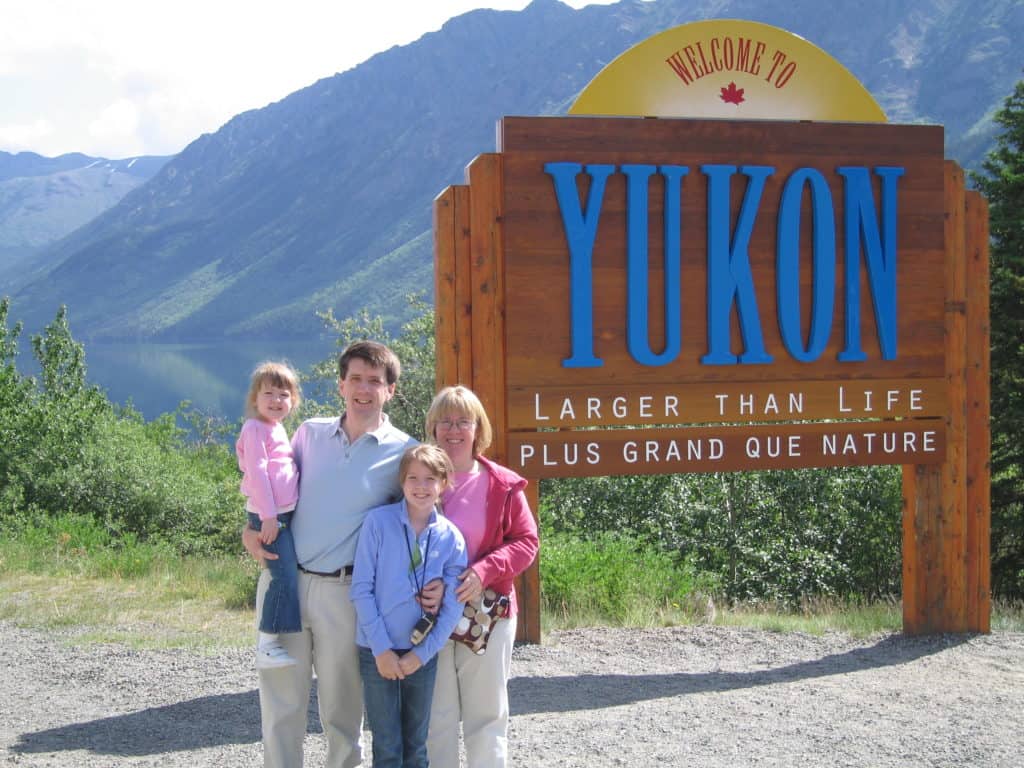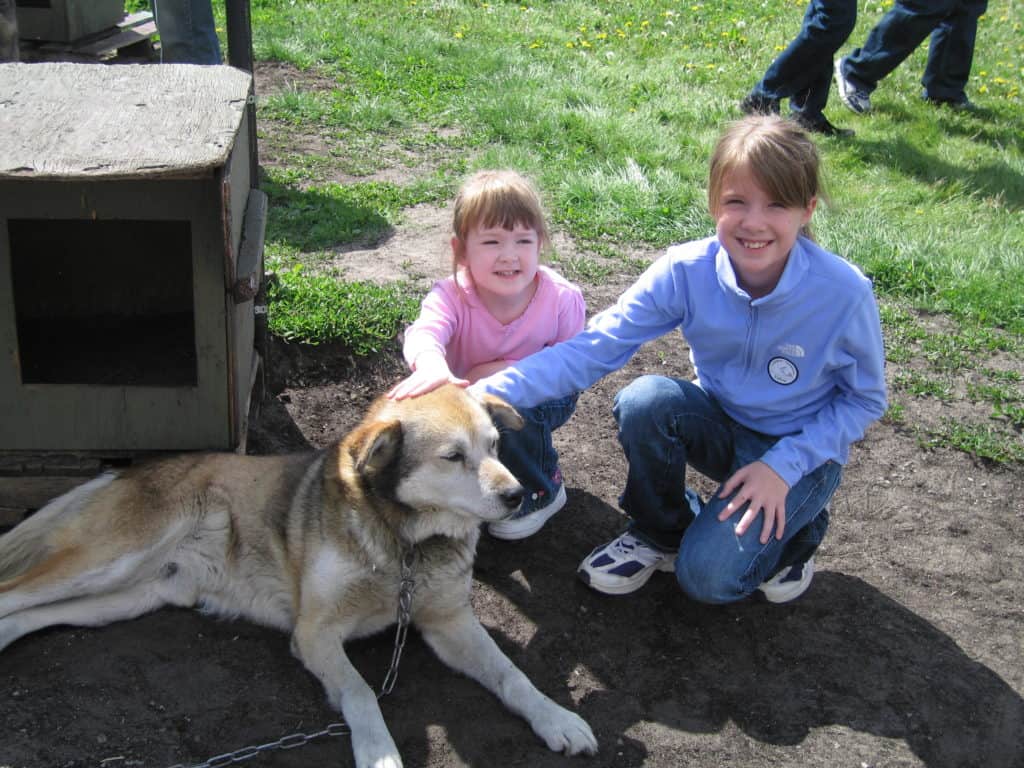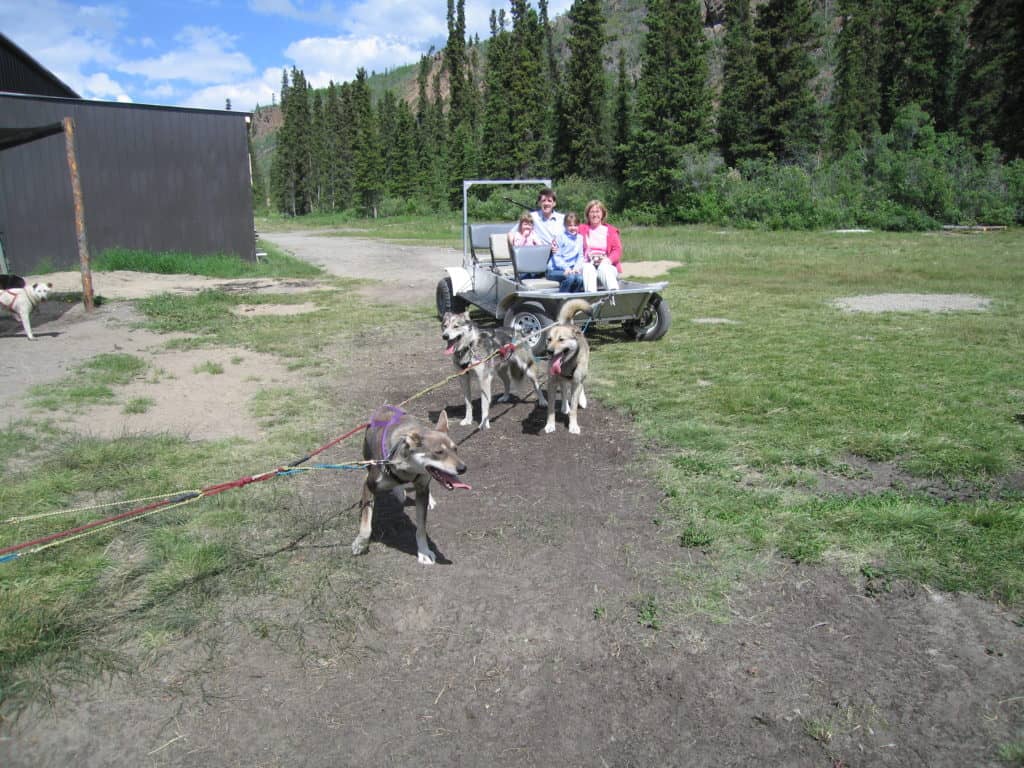 The bus tour portion of our excursion had finished so we said goodbye and thank you to L-Way and boarded the train heading back to Skagway.
The White Pass & Yukon Route Railway is a narrow gauge railroad that was built in 1898 during the Klondike Gold Rush. The WP&YR climbs almost 3000 feet in just 20 miles and features steep grades, cliff-hanging turns, tunnels, bridges and trestles. The railroad connected the port of Skagway to Whitehorse, Yukon and beyond.
Today, the railroad is Alaska's most popular shore excursion carrying over 450,000 passengers during the May to September tourism season. The scenery is spectacular and the ride is just a wee bit thrilling when you think about the trestles and bridges that you are crossing.
Our kids loved the fact that we were going on a train ride but lost interest in the scenery not long into the trip – fortunately, we had brought along stickers and books so that they were able to entertain themselves well the adults enjoyed the view.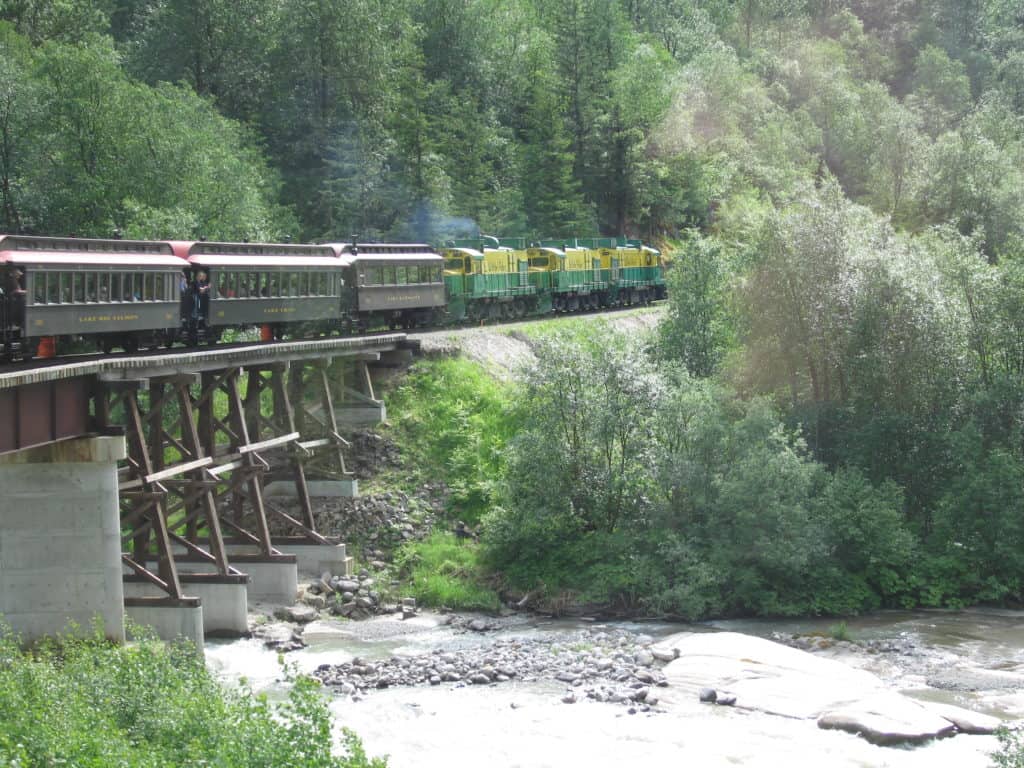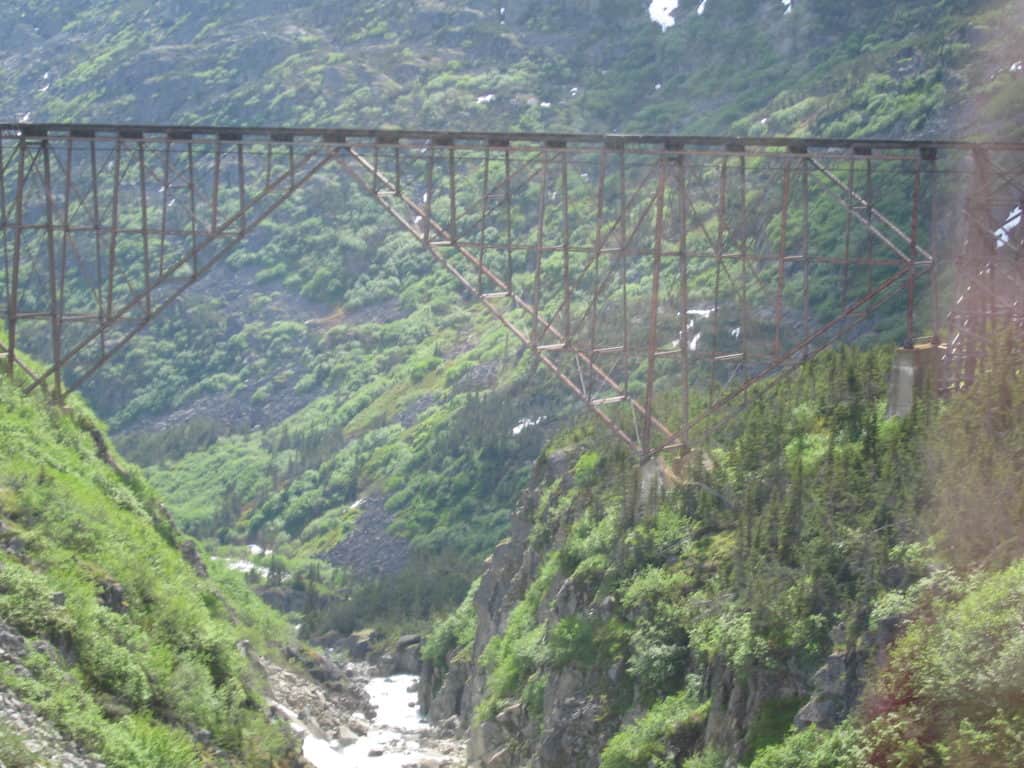 Glacier Bay Cruising
One of the most anticipated days on this cruise is the day spent cruising in Glacier Bay. Glacier Bay National Park & Preserve is a marine wilderness that includes tidewater glaciers, snow-capped mountain ranges, ocean coastlines, deep fjords, and freshwater rivers and lakes. Glacier Bay is the world's largest marine sanctuary. This is a maritime climate were days are frequently overcast and cool and there is an abundance of rain.
As soon as we started to sail into Glacier Bay the temperature dropped and the drizzle started but nobody seemed to mind as the decks were crowded with passengers spellbound by the unbelievable beauty.
Park rangers came aboard the ship to provide commentary over the ship's P.A. system about glaciers, wildlife and the history of the bay. It was absolutely breathtaking to watch the glaciers calving – huge slabs of ice breaking off and crashing into the waters with a thunderous roar and then floating off as icebergs.
Katie and Emma both spent the time in Glacier Bay in the kid's clubs where some of the Park Rangers who had come aboard the ship explained to the kids what they were seeing at a level that was appropriate for them. As we sailed away from Glacier Bay the sun returned and removed the chill from the air and everyone was thoroughly satisfied with what they had seen.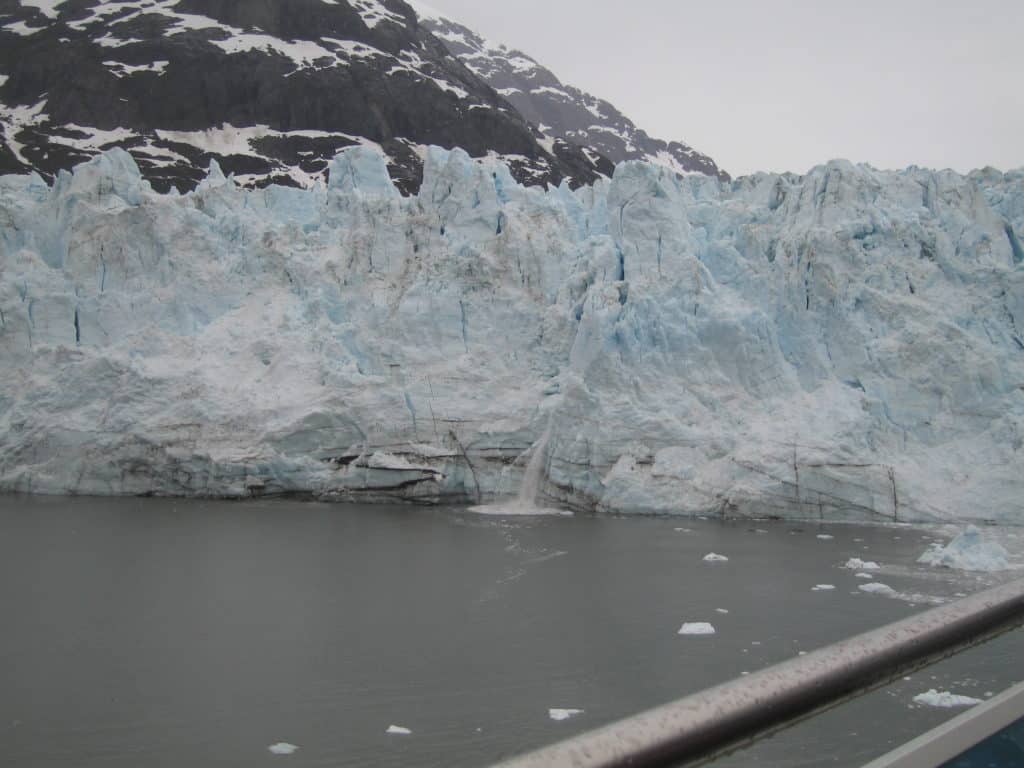 We had selected Personal Choice Dining on the Diamond Princess but chose to eat at the same restaurant and in the same section every night because we liked our waiters (Ervin and Antonio) and the maitre d' (Pedro) so much. They made a huge fuss over Emma each night and she loved them, especially Pedro.
Emma had told them that she was going to be 4 on July 13th and on the last night of the cruise they brought her a cake and sang Happy Birthday to her. The funniest thing was that Emma told Pedro that she was coming back to Alaska to see him when she was 6. As it turned out shortly after she turned 6 we went on a Baltic cruise on the Emerald Princess and lo and behold, Pedro had changed ships and Emma was able to renew her friendship with him.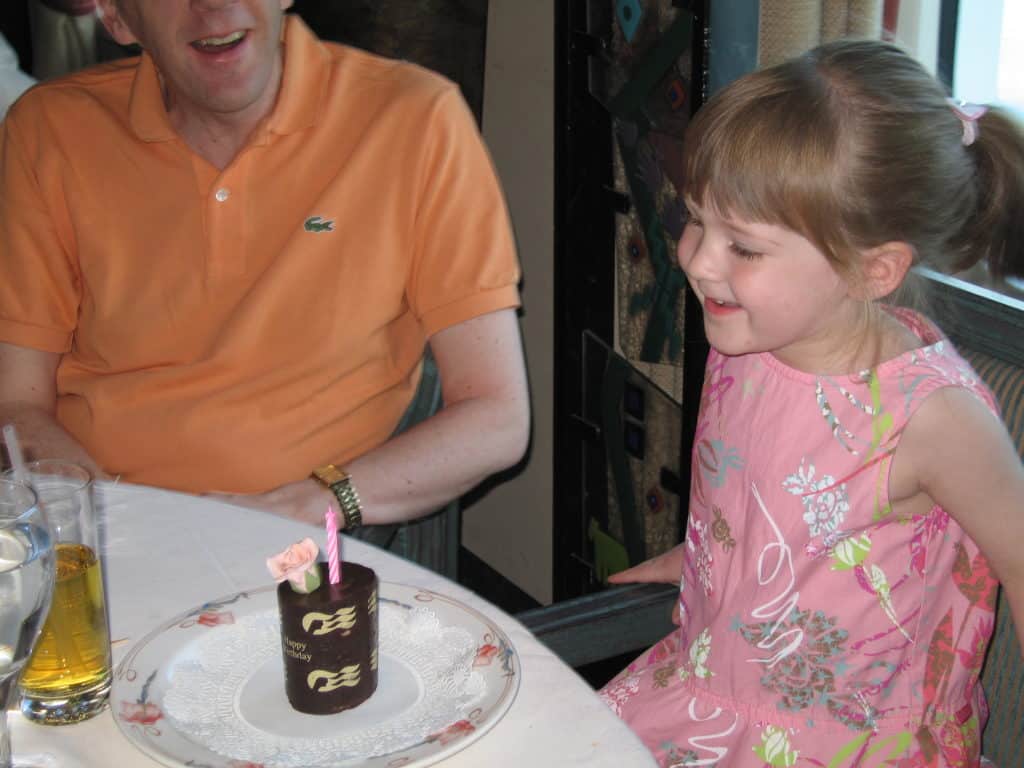 Sailing College Fjord
The last evening of the cruise we sailed through College Fjord. The area is very scenic with more glaciers and lots of ice floes, many of them with seals hitching a ride. Princess photographers went out in a small boat and took photos from the water of people waving from their balconies.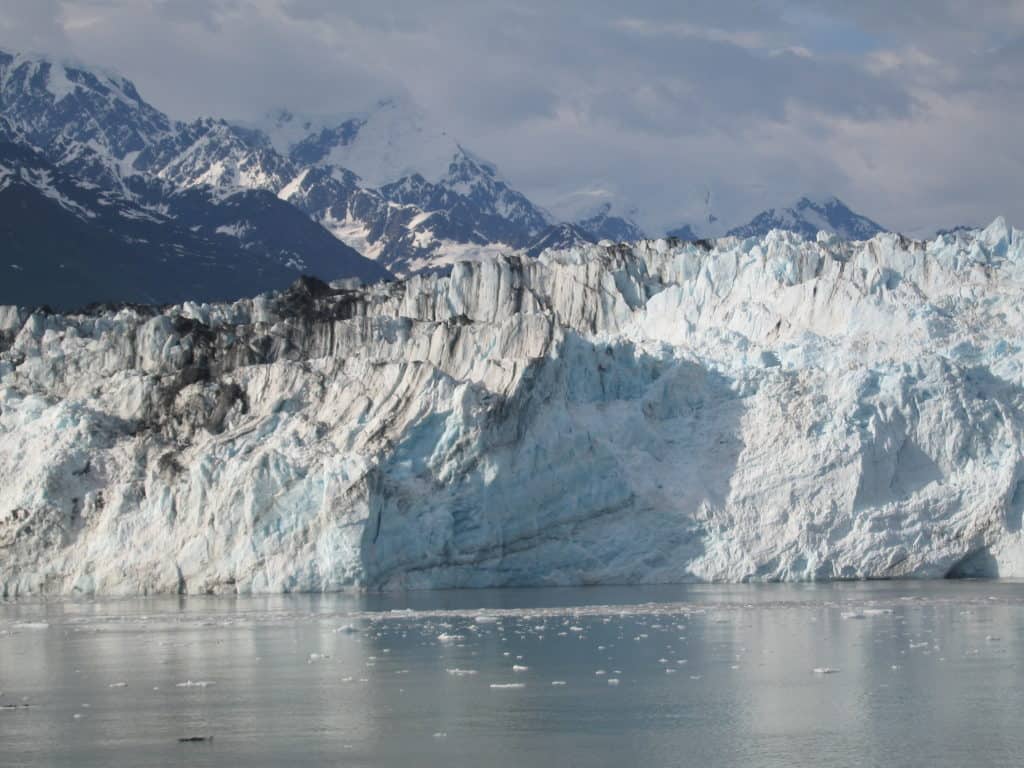 Cruise Tour – Alaska Railroad
The next morning, we disembarked in Whittier, Alaska where we transferred to the Alaska Railroad to begin our journey north to Fairbanks.
The Alaska Railroad tows private cars belonging to several of the cruise lines filled with the passengers that have extended their vacations with a cruise tour. The domed cars provide excellent views of the spectacular wilderness scenery and there is also a guide on board providing commentary about the area and pointing out any wildlife sightings.
Talkeetna, Alaska
Our first day we traveled as far as the town of Talkeetna where we disembarked from the train to be transfered by bus to spend a night at the Mt. McKinley Princess Wilderness Lodge.
We spent some time exploring this quirky little town before boarding a shuttle to the lodge. Emma particularly liked the many decorated moose around town.
The Lodge is located south of the National Park on the banks of the Chulitna River. We particularly liked the Great Room of the Lodge with its impressive stone fireplace and its cozy sitting areas. The Lodge boasts incredible views of Denali (formerly known as Mt. McKinley), unfortunately, the mountain only "came out" during the middle of the night when we were there and we missed it.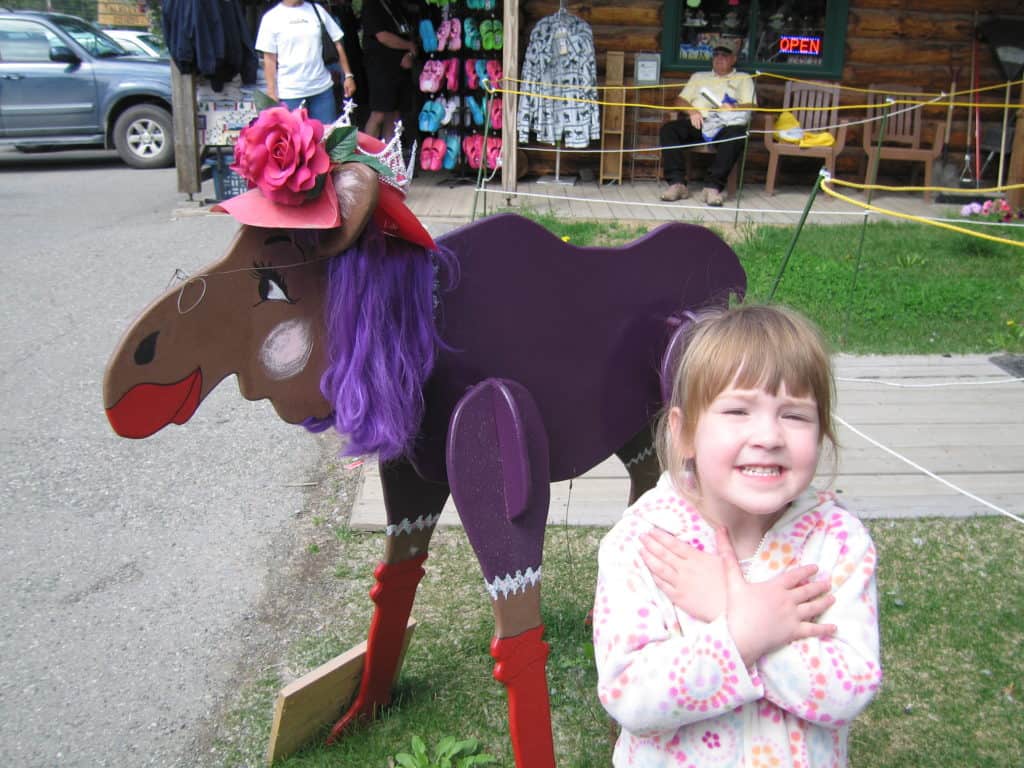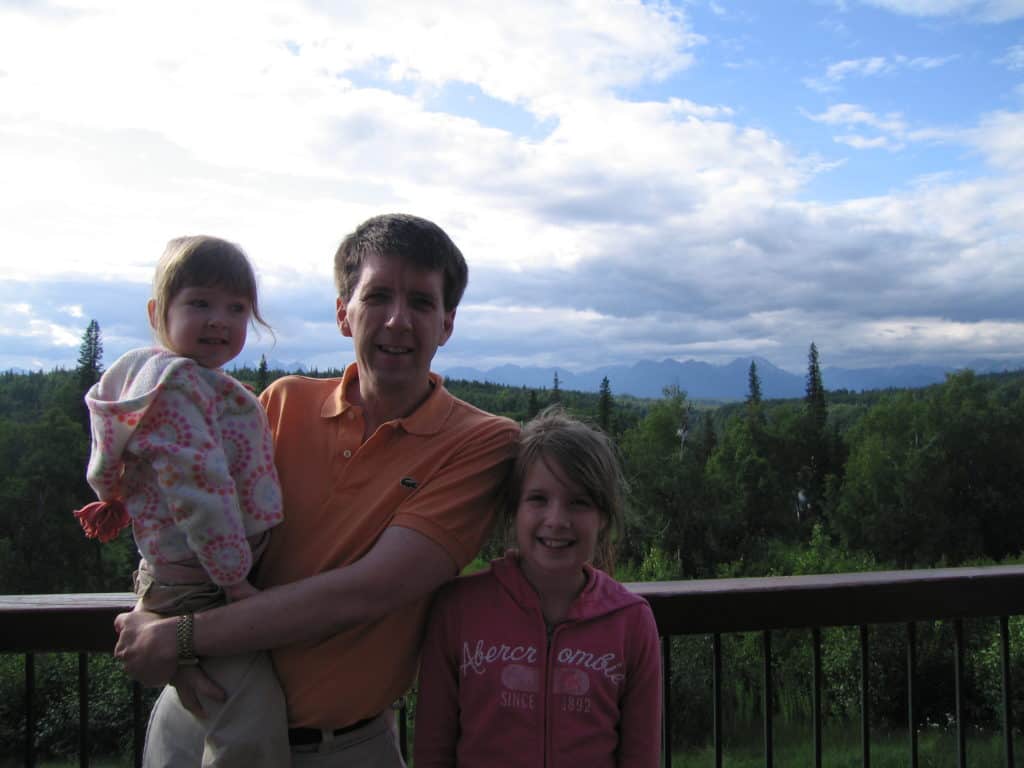 Denali Park
After our night at the Princess McKinley Wilderness Lodge, we re-boarded the train to head for Denali Park where we would be staying at Denali Princess Wilderness Lodge for two nights. Princess' Lodge is located one mile from the entrance to Denali Park on the Nenana River and overlooking the park.
Denali National Park & Preserve was established as the first national park to conserve wildlife in 1917. Roughly 400,000 people travel to Denali each year – primarily between May and September. Visitors come in search of wildlife as well as to see Mt. McKinley (also known as Denali) which is 20,320 feet tall.
Our first night we decided to participate in an activity that included a covered wagon ride into the backcountry followed by a family-style dinner at a rustic pavilion. We climbed aboard the Little House on the Prairie style wagon pulled by two draft horses and headed into the countryside. Our guide filled us in on the history of the area while the passengers kept a lookout for wildlife – once again, I wasn't too disappointed that we didn't happen upon any grizzlies.
We arrived at the pavilion where a delicious dinner was waiting for us and after eating prepared to head back to the lodge. The mosquitoes were quite thick by that time and as I was trying to spray Katie with repellent, J.A. lifted Emma off the ground and a bee simultaneously went up her pant leg and stung her. She became hysterical and I was a bit panicked since we were an hour wagon ride from civilization and we had no idea if she might be allergic.
Fortunately, there was a nurse among our fellow guests and she was able to check to make sure there was no stinger embedded in Emma's leg and watched her for any adverse reaction. It hurt a lot and there were many tears shed but she was fine and left with a great story to tell about her Alaskan bee sting.
The next day we went on the bus tour of Denali Park with a driver who provided colour commentary about the history of the park. We glimpsed a moose a couple of times and saw a rabbit but other than that there were no wildlife sightings on our tour which was rather disappointing for many of the passengers who had really hoped to see a grizzly. Ironically, after having traveled all the way to Alaska and not seen any bears we were visiting Manitoulin Island back in Canada a couple of weeks later and saw a bear crossing the road.
That evening we attended the Music of Denali Dinner Theatre at the lodge. Dinner was an all-you-can-eat buffet of ribs and salmon in roadhouse style accommodations. There was live music performed during dinner and after dinner we sat back to enjoy the musical comedy depicting the adventures of the first men to reach the top of Mt. McKinley. The show was very entertaining and had a lot of audience participation.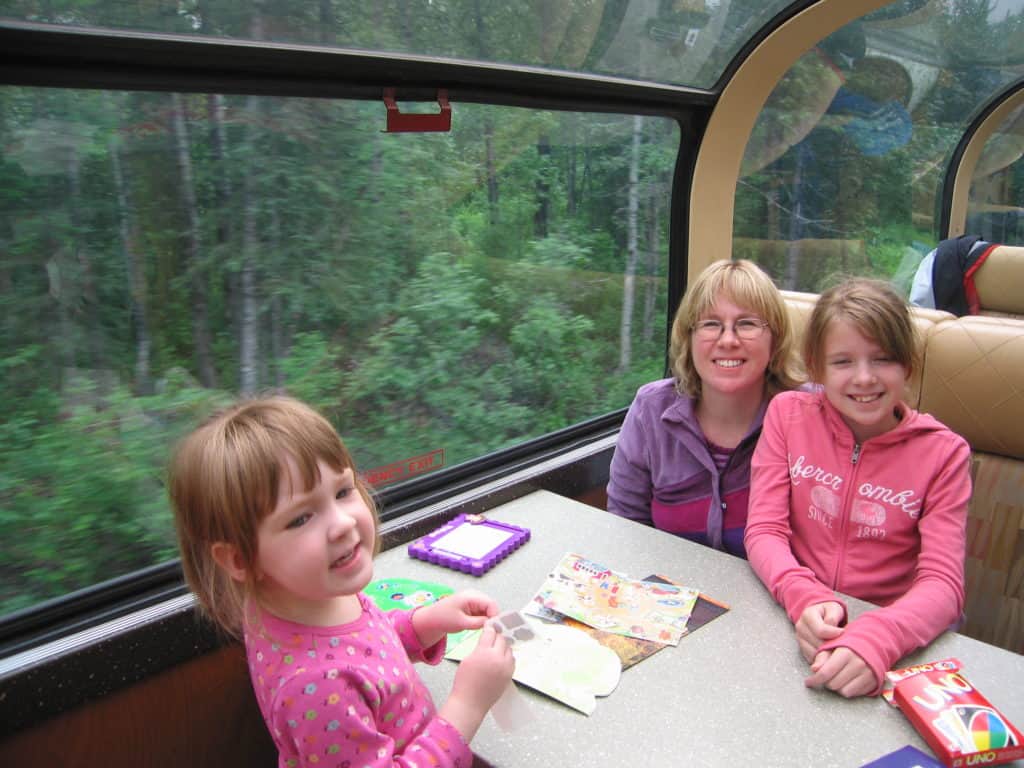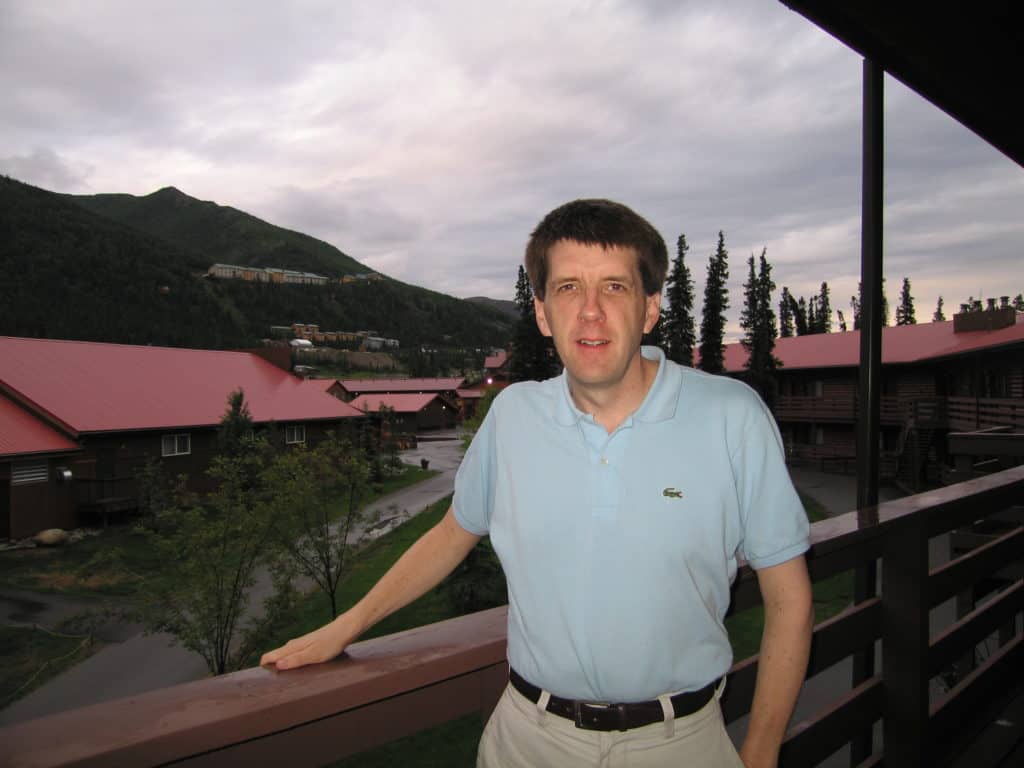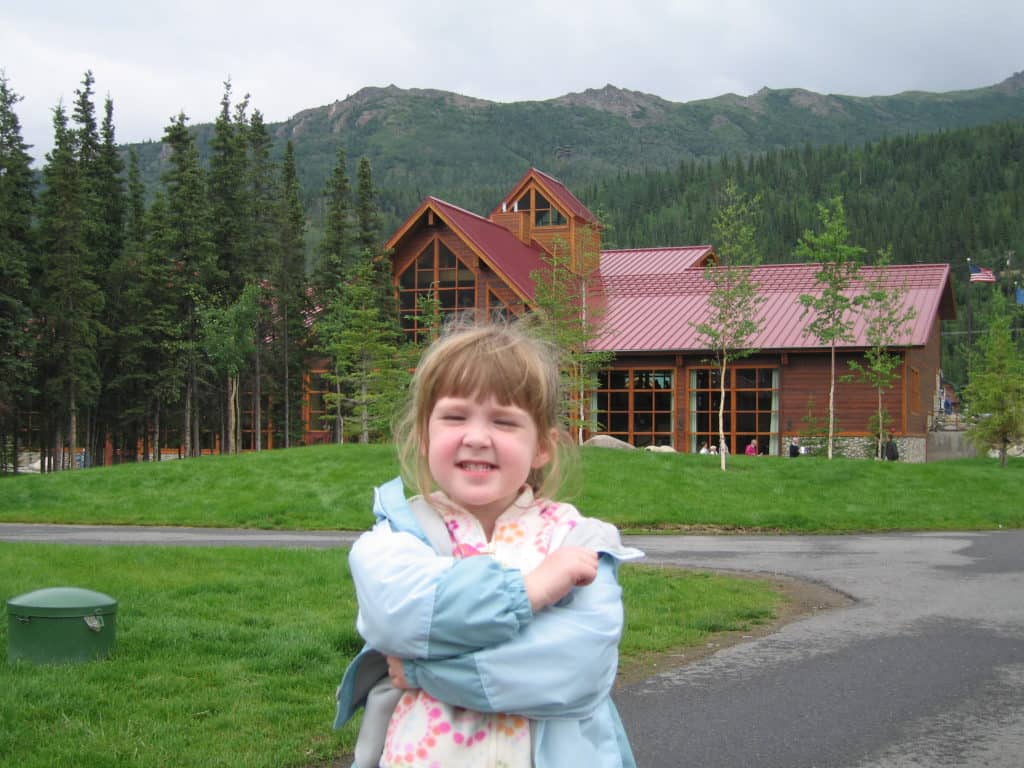 The next morning we went to Husky Homestead, the sled dog ranch owned and operated by Jeff King, who is a 4 time Iditarod champion. During the summer months, Jeff and his family welcome visitors from around the world to their ranch to tour the kennels and learn about the huskies, the sport of dog mushing and the spirit of Alaska.
Jeff is a very entertaining host and a great storyteller. Our visit to Husky Homestead was one of the highlights of our Alaskan trip for Katie and Emma as they got to cuddle and play with the puppies. Visitors are allowed to handle the puppies because it helps to socialize the dogs and make them better sled dogs.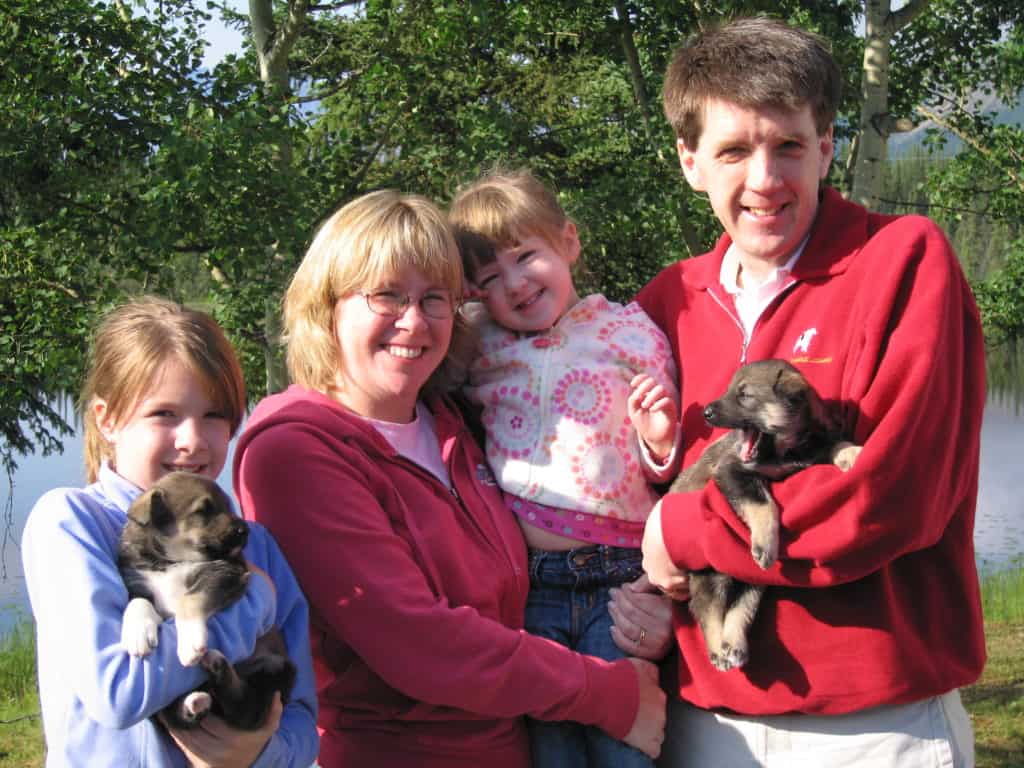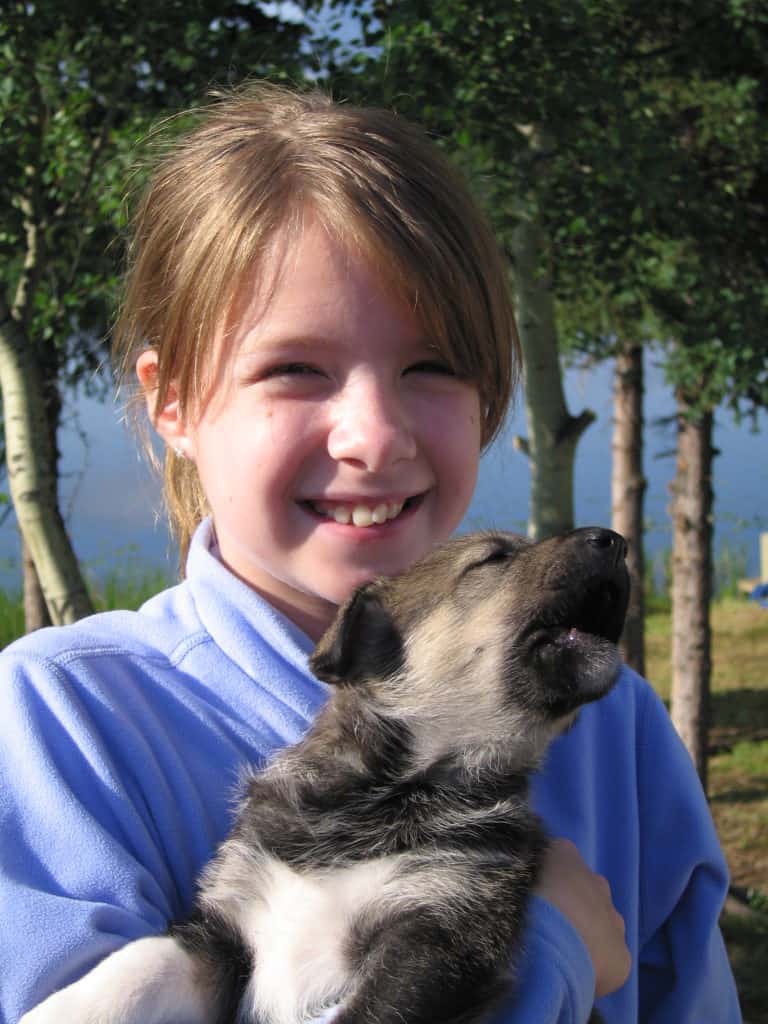 Fairbanks, Alaska
Towards the end of the day we re-boarded the train traveling to Fairbanks for a two night stay at the Fairbanks Princess Riverside Lodge located on the banks of the Chena River.
Fairbanks is the second largest city in Alaska (after Anchorage) and is still known for gold prospecting. Fairbanks and the rest of the Interior has an extreme range in temperatures going from as low as minus 65 degrees fahrenheit in the winter to highs in the 90s in the summer.
Since Fairbanks is only 188 miles from the Arctic Circle the longest summer day has more than 21 hours of sunshine while the shortest winter day barely has 3 hours. We found it quite interesting when we were in Fairbanks and checked the forecast on the Weather Channel that the middle of the night was forecast to be sunny.
The next morning we rose early for our day-long excursion that included a bus tour, a ride on the Riverboat Discovery and panning for gold. Our authentic stern-wheeler departed from Steamboat Landing, carrying 700 passengers, for a fully narrated 3 and a half hour tour along the Chena and Tanana rivers. While on the riverboat we saw a bush pilot demonstration, a native fish camp, and a musher's dog yard as well as seeing the spot where the two rivers converge (known as the Wedding of the Rivers).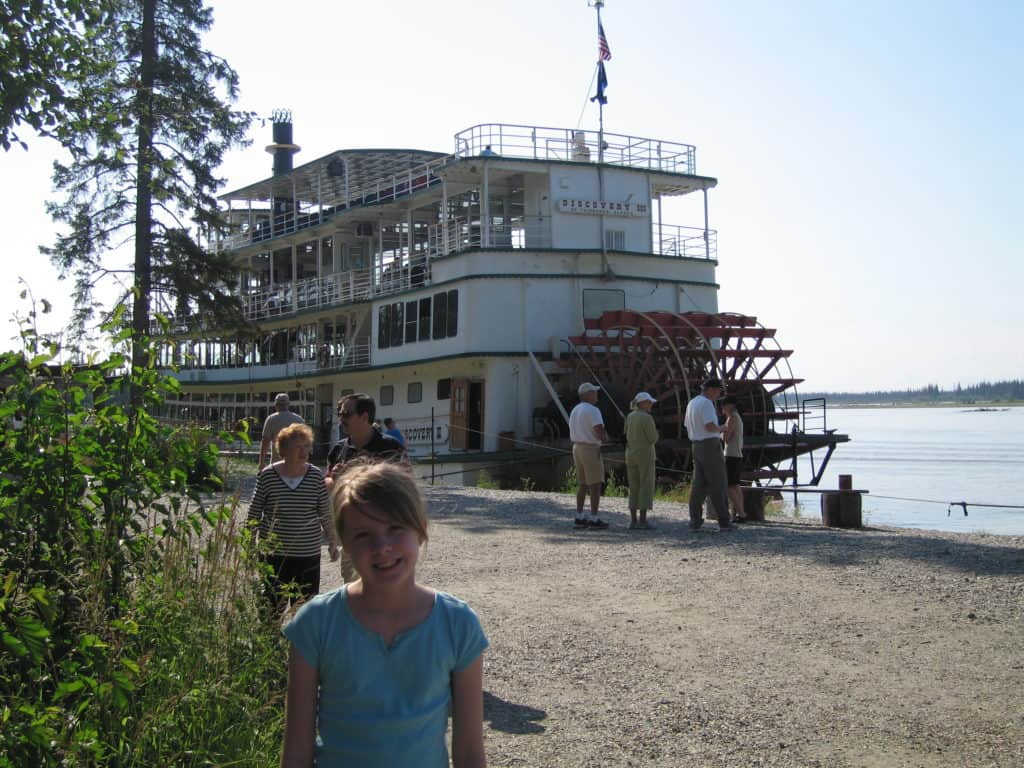 Alaskan native guides took us ashore at a re-created Athabaskan village where we were able to learn more about native culture. We also were able to meet another sled dog team.
As the day wore on it became very hot and sunny and Katie started to fuss about dying from heat again. It was surprisingly hot the further we headed inland in Alaska, however, while Katie was overheating we witnessed others who were bundled up in winter parkas, hats, and gloves.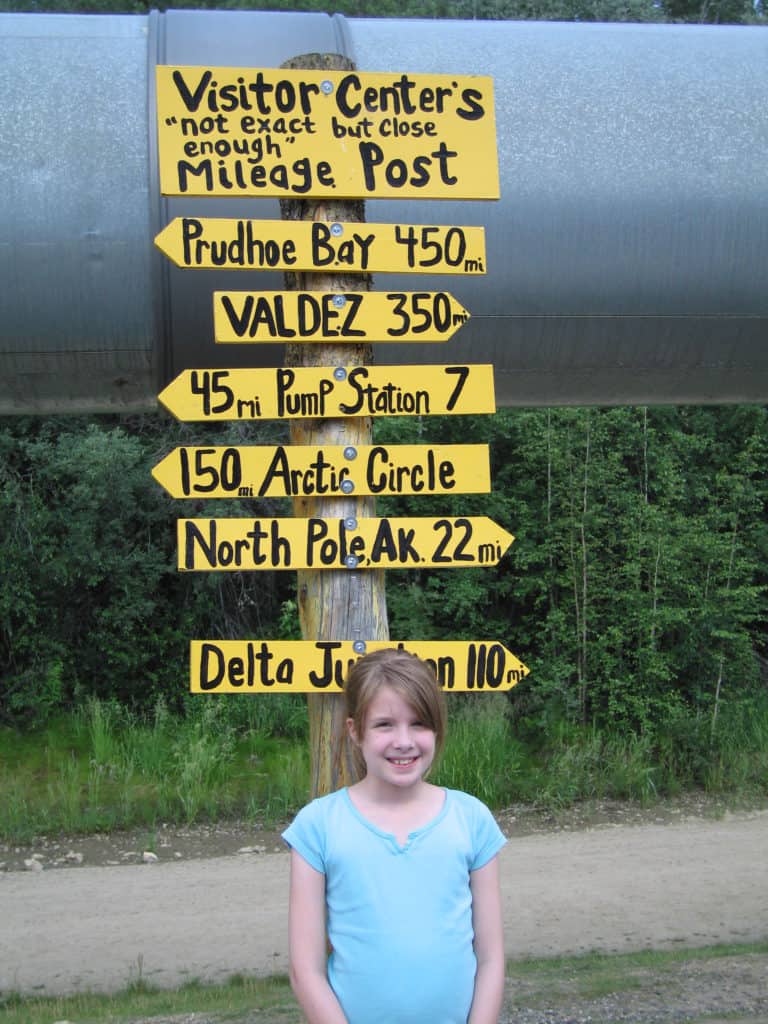 Our next stop was the El Dorado Gold Mine, however, we stopped on the way to view the Trans-Alaskan Pipeline. Upon arrival at El Dorado, we boarded the Tanana Valley Railroad, an opensided, narrow-gauge train to ride through a permafrost tunnel and then get a walking tour of the mining camp to learn about the history of gold mining in Alaska.
The highlight of the tour was, without a doubt learning to pan for gold. It's hokey, but it's good fun. Everyone gets enough gold dust to fill a locket – which can conveniently be purchased in the gift shop prior to leaving.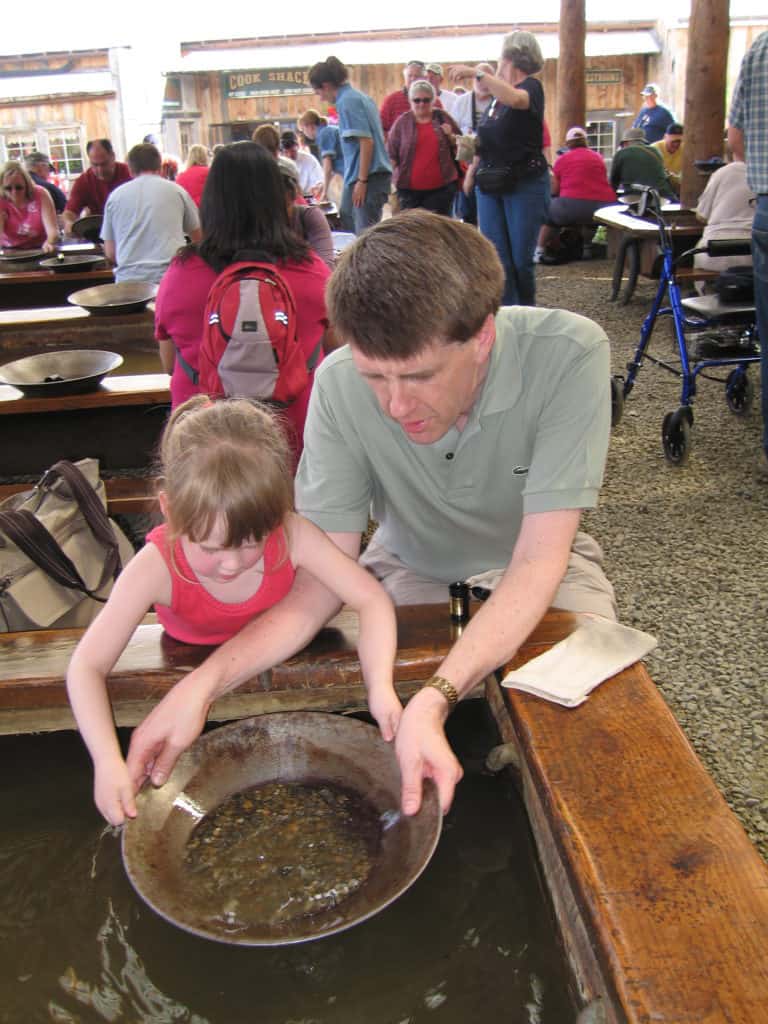 Back to Vancouver
The next morning we began our journey home with an early flight from Fairbanks to Anchorage, followed by a flight to Vancouver. We stayed overnight at the Fairmont Vancouver Airport before flying home to Toronto the following morning.
Our soundproofed room had a view of a runway and we were able to see planes taking off and landing. The girls were thrilled with the luxurious room at the Fairmont as the accommodations in the previous number of days had been quite a bit more rustic.
Alaska is a trip of a lifetime for many people and has, accordingly, become one of the most popular cruise destinations in the world with approximately 700,000 cruise passengers sailing annually during the summer season. The scenery sailing along the Inside Passage and across the Gulf of Alaska is simply breathtaking. A northbound cruise is also a great way to get to Alaska and then travel inland either as part of an organized tour or on one's own.
Alaska is a great destination for families that enjoy wildlife and nature and much of the vacation is spent outdoors which most children love. There may have to be some adjustment in expectations depending on the age of the children traveling as there are age restrictions on some of the activities but there is plenty to keep family members of all ages happy.
In retrospect, the only things that we would have done differently if our children had been older would have been to continue our trek as far north as the Artic Circle and we probably would have traveled inland on our own rather than as part of the ship's cruise-tour. Overall, our entire extended family had a wonderful vacation in Alaska and I would definitely recommend it as a destination to visit with children before they grow up.
Pin This For Later