Highlights of a stay in Vancouver, BC prior to an Alaskan cruise.
Several years ago, our family of four along with my husband's parents, embarked on a cruise to Alaska which departed from Vancouver, British Columbia. We flew to Vancouver the day before the cruise and, therefore, had about a day and a half to spend in the city prior to boarding the Diamond Princess. 
We checked into our hotel, the Fairmont Vancouver Waterfront, and set off to explore Vancouver. We loved the hotel and the location was very convenient as it was just a short walk to the Canada Place Cruise Ship Terminal to board our ship the next day.  
This post may contain affiliate links. If you click an affiliate link and make a purchase then we receive a small commission at no additional cost to you.
Stanley Park
Not having much time to spend in Vancouver, we chose to make a visit to Stanley Park a priority. We decided that the most efficient and interesting way to get there would be to board the Vancouver Trolley Company's Hop On Hop Off bus. 
The 1000 acre park is close to downtown and is one of the city's premier tourist attractions. Stanley Park was officially opened in 1888 and named for Lord Stanley, who was Governor General of Canada at the time. It is now the third largest urban park in North America and has an estimated 8 million annual visitors. Visitors are drawn by both natural and man-made attractions as well as the availability of recreational activities within the park. 
Much of the park is still heavily forested with towering Douglas Firs and Western Red Cedars and there are many forms of wildlife that make the forest their home. Katie and Emma were amazed by the size of some of the trees in the park. The park is also home to swimming beaches, formal gardens, lagoons, an aquarium, a collection of totem poles, and several monuments.  There are restaurants, a miniature railway, a petting zoo and horse-drawn carriage rides to keep visitors entertained. 
There is also the Seawall which is a 22km path that lines Vancouver's waterfront through Stanley Park and beyond (10km of the path are within the park) and is popular with walkers, cyclists, joggers, and in-line skaters. Clearly there is enough going on in Stanley Park to keep tourists and residents alike busy for hours on end. We only had a few short hours, however, we certainly enjoyed our time in the park and look forward to a future visit.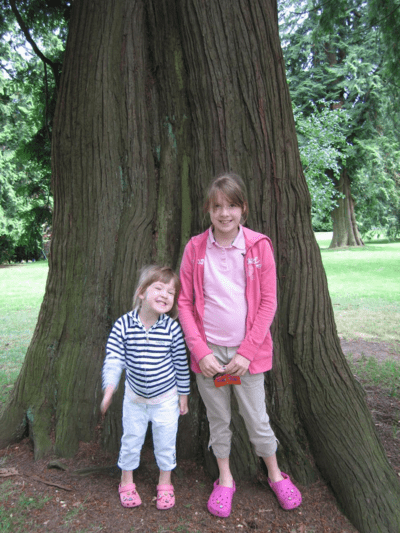 Katie and Emma in Stanley Park
Vancouver Aquarium
We also visited the Vancouver Aquarium Marine Science Centre which is located in the heart of Stanley Park and is one of the city's major tourist attractions. This is Canada's largest aquarium and it is a self-supporting, non-profit association dedicated to the conservation of aquatic life. The aquarium houses more than 8000 species of marine life, including beluga whales, sea otters, sea lions, and dolphins.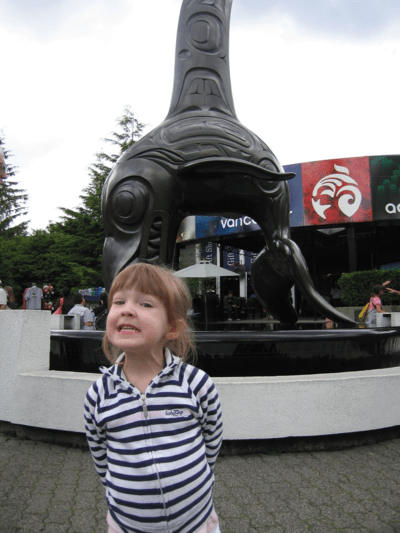 Emma outside The Vancouver Aquarium
Canada Place and Gastown
The next morning we went for a walk around Canada Place to see where our ship was docked and then to Vancouver's historic Gastown district. Canada Place was built as the Canada Pavilion for Expo '86 and after the world exhibition was transformed into a cruise ship terminal, convention centre and exhibition area. We walked the promenade around the cruise ship terminal and were able to watch passengers from the southbound cruise disembarking from our ship.
From there, we walked to the cobble stoned Gastown District where historic buildings have been transformed into boutiques, art galleries, restaurants and nightspots. Gastown was named after gold prospector, riverboat captain, and saloon keeper, "Gassy Jack" Deighton who, in 1867, established the town that would later become Vancouver. 
The Gastown Steam Clock is a well-known tourist attraction in the district, however, it is not a 19th century antique. It was built in 1977, based on an 1875 design, and is powered by steam from an underground system of pipes. Nonetheless, the highlight of the Gastown District for the girls was definitely watching the Steam Clock explode with steam (which it does every 15 minutes).  The clock also chimes every hour on the hour.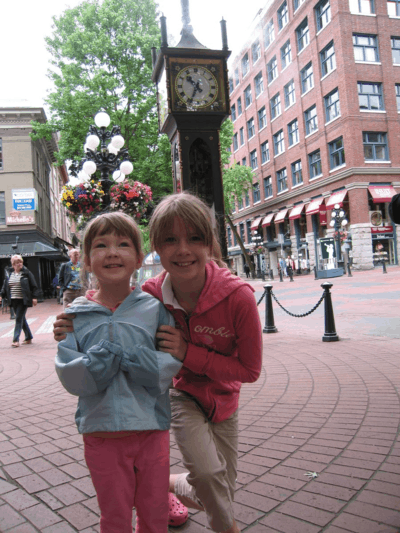 Steam clock in Vancouver's historic Gastown District
When we finished in the Gastown District we returned to the hotel, collected our luggage and walked over to the cruise ship terminal in order to board the Diamond Princess for our Alaskan adventure.
When our Alaska vacation was finished we flew back to Vancouver and stayed at the Fairmont Vancouver Airport hotel for the night before our flight home to Toronto. After five days of less than luxurious accommodations in Alaska the amenities of the Fairmont were greatly appreciated by the entire family.
My husband and I had visited Vancouver in the past but this was the first time there for Katie and Emma and we did not have anywhere near enough time to fully experience the city. In retrospect, we should have spent a couple of more days prior to the cruise in order to have had more time for exploring. I put together a list of what we would have liked to have seen and done in Vancouver if we had had more time and look forward to having another opportunity to visit with the family in the not too distant future.
A trip on one of the small ferries to visit the Granville Island public market

A day trip by ferry to Victoria to visit The British Columbia Parliament Buildings, the Fairmont Empress Hotel, and Butchart Gardens which is a National Historic Site of Canada

Vancouver Art Gallery to see the work of Emily Carr

Hiking on Grouse Mountain and riding the Grouse Mountain Skyride for its breathtaking views

A visit to North America's second-largest Chinatown

Shopping on fashionable Robson Street

A day trip to Whistler to see the majestic peaks of Whistler and Blackcomb mountains

Capilano Suspension Bridge is the world's largest suspension bridge and a huge tourist attraction – however tempting, I honestly think I would be too terrified to cross it and I'm not sure that I could stand to watch my kids cross the swaying bridge either.
Vancouver is a naturally beautiful city, situated as it is on the Pacific Ocean with the mountains as a backdrop. The city is bursting with activities for families and is deserving of a much more in-depth visit than we paid. I would like to plan a family trip to western Canada that includes a few days to explore Vancouver and the surrounding area and soak up the laid-back west coast vibe that the city exudes.
Related Articles
Alaska Cruise with Kids: A Fun-Filled Family Vacation
15 Reasons To Set Sail on an Alaskan Cruise
10 Fun Things To Do in Victoria, British Columbia