Favourite attractions and activities from a family trip to Provence, France.
One of our best family trips was a two week summer vacation in Provence, France. After much consideration we decided that we would rent a vacation home for the two week period and explore the area from that home base. 
After poring over rental listings on a number of websites we settled on a villa named Chemin des Rèves listed on Home Away (now on VRBO). The 3 bedroom, 3 bathroom home had a pool and was located just outside Gordes, a stunning hill-top village in the Luberon region. The villa has been updated and now has 4 bedrooms and 4 bathrooms and will sleep up to 8 people. It was also conveniently located for a number of day trips.
Le Chemin des Reves on Vrbo
This post contains affiliate links. If you click an affiliate link and make a purchase then Gone with the Family may receive a small commission at no additional cost to you.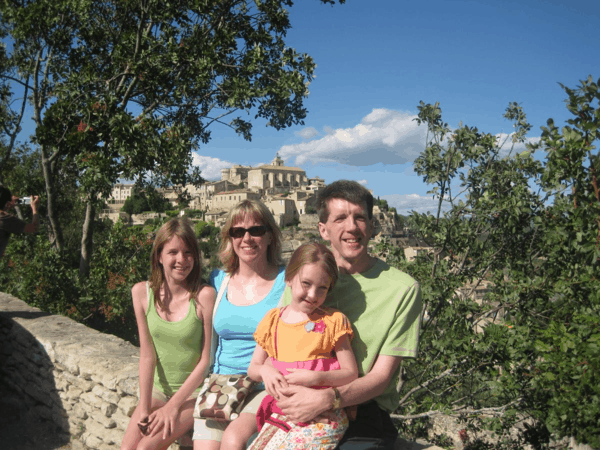 Our family with Gordes in the background
Things To Do in and Nearby Gordes
Gordes is a trendy, bustling village in the summertime. There are a number of restaurants and shops in the central area of the village as well as a post office where the girls were able to send off postcards to their grandparents and cousins back home. 
Tuesday is market day in Gordes and the market was definitely a highlight. The produce was mouth-watering, Katie loved getting her baked-fresh baguette and Emma and I loved the shopping.
Nearby attractions include:  
(1) the Abbaye de Sénanque, a still-functioning abbey which was built in 1148 and is famous for its fields of lavender.  Unfortunately, the lavender had bloomed early and already been harvested before our visit so we missed seeing the fields of purple flowers;
(2) the The Village des Bories in Gordes – a small village comprised of the type of ancient stone huts that one sees around the Luberon; and
(3) The Musée de Lavande where you can learn everything there is to know about the harvesting of lavender and the production of lavender products.  The museum smells delightful and there is even a gift store where you can make some lavender purchases on your way out.
We visited a number of nearby villages including Roussillon, Joucas, Fontaine-de-Vaucluse, Oppède-le-Vieux, Ménerbes, and Lacoste. All of the villages were beautiful but perhaps the most memorable was the village of Roussillon where we were able to hike through the dusty, orange-coloured ochre canyon.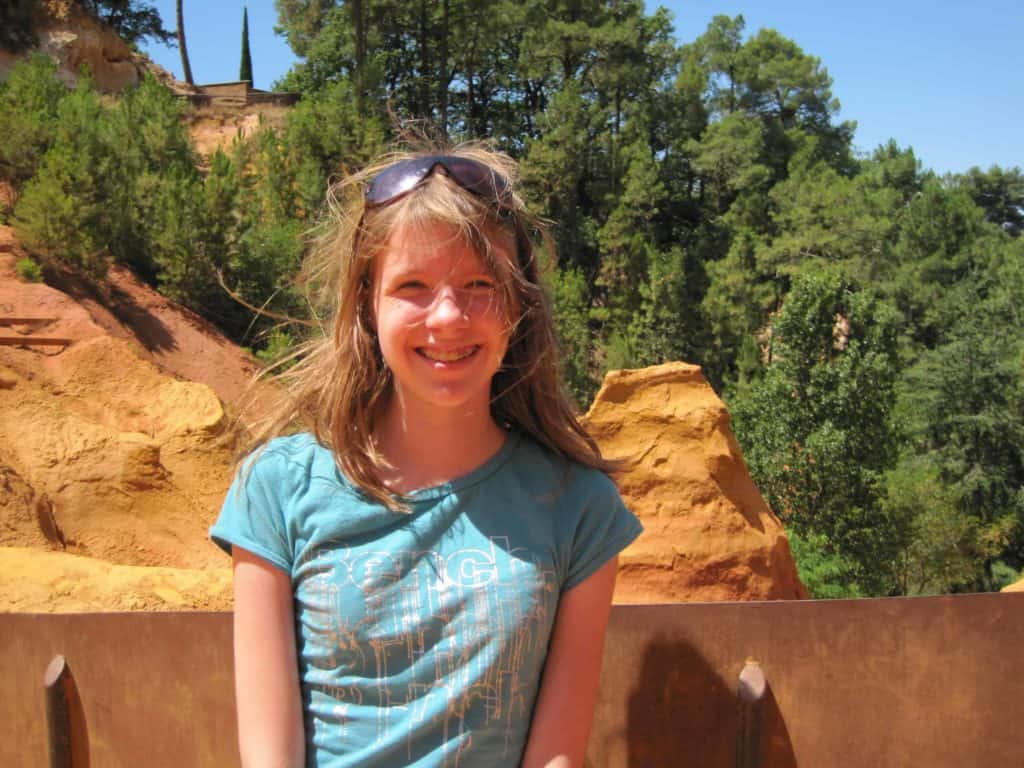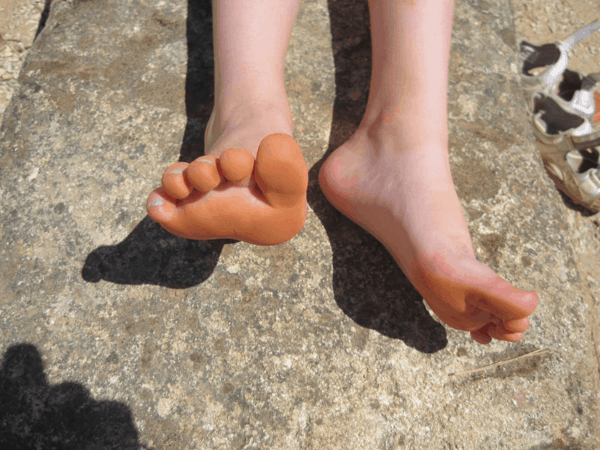 Emma's ochre stained feet after our hike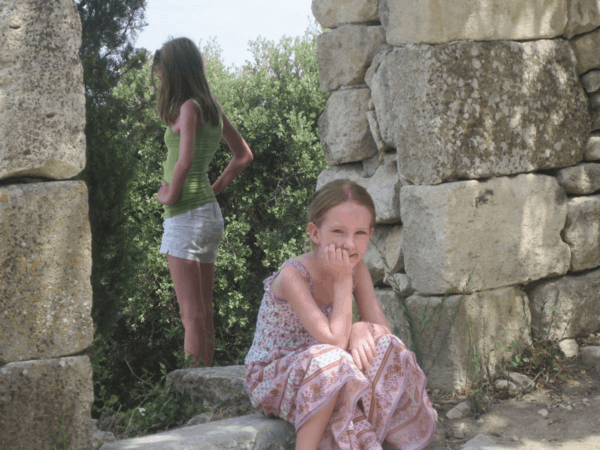 After a long climb in Oppède-le-Vieux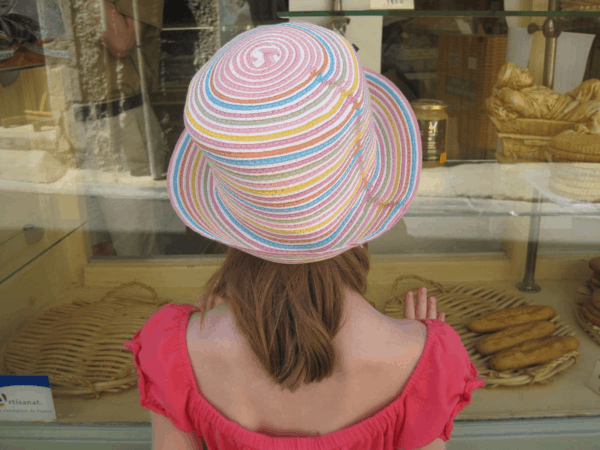 Admiring the goods at a boulangerie in Ménerbes
We also made day trips to several towns that were further afield. 
Visiting Avignon
I remember very well my elementary school french classes and learning to sing "Sur le pont d'Avignon, on y danse tous en rond" so there was no way that I was going to spend any length of time in Provence and not visit Avignon to dance on the famous medieval St. Bénezet bridge.
The walled vieux ville of Avignon was charming and had much more to offer than the bridge alone. The Palais des Papes is a 14th century Gothic palace which was the centre of Christianity from 1309-1403 when the Vatican moved the headquarters of the Catholic Church to Avignon. 
Street entertainers and cafes abound in Palace Square and Place d'Horloge which makes for fun wandering and people-watching. Avignon was also where Emma first discovered that many French towns have old-fashioned carousels and after that she rode every carousel she could find.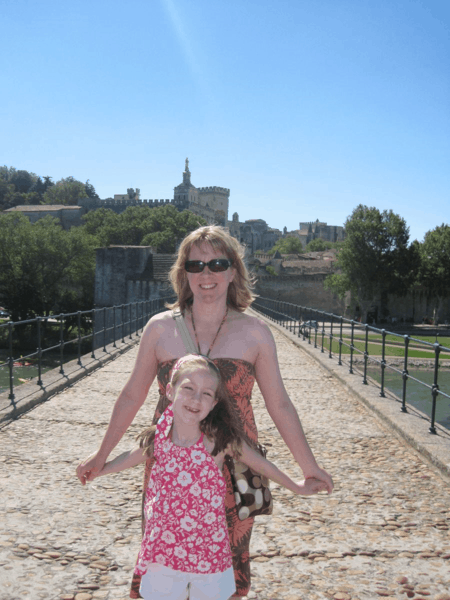 Emma and I dancing on Le Pont d'Avignon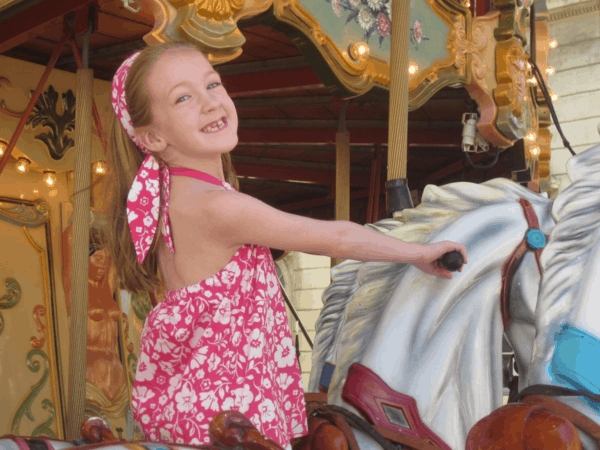 Emma riding the carousel in Avignon
Visiting Orange
A day trip to Orange to see the Roman Théâtre Antique is also an enjoyable way to spend a day. The mistral was blowing very hard the day that we were in Orange but we still climbed to the top of the theatre even though one of us (Katie) was certain that we were going to blow away.
We ate lunch in a café across from the theatre and had the best crepes that I have ever tasted. Following lunch we drove to nearby Châteauneuf-du-Pape and, instead of the predictable wine tour, went to the Bernard Castelein chocolate factory instead.
We attended a presentation on the chocolate making process and a demonstration where Emma was able to make her own chocolate. The store was heaven for chocoholics and we sampled and purchased quite a few of their specialties. My favourite was La Picholine – roasted, chocolate covered almonds that looked like Provençal olives. It was a delicious end to the day.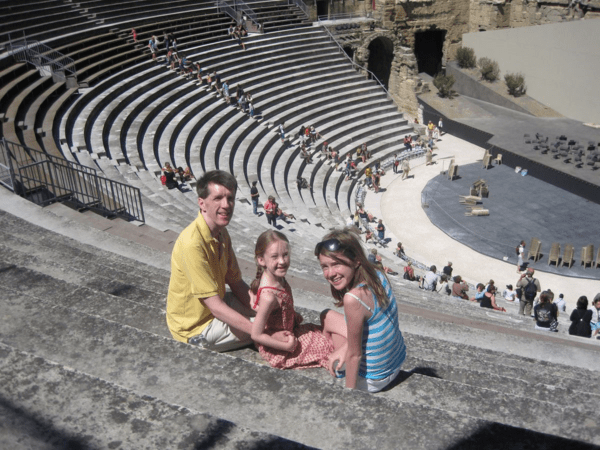 At the Roman Theatre in Orange
Visiting the Pont du Gard and Uzès
The Pont du Gard (Roman aqueduct) was built around 19 B.C. to supply water to one of ancient Europe's largest cities. Today it is contained within a park bustling with tourists and French families having picnics and playing along the river banks. The more adventurous were heading downstream in kayaks. 
In the nearby village of Uzès we visited the Palace of the Duché de Uzès and climbed the steps to the top of the tower. The spiral staircase is extremely narrow and I would not recommend trying to climb the 135 steps with either small children or a claustrophobe. The view at the top is spectacular but if I returned to Uzès I would skip the climb and just admire the extensive collection of santons on display at ground level.
Day Trip to the French Riviera
In 1995, my husband and I spent a week of our honeymoon in Eze on the French Riviera so we decided that we wanted to return to Eze on this trip (more than 15 years later) even though it was going to be about 2.5 hours of driving in each direction.
We found Eze to be as gorgeous as we remembered although a lot more bustling in August than it was when we had been there in April. The views of the Mediterranean are magnificent, the cobblestoned pathways charming and the upscale boutiques fun to browse in.
Visiting Aix-en-Provence
The university town of Aix-en-Provence was another pleasant day trip from our homebase in the Luberon. We didn't do much in Aix other than soak up the atmosphere walking Le Cours Mirabeau, snapping photos at the statue of Cézanne and La Rotonde, having lunch at a creperie and riding another carousel.
It took a great deal of effort but I did manage to get photos at the Rotonde fountain roundabout without cars in the background. The kids were getting impatient but still smiled for the photos so it was well worth it, in my opinion. 
Do not leave Aix without sampling the region's most famous confection, the Calisson d'Aix (an iced marzipan candy) which is exquisite but best eaten in small quantities.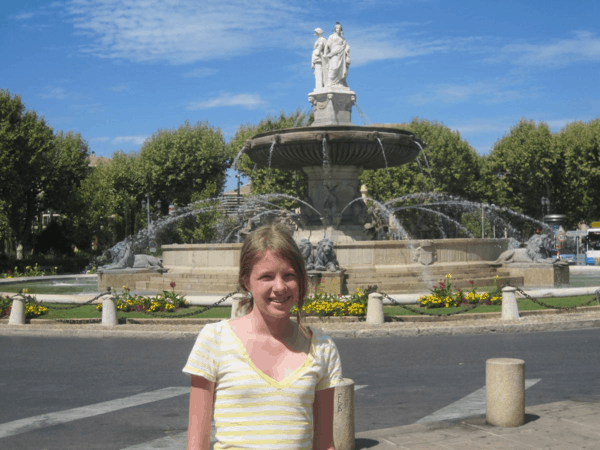 Katie at La Rotonde in Aix-en-Provence
Visiting Arles
Our final day trip was to Arles where Vincent Van Gogh painted many of his masterpieces and eventually began his descent into madness. Arles is also famous for its Roman Arena and classical Theatre. 
We spent the better part of the day wandering the medieval streets of Arles, ate at the extremely touristy Café Van Gogh, explored the ruins at the Roman Theatre and watched a gladiator show at the arena. Fans of Van Gogh can walk the streets of town and find easels depicting some of his paintings in the spots where he painted them. 
Probably the best ice cream that we had in France was at a little shop called Soleileis. And, of course, there was another carousel in Arles.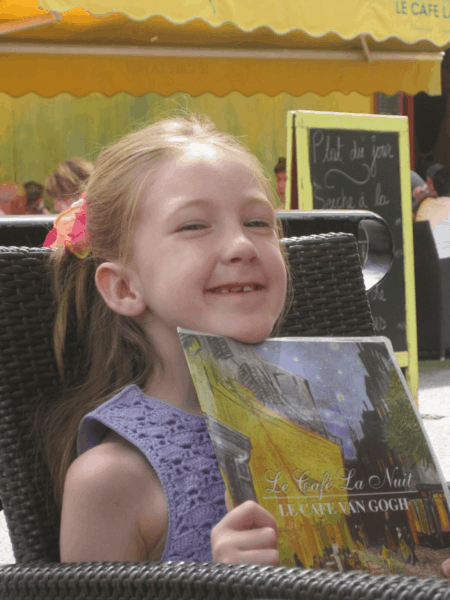 Provence is a wonderful place for a family summer vacation.  We had two perfect weeks of sunshine and blue skies. The weather was hot, but not unbearable so long as we paced ourselves and had lots of breaks for ice cream and shopping. 
Advantages of Renting a Villa
Renting a villa is ideal for families as it provides much more space than standard hotel accommodations allowing family members to spread out and making them less likely to get on each other's nerves.
We ate at a restaurant nearly every night but it was nice to be able to have leisurely mornings where everyone could move at their own pace and have breakfast before we went out for the day. This is an ideal situation when there are teenage family members as they tend to want to sleep in later than everyone else. In our experience, a teenager who can sleep in a bit is far less irritable later in the day. 
We loved having the swimming pool to come back to after an exhausting day of sightseeing. We were not prepared for the fact that pools are not generally heated in the south of France but found that it was actually quite refreshing.
Cultural Experience in France
Being in France for two weeks was a great cultural experience. My husband and I both speak enough French to get by and I actually enjoyed the struggle to make myself understood in a second language.
It was great for our daughters, who study French at school, to experience living in French and realize that speaking another language is a real-life skill.
As the days wore on, my older daughter became increasingly comfortable ordering for herself from the menu and was able to follow the simple conversations that we were having with people we met.
My younger daughter, who was six at the time, didn't progress much beyond bonjour, merci, au revoir and a few words for food (particularly fromage) but she was very pleased with herself and all the wonderful French people that we met were delighted with her efforts.
I envy Peter Mayle and his Year in Provence because two weeks was not enough to satisfy me.
You Might Also Like