Things to do on a day spent in Stockholm, Sweden while on a family cruise in Northern Europe.
In August of 2009 our family went on a 10 day cruise of the Baltics on the Emerald Princess.  One of our ports of call was Stockholm, Sweden.  We had only one day to explore the city so we had to make some hard decisions about what we could see in such a short period of time.  When we booked the cruise I thought that most of the ports of call were places that I would never choose to visit otherwise but I soon realized that one day in Stockholm is just a teaser as it is a strikingly beautiful capital city that warrants a much longer visit to fully appreciate everything that it has to offer. 
This article may contain affiliate links. If you click an affiliate link and make a purchase then Gone with the Family may receive a small commission at no additional cost to you.
Sailing into Stockholm
The incredible experience starts early in the morning cruising the archipelago as the ship sails toward Stockholm.  The archipelago is made up of 24 000 islands and islets – many of which have summer homes and cottages on them.  The view of Stockholm while sailing into the harbour is breathtaking.  Stockholm is known as the "Venice of the North" and it is easy to see why as the city is made up of 14 islands connected by about 50 bridges.  Stockholm, which was founded in the 13th century, is a lively city with a charming medieval area, a royal palace, several fine museums and historical attractions and an abundance of green space.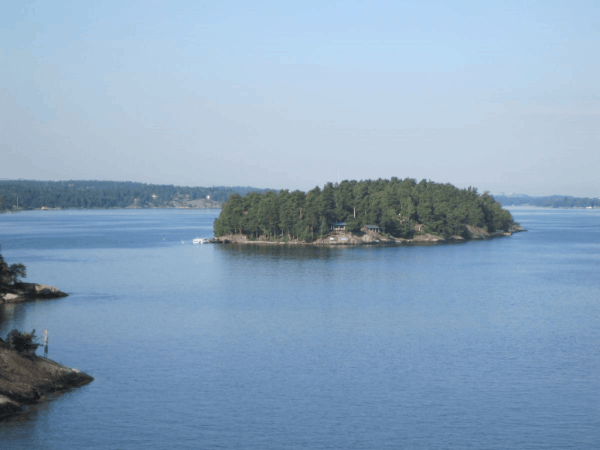 Sailing in the Stockholm Archipelago  
Ferry to Djurgarden
Once docked, we chose to catch one of the Hop On Hop Off (HOHO) ferry boats which were moored near our ship.  Purchasing a day pass for the HOHO ferry allowed us to take the ferry to Djurgarden (an island where several museums are located), catch a later ferry to Gamla Stan (the medieval Old Town) and then another back to the pier to re-board the ship.  The three museums on Djurgarden that we were most interested in were: (1) Skansen – an open air museum celebrating traditional Swedish life with exhibits, animals, demonstrations and entertainment; (2) Junibacken – a museum/play area dedicated to the stories of Astrid Lindgren – particularly Pippi Longstocking; and (3) the Vasa Museum – built around a warship that sank in the harbour on its maiden voyage in 1628 and was salvaged almost completely intact in 1961.  The Vasa Museum is widely considered to be the one "can't miss" attraction in Stockholm.
We decided that even though Skansen would probably be quite interesting that we would not have time to visit all three museums as well as spend time in Gamla Stan so our plan was to try and go to both Junibacken and Vasa before catching the ferry to the medieval old town.  We had read Pippy Longstocking before leaving home so we opted to head to Junibacken first, thinking that Emma would be more likely to remember Stockholm for that experience than anything else. 
Junibacken Museum
Junibacken was a mixed experience probably because we were only familiar with the Pippi Longstocking story.  The first area of the museum is Storybook Square which  is a cleverly designed play area to keep children occupied while queuing for the Storybook Train.  It is an exhibition of houses and characters that can be climbed on and played in.  Emma loved this area.  The train ride which follows is intended to be the highlight of the museum.  The train journeys through many of Astrid Lindgren's stories – most of which it turns out are very dark and frightening.  By the time we disembarked into the final play area, Emma was distraught.  She eventually calmed down enough to enjoy Villa Villekulla – the home of the strongest girl in the world, Pippi Longstocking.  The museum was packed with blonde-haired Swedish children and I don't think that there was another tourist in the place which made it an interesting cultural experience in and of itself.  Emma bought a Pippy doll in the gift shop and that served to wipe the traumatic train ride completely from her memory.
We left Junibacken intending to proceed to the Vasa Museum but were confronted by an extremely long line outside of the museum.  By this time of the day it was very hot and sunny and the kids did not want to wait in line to get in to the museum.  At that point I decided that it was more important to avoid having miserable kids than to see the museum and we got back on the ferry going to Gamla Stan instead.   And thus, we missed Stockholm's "must-see" attraction but everyone in the family has happy memories of our visit there.  I have learned over the years that flexibility is important when you are traveling with children as you are not always going to get to everything that you had planned.  In my view family travel is more about experiencing a place with your family than ticking off a checklist of things to see and do.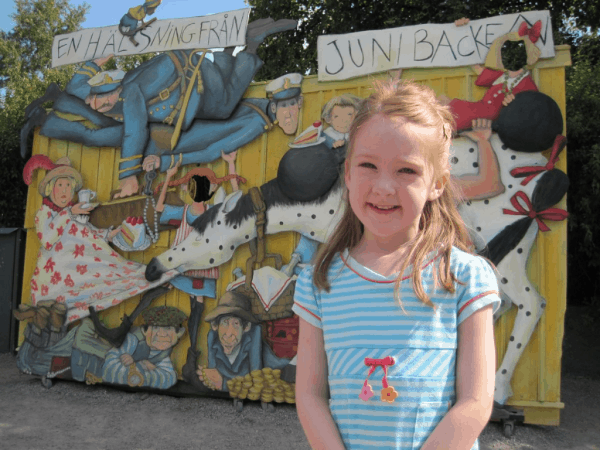 Emma at Junibacken (the Astrid Lindgren Museum)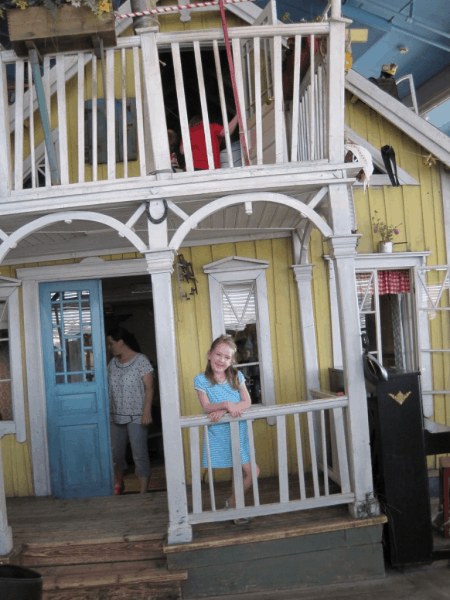 Emma exploring Villa Villekulla (Pippi Longstocking's house) at Junibacken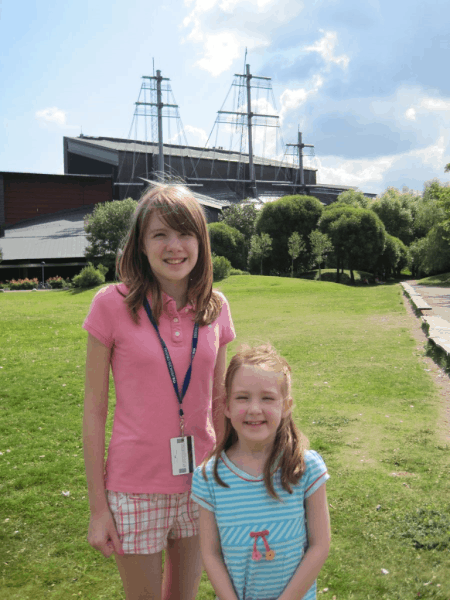 Katie and Emma with the Vasa Museum in the background
Gamla Stan
We took the ferry back downtown and walked around before returning to the ship.  Sweden is a constitutional monarchy with a popular royal family and we were able to admire their Royal Palace from the outside but did not have sufficient time for a tour.  We were also too late for the noon time Changing of the Guards ceremony which is supposed to be quite impressive but Emma was able to get close enough to one of the guards for a photo-op.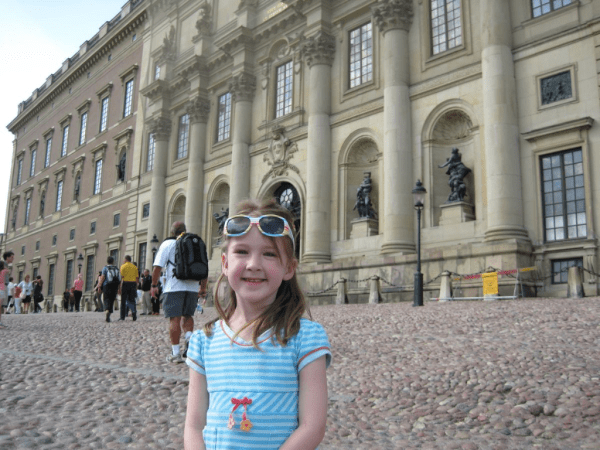 Emma outside Stockholm's Royal Palace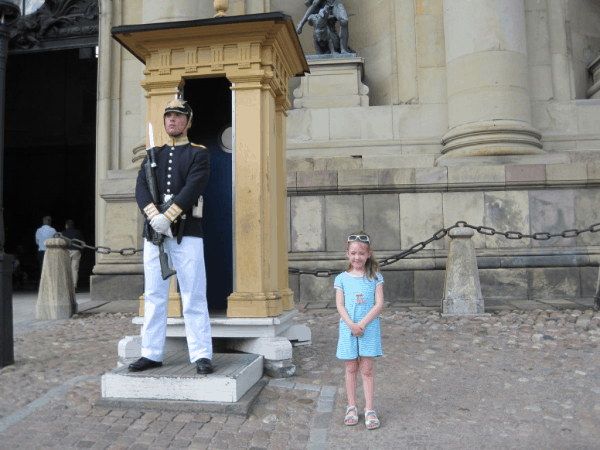 Emma with a guard at the Royal Palace
Walking around Gamla Stan, the medieval "Old Town" of Stockholm was a perfect way to complete the afternoon.  We found lots of little shops to poke around in, the architecture is beautiful and the streets were teeming with people enjoying a beautiful day in the city.
We would easily have needed to spend three or four days in the Swedish capital in order to see and do everything that we wanted to but as it is we have memories of a wonderful day spent in this beautiful city and a deep desire to return one day and do more than just scratch the surface.
We are a participant in the Amazon Services LLC Associates Program, an affiliate advertising program designed to provide a means for us to earn fees by linking to Amazon.com and affiliated sites.
Related Links

Memories of Pippi Longstocking
Have you liked our Facebook page yet? I post articles from the blog there as well as photo albums from our travels and other travel news. Or, if you prefer, you can subscribe to the free RSS feed or sign up for an email subscription to keep up-to-date on our travel adventures.