It's time to start planning your summer reading! Whether you're looking for books to read on vacation or while relaxing at home, you're sure to find something on this list of best beach reads in 2021 that appeals to you. Pack your beach bag with your sunscreen and a few of these then head to the beach, the pool, the dock or your backyard patio to soak up some sunshine and escape with a good book!
The 29 recommendations for best summer reads are almost exclusively new releases in 2021 that I have read already although there are a few that made my summer reading list but are still in my "to be read" pile. Since summer is the time when I prefer light, easy "beach" reads most of my picks whether they be romance, historical fiction, or thrillers are in that vein – I'll save the meaty literary fiction for the fall and winter!
35 of the Best Books To Read Summer 2023
35 of the Best Summer Beach Reads 2022
Summer 2020 Travel-Inspired Reading List
Summer 2019 Travel-Inspired Reading List
We are a participant in the Amazon Services LLC Associates Program, an affiliate advertising program designed to provide a means for us to earn fees by linking to Amazon.com and affiliated sites. As an Amazon affiliate I earn from qualifying purchases.
This post may contain affiliate links. If you click an affiliate link and make a purchase then we receive a small commission at no additional cost to you.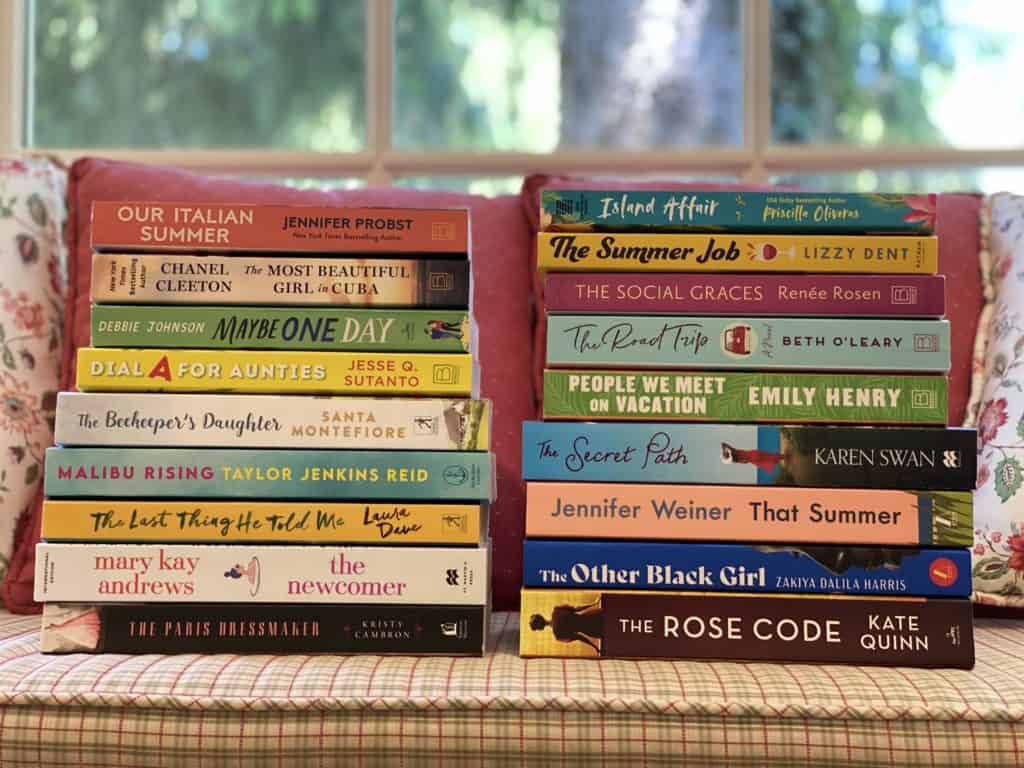 1. The Last Thing He Told Me by Laura Dave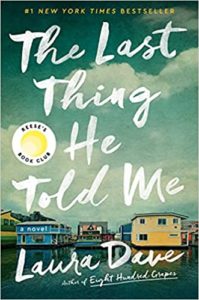 Setting: Sausalito, California and Austin, Texas
Before Owen Michaels disappears, he smuggles a note to his beloved wife of one year: Protect her. Despite her confusion and fear, Hannah Hall knows exactly to whom the note refers – Owen's sixteen-year-old daughter, Bailey. Bailey, who lost her mother tragically as a child. Bailey, who wants absolutely nothing to do with her new stepmother.
Hannah and Bailey set out to discover the truth. But as they start putting together the pieces of Owen's past, they soon realize they're also building a new future – one neither of them could have anticipated.
This Reese Witherspoon Book Club selection is a well-written page-turner about a woman and her teenage step-daughter whose lives are shattered by the disappearance of their husband/father. It's a quick, easy read that I raced through to find out how it would end but I wouldn't consider it a typical thriller as it's as much about the developing relationship between Hannah and Bailey as it is about the mystery they are trying to solve.
2. It Had To Be You by Georgia Clark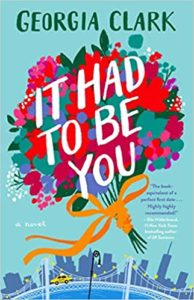 Setting: Brooklyn, New York
For the past twenty years, Liv and Eliot Goldenhorn have run In Love in New York, Brooklyn's beloved wedding-planning business. When Eliot dies unexpectedly, he even more unexpectedly leaves half of the business to his younger, blonder girlfriend, Savannah. Liv and Savannah are not a match made in heaven, to say the least. But what starts as a personal and professional nightmare transforms into something even savvy, cynical Liv Goldenhorn couldn't begin to imagine.
If you enjoy a sweet rom-com with a happy ending then this is the book for you! This novel has garnered many comparisons to the film Love Actually as it weaves together five interconnecting stories of modern love in New York City with couples that have some connection to Liv and In Love in New York. I particularly liked the inclusion of diverse couples in It Had To Be You – there's middle-aged, same-sex and inter-racial couples – which is refreshing. A charming romance that is perfect for anyone craving a feel-good escape.
3. The Rose Code by Kate Quinn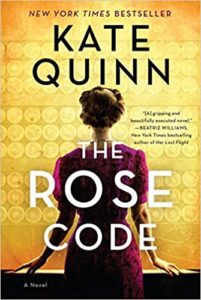 Setting: 1940s England
The New York Times and USA Today bestselling author of The Huntress and The Alice Network returns with another heart-stopping World War II story of three female code breakers at Bletchley Park and the spy they must root out after the war is over.
This is a riveting historical novel with a dual timeline that revolves around three women codebreakers working at Bletchley Park near London during WWII. The first timeline beginning in 1940 and ending on D-Day in 1944 covers what happens at BP during the war years. The second timeline takes place in 1947 just days before the royal wedding of Princess Elizabeth. In 1947, one of the three women is confined to an asylum and the plot is focused on unravelling the mystery around a possible traitor who had been in their midst at Bletchley Park.
The book is more than 600 pages but difficult to put down so a quick read for me. I was completely absorbed in the story about the three women, their romances, and their work as codebreakers. I can't wait to visit the real Bletchley Park the next time I travel to London!
4. The Most Beautiful Girl in Cuba by Chanel Cleeton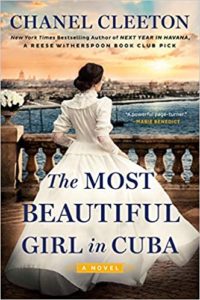 Setting: Cuba and New York City
At the end of the nineteenth century, three revolutionary women fight for freedom in New York Times bestselling author Chanel Cleeton's captivating new novel inspired by real-life events and the true story of a legendary Cuban woman – Evangelina Cisneros – who changed the course of history.
This is the 4th book by Chanel Cleeton that I have read in less than 2 years and I quite enjoy her blend of impeccably researched historical fiction, romance and strong, independent female characters. Two of her previous books take place at the time of the Cuban Revolution whereas this book takes place in 1896-98 during the Cuban War of Independence with Spain which then escalates into the Spanish-American War. I knew very little about these conflicts so learning a bit about that historical period was a highlight of the book for me.
Check out Next Year in Havana and When We Left Cuba for more historical fiction set in Cuba by Chanel Cleeton.
5. The Bookstore on the Beach by Brenda Novak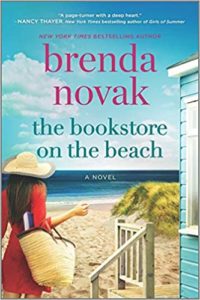 Setting: A fictional beach town in Virginia
Eighteen months ago, Autumn Divac's husband went missing. Her desperate search has yielded no answers, and she can't imagine moving forward without him. But for the sake of their two teenage children, she has to try.
Autumn takes her kids home for the summer to the charming beachside town where she was raised. She seeks comfort working alongside her mother and aunt at their bookshop, only to learn that her daughter is facing a huge life change and her mother has been hiding a terrible secret for years. And when she runs into the boy who stole her heart in high school, old feelings start to bubble up again. Is she free to love him, or should she hold out hope for her husband's return? She can only trust her heart…and hope it won't lead her astray.
If you're looking for a beach read this summer then Brenda Novak's latest novel could be the perfect escape! The Bookstore on the Beach is a multigenerational story that has a lot going on including romance, some suspense and a lot of family drama.
This is the second book that I have read by Brenda Novak (after reading One Perfect Summer last year) and she is very good at drawing readers into a compelling story. The Bookstore on the Beach is a page-turner and at close to 450 pages it should keep you going for a few days whether you're on the beach, lounging by the pool or just curled up in a cozy chair with a cup of tea.
6. Our Italian Summer by Jennifer Probst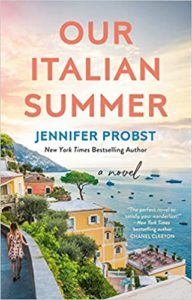 Setting: Italy
Workaholic, career-obsessed Francesca is fiercely independent and successful in all areas of her life except one: family. She struggles to make time for her relationship with her teenage daughter, Allegra, and the two have become practically strangers to each other. When Allegra hangs out with a new crowd and is arrested for drug possession, Francesca gives in to her mother's wish that they take one epic summer vacation to trace their family roots in Italy. She just never expected to face a choice that might change the course of her life. . .
I'm missing travel so much right now that this story about three generations of Ferrari women spending four weeks exploring Italy was exactly the escape that I needed! There's a bit of romance but mostly it's about the relationship between the three women and how it changes over the course of their travels.
Our Italian Summer is an excellent choice for anyone who wants to satisfy their wanderlust by reading about beautiful places. Over the course of their four weeks in Italy, Sophia, Francesca and Allegra spend three weeks on a small group tour visiting places like Rome, Capri, Naples, Venice, Florence and Pompeii before renting a villa in Tuscany for their final week. Reading about the places they travelled had me reminiscing about the ones that I have already visited and longing to see the ones that are on my travel wish list!
7. The Beekeeper's Daughter by Santa Montefiore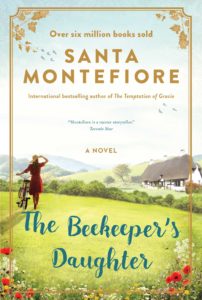 Setting: Dorset, England 1930s and 40s; Massachusetts 1973
Dorset, 1933: Grace Hamblin is growing up on a beautiful rural estate. The only child of the beekeeper, she knows her place and her future – until her father dies unexpectedly and leaves her bereft and alone. Alone, that is, except for the man she loves, whom she knows she can never have.
Massachusetts, 1973: Grace's beautiful, impetuous daughter Trixie Valentine is in love. Jasper is wild and romantic, a singer in a band on the brink of stardom. Then tragedy strikes and he must return to his home in England, promising to come back to Trixie one day, if only she will wait for him…
Weighed down by memories, unaware of the secrets that bind them, both mother and daughter are searching for lost love. To find what they are longing for they must confront the past, and unravel the lies told long ago…
Santa Montefiore's stories are perfect when you're looking for a nice relaxing escape. The Beekeeper's Daughter is the third of her novels that I have read and all have been enjoyable historical romances with dual timelines set in interesting places. This one was first published several years ago but was published again in 2021 in North America with a beautiful new cover.
8. Dial A for Aunties by Jesse Q. Sutanto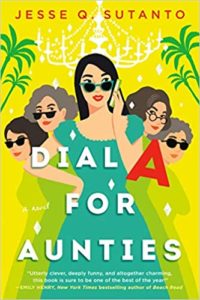 Setting: Southern California
When Meddelin Chan ends up accidentally killing her blind date, her meddlesome mother calls for her even more meddlesome aunties to help get rid of the body. Unfortunately, a dead body proves to be a lot more challenging to dispose of than one might anticipate, especially when it is inadvertently shipped in a cake cooler to the over-the-top billionaire wedding Meddy, her Ma, and aunties are working at an island resort on the California coastline.
But things go from inconvenient to downright torturous when Meddy's great college love – and biggest heartbreak – makes a surprise appearance amid the wedding chaos. Is it possible to escape murder charges, charm her ex back into her life, and pull off a stunning wedding all in one weekend?
A fun, completely madcap sort-of rom-com with a very original plot! There is nothing believable in the incredible plot twists so just suspend your disbelief and enjoy the ride – Dial A for Aunties doesn't take itself seriously and is just a lot of fun! There's already a Netflix adaptation planned and I can't wait to see it!
9. The Paris Dressmaker by Kristy Cambron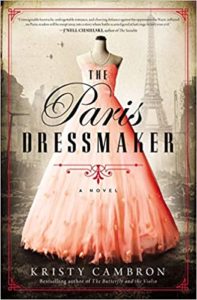 Setting: Paris World War II
Based on true accounts of how Parisiennes resisted the Nazi occupation in World War II – from fashion houses to the city streets – comes a story of two courageous women who risked everything to fight an evil they couldn't abide.
I love historical novels and I love Paris but I decided to read this book because of the most beautiful book cover I've ever seen! This was my first time reading anything by this author and I thought it was a well-written and interesting story about the Parisiennes who stayed behind in the city during the Nazi occupation and found ways to contribute to the resistance. It requires some focus as there are two main characters, Lila and Sandrine, who each have their own stories (and two timelines) that don't converge until the end but an enjoyable read.
10. People We Meet on Vacation by Emily Henry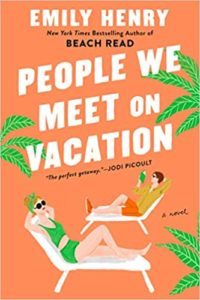 Setting: Palm Springs, Vancouver Island, Nashville, San Francisco, New Orleans, Colorado, Sanibel Island, Tuscany, and Croatia.
Poppy and Alex. Alex and Poppy. They have nothing in common. She's a wild child; he wears khakis. She has insatiable wanderlust; he prefers to stay home with a book. And somehow, ever since a fateful car share home from college many years ago, they are the very best of friends. For most of the year they live far apart – she's in New York City, and he's in their small hometown – but every summer, for a decade, they have taken one glorious week of vacation together.
Until two years ago, when they ruined everything. They haven't spoken since.
Poppy has everything she should want, but she's stuck in a rut. When someone asks when she was last truly happy, she knows, without a doubt, it was on that ill-fated, final trip with Alex. And so, she decides to convince her best friend to take one more vacation together – lay everything on the table, make it all right. Miraculously, he agrees.
This book is a homage to one of my favourite movies of all time – When Harry Met Sally – so it had me from the get-go! Friends to lovers is a common device in rom-com novels but this one is different because the reader gets to experience the building of the friend relationship via the book's dual timelines. Likeable characters, witty dialogue, bucket-list settings and some emotional bits that left me in tears make People We Meet on Vacation an engaging and entertaining read!
11. Maybe One Day by Debbie Johnson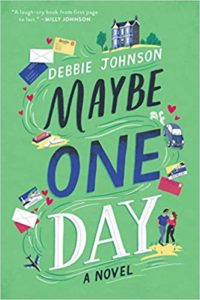 Setting: England, Ireland, New York City
For years Jess believed that Joe – the father of her child and the only man she ever loved – had abandoned her during her greatest time of need. That belief nearly destroyed her. Seventeen years later, when cleaning out her mother's house, Jess unpacks a box of cards and letters hidden in the attic and makes a discovery that changes everything about life as she knows it.
Shaken but empowered, Jess – and her two stalwart best friends – set out on a remarkable journey to follow a set of faded postmarks around the world. Is Joe still alive? Does he know that Jess never forgot him? Maybe their love story isn't over.
Maybe One Day is a heartwarming story about love, grief and the feeling of hope that allows people to keep going when life has treated them none too kindly. I was expecting a light road trip/second chance romance read but there was a lot more to this – there are some lighter moments but there are a lot of tears as well.
12. The Secret Path by Karen Swan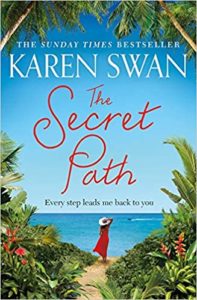 Setting: Costa Rica
Tara Tremain has worked hard to leave the controlling grasp of her extremely affluent family far behind. With her own career in medicine, she doesn't need the Tremains' expectations weighing her down any more. But pulled back into the family's orbit one last time for an unmissable party in the jungles of Costa Rica, she finds herself flung into action: a local boy is desperately ill and she must trek for days into the jungle to save his life.
What Tara could never have predicted is that the one person who can help her in this impossible journey is Alex Carter, the man who destroyed her life ten years ago . . .
Karen Swan's books are perfect for summer reading – contemporary romances with a bit of mystery and generally set in fabulous destinations! Her most recent is set in Costa Rica – a destination that has been on my travel wish list forever! If you race through this and are looking for additional Karen Swan recommendations, I have also read and enjoyed The Spanish Promise, The Hidden Beach and Together by Christmas.
13. Island Affair by Priscilla Oliveras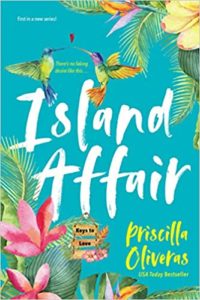 Setting: Key West, Florida
Sought-after social media influencer Sara Vance, in recovery from an eating disorder, is coming into her own, with a potential career expansion on the horizon. Despite the good news, her successful siblings (and their perfect spouses) have a way of making her feel like the odd one out. So, when her unreliable boyfriend is a no-show for a Florida family vacation, Sara recruits Luis Navarro – a firefighter paramedic and dive captain willing to play the part of her smitten fiancé . . .

Luis's big Cuban familia has been in Key West for generations, and his quiet strength feeds off the island's laidback style. Though guarded after a deep betrayal, he'll always help someone in need – especially a spunky beauty with a surprising knowledge of Spanish curse words. Soon, he and Sara have memorized their "how we met" story and are immersed in family dinners, bike tours, private snorkeling trips . . . sharing secrets, and slow, melting kisses. But when it's time for Sara to return home, will their fake relationship fade like the stunning sunset . . . or blossom into something beautiful?
Island Affair is the first in a new romantic comedy series by Priscilla Oliveras called Keys to Love set in the Florida Keys. If you're looking for an escape to a beautiful sunny destination then this sweet yet steamy contemporary romance set in beautiful Key West will be the perfect addition to your beach bag this summer!
Island Affair was published in 2020 and the second in the series, Anchored Hearts, was published in 2021.
14. That Summer by Jennifer Weiner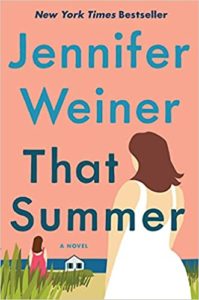 Setting: Philadelphia and suburbs, Cape Cod
Daisy Shoemaker can't sleep. With a thriving cooking business, full schedule of volunteer work, and a beautiful home in the Philadelphia suburbs, she should be content. But her teenage daughter can be a handful, her husband can be distant, her work can feel trivial, and she has lots of acquaintances, but no real friends. Still, Daisy knows she's got it good. So why is she up all night?
While Daisy tries to identify the root of her dissatisfaction, she's also receiving misdirected emails meant for a woman named Diana Starling, whose email address is just one punctuation mark away from her own. While Daisy's driving carpools, Diana is chairing meetings. While Daisy's making dinner, Diana's making plans to reorganize corporations. Diana's glamorous, sophisticated, single-lady life is miles away from Daisy's simpler existence. When an apology leads to an invitation, the two women meet and become friends. But, as they get closer, we learn that their connection was not completely accidental. Who IS this other woman, and what does she want with Daisy?
This is a good read but don't be deceived by the book cover into thinking that it's a light and fluffy beach read though because, although it's partially set on the beaches of Cape Cod, it deals with the heavy subject matter of sexual assault and the #MeToo movement. It didn't take me long to figure out the mystery element of the plot but I was hooked anyway as the book is well-written and I wanted to know how it was going to play out.
15. The Newcomer by Mary Kay Andrews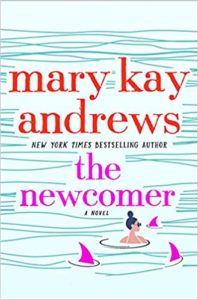 Setting: Florida beach town
After she discovers her sister Tanya dead on the floor of her fashionable New York City townhouse, Letty Carnahan is certain she knows who did it: Tanya's ex; sleazy real estate entrepreneur Evan Wingfield. Even in the grip of grief and panic Letty heeds her late sister's warnings: "If anything bad happens to me–it's Evan. Promise me you'll take Maya and run. Promise me."
So Letty grabs her sister's Mercedes and hits the road with her wailing four-year-old niece Maya. Letty is determined to out-run Evan and the law, but run to where? Tanya, a woman with a past shrouded in secrets, left behind a "go-bag" of cash and a big honking diamond ring – but only one clue: a faded magazine story about a sleepy mom-and-pop motel in a Florida beach town with the improbable name of Treasure Island. She sheds her old life and checks into an uncertain future at The Murmuring Surf Motel.
The No Vacancy sign is flashing & the sharks are circling… And that's the good news. Because The Surf, as the regulars call it, is the winter home of a close-knit flock of retirees and snowbirds who regard this odd-duck newcomer with suspicion and down-right hostility. As Letty settles into the motel's former storage room, she tries to heal Maya's heartache and unravel the key to her sister's shady past, all while dodging the attention of the owner's dangerously attractive son Joe, who just happens to be a local police detective. Can Letty find romance as well as a room at the inn―or will Joe betray her secrets and put her behind bars? With danger closing in, it's a race to find the truth and right the wrongs of the past.
The latest from New York Times bestselling author, Mary Kay Andrews, has both suspense and romance set in a Florida beach town. If you're looking for more of the same, Andrews is the queen of beach reads so she has a lengthy back list including The High Tide Club which I enjoyed reading a couple of summers ago.
16. Road Trip by Beth O'Leary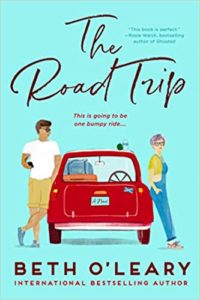 Setting: Britain
Four years ago, Dylan and Addie fell in love under the Provence sun. Wealthy Oxford student Dylan was staying at his friend Cherry's enormous French villa; wild child Addie was spending her summer as the on-site caretaker. Two years ago, their relationship officially ended. They haven't spoken since.
Today, Dylan's and Addie's lives collide again. It's the day before Cherry's wedding, and Addie and Dylan crash cars at the start of the journey there. The car Dylan was driving is wrecked, and the wedding is in rural Scotland – he'll never get there on time by public transport.
So, along with Dylan's best friend, Addie's sister, and a random guy on Facebook who needed a ride, they squeeze into a space-challenged Mini and set off across Britain. Cramped into the same space, Dylan and Addie are forced to confront the choices they made that tore them apart – and ask themselves whether that final decision was the right one after all.
I haven't read this one yet but I'm looking forward to it because I loved O'Leary's previous book, The Switch, so much! A road trip across Britain in a crowded Mini sounds like an interesting way to force a former couple to reconsider past choices and I can't wait to see what O'Leary does with this premise.
17. The Social Graces by Renée Rosen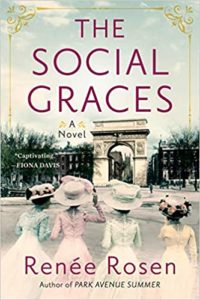 Setting: New York City 1876-1908 (The Gilded Age)
The author of Park Avenue Summer throws back the curtain on one of the most remarkable feuds in history: Alva Vanderbilt and the Mrs. Astor's notorious battle for control of New York society during the Gilded Age.
Having read and enjoyed A Well-Behaved Woman: A Novel of the Vanderbilts last year, I was very interested to read another fictional take on Alva Vanderbilt and to learn more about Caroline Astor and the feud between the two women over control of New York society.
The novel takes place over three decades from 1876-1908 during the so-called Gilded Age in New York City and allows the reader to get to know the two women who were more complicated than their superficial interests would indicate. An enjoyable read and nice to find historical fiction that isn't set in WWII!
18. The Secret Keeper of Jaipur by Alka Joshi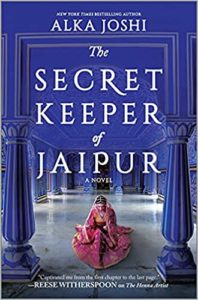 Setting: Jaipur, India
In New York Times bestselling author Alka Joshi's intriguing new novel, henna artist Lakshmi arranges for her protégé, Malik, to intern at the Jaipur Palace in this tale rich in character, atmosphere, and lavish storytelling.
It's the spring of 1969, and Lakshmi, now married to Dr. Jay Kumar, directs the Healing Garden in Shimla. Malik has finished his private school education. At twenty, he has just met a young woman named Nimmi when he leaves to apprentice at the Facilities Office of the Jaipur Royal Palace. Their latest project: a state-of-the-art cinema.
Malik soon finds that not much has changed as he navigates the Pink City of his childhood. Power and money still move seamlessly among the wealthy class, and favors flow from Jaipur's Royal Palace, but only if certain secrets remain buried. When the cinema's balcony tragically collapses on opening night, blame is placed where it is convenient. But Malik suspects something far darker and sets out to uncover the truth. As a former street child, he always knew to keep his own counsel; it's a lesson that will serve him as he untangles a web of lies.
This is another book that I haven't read yet as it will be published later this month but it's a sequel to The Henna Artist which was one of my favourite books last year and I can't wait to read more about Lakshmi and Malik and their lives in Jaipur.
19. Malibu Rising by Taylor Jenkins Reid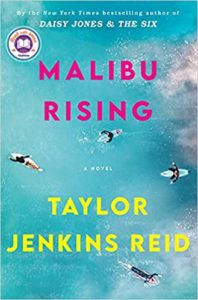 Setting: Malibu, California
Malibu: August 1983. It's the day of Nina Riva's annual end-of-summer party, and anticipation is at a fever pitch. Everyone wants to be around the famous Rivas: Nina, the talented surfer and supermodel; brothers Jay and Hud, one a championship surfer, the other a renowned photographer; and their adored baby sister, Kit. Together the siblings are a source of fascination in Malibu and the world over—especially as the offspring of the legendary singer Mick Riva.
By midnight the party will be completely out of control. By morning, the Riva mansion will have gone up in flames. But before that first spark in the early hours before dawn, the alcohol will flow, the music will play, and the loves and secrets that shaped this family's generations will all come rising to the surface.
Malibu Rising is a story about one unforgettable night in the life of a family: the night they each have to choose what they will keep from the people who made them . . . and what they will leave behind.
Malibu Rising is written in short, fast-paced chapters and I raced through it – it felt a bit like watching a car crash and I was worried that it wasn't going to end well for the Riva family particularly Nina. It's mostly a breezy summer beach read but there are some interesting underlying themes about families, the drawbacks of fame and, of course, renewal like Malibu rising after a destructive fire. If you like to read the hottest books of summer then you'll want this one on your reading list! Oh and mere days after publication, it was announced that Malibu Rising will be adapted for a television series so read it first!!
20. The Siren by Katherine St. John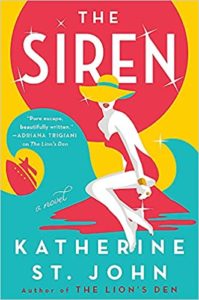 Setting: Fictional Caribbean island
In the midst of a sizzling hot summer, some of Hollywood's most notorious faces are assembled on the idyllic Caribbean island of St. Genesius to film The Siren, starring dangerously handsome megastar Cole Power playing opposite his ex-wife, Stella Rivers. The surefire blockbuster promises to entice audiences with its sultry storyline and intimately connected cast.
Three very different women arrive on set, each with her own motive. Stella, an infamously unstable actress, is struggling to reclaim the career she lost in the wake of multiple, very public breakdowns. Taylor, a fledgling producer, is anxious to work on a film she hopes will turn her career around after her last job ended in scandal. And Felicity, Stella's mysterious new assistant, harbors designs of her own that threaten to upend everyone's plans.
With a hurricane brewing offshore, each woman finds herself trapped on the island, united against a common enemy. But as deceptions come to light, misplaced trust may prove more perilous than the storm itself.
A thriller set on a tropical Caribbean island during a hurricane is the page-turner you need whether you're heading to the beach or a deck chair by the pool this summer!
21. The Layover by Lacie Waldon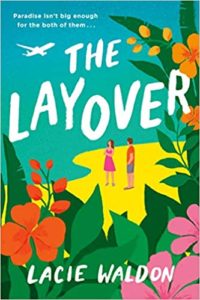 Setting: Belize
After ten years as a flight attendant, Ava Greene is poised to hang up her wings and finally put down roots. She's got one trip left before she bids her old life farewell, and she plans to enjoy every second of it. But then she discovers that former pilot Jack Stone – the absurdly gorgeous, ridiculously cocky man she's held a secret grudge against for years – is on her flight. And he has the nerve to flirt with her, as if he doesn't remember the role he played in the most humiliating night of her life. Good thing she never has to see him again after they land….
But when their plane encounters mechanical problems, what should have been a quick stop at the Belize airport suddenly becomes a weekend layover. Getting stuck on a three-hour flight with her nemesis was bad enough. Being stranded with him at a luxury resort in paradise? Even with the sultry breeze and white sand to distract her, it will take all the rum punch in the country to drown out his larger-than-life presence.
Yet the more time Ava spends with him under the hot Caribbean sun, the more she begins to second-guess everything she thought she knew about him…and everything she thought she wanted from her life. And all too soon, she might have to choose between keeping her feet on the ground and her head in the clouds….
This enemies to lovers romance set at a luxury resort in Belize will be published next week and is on my reading list for this summer.
22. Last Summer at the Golden Hotel by Elyssa Friedland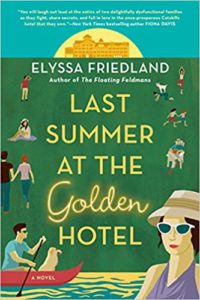 Setting: A resort in the Catskills, New York
In its heyday, The Golden Hotel was the crown jewel of the hotter-than-hot Catskills vacation scene. For more than sixty years, the Goldman and Weingold families – best friends and business partners – have presided over this glamorous resort which served as a second home for well-heeled guests and celebrities.
But the Catskills are not what they used to be – and neither is the relationship between the Goldmans and the Weingolds. As the facilities and management begin to fall apart, a tempting offer to sell forces the two families together again to make a heart-wrenching decision. Can they save their beloved Golden or is it too late?
Dirty Dancing is one of my favourite movies of all-time and I loved the episodes of The Marvelous Mrs. Maisel that take place while the family spends their summer at a similar resort in the Catskills so Last Summer at the Golden Hotel was perfect for a reader like me!
The book has humour, family secrets and drama, a little romance, some suspense over the fate of the hotel, and a sense of nostalgia for the past but mostly it's a story about families that wraps up with a nice heartwarming ending. Last Summer at the Golden Hotel is a fun read that's perfect for lazy summer days whether it's on the beach, lounging by the pool or in a lakeside Adirondack chair!
23. The Summer Job by Lizzy Dent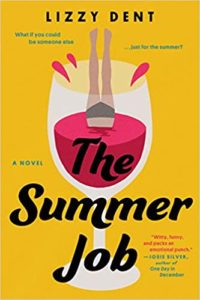 Setting: Scottish Highlands
Birdy has made a mistake. Everyone imagines running away from their life at some point. But Birdy has actually done it. And the life she's run into is her best friend Heather's. The only problem is, she hasn't told Heather.
The summer job at the highland Scottish hotel that her world class wine-expert friend ditched turns out to be a lot more than Birdy bargained for. Can she survive a summer pretending to be her best friend? And can Birdy stop herself from falling for the first man she's ever actually liked, but who thinks she's someone else?
One good friend's very bad decision is at the heart of this laugh-out-loud love story and unexpected tale of a woman finally finding herself in the strangest of places.
The Summer Job is on my summer reading list primarily for the setting. The Scottish highlands have been on my travel wish list for awhile and I'm looking forward to reading this fun rom-com set at a hotel there.
24. The Guncle by Steven Rowley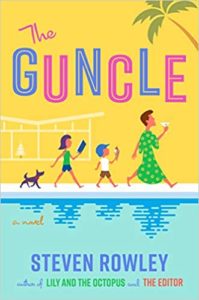 Setting: Palm Springs, California
Patrick, or Gay Uncle Patrick (GUP, for short), has always loved his niece, Maisie, and nephew, Grant. That is, he loves spending time with them when they come out to Palm Springs for weeklong visits, or when he heads home to Connecticut for the holidays. But in terms of caretaking and relating to two children, no matter how adorable, Patrick is, honestly, overwhelmed.
So when tragedy strikes and Maisie and Grant lose their mother and Patrick's brother has a health crisis of his own, Patrick finds himself suddenly taking on the role of primary guardian. Despite having a set of "Guncle Rules" ready to go, Patrick has no idea what to expect, having spent years barely holding on after the loss of his great love, a somewhat-stalled acting career, and a lifestyle not-so-suited to a six- and a nine-year-old. Quickly realizing that parenting – even if temporary – isn't solved with treats and jokes, Patrick's eyes are opened to a new sense of responsibility, and the realization that, sometimes, even being larger than life means you're unfailingly human.
Two kids spending their summer in Palm Springs with Gay Uncle Patrick following the death of their mother and their father's health crisis – I fully expect this to be my heartwarming read of the summer!
25. Rock the Boat by Beck Dorey-Stein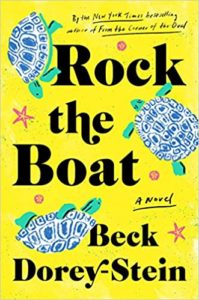 Setting: Fictional beach town in New Jersey
When Kate Campbell's life in Manhattan suddenly implodes, she is forced to return to Sea Point, the small town full of quirky locals, quaint bungalows, and beautiful beaches where she grew up. She knows she won't be home for long; she's got every intention (and a three-point plan) to win back everything she thinks she's lost.
Meanwhile, Miles Hoffman—aka "The Prince of Sea Point"—has also returned home to prove to his mother that he's capable of taking over the family business, and he's promised to help his childhood best friend, Ziggy Miller, with his own financial struggles at the same time. Kate, Miles, and Ziggy converge in Sea Point as the town faces an identity crisis when a local developer tries to cash in on its potential. The summer swells, and white lies and long-buried secrets prove as corrosive as the salt air, threatening to forever erode not only the bonds between the three friends but also the landscape of the beachside community they call home.
Rock the Boat feels like a coming of age story for modern times when it's much more common for someone in their 30s to still be trying to figure out what they are doing with their lives. Over the course of the summer in Sea Point, Kate, Ziggy and Miles discover what's important to them and what they really want out of life. The characters are flawed but relatable and you can't help but hope that things work out for each of them even though they can be annoying at times (just like friends and family in real life).
Rock the Boat is a feel-good story with drama, humour, a little romance and heartfelt emotion that will be a great addition for your bag of beach reads this summer!
I read a digital advance review copy of this book.
26. Heart & Seoul by Jen Frederick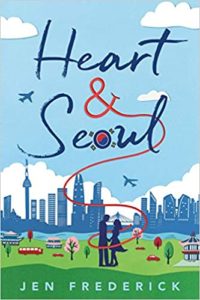 Setting: Seoul, South Korea
As a Korean adoptee, Hara Wilson doesn't need anyone telling her she looks different from her white parents. She knows. Every time Hara looks in the mirror, she's reminded that she doesn't look like anyone else in her family – not her loving mother, Ellen; not her jerk of a father, Pat; and certainly not like Pat's new wife and new "real" son.
At the age of twenty-five, she thought she had come to terms with it all, but when her father suddenly dies, an offhand comment at his funeral triggers an identity crisis that has her running off to Seoul in search of her roots.
What Hara finds there has all the makings of a classic K-drama: a tall, mysterious stranger who greets her at the airport, spontaneous adventures across the city, and a mess of familial ties, along with a red string of destiny that winds its way around her, heart and soul. Hara goes to Korea looking for answers, but what she gets instead is love – a forbidden love that will either welcome Hara home…or destroy her chance of finding one.
I have never visited Korea so I enjoyed learning a bit about Seoul and Korean culture as Hara made her way around the city and her new friend, Yujun played tour guide. The story itself has a lot of dramatic twists and turns that I did not see coming and there's some romance but it's not really the focus of the story. As an adoptee, however, it was Hara's search for family and a sense of belonging somewhere that I found most compelling. Apparently this is the first book in a series set in Korea and I'm looking forward to find out what comes next for Hara!
27. The Other Black Girl by Zakiya Dalila Harris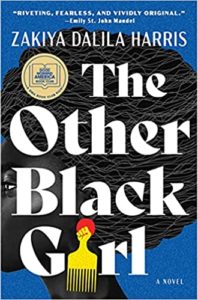 Setting: New York City
Twenty-six-year-old editorial assistant Nella Rogers is tired of being the only Black employee at Wagner Books. Fed up with the isolation and microaggressions, she's thrilled when Harlem-born and bred Hazel starts working in the cubicle beside hers. They've only just started comparing natural hair care regimens, though, when a string of uncomfortable events elevates Hazel to Office Darling, and Nella is left in the dust.
Then the notes begin to appear on Nella's desk: LEAVE WAGNER. NOW.
It's hard to believe Hazel is behind these hostile messages. But as Nella starts to spiral and obsess over the sinister forces at play, she soon realizes that there's a lot more at stake than just her career.
A whip-smart and dynamic thriller and sly social commentary that is perfect for anyone who has ever felt manipulated, threatened, or overlooked in the workplace, The Other Black Girl will keep you on the edge of your seat until the very last twist.
This one is for anyone who likes to mix in some heavier fiction with their lighter reads during the summer. I'm just about to start reading it but my understanding is that it's part thriller and part a look at race in the overwhelmingly white New York publishing industry.
28. While We Were Dating by Jasmine Guillory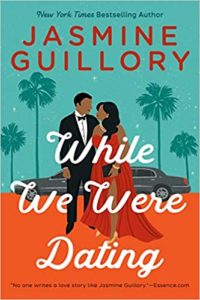 Setting: Hollywood
Ben Stephens has never bothered with serious relationships. He has plenty of casual dates to keep him busy, family drama he's trying to ignore and his advertising job to focus on. When Ben lands a huge ad campaign featuring movie star, Anna Gardiner, however, it's hard to keep it purely professional. Anna is not just gorgeous and sexy, she's also down to earth and considerate, and he can't help flirting a little…
Anna Gardiner is on a mission: to make herself a household name, and this ad campaign will be a great distraction while she waits to hear if she's booked her next movie. However, she didn't expect Ben Stephens to be her biggest distraction. She knows mixing business with pleasure never works out, but why not indulge in a harmless flirtation?
But their light-hearted banter takes a turn for the serious when Ben helps Anna in a family emergency, and they reveal truths about themselves to each other, truths they've barely shared with those closest to them.
When the opportunity comes to turn their real-life fling into something more for the Hollywood spotlight, will Ben be content to play the background role in Anna's life and leave when the cameras stop rolling? Or could he be the leading man she needs to craft their own Hollywood ending?
Jasmine Guillory has another sizzling romantic comedy coming out later this summer and I can't wait to get my hands on it since Royal Holiday was one of my favourite Christmas books last year!
29. Wait For It by Jenn McKinlay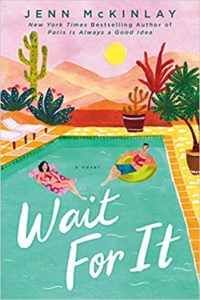 Setting: Arizona
Stuck in a dreary Boston winter, Annabelle Martin would like nothing more than to run away from her current life. She's not even thirty years old, twice-divorced, and has just dodged a marriage proposal… from her ex-husband. When she's offered her dream job as creative director at a cutting-edge graphic design studio in Phoenix, she jumps at the opportunity to start over.

When she arrives in the Valley of the Sun, Annabelle is instantly intrigued by her anonymous landlord. Based on the cranky, handwritten notes Nick Daire leaves her, she assumes he is an old, rich curmudgeon. Annabelle is shocked when she finally meets Nick and discovers that he's her age and uses a wheelchair. Nick suffered from a stroke a year ago, and while there's no physical reason for him not to recover, he is struggling to overcome the paralyzing fear that has kept him a prisoner in his own home.

Despite her promise to herself not to get involved, Annabelle finds herself irresistibly drawn to Nick. And soon she wonders if she and Nick might help each other find the courage to embrace life, happiness, and true love.
I read the author's previous book, Paris is Always a Good Idea, earlier this year and loved it so I can't wait for the publication of this one later in the summer. What I particularly liked about her earlier book was how she combined romance and comedy with characters who were dealing with some serious issues causing roadblocks to their happiness and this sounds like it might be in a similar vein.
What's on your summer reading list this year?
Pin This For Later