There's nothing like curling up with a good Christmas book to fill you with holiday cheer. These 25 festive Christmas books will transport you to another place or time and get you in the holiday spirit this year. They make great Christmas gifts or you can add them to your own reading list.
You might also enjoy:
21 Festive New Christmas Books to Enjoy This Holiday Season (2023)
15 Festive New Christmas Books To Get You in the Holiday Spirit (2022)
25 Festive New Books for the 2021 Holiday Season
We are a participant in the Amazon Services LLC Associates Program, an affiliate advertising program designed to provide a means for us to earn fees by linking to Amazon.com and affiliated sites. As an Amazon affiliate I earn from qualifying purchases.
This post may contain affiliate links. If you click an affiliate link and make a purchase then we receive a small commission at no additional cost to you.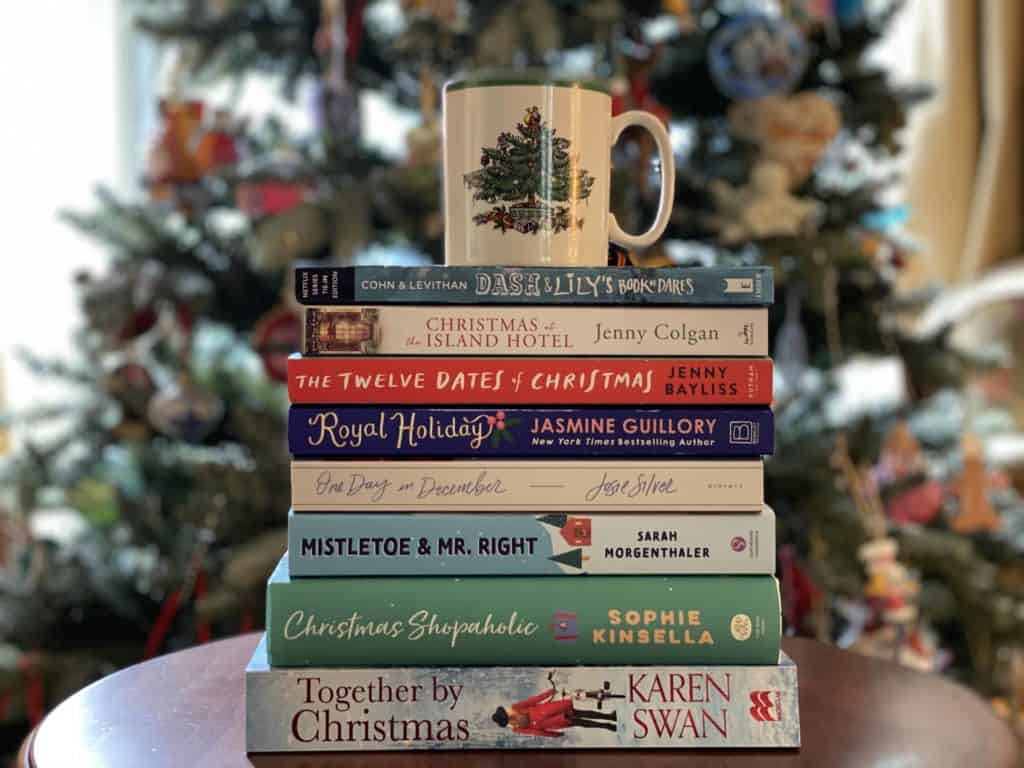 1. Together by Christmas by Karen Swan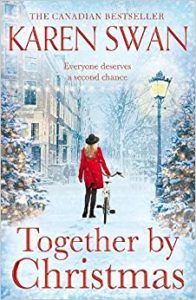 Setting: Amsterdam
Escape to the snow-covered streets of Amsterdam in this surprising and heartwarming novel for the holiday season by bestselling author Karen Swan. When Lee first came to Amsterdam, it was with a newborn baby and a secret.
Five years later, her life is approaching normal: her career as a celebrity photographer is flourishing, her son Jasper is growing up, and they are enjoying the run-up to Christmas with their tight circle of close friends. But all this changes one morning when Lee finds a book in the basket of her bicycle – and scrawled inside it, a desperate message.
This was the first Christmas book that I read this holiday season and it was as enjoyable as any Karen Swan novel – equal parts romance, mystery and fabulous setting! Together by Christmas is set in Amsterdam – a city that we visited on a spring break trip to Europe a few years ago. I loved reading this book and imagining the city that I fell in love with covered in a dusting of snow and people skating on the frozen canals – the perfect setting for a Christmas story!
2. Mr. Dickens and His Carol by Samantha Silva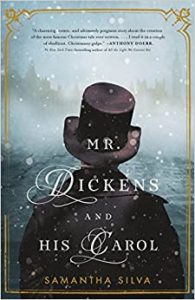 Setting: London, England
Laced with humor, rich historical detail from Charles Dickens' life, and clever winks to his work, Samantha Silva's Mr. Dickens and His Carol is an irresistible new take on a cherished classic.
A Christmas Carol is one of my favourite books by Charles Dickens so I thoroughly enjoyed this fictional account of how he came to write his Christmas classic. The book is set in December in the weeks leading up to Christmas and perfectly captures the atmosphere of winter in mid-19th century London.
3. The Christmas Swap by Sandy Barker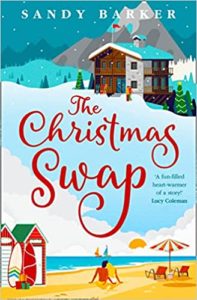 Setting: Oxfordshire, England/Colorado/Melbourne, Australia
Christmas is coming and best friends Chloe, Jules, and Lucy are needing change… so swapping homes for the holidays could be the perfect present for all of them!
Australian Chloe spends her Christmas in a sleepy village in Oxfordshire, England. She is totally star-struck when she discovers who lives across the road.
Lucy, who has jetted off to snowy Colorado for her dream-come-true white Christmas, is taken into the fold of Jules's loud and brash family, discovering more about herself in a few short days than she has in years.
And Jules leaves the cold climes of Colorado to spend her Christmas on a beach with Chloe's friends in Melbourne, finding that time away is just what she needed.
The Holiday is one of my favourite Christmas movies and I have loved the idea of a home exchange since seeing it so the 3 way home swap in this book sounds like so much fun to me! Colorado, Oxfordshire or Melbourne for Christmas – which one do you think would be the perfect holiday setting?
4. The Twelve Dates of Christmas by Jenny Bayliss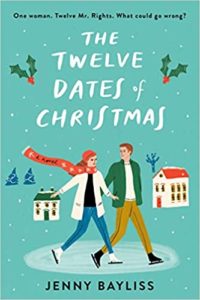 Setting: England
When it comes to relationships, thirty-four-year-old Kate Turner is ready to say "Bah, humbug." The sleepy town of Blexford, England, isn't exactly brimming with prospects, and anyway, Kate's found fulfillment in her career as a designer, and in her delicious side job baking for her old friend Matt's neighborhood café.
But then her best friend signs her up for a dating agency that promises to help singles find love before the holidays. Twenty-three days until Christmas. Twelve dates with twelve different men. The odds must finally be in her favor . . . right?
This debut novel by Jenny Bayliss was a fun Christmas read and perfect for anyone who enjoys a good rom-com for the holidays. You're going to want to hop on a plane and head to England to spend the holidays in the adorable little town where Kate makes her home but, alas, it's fictional (I checked!). I'm sure there are many small English towns that would be equally charming during the holidays though!
5. Meg & Jo by Virginia Kantra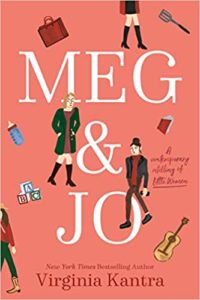 Setting: North Carolina
The timeless classic Little Women inspired this heartwarming modern tale of four sisters from New York Times bestselling author Virginia Kantra.
The March sisters—reliable Meg, independent Jo, stylish Amy, and shy Beth—have grown up to pursue their separate dreams. When Jo followed her ambitions to New York City, she never thought her career in journalism would come crashing down, leaving her struggling to stay afloat in a gig economy as a prep cook and secret food blogger.
Meg appears to have the life she always planned—the handsome husband, the adorable toddlers, the house in a charming subdivision. But sometimes getting everything you've ever wanted isn't all it's cracked up to be.
When their mother's illness forces the sisters home to North Carolina for the holidays, they'll rediscover what really matters.
Little Woman is one of my favourite books of all time so I can't wait to read this updated version that has Jo living in New York City and heading home with her sisters to North Carolina for the holidays. Is it too much to hope that Beth's story has a different ending?
6. The Walnut Tree: A Holiday Tale by Charles Todd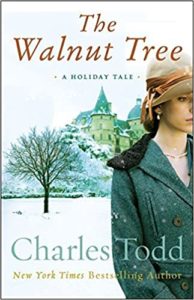 Setting: France and England
The critically acclaimed creator of the Inspector Ian Rutledge and battlefield nurse Bess Crawford mystery series, Charles Todd now offers readers a bittersweet love story and romantic mystery that unfolds at Christmas during the dangerous opening days of World War I.
The Walnut Tree is an unforgettable story of a woman who puts herself in the line of fire for the sake of wounded soldiers and falls deeply in love with a man who may be forbidden to her.
This historical novella by a well-known mystery writer takes place in France and England during the Great War and sounds like a compelling read. World War II is the more common setting for recent historical fiction so I'm looking forward to this one set during the earlier conflict.
7. Royal Holiday by Jasmine Guillory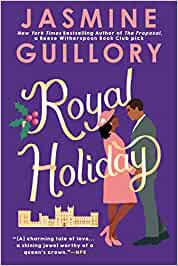 Setting: England
Vivian Forest has been out of the country a grand total of one time, so when she gets the chance to tag along on her daughter Maddie's work trip to England to style a royal family member, she can't refuse. She's excited to spend the holidays taking in the magnificent British sights, but what she doesn't expect is to become instantly attracted to a certain private secretary, his charming accent, and unyielding formality.
I just finished reading this novel, by best-selling author Jasmine Guillory, and quite enjoyed the story of the middle age romance between Vivian and Malcolm. Most of the story is set at the Queen's Sandringham Estate and in London as Vivian travelled to England with her daughter who is styling the Duchess. Perfect for this Anglophile! There's one fairly steamy scene in the book so if you're buying it as a gift then it might not be ideal for granny or your teenage daughter.
8. Blue Christmas by Mary Kay Andrews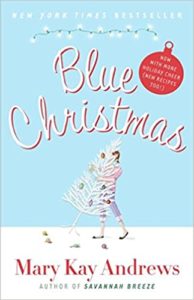 Setting: Savannah, Georgia
'Tis the week before Christmas, and antiques dealer Weezie Foley is in a frenzy to do up her shop right for the Savannah historical district decorating contest, which she fully intends to win. Her motif is Graceland Blue Christmas, with lots of tinsel, an aluminum tree, and enough tacky retro doodads to fill the Grand Ole Opry. But no sooner is she certain she's one-upped the trendy shop around the corner when Weezie notices things going strangely missing from her display.
Savannah has been on my travel wish list for quite some time so I was instantly drawn to this novel about a shopkeeper in the city's historical district. The characters are from Andrews' two previous books set in Savannah but I think it will still be a fun read for anyone who hasn't read those as well. The 4th book in the series, Christmas Bliss, also takes place during the holidays in Savannah.
9. The Mistletoe Matchmaker by Felicity Hayes-McCoy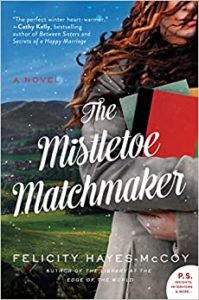 Setting: Ireland's west coast
Beloved author Felicity Hayes-McCoy returns with an enchanting, cozy new novel, perfect for fans of Jenny Colgan, Nina George, and Nancy Thayer―It's Christmas in Ireland, and when Cassie Fitzgerald arrives from Toronto to visit her grandparents, she learns that it's never too late to come home.
This is another in the Finfarran Peninsula series of five books set in a fictional county on Ireland's West Coast. Having already read and loved The Library at the Edge of the World and Summer of the Garden Cafe, I can't wait to dive into this novel and spend Christmas in Ireland.
10. The Christmas Train by David Baldacci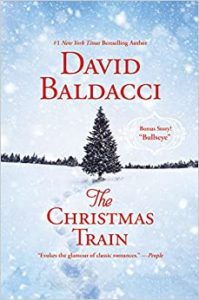 Setting: Washington to Los Angeles train trip
Disillusioned journalist Tom Langdon must get from Washington to Los Angeles in time for Christmas. Forced to travel by train, he begins a journey of rude awakenings, thrilling adventures, and holiday magic. He has no idea that the locomotives pulling him across America will actually take him into the rugged terrain of his own heart, as he rediscovers people's essential goodness and someone very special he believed he had lost.
This novel about a holiday season train trip across America, first published in 2003, inspired the Hallmark Hall of Fame original movie.
11. Jingle All the Way by Debbie Macomber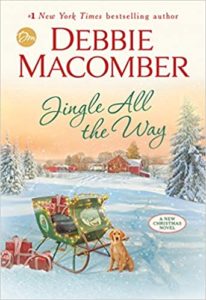 Setting: Amazon river cruise
Trapped in the middle of five siblings, Everly Lancaster always had big dreams. Now a top real-estate executive, Everly finds her work is her life, leaving no space for anything (or anyone) else.
Sensing her stress, Everly's boss insists she take December off. At first, a month away seems crazy—how will the company survive without her? But Everly's mother convinces her otherwise. She deserves a vacation—plus, when she returns, she'll have no excuse to skip family Christmas like she did last year.
But after her vengeful assistant books a guided cruise in the Amazon instead of the luxury beach vacation she expected, Everly is horrified to realize that she's about to spend the next two weeks trapped—with no Wi-Fi!—in the rain forest.
This sounds like a fun holiday read although I'm not really sure why booking a guided cruise in the Amazon is vengeance – it sounds incredibly exciting to me even if it's not cold and snowy!
12. Christmas at the Island Hotel by Jenny Colgan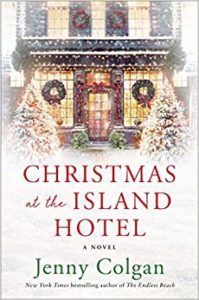 Setting: A remote Scottish island
New York Times bestselling author Jenny Colgan returns to the setting of Christmas on the Island and Endless Beach for a heartwarming new novel celebrating the season, and Scotland.
On the tiny, beautiful, and remote island of Mure, halfway between Scotland and Norway, a new hotel opening is a big event. New mother Flora MacKenzie and her brother Fintan are working themselves half to death to get it ready in time for Christmas.
The new hotel's impressive kitchens throw together two unlikely new friends: Isla Gregor is the hardworking young girl who has been a waitress in the island's cafe, dreaming of a bigger, better life now that she's at a proper fancy hotel. Konstantin Pederson is working his way up in the hotel's kitchens too…but he is also, secretly, the only son of the Duke of Utsire. Konstantin has been sent to learn what it is to work hard for a living, before receiving his inheritance. Although he's initially resentful, the place grows on him; he has never met anyone quite like Isla and her fellow Murians before.
I loved The Endless Beach so I couldn't wait to read this latest novel by Jenny Colgan which returns to the remote island of Mure and it lived up to my expectations. Colgan's books are perfect for curling up in a cozy chair with a cup of tea and getting lost in a story for the afternoon. Mure is a fictional island but it's reminiscent of the islands of Shetland and Orkney which I would love to visit .
13. One More for Christmas by Sarah Morgan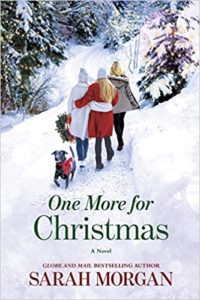 Setting: Scottish Highlands
For sisters Samantha and Ella Mitchell, Christmas is their most precious time of the year. But this year, they'll be buying presents for the most unexpected guest of all—their mother. It's been five years since they last saw each other. But when their mom calls out of the blue, Samantha and Ella cautiously agree to spend Christmas all together in the beautiful Scottish Highlands…
This is a story of a family torn apart trying to repair relationships while spending Christmas together in the Scottish Highlands. It sounds like a compelling story of redemption set in a beautiful part of Scotland.
14. Last Christmas in Paris by Hazel Gaynor and Heather Webb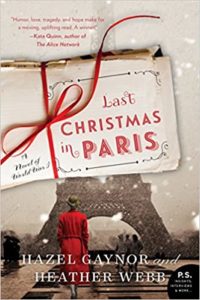 Setting: Paris
An unforgettably romantic novel that spans four Christmases (1914-1918), Last Christmas in Paris explores the ruins of war, the strength of love, and the enduring hope of the Christmas season.
August 1914. England is at war. As Evie Elliott watches her brother, Will, and his best friend, Thomas Harding, depart for the front, she believes—as everyone does—that it will be over by Christmas, when the trio plan to celebrate the holiday among the romantic cafes of Paris.
I can't wait to read this historical novel written by the authors of Meet Me in Monaco – a story about Grace Kelly that I loved. This one is set in Paris during the years of World War I and explores the ways in which hope endures during the holiday season even in the worst of times.
15. Mistletoe & Mr. Right by Sarah Morgenthaler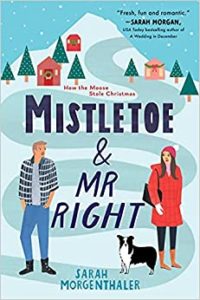 Setting: Alaska
Lana Montgomery is everything the quirky small town of Moose Springs, Alaska can't stand: a rich socialite with dreams of changing things for the better. But Lana's determined to prove that she belongs…even if it means trading her stilettos for snow boots and tracking one of the town's hairiest Christmas mysteries: the Santa Moose, an antlered Grinch hell-bent on destroying every bit of holiday cheer (and tinsel) it can sink its teeth into.
And really…how hard could it be?
The last few years have been tough on Rick Harding, and it's not getting any easier now that his dream girl's back in town. When Lana accidentally tranquilizes him instead of the Santa Moose, it's clear she needs help, fast…and this could be his chance to finally catch her eye. It's an all-out Christmas war, but if they can nab that darn moose before it destroys the town, Rick and Lana might finally find a place where they both belong…together.
This is the second in the Moose Springs, Alaska series and I was impatient for its fall release since I had loved The Tourist Attraction. I just finished reading it last night and now I'm eagerly awaiting book #3 Enjoy the View which is scheduled to be released in January. The characters are likable and the stories are fun but I really love the town of Moose Springs. It might be fictional but it definitely inspires me to book a trip to Alaska – even in the winter!
16. Let It Snow by Nancy Thayer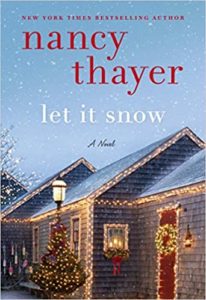 Setting: Nantucket
Christina Antonioni is preparing for the holidays at her Nantucket toy shop, unpacking last-minute shipments and decorating for her loyal Christmas shoppers. But when her Scrooge of a landlord, Oscar Bittlesman, raises her rent, it seems nearly impossible for Christina to continue business on the wharf.
Even so, Christina hopes there is a warm heart underneath Oscar's steely exterior. When she bonds with Wink, his sweet, young granddaughter who frequents the shop, it becomes clear that perhaps he isn't so cold after all. And with the help of Wink's uncle, who happens to be a charming and very handsome bachelor, this may be the best Christmas any of them could have ever imagined. Nancy Thayer's enchanting Nantucket setting provides the perfect backdrop for this holiday love story.
I have a bit of an obsession with Nantucket so this holiday love story set on the island calls to me.
17. Christmas at Little Beach Street Bakery by Jenny Colgan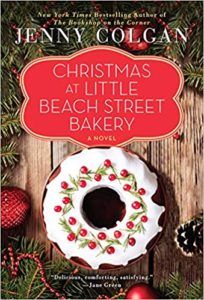 Setting: Village in Cornwall, England
In the Cornish coastal village of Mount Polbearne, the Christmas season has arrived. It's a joyous time for family, friends, and feasting, as decorations sparkle along the town's winding streets and shop windows glow with festive displays. And in Polly's Little Beach Street Bakery, the aroma of gingerbread cookies and other treats tempts people in from the cold.
Though Polly is busy keeping up with the demands of the season, she still makes time for her beekeeper boyfriend, Huckle. She's especially happy to be celebrating the holiday this year with him, and can't wait to cuddle up in front of the fireplace with a cup of eggnog on Christmas Eve.
But holiday bliss soon gives way to panic when a storm cuts the village off from the mainland. Now it will take all of the villagers to work together in order to ensure everyone has a happy holiday.
Another heartwarming story from British author, Jenny Colgan – this one set in a Cornish coastal village. Perhaps one of the reasons that I enjoy Colgan's books so much is that I love the U.K. and there is so much of it that I have yet to visit. If you feel the same way or have someone on your list who does then any of her books would be a great choice for Christmas.
18. Hercule Poirot's Christmas by Agatha Christie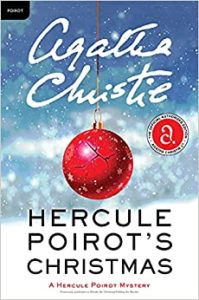 Setting: England
In Hercule Poirot's Christmas, the holidays are anything but merry when a family reunion is marred by murder—and the notoriously fastidious investigator is quickly on the case.
I went through an Agatha Christie phase as a young teenager and thought I had read all of the Hercule Poirot's novels but I somehow missed this one. Perfect for anyone who loves a good murder mystery for Christmas!
19. The Christmas Shopaholic by Sophie Kinsella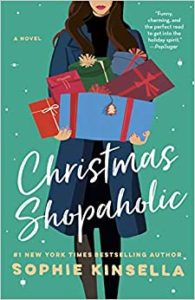 Setting: England
#1 New York Times bestselling author Sophie Kinsella returns with a festive new Shopaholic adventure filled with holiday cheer and unexpected gifts.
I have a confession to make – Sophie Kinsella is my guilty pleasure and I have read every book that she has written beginning with the Confessions of a Shopaholic. In this latest laugh-out-loud installment in the Shopaholic series published last fall, Becky Brandon (née Bloomwood) has returned to her small hometown in England and been handed the responsibility of hosting Christmas. Of course, chaos ensues as Becky finds herself in the middle of one disaster after another but it all works out in the end.
20. In a Holidaze by Christina Lauren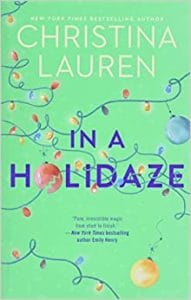 Setting: Utah
It's the most wonderful time of the year…but not for Maelyn Jones. She's living with her parents, hates her going-nowhere job, and has just made a romantic error of epic proportions.
But perhaps worst of all, this is the last Christmas Mae will be at her favorite place in the world—the snowy Utah cabin where she and her family have spent every holiday since she was born, along with two other beloved families. Mentally melting down as she drives away from the cabin for the final time, Mae throws out what she thinks is a simple plea to the universe: Please. Show me what will make me happy.
The next thing she knows, tires screech and metal collides, everything goes black. But when Mae gasps awake…she's on an airplane bound for Utah, where she begins the same holiday all over again. With one hilarious disaster after another sending her back to the plane, Mae must figure out how to break free of the strange time loop—and finally get her true love under the mistletoe.
I have just started reading this fun Groundhog Day-style story and I'm already dreaming about spending Christmas at a snowy Utah cabin!!
21. Christmas in Vermont by Anita Hughes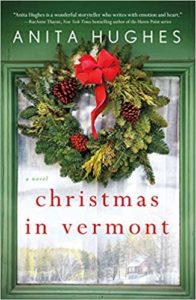 Setting: Vermont
Emma can't believe her luck when she finds an open pawn shop on Christmas Eve in Manhattan. She's there to sell the beautiful bracelet her ex-boyfriend gave her when a familiar looking watch catches her eye. It's the same engraved watch she gave her college boyfriend, Fletcher, years ago. On a whim, she trades the bracelet for the watch and wonders at the timing.
Practical Emma thinks it's just a coincidence, but her best friend Bronwyn believes it's the magic of synchronicity that caused Emma to find the watch. Fletcher was the one that got away, and somehow Emma never quite moved on.
When Bronwyn finds out that Fletcher is in snowy Vermont at a romantic inn for the week, she can't help but give synchronicity a push. She signs Emma up to help the inn keeper as the children's activity coordinator. Emma agrees that a week filled with quaint shops and maple syrup would do her good… and maybe Fate really does have a Christmas gift in store for her. That is until she sees Fletcher with his daughter and fiancée.
Suddenly, the fairytale trip seems doomed to fail… much like the innkeeper's dwindling cashflow. It will take a miracle to save her heart and the inn. And that just might be what Fate has in mind.
This sounds like a heartwarming story set in beautiful Vermont during the holiday season. Ms. Hughes has also written Christmas in London, Christmas in Paris and Christmas at the Chalet if you're searching for additional holiday reads.
22. One Day in December by Josie Silver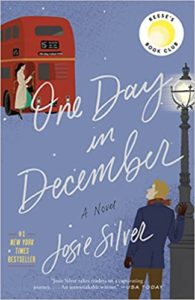 Setting: London, England
Laurie is pretty sure love at first sight doesn't exist anywhere but the movies. But then, through a misted-up bus window one snowy December day, she sees a man who she knows instantly is the one. Their eyes meet, there's a moment of pure magic…and then her bus drives away.
Certain they're fated to find each other again, Laurie spends a year scanning every bus stop and cafe in London for him. But she doesn't find him, not when it matters anyway. Instead they "reunite" at a Christmas party, when her best friend Sarah giddily introduces her new boyfriend to Laurie. It's Jack, the man from the bus. It would be.
What follows for Laurie, Sarah and Jack is ten years of friendship, heartbreak, missed opportunities, roads not taken, and destinies reconsidered. One Day in December is a joyous, heartwarming and immensely moving love story to escape into and a reminder that fate takes inexplicable turns along the route to happiness.
Perhaps not technically a Christmas story but Laurie, Sarah and Jack's story begins and ends during the holiday season and I read it during the holidays last year so it feels Christmassy to me. A story about love as well as friendship that anyone who believes in fate and love at first sight will enjoy.
23. Winter Street Series by Elin Hilderbrand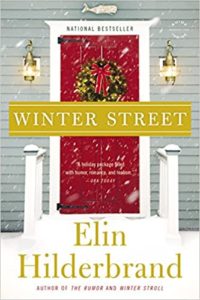 Setting: Nantucket
In bestseller Elin Hilderbrand's first Christmas novel, a family gathers on Nantucket for a holiday filled with surprises.
Kelley Quinn is the owner of Nantucket's Winter Street Inn and the proud father of four, all of them grown and living in varying states of disarray. Patrick, the eldest, is a hedge fund manager with a guilty conscience. Kevin, a bartender, is secretly sleeping with a French housekeeper named Isabelle. Ava, a school teacher, is finally dating the perfect guy but can't get him to commit. And Bart, the youngest and only child of Kelley's second marriage to Mitzi, has recently shocked everyone by joining the Marines.
As Christmas approaches, Kelley is looking forward to getting the family together for some quality time at the inn. But when he walks in on Mitzi kissing Santa Claus (or the guy who's playing Santa at the inn's annual party), utter chaos descends. With the three older children each reeling in their own dramas and Bart unreachable in Afghanistan, it might be up to Kelley's ex-wife, nightly news anchor Margaret Quinn, to save Christmas at the Winter Street Inn.
Elin Hilderbrand tells a great story – many of which are set on the island of Nantucket. I have read several that were set during summer vacation on the island and made perfect summer beach reads. This is the first set on the island at Christmas. If you enjoy this novel then you can follow the Quinn family through the entire series – Winter Street, Winter Stroll, Winter Storms and Winter Solstice.
24. Dash & Lily's Book of Dares by Rachel Cohn and David Levithan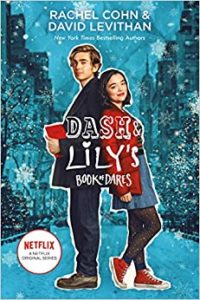 Setting: New York City
Lily left a red notebook full of challenges on her favorite bookstore shelf, waiting for just the right guy to come along and accept its dares. Dash, in a bad mood during the holidays, happens to be the first guy to pick up the notebook and rise to its challenges.
What follows is a whirlwind romance as Dash and Lily trade dares, dreams, and desires in the notebook they pass back and forth at locations all across New York City. But can their in-person selves possibly connect as well as their notebook versions, or will their scavenger hunt end in a comic mismatch of disastrous proportions?
This charming YA holiday romance set in New York City is also now an original Netflix series so should appeal to the teens on your shopping list.
25. Christmas Under the Stars by Karen Swan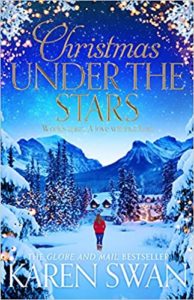 Setting: Canadian Rockies
In the snow-topped mountains of the Canadian Rockies, Meg and Mitch are living their dream. Just weeks away from their wedding, they work and play with Tuck and Lucy, their closest and oldest friends. Meg and Lucy are as close as sisters – much to Meg's sister's dismay – and Tuck and Mitch have successfully turned their passion for snowboarding into a booming business.
But when a polar storm hits, tragedy strikes. Alone in the tiny mountain log cabin she shares with Mitch, Meg desperately tries to radio for help – and it comes from the most unexpected quarter, a lone voice across the airwaves that sees what she cannot.
As the snow melts and they try to live with their loss, the friendship Meg thought was forever is buckled by tensions, rivalries and devastating secrets. Nothing is as she thought and only her radio contact understands what it is to be truly alone. As they share confidences in the dark, witnessed only by the stars, Meg feels her future begin to pull away from her past and is forced to consider a strange truth – is it her friends who are the strangers? And a stranger who really knows her best?
This book appeals to me for the setting alone – I don't think I have ever found a novel that's set in the Canadian Rockies before now. It was published a few years ago and is also the second book by Karen Swan on the list. I enjoy the way she combines romance and mystery with fabulous destinations as the setting. She's also a prolific writer who tends to publish two books a year – one just in time for summer reading and a Christmas themed book.
Pin This For Later