It's beginning to look a lot like Christmas and that means it's time to find a cozy chair, a warm drink and a good holiday book! These new Christmas books for 2022 will get you in the festive spirit this holiday season and they also make great gifts if you would like to spread the holiday cheer!
You Might Also Enjoy Reading:
21 Festive New Christmas Books to Enjoy This Holiday Season (2023)
25 Festive New Books for the 2021 Holiday Season
25 Christmas Books To Get You in the Holiday Spirit (2020)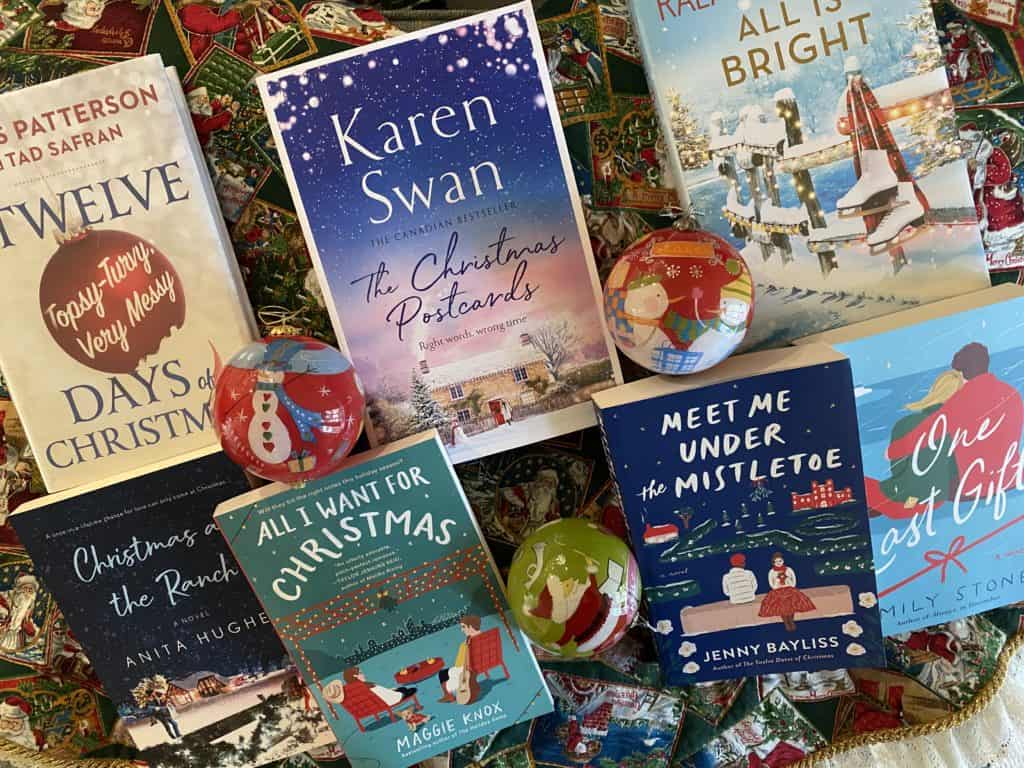 This post may contain affiliate links. If you click an affiliate link and make a purchase then we receive a small commission at no additional cost to you.
We are a participant in the Amazon Services LLC Associates Program, an affiliate advertising program designed to provide a means for us to earn fees by linking to Amazon.com and affiliated sites. As an Amazon affiliate I earn from qualifying purchases.
1. Snowed In For Christmas by Sarah Morgan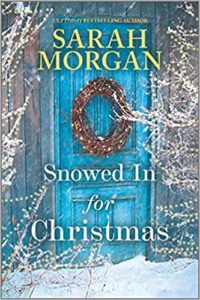 Setting: Scottish Highlands

This Christmas the Miller siblings have one goal—to avoid their well-meaning family's endless stream of prying questions. Ross, Alice and Clemmie have secrets that they don't intend to share, and they are relying on each other to deflect attention.

Lucy Clarke is facing a Christmas alone and the prospect of losing her job. Unless she can win a major piece of business from Ross Miller, the season promises to be anything but festive. She'll just deliver her proposal to his family home and then leave. After all, she wouldn't want to intrude on the Miller family's perfect Christmas.

When Lucy appears on the Miller family's snow-covered Highland doorstep, she's mistaken for Ross's girlfriend. By the time the confusion is cleared up, they're snowed in—she can't leave, even if she wants to! But does she want to? As secrets spill out like presents from an overstuffed stocking and the chemistry between her and Ross ignites, this is going to be either Lucy's worst Christmas ever or the best mistake of her life.
A heartwarming story of family and a contemporary romance (well three really) set in the Scottish Highlands in the days leading up to Christmas. The Miller family relationships are as enjoyable as the romance storylines – I loved the banter between the three siblings and Nanna Jean who holds nothing back was my absolute favourite character! A happy story with a beautiful setting that is sure to get you in the festive spirit this Christmas!
2. Keeping a Christmas Promise by Jo Thomas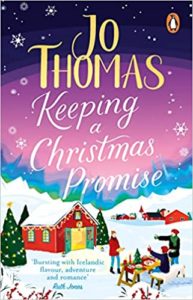 Setting: Iceland
Twenty-five years ago, Freya and her three best friends created a bucket list. The future seemed bright and full of hope . . . But now they are travelling to Iceland in memory of the friend they've lost, determined to fulfil her dream of seeing the Northern Lights at Christmas.
They didn't count on an avalanche leaving them stranded! Handsome local, Pétur, comes to the rescue, showing them how the community survives the hard winter. With Christmas approaching, Freya and her friends throw themselves into the festivities, decorating and cooking for the villagers using delicious local ingredients.
But will they manage to see the Northern Lights? And can Freya's own dreams come true, this Christmas?
Keeping a Christmas Promise is an enjoyable holiday read with an uplifting message about friendship, dealing with grief, living life to the fullest and following one's heart to find happiness and romance. The setting is incredible – the story transports the reader to the land of fire and ice in December – the beautiful, rugged landscape, the darkness of the winter equinox, lagoons and hotsprings, waterfalls and snowstorms that last for days.
I loved the nordic culture and folklore woven into the story and the inclusion of environmental and sustainability issues that Iceland is grappling with as well as the many mouthwatering descriptions of delicious Icelandic food. After reading, I'm looking forward both to Christmas and to planning a trip to Iceland!!

I received a digital ARC (Advance Review Copy) from NetGalley.
3. Christmas at the Ranch by Anita Hughes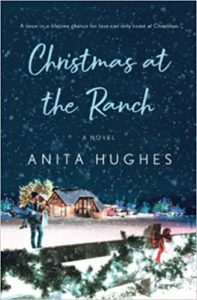 Setting: Jackson Hole, Wyoming
It's days before Christmas and Samantha Morgan is in her Brooklyn apartment when her editor, Charlie, shows up. Her publisher Arthur Wentworth is throwing a Christmas party and wants Samantha to be the guest of honor. Samantha tries to come up with an excuse to miss it. She writes a series of books featuring a female James Bond-type heroine named Sloane Parker and Charlie is the only person who knows that Samantha is the opposite of Sloane, though the marketing team has built up an entire social media presence for her claiming that she is just as adventurous. In reality, Samantha rarely leaves her neighborhood and does her research online. She is afraid of almost everything and is only happy when she's sitting in her apartment and writing.
Samantha reluctantly agrees to go. But instead of taking her to Arthur's house in Connecticut, the driver goes to the airport. On the phone, Charlie admits that the party is at Arthur's new ranch in Jackson Hole, Wyoming. For a person who hates even walking around the block when it snows, this is her worst nightmare.
But when a handsome stranger sits next to her on the plane, things begin to look up. She feels comfortable enough to spill all her secrets to him, including all of her fears and the truth about her fake Instagram account. However, when she shows up at the house, it turns out that this man, Drew, is Arthur's son. Now Samantha is worried that Drew will tell his father about her lies.
Over the course of Christmas week, Samantha grows closer to Drew. But when his fiancée, Beatrix (who recently gave him an ultimatum about settling down), shows up, things get more complicated. As Samantha's fears of bison and giant icicles subside, and her feelings for Drew grow deeper, new fears develop…
Will she leave this Christmas adventure broken-hearted? Or will true love prevail?
The setting is the best thing about this holiday romance. It will definitely make you want to stay at a ranch in Jackson Hole, Wyoming during the holiday season!
4. Meet Me Under the Mistletoe by Jenny Bayliss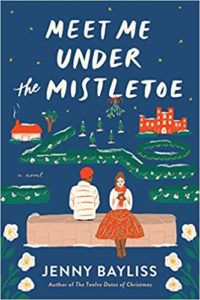 Setting: London and the English countryside
Elinor Noel—Nory for short—is quite content running her secondhand bookshop in London. Forever torn between her working-class upbringing and her classmates' extravagant lifestyles at the posh private school she attended on scholarship, Nory has finally figured out how to keep both at equal distance. So when two of her oldest friends invite their whole gang to spend the time leading up to their wedding together at the castle near their old school, Nory must prepare herself for an emotionally complicated few days.

The reunion brings back fond memories, but also requires Nory to dodge an ill-advised former fling. When she falls quite literally into the arms of Isaac, the castle's head gardener, who has nothing but contempt for the "snobby prep school kids," the attraction between them is undeniable. And as Nory spends more time with Isaac during the wedding festivities, she finds herself falling hard for the boy she used to consider an enemy. Nory and Isaac explore their common ground, but pressures mount on all sides, and Nory must decide what kind of life she wants to live and what sort of love is worth the risk . . .
A sweet, cozy romance set in the English countryside during the holiday season about a woman who owns a secondhand bookshop in London finding love with a castle gardener after she reluctantly agrees to a reunion with her posh private school friends for a week-long wedding celebration.
5. The Christmas Postcards by Karen Swan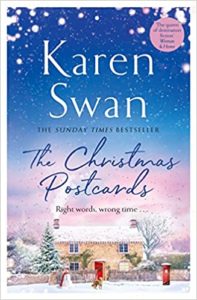 Setting: The Cotswolds, England and Nepal
It had been a make-or-break holiday for their marriage, but Natasha and Rob's rekindled romance is short-lived when their daughter's beloved soft toy disappears on the journey home.
As Natasha comforts the distraught child, she turns to social media for help. Miraculously, the toy is found, but it has become the lucky mascot of a man named Duffy, who is thousands of miles away.
When Duffy promises to keep Natasha updated with pictures, the pair begin a correspondence that soon becomes more meaningful to both of them. Sometimes, Natasha feels this stranger understands her more than the man lying next to her.
But as the weeks pass and Duffy heads deeper into the mountains, Natasha begins to notice a change in him. Then one day, the messages stop. Too late, Natasha wonders why he had ever needed a lucky mascot at all.
I love Karen Swan books for the way she blends romance and mystery and sets the stories in fabulous destinations! Her latest Christmas novel is told from two points of view and has two very different settings – a village in the Cotswolds in England and the mountains of Nepal.
I couldn't put this story down and particularly enjoyed Duffy's chapters for the descriptions of the harsh conditions mountain climbing in Nepal. The story takes place in December, however, it's not primarily focused on the Christmas season. There are a few twists that are predictable but the last one caught me completely by surprise!
6. All I Want for Christmas by Maggie Knox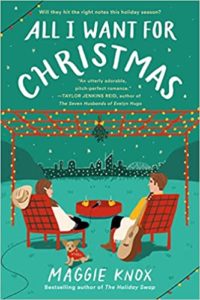 Setting: Nashville, Tennessee and Banff, Alberta
When Sadie and Max are selected as contestants on the famed reality singing show Starmaker, each thinks they've finally gotten their big Nashville break. But then they're paired up for duet week and stun the world with their romantic onstage chemistry. With fans going wild for #Saxie the network demands that they remain a duo on and offstage, or exit the competition. Faking a relationship until their final performance in the Starmaker holiday special shouldn't be too hard, except for one small problem—Sadie and Max can't stand each other.

But with their dreams just within reach, they agree to the ruse. Will their fake relationship be exposed before they can win? Or might their phony connection turn real by the Christmas finale?
An adorable enemies to lovers/fake relationship romance that takes place over a couple of holiday seasons in Nashville and Banff. A particularly enjoyable read for anyone who is a fan of country music or music competition shows!
7. So This is Christmas by Jenny Holiday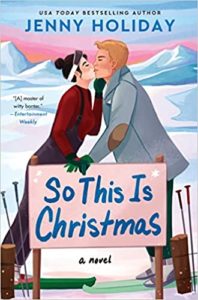 Setting: A fictional European country
Matteo Benz has spent his life serving at the pleasure of the Eldovian crown. His work is his life and his life, well…he doesn't have much of one. When he is tasked to aid a management consultant who has been flown in to help straighten out the king's affairs, he is instantly disturbed by her brash American manner—as well by an inconvenient attraction to the brainy beauty.
Cara Delaney is in Eldovia to help clean up the king's financial affairs, but soon finds herself at odds with the very proper Mr. Benz. As intrigued by his good looks as she is annoyed by his dedication to tradition for its own sake, she slowly begins to see the real man behind the royal throne.
As they work together to return Eldovia to its former glory during the country's magical Christmas season, Matteo discovers he is falling hopelessly in love with the unconventional American. But a man who has devoted his life to tradition doesn't change easily. Can he become the man Cara needs, or will their love be another sacrifice to the crown?
The third in Jenny Holiday's Christmas romance series set in a fictional European country is focused on an American management consultant brought in to overhaul the king's corporate interests and his royal advisor who is devoted to tradition. It's a fun read – slow-burn, opposites attract, enemies to lovers romance with castles and snow – Hallmark with some steam!
8. The Christmas Spirit by Debbie Macomber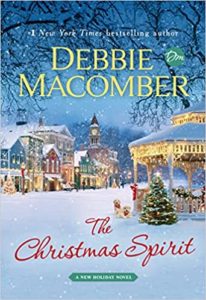 Setting: Washington State
Peter Armstrong and Hank Colfax are best friends, but their lives couldn't be more different. Peter, the local pastor who is dedicated to his community, spending time visiting the flock, attending meetings, and, with the holiday season approaching, preparing for the Christmas service and live nativity. As a bartender, Hank serves a much different customer base at his family-owned tavern, including a handful of lonely regulars and the local biker gang.
When Peter scoffs that Hank has it easy compared to him, the two decide to switch jobs until Christmas Eve. To their surprise, the responsibilities of a bartender and a pastor are similar, but taking on the other's work is more difficult than either Peter or Hank expected. As the two begin to see each other in a new light—and each discovers a new love to cherish—their lives are forever changed.
A sweet and sentimental Christmas story. Debbie Macomber knows her audience very well and always delivers exactly what they want in a holiday story!
9. One Last Gift by Emily Stone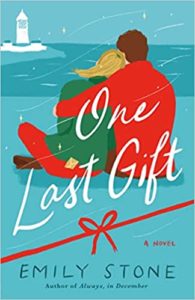 Setting: London and other locations
Cassie and Tom lost their parents at a young age and relied on each other—as well as a community of friends—to cope. They were especially close with Tom's best friend, Sam, who always made sure that Tom and Cassie were surrounded with love. But, twenty years later, Cassie has lost Tom as well. And in a way, she's also lost Sam; over the years they'd drifted apart, and now the man she always had a crush on is someone she doesn't even recognize anymore.
She's never felt more alone.
Then Cassie finds an envelope with her name on it, written in Tom's terrible handwriting, and she knows immediately what it is. It's the first clue in the Christmas scavenger hunt that Tom made for her every year; he'd promised her for months that this year's would be the grandest one yet. At first, she's too scared to open the envelope—what if she can't figure out the clues without his help? Or what if she does figure them all out and her last connection to Tom is gone?
Tom's present sets Cassie on a heart-wrenching and beautiful journey that will change her life—if she lets it. And as she travels from London to the Welsh mountains to the French countryside, she reconnects with old friends, rekindles a lost love, and, most important, rediscovers herself. But once she's solved the final clue, will she be brave enough to accept the gift her brother has given her—and the love it's led her to?
A sweet, fairly light read about forgiveness, grief, and learning how to move on after the death of a loved one. Not particularly festive as it takes place primarily over the course of a year beginning and ending during the Christmas season but is focused on the life-changing last Christmas gift from Tom.
10. A Murder at Balmoral by Chris McGeorge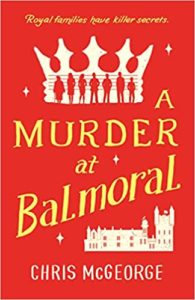 Setting: Balmoral Castle, Scotland
The royal family has gathered at their Scottish retreat, Balmoral Castle, for a traditional Christmas. As a blizzard gathers outside and a delicious dinner is prepared, the family circles up for a holiday toast. King Eric has something momentous to say—in fact, he is about to name his successor. But as he raises a glass of his favorite whiskey, he drops dead.

The king has been poisoned, someone in the family must have done it, and each one of them had opportunity and motive. Eric's beloved head chef, Jonathan, must now play detective. Why would one of the king's own family members want to kill him, and how did they do it? What happens in the castle usually stays in the castle, but this secret might be too big for these battlements. Jon is determined to expose the truth, even if it puts him in a killer's crosshairs—and shakes the entire monarchy to its core.
An entertaining closed door mystery about the murder of the King during a small family dinner on Christmas Day at Balmoral Castle in Scotland. It's a pageturner – I was drawn into the story immediately and read quickly as I was keen to find out whodunnit. I wasn't completely satisfied with the resolution, however, although it was definitely creative. Overall an enjoyable mystery and a good choice if you're looking for a festive read that isn't a romance!
11. Holiday Romance by Catherine Walsh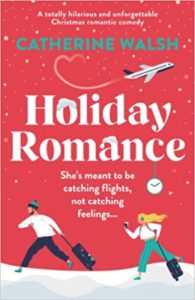 Setting: Chicago to Ireland with a few stops en route
Molly and Andrew are just trying to get home to Ireland for the holidays, when a freak snowstorm grounds their flight.
Nothing romantic has ever happened between them: they're friends and that's all. But once a year, for the last ten years, Molly has spent seven hours and fifteen minutes sitting next to Andrew on the last flight before Christmas from Chicago to Dublin, drinking terrible airplane wine and catching up on each other's lives. In spite of all the ways the two friends are different, it's the holiday tradition neither of them has ever wanted to give up.
Molly isn't that bothered by Christmas, but—in yet another way they're total opposites—Andrew is a full-on fanatic for the festive season and she knows how much getting back to Ireland means to him. So, instead of doing the sane thing and just celebrating the holidays together in America, she does the stupid thing. The irrational thing. She vows to get him home. And in time for his mam's famous Christmas dinner.
The clock is ticking. But Molly always has a plan. And—as long as the highly-specific combination of taxis, planes, boats, and trains all run on time—it can't possibly go wrong.
What she doesn't know is that, as the snow falls over the city and over the heads of two friends who are sure they're not meant to be together, the universe might just have a plan of its own…
A sweet, funny friends-to-lovers romance that's perfect for the festive season! Holiday Romance has all the necessary elements for a fabulous rom-com – a fun premise, great dialogue, laugh-out-loud funny bits and a charming couple. I expect will be one of my favourite holiday reads this year!
I received a digital ARC (Advance Review Copy) from NetGalley.
12. All is Bright by RaeAnne Thayne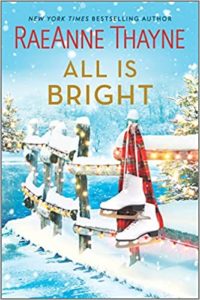 Setting: A fictional town in Colorado
Sage McKnight is an ambitious young architect working at her father's firm who takes on her most challenging client in Mason Tucker. The former pro baseball player is still healing from the physical and emotional scars after a plane crash left him a wheelchair-using single dad, and he's determined not to let anyone breach his emotional defenses. Sage knows her work on Mason's new home in Hope's Crossing is her best work yet, and she won't let her grumpy client prevent her from showcasing her work personally.
With Sage's gift for taking broken things and making them better, the matchmaking talent of the quirky locals and a generous sprinkling of Christmas cheer, Mason doesn't stand a chance against the power of this magical holiday season.
A sweet, uplifting Christmas romance set in a fictional Colorado town about two people who have to learn to open their hearts to love again and a town that comes together to help neighbours in need. This is part of the Hope's Crossing series but fine to read as a standalone.
13. The Twelve Topsy Turvy, Very Messy Days of Christmas by James Patterson and Tad Safran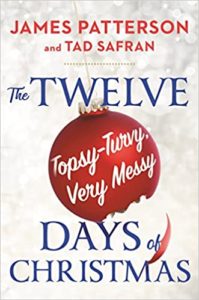 Setting: Harlem, New York City
Every year at Christmastime, Will and Ella Sullivan, and their father, Henry, come to a family agreement: Christmas is a holiday for other people.
At their brownstone in Harlem, stockings go unstuffed, tinsel unstrewn, gifts unbought, mistletoe unhung, chestnuts unroasted, carols unplayed, cookies uncooked, a tree un-visible, and guests uninvited.
Until guests start arriving anyway. In pairs and sixes, in sevens and tens—they keep coming. And they stay. For twelve long, hard, topsy-turvy, very messy days. That's when the Sullivans discover that those moments in life that defy hope, expectation, or even imagination, might be the best gifts of all.
Sappy and outlandish yet magical and uplifting, family-friendly Christmas story centred on the 12 Days of Christmas song – perfect for sharing with the entire family!
14. A Very Merry Bromance by Lyssa Kay Adams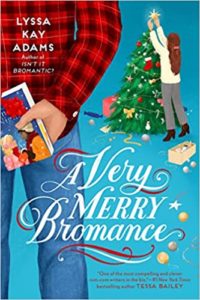 Setting: Nashville, Tennessee
Country music's golden boy Colton Wheeler felt the most perfect harmony when he was with Gretchen Winthrop. But for her, it was a love him and leave him situation. A year later, Colton is struggling to push his music forward in a new direction. If it weren't about to be the most magical time of year and the support of the Bromance Book Club, he'd be wallowing in self-pity.

It's hard for immigration attorney Gretchen not to feel a little Scrooge-ish about the excess of Christmas when her clients are scrambling to afford their rent. So when her estranged, wealthy family reaches out with an offer that will allow her to better serve the community, she's unable to say no. She just needs to convince Colton to be the new face of her family's whiskey brand. No big deal…

Colton agrees to consider Gretchen's offer in exchange for three dates before Christmas. With the help of the Bromance Book Club, Colton throws himself into the task of proving to her there's a spark between them. But Gretchen and Colton will both need to overcome the ghosts of Christmas past to build a future together.
A festive, witty, steamy holiday romance set in Nashville about a sunshiny country music singer and a grumpy immigration lawyer whose wealthy family owns a whiskey distillery. This is the 5th in the Bromance Book Club series about a group of male friends who look to romance novels for guidance on relating to the women in their lives but the first that I have read. I loved it as a standalone but it was so much fun that I will likely read the others now!
15. Mrs. Hudson and the Christmas Canary by Martin Davies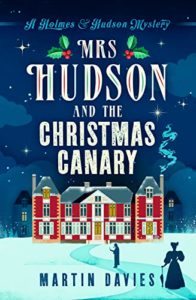 Setting: London, England and the English countryside
December in London, and Maximilian Cortado, the world famous violinist, has disappeared, the only clue being the unexpected delivery to his townhouse of a basket containing a live hen.
When it emerges that a number of other notable members of society have been receiving similarly unexplained fowl, the deliveries begin to appear more sinister.
Sherlock Holmes, however, seems more intrigued by a trivial incident in Sussex, where someone has been damaging Christmas trees intended for a local stately home. So when he is asked by the wife of a famous artist to investigate a robbery carried out twenty-three years before, Mrs Hudson sees an opportunity to assist.
At the centre of that mystery is the Christmas Canary, a solid gold decoration of mesmerising beauty, hand-crafted for the fifth Lord Empingham. For years it had graced the top of the Christmas tree at Frawling Hall – until its mystifying disappearance broke the seventh Lord's heart. Fowl deeds are afoot, but can Mrs Hudson restore the canary to its perch before it's too late?
I received a digital ARC (Advance Review Copy) from NetGalley.
Mrs. Hudson and the Christmas Canary is a cozy mystery which is part of a series set in the world of Sherlock Holmes with his cook, Mrs. Hudson, and a housemaid named Flotsam doing most of the investigative work. It's an entertaining, easy-to-read Victorian-era mystery set in London and the English countryside during the holiday season and, although part of a series, it is fine as a standalone without having read the previous books in the series.
BUY ON AMAZON (KINDLE)
Pin This For Later