There's nothing like curling up with a good Christmas book and a warm drink to get you in the festive spirit! These 21 new Christmas books for 2023 are perfect for your holiday season reading list and they also make great gifts if you would like to spread the holiday cheer!
You Might Also Enjoy Reading:
15 Festive New Christmas Books to Get You in the Holiday Spirit (2022)
25 Festive New Books for the 2021 Holiday Season
25 Christmas Books to Get You in the Holiday Spirit (2020)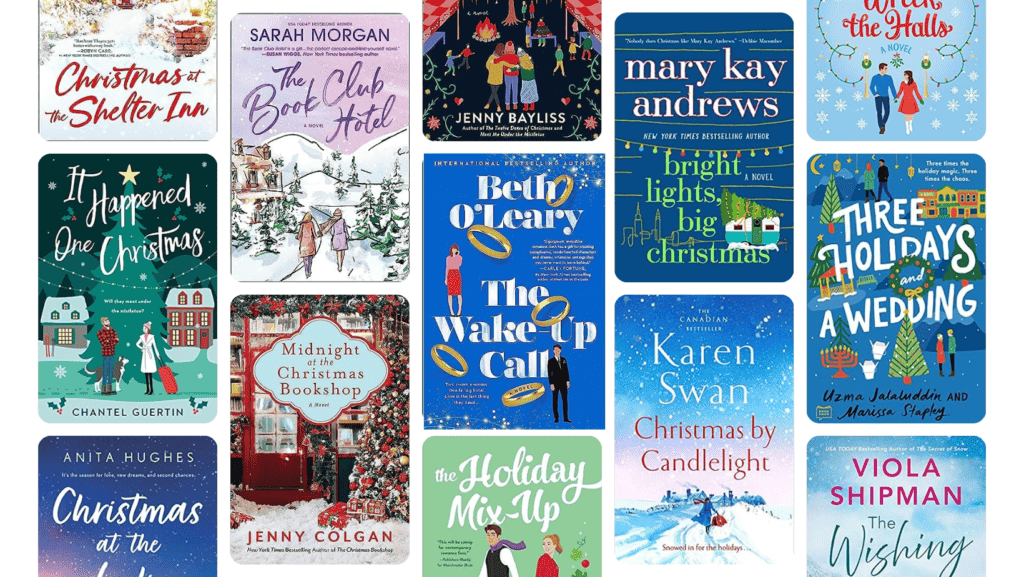 We are a participant in the Amazon Services LLC Associates Program, an affiliate advertising program designed to provide a means for us to earn fees by linking to Amazon.com and affiliated sites. As an Amazon affiliate I earn from qualifying purchases.
1. Three Holidays and a Wedding by Uzma Jalaluddin and Marissa Stapley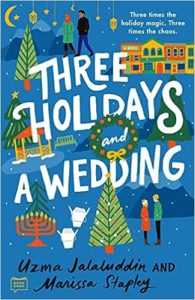 Setting: Small town near Ottawa, Canada
Maryam Aziz and Anna Gibson are both flying from Denver to Toronto for the 2000 holiday season – Maryam with her family for her sister's impromptu wedding and Anna to meet her boyfriend's wealthy family for the first time. A massive snowstorm forces an emergency landing in a picture-perfect small town near Ottawa and Anna, Maryam and the bridal party (including Maryam's childhood crush) are snowbound at the Snow Falls Inn along with the Hollywood cast and crew in town filming a holiday movie.
A heartwarming holiday rom-com collaboration between Canadian authors Uzma Jalaluddin and Marissa Stapley set in a diverse version of the typical charming Hallmark town! This book has two sweet romances and relatable main characters who experience some self-growth, a wise grandfather, lots of holiday season vibes, and additional themes relating to loss, second chances, self-doubt, and familial and cultural expectations.
I loved that the story took place in a rare year when the celebrations of Christmas, Hanukkah and Eid coincide and that the three holidays and traditions were incorporated into the plot in a meaningful way. Three Holidays and a Wedding is cozy holiday read that is filled with all the warmth of the holiday season!
Thank you to NetGalley and Penguin Random House Canada for sending a digital ARC of this book for review consideration. All opinions are my own.
2. The Wake-Up Call by Beth O'Leary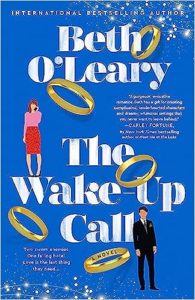 Setting: England (New Forest district)
Izzy and Lucas are receptionists at the Forest Manor Hotel in the New Forest area of England who have become bitter rivals following an incident at the previous year's employee Christmas party.
The hotel is in financial trouble – business has not yet rebounded fully from the pandemic closure and the hotel is literally falling apart. Most of the rooms have to be closed while restoration work takes place at what should be the busiest time of the year and it seems increasingly likely that the hotel will have to close after the holiday season meaning that both Izzy and Lucas will be unemployed.
While cleaning out the hotel's lost and found room, Izzy finds five wedding rings and is determined to reunite them with their owners. When a sizeable reward is received following the return of the first ring, hotel's management becomes convinced that they might be able to save the hotel by finding the owners of the other rings. Izzy and Lucas race to try and find the owners and save their beloved hotel (as well as their jobs) and their feelings for each other become complicated as they spend more time together.
The Wake-Up Call is Beth O'Leary's first romance set during the holiday season and it's more lighthearted than her previous books. It's an enemies to lovers romance (plus a frustrating miscommunication trope) set during the holiday season at a hotel in southern England. A cozy, festive read and I loved the setting – I spent some time googling about visiting the area because I love the idea of staying at a hotel with as much character as the Forest Manor!
3. It Happened One Christmas by Chantel Guertin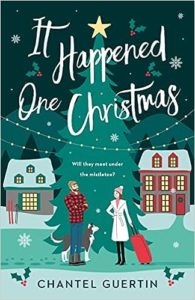 Setting: Chelsea, Québec, Canada
Zoey Andrews, an LA-based producer for a company that makes holiday rom-coms, travels to Chelsea, Québec on a last-minute trip a few days before Christmas hoping to find the locations she needs for a Christmas movie. The movie is scheduled to start filming in January but her assistant mistakenly booked locations in the Chelsea neighbourhood of New York City and Zoey has only a few days to fix things or the movie which she also wrote the script for will be delayed by a year.
Zoey is thrilled to discover that the small town lives up to her memories from a childhood visit and her mission is going very well until the frustrating and very attractive tree farmer/mayor of Chelsea, Benoît (aka Ben) Deschamps, refuses to grant her the permit that she needs for filming in the town. Zoey is doing everything she can to salvage her production when a series of mishaps and an unexpected ice storm strands her with Ben in the middle of nowhere and they have no choice but to rely on each other to survive the conditions and get back to Chelsea safely for Christmas Eve.
I thought this holiday romance was a delight – mostly due to the charming, small town Québec setting and the inclusion of Québec Christmas traditions. It's an enemies/lovers insta-love romance and it's a bit unrealistic but I expect that in a Christmas romance – you just gotta believe in the magic of the holidays. It Happened One Christmas is the perfect holiday read – a romance with Hallmark Christmas movie vibes that Zoey would swoon over!
4. A December to Remember by Jenny Bayliss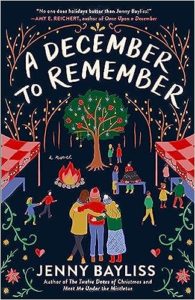 Setting: England
From the Publisher: Wildly different half sisters Maggie, Simone, and Star have hardly seen one another since their sprightly summers at Rowan Thorp, their eccentric father Augustus's home. Known for his bustling approach to the knick-knack shop he ran, Augustus was loved by all and known by none, not even his daughters.
Now, years later, the three estranged women are called upon for the reading of Augustus's will and quickly realize he's orchestrated a series of hoops through which they must jump to unlock their inheritance—the last thing any of them want to do. But Maggie and Star desperately need the money. And who would Simone be to resist?
Through hilarious goose chases, small-town mishaps, and one heart-warming winter solstice celebration, love is in the air, if only the three sisters can let themselves grasp it.
5. Midnight at the Christmas Bookshop by Jenny Colgan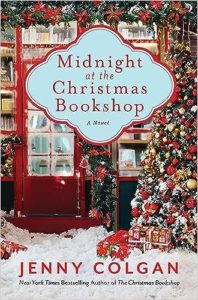 Setting: Edinburgh, Scotland
From the Publisher: Christmas comes early—far too early—to McCredie's little Old Town bookshop in Edinburgh. It's summer, but an American production company has decided that McCredie's is the perfect location to film a very cheesy Christmas movie. After all, who can resist the charmingly narrow historic street with its Victorian grey stone buildings and warmly lit shop windows?
Carmen Hogan, the bookshop's manager, is amused and a bit horrified by the goings-on, but the money the studio is paying is too good to pass up. She uses the little windfall from filming to create new displays and fend off a buyout offer from an obnoxious millionaire who wants to turn McCredie's into a souvenir shop selling kilts made in China and plastic Nessies. Still reeling slightly from a breakup, Carmen's not particularly looking forward to the holidays. But just as snow begins to fall and the lights of Christmas blink on, all sorts of lovely new possibilities present themselves…for McCredie's bookstore, and for Carmen herself.
6. Christmas by Candlelight by Karen Swan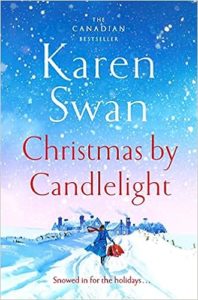 Setting: Yorkshire, England
From the Publisher: It's three days before Christmas and just starting to snow… Against her better judgement, Libby Pugh has been persuaded by her best friend to stop in on their university reunion on her way back from a wedding in North Yorkshire with her boyfriend, Max.
The host is Archie Templeton, the playboy of their group, who has finally inherited his father's title and estate – even if the latter is more stately heap than palace. Libby is surprised at how good it feels to catch up with old friends. The night is a great success but when they come to leave, the road is now impassable and she and Max are given a bed for the night.
At first being snowed in with old friends is rather lovely – they spend the next day in high spirits as they wait for the local farmer to clear the snow. But as the hours pass and he doesn't come, everyone grows restless. Christmas is two days away and everyone has plans, other places to be. Then the power goes out . . .
By the fireside and by candlelight, the old friends must hunker down together as they await help. They reminisce about times past, good and bad. But as the cracks in their relationships, old and new, start to show, Libby is confronted with a truth she has long tried to deny . . .
7. Bright Lights, Big Christmas by Mary Kay Andrews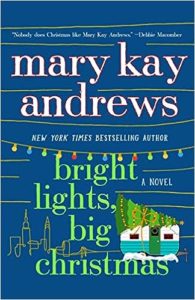 Setting: Greenwich Village, New York City
A sweet holiday story filled with Christmas spirit!
Shortly after Thanksgiving, Kerry Tolliver travels with her brother, Murphy, and his dog, Queenie, from North Carolina to New York City where they live in an old camper van in Greenwich Village while selling their family's Christmas trees during the holiday season. As the weeks go by, Kerry becomes close to many of the neighbourhood residents particularly a gruff elderly artist and a single father with an adorable son and starts to feel a sense of belonging that she hasn't felt in a long time.
Mary Kay Andrews consistently delivers her trademark feel-good Christmas book filled with the magic of the season – a sweet romance, a heartwarming story of family, friends and community, a message about being brave enough to follow dreams and take chances, and a festive New York City neighbourhood.
Thank you to NetGalley and St. Martin's Press for sending a digital ARC of this book for review consideration. All opinions are my own.
8. Love, Holly by Emily Stone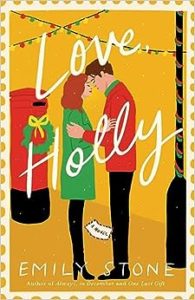 Setting: England and a bit in Venice, Italy
Three years ago a car accident right before Christmas tore Holly's family apart and she has spent the holidays alone ever since. Instead of seeing family, she takes part in a holiday letter writing campaign called Dear Stranger where she rights a letter to someone else spending Christmas alone and receives one in return.
This year she receives a grief-filled letter from an elderly woman named Emma estranged from her grandson, Jack, which mentions a cafe that Holly recognizes. Although the letters are meant to be anonymous, Holly is determined to find Emma and help her reunite with her grandson but once she tracks down Jack, Holly realizes that she met him once before and she is as attracted to him now as she was then.
Emily Stone excels at writing tearjerker holiday romances – Love, Holly is the third in a row that requires tissues at hand! This is a touching, beautifully-written story about people dealing with loss/grief and is uplifting despite the sadness due to its message of hope, healing and forgiveness – plus there's a sweet romance. This book starts and ends at Christmas but it takes place over a year – it's an enjoyable read and the Christmas chapters are great but it isn't the most Christmassy feeling holiday read.
9. The Book Club Hotel by Sarah Morgan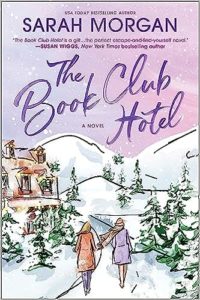 Setting: Country Inn in rural Vermont
A feel-good holiday story about four women and a special hotel in a small town in Vermont.
Hattie, a 28 year-old widow who is exhausted from running the charming Maple Sugar Inn and caring for her 5 year-old daughter, is just trying to make it through the busy festive season. Erica, Anna, and Claudia, three women who are all around the age of 40 and have been friends since college, arrive at the inn for their annual book club holiday and while all three seem to have perfect lives each is dealing with career and personal issues. Over the course of a week long vacation the lives of the four women become entwined and each makes important changes to find the happiness she deserves.
A cozy and heartwarming story of family, female friendship, romance and the magic of the holiday season – with a happy ending for everyone! The winter wonderland of rural Vermont just sounds like the perfect holiday season destination and who doesn't love the idea of a bookish getaway to spend a week with good friends talking about books?!? The Book Club Hotel is a great story to curl up with when you want to get in the holiday spirit!
10. Murder Most Royal by S.J. Bennett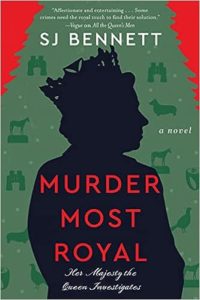 Setting: Norfolk, England
The latest installment in a cozy mystery series that features Queen Elizabeth II as an amateur sleuth (Her Majesty the Queen Investigates). I previously read the first in the series (The Windsor Knot) but haven't read the second (All the Queen's Men). This would be fine to read as a standalone, however, the first three books do take place chronologically in the spring, summer and winter of 2016.
Murder Most Royal takes place during the 2016-17 festive season at the Queen's Sandringham Estate in Norfolk, England where the Royal Family spends Christmas. The Queen and Prince Phillip, both feeling under the weather, arrive at the estate accompanied by the Queen's Assistant Private Secretary, Rozie Oshodi, and are looking forward to spending the holiday with their children and grandchildren. The Queen has a lot on her mind what with Theresa May now serving as Prime Minister, Brexit and a controversial new president in the United States.
Shortly after arriving, the shocking discovery of a severed hand in a plastic bag on a nearby beach is brought to the Queen's attention. She is able to identify the appendage based on a signet ring she knows belongs to an aristocrat that grew up nearby and often visited Sandringham to play with Charles. With Rozie's help, the Queen involves herself in the investigation behind-the-scenes and solves the case before her holidays at Sandringham end in early February.
This is a charming series if you enjoy cozy mysteries and reading about the Royal Family. The author does an excellent job of breathing character into each of the Royals but especially the witty, dutiful Queen, her loving relationship with Phillip and the family and the deep respect that her staff hold for her.
Rozie who is British-Nigerian with a military background is a great sidekick and her relationship with the Queen is developing over the series. I enjoyed reading about Sandringham (the previous two books are set at Windsor Castle and Buckingham Palace) as well as I have often seen on television the Royals walking to Christmas Day church services and can now better picture the estate and the surrounding area. An enjoyable holiday mystery!!
11. Christmas at the Shelter Inn by Raeanne Thayne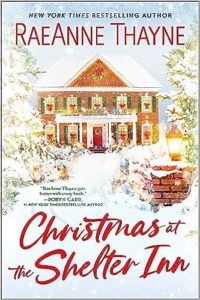 Setting: Small mountain town in Idaho
Natalie Shepherd grew up at the Shelter Inn hotel owned by her family in Shelter Springs, Idaho, but when she graduated college she swore she wouldn't return to the small mountain town where she had experienced so much loss. For the past 10 years, Natalie has been a digital nomad exploring the world but she drops everything and heads home when she receives a message from her younger sister, McKenna, asking for help with when she's put on pregnancy bed rest a few weeks before Christmas.
Natalie returns to Shelter Springs for the holiday season to help care for her two young nieces and to run the Shelter Inn which her sister has transformed into a community of seniors' apartments. Shortly after arriving, Natalie reconnects with Griffin Taylor, her late brother's best friend, who is now a doctor in the small town but still struggling with his own losses and sense of guilt.
Christmas at the Shelter Inn is a heartwarming holiday story about the struggle to heal and move forward after experiencing tragic loss. Set in a charming small-town, there's a delightful community of seniors, two adorable little girls, a sweet romance and all the magic of the festive season.
12. Christmas at the Lake by Anita Hughes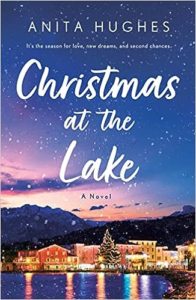 Setting: Lake Tahoe, United States
A sweet holiday romance that takes place in a charming village called Christmas Cove on the shores of Lake Tahoe.
Rebecca and her boyfriend Ben met in their final year at Berkeley and are co-founders of a hugely successful dating app that is soon to go public. On the morning of their Christmas Eve wedding in San Francisco, Ben breaks up with Rebecca and leaves on vacation with a beautiful attorney that works for their company.
Rebecca is heartbroken but decides to go by herself on their honeymoon to Lake Tahoe where she bumps into Zach, a film student she knew at Berkeley and finds herself organizing a New Year's Night party for a business man she meets. Due to a misunderstanding, Zach believes that Rebecca is married to Ben and Rebecca believes that Zach is dating a sophisticated older woman named Meredith.
There are three separate romance stories taking place in Christmas at the Lake – Zach and Rebecca in present day Christmas Cove; a romance in Europe in 1990 that Rebecca reads about in a travel journal while planning the party and a story about a couple in New York City that Zach is being told by Meredith for a film he is making about first love.
An enjoyable romance about second chances at love and a great setting for a Christmas story. A charming Christmas village, falling snow, hot drinks by the fireplace, sleigh rides around the lake – it's easy to imagine Christmas Cove in a Hallmark Christmas movie!
Thank you to NetGalley and St. Martin's Press for sending a digital ARC of this book for review consideration. All opinions are my own.
13. Wreck the Halls by Tessa Bailey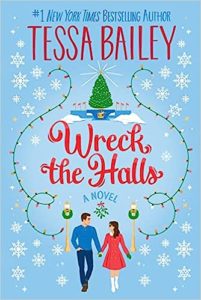 Setting: New York City
Melody Gallard and Beat Dawkins are the children of two rock and roll divas who were hugely popular in the '90s as the Steel Birds before a legendary feud broke up the band. Melody and Beat met once when they were 16 years old and felt an instant spark but had no other contact until they are approached by a producer of reality television offering each of them a huge sum of money if they can talk their mothers into reuniting for a Steel Birds concert in Rockefeller Plaza in New York City on Christmas Eve.
The two agree and embark on a madcap mission to convince their mothers to perform one last show together while being followed around the clock by a film crew recording their every move and streaming it to a live audience of adoring fans. The more time they spend together the more the attraction between Beat and Melody intensifies but at the same time a decades-old scandal threatens to ruin everything including their newfound relationship.
This was my first Tessa Bailey book and I had no idea that she was known as "the Michelangelo of dirty talk" until I read the jacket cover. Although it wasn't a great fit for me, I'm sure it will be enjoyed by fans of the author or anyone who likes a super steamy holiday romance. This book takes place in the two weeks leading up to Christmas but the plot doesn't really revolve around the holiday season apart from the reunion concert being set to take place in Rockefeller Plaza in New York City on Christmas Eve.
14. The Holiday Mix-Up by Ginny Baird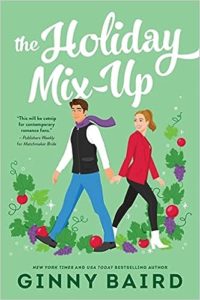 Setting: California wine country
Sweet but lonely waitress Katie Smith expects to be spending another Christmas alone until Juan Martinez, a handsome customer at the diner who she has a major crush on, asks her to pose as his girlfriend for Christmas day festivities at his family's winery. Katie has reservations but agrees hoping the fake date might lead to a real relationship.
In a twist of fate, Juan is in a serious accident shortly after telling his family that Katie will be joining them for Christmas and is put into a medically induced coma, Katie meets his family at the hospital and they immediately embrace her as Juan's girlfriend. Katie knows she should tell the Martinez family the truth but she had promised Juan that she wouldn't tell anybody and the Martinez family are so welcoming that she's reluctant to give up the feeling of being part of a family again. To make matters even more complicated, the more time Katie spends with Juan's younger brother, Mateo, the more she wonders if she fell for the wrong brother.
The Holiday Mix-Up is a cute spin on the rom-com movie While You Were Sleeping that takes place in California wine country in the week leading up to Christmas. It's a light, cosy read with a chaste, sweet romance, a close knit Latinx family and a festive holiday backdrop!
Thank you to NetGalley and Sourcebooks Casablanca for sending a digital ARC of this book for review consideration. All opinions are my own.
15. The Wishing Bridge by Viola Shipman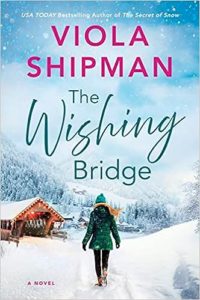 Setting: Frankenmuth, Michigan
Henri grew up in the small town of Frankenmuth, Michigan where her family owns the world's biggest Christmas store but after graduating college she chose a different path accepting a position in Detroit with a mergers and acquisitions firm and turning down a marriage proposal from her high school boyfriend.
Henri is now in her '50s, has never married and hasn't been home for the holidays in years as her career always takes priority. Unfortunately, her job is now in jeopardy unless she can convince her parents to sell their beloved business to a firm that would gut everything in the name of profit so Henri heads back to Frankenmuth for the holidays in order to gather the intel she needs to make the deal happen.
The Wishing Bridge is a heartwarming holiday story about the importance of family and of being a good person combined with a sweet mid-life/second-chance romance. The characters are surrounded by Christmas in a charming small town that's a winter wonderland in December so this is a very festive read. The setting was my favourite part of this book – I have never been to Frankenmuth, Michigan but I sure want to visit now!
Thank you to NetGalley and Harlequin Trade Publishing for sending a digital ARC of this book for review consideration. All opinions are my own.
16. Hercule Poirot's Silent Night by Sophie Hannah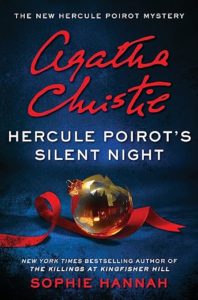 Setting: Norfolk, England
Hercule Poirot, the famous Belgian detective, and Inspector Catchpool from Scotland Yard are summoned by Catchpool's mother to Norfolk a few days before Christmas in 1931 to investigate the unsolved murder of a hospitalized man. Cynthia Catchpool is staying at the crumbling seaside mansion of a woman who is convinced that her terminally ill husband will be the next murder victim if he moves into the hospital as scheduled in January. Poirot and Catchpool reluctantly travel to Norfolk but hope to solve the baffling crime as quickly as possible so that they can make it back to London in time for Christmas.
An entertaining new Hercule Poirot mystery by bestselling crime novelist Sophie Hannah that is the 5th in a new set of mysteries that has been fully authorized by the Christie estate. Hercule Poirot's Silent Night reads well as a standalone so there's no need to read the books of the series in order.
I was obsessed with Agatha Christie mysteries as a teenager and, although it has been years since I have read any, I thought Sophie Hannah did a good job capturing the Poirot character and his mannerisms. Hercule Poirot's Silent Night is an intriguing mystery with plenty of suspects and I enjoyed the both the Norfolk and the Christmas season setting. I never once figured out an Agatha Christie ending so was happy to have puzzled out a tiny aspect of this mystery but was clueless as to 'whodunnit' until Poirot revealed all!
17. The Christmas Orphans Club by Becca Freeman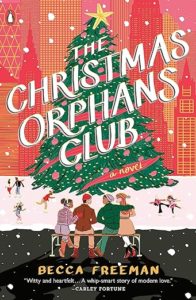 Setting: New York City
From the Publisher: Hannah and Finn have spent every Christmas together since college. Neither has anywhere else to go—Hannah's parents died, and Finn's disowned him when he came out. Their tradition of offbeat holiday adventures only grows more outrageous with time. When the pair starts their adult lives in New York City, they add stylish Priya and mysterious Theo to the group, solidifying a found family and sense of belonging they've always craved.
But now, when Finn announces a move to L.A., this Christmas may be their last. Hannah is terrified of losing the family she's built for herself, even as her boyfriend nudges her toward commitment. Meanwhile, Finn struggles with the things he's about to leave behind—namely, his unexpressed feelings for Theo. Does growing up mean growing apart? This Christmas the changes these friends fear may be exactly what they need. . . .
18. Countdown to Christmas by Jo Thomas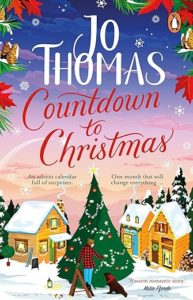 Setting: Canada
Publication Date: November 28, 2023 in Canada; January 12, 2024 in the U.S.
From the Publisher: Chloe can't wait for Christmas . . . to be over! Her son Ruben is staying with his dad this year and Chloe is planning to ignore the holidays all together. Her only nod to the season is the advent calendar Ruben left her, to help count down the days till he's home again.

But then an heir hunter gets in touch, telling her there's a plot of land in Canada she may be entitled to. Surely, it's a scam. Or could it be just the escape she needs right now? They're offering to pay for her flights . . . and Ruben's latest note in the advent calendar tells her to 'say yes!'

Suddenly, Chloe's new countdown to Christmas involves a log cabin in the middle of a snowy forest, a community that's worried for its future, a gruff lumberjack who gives her butterflies and a lot of pancakes with maple syrup . . .
19. The Christmas Wager by Holly Cassidy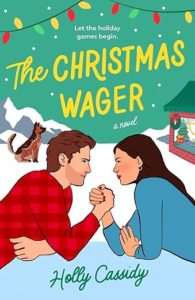 Setting: Small town near Denver, Colorado
An entertaining Christmas rom-com set in a charming small town in Colorado written by internationally bestselling suspense author, Hannah Mary McKinnon, under the pen name Holly Cassidy.
Bella is sent by her real estate developer boss in L.A. to the small town of Maple Falls, Colorado to acquire a local family-owned Christmas store that's failing financially. Ambitious Bella is determined to get the property at the best price possible and secure a promotion for herself but the owner's grandson, Jesse, stalls the deal. Unable to reach an agreement, the two agree to compete in the annual Maple Falls Holiday Games with the winner determining the selling price but as the competition heats up between these two rivals the sparks begin to fly!
This enemies to lovers/closed door romance has a great concept – you'll wish that Maple Falls existed just to be a spectator at the town's holiday games! It has fun Hallmark holiday rom-com vibes but it's also about the importance of family, community, and doing the right thing. A cozy read that's sure to get you in the holiday spirit!
Thank you to NetGalley and Penguin Random House Canada for sending a digital ARC of this book for review consideration. All opinions are my own.
20. Wrapped With a Beau by Lillie Vale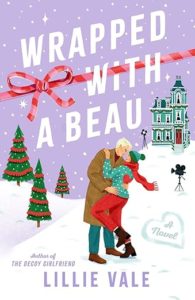 Setting: Small town USA
From the Publisher: As a successful film liaison, Elisha Rowe has her heart set on one thing and one thing only: putting her hometown back on the map. So, when she gets the chance to secure the long-hoped-for sequel to Sleighbells under Starlight, a beloved holiday movie, she's willing to do whatever it takes to make sure everything goes smoothly. Unfortunately, that includes claiming to have already gotten permission to film at the historic Christmas house—permission she was very much denied by the gorgeous new owner.

City boy Ves Hollins is only back in Piney Peaks long enough to sell the house he inherited from his great-aunt. The holidays have always been tough for Ves, and it's not any easier when he's distracted by memories of a Christmas long, long ago, and the irresistible charm of neighbor Elisha. He has no plans to put down roots or fall in love…even if Elisha unravels his hesitations like a bad Christmas sweater.

There's no question the two are opposites in every way. Ves is undeniably frosty. Elisha is brimming with warmth. He doesn't do commitment. She never runs from a challenge. But as the two grow closer, they quickly realize that the growing spark between them may be just what the season calls for.
21. Emergency Contact by Lauren Layne & Anthony Ledonne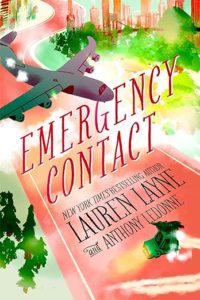 Setting: NYC, planes, trains, automobiles en route to Chicago
Katherine, an ambitious New York City lawyer who hates Christmas, is hospitalized following an accident on December 23rd. Diagnosed with a concussion, she needs to be monitored for 48 hours and a call is placed to her emergency contact which just happens to be her ex-husband, Tom, since she neglected to update her information at work.
Tom was on his way to the airport to fly home to Chicago where he plans to propose to his girlfriend on Christmas Eve but feels responsible for Katherine so decides to bring her along. A blizzard complicates their travel plans and what should have been a simple flight turns into a series of misadventures involving planes, trains and automobiles as the pair tries to get from New York to Chicago for Christmas.
A cute holiday rom-com about a second chance romance from bestselling author, Lauren Layne, and her real life husband. Told in alternating chapters from both Tom and Katherine's point of view, there's banter, bickering and old feelings coming to the surface for this couple who are complete opposites but obviously belong together. A squeaky clean, festive romance that's easy to read in one sitting!
Thank you to NetGalley and Blackstone Publishing for sending a digital ARC of this book for review consideration. All opinions are my own.
Pin This For Later