It's beginning to look a lot like Christmas! ♫ ♫ And you know what that means ~ it's time to curl up with a cup of cocoa and a good Christmas book that will get you in the festive spirit for the holiday season. These seasonal books also make great gifts if you would like to spread some holiday cheer!
You might also enjoy:
21 Festive New Christmas Books to Enjoy This Holiday Season (2023)
15 Festive New Christmas Books To Get You in the Holiday Spirit (2022)
25 Christmas Books To Get You in the Holiday Spirit (2020)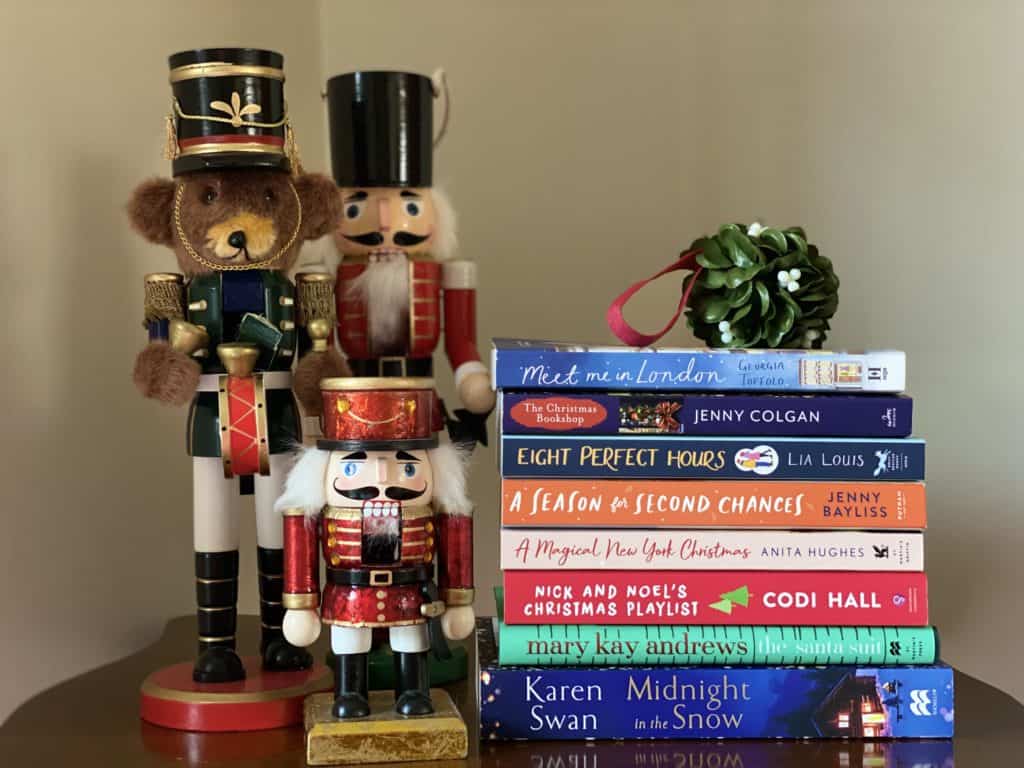 We are a participant in the Amazon Services LLC Associates Program, an affiliate advertising program designed to provide a means for us to earn fees by linking to Amazon.com and affiliated sites. As an Amazon affiliate I earn from qualifying purchases.
This post may contain affiliate links. If you click an affiliate link and make a purchase then we receive a small commission at no additional cost to you.
1. Meet Me in London by Georgia Toffolo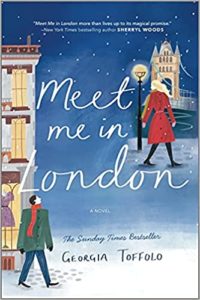 Setting: London, England
Aspiring clothes designer Victoria Scott spends her days working in a bar in Chelsea and her evenings designing vintage clothes, dreaming of one day opening her own boutique. But these aspirations are under threat from the new department store opening at the end of her road. She needs a Christmas miracle, but one is not forthcoming.
Oliver Russell's Christmas is not looking very festive right now. His family's new London department store opening is behind schedule, and on top of that his interfering, if well-meaning, mother is pressing him to introduce his girlfriend to her over the holidays—a girlfriend who does not exist. He needs a diversion…something to keep his mother from meddling while he focuses on the business.
When Oliver meets Victoria, he offers a proposition: pretend to be his girlfriend at the opening of his store and he will provide an opportunity for Victoria to showcase her designs. But what starts as a business arrangement soon becomes something more tempting as the fake relationship starts to feel very real. But when secrets in Victoria's past are exposed, will Oliver walk away, or will they both follow their hearts and find what neither knew they were looking for…?
A cute, easy-to-read romance set in London during the holiday season that made me remember just how much I have always wanted to visit London at Christmas! As well as the blossoming romance, there are also themes about the importance of friendship and of having the courage to dream big and daring to follow your passions.
2. Midnight in the Snow by Karen Swan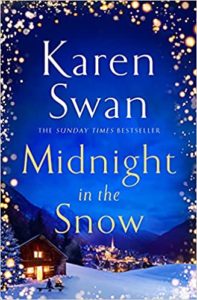 Setting: Austrian Alps
Clover Phillips is an award-winning documentary-maker who finds success filming pro-surfer Duke Allbright's life following a tragic accident against his bitter rival, Kit Foley. While Foley retains riches and fame in the wake of the controversial incident, Allbright's fortunes nosedive and Clover's film aims to shine a light on a forgotten hero. But when Allbright dies unexpectedly, on the eve of Oscars glory, Clover makes a promise to his widow that she will find justice for Duke and expose Foley for the villain that he is.
Foley, having won everything there is to win in the surfing world, has set his sights on snowboarding and is on the brink of going pro. His management see Clover's approach as an opportunity to tell his side of the story while raising his profile in this new community. Foley isn't convinced but his sponsors demand it, and Clover and her team relocate to the Austrian Alps to film his preparation for his debut season. As she shadows him everywhere he goes and interviews everyone in his life, tensions run high as she begins to discover the man behind the myth – and the closer she gets, the harder it is to hate him. Can she keep her promise to Duke's family? Or will she step back from destroying the man she loves?
I have read several Karen Swan novels in the past couple of years and enjoy the mix of romance, intrigue and fabulous settings that stoke my wanderlust. Midnight in the Snow takes place primarily in a ski village in the Austrian Alps and involves a documentary filmmaker and her crew working on their latest project about a surfer turned snowboarder. I was expecting Christmas to be more central to the plot but the story takes place over the weeks leading up to the holidays and it's only the last part of the book where Christmas is mentioned at all – still a very enjoyable read though!
3. The Christmas Bookshop by Jenny Colgan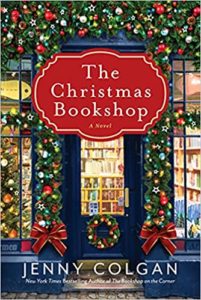 Setting: Edinburgh, Scotland
Laid off from her department store job, Carmen has perilously little cash and few options. The prospect of spending Christmas with her perfect sister Sofia, in Sofia's perfect house with her perfect children and her perfectly ordered yuppie life does not appeal.
Frankly, Sofia doesn't exactly want her prickly sister Carmen there either. But Sofia has yet another baby on the way, a mother desperate to see her daughters get along, and a client who needs help revitalizing his shabby old bookshop. So Carmen moves in and takes the job.
Thrown rather suddenly into the inner workings of Mr. McCredie's ancient bookshop on the picturesque streets of historic Edinburgh, Carmen is intrigued despite herself. The store is dusty and disorganized but undeniably charming. Can she breathe some new life into it in time for Christmas shopping? What will happen when a famous and charismatic author takes a sudden interest in the bookshop—and Carmen? And will the Christmas spirit be enough to help heal her fractured family?
The Christmas Bookshop is a charming story about new beginnings, the importance of family and the magic of bookshops with a dash of romance and the loveliest of settings as well. The descriptions in the book bring Edinburgh to life and make the historic city seem magical especially during the Christmas season. I now want to visit for the holidays and explore the shops of Victoria Street – if only Mr. McCredie's shop was real!!
4. A Magical New York Christmas by Anita Hughes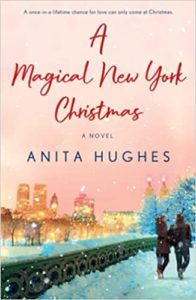 Setting: New York City
It's Christmas week when 26-year-old Sabrina Post knocks on the door of the Vanderbilt suite at the Plaza Hotel in New York City, ready to accept the ghostwriting position for the memoir of Grayson Westcott―a famous art dealer.
A struggling journalist, Sabrina can't believe her luck: a paycheck and six nights in her own suite at the Plaza. She feels like Eloise, the heroine from her favorite children's books. To make the job even more exciting, Grayson recounts how he worked as a butler at the Plaza sixty years ago for none other than the author of the Eloise books, Kay Thompson.
What promises to be a perfect week is complicated when Sabrina meets Ian Wentworth, a handsome British visitor, at the hotel bar. When Ian assumes Sabrina is another wealthy guest at the hotel, she doesn't correct him ―a decision she doesn't regret after learning that Ian is a member of the British aristocracy. But, things are not what they seem. The truth is: Ian is not a wealthy lord; he's actually the personal secretary of Lord Spencer Braxton.
A sweet, almost old-fashioned holiday romance that takes place in one of the most magical of holiday destinations – New York City! If you're a fan of the Eloise books then you'll enjoy the second timeline where Grayson, who worked as a butler at The Plaza during the late '50s – early '60s, tells Sabrina about how he got to know Kay Thompson who lived at The Plaza at the time. A Magical New York Christmas fits the bill for anyone looking for a completely clean holiday romance.
5. The Holiday Swap by Maggie Knox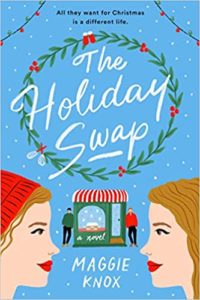 Setting: Los Angeles and a small California mountain town
When chef Charlie Goodwin gets hit on the head on the L.A. set of her reality baking show, she loses a lot more than consciousness; she also loses her ability to taste and smell—both critical to her success as show judge. Meanwhile, Charlie's identical twin, Cass, is frantically trying to hold her own life together back in their quaint mountain hometown while running the family's bustling bakery and dealing with her ex, who won't get the memo that they're over.
With only days until Christmas, a desperate Charlie asks Cass to do something they haven't done since they were kids: switch places. Looking for her own escape from reality, Cass agrees. But temporarily trading lives proves more complicated than they imagined, especially when rugged firefighter Jake Greenman and gorgeous physician assistant Miguel Rodriguez are thrown into the mix. Will the twins' identity swap be a recipe for disaster, or does it have all the right ingredients for getting their lives back on track?
A delightful twin swap/double romance with all the best holiday vibes! Unsurprisingly, swapping places is complicated and hijinks ensue plus there's mouthwatering holiday baking, new romances with a physician's assistant named Miguel and a firefighter named Jake and the two sisters discover what matters most. The Holiday Swap is a light-hearted, sweet, feel-good rom-com – perfect for the holiday season!
I received a digital ARC (Advanced Review Copy) of The Holiday Swap.
6. A Season for Second Chances by Jenny Bayliss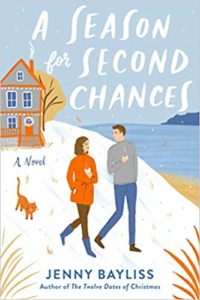 Setting: English seaside town
Annie Sharpe's spark for life has fizzled out. Her kids are grown up, her restaurant is doing just fine on its own, and her twenty-six-year marriage has come to an unceremonious end. Untethered for the first time in her adult life, she finds a winter guardian position in a historic seaside home and decides to leave her city life behind for a brand-new beginning.

When she arrives in Willow Bay, Annie is enamored by the charming house, the invigorating sea breeze, and the town's rich seasonal traditions. Not to mention, her neighbors receive her with open arms—that is, all except the surly nephew of the homeowner, whose grand plans for the property are at odds with her residency. As Christmas approaches, tensions and tides rise in Willow Bay, and Annie's future seems less and less certain. But with a little can-do spirit and holiday magic, the most difficult time of her life will become…a season for second chances.
An enjoyable second-chance romance about a woman in her '40s who arranges to maintain a historic home in a seaside town in the UK for the winter after her marriage of 26 years falls apart. From the description, I was expecting A Season For Second Chances to be more of a Christmas novel than it actually is but enjoyed it regardless. Annie arrives in Willow Bay in September so it's only the last quarter of the book that takes places during the holiday season and Christmas isn't central to the plot. It is a nice change to read a romance about a woman starting over in her '40s and a relationship that develops over several months in a realistic way.
7. The Santa Suit by Mary Kay Andrews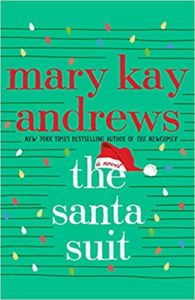 Setting: Small fictional town in North Carolina
When newly-divorced Ivy Perkins buys an old farmhouse sight unseen, she is definitely looking for a change in her life. The Four Roses, as the farmhouse is called, is a labor of love―but Ivy didn't bargain on just how much labor. The previous family left so much furniture and so much junk, that it's a full-time job sorting through all of it.
At the top of a closet, Ivy finds an old Santa suit―beautifully made and decades old. In the pocket of a suit she finds a note written in a childish hand: it's from a little girl who has one Christmas wish, and that is for her father to return home from the war. This discovery sets Ivy off on a mission. Who wrote the note? Did the man ever come home? What mysteries did the Rose family hold?
Ivy's quest brings her into the community, at a time when all she wanted to do was be left alone and nurse her wounds. But the magic of Christmas makes miracles happen, and Ivy just might find more than she ever thought possible: a welcoming town, a family reunited, a mystery solved, and a second chance at love.
A sentimental feel-good holiday novella about a recently-divorced woman starting over again by buying an old farmhouse in a small town sight unseen and experiencing all the magic of the Christmas season. It's a quick read at just over 200 pages so perfect if you just want to curl up for the evening in a cozy chair with a hot drink and immerse yourself in a holiday book that will leave you feeling warm and fuzzy!
8. The Christmas Escape by Sarah Morgan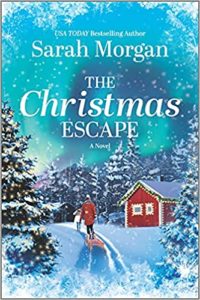 Setting: Swedish Lapland
It was supposed to be Christy Sullivan's perfect Christmas getaway—a trip to Lapland with her family and best friend, Alix. But facing a make-or-break marriage crisis, Christy desperately needs time alone with her husband. Her solution? Alix can take Christy's little daughter to Lapland, and they will reunite there for Christmas Day. It's a big ask, but what else are friends for?
There's nothing Alix won't do for Christy. But Christy's request to save Christmas is giving Alix sleepless nights. She knows something is wrong, but for the first time ever, Christy isn't talking. And even the Arctic temperatures in Lapland aren't enough to dampen the seriously inconvenient sizzle Alix is developing for Zac, a fellow guest and nemesis from her past.
As secrets unravel and unexpected romance shines under the northern lights, can Christy and Alix's Christmas escape give them the courage to fight for the relationships they really want, and save the precious gift of each other's friendship?
There's a lot going on in The Christmas Escape but Sarah Morgan weaves it all together into an uplifting story about the importance of communication in maintaining relationships – with family, friends, and lovers. The incredibly festive setting of Lapland in northern Sweden with Santa, reindeer, dog sledding, and the aurora borealis had me dreaming of my own snowy holiday escape! Sarah Morgan is a new author to me and I look forward to reading more of her novels.
I received a digital ARC (Advance Review Copy) of The Christmas Escape.
9. Eight Perfect Hours by Lia Louis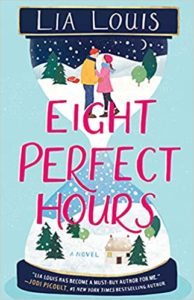 Setting: England
On a snowy evening in March, thirty-something Noelle Butterby is on her way back from an event at her old college when disaster strikes. With a blizzard closing off roads, she finds herself stranded, alone in her car, without food, drink, or a working charger for her phone.
All seems lost until Sam Attwood, a handsome American stranger also trapped in a nearby car, knocks on her window and offers assistance. What follows is eight perfect hours together, until morning arrives and the roads finally clear. The two strangers part, positive they'll never see each other again but fate, it seems, has a different plan. As the two keep serendipitously bumping into one another, they begin to realize that perhaps there truly is no such thing as coincidence.
The cover of Eight Perfect Hours is a little misleading because it looks like it should be a holiday romance when it doesn't take place during the Christmas season at all. It is, however, still a charming, feel good story that is perfect for holiday reading or anytime you need an escape from reality. Aside from the blossoming romance, it's also a lovely story about family, dealing with grief over lost loved ones, learning to believe in oneself and following dreams.
10. Duke, Actually by Jenny Holiday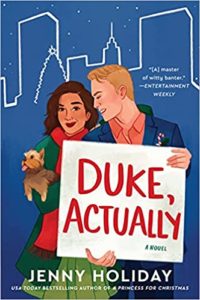 Setting: New York City and a fictional European country
Maximillian von Hansburg, Baron of Laudon and heir to the Duke of Aquilla, is not having a merry Christmas. He's been dumped by a princess, he's unemployed, and his domineering father has sent him to New York to meet a prospective bride he has no interest in. In the city, he meets Dani Martinez, a smart (and gorgeous) professor he's determined to befriend before their best friends marry in the Eldovian wedding of the century.
Newly single, no-nonsense New Yorker Dani is done with love—she even has a list entitled "Things I Will Never Again Do for a Man"—which is why she hits it off with notorious rake Max. He's the perfect partner for snow angels in Central Park and deep conversations about the futility of love.
It's all fun and games until their friendship deepens into attraction and, oops…
Falling in love was never part of the plan.
A fun holiday read with charming characters, witty banter, and a slow burn romance (with a bit of steam) that develops over the course of a year with Christmas at the beginning and the end. There are nods to Love Actually and some hilariously fun scenes related to Dirty Dancing which is one of my favourite movies of all-time – just a really fun, enjoyable read overall! This is actually the second in a series and works as a stand-alone, however, I wish that I would have read A Princess for Christmas first.
11. Keep Me Warm at Christmas by Brenda Novak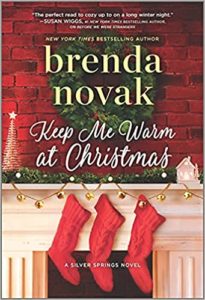 Setting: Fictional small town in Southern California
Hollywood starlet Tia Beckett knows one moment can change your life. Her career had been on the fast track before a near-fatal accident left her with a debilitating facial scar. Certain her A-lister dreams are over, she agrees to house-sit at her producer's secluded estate in Silver Springs. It's the escape from the limelight Tia's been craving, until she discovers she's not the only houseguest for the holidays. And her handsome new roomie is impossible to ignore.
Artist Seth Turner has good reason to keep his distance. Losing his wife after only a few years of marriage has left a deep scar, even if he is still happy to spend a semester teaching art classes at the New Horizons Boys Ranch for troubled teens. Despite nursing her own wounds, Tia finds her curiosity piqued by enigmatic Seth, whom she recognizes as something of a kindred soul. Maybe spending Christmas together could be another game changer for both of them—this time, for good.
A feel-good romance set during the holidays in the fictional town of Silver Springs, California. The story revolves around two people dealing with personal tragedies who happen to be staying at the same estate in Silver Springs over the holidays. The two provide emotional support to each other as they gradually learn that they can be happy again.
Keep Me Warm at Christmas is the 9th in Brenda Novak's Silver Springs series but it is fine as a stand-alone read. This is the 3rd book that I have read by Novak in the last year and a half and I have enjoyed all three. She is very good at writing a compelling story that draws readers into the lives of her characters.
12. Blame It on the Mistletoe by Beth Garrod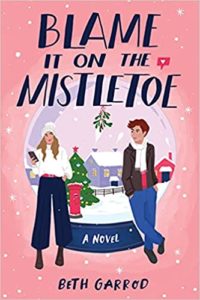 Setting: The U.S. and the U.K.
Elle is a social medial star with the #DreamLife…or so it seems. Determined to shake up her content and gain new followers, she's on a mission: can she find a British fan to swap with for Christmas?
Holly loves everything about Christmas. But after a mortifying mistletoe disaster with her ex, her perfect plans unravel like a bad Christmas sweater. Can Holly save the holidays when she switches places with favorite social media influencer?
Elle gets more than she bargained for when she meets the cute boy from across the street. And Holly wasn't expecting Elle to have a handsome twin brother. This holiday is full of surprises.
A sweet, funny YA rom-com about two girls who swap places for the holidays – aptly described as a teenage version of the movie The Holiday. I love Christmas travel so thoroughly enjoyed that the girls each spent a day sightseeing in two cities that have the most magical vibes during the holiday season – Elle in London and Holly in New York City.
There's also an important message throughout the book about cyber-bullying and the Instagram vs. Reality side of social media that I think will resonate with readers of any age. Blame It on the Mistletoe is perfect for the teen (or really anyone who loves a festive YA rom-com) on your holiday shopping list!!
I received a digital ARC (Advance Review Copy) of Blame It on the Mistletoe.
13. Nick and Noel's Christmas Playlist by Codi Hall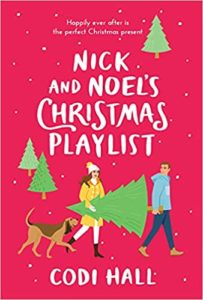 Setting: Fictional town of Mistletoe in Idaho
Nick Winter is just out of the military, and his Christmas homecoming is not going as planned. What was supposed to be a memorable holiday with his long-time girlfriend goes sour when he learns she cheated on him while he was stationed overseas. At least Nick can rely on his usual shift at the family Christmas tree farm with his best friend, Noel Carter, and her endless supply of Christmas tunes to lift his spirits. A night of fun together is just what he needs to forget about his ex.
But then they kiss. And it feels…so right.
If Noel can turn Nick's Blue Christmas merry and bright, this might be the last Christmas Nick spends with a broken heart. This year, they'll be Rockin' Around the Christmas Tree as a couple―as long as Nick's ex doesn't go standing under any mistletoe.
A steamy friends-to-lovers holiday romance that is chock full of Christmas vibes – a town called Mistletoe, a family Christmas tree farm, Christmas songs and characters named Nick, Noelle, Holly and Merry who all have December birthdays! It's also the first in the Mistletoe series so there's more to come for Nick and Noelle and their friends and family – I'm guessing the second will be about Nick's sister Holly who owns the holiday shop and the owner of the hardware store that she's always squabbling with. 🙂
14. Dear Santa by Debbie Macomber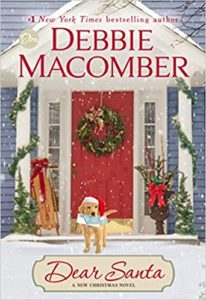 Setting: Washington State
Lindy Carmichael isn't feeling particularly joyful when she returns home to Wenatchee, Washington, for Christmas. The man she thought was "the one" has cheated on her with her best friend, and she feels completely devoid of creativity in her graphic-design job. Not even carolers or Christmas cookies can cheer her up—but Lindy's mother, Ellen, remembers an old tradition that might lift her daughter's spirits.

Reading through a box of childhood letters to Santa and reminiscing about what she'd wished for as a young girl may be just the inspiration Lindy needs. With Ellen's encouragement, she decides to write a new letter to Santa, one that will encourage her to have faith and believe just as she'd done all those years ago. Little does Lindy know that this exercise in gratitude will cause her wishes to unfold before her in miraculous ways. And, thanks to some fateful twists of Christmas magic—especially an unexpected connection with a handsome former classmate—Lindy ultimately realizes that there is truly no place like home for the holidays.
A sweet holiday romance that's an unabashed celebration of the magic and joy of Christmas and the importance of following your heart to find true happiness. A cute read when you need some holiday spirit – like comfort food in book form!
15. A Holly Jolly Diwali by Sonya Lalli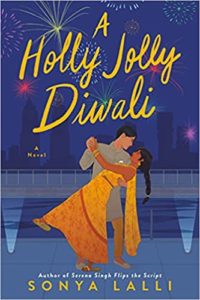 Setting: India (Mumbai and Goa)
Twenty-nine-year-old Niki Randhawa has always made practical decisions. Despite her love for music and art, she became an analyst for the stability. She's always stuck close to home, in case her family needed her. And she's always dated guys that seem good on paper, rather than the ones who give her butterflies. When she's laid off, Niki realizes that practical hasn't exactly paid off for her. So for the first time ever, she throws caution to the wind and books a last-minute flight for her friend Diya's wedding.
Niki arrives in India just in time to celebrate Diwali, the festival of lights, where she meets London musician Sameer Mukherji. Maybe it's the splendor of Mumbai or the magic of the holiday season, but Niki is immediately drawn to Sam. At the wedding, the champagne flows and their flirtatious banter makes it clear that the attraction is mutual.
When Niki and Sam join Diya, her husband and their friends on a group honeymoon, their connection grows deeper. Free-spirited Sam helps Niki get in touch with her passionate and creative side, and with her Indian roots. When she gets a new job offer back home, Niki must decide what she wants out of the next chapter of her life—to cling to the straight and narrow like always, or to take a leap of faith and live the kind of bold life the old Niki never would have dreamed of.
A cute romance about Niki, a very practical young Indian-American woman, who is let go from her data analyst job and makes the impulsive decision to take a last-minute trip to India (Mumbai and Goa) to celebrate a friend's wedding. Most of the story takes place post-Diwali but I enjoyed reading a holiday rom-com that was centred on a celebration other than Christmas. I also enjoyed that Niki's solo trip to India helped her become more independent and also to connect to her Punjabi roots.
16. The Matzah Ball by Jean Meltzer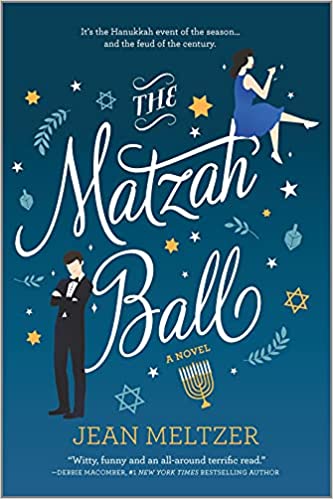 Setting: New York City
Rachel Rubenstein-Goldblatt is a nice Jewish girl with a shameful secret: she loves Christmas. For a decade she's hidden her career as a Christmas romance novelist from her family. Her talent has made her a bestseller even as her chronic illness has always kept the kind of love she writes about out of reach.
But when her diversity-conscious publisher insists she write a Hanukkah romance, her well of inspiration suddenly runs dry. Hanukkah's not magical. It's not merry. It's not Christmas. Desperate not to lose her contract, Rachel's determined to find her muse at the Matzah Ball, a Jewish music celebration on the last night of Hanukkah, even if it means working with her summer camp archenemy—Jacob Greenberg.
Though Rachel and Jacob haven't seen each other since they were kids, their grudge still glows brighter than a menorah. But as they spend more time together, Rachel finds herself drawn to Hanukkah—and Jacob—in a way she never expected. Maybe this holiday of lights will be the spark she needed to set her heart ablaze.
A sweet holiday rom-com centred around Hanukkah with a chronically ill Jewish woman who secretly writes bestselling Christmas romances as a main character. I enjoyed reading a holiday romance that revolved non-Christmas festivities.
17. The Secret of Snow by Viola Shipman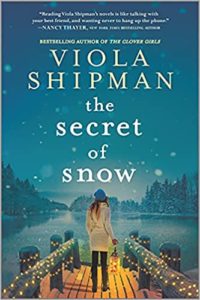 Setting: Northern Michigan
When Sonny Dunes, a SoCal meteorologist whose job is all sunshine and seventy-two-degree days, is replaced by a virtual meteorologist that will never age, gain weight or renegotiate its contract, the only station willing to give the fifty-year-old another shot is the very place Sonny's been avoiding since the day she left for college—her northern Michigan hometown.
Sonny grudgingly returns to the long, cold, snowy winters of her childhood…with the added humiliation of moving back in with her mother. Not quite an outsider but no longer a local, Sonny finds her past blindsiding her everywhere: from the high school friends she ghosted, to the former journalism classmate and mortal frenemy who's now her boss, to, most keenly, the death years ago of her younger sister, who loved the snow.
To distract herself from the memories she's spent her life trying to outrun, Sonny throws herself headfirst into covering every small-town winter event to woo a new audience, made more bearable by a handsome widower with optimism to spare. But with someone trying to undermine her efforts to rebuild her career, Sonny must make peace with who she used to be and allow her heart to thaw if she's ever going to find a place she can truly call home.
Not really a Christmas read – it starts and finishes during the holidays, however, most of it takes place over the course of the winter season as Sonny adjusts to living in a cold, snowy environment again and learns to open her heart after decades of freezing everyone out. The Secret of Snow is a sentimental read designed to tug on the heartstrings with a message about grief and how to go on living life to the fullest without regret after tragic losses.
18. Sleigh Bells Ring by RaeAnne Thayne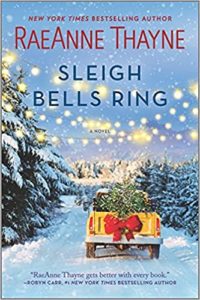 Setting: A ranch in Wyoming
Angel's View Ranch has always been special to Annelise McCade. Once upon a time, it was her family's land, until her grandfather sold it to billionaire Wallace Sheridan. Now employed as the live-in caretaker, Annie is just trying to make it through the holidays with both her sanity and her niece's and nephew's faith in the magic of Christmas intact.
The six-year-old twins recently lost their mother, so Annie tells herself it wouldn't be a problem to bring them to Angel's View. Why should it be? The Sheridans haven't visited in years, not since Wallace died. They would never know the twins were there…until Tate Sheridan shows up out of the blue two weeks before Christmas.
Crushed to learn that Tate is there to sell his grandfather's property—and mortified that her secret guests have been discovered—Annie offers her resignation. But Tate asks them to stay and help him get the house ready for one last family Christmas before it's put on the market.
Annie and Tate have three days to work their magic before the Sheridan clan arrives—and to work through the growing attraction between them. But Annie simply can't fall for the man who will put her out of a job and a home. Still, the sparkle of the season is impossible to deny…and this Christmas has surprises in store for everyone.
19. Christmas by the Book by Anne Marie Ryan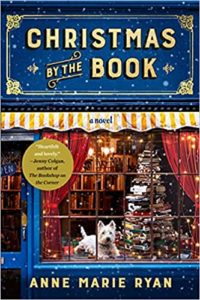 Setting: Small town in the Cotswolds, England
Nora and her husband, Simon, have run the beautiful oak-beamed book shop in their small British village for thirty years. But times are tough and the shop is under threat of closure–this Christmas season will really decide their fate. When an elderly man visits the store and buys the one book they've never been able to sell, saying it's the perfect gift for his sick grandson, it gives Nora an idea. She and Simon will send out books to those feeling down this Christmas. Maybe they can't save their bookstore, but at least they'll have one final chance to lift people's spirits through the power of reading.
I loved this uplifting Christmas story about a couple in a small village in the Cotswolds struggling to keep their bookshop afloat. Despite the business challenges they're facing, Simon and Nora decide to quietly gift books to six people in their community who need some festive cheer. The results bear witness to the power of books to connect people, lift spirits and provide hope. It's a delightful holiday story for booklovers!
20. So, This is Christmas by Tracy Andreen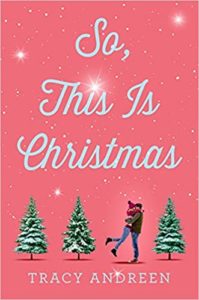 Setting: Fictional town Christmas, Oklahoma
When Finley Brown returned to her hometown of Christmas, Oklahoma, from boarding school, she expected to find it just as she left it. Christmas hasn't changed much in her sixteen years. But instead she returns to find that her best friend is dating her ex-boyfriend, her parents have separated, and her archnemesis got a job working at her grandmother's inn.
And she certainly didn't expect to find the boy she may or may not have tricked into believing that Christmas was an idyllic holiday paradise on her grandmother's doorstep. It's up to Finley to make sure he gets the Christmas he was promised.
This is Finley's Christmas. It's about home and family and friends and finding her place, and along the way she also finds the best Christmas present of all: love.
21. Celebrations at the Château by Jo Thomas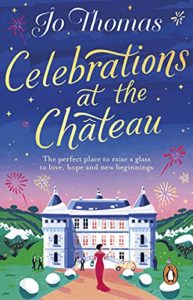 Setting: Normandy, France
When their grandfather dies, Fliss and her sisters are astonished to inherit a French chateau! Travelling to Normandy to visit the beautiful if faded house, they excitedly make plans over delicious crepes and local cider in the town nearby.
They soon discover the chateau needs major work and a huge tax bill is due . . . Unable to sell but strapped for cash, Fliss determines to spruce up the elegant old rooms and open a B&B.
But Jacques, the handsome town mayor, is opposed to her plan. When it becomes clear that the only way to save the magnificent castle is to work together, Jacques and Fliss discover that they have more in common than they think…
This is a lovely, feel-good story about Fliss learning to believe in herself and celebrating her own accomplishments. There's also romance and new beginnings for several of the characters but what I enjoyed most about Celebrations at the Chateau was the dreamy setting of this ancient chateau in a small village in Normandy. I loved the descriptions of the chateau, the village and the food that brought back so many good memories of my trips to France and made me dream of returning. It's a great escape for a chilly winter day!
I received a digital ARC (Advance Review Copy) of Celebrations at the Chateau.
22. Always, in December by Emily Stone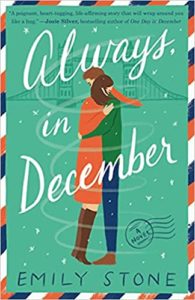 Setting: London, New York City, Scotland
Every December, Josie posts a letter from her home in London to the parents she lost on Christmas night many years ago. Each year, she writes the same three words: Missing you, always. But this year, her annual trip to the postbox is knocked off course by a bicycle collision with a handsome stranger–a stranger who will change the course of Josie's life.

Josie always thought she was the only one who avoided the Christmas season, but this year, Max has his own reasons for doing the same—and coincidence leads them to spending the holiday together. Aglow with new love, Josie thinks this might be the start of something special.

Only for Max to disappear without saying goodbye.

Over the course of the next year, Max and Josie will find that fate continues to bring them together in places they'd never expect. New York City. Edinburgh. The quiet English countryside. And it turns out, Max had every reason to leave and every reason to stay. But what does fate hold for Josie and Max as Christmas approaches again?
Always, in December is not your typical holiday romance. I enjoyed reading it even more for that reason alone but if you're looking for a Hallmark romance wrapped up in a pretty bow then this book probably isn't your best choice. Josie lost both of her parents in a car accident as a young child and the story is as much about family and how that intense grief affects one's life as it is about Max and Josie's relationship. The story is heartbreaking yet hopeful at the same time – I'd advise keeping a box of tissues at hand while reading!
23. The Mistletoe Pact by Jo Lovett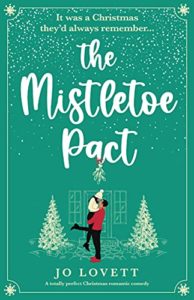 Setting: Mainly London and the Cotswolds
Two single thirty-year-olds. One marriage pact. And a night in Vegas that's about to change everything…
A light and easy read with an interesting premise set mainly in the Cotswolds and London with a trip to Las Vegas thrown in. The Mistletoe Pact is an entertaining friends to lovers romance but since the plot jumps around over several years, it wasn't set as much during the holiday season as I was expecting. Still a nice start to my holiday reading!
I received a digital ARC (Advance Review Copy) of The Mistletoe Pact.
24. Flora's Travelling Christmas Shop by Rebecca Raisin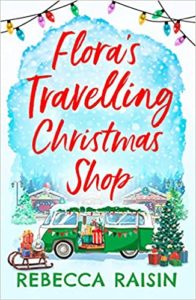 Setting: London and Finnish Lapland
Flora loves Christmas more than anything else in the world, so she's gutted when her Scrooge-alike boss fires her from Deck the Halls Christmas emporium. But now she finally has a chance to follow her dreams – and what better place to start than the home of Christmas?
Before she can say 'sleigh bells', Flora's on her way to Lapland in a campervan-cum-Christmas-shop. She can't wait to spend her days drinking hot chocolate and taking reindeer-drawn carriage rides, but something Flora didn't expect was meeting Connor, a Norse god of a man who makes her heart flutter and snowflakes swirl in her stomach. There's just one problem: Connor hates Christmas.
The latest installment in Rebecca Raisin's van life series is a fun, festive romance for the holidays. Flora's Travelling Christmas Shop is a quick, feel-good read featuring festive European Christmas markets, magical aurora borealis, dog sledding through the snow and sleighs pulled by reindeer that will have you daydreaming about your own holiday trip to Lapland!
I received a digital ARC (Advanced Review Copy) of Flora's Travelling Christmas Shop.
25. A Christmas in the Alps by Melody Carson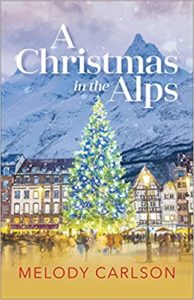 Setting: The French Alps
After a time of heartache and loss, Simone Winthrop discovers a tantalizing letter from her French great-grandmother, which seems to suggest that she is heir to a family treasure. Ever practical, Simone assumes the claim is baseless, but her best friend encourages her to find out for sure. Despite her deep-rooted fear of flying, Simone boards a jet to travel to Paris at Christmastime to uncover the truth.
During the long flight, Simone meets the charming Kyle Larsson, who's on his way to France to become an apprentice clockmaker. Though they abruptly part ways, an unexpected rendezvous in the French Alps at Simone's family's clock factory may lead to the discovery of the family treasure . . . and so much more.
A short and simple novella about a woman from the U.S. who has recently lost her grandmother and travels to a small town in the French Alps during the Christmas season to search for family. This would be an appropriate gift for anyone although I thought that it could have used more details of what the Christmas season is like in France.
Pin This For Later