Summer is just around the corner and that means it's time to start planning summer reading lists!
My recommendations for the best books to read summer 2023 include recently published contemporary fiction, historical fiction, romance, and mysteries that I have personally read and can recommend.
Whether you're looking for a book to read on vacation or while relaxing at home, there should be something to suit your reading mood. Happy summer reading!!
You Might Also Enjoy Reading:
35 of the Best Summer Beach Reads for 2022
29 of the Best Summer Beach Reads in 2021
21 Travel Inspired Books for Your Summer 2020 Reading List
21 Books to Read This Summer: A Travel Inspired List to Fuel Your Wanderlust (2019)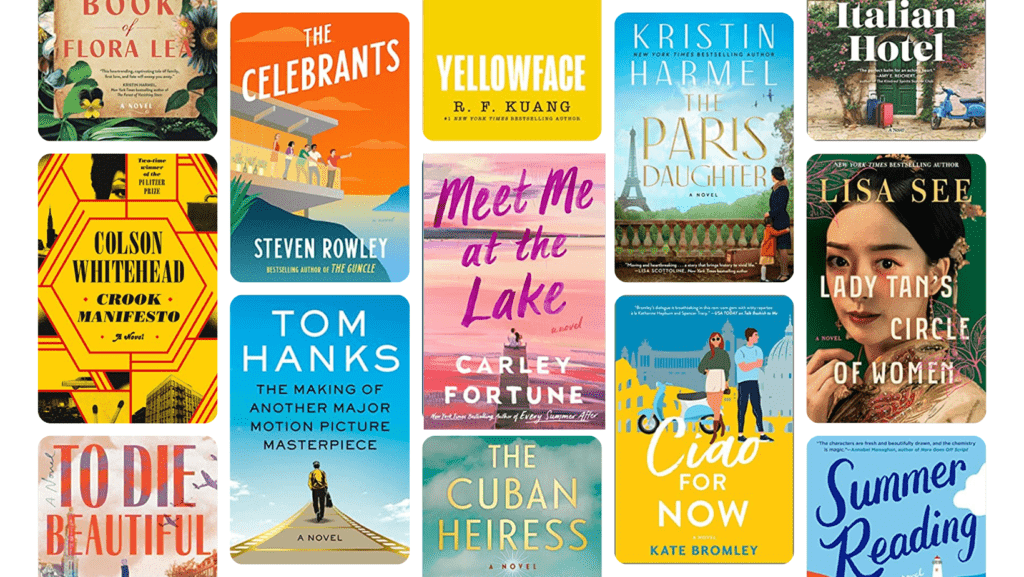 We are a participant in the Amazon Services LLC Associates Program, an affiliate advertising program designed to provide a means for us to earn fees by linking to Amazon.com and affiliated sites. As an Amazon affiliate I earn from qualifying purchases.
This post may contain affiliate links. If you click an affiliate link and make a purchase then we receive a small commission at no additional cost to you.
Try Audible Premium Plus and Get Up to Two Free Audiobooks
1. Meet Me at the Lake by Carley Fortune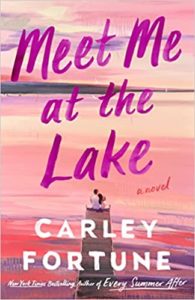 Setting: Toronto and at a Muskoka resort, Ontario, Canada
Fern Brookbanks has wasted far too much of her adult life thinking about Will Baxter. She spent just twenty-four hours in her early twenties with the aggravatingly attractive, idealistic artist, a chance encounter that spiraled into a daylong adventure in Toronto. The timing was wrong, but their connection was undeniable: they shared every secret, every dream, and made a pact to meet one year later. Fern showed up. Will didn't.
At thirty-two, Fern's life doesn't look at all how she once imagined it would. Instead of living in the city, Fern's back home, running her mother's Muskoka lakeside resort—something she vowed never to do. The place is in disarray, her ex-boyfriend's the manager, and Fern doesn't know where to begin.
She needs a plan—a lifeline. To her surprise, it comes in the form of Will, who arrives nine years too late, with a suitcase in tow and an offer to help on his lips. Will may be the only person who understands what Fern's going through. But how could she possibly trust this expensive-suit wearing mirage who seems nothing like the young man she met all those years ago. Will is hiding something, and Fern's not sure she wants to know what it is.
But ten years ago, Will Baxter rescued Fern. Can she do the same for him?
A heartwarming second-chance romance between a couple who spend one perfect day together and then meet again 10 years later.
The story is told in two alternating timelines – the first timeline is the day that Will and Fern spend in Toronto and the second timeline takes place 10 years later over the course of several weeks at the resort near Huntsville – absolutely loved the summer resort in Muskoka setting! Meet Me by the Lake is a great summer read – I relaxed with it by a lake on the Canada Day long weekend and it was the perfect escape!
2. The Stolen Hours by Karen Swan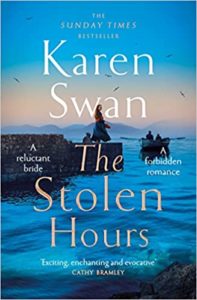 Setting: Scottish Isles
It's the summer of 1929 and Mhairi MacKinnon is in desperate need of a husband. As the eldest girl of nine children, her father has made it clear he can't support her past the coming winter. On her lonely island home of St Kilda, Scotland, her options are limited, but one of the MacKinnons' neighbours has a business acquaintance on the Isle of Harris looking to marry. A plan is hatched for him to chaperone Mhairi and make the introduction on his final crossing of the year, before the autumn seas close them off to the outside world once more.
Mhairi returns as an engaged woman who has lost her heart – but not to her fiancé. In love with the wrong man but knowing he can never be hers, she awaits the spring with growing dread, for the onset of calm waters will see her sent across the water to become a stranger's wife.
When word comes that St Kilda is to be evacuated in August, the lovers are granted a few months' reprieve, enjoying stolen hours together. But come the end of the summer, Mhairi will be separated from her love, her family and friends, and everything will change forever.
The second installment in Karen Swan's The Wild Isle series about St. Kilda in the Scottish Isles told from the perspective of Mhairi MacKinnon, a close friend of Effie Gillies from the first book (The Last Summer). The timeline overlaps a bit with the first book and provides more information about the islanders and clues relating to the central mystery of the series – was the factor murdered on St. Kilda at the time of evacuation and, if so, by who?
A great read with all the mystery, romance, and sense of place that is to be expected from a Karen Swan novel but it doesn't work as a standalone – it's a commitment to a 5 book series or you will be disappointed to be left hanging as it doesn't appear that the mystery will be resolved until the final book.
3. The Covenant of Water by Abraham Verghese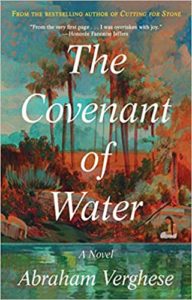 Setting: Kerala, South India
Spanning the years 1900 to 1977, The Covenant of Water is set in Kerala, on South India's Malabar Coast, and follows three generations of a family that suffers a peculiar affliction: in every generation, at least one person dies by drowning—and in Kerala, water is everywhere.
At the turn of the century, a twelve-year-old girl from Kerala's long-existing Christian community, grieving the death of her father, is sent by boat to her wedding, where she will meet her forty-year-old husband for the first time. From this unforgettable new beginning, the young girl—and future matriarch, known as Big Ammachi—will witness unthinkable changes over the span of her extraordinary life, full of joy and triumph as well as hardship and loss, her faith and love the only constants.
Oh how I loved Abraham Verghese's sweeping new novel set in Southern India! At its heart this is a story about family, love and loss but there is so much more woven into the narrative over Big Ammachi's lifetime. Over the course of nearly 8 decades, the story encompasses the history of South India and the formation of the state of Kerala including politics and the rise of Communism in Kerala post-independence as well as the Naxalite movement, and touches on issues relating to poverty, the caste system, religion, and women's rights.
There are also a number of interesting medical issues that are germane to the plot relating to the understanding of the Condition at the core of the novel as well as leprosy, childbirth, and neurosurgery. The lyrical prose is beautiful throughout but I especially enjoyed the evocative descriptions of the landscape of Kerala which brought the setting of the story to life for me.
I was completely absorbed in this fascinating epic which is equal parts heartbreaking and heartwarming. At 700+ pages, reading it is a commitment but I didnt want it to end and I relished every last page!
Thank you to NetGalley for the digital ARC (Advance Review Copy).
4. The Secret Book of Flora Lea by Patti Callahan Henry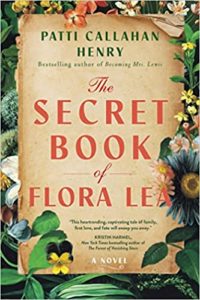 Setting: England
1939: Fourteen-year-old Hazel and five-year-old Flora evacuate their London home for a rural village to escape the horrors of the Second World War. Living with the Aberdeen family in a charming stone cottage, Hazel distracts her younger sister with a fairy tale about a magical land, a secret place they can escape to that is all their own: Whisperwood.

But the unthinkable happens when Flora suddenly vanishes after playing near the banks of the River Thames. Shattered, Hazel blames herself for her sister's disappearance, carrying the guilt into adulthood.

Twenty years later, Hazel is back in London, ready to move on from her job at a cozy rare bookstore for a career at Sotheby's. With a cherished boyfriend and an upcoming Paris getaway, her future seems set. But her tidy life is turned upside down when she unwraps a package containing a picture book called Whisperwood and the River of Stars. Hazel never told a soul about the storybook world she created just for Flora. Could this book hold the secrets to her beloved sister's disappearance? Could it be a sign that Flora is still alive after all these years? Or is something sinister at play?
An enjoyable dual timeline narrative set in 1939/40 and 1960 about two sisters who are evacuated from London to live with a family in the countryside as part of Operation Pied Piper during World War II. A charming novel about the power and magic of storytelling that also has elements of a coming-of-age story, family drama, mystery and romance.
5. To Die Beautiful by Buzzy Jackson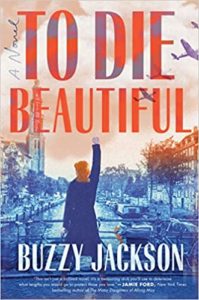 Setting: The Netherlands
It's 1940 and Hannie Schaft is a shy nineteen-year-old law student living in the Nazi-occupied Netherlands with ambitious goals for her future. But dreams die in wartime, and Hannie's closest friends are no longer safe as fascism insidiously rises in her country. Hiding them is not enough. Hannie may be young but she can't stand aside as the menace of Nazi evil tightens its grip. Driven by love and moral outrage, Hannie soon becomes an armed member of the Dutch Resistance movement.

Hannie discovers her own untapped ferocity—wearing lipstick and heels to lure powerful Nazis close and assassinate them at point-blank range, and bombing munitions factories. As humanity collapses around her, Hannie finds a chosen family of friends within the Resistance and falls in love with a dashing fellow resister at a tremendous cost. Her greatest weapon is her determination to "stay human" (blijf menselijk) . . . a promise increasingly difficult to keep.

As Hannie is drawn deeper into a web of plots, disguises and assassinations, whispers spread like wildfire among enemy and friend alike. They all know of her, if not her name: she's "the Girl with Red Hair." A match for any Nazi soldier. A true threat. And a target.
A riveting historical novel based on the true story of Johanna (Hannie) Schaft who was part of the Dutch Resistance during World War II – unputdownable!! This is such a powerful, heartrending story of courageous people who risked their lives to do the right thing.
The historical research is impressive but the author has also crafted a thrilling pageturner that brings Hannie's story and her fight against fascism to life as well as her unwavering bravery and her determination to "stay human".
The story is difficult to read at times because of the brutality and lack of humanity of the Nazis but important for us not to forget the suffering that was inflicted in The Netherlands and elsewhere. To Die Beautiful is an incredible debut novel by Buzzy Jackson – I hope she continues to write historical fiction.
Thank you to NetGalley for the digital ARC (Advance Review Copy).
6. The Paris Daughter by Kristin Harmel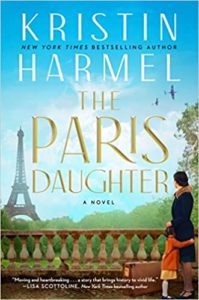 Setting: Paris, France and New York City
Paris, 1939: Young mothers Elise and Juliette become fast friends the day they meet in the beautiful Bois de Boulogne. Though there is a shadow of war creeping across Europe, neither woman suspects that their lives are about to irrevocably change.
When Elise becomes a target of the German occupation, she entrusts Juliette with the most precious thing in her life—her young daughter, playmate to Juliette's own little girl. But nowhere is safe in war, not even a quiet little bookshop like Juliette's Librairie des Rêves, and, when a bomb falls on their neighborhood, Juliette's world is destroyed along with it.
More than a year later, with the war finally ending, Elise returns to reunite with her daughter, only to find her friend's bookstore reduced to rubble—and Juliette nowhere to be found. What happened to her daughter in those last, terrible moments? Juliette has seemingly vanished without a trace, taking all the answers with her. Elise's desperate search leads her to New York—and to Juliette—one final, fateful time.
A moving historical novel, set primarily in Paris, about two women whose lives and families are torn apart during World War II. The Paris Daughter is a heartrending yet ultimately uplifting story about the selfless decisions made by mothers in wartime set against the backdrop of the Allied bombing of the German-controlled Renault factory in the Paris suburbs.
Elise and Juliette are the focus of the story but there is a third mother, a Jewish customer of Juliette's bookshop, who also makes the unthinkable decision to send her children away hoping her choice will save their lives. A beautifully-written story that brings the historical time period to life!
7. The True Love Experiment by Christina Lauren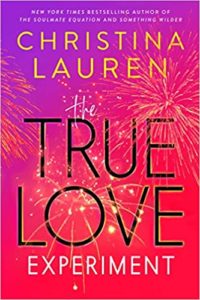 Setting: San Diego
Felicity "Fizzy" Chen is lost. Sure, she's got an incredible career as a beloved romance novelist with a slew of bestsellers under her belt, but when she's asked to give a commencement address, it hits her: she hasn't been practicing what she's preached.

Fizzy hasn't ever really been in love. Lust? Definitely. But that swoon-worthy, can't-stop-thinking-about-him, all-encompassing feeling? Nope. Nothing. What happens when the optimism she's spent her career encouraging in readers starts to feel like a lie?

Connor Prince, documentary filmmaker and single father, loves his work in large part because it allows him to live near his daughter. But when his profit-minded boss orders him to create a reality TV show, putting his job on the line, Connor is out of his element. Desperate to find his romantic lead, a chance run-in with an exasperated Fizzy offers Connor the perfect solution. What if he could show the queen of romance herself falling head-over-heels for all the world to see? Fizzy gives him a hard pass—unless he agrees to her list of demands. When he says yes, and production on The True Love Experiment begins, Connor wonders if that perfect match will ever be in the cue cards for him, too.
A fun romance with a great premise! This is a great choice if you're looking for a steamy beach read this summer. Hilarious, witty banter and great characters – Fizzy is a bit much at first but she grows on you. The True Love Experiment takes place in the same world as The Soulmate Equation which I hadn't read but this was fine as a standalone
Thank you to NetGalley for the digital ARC (Advance Review Copy).
8. Crook Manifesto by Colson Whitehead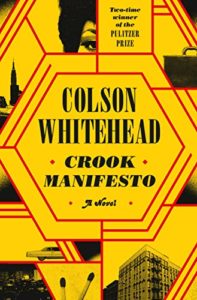 Setting: Harlem, New York City
It's 1971. Trash piles up on the streets, crime is at an all-time high, the city is careening towards bankruptcy, and a shooting war has broken out between the NYPD and the Black Liberation Army. Amidst this collective nervous breakdown furniture store owner and ex-fence Ray Carney tries to keep his head down and his business thriving. His days moving stolen goods around the city are over. It's strictly the straight-and-narrow for him–until he needs Jackson 5 tickets for his daughter May and he decides to hit up his old police contact Munson, fixer extraordinaire. But Munson has his own favors to ask of Carney and staying out of the game gets a lot more complicated–and deadly.
1973. The counter-culture has created a new generation, the old ways are being overthrown, but there is one constant, Pepper, Carney's endearingly violent partner in crime. It's getting harder to put together a reliable crew for hijackings, heists and assorted felonies, so Pepper takes on a side gig doing security on a Blaxploitation shoot in Harlem. He finds himself in a freaky world of Hollywood stars, up-and-coming comedians, and celebrity drug dealers, in addition to the usual cast of hustlers, mobsters and hit men. These adversaries underestimate the seasoned crook–to their regret.
1976. Harlem is burning, block by block, while the whole county is gearing up for Bicentennial celebrations. Carney is trying to come up with a July 4th ad he can live with. ("Two Hundred Years of Getting Away with It!"), while his wife Elizabeth is campaigning for her childhood friend, the former assistant D.A. and rising politician Alexander Oakes. When a fire severely injures one of Carney's tenants, he enlists Pepper to look into who may be behind it. Our crooked duo have to battle their way through a crumbling metropolis run by the shady, the violent and the utterly corrupted.
This sequel to Harlem Shuffle by two-time Pulitzer prize winning author, Colson Whitehead, is fun to read and I assume was fun for the author to write as well! In this second volume of the literary crime trilogy, ex-fence Ray Carney is drawn back into the Harlem criminal world when he's trying to score Jackson 5 tickets for his daughter. Events continue to escalate in a 1970s Harlem that is literally on fire until they reach a head during Bicentennial celebrations in 1976. Can't wait to read the final volume of the trilogy which presumably will be next summer!
9. The Five-Star Weekend by Elin Hilderbrand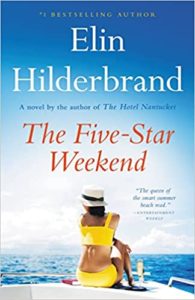 Setting: Nantucket Island, US
Hollis Shaw, creator of the popular food blog, Hungry with Hollis, is shocked when her heart surgeon husband, Matthew, is killed in a one-car accident on a snowy February morning. In Hollis's search for comfort, she hears about something called the "Five Star" weekend – a woman invites her best friend from each stage of her life – her teenage years, her twenties, her thirties and mid-life. Hollis decides she will host such a weekend on Nantucket—but her weekend won't be the Hallmark movie that one might expect…
Elin Hilderbrand is a master at writing a beach read that is more than a beach read! Told from multiple points-of-view, each of the 6 women have distinct voices and are each dealing with their own issues as they navigate the weekend. The Five-Star Weekend is a well-written, engaging story about grief, female friendship and moving forward after loss. Plus I love returning to Nantucket each summer with a new Elin Hilderbrand novel – someday I'm going to visit IRL!
10. The Cuban Heiress by Chanel Cleeton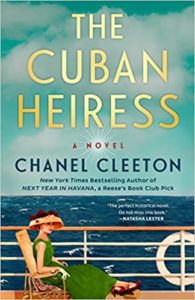 Setting: A luxury cruise from New York to Havana, Cuba
New York heiress Catherine Dohan seemingly has it all. There's only one problem. It's a lie. As soon as the Morro Castle leaves port, Catherine's past returns with a vengeance and threatens her life. Joining forces with a charismatic jewel thief, Catherine must discover who wants her dead—and why.

Elena Palacio is a dead woman. Or so everyone thinks. After a devastating betrayal left her penniless and on the run, Elena's journey on the Morro Castle is her last hope. Steeped in secrecy and a burning desire for revenge, her return to Havana is a chance to right the wrong that has been done to her—and her prey is on the ship.

As danger swirls aboard the Morro Castle and their fates intertwine, Elena and Catherine must risk everything to see justice served once and for all.
Two women with mysterious pasts, danger, betrayal, revenge and romance aboard a luxurious ocean liner on a round-trip voyage from New York City to Havana in 1934. The lastest novel from best-selling author, Chanel Cleeton is a suspenseful pageturner with some interesting twists – a quick and easy summer read inspired by the true story of the SS Morro Castle set against a backdrop of life in Cuba after the 1933 revolution.
11. The First Ladies by Marie Benedict and Victoria Christopher Murray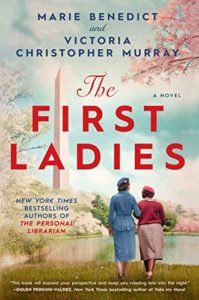 Setting: Primarily Washington, DC, NYC and Daytona Beach, Florida
The daughter of formerly enslaved parents, Mary McLeod Bethune refuses to back down as white supremacists attempt to thwart her work. She marches on as an activist and an educator, and as her reputation grows she becomes a celebrity, revered by titans of business and recognized by U.S. Presidents. Eleanor Roosevelt herself is awestruck and eager to make her acquaintance. Initially drawn together because of their shared belief in women's rights and the power of education, Mary and Eleanor become fast friends confiding their secrets, hopes and dreams—and holding each other's hands through tragedy and triumph.

When Franklin Delano Roosevelt is elected president, the two women begin to collaborate more closely, particularly as Eleanor moves toward her own agenda separate from FDR, a consequence of the devastating discovery of her husband's secret love affair. Eleanor becomes a controversial First Lady for her outspokenness, particularly on civil rights. And when she receives threats because of her strong ties to Mary, it only fuels the women's desire to fight together for justice and equality.
An interesting historical novel about the unlikely friendship between Eleanor Roosevelt and Mary Mcleod Bethune beginning when they first meet in 1927 just prior to FDR's election as Governor of New York until after his death in 1945 during the 4th term of his presidency.
Mrs. Bethune, the daughter of formerly-enslaved parents, was an educator, civil rights activist, and presidential advisor who worked alongside Mrs. Roosevelt to advance a civil rights agenda during FDR's presidency – particularly fighting segregation, making sure that Black youth were specifically included in New Deal projects, the representation of Black Americans in the government and military and attempting to pass federal anti-lynching legislation.
The First Ladies was a quiet, slow read but quite informative as I was not familiar with Mrs. Bethune and the work she did for the advancement of civil rights in America during that time period.
12. The Last Lifeboat by Hazel Gaynor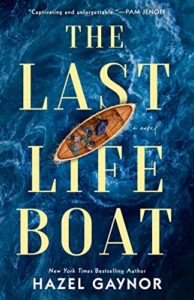 Setting: England and Atlantic Ocean
1940, Kent: Alice King is not brave or daring—she's happiest finding adventure through the safe pages of books. But times of war demand courage, and as the threat of German invasion looms, a plane crash near her home awakens a strength in Alice she'd long forgotten. Determined to do her part, she finds a role perfectly suited to her experience as a schoolteacher—to help evacuate Britain's children overseas.

1940, London: Lily Nichols once dreamed of using her mathematical talents for more than tabulating the cost of groceries, but life, and love, charted her a different course. With two lively children and a loving husband, Lily's humble home is her world, until war tears everything asunder. With her husband gone and bombs raining down, Lily is faced with an impossible choice: keep her son and daughter close, knowing she may not be able to protect them, or enroll them in a risky evacuation scheme, where safety awaits so very far away.

When a Nazi U-boat torpedoes the S. S. Carlisle carrying a ship of children to Canada, a single lifeboat is left adrift in the storm-tossed Atlantic. Alice and Lily, strangers to each other—one on land, the other at sea—will quickly become one another's very best hope as their lives are fatefully entwined.
I was completely captivated by this World War II historical novel which takes place in 1940 and is based on a real event. I couldn't put this book down and was on the edge of my seat waiting to see what would happen next – The Last Lifeboat is heartbreaking yet also uplifting, beautifully written and meticulously researched – one of the best historical novels that I have read in recent years!
13. The Summer Skies by Jenny Colgan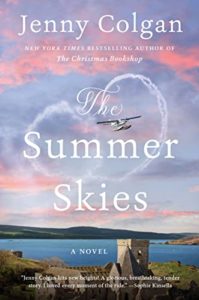 Setting: Islands of Northern Scotland
Morag MacIntyre is a Scottish lass from the remote islands that make up the northernmost reaches of the UK. She's also a third-generation pilot, the heir apparent to an island plane service she runs with her grandfather. The islands—over 500 dots of windswept land that reach almost to Norway—rely on their one hardworking prop plane to deliver mail, packages, tourists, medicine, and the occasional sheep. As the keeper of this vital lifeline, Morag is used to landing on pale golden beaches and tiny grass airstrips, whether during great storms or on bright endless summer nights. Up in the blue sky, Morag feels at one with the elements.
Down on the ground is a different matter, though. Her grandfather is considering and Morag wonders if she truly wants to spend the rest of her life in the islands. Her boyfriend Hayden, from flight school, wants Morag to move to Dubai with him, where they'll fly A380s and say goodbye to Scotland's dark winters.
Morag is on the verge of making a huge life change when an unusually bumpy landing during a storm finds her marooned on Inchborn island. Inchborn is gloriously off-grid, home only to an ancient ruined abbey, a bird-watching station, and a population of one: Gregor, a visiting ornithologist from Glasgow who might have just the right perspective to help Morag pilot her course.
Jenny Colgan always delivers what I expect from her – a pleasant escape! The Summer Skies is an enjoyable read, likeable characters (perhaps the start to a new series featuring Morag and Gregor?) and a great setting that makes me want to visit the Scottish islands!
14. The Spectacular by Fiona Davis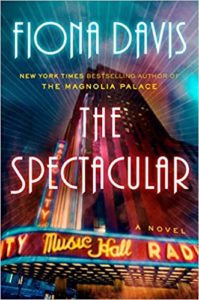 Setting: New York City
New York City, 1956: Nineteen-year-old Marion Brooks knows she should be happy. Her high school sweetheart is about to propose and sweep her off to the life everyone has always expected they'd have together: a quiet house in the suburbs, Marion staying home to raise their future children. But instead, Marion finds herself feeling trapped. So when she comes across an opportunity to audition for the famous Radio City Rockettes—the glamorous precision-dancing troupe—she jumps at the chance to exchange her predictable future for the dazzling life of a performer.

Meanwhile, the city is reeling from a string of bombings orchestrated by a person the press has nicknamed the "Big Apple Bomber," who has been terrorizing the citizens of New York for sixteen years by planting bombs in popular, crowded spaces. With the public in an uproar over the lack of any real leads after a yearslong manhunt, the police turn in desperation to Peter Griggs, a young doctor at a local mental hospital who espouses a radical new technique: psychological profiling.
As both Marion and Peter find themselves unexpectedly pulled in to the police search for the bomber, Marion realizes that as much as she's been training herself to blend in—performing in perfect unison with all the other identical Rockettes—if she hopes to catch the bomber, she'll need to stand out and take a terrifying risk. In doing so, she may be forced to sacrifice everything she's worked for, as well as the people she loves the most.
This is the second of Fiona Davis' historical fiction novels relating to New York City landmarks that I have read and I enjoyed this one even more than The Magnolia Palace!
Another great New York story that brings the history of Radio City Music Hall to life in an engaging and enjoyable read! Based on a true story, The Spectacular combines historical fiction, family drama and mystery with just the right amount of suspense. I had never heard about this bombing spree and the early use of psychological profiling in criminal cases was quite interesting. The story also highlights some of the struggles faced by young women in the '50s who were expected to sacrifice their dreams to raise families instead.
Mostly I just loved reading about Radio City Music Hall and the Rockettes. I have attended a performance of The Christmas Spectacular and toured Radio City Music Hall – I love the magic of it all and reading a novel set in that world was just fun!
Thank you to NetGalley for the digital ARC (Advance Review Copy).
15. Summer Reading by Jenn McKinlay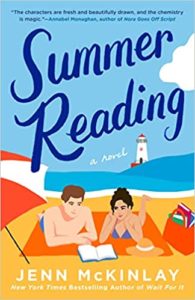 Setting: Martha's Vineyard
For Samantha Gale, a summer on Martha's Vineyard at her family's tiny cottage was supposed to be about resurrecting her career as a chef, until she's tasked with chaperoning her half-brother, Tyler. The teenage brainiac is spending his summer at the local library in a robotics competition, and there's no place Sam, who has dyslexia, likes less than the library. And because the universe hates her, the library's interim director turns out to be the hot-reader guy whose book she accidentally destroyed on the ferry ride to the island.
Bennett Reynolds is on a quest to find his father, whose identity he's never known. He's taken the temporary job on the island to research the summer his mother spent there when she got pregnant with him. Ben tells himself he isn't interested in a relationship right now. Yet as soon as Sam knocks his book into the ocean, he can't stop thinking about her.
An irresistible attraction blossoms when Ben inspires Sam to create the cookbook she's always dreamed about and she jumps all in on helping him find his father, and soon they realize their summer fling may heat up into a happily ever after.
This is a sweet romance (with a bit of steam) with two likeable characters getting to know and supporting each other on the road to realizing that they are each other's 'person'. Quite apart from the romance, I loved the setting, the inclusion of a neurodivergent main character, the sibling relationship, and the best friend relationship. Plus there's bonus recipes if you want to try making the dishes mentioned in the book!
Thank you to NetGalley for the digital ARC (Advance Review Copy).
16. A Shadow in Moscow by Katherine Reay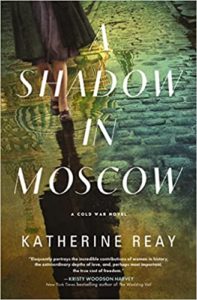 Setting: Vienna, DC and Moscow
Vienna, 1954
After losing everyone she loves in the final days of World War II, Ingrid Bauer agrees to a hasty marriage with a gentle Soviet embassy worker and follows him home to Moscow. But nothing deep within the Soviet Union's totalitarian regime is what it seems, including her new husband, whom Ingrid suspects works for the KGB. Upon her daughter's birth, Ingrid risks everything and reaches out in hope to the one country she understands and trusts—Britain, the country of her mother's birth—and starts passing along intelligence to MI6, navigating a world of secrets and lies, light and shadow.
Washington, DC, 1980
Part of the Foreign Studies Initiative, Anya Kadinova finishes her degree at Georgetown University and boards her flight home to Moscow, leaving behind the man she loves and a country she's grown to respect. Though raised by dedicated and loyal Soviet parents, Anya soon questions an increasingly oppressive and paranoid Soviet regime at the height of the Cold War. When the KGB murders her bestfriend, Anya picks sides and contacts the CIA. Working in a military research lab, Anya passes along Soviet military plans and schematics in an effort to end the 1980s arms race.
Alternating points of view keep readers on their toes as the past catches up to the present when an unprecedented act of treachery in 1985 threatens all undercover agents operating within the Soviet Union, and both Ingrid and Anya find themselves in a race for their lives against time and the KGB.
A very enjoyable, well-researched historical fiction novel about two courageous women working as spies in Moscow during the height of the Cold War told with a dual timeline/narrative that converges at the climax.
I found the novel had a bit of a slow start while the author showed the hardship and stress of life in a totalitarian state and set up the backstories of how the two women became involved in espionage but once the spying was underway I was hooked and couldn't put the book down. A compelling story and an interesting look at the years of the Cold War and the role that espionage played in a world teetering on the brink of nuclear war – well worth reading!
I received a complimentary copy of this book. Opinions expressed in this review are completely my own. Thank you to NetGalley for the digital ARC.
17. The East Indian by Brinda Charry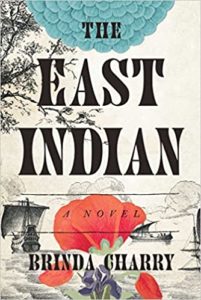 Setting: Jamestown, Virginia
Meet Tony: insatiably curious, deeply compassionate, with a unique perspective on every scene he encounters. Kidnapped and transported to the New World after traveling from the British East India Company's outpost on the Coromandel Coast to the teeming streets of London, young Tony finds himself in Jamestown, Virginia, where he and his fellow indentured servants—boys like himself, men from Africa, a mad woman from London—must work the tobacco plantations. Orphaned and afraid, Tony initially longs for home. But as he adjusts to his new environment, finding companionship and even love, he can envision a life for himself after servitude. His dream: to become a medicine man, or a physician's assistant, an expert on roots and herbs, a dispenser of healing compounds.
The East Indian is meticulously researched but not at all dry as the author does an excellent job bringing this interesting time period to life through the reimagining of the life of a young East Indian man found listed in historical records. Tony's journey to adulthood is marked by friendship, resilience and a growing attachment to his new home as well as hardship, loss and tragedy.
This is a story of his coming of age years but also an examination of the founding of America and the immigrant experience. The aspects of the story relating to science and medicine at a time when people didn't have a good understanding of either are also quite interesting. A memorable character and a well-told story!
18. Lady Tan's Circle of Women by Lisa See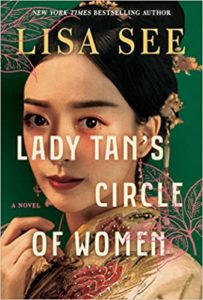 Setting: China
According to Confucius, "an educated woman is a worthless woman," but Tan Yunxian—born into an elite family, yet haunted by death, separations, and loneliness—is being raised by her grandparents to be of use. Her grandmother is one of only a handful of female doctors in China, and she teaches Yunxian the pillars of Chinese medicine, the Four Examinations—looking, listening, touching, and asking—something a man can never do with a female patient.

From a young age, Yunxian learns about women's illnesses, many of which relate to childbearing, alongside a young midwife-in-training, Meiling. The two girls find fast friendship and a mutual purpose—despite the prohibition that a doctor should never touch blood while a midwife comes in frequent contact with it—and they vow to be forever friends, sharing in each other's joys and struggles. No mud, no lotus, they tell themselves: from adversity beauty can bloom.

But when Yunxian is sent into an arranged marriage, her mother-in-law forbids her from seeing Meiling and from helping the women and girls in the household. Yunxian is to act like a proper wife—embroider bound-foot slippers, pluck instruments, recite poetry, give birth to sons, and stay forever within the walls of the family compound, the Garden of Fragrant Delights.
Lisa See's latest novel, inspired by the true story of the woman physician from 15th century China who wrote Miscellaneous Records of a Female Doctor, is a captivating story that exemplifies everything that I love about historical fiction!
Well-written and extensively researched, the novel immerses the reader in the lives of these women living in 15th century China and educates with respect to the living conditions they experienced at the time. It's a novel about women's lives and women's health and the importance of being surrounded by a circle of women supporting each other. It's about women whose lives are restrained by traditions but still have the fortitude to make a difference in the lives of other women. A wonderful, memorable read!!
Thank you to NetGalley for the digital ARC (Advance Review Copy).
19. The Celebrants by Steven Rowley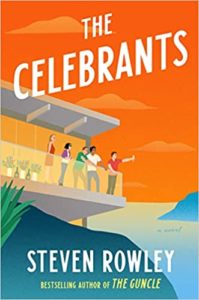 Setting: Big Sur, California; Mexico; New York City
It's been a minute—or five years—since Jordan Vargas last saw his college friends, and twenty-eight years since their graduation when their adult lives officially began. Now Jordan, Jordy, Naomi, Craig, and Marielle find themselves at the brink of a new decade, with all the responsibilities of adulthood, yet no closer to having their lives figured out. Though not for a lack of trying. Over the years they've reunited in Big Sur to honor a decades-old pact to throw each other living "funerals," celebrations to remind themselves that life is worth living—that their lives mean something, to one another if not to themselves.
But this reunion is different. They're not gathered as they were to bolster Marielle as her marriage crumbled, to lift Naomi after her parents died, or to intervene when Craig pleaded guilty to art fraud. This time, Jordan is sitting on a secret that will upend their pact.
A heartfelt, character-driven novel about a group of five college friends and a pact to celebrate each other with living funerals. The Celebrants was one of my most anticipated books this summer because The Guncle was one of my favouites of 2021. I love Steven Rowley's writing style and the way he combines humour and poignancy – laughter through tears.
The Celebrants is a book about mortality – a reminder that life is short that will likely hit harder for readers also in middle age. It's also a story of friendship, the importance of connection and celebrating life. It's emotional, funny, sentimental – overall an uplifting story about embracing life and facing death.
20. The Wind Knows My Name by Isabel Allende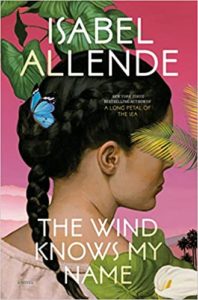 Setting: Vienna, England, Arizona, El Salvador, San Francisco
Vienna, 1938. Samuel Adler is five years old when his father disappears during Kristallnacht—the night his family loses everything. As her child's safety becomes ever harder to guarantee, Samuel's mother secures a spot for him on a Kindertransport train out of Nazi-occupied Austria to England. He boards alone, carrying nothing but a change of clothes and his violin.

Arizona, 2019. Eight decades later, Anita Díaz and her mother board another train, fleeing looming danger in El Salvador and seeking refuge in the United States. But their arrival coincides with the new family separation policy, and seven-year-old Anita finds herself alone at a camp in Nogales. She escapes her tenuous reality through her trips to Azabahar, a magical world of the imagination. Meanwhile, Selena Durán, a young social worker, enlists the help of a successful lawyer in hopes of tracking down Anita's mother.

Intertwining past and present, The Wind Knows My Name tells the tale of these two unforgettable characters, both in search of family and home. It is both a testament to the sacrifices that parents make and a love letter to the children who survive the most unfathomable dangers—and never stop dreaming.
This isn't my favourite Isabel Allende novel only because it feels a bit rushed (the rare novel that could have used an additional 100 pages!) but it's still a compelling story with an important message.
In this moving story of resilience, Allende draws parallels between the child refugees of World War II in Europe and those fleeing violence and seeking refuge in western countries today. Through her impressive research and crafting of the story, she seeks to educate readers about the plight of child refugees and demonstrate the importance of learning from the past to prevent history from repeating itself.
The education aspect takes over the dialogue from time to time but that didn't bother me. Allende wants her readers to understand the trauma experienced by children separated from their families, the sacrifice of parents who are forced to make unthinkable decisions in order to save their children, and the extent to which US foreign policy in Central American countries contributed to much of the violence that refugees are fleeing from today.
There's a happy found family and hope for the future at the conclusion of The Wind Knows My Name and hopefully readers who empathized with the traumatized children in this story have absorbed the message that shared humanity means that everything possible should be done to prevent children ever being separated from their families.
21. The Beach at Summerly by Beatriz Williams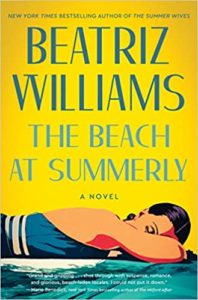 Setting: New England
June 1946. As the residents of Winthrop Island prepare for the first summer season after the sacrifice of war, a glamorous new figure moves into the guest cottage at Summerly, the idyllic seaside estate of the wealthy Peabody family. To Emilia Winthrop, daughter of Summerly's year-round caretaker and a descendant of the island's settlers, Olive Rainsford opens a window into a world of shining possibility. While Emilia spent the war years caring for her incapacitated mother, Olive traveled the world, married fascinating men, and involved herself in political causes. She's also the beloved aunt of the two surviving Peabody sons, Amory and Shep, with whom Emilia has a tangled romantic history.
As the summer wears on, Emilia develops a deep rapport with Olive, who urges her to leave the island for a life of adventure, while romance blossoms with the sturdy and honorable Shep. But the heady promise of Peabody patronage is blown apart by the arrival of Sumner Fox, an FBI agent who demands Emilia's help to capture a Soviet agent who's transmitting vital intelligence on the West's atomic weapon program from somewhere inside the Summerly estate.
April 1954. Eight years later, Summerly is boarded up and Emilia has rebuilt her shattered life as a professor at Wellesley College, when shocking news arrives from Washington—the traitor she helped convict is about to be swapped for an American spy imprisoned in the Soviet Union, but with a mysterious condition only Emilia can fulfill. A reluctant Emilia is summoned to CIA headquarters, where she's forced to confront the harrowing consequences of her actions that fateful summer, and a choice that could destroy the Peabody family—and Emilia's chance for redemption—all over again.
A beach read and a spy novel all in one! The Beach at Summerly is an enjoyable historical fiction beach read – there's romance, a bit of suspense as to what happened in 1946 and what the traitor wants in 1954 and it is interesting to read a novel set in the post-war years amidst mounting Cold War intrigue.
22. Closer by Sea by Perry Chafe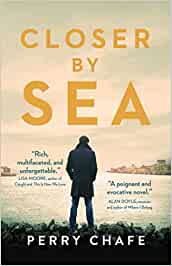 Setting: Newfoundland
In 1991, on a small, isolated island off the coast of Newfoundland, twelve-year-old Pierce Jacobs struggles to come to terms with the death of his father. It's been three years since his dad, a fisherman, disappeared in the cold, unforgiving Atlantic, his body never recovered. Pierce is determined to save enough money to fix his father's old boat and take it out to sea. But life on the island is quiet and hard. The local fishing industry is on the brink of collapse, threatening to take an ages-old way of life with it. The community is hit even harder when a young teen named Anna Tessier goes missing.
With the help of his three friends, Pierce sets out to find Anna, with whom he shared an unusual but special bond. They soon cross paths with Solomon Vickers, a mysterious, hermetic fisherman who may have something to do with the missing girl. Their search brings them into contact with unrelenting bullies, magnificent sea creatures, fierce storms, and glacial giants. But most of all, it brings them closer to the brutal reality of both the natural and the modern world.
A poignant coming-of-age novel set on a remote island off the coast of Newfoundland in 1991. The story takes place the year before the Canadian government placed a moratorium on cod fishing that ended almost 500 years of fishing activity in the area and put 30,000 people out of work. Hundreds of coastal communities that had depended on the fishing industry for generations had their livelihoods disappear overnight. This story is told against the backdrop of one such community trying to maintain their traditional way of life in a deteriorating environment.
Closer by Sea is a coming-of-age story, an adventure novel, a mystery, a story of community, friendship and first love but also a tribute to the resilience of the hardworking people from the fishing communites of Newfoundland and the losses they suffered. Vivid descriptions of the island capture the beauty of Newfoundland and convey the harshness of life in these remote communities at an important time in Canadian history. It's a quick, enjoyable read with an incredible sense of place and an emotional epilogue that left me in tears!
23. The Sweetest Revenge by Lizzie Dent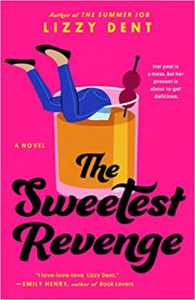 Setting: London, England
Her past is a mess. But her present is about to get delicious.

Amy is more than one disastrous night of drunken revenge on her boss/ex-boyfriend's Audi—the night that tanked her rising TV producer career and led to a hasty move to London for a fresh start. She is thirty years of awesomeness. At least, that's what Amy tells herself every morning before trekking to her mediocre job making trailers at a failing British TV channel.

Two years later, she's finally starting to believe it. Sparks are flying between her and Jake, her handsome new downstairs neighbor, and there's a competition at work that just might get her career back on track while bringing her and Jake even closer. But then, in a twisted turn of fate, the ex-boyfriend who wrecked her life is hired as her new boss and past and present are about to epically, hilariously collide.
Revenge with a side of romance! The Sweetest Revenge is a great summer beach read – a fun rom-com with flirty banter set in the world of television production and I loved Jake and Amy exploring the city as they work on ideas for a crime series set in London!
(This is a closed door romance but there's quite a bit of cursing that some readers might find offensive – many f-bombs and Amy likes to throw around the C word.)
24. Yellowface by R.F. Kuang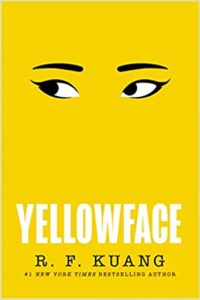 Setting: United States (mostly D.C.)
Authors June Hayward and Athena Liu were supposed to be twin rising stars. But Athena's a literary darling. June Hayward is literally nobody. Who wants stories about basic white girls, June thinks.
So when June witnesses Athena's death in a freak accident, she acts on impulse: she steals Athena's just-finished masterpiece, an experimental novel about the unsung contributions of Chinese laborers during World War I.
So what if June edits Athena's novel and sends it to her agent as her own work? So what if she lets her new publisher rebrand her as Juniper Song—complete with an ambiguously ethnic author photo? Doesn't this piece of history deserve to be told, whoever the teller? That's what June claims, and the New York Times bestseller list seems to agree.
But June can't get away from Athena's shadow, and emerging evidence threatens to bring June's (stolen) success down around her. As June races to protect her secret, she discovers exactly how far she will go to keep what she thinks she deserves.
Yellowface is a compulsive pageturner – I found it hard to put down because I had no idea where the story was going even in the last few pages! Narrated in the first person by June, it's an over-the-top satirical look at the publishing industry, the online book community and the insanity of social media highlighting the issues of racism and diversity in publishing and the question of who can tell a story. Well-written and funny – the conclusion was a bit of a let down but it was still quite the ride!
25. Follow the Sun by Liz Locke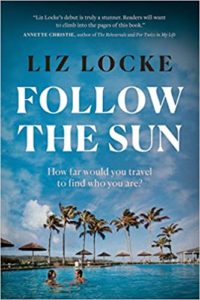 Setting: Acapulco, Switzerland, Spain, Palm Beach, Los Angeles and Honolulu
For socialite Caroline Kimball, travel has become an escape—a way to run from her adult responsibilities while hiding her musical ambitions from her disapproving mother. When she meets handsome magazine photographer Jack "Tex" Fairchild beside a hotel pool in Acapulco, everything changes. His encouragement shows her she could have a life beyond that of a beautiful, bored heiress, and he convinces her that maybe her childish daydreams aren't so impossible after all.
Realizing she no longer fits inside her golden cage, Caroline leaves it all behind and runs away with Tex to a small Spanish island, where she finally confronts the tragic death of her father. But when her mother's hidden secrets catch up to her, and a ghost from her past makes a surprising reappearance, Caroline will find herself torn between her whirlwind relationship with Tex, pursuing her music career, or saving her family from financial destitution.
A sort-of coming of age story and romance about a wealthy young socialite during the jet-set era of the 1960s trying to follow her dreams. Set in beautiful destinations (Acapulco, Switzerland, Spain, Palm Beach, Los Angeles, Honolulu) – a good choice for anyone looking for an easy, escapist summer beach read!
26. The Little Italian Hotel by Phaedra Patrick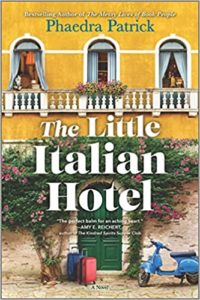 Setting: Italy
Ginny Splinter, acclaimed radio host and advice expert, prides herself on knowing what's best for others. So she's sure her husband, Adrian, will love the special trip to Italy she's planned for their thirtieth wedding anniversary. But when Ginny presents the gift to Adrian, he surprises her with his own very different plan—a divorce.

Beside herself with heartache, Ginny impulsively invites four heartbroken listeners to join her in Italy instead while live on air. From hiking the hills of Bologna to riding a gondola in Venice to sharing stories around the dining table of the little Italian hotel, Ginny and her newfound company embark on a vacation of healing.

However, when Adrian starts to rethink their relationship, Ginny must decide whether to commit to her marriage or start afresh, alone. And an unexpected stranger may hold the key to a very different future… Sunny, tender and brimming with charm, The Little Italian Hotel explores marriage, identity and reclaiming the present moment—even if it means leaving the past behind.
An enjoyable read that will transport you to Italy! This eclectic group of heartbroken people who vary in ages and backgrounds comes together to help each other heal while planning activities, enjoying Italian food, walking in the hills near the village and taking day trips to Florence and Venice. Over the course of three weeks at the little Italian hotel, Ginny helps the others deal with their heartbreak and puts herself on a path to living the life that will truly make her happy. A pleasant, uplifting summer read and I loved the armchair travel!
Thank you to NetGalley for the digital ARC (Advance Review Copy).
27. Much Ado About Nada by Uzma Jalaluddin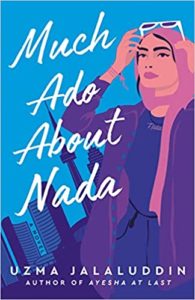 Setting: Toronto, Canada
Nada Syed is stuck. On the cusp of thirty, she's still living at home with her brothers and parents in the Golden Crescent neighbourhood of Toronto, resolutely ignoring her mother's unsubtle pleas to get married already. While Nada has a good job as an engineer, it's a far cry from realizing the start-up dreams for her tech baby, Ask Apa, the app that launched with a whimper instead of a bang because of a double-crossing business partner. Nothing in her life has turned out the way it was supposed to, and Nada feels like a failure. Something needs to change, but the past is holding on too tightly to let her move forward.
Nada's best friend, Haleema, is determined to pry her from her shell . . . and what better place than at the giant annual Muslim conference downtown, where Nada can finally meet Haleema's fiancé, Zayn? And did Haleema mention Zayn's brother Baz will be there?
What Haleema doesn't know is that Nada and Baz have a past—some of it good, some of it bad, and all of it secret. At the conference, that past all comes hurtling back at Nada, bringing new complications and a moment of reckoning. Can she truly say goodbye to what once was, or should she hold tight to her dreams and find their new beginnings?
A sweet, second-chance romance about a Muslim woman in her late '20s set in Toronto. It's a very loose and not at all obvious retelling of Persuasion by Jane Austen – I'm a huge Jane Austen fan and don't think I would have realized this if I wasn't aware beforehand.
There were several things that I liked about Much Ado About Nada – it's a well-written book that features an intelligent, independent female main character who experiences some self-growth over the course of the novel, I appreciated the Muslim representation and enjoyed the references to familiar Toronto locations – overall an enjoyable summer read!
28. Ciao for Now by Kate Bromley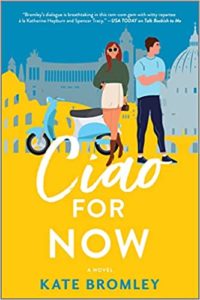 Setting: Italy
With her thirties rapidly approaching and a mountain of student debt looming over her, Violet Luciano's dream of finishing design school and working in fashion has cost her everything. So when she lands an internship at an up-and-coming fashion brand in Rome, she brings her A game to Italy. With nothing left to lose, Violet plans to win the competition among the interns for the ultimate prize—a job at a New York label.

But when a coffee run goes wrong and Violet accidentally destroys a stranger's laptop, all of the apology Americanos in the world won't help her. Because it turns out that the man from the café is Matteo, her professor's eternally grumpy son, who thinks she's a clumsy American…and maybe a stalker. Their animosity (and undeniable chemistry) grows as together they're forced to face a summer of chic parties, adventures through Rome and sharing a home…with the person they can't stand the most.

The more time she spends with him, the more distracted she finds herself. With her chance to win the competition slipping out of her grasp, Violet has to decide whether to say ciao to Matteo—or ciao to her dreams.
A cute, lighthearted rom-com set in one of the most beautiful cities in the world! Fun banter and chemistry, fabulous setting (Rome and a weekend trip to Capri), and interesting secondary characters (especially her friend and fellow student Marco) – Ciao For Now is a fun read that will be perfect for the beachbag this summer!
Thank you to NetGalley for the digital ARC (Advance Review Copy).
29. The Postcard by Anne Berest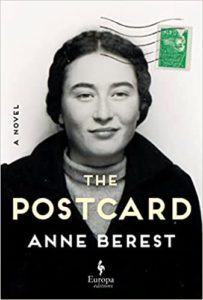 Setting: France
January, 2003. Together with the usual holiday cards, an anonymous postcard is delivered to the Berest family home. On the front, a photo of the Opéra Garnier in Paris. On the back, the names of Anne Berest's maternal great-grandparents, Ephraïm and Emma, and their children, Noémie and Jacques—all killed at Auschwitz.
Fifteen years after the postcard is delivered, Anne, the heroine of this novel, is moved to discover who sent it and why. Aided by her chain-smoking mother, family members, friends, associates, a private detective, a graphologist, and many others, she embarks on a journey to discover the fate of the Rabinovitch family: their flight from Russia following the revolution, their journey to Latvia, Palestine, and Paris. What emerges is a moving saga of a family devastated by the Holocaust and partly restored through the power of storytelling that shatters long-held certainties about Anne's family, her country, and herself.
The Postcard is unlike any other book that I have read about World War II and the holocaust. Author Anne Berest describes her work as "un roman vrai" (a true novel) as it's the true story of her family's history but written like a novel with some fictionalized elements (imagined dialogue and some names and places have been changed to protect the descendants of French collaborators and informers etc.).
The Postcard is one family's personal and deeply moving story of World War II and the Holocaust. It's also the story of a woman discovering her family's history as well as what it means to be Jewish and what it means to be a survivor. With the current rise of antisemitism in North America and across Europe, The Postcard is a timely reminder of how important it is to continue telling these stories so that they aren't forgotten. Well-written, meticulously researched, emotional, gripping, and impossible to put down – a truly extraordinary and memorable book!
30. The Imposters by Tom Rachman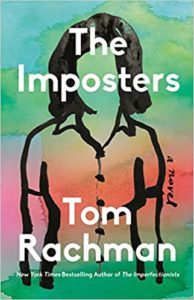 Setting: Various locations including London, Delhi, Los Angeles, Australia, Copenhagen and Paris
Dora Frenhofer, a once successful but now aging and embittered novelist, knows her mind is going. She is determined, however, to finish her final book, and reverse her fortunes, before time runs out. Alone in her London home during the pandemic, she creates, and is in turn created by, the fascinating real characters from her own life.
Like a twenty-first-century Scheherazade, Dora spins stories to ward off her end. From New Delhi to New York, Copenhagen to Los Angeles, Australia to Syria to Paris, Dora's chapters trot the globe, inhabiting the perspectives of her missing brother, her estranged daughter, her erstwhile lover, and her last remaining friend, among others in her orbit. As her own life comes into ever sharper focus, so do the signal events that have made her who she is, leaving us in Dora's thrall until, with an unforeseen twist, she snaps the final piece of the puzzle into place.
A novel about an elderly writer who is concerned about the onset of dementia and working on what will be her final novel. The novel has an unique structure – the plot isn't linear and the chapters are interconnected stories set in places around the world about people who have been part of Dora's life and the stories seem to be Dora writing these people into her fiction. The Imposters won't appeal to everyone but it is an interesting read for fans of literary fiction.
31. The Making of Another Major Motion Picture Masterpiece by Tom Hanks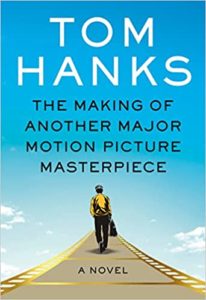 Setting: Mostly in California
PART ONE of this story takes place in 1947. A troubled soldier, returning from the war, meets his talented five-year-old nephew, leaves an indelible impression and then disappears for twenty-three years.

Cut to 1970: The nephew, now drawing underground comic books in Oakland, California, reconnects with his uncle and, remembering the comic book he saw when he was five, draws a new version with his uncle as a World War II fighting hero.

Cut to the present day: A commercially successful director discovers the 1970 comic book and decides to turn it into a contemporary superhero movie.

Cue the cast: We meet the film's extremely difficult male star, his wonderful leading lady, the eccentric writer/director, the producer, the gofer production assistant and everyone else on both sides of the camera.
An entertaining, lighthearted debut novel from legendary Hollywood actor Tom Hanks about the movie-making process from the backstory through casting, shooting and post-production. This is a very nice version of movie-making where most everyone is as good-natured as Tom Hanks, cast and crew get along without issues and everyone is loved. I'm not sure that real Hollywood is as agreeable as fictional Hollywood but it makes for an uplifting story and a pleasant literary escape!
Hanks' writing is quite good, there are some great characters and it's a fun insider's perspective on the making of a movie. The story does get a bit bogged down with the details of the shoot and might have benefitted from more editing although I'm sure there are readers who will love that in-depth look at movie making.
The Making of Another Major Motion Picture Masterpiece is a heartfelt tribute to movies and everyone who works on making them – especially those that work behind the scenes. It's an enjoyable read about the movie business and a solid debut novel from Tom Hanks – a good choice for summer reading.
Thank you to Penguin Random House Canada for the complimentary review copy.
32. Pebble & Dove by Amy Jones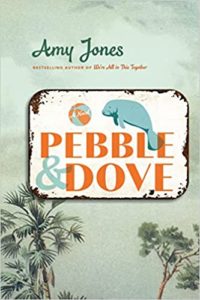 Setting: Florida
This is the story of a family falling apart, only to be brought back together again by an unlikely champion—a 1,000-pound aquatic mammal named Pebble.
Lauren's life is a mess. She has a storage unit full of candles she can't sell, a growing mountain of debt, and a teenage daughter, Dove, who barely speaks to her. Then her husband sends her a text that changes everything. Eager to escape her problems, she drives herself and Dove south to her late mother's rundown trailer in Florida. While keeping her eccentric new neighbours at Swaying Palms at bay, Lauren begins to untangle the truth about her estranged mother. How did world-famous portrait photographer Imogen Starr end up at Swaying Palms? And what happened to her fortune and her photographs?
Meanwhile, Dove has secrets of her own. A mysterious photograph leads her to discover the abandoned Flamingo Key Aquarium and Tackle, where she meets Pebble, the world's oldest manatee in captivity. It is Pebble, a former star attraction, and her devoted caretaker, Ray, who will hold the key to helping Lauren and Dove come to terms with Imogen's unexpected legacy.
A moving story about complicated mother/daughter relationships, families falling apart and a lonely manatee set against the backdrop of a mobile home community and an abandoned aquarium in Florida.
I may have picked up this book solely because of the manatee but it turned out to be quite an enjoyable read – both funny and touching! It's also very relatable if you have ever had a teenage daughter or been a teenage daughter. Overall this is an uplifting story of family and forgiveness with an environmental message – and a beautiful manatee that brings everyone together.
33. The Rachel Incident by Caroline O'Donoghue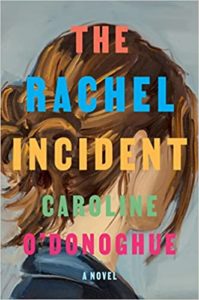 Setting: Cork, Ireland
Rachel is a student working at a bookstore when she meets James, and it's love at first sight. Effervescent and insistently heterosexual, James soon invites Rachel to be his roommate and the two begin a friendship that changes the course of both their lives forever. Together, they run riot through the streets of Cork city, trying to maintain a bohemian existence while the threat of the financial crash looms before them.
When Rachel falls in love with her married professor, Dr. Fred Byrne, James helps her devise a reading at their local bookstore, with the goal that she might seduce him afterwards. But Fred has other desires. So begins a series of secrets and compromises that intertwine the fates of James, Rachel, Fred, and Fred's glamorous, well-connected, bourgeois wife.
An enjoyable coming-of-age novel set primarily in Ireland in the early 2000s. There's a lot of the insecurity and angst that plagues one's early '20s as Rachel and her best friend, James, deal with relationships/sexuality, work, school and family while their lives also become increasingly intertwined with Dr. Byrne and his wife.
James, Rachel and her boyfriend (also James but called Carey) are flawed but likeable characters who make some very bad decisions (but who doesn't at that age) and you want everything to work out for them. The plot also touches on some serious reproductive health/abortion issues that existed in Ireland at that time prior to the vote to repeal the abortion ban. The Rachel Incident is a good read – sometimes funny, sometimes poignant with relatable characters.
Thank you to NetGalley for the ARC.
34. The Berry Pickers by Amanda Peters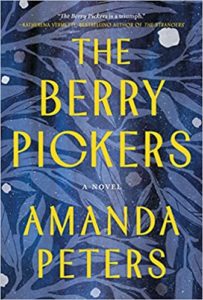 Setting: Maine and Nova Scotia
July 1962. A Mi'kmaq family from Nova Scotia arrives in Maine to pick blueberries for the summer. Weeks later, four-year-old Ruthie, the family's youngest child, is seen sitting on her favourite rock at the edge of a field before mysteriously vanishing. Her six-year-old brother, Joe, who was the last person to see Ruthie, is devastated by his sister's disappearance, and her loss ripples through his life for years to come.
In Maine, a young girl named Norma grows up as an only child in an affluent family. Her father is emotionally distant, while her mother is overprotective of Norma, who is often troubled by recurring dreams and visions that seem to be too real to be her imagination. As she grows older, Norma senses there is something her parents aren't telling her. Unwilling to abandon her intuition, she pursues her family's secret for decades.
The Berry Pickers is a beautiful, deeply moving novel about heartbreak and the lasting impact of trauma but also about family, hope and resilience. I loved this book but it's difficult to review as I'm not sure words do justice to how it made me feel. The characters are so well-written that I felt that I knew them and my heart broke for them. I wanted so badly to see Ruthie reunited with her family and for them all to find a measure of happiness despite all of the missing years.
This is a personal story of one family's hardship but it's impossible to read without bringing to mind decades of injustice to indigenous peoples – residential schools, the tragedy of the '60s scoop when indigenous children were taken from their families and adopted into non-indigenous families, and missing and murdered indigenous women. A beautifully-crafted, emotional read – I cried many times while reading and sobbed through the last few pages of the book. It's hard to believe that this is a debut novel – it's a story that will stay with me for a long time and well worth reading!
35. Mastering the Art of French Murder by Colleen Cambridge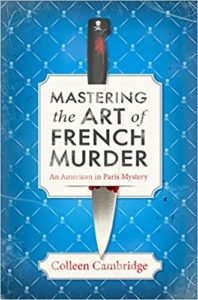 Setting: Paris, France
As Paris rediscovers its joie de vivre, Tabitha Knight, recently arrived from Detroit for an extended stay with her French grandfather, is on her own journey of discovery. Paris isn't just the City of Light; it's the city of history, romance, stunning architecture . . . and food. Thanks to her neighbor and friend Julia Child, another ex-pat who's fallen head over heels for Paris, Tabitha is learning how to cook for her Grandpère and Oncle Rafe.
Between tutoring Americans in French, visiting the market, and eagerly sampling the results of Julia's studies at Le Cordon Bleu cooking school, Tabitha's sojourn is proving thoroughly delightful. That is, until the cold December day they return to Julia's building and learn that a body has been found in the cellar. Tabitha recognizes the victim as a woman she'd met only the night before, at a party given by Julia's sister, Dort. The murder weapon found nearby is recognizable too—a knife from Julia's kitchen.
Tabitha is eager to help the investigation, but is shocked when Inspector Merveille reveals that a note, in Tabitha's handwriting, was found in the dead woman's pocket. Is this murder a case of international intrigue, or something far more personal? From the shadows of the Tour Eiffel at midnight, to the tiny third-floor Child kitchen, to the grungy streets of Montmartre, Tabitha navigates through the city hoping to find the real killer before she or one of her friends ends up in prison . . . or worse.
This is an entertaining cozy mystery featuring an amateur sleuth set in post-war Paris. I loved the Parisian setting and the colourful characters – the scenes with Julia attempting to teach Tabitha to cook are particularly fun and I loved Tabitha's grandfather and Rafe.
Lighthearted storytelling and a simple but enjoyable mystery with possibly a hint of romance in the future – the perfect recipe for a good read! This is the first in a series and I'm looking forward to reading the next one.
Bonus Book: Tom Lake by Ann Patchett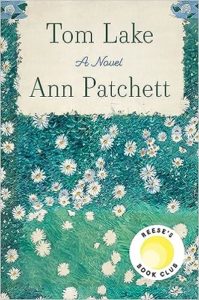 Ann Patchett's latest book wasn't published until August and I had planned to include it on my list of fall recommendations but after reading it I realized that it's unquestionably a summer book – so I'm adding it to this list as a bonus!
Tom Lake is a quiet story with an incredible sense of place that is beautiful in its simplicity. Set in July 2020, Lara and Joe Nelson's three adult daughters have been at home on their farm in northern Michigan since the start of the pandemic. To pass the time while picking cherries, Lara tells the story of the summer she dated a now-famous actor while they were both at Tom Lake in a summer theatre production of Thornton Wilder's Our Town.
Patchett's prose is as beautiful as always and I was completely absorbed in this story of family, love, marriage – and storytelling. Lara is happy to have her daughters home despite the circumstances and is coming to the realization that she has everything she has ever wanted. Her telling of her story is a reflection on what matters and what doesn't – the importance of appreciating life while living it and seeing the beauty in the ordinary. Tom Lake is very much a book that is meant to be read during the laidback days of summer but it's one that is going to make you think.
Pin This For Later