2022 was a banner year for me in terms of volume of books read (150!!) so it wasn't easy to narrow that list down to just 10 favourites! I read almost exclusively fiction across a number of genres and enjoyed posting my ratings/reviews on Goodreads and sharing my thoughts about each book on Instagram. I posted my top 10 on Instagram stories a few days ago but have had requests for a blog post list of my top picks as well so here it is.
Happy reading and please let me know what your top reads were in 2022 and what you're looking forward to reading in 2023!
You might also enjoy:
21 Must Read Books Set in Canada
21 Books Set in Cold and Snowy Destinations to Read This Winter
and many more Book Recommendations here
This post may contain affiliate links. If you click an affiliate link and make a purchase then we receive a small commission at no additional cost to you.
We are a participant in the Amazon Services LLC Associates Program, an affiliate advertising program designed to provide a means for us to earn fees by linking to Amazon.com and affiliated sites. As an Amazon affiliate I earn from qualifying purchases.
1-3. Beartown Trilogy by Fredrik Backman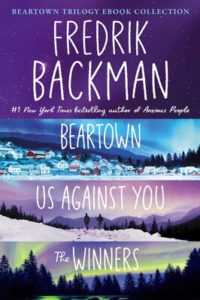 Setting: Northern Sweden
I read Fredrik Backman's Beartown trilogy about a hockey town in Northern Sweden this past fall – Beartown in October, Us Against You in November and The Winners in December – and absolutely loved the series so it takes the top 3 spots on my list for favourite books in 2022.
I loved every minute of the Beartown trilogy even though it broke my heart. Backman is a masterful storyteller and this series is a beautiful, emotional read that captures the good and the bad of what it means to be human. My heart was broken yet I loved every minute of it and Benji will forever be one of my favourite characters.
4. The Good Women of Safe Harbour by Bobbi French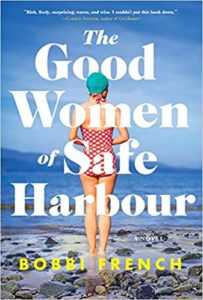 Setting: Newfoundland
A deeply moving and unforgettable story of a woman who lived a simple life, friendship and the difficult choices to be made at end of life. I don't have the words to adequately explain how this book affected me. It was impossible to put down yet I had to read it slowly with a box of tissues at hand because I was often too overcome with emotion to continue.
Frances Delaney and Annie Moore were inseparable growing up in the small community of Safe Harbour, Newfoundland but when they were 18 an argument tore them apart and Frances walked away. Frances is now 58 and hasn't spoken to Annie or returned to Safe Harbour since. She lives in St. John's, cleans houses and looks forward only to her regular trips to the library. Frances has recently learned that she is terminally ill and is determined to die on her own terms. Edie, the 16 year-old girl whose home Frances has cleaned for many years, helps to bring Frances back to Annie and Safe Harbour and the two of them support Frances in her end-of-life journey.
Frances has lived a solitary life – a life that happened rather than the one she wanted – but with the help of Edie and Annie she finally lets herself love and be loved during the last days of her life. It's a heartbreaking yet life-affirming story with an important message about the power of female friendships and the importance of living a life of your own choosing. The Good Women of Safe Harbour is one of only a few books that I know I will read again and Frances, Annie and Edie are characters that I will never forget.
5. Fayne by Ann-Marie MacDonald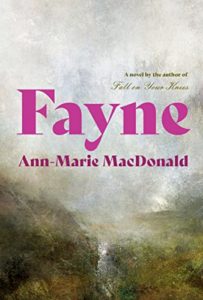 Setting: Moorlands on England/Scotland border and Edinburgh
I loved this sweeping late 19th century story of Charlotte Bell and Fayne – the estate in the moorlands on the border of England and Scotland that has been in her family for centuries. At the novel's beginning, Charlotte is about to turn 12 and has lived her life thus far in isolation on the estate with her father, Lord Henry Bell, presumably due to some mysterious "Condition" that she has. Charlotte's mother died in childbirth and her older brother who was the heir to the estate died shortly after at the age of 2.
Charlotte is an intelligent and curious child who has educated herself by reading through her father's extensive library. Although it is unheard of at the time for a girl to receive a proper education, Lord Henry arranges for a tutor to come to Fayne and instructs this tutor to "teach my daughter as you would my son, if I had one". The arrival of the tutor sets into motion many changes for Charlotte and her father including their departure from Fayne to Edinburgh where Charlotte hopes to be admitted to medical school while her father intends to consult a doctor about her condition.
The narrative also alternates between Charlotte's first person account and a third person telling of the story from the point of view of her mother Lady Marie Bell beginning with her introduction to Lord Henry.
If Fayne hadn't been 700+ pages, I would have devoured it in one sitting – definitely worth the time it takes to read! The novel is atmospheric and full of twists, includes some magical realism and addresses many themes including gender and identity and the lack of women's rights at the time. I read nothing about the plot before I started reading and that is what I would recommend. I would not have wanted to have even a hint ahead of time of the surprises and twists that Fayne held in store. A wonderful and highly recommended read if you're in the mood for a literary novel!!
6. I Must Betray You by Ruta Sepetys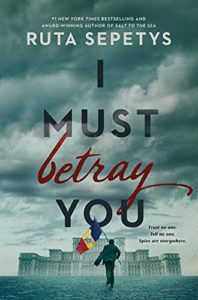 Setting: Bucharest, Romania
A gripping historical fiction novel that takes place in 1989 in Bucharest in the weeks leading up to the Romanian Revolution. The Communist regimes of Eastern Europe have been falling one by one but Nicolae Ceaușescu maintains a firm hold on power in Romania. 17 year-old Cristian Florescu is being blackmailed by the police to act as an informant but risks everything to undermine their efforts and shine a light on what is happening in his country.
The first person narrative is used to great effect to make the reader feel the fear, the deprivation and the cruelty of the tyrannical dictatorship of Ceaușescu as well as the psychological damage inflicted on people who are constantly spied on. Riveting, educational, meticulously researched and heartbreaking – Ruta Sepetys has written another unforgettable novel that brings history to life and fulfills her objective of "shining a light in the dark corners of the past".
7. Demon Copperhead by Barbara Kingsolver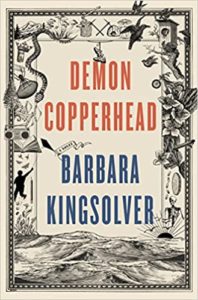 Setting: Mountains of southern Appalachia, United States
A riveting, beautifully written modern day retelling of Charles Dickens' novel David Copperfield set in the Appalachian mountains of Virginia at the beginning of the opioid epidemic. Damon Fields, aka Demon Copperhead, is born to a strung out teen mom in a single wide trailer and into a world where the odds are stacked against him. Unfortunately, Demon learns at a young age that as bad as life might be, it can always get worse.

Told in the first person narrative, Demon is just 10 years old when the novel begins and his voice is both authentic and unique as we follow him into young adulthood. He's an unforgettable character who is resilient in the face of unrelenting tragedy – one the reader can't help but love from the opening pages.
As heartbreaking as Demon's story is, there's also humour as he's a witty and insightful narrator. Demon has a lot of great lines but one of my favourites is Kingsolver's nod to Dickens when she has Demon describe his introduction to the author at school stating that he is "one seriously old guy, dead and a foreigner, but Christ Jesus did he get the picture on kids and orphans getting screwed over and nobody giving a rat's ass. You'd think he was from around here."

Demon Copperhead is a heartbreaking tale of poverty and a blistering indictment of the child welfare system as well as the greedy pharmaceutical companies that fueled the tragic opioid addiction crisis in the name of profit. Along with this social criticism, Kingsolver's love for Appalachia and her sympathy for the struggles of a rural America exploited by industry are also apparent throughout the novel.
Through Demon's eyes we see that his people are more than the poor, uneducated "hillbilly" stereotype ridiculed in popular culture. Kingsolver/Demon's Appalachia is a troubled yet beautiful place with kind, family-oriented people who have a strong sense of community and are quick to help out their neighbours. Demon Copperfield is a powerful story with multiple important social messages and a reminder to treat everyone with kindness and respect.
8. Lessons in Chemistry by Bonnie Garmus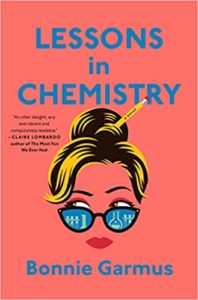 Setting: California
What an enjoyable, original read Lessons in Chemistry was! Elizabeth Zott is a brilliant research chemist at Hastings Institute in California working on leading edge research on abiogenesis in 1952 when she meets and falls in love with her co-worker, Calvin, an equally brilliant scientist who loves Elizabeth for her mind.
Fast forward a few years and Elizabeth is a single mom who takes a job hosting a television cooking show where she teaches in her rather unorthodox style that cooking is chemistry and chemistry is life. The show is a huge hit because women appreciate that they are being taken seriously by Elizabeth who dispenses her unique blend of cooking tips and life lessons. Elizabeth encourages women to believe in themselves and their abilities – something which was almost unheard of at the time and didn't always go over well with the male establishment.
The novel which takes place in the late 1950s/early 1960s has a delightful cast of well-written characters. I loved Elizabeth – a smart, courageous, ambitious, self-assured feminist – and her quirky supporting characters especially her 4 year-old daughter, Mad, who is a prolific reader and wise beyond her years, her loyal dog, Six-Thirty, who knows hundreds of words and her neighbour, Harriet, who is stuck in a loveless marriage and becomes family to Elizabeth and Mad.
Though the overall tone of the book is lighthearted (and occasionally a tad absurd – it is partially narrated by a dog after all), there are some sad and touching plot points as well as an underlying thread of social commentary on issues of the time including casual sexism/misogyny, physical and sexual violence against women and the frustration experienced by women who wanted careers.
While reading, I laughed out loud and I shed a few tears but I also found myself a bit angry to think of how many women were forced to give up their dreams because of social expectations. Imagine what they might have accomplished if society hadn't held them back!
Lessons in Chemistry is a gem – a charming, well-written novel of female empowerment with an unforgettable heroine, witty dialogue, quirky characters and an uplifting story that also serves as a reminder that as far as we have come as women since the 1960s that there is still a long way to go before true equality exists.
9. Woman on Fire by Lisa Barr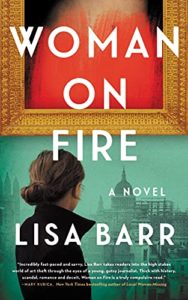 Setting: Various locations in the U.S. and Europe
A fast-paced page-turner about a determined young investigative reporter and the search for a valuable painting stolen by Nazis during World War II. Equal parts thriller and historical fiction with strong female characters – I was hooked from the prologue and could not put it down!
10. Looking for Jane by Heather Marshall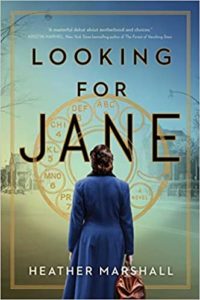 Setting: Toronto, Canada
A compelling and emotional debut by Heather Marshall about motherhood and reproductive rights in Canada told through the story of three women whose lives interconnect over several decades.
Evelyn is forced to give her baby up for adoption at a maternity home run by the Catholic Church in 1961 and later becomes a doctor who provides illegal abortions to women as part of an underground network in Toronto. Nancy is a young woman in the late '70s/early '80s who witnesses her cousin's botched back alley abortion and later seeks help from the Jane Network to access a safe abortion herself. In 2017, Angela is a woman undergoing IVF treatments who finds a letter that had not been delivered years earlier and her search for the intended recipient leads her to learn more about both the maternity homes and the Jane Network.
Looking for Jane is an informative read about the history of women's rights in Canada with respect to reproductive choice and abortion access. I haven't seen this topic covered in fiction before and I expect many younger readers won't be aware of many of the events and circumstances depicted in the novel.
This work of fiction based on historical fact brings to life the heartbreak of the post-war maternity home system, forced adoptions, back alley abortions, and struggles with fertility as well as highlighting the fight for women's rights to control their own bodies in Canada and the realities of the underground abortion networks which provided access to care prior to the Morgentaler decision in 1988. A powerful, unforgettable story!
Pin This for Later