The lazy, hazy days of summer are just around the corner which means it's time to start planning your summer reading list! My list of best beach reads for 2022 include recently published contemporary fiction, historical fiction, romance, and mystery/thrillers – all of which I have personally read and can recommend.
Whatever your mood, I'm sure you'll find something that appeals to you so pack your beach bag with your sunscreen and a few of these then head to the beach, the pool, the dock or your backyard patio to soak up some sunshine and escape with a good book!
Read 35 of the Best Books To Read Summer 2023
Read 29 of the Best Summer Beach Reads in 2021
Read 21 Travel-Inspired Books for Your Summer 2020 Reading List
Read 29 Books To Read This Summer: A Travel-Inspired List To Fuel Your Wanderlust (2019)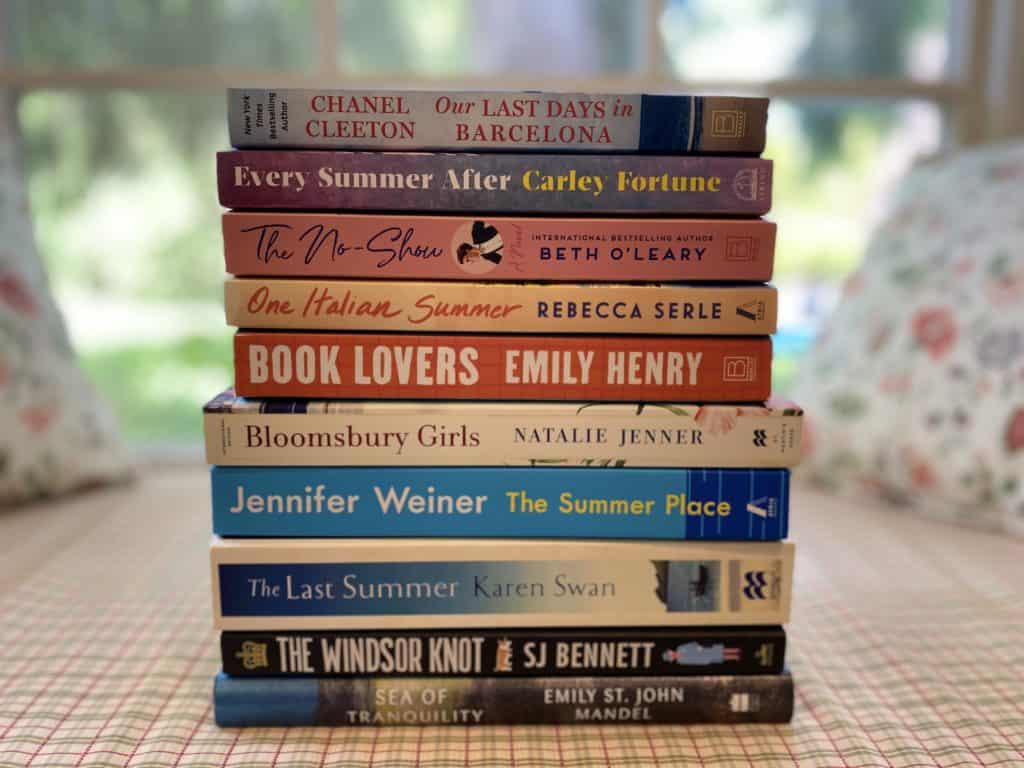 This post may contain affiliate links. If you click an affiliate link and make a purchase then we receive a small commission at no additional cost to you.
We are a participant in the Amazon Services LLC Associates Program, an affiliate advertising program designed to provide a means for us to earn fees by linking to Amazon.com and affiliated sites. As an Amazon affiliate I earn from qualifying purchases.
1. The Summer Getaway by Susan Mallery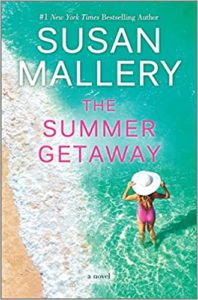 Setting: Florida and Santa Barbara
Single mom Robyn Caldwell needs a new plan for her future. She has always put her family first. Now, with her kids grown, she yearns for a change. But what can she do when her daughter has become the most demanding bride ever, her son won't even consider college, her best friend is on the brink of marital disaster and her ex is making a monumentally bad decision that could ruin everything?
Take a vacation, of course. Press reset. When her great-aunt Lillian invites her to Santa Barbara for the summer, Robyn hops on the first plane to sunny California.
But it's hard to get away when you're the heart of the family. One by one, everyone she loves follows her across the country. Somehow, their baggage doesn't feel as heavy in the sun-drenched, mishmash mansion. The more time Robyn spends with free-spirited Lillian, the more possibilities she sees—for dreams, love, family. She can have everything she ever wanted, if only she can muster the courage to take a chance on herself.
An easy read with family drama, a steamy romance, an interesting plot and is set in Naples, Florida and Santa Barbara, California – a great addition to your beach bag this summer!
I received a digital Advance Review Copy (ARC) from NetGalley.
2. If You Ask Me by Libby Hubscher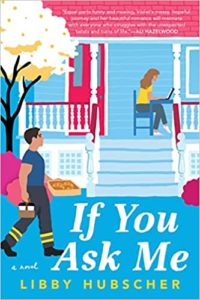 Setting: Raleigh, North Carolina
Violet Covington pens Dear Sweetie, the most popular advice column in the state of North Carolina. She has an answer for how to politely handle any difficult situation…until she discovers her husband, Sam, has been cheating on her. Furious and out of sensible solutions, Violet leaves her filter at the door and turns to her column to air her own frustrations.
The new, brutally honest Dear Sweetie goes viral, sending more shock waves through Violet's life. When she burns Sam's belongings in a front-yard, late-night bonfire, a smoking-hot firefighter named Dez shows up to douse the flames, and an unexpected fling quickly shows potential to become something longer lasting.
The cover might lead you to believe that this is a light and breezy rom-com when it's actually about a woman trying to put her life back together after a serious betrayal. Sure there's romance, but it's more about the main character's journey toward accepting that she deserves to be loved and treated well. There's a content warning at the beginning of the book for infidelity, miscarriage, infertility, anxiety/panic attacks and alcohol abuse.
3. One Italian Summer by Rebecca Serle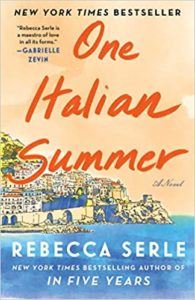 Setting: Positano, Italy
When Katy's mother dies, she is left reeling. Carol wasn't just Katy's mom, but her best friend and first phone call. She had all the answers and now, when Katy needs her the most, she is gone. To make matters worse, their planned mother-daughter trip of a lifetime looms: to Positano, the magical town where Carol spent the summer right before she met Katy's father. Katy has been waiting years for Carol to take her, and now she is faced with embarking on the adventure alone.
But as soon as she steps foot on the Amalfi Coast, Katy begins to feel her mother's spirit. Buoyed by the stunning waters, beautiful cliffsides, delightful residents, and, of course, delectable food, Katy feels herself coming back to life.
And then Carol appears—in the flesh, healthy, sun-tanned, and thirty years old. Katy doesn't understand what is happening, or how—all she can focus on is that she has somehow, impossibly, gotten her mother back. Over the course of one Italian summer, Katy gets to know Carol, not as her mother, but as the young woman before her. She is not exactly who Katy imagined she might be, however, and soon Katy must reconcile the mother who knew everything with the young woman who does not yet have a clue.
A perfectly enjoyable story about the powerful bond between a mother and daughter but what I liked most was the sense of place. I felt like I was in beautiful Positano and can't wait for the opportunity to plan a visit the Amalfi Coast myself!
4. Book Lovers by Emily Henry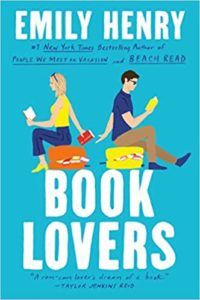 Setting: North Carolina
Nora Stephens' life is books—she's read them all—and she is not that type of heroine. Not the plucky one, not the laidback dream girl, and especially not the sweetheart. In fact, the only people Nora is a heroine for are her clients, for whom she lands enormous deals as a cutthroat literary agent, and her beloved little sister Libby.

Which is why she agrees to go to Sunshine Falls, North Carolina for the month of August when Libby begs her for a sisters' trip away—with visions of a small town transformation for Nora, who she's convinced needs to become the heroine in her own story. But instead of picnics in meadows, or run-ins with a handsome country doctor or bulging-forearmed bartender, Nora keeps bumping into Charlie Lastra, a bookish brooding editor from back in the city. It would be a meet-cute if not for the fact that they've met many times and it's never been cute.

If Nora knows she's not an ideal heroine, Charlie knows he's nobody's hero, but as they are thrown together again and again—in a series of coincidences no editor worth their salt would allow—what they discover might just unravel the carefully crafted stories they've written about themselves.
Another delightful rom-com from Emily Henry! This one has an interesting spin on the workaholic city person finding love in a small town trope with two main characters that work in book publishing in New York City (Charlie's an editor and Nora's a book agent) who find themselves in a small town in North Carolina.
As with her previous two books, there's witty dialogue and characters dealing with serious issues that she balances with the lightheartedness of a rom-com. There's also a sister relationship here that is as important to Nora as the romantic one. A great choice for reading this summer – whether you're headed to the beach or not!
5. The Summer Place by Jennifer Weiner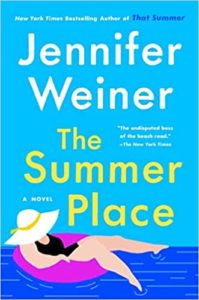 Setting: New York and Cape Cod
When her twenty-two-year-old stepdaughter announces her engagement to her pandemic boyfriend, Sarah Danhauser is shocked. But the wheels are in motion. Headstrong Ruby has already set a date (just three months away!) and spoken to her beloved safta, Sarah's mother Veronica, about having the wedding at the family's beach house in Cape Cod. Sarah might be worried, but Veronica is thrilled to be bringing the family together one last time before putting the big house on the market.
But the road to a wedding day usually comes with a few bumps. Ruby has always known exactly what she wants, but as the wedding date approaches, she finds herself grappling with the wounds left by the mother who walked out when she was a baby. Veronica ends up facing unexpected news, thanks to her meddling sister, and must revisit the choices she made long ago, when she was a bestselling novelist with a different life.
Sarah's twin brother, Sam, is recovering from a terrible loss, and confronting big questions about who he is—questions he hopes to resolve during his stay on the Cape. Sarah's husband, Eli, who's been inexplicably distant during the pandemic, confronts the consequences of a long ago lapse from his typical good-guy behavior. And Sarah, frustrated by her husband, concerned about her stepdaughter, and worn out by challenges of life during quarantine, faces the alluring reappearance of someone from her past and a life that could have been.
When the wedding day arrives, lovers are revealed as their true selves, misunderstandings take on a life of their own, and secrets come to light. There are confrontations and revelations that will touch each member of the extended family, ensuring that nothing will ever be the same.
Another summer beach read from Jennifer Weiner – this one a family drama about a messy family weighed down by a lot of secrets. The story is character-driven with chapters from the point-of-view of all of the major characters and as the narrative progresses we slowly learn that all of the adults are hiding secrets and nursing regrets. The plot becomes a bit farcical with strong soap opera vibes as the coincidences become increasingly unrealistic but it's also quick and easy which works for a summer vacation read.
I thought that this was an okay read but am not at all surprised that some readers are loving it while others are hating it. It's not the right book for anyone who doesn't want to read about infidelity or explicit on-page sexual encounters (opposite sex and same sex).
6. Something Wilder by Christina Lauren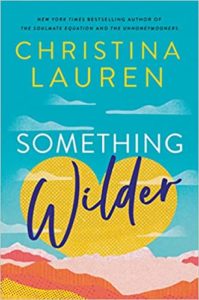 Setting: Utah (Canyonlands National Park)
Growing up the daughter of notorious treasure hunter and absentee father Duke Wilder left Lily without much patience for the profession…or much money in the bank. But Lily is nothing if not resourceful, and now uses Duke's coveted hand-drawn maps to guide tourists on fake treasure hunts through the red rock canyons of Utah. It pays the bills but doesn't leave enough to fulfill her dream of buying back the beloved ranch her father sold years ago, and definitely not enough to deal with the sight of the man she once loved walking back into her life with a motley crew of friends ready to hit the trails. Frankly, Lily would like to take him out into the wilderness—and leave him there.
Leo Grady knew mirages were a thing in the desert, but they'd barely left civilization when the silhouette of his greatest regret comes into focus in the flickering light of the campfire. Ready to leave the past behind him, Leo wants nothing more than to reconnect with his first and only love. Unfortunately, Lily Wilder is all business, drawing a clear line in the sand: it's never going to happen.
But when the trip goes horribly and hilariously wrong, the group wonders if maybe the legend of the hidden treasure wasn't a gimmick after all. There's a chance to right the wrongs—of Duke's past and their own—but only if Leo and Lily can confront their history and work together. Alone under the stars in the isolated and dangerous mazes of the Canyonlands, Leo and Lily must decide whether they'll risk their lives and hearts on the adventure of a lifetime.
A fun second-chance romance/adventure novel that reminded me a bit of the movie Romancing the Stone from the mid '80s and I loved the setting in Canyonlands National Park. Just a fun escape that's perfect for lazy summer days!
7. Bloomsbury Girls by Natalie Jenner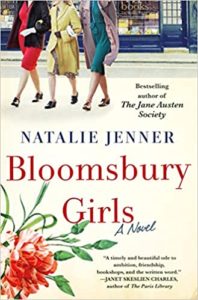 Setting: London, England
Bloomsbury Books is an old-fashioned new and rare book store that has persisted and resisted change for a hundred years, run by men and guided by the general manager's unbreakable fifty-one rules. But in 1950, the world is changing, especially the world of books and publishing, and at Bloomsbury Books, the girls in the shop have plans.
Vivien Lowry: Single since her aristocratic fiance was killed in action during World War II, the brilliant and stylish Vivien has a long list of grievances–most of them well justified and the biggest of which is Alec McDonough, the Head of Fiction.
Grace Perkins: Married with two sons, she's been working to support the family following her husband's breakdown in the aftermath of the war. Torn between duty to her family and dreams of her own.
Evie Stone: In the first class of female students from Cambridge permitted to earn a degree, Evie was denied an academic position in favor of her less accomplished male rival. Now she's working at Bloomsbury Books while she plans to remake her own future.
As they interact with various literary figures of the time–Daphne Du Maurier, Ellen Doubleday, Sonia Blair (widow of George Orwell), Samuel Beckett, Peggy Guggenheim, and others–these three women with their complex web of relationships, goals and dreams are all working to plot out a future that is richer and more rewarding than anything society will allow.
A cozy historical fiction novel with a bit of romance about three young women working in a charming, old-fashioned bookstore in London in 1950. It's a slow-paced read but I enjoyed this glimpse into life in post-war London and the social changes brought about by the war as well as rooting for the three determined women trying to get ahead in a male-dominated world. This is also an ode to bookstores/the world of books and publishing which I always appreciate and I particularly liked the many real-life literary characters that made an appearance in the novel.
One of the young women (Evie) was also a character in the author's first novel, The Jane Austen Society, and several other characters from that book make cameo appearances in Bloomsbury Girls. It's not necessary to read the earlier book first but having that background information does add to the story. Evie was one of my favourite characters from The Jane Austen Society so I enjoyed the opportunity to meet up with her again when she's a few years older!
8. The No-Show by Beth O'Leary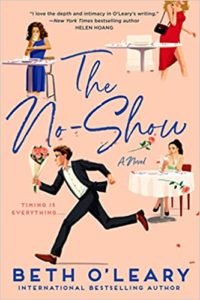 Setting: England
Siobhan is a quick-tempered life coach with way too much on her plate. Miranda is a tree surgeon used to being treated as just one of the guys on the job. Jane is a soft-spoken volunteer for the local charity shop with zero sense of self-worth.

These three women are strangers who have only one thing in common: they've all been stood up on the same day, the very worst day to be stood up—Valentine's Day. And, unbeknownst to them, they've all been stood up by the same man.

Once they've each forgiven him for standing them up, they are all in serious danger of falling in love with a man who may have not just one or two but three women on the go….

Is there more to him than meets the eye? Where was he on Valentine's Day? And will they each untangle the truth before they all get their hearts broken?
I loved the two previous books (The Switch and The Road Trip) that I read by Beth O'Leary but have to admit that I wasn't quite sure how she was going to pull off a story about a man who stands up three separate women on Valentine's Day. And as I got deeper into the book, the more I wondered how this was possibly going to sort out! I liked all three women (Siobhan, Miranda and Jane) AND I liked Joseph Carter – I had no idea how this was going to end in any sort of happy ever after or even who I wanted to see as a couple. But I never should have doubted Ms. O'Leary because she pulled it off in a thoroughly enjoyable and clever way – and I won't even hint as to how because that will ruin the story.
O'Leary has become a must-read author for me but I think her books are marketed as rom-coms when that's not really what they are – maybe romantic drama because there's always a love story at the core but she covers a lot of serious issues. The No-Show is a great choice for your summer reading list!!
9. The Hotel Nantucket by Elin Hilderbrand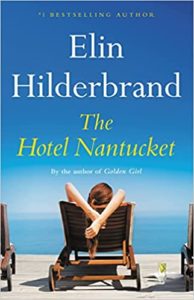 Setting: Nantucket
Fresh off a bad breakup with a longtime boyfriend, Nantucket sweetheart Lizbet Keaton is desperately seeking a second act. When she's named the new general manager of the Hotel Nantucket, a once Gilded Age gem turned abandoned eyesore, she hopes that her local expertise and charismatic staff can win the favor of their new London billionaire owner, Xavier Darling, as well as that of Shelly Carpenter, the wildly popular Instagram tastemaker who can help put them back on the map.
And while the Hotel Nantucket appears to be a blissful paradise, complete with a celebrity chef-run restaurant and an idyllic wellness center, there's a lot of drama behind closed doors. The staff (and guests) have complicated pasts, and the hotel can't seem to overcome the bad reputation it earned in 1922 when a tragic fire killed nineteen-year-old chambermaid Grace Hadley. With Grace gleefully haunting the halls, a staff harboring all kinds of secrets, and Lizbet's own romantic uncertainty, is the Hotel Nantucket destined for success or doom?
Is it even summer without a new beach read from Elin Hilderbrand? I loved her most recent which is set at a newly renovated luxury boutique hotel located in the island's town. A little romance, a little suspense and a great cast of characters including a ghost who died in a fire at the hotel in 1922! The Hotel Nantucket is the perfect summer read – there's even a bonus 36 page travel guide with Elin's personal recommendations so you can plan that trip to Nantucket inspired by her books!!
10. Summer on the Island by Brenda Novak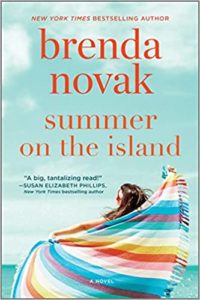 Setting: Florida
After the death of her US senator father, Marlow Madsen travels to the small island off the coast of Florida where she spent summers growing up to help her mother settle the family estate. For Marlow, the trip is a chance to reconnect after too long apart. It's also the perfect escape to help her feel grounded again—one she's happy to share with friends Aida and Claire, who are hoping to hit reset on their lives, too.
A leisurely beachfront summer promises the trio of women the opportunity to take deep healing breaths and explore new paths. But when her father's will reveals an earth-shattering secret that tarnishes his impeccable reputation and everything she thought she knew about her family, Marlow finds herself questioning her entire childhood—and aspects of her future. Fortunately, her friends, and the most unlikely love interest she could imagine, prove that happiness can be found no matter what—as long as the right people are by your side.
Like the other novels that I have read by Novak, Summer on the Island has drama, romance, a bit of a mystery and a beautiful setting – all which add up to my perfect beach read. In this case, the mystery is a long-buried family secret which was very predictable but that didn't detract from the read at all. An enjoyable story of families, friendship, starting over, and the power of forgiveness and an easy read when you need to escape with a good book.
I received a digital Advance Review Copy (ARC) from NetGalley.
11. The Last Summer by Karen Swan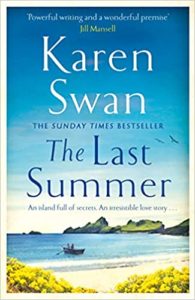 Setting: The island of St. Kilda (Outer Hebrides), Scotland
When the residents of St Kilda ask to be evacuated from their remote island home in the summer of 1930, it's in search of a better life on the mainland rather than the scratch existence on their mountain in the sea.
For 18-year old tomboy Effie Gillies, it's a bittersweet departure. She's the best young climber on the island, as skilled and brave as any of the men. But it is Effie's expansive knowledge of local bird life that leads her to taking up a position as curator of Dumfries House's ornithological collection – and back into the arms of Lord Dumfries' son and heir, Sholto.
During her last summer on St Kilda, Effie had been Sholto's guide, and their attraction had seemed irresistible but, in the glamorous polite society of Ayrshire, it is clear they are worlds apart. When a body is discovered on the island, soon after the evacuation, a scandal erupts as she is implicated. Sholto knows she's keeping secrets – but are they even her own?
I have read several of Karen Swan's books and love the way she combines romance and a bit of mystery with a strong sense of place. The Last Summer is a bit of a departure from previous novels in that it is entirely historical fiction but I enjoyed it every bit as much. I also enjoyed learning for the first time about the evacuation of St. Kilda which is similar to the resettlement of Newfoundlanders that took place in Canada in the '60s and '70s. The Last Summer was a great read with the only caveat being that this is the first book of a series and it ends on a bit of a cliffhanger so anyone who isn't planning to commit to the series might be disappointed with the book's abrupt conclusion. I can't wait for the next book!!
12. An Island Wedding by Jenny Colgan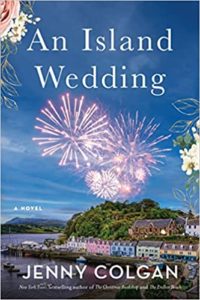 Setting: Scottish Isles
On the little Scottish island of Mure—halfway between Scotland and Norway—Flora MacKenzie and her fiancé Joel are planning the smallest of "sweetheart weddings," a high summer celebration surrounded only by those very dearest to them.
Not everyone on the island is happy about being excluded, though. The temperature rises even further when beautiful Olivia MacDonald—who left Mure ten years ago for bigger and brighter things—returns with a wedding planner in tow. Her fiancé has oodles of family money, and Olivia is determined to throw the biggest, most extravagant, most Instagrammable wedding possible. And she wants to do it at Flora's hotel, the same weekend as Flora's carefully planned micro-wedding.
I loved the latest in this series which has a wonderful cast of quirky characters and sense of family/community set on a remote Scottish island halfway between Scotland and Norway. You could read this book as a stand-alone but it won't be nearly as good without the backstories of the characters that have been developed in the previous installments. Just an altogether heartwarming read when you need a pleasant escape!
The previous books in the Mure series by Jenny Colgan are: The Cafe by the Sea, The Endless Beach, Christmas on the Island, and Christmas at the Island Hotel.
13. Our Last Days in Barcelona by Chanel Cleeton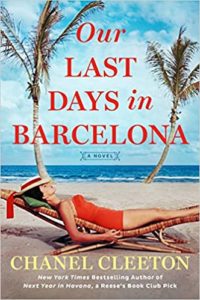 Setting: Barcelona, Spain
Barcelona, 1964. Exiled from Cuba after the revolution, Isabel Perez has learned to guard her heart and protect her family at all costs. After Isabel's sister Beatriz disappears in Barcelona, Isabel goes to Spain in search of her. Joining forces with an unlikely ally thrusts Isabel into her sister's dangerous world of espionage, but it's an unearthed piece of family history that transforms Isabel's life.

Barcelona, 1936. Alicia Perez arrives in Barcelona after a difficult voyage from Cuba, her marriage in jeopardy and her young daughter Isabel in tow. Violence brews in Spain, the country on the brink of civil war, the rise of fascism threatening the world. When Cubans journey to Spain to join the International Brigades, Alicia's past comes back to haunt her as she is unexpectedly reunited with the man who once held her heart.

Alicia and Isabel's lives intertwine, and the past and present collide, as a mother and daughter are forced to choose between their family's expectations and following their hearts.
It was lovely to spend more time with the Perez sisters in the latest installment in Chanel Cleeton's Cuba series. I have enjoyed all five of Cleeton's books that I have read, however, the three Perez sister books are my favourite (Next Year in Havana, When We Left Cuba and Our Last Days in Barcelona) and it's impossible to choose a favourite sister! This is a story of romantic love, the love between mothers and daughters and patriotic love of country intertwined with historical information about the Cuban Revolution and the Spanish Civil War which makes for quite a good read.
Our Last Days in Barcelona can be read as a stand-alone book but is even better if read after the first two books in the series as they follow the sisters chronologically beginning in 1958 in Next Year in Havana through 1964 in this novel.
14. Island Time by Georgia Clark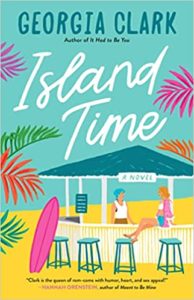 Setting: An Australian island
The Kellys are messy, loud, loving Australians. The Lees are sophisticated, aloof, buttoned-up Americans. They have nothing in common…except for the fact that their daughters are married. When a nearby volcano erupts during their short vacation to a remote tropical island off the coast of Queensland, the two families find themselves stranded together for six weeks.

With only two island employees making up the rest of their party, everyone is forced to question what—or who—they really want. Island Time is a sumptuous summer read that dives deep into queer romance, family secrets, ambition, parenthood, and a bird-chasing bromance. This sexy, sun-soaked paradise of white sandy beaches, crystal-clear waters, and lush rainforest will show you it's never too late to change your destiny.
I read Georgia Clark's It Had to Be You last year and thought it was a charming ensemble rom-com. I loved her writing style and her skill at balancing the points of view of an ensemble cast of characters and was expecting more of the same as the cover art makes Island Time look like a breezy rom-com. There's still an ensemble cast and it's still beautifully written with multiple points of view that flow well but it's a broader story about family, love and relationships beyond romance. Within this group of people we have parent/child, spousal, and sibling relationships, developing romances and new friendships.
The plot is a bit slow-moving and it took me awhile to really get into the story but it was well worth sticking it out as there is a lot to enjoy – drama, comedy, LGBTQ+ relationships, a birdwatching bromance, a steamy new romance and a beautiful setting with white sandy beaches, crystal-clear ocean waters and lush rainforests that will definitely stoke your wanderlust.
I received a digital Advance Review Copy (ARC) from NetGalley.
15. The Homewreckers by Mary Kay Andrews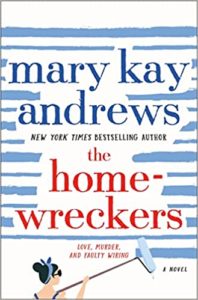 Setting: Savannah, Georgia
Hattie Kavanaugh went to work restoring homes for Kavanaugh & Son Restorations at eighteen, married the boss's son at twenty, and became a widow at twenty-five. Now, she's passionate about her work, but that's the only passion in her life. "Never love something that can't love you back," is advice her father-in-law gives her, but Hattie doesn't follow it and falls head-over-heels for a money pit of a house. She's determined to make it work, but disaster after disaster occurs, and Hattie's dream might cost Kavanaugh & Son their livelihood. Hattie needs money, and fast.

When a slick Hollywood producer shows up in her hometown of Savannah, Georgia, she gets a once-in-a-lifetime opportunity: star in a beach house renovation reality show called The Homewreckers, cast against a male lead who may be a love interest, or may be the ultimate antagonist. Soon, there's more at stake than bad pipes and dry rot: during the demolition, evidence comes to light that points to the mysterious disappearance of a young wife and mother years before.

With a burned out detective investigating the case, an arsonist on the loose, two men playing with her emotions, and layers upon layers of vintage wallpaper causing havoc, it's a question of who will flip, who will flop, and if Hattie will ever get her happily-ever-after.
A great summer beach read – enjoyable and easy! Just a fun read that doesn't require too much thinking – perfect for a relaxing summer day at the beach, in the backyard or by a pool! Loved the setting too – the descriptions of Savannah and Tybee Island had me daydreaming about travelling to Georgia!
16. This Time Tomorrow by Emma Straub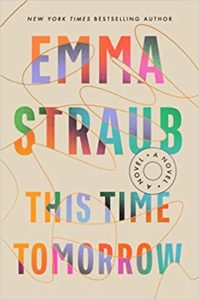 Setting: New York City
On the eve of her 40th birthday, Alice's life isn't terrible. She likes her job, even if it isn't exactly the one she expected. She's happy with her apartment, her romantic status, her independence, and she adores her lifelong best friend. But her father is ailing, and it feels to her as if something is missing.
When she wakes up the next morning she finds herself back in 1996, reliving her 16th birthday. But it isn't just her adolescent body that shocks her, or seeing her high school crush, it's her dad: the vital, charming, 40-something version of her father with whom she is reunited. Now armed with a new perspective on her own life and his, some past events take on new meaning. Is there anything that she would change if she could?
Magical realism isn't generally my thing but I loved Emma Straub's latest novel. This Time Tomorrow is a sentimental story about the love between father and daughter and acceptance that part of life is losing the people that we love most. A poignant reminder to cherish every day with loved ones. My elderly dad is slowly leaving us and beyond the point of having any more conversations so I related strongly to Alice's desire to have just one more conversation and hear just one more story. This novel is a beautifully written, emotional, bitter-sweet reminder that there will never be enough time.
17. The Lost Summers of Newport by Beatriz Williams, Lauren Willig, and Karen White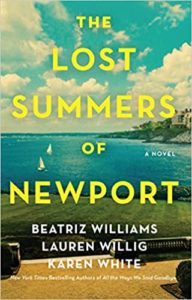 Setting: Newport, Rhode Island
2019: Andie Figuero has just landed her dream job as a producer of Mansion Makeover, a popular reality show about restoring America's most lavish historic houses. Andie has high hopes for her latest project: the once glorious but gently crumbling Sprague Hall in Newport, Rhode Island, summer resort of America's gilded class—famous for the lavish "summer cottages" of Vanderbilts and Belmonts. But Andie runs into trouble: the reclusive heiress who still lives in the mansion, Lucia "Lucky" Sprague, will only allow the show to go forward on two conditions: One, nobody speaks to her. Two, nobody touches the mansion's ruined boathouse.
1899: Ellen Daniels has been hired to give singing lessons to Miss Maybelle Sprague, a naive young Colorado mining heiress whose stepbrother John has poured their new money into buying a place among Newport's elite. John is determined to see Maybelle married off to a fortune-hunting Italian prince, and Ellen is supposed to polish up the girl for her launch into society. But the deceptively demure Ellen has her own checkered past, and she's hiding in plain sight at Sprague Hall.
1958: Lucia "Lucky" Sprague has always felt like an outsider at Sprague Hall. When she and her grandmother—the American-born Princess di Conti—fled Mussolini's Italy, it seemed natural to go back to the imposing Newport house Nana owned but hadn't seen since her marriage in 1899. Over the years, Lucky's lost her Italian accent and found a place for herself among the yachting set by marrying Stuyvesant Sprague, the alcoholic scion of her Sprague stepfamily. But one fateful night in the mansion's old boathouse will uncover a devastating truth…and change everything she thought she knew about her past.
As the cameras roll on Mansion Makeover, the house begins to yield up the dark secrets the Spragues thought would stay hidden forever….
Lots of melodrama and dark family secrets that are uncovered while the film crew are on site. I would have liked to have a little more historical information about Newport and the mansions of the Gilded Age.
18. A Thousand Miles by Bridget Morrissey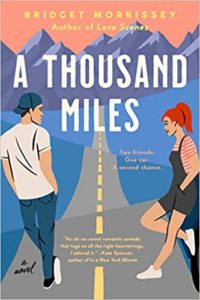 Setting: Road Trip – Illinois, Iowa, Nebraska and Colorado
Dee Matthews is the cohost of the smash-hit podcast Did I Forget To Tell You?, where she interviews family, friends, and past lovers. Nothing is off limits, except for one man (known on the show only as Name Redacted) who happens to be her high school best friend Ben. During their senior year spring break, Dee and Ben took a road trip to visit Ben's grandma. They buried a time capsule in her backyard, pledging to return in ten years to open it. Then their friendship fell apart in spectacular fashion. They haven't spoken to each other since.

Ben Porter's life since that moment has been unexciting but comfortable, until his grandma reveals a family secret that flips his whole world upside down. Her dying wish is for him to stop doing what is safest and go after what he really wants. He starts by showing up on Dee's doorstep with every intention of fulfilling their long-ago promise. Despite her reservations, Dee can't say no. This trip could be her chance to give her listeners the Name Redacted interview they've been begging for—and finally put her unresolved feelings for Ben to rest.

As the miles fly by, Dee and Ben's friendship reignites. But the closer they get to reaching their destination, the more apparent it becomes that their attraction to each other cannot be ignored. Their last adventure ended in disaster, and they're about to find out if any hope of a future together is in the rear view mirror.
An enjoyable second chance/road trip romance about two childhood friends who haven't spoken in the 10 years since their high school graduation who reunite for a cross-country road trip from Chicago to Colorado. Over the course of the road trip, the two confront their past mistakes and come to terms with the feelings they still have for each other as they try to figure out whether or not they have a future together. An easy summer read!
I received a digital Advance Review Copy (ARC) from NetGalley.
19. The Lioness by Chris Bohjalian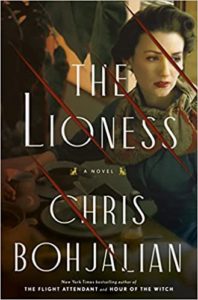 Setting: Tanzania
Tanzania, 1964. When Katie Barstow, A-list actress, and her new husband, David Hill, decide to bring their Hollywood friends to the Serengeti for their honeymoon, they envision giraffes gently eating leaves from the tall acacia trees, great swarms of wildebeests crossing the Mara River, and herds of zebras storming the sandy plains.
Their glamorous guests—including Katie's best friend, Carmen Tedesco, and Terrance Dutton, the celebrated Black actor who stars alongside Katie in the highly controversial film Tender Madness—will spend their days taking photos, and their evenings drinking chilled gin and tonics back at camp, as the local Tanzanian guides warm water for their baths. The wealthy Americans expect civilized adventure: fresh ice from the kerosene-powered ice maker, dinners of cooked gazelle meat, and plenty of stories to tell over lunch back on Rodeo Drive.

What Katie and her glittering entourage do not expect is this: a kidnapping gone wrong, their guides bleeding out in the dirt, and a team of Russian mercenaries herding their hostages into Land Rovers, guns to their heads. As the powerful sun gives way to night, the gunmen shove them into abandoned huts and Katie Barstow, Hollywood royalty, prays for a simple thing: to see the sun rise one more time.
A gripping, character-driven, historical thriller that had me on the edge of my seat from start to finish! I don't generally enjoy novels with a lot of graphic violence but it didn't bother me in this instance and I found The Lioness impossible to put down. It had been quite some time since I read a novel by Bohjalian and I had forgotten what a great storyteller he is!
20. Dream On by Angie Hockman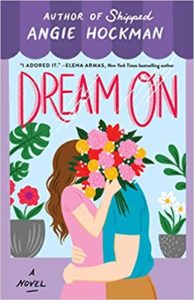 Setting: Cleveland, Ohio, United States
When law grad Cass Walker wakes up after surviving a car accident, she is flooded with memories of a man named Devin. The only problem? Devin—as confirmed by family, friends, and doctors—doesn't exist. Everything about him, from his coffee-brown eyes to the slightly crooked angle of his pinkie to his high-wattage charm, is a figment of Cass's coma-addled imagination. Still, she can't get him out of her head.

So when she happens upon the real Devin a year later in a Cleveland flower shop, she's completely shocked. Even more surprising is that Devin actually believes her story, and despite his protective younger brother's doubts, they soon embark on a real-life romance. With her dream man by her side and a new job at a prestigious law firm, Cass's future seems perfect. But fate might have other plans…
A fun read with an interesting premise, a strong female main character and a love triangle romance!
21. The Setup by Lizzie Dent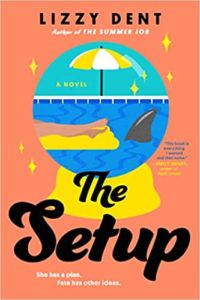 Setting: A seaside town in England
The last place very average thirty-one-year-old Mara Williams thought she'd be is on a solo vacation impersonating her fortune teller when she finally meets the one. Josef, a gorgeous Austrian cellist, sits down for a reading and before she knows it, she's telling him his destiny will be sitting in a pub in the English seaside town of Broadgate on the last Friday of August. And her name is Mara.

Enter Project Mara: three months to turn herself into the stylish, confident woman she's always hoped to be. Meanwhile, the crumbling, formerly glamorous beachside pool club where she works is under threat and her eccentric colleagues enlist her help to save it, just as a handsome new housemate casts doubts on her ideas about "the one." Can Mara pull off the transformation of a lifetime? And by summer's end, will she know who is her destiny?
An enjoyable summer rom-com about an insecure young woman who is obsessed with astrology working at the local lido in a small town in southeast England. An easy read and I enjoyed the charming English setting – a fun summer escape!
22. Every Summer After by Carley Fortune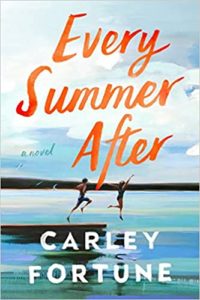 Setting: Barry's Bay, Ontario, Canada
They say you can never go home again, and for Persephone Fraser, ever since she made the biggest mistake of her life a decade ago, that has felt too true. Instead of glittering summers on the lakeshore of her childhood, she spends them in a stylish apartment in the city, going out with friends, and keeping everyone a safe distance from her heart.
Until she receives the call that sends her racing back to Barry's Bay and into the orbit of Sam Florek—the man she never thought she'd have to live without.
For six summers, through hazy afternoons on the water and warm summer nights working in his family's restaurant and curling up together with books—medical textbooks for him and work-in-progress horror short stories for her—Percy and Sam had been inseparable. Eventually that friendship turned into something breathtakingly more, before it fell spectacularly apart.

When Percy returns to the lake for Sam's mother's funeral, their connection is as undeniable as it had always been. But until Percy can confront the decisions she made and the years she's spent punishing herself for them, they'll never know whether their love might be bigger than the biggest mistakes of their past.
I got my summer reading off to a great start with this second chance romance told in two timelines over the course of six years in the past and over a few days in the present. Loved the summer cottage vibes from this Canadian romance!!
23. The Good Left Undone by Adriana Trigiani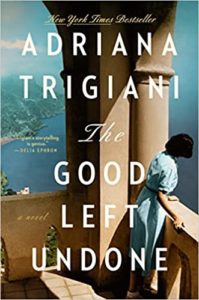 Setting: Viareggio, Italy; Marseille; Scotland
Matelda, the Cabrelli family's matriarch, has always been brusque and opinionated. Now, as she faces the end of her life, she is determined to share a long-held secret with her family about her own mother's great love story: with her childhood friend, Silvio, and with dashing Scottish sea captain John Lawrie McVicars, the father Matelda never knew. . . .

In the halcyon past, Domenica Cabrelli thrives in the coastal town of Viareggio until her beloved home becomes unsafe when Italy teeters on the brink of World War II. Her journey takes her from the rocky shores of Marseille to the mystical beauty of Scotland to the dangers of wartime Liverpool—where Italian Scots are imprisoned without cause—as Domenica experiences love, loss, and grief while she longs for home.
A hundred years later, her daughter, Matelda, and her granddaughter, Anina, face the same big questions about life and their family's legacy, while Matelda contemplates what is worth fighting for. But Matelda is running out of time, and the two timelines intersect and weave together in unexpected and heartbreaking ways that lead the family to shocking revelations and, ultimately, redemption.
A beautiful multigenerational story about family set primarily in Viareggio, Italy but also in Marseille, France and in Scotland. The Good Left Undone is a moving story of the women from one Italian family and the happiness, love, heartbreak and grief they experience. Also enlightening with respect to some of the World War II events in Marseille and especially in Scotland as I wasn't aware of the treatment of Italian immigrants there or of the tragedy of the Arandora Star.
24. True Biz by Sara Nović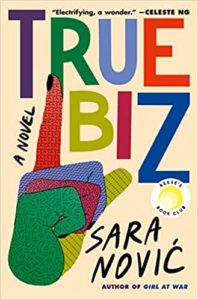 Setting: Ohio, United States
True biz? The students at the River Valley School for the Deaf just want to hook up, pass their history finals, and have politicians, doctors, and their parents stop telling them what to do with their bodies. This revelatory novel plunges readers into the halls of a residential school for the deaf, where they'll meet Charlie, a rebellious transfer student who's never met another deaf person before; Austin, the school's golden boy, whose world is rocked when his baby sister is born hearing; and February, the hearing headmistress, a CODA (child of deaf adult(s)) who is fighting to keep her school open and her marriage intact, but might not be able to do both. As a series of crises both personal and political threaten to unravel each of them, Charlie, Austin, and February find their lives inextricable from one another—and changed forever.
The best part of this coming of age story is the insight it provides into deaf culture and the politics around some of the issues facing the community. The use of sign language, cochlear implants, mainstreaming vs. specialized schooling and the way that the deaf community is treated by society are all addressed.
25. The Lifeguards by Amanda Eyre Ward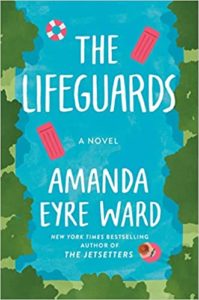 Setting: Austin, Texas
Austin's Zilker Park neighborhood is a wonderland of greenbelt trails, live music, and moms who drink a few too many margaritas. Whitney, Annette, and Liza have grown thick as thieves as they have raised their children together for fifteen years, believing that they can shelter them their children from an increasingly dangerous world. Their friendship is unbreakable—as safe as the neighborhood where they've raised their sweet little boys.
Or so they think.
One night, the three women have been enjoying happy hour when their boys, lifeguards for the summer, come back on bicycles from a late-night dip in their favorite swimming hole. The boys share a secret—news that will shatter the perfect world their mothers have so painstakingly created.
An engaging, quick read about three protective mothers, their 15 year-old sons and a young woman found dead near a popular swimming hole. The Lifeguards alternates points of view between the three mothers but also complements their chapters with the pov of the detective investigating the death and online gossipy posts from a local mom's group which I thought was an interesting and unique narrative device. A page-turner of a whodunit/what happened with a final twist that explores what lengths a mother might go to protect her child.
26. Love Marriage by Monica Ali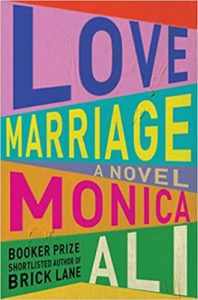 Setting: London, England
Yasmin Ghorami is twenty-six, in training to be a doctor (like her Indian-born father), and engaged to the charismatic, upper-class Joe Sangster, whose formidable mother, Harriet, is a famous feminist. The gulf between families is vast. So, too, is the gulf in sexual experience between Yasmin and Joe.
As the wedding day draws near, misunderstandings, infidelities, and long-held secrets upend both Yasmin's relationship and that of her parents, a "love marriage," according to the family lore that Yasmin has believed all her life.
At first glance, Love Marriage is a modern love story but there's much more to it than that. There are several romantic relationships that are key to the plot, however, the complexity of the parent/child relationships seemed to me to be the most important aspect of the novel. There's a lot going on here with numerous plot lines (perhaps too many) that examine sexuality, feminism, culture and immigration, subtle and not so subtle racism in London, therapy and issues in health care.
All of the characters in Love Marriage are flawed (and their behaviour is often frustrating as they make questionable choices) but they are written with understanding and sympathy and are very relatable. As I read, I found myself drawn further into their world hoping that things would turn out ok. I wasn't sure what a happy ending would entail but I wanted it for all of them. Monica Ali has done an excellent job portraying ordinary people trying to do what's right as they discover that life is not simple and even good people do bad things.
27. Northern Spy by Flynn Berry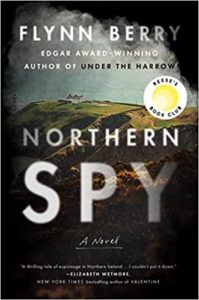 Setting: Belfast, Ireland
A producer at the BBC and mother to a new baby, Tessa is at work in Belfast one day when the news of another raid comes on the air. The IRA may have gone underground in the two decades since the Good Friday Agreement, but they never really went away, and lately bomb threats, security checkpoints, and helicopters floating ominously over the city have become features of everyday life. As the news reporter requests the public's help in locating those responsible for the robbery, security footage reveals Tessa's sister, Marian, pulling a black ski mask over her face.
The police believe Marian has joined the IRA, but Tessa is convinced she must have been abducted or coerced; the sisters have always opposed the violence enacted in the name of uniting Ireland. And besides, Marian is vacationing on the north coast. Tessa just spoke to her yesterday.
When the truth about Marian comes to light, Tessa is faced with impossible choices that will test the limits of her ideals, the bonds of her family, her notions of right and wrong, and her identity as a sister and a mother. Walking an increasingly perilous road, she wants nothing more than to protect the one person she loves more fiercely than her sister: her infant son, Finn.
I had mixed feelings about this story. It's a compelling, tension-filled page-turner about family loyalty, IRA terrorists and MI6 spies BUT the lack of historical accuracy detracted from the story for me. The story is set 20 years after the Good Friday Agreement (so around 2018/19) but the author's Northern Ireland is an imagined violent place where IRA terrorism is an almost daily occurence and people live in fear – so more reminiscent of the time pre-Good Friday Agreement when sectarian violence divided the country than of modern day Northern Ireland. I would have enjoyed it more if it had been set during the time of The Troubles or if I had known prior to reading what to expect.
28. Sea of Tranquility by Emily St. John Mandel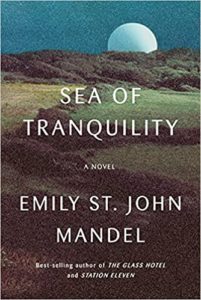 Setting: Earth and Space Colonies (Past and Future)
Edwin St. Andrew is eighteen years old when he crosses the Atlantic by steamship, exiled from polite society following an ill-conceived diatribe at a dinner party. He enters the forest, spellbound by the beauty of the Canadian wilderness, and suddenly hears the notes of a violin echoing in an airship terminal—an experience that shocks him to his core.

Two centuries later a famous writer named Olive Llewellyn is on a book tour. She's traveling all over Earth, but her home is the second moon colony, a place of white stone, spired towers, and artificial beauty. Within the text of Olive's best-selling pandemic novel lies a strange passage: a man plays his violin for change in the echoing corridor of an airship terminal as the trees of a forest rise around him.

When Gaspery-Jacques Roberts, a detective in the black-skied Night City, is hired to investigate an anomaly in the North American wilderness, he uncovers a series of lives upended: The exiled son of an earl driven to madness, a writer trapped far from home as a pandemic ravages Earth, and a childhood friend from the Night City who, like Gaspery himself, has glimpsed the chance to do something extraordinary that will disrupt the timeline of the universe.
A beautifully-written novel about humanity and what it means to be alive told via loosely connected stories that take place in the past and in the future. A young English "remittance man" exiled to Vancouver Island in 1912, a woman searching for an estranged friend in 2020, and a writer travelling Earth on a book tour in 2203 with a looming pandemic in the background are all connected by the sound of recurring notes played on a violin and a time travelling detective from 2401 investigating an anomaly in the timeline of the universe. A quick-paced, imaginative, thought-provoking read!
29. Hope and Glory by Jendella Benson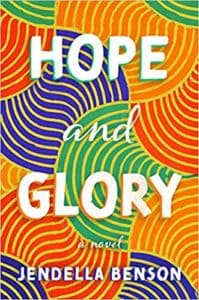 Setting: London, England
Glory Akindele returns to London from her seemingly glamorous life in LA to mourn the sudden death of her father, only to find her previously close family has fallen apart in her absence. Her brother, Victor, is in jail and won't speak to her because she didn't come home for his trial. Her older sister, Faith, once a busy career woman, appears to have lost her independence and ambition, and is instead channeling her energies into holding together a perfect suburban family. Worst of all, their mother, Celeste, is headed toward a breakdown after the death of her husband and the shame of her son's incarceration.
Rather than returning to America, Glory decides to stay and try to bring them all together again. It's a tall order given that Glory's life isn't exactly working out according to plan either, and she's acutely aware that she's not so sure who she is and what she wants.
A chance reunion with a man she'd known in her teens—the perceptive but elusive Julian—gives her the courage to start questioning why her respectable but obsessively private Nigerian immigrant family is the way it is. But then Glory's questioning unearths a massive secret that shatters the family's fragile peace—and she risks losing everyone she deeply cares about in her pursuit of the truth and a reunited family.
A heartwarming, character-driven debut novel about love, loss, family drama and the immigrant experience in England. I wasn't ready to say goodbye to Glory and her family when I finished reading and I found myself hoping that Jendella Benson revisits the characters in another novel.
30. Cover Story by Susan Rigetti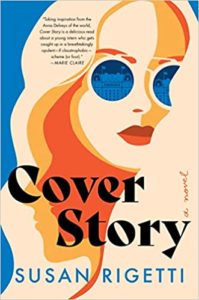 Setting: New York City
After a rough year at NYU, aspiring writer Lora Ricci is thrilled to land a summer internship at ELLE magazine where she meets Cat Wolff, contributing editor and enigmatic daughter of a clean-energy mogul. Cat takes Lora under her wing, soliciting her help with side projects and encouraging her writing.
As a friendship emerges between the two women, Lora opens up to Cat about her financial struggles and lost scholarship. Cat's solution: Drop out of NYU and become her ghostwriter. Lora agrees and, when the internship ends, she moves into Cat's suite at the opulent Plaza Hotel. Writing during the day and accompanying Cat to extravagant parties at night, Lora's life quickly shifts from looming nightmare to dream-come-true. But as Lora is drawn into Cat's glamorous lifestyle, Cat's perfect exterior cracks, exposing an illicit, shady world.
This is a great binge read – I couldn't put it down and finished in just a few hours! It's a fast-paced and compulsive read told through Lora's diary entries, email correspondence, FBI transcripts and Instagram posts. That's all I'll say because this is the sort of book which is a better read if you go in not knowing what to expect!
31. Take My Hand by Dolen Perkins-Valdez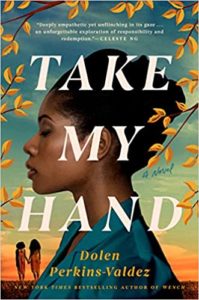 Setting: Montgomery, Alabama
Montgomery, Alabama, 1973. Fresh out of nursing school, Civil Townsend intends to make a difference, especially in her African American community. At the Montgomery Family Planning Clinic, she hopes to help women shape their destinies, to make their own choices for their lives and bodies.
But when her first week on the job takes her along a dusty country road to a worn-down one-room cabin, Civil is shocked to learn that her new patients, Erica and India, are children—just eleven and thirteen years old. Neither of the Williams sisters has even kissed a boy, but they are poor and Black, and for those handling the family's welfare benefits, that's reason enough to have the girls on birth control. As Civil grapples with her role, she takes India, Erica, and their family into her heart. Until one day she arrives at their door to learn the unthinkable has happened, and nothing will ever be the same for any of them.
Decades later, with her daughter grown and a long career in her wake, Dr. Civil Townsend is ready to retire, to find her peace, and to leave the past behind. But there are people and stories that refuse to be forgotten. That must not be forgotten.
Because history repeats what we don't remember.
Moving and thought-provoking historical fiction novel told in a dual timeline based on heinous true events that took place in the not-so-distant past and a timely reminder that reproductive rights are human rights!
32. The Littlest Library by Poppy Alexander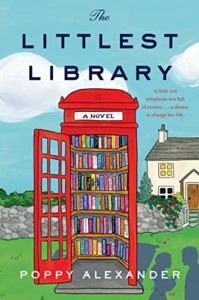 Setting: England
A little red telephone box full of stories, a chance to change her life…
Jess Metcalf is perfectly content with her quiet, predictable life. But when her beloved grandmother passes away and she loses her job at the local library, Jess' life is turned upside down.
Determined to pick up the pieces, Jess decides it's time for a new beginning. Unable to part with her grandmother's cherished books, she packs them all up and moves to a tiny cottage in the English countryside. To her surprise, Jess discovers that she's now the owner of an old red phone box that was left on the property. Missing her job at the local library, Jess decides to give back to her new community—using her grandmother's collection to turn the ordinary phone box into the littlest library in England.
It's not long before the books are borrowed and begin to work their literary magic—bringing the villagers together… and managing to draw Jess' grumpy but handsome neighbor out of his shell.
Maybe it's finally time for Jess to follow her heart, let go of her old life, and make the village her home? But will she be able to take the leap?
A sweet story about a young woman who moves to a tiny English village after two major life changes and sets up a library in an old red telephone box. Through the magic of books, this small lending library helps bring the community together and helps Jess form friendships and find a new home where she belongs. Simple and uplifting – the kind of story that makes you want to pack up and move to a small village in England!!
33. Iona Iverson's Rules for Commuting by Clare Pooley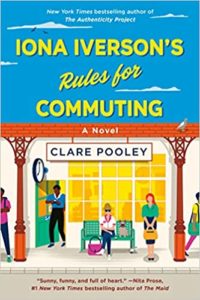 Setting: London England
Every day Iona, a larger-than-life magazine advice columnist, travels the ten stops from Hampton Court to Waterloo Station by train, accompanied by her dog, Lulu. Every day she sees the same people, whom she knows only by nickname: Impossibly-Pretty-Bookworm and Terribly-Lonely-Teenager. Of course, they never speak. Seasoned commuters never do.
Then one morning, the man she calls Smart-But-Sexist-Manspreader chokes on a grape right in front of her. He'd have died were it not for the timely intervention of Sanjay, a nurse, who gives him the Heimlich maneuver.
This single event starts a chain reaction, and an eclectic group of people with almost nothing in common except their commute discover that a chance encounter can blossom into much more. It turns out that talking to strangers can teach you about the world around you–and even more about yourself.
I loved this charming story about a group of commuters in London who break one of the rules of commuting and start talking to each other! A wonderful, feel-good story about a group of people with very little in common who discover that wonderful things can happen when you connect with others and form a strong community of support!
I received a digital Advance Review Copy (ARC) from NetGalley
34. The Windsor Knot by SJ Bennett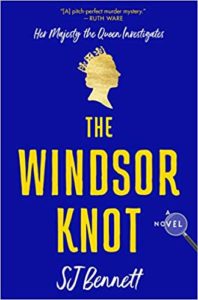 Setting: England
It is the early spring of 2016 and Queen Elizabeth is at Windsor Castle in advance of her 90th birthday celebrations. But the preparations are interrupted by the shocking and untimely death of a guest in one of the Castle bedrooms. The scene leads some to think the young Russian pianist strangled himself, yet a badly tied knot leads MI5 to suspect foul play. When they begin to question the Household's most loyal servants, Her Majesty knows they're looking in the wrong place.
For the Queen has been living an extraordinary double life ever since her teenage years as "Lilibet." Away from the public eye and unbeknownst to her closest friends and advisers, she has the most brilliant skill for solving crimes. With help from her Assistant Private Secretary, Rozie Oshodi, a British Nigerian officer recently appointed to the Royal Horse Artillery, the Queen discreetly begins making inquiries. As she carries out her royal duties with her usual aplomb, no one in the Royal Household, the government, or the public knows that the resolute Elizabeth won't hesitate to use her keen eye, quick mind, and steady nerve to bring a murderer to justice.
A cute cozy mystery featuring Queen Elizabeth as a Miss Marple style sleuth investigating a shocking murder at Windsor Castle. This was the first of Bennett's Her Majesty the Queen Investigates series and was published in 2021. The second installment All the Queen's Men was published earlier this year.
35. Nosy Parker by Lesley Crewe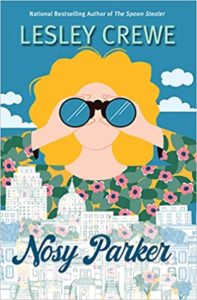 Setting: Montreal, Quebec
It's 1967 in Montreal, the Expo is in full swing, and Audrey Parker has just moved with her dad to Notre-Dame-de-Grâce, a whole new neighbourhood full of different kinds of people to spy on. Audrey is a lot of things: articulate, disarming, forthright. And, as her father reminds her often, indecently nosy.
Audrey scribbles every observation down in her notebooks ― from which foods her new teacher eats for lunch, to how blue the water is in Greece, to what time the one-legged man across the street gets home. She is certain she will soon root out a murderer or uncover a mystery. But there's only one mystery that really matters to her: her mother. Who was she? How did she die? Why won't her father ever talk about her?
Over a year of Audrey's life, we bike with her through the streets of NDG, encountering stray animals, free-range kids, and adults both viciously cruel and wonderful. And we walk with Audrey across the threshold from childhood to adolescence, where she will discover the truth about her mother.
A heartwarming coming of age story that takes place over a year in the life of a 12 year-old girl in 1960's Montreal. It's 1967 – the year of Expo – and Audrey "Nosy" Parker has just moved to a duplex in Montreal's Notre-Dame-de-Grâce (NDG) neighbourhood with her middle-aged dad. Audrey is a curious and insightful girl who imagines herself to be a spy solving mysteries.
As Audrey navigates a new neighbourhood, new school and new friends she tries to solve the biggest mystery of all – who her mother was and why her father never speaks of her. I loved Audrey in all her quirkiness, the delightful cast of secondary characters and the Montreal setting – a funny and touching read!!
What are you reading this summer? Let us know in the comments below.
Pin This For Later