Spring is in the air and along with the warmer weather and new blooms there are many wonderful new books to read. My spring 2022 reading list includes recently published contemporary fiction, historical fiction, romance, mystery, and non-fiction books that I have personally read and can recommend. No matter your mood, there's a new book for spring 2022 that will offer the perfect escape!
21 of the Best New Books to Read Spring 2023
15 Books for Your Spring 2021 Reading List
25 Books To Read This Spring: A Travel Inspired List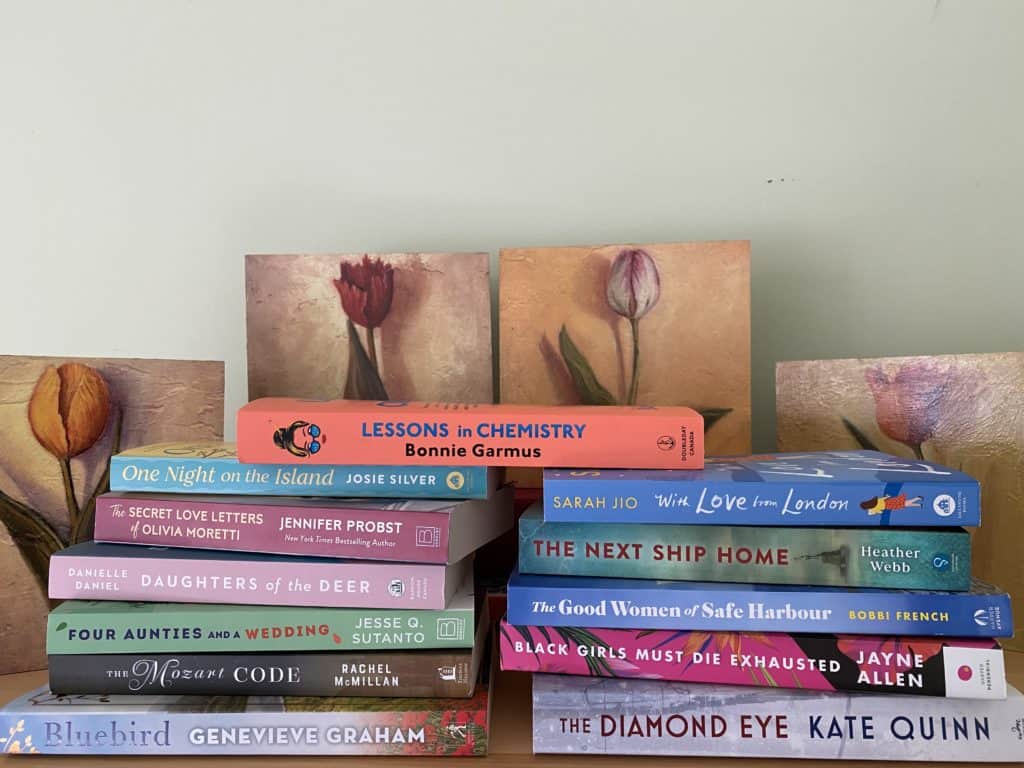 This post may contain affiliate links. If you click an affiliate link and make a purchase then we receive a small commission at no additional cost to you.
We are a participant in the Amazon Services LLC Associates Program, an affiliate advertising program designed to provide a means for us to earn fees by linking to Amazon.com and affiliated sites. As an Amazon affiliate I earn from qualifying purchases.
1. Lessons in Chemistry by Bonnie Garmus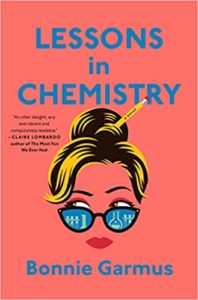 Setting: California
Chemist Elizabeth Zott is not your average woman. In fact, Elizabeth Zott would be the first to point out that there is no such thing as an average woman. But it's the early 1960s and her all-male team at Hastings Research Institute takes a very unscientific view of equality. Except for one: Calvin Evans; the lonely, brilliant, Nobel–prize nominated grudge-holder who falls in love with—of all things—her mind. True chemistry results.

But like science, life is unpredictable. Which is why a few years later Elizabeth Zott finds herself not only a single mother, but the reluctant star of America's most beloved cooking show Supper at Six. Elizabeth's unusual approach to cooking ("combine one tablespoon acetic acid with a pinch of sodium chloride") proves revolutionary. But as her following grows, not everyone is happy. Because as it turns out, Elizabeth Zott isn't just teaching women to cook. She's daring them to change the status quo.
What an enjoyable, original read Lessons in Chemistry was! The novel which takes place in the late 1950s/early 1960s has a delightful cast of well-written characters. I loved Elizabeth – a smart, courageous, ambitious, self-assured feminist – and her quirky supporting characters especially her 4 year-old daughter, Mad, who is a prolific reader and wise beyond her years, her loyal dog, Six-Thirty, who knows hundreds of words and her neighbour, Harriet, who is stuck in a loveless marriage and becomes family to Elizabeth and Mad.
Though the overall tone of the book is lighthearted (and occasionally a tad absurd – it is partially narrated by a dog after all), there are some sad and touching plot points as well as an underlying thread of social commentary on issues of the time including casual sexism/misogyny, physical and sexual violence against women and the frustration experienced by women who wanted careers. While reading, I laughed out loud and I shed a few tears but I also found myself a bit angry to think of how many women were forced to give up their dreams because of social expectations. Imagine what they might have accomplished if society hadn't held them back!
Lessons in Chemistry is a gem – a charming, well-written novel of female empowerment with an unforgettable heroine, witty dialogue, quirky characters and an uplifting story that also serves as a reminder that as far as we have come as women since the 1960s that there is still a long way to go before true equality exists.
I received a digital Advance Review Copy (ARC) from NetGalley and a review copy from Penguin Random House Canada/Doubleday Canada.
2. The Good Women of Safe Harbour by Bobbi French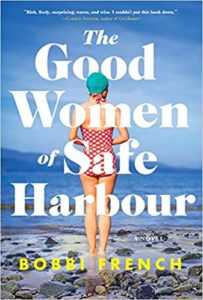 Setting: Newfoundland, Canada
Frances Delaney is staring down the last days of her life. Looking back over her fifty-eight years with wit and no small amount of regret, she sees not the life she wanted but the one that happened. An idyllic childhood in the small Newfoundland fishing town of Safe Harbour was darkened by the loss of her father at sea, an unwanted pregnancy and a betrayal by her closest friend, Annie Malone.
Frances and Annie were inseparable, and this rupture rocked Frances to the core. In the aftermath, she fled to St. John's and a solitary life nothing like what she and Annie had dreamed of as their grand escape. Now, with the help of her young, optimistic friend Edie, Frances begins a journey toward resolution and back to Annie and Safe Harbour. With these good women in her corner, Frances can at last chart her course to living on her own terms, right to the very end.
A deeply moving and unforgettable story of a woman who lived a simple life, friendship and the difficult choices to be made at end of life. I don't have the words to adequately explain how this book affected me. It was impossible to put down yet I had to read it slowly with a box of tissues at hand because I was often too overcome with emotion to continue.
Frances has lived a solitary life – a life that happened rather than the one she wanted – but with the help of Edie and Annie she finally lets herself love and be loved during the last days of her life. It's a heartbreaking yet life-affirming story with an important message about the power of female friendships and the importance of living a life of your own choosing. The Good Women of Safe Harbour is one of only a few books that I know I will read again and Frances, Annie and Edie are characters that I will never forget.
3. Memphis by Tara M. Stringfellow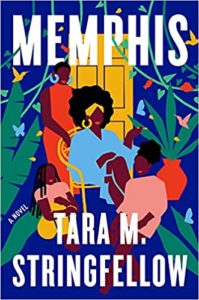 Setting: Memphis
Summer 1995: Ten-year-old Joan, her mother, and her younger sister flee her father's explosive temper and seek refuge at her mother's ancestral home in Memphis. This is not the first time violence has altered the course of the family's trajectory. Half a century earlier, Joan's grandfather built this majestic house in the historic Black neighborhood of Douglass—only to be lynched days after becoming the first Black detective in the city. Joan tries to settle into her new life, but family secrets cast a longer shadow than any of them expected.
As she grows up, Joan finds relief in her artwork, painting portraits of the community in Memphis. One of her subjects is their enigmatic neighbor Miss Dawn, who claims to know something about curses, and whose stories about the past help Joan see how her passion, imagination, and relentless hope are, in fact, the continuation of a long matrilineal tradition. Joan begins to understand that her mother, her mother's mother, and the mothers before them persevered, made impossible choices, and put their dreams on hold so that her life would not have to be defined by loss and anger—that the sole instrument she needs for healing is her paintbrush.
A beautifully written and powerful debut about three generations of a Black family living in Memphis, Tennessee. Memphis is a story that is both heartbreaking and heartwarming. The women endure much personal trauma but through it all there is a community of Black women there lifting them up and providing support as they find the strength to heal and overcome the past.
All are beautifully written, strong and real female characters but it is Joan, who endures an unspeakable trauma as a young child and later discovers that through her art she can perhaps break the cycle of heartbreak and pain that the women in her family have experienced, that I won't soon forget.
I received a digital Advance Review Copy (ARC) from NetGalley.
4. Four Aunties and a Wedding by Jesse Q. Sutanto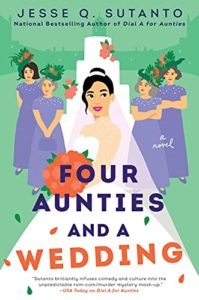 Setting: Oxford, England
Meddy Chan has been to countless weddings, but she never imagined how her own would turn out. Now the day has arrived, and she can't wait to marry her college sweetheart, Nathan. Instead of having Ma and the aunts cater to her wedding, Meddy wants them to enjoy the day as guests. As a compromise, they find the perfect wedding vendors: a Chinese-Indonesian family-run company just like theirs. Meddy is hesitant at first, but she hits it off right away with the wedding photographer, Staphanie, who reminds Meddy of herself, down to the unfortunately misspelled name.
Meddy realizes that is where their similarities end, however, when she overhears Staphanie talking about taking out a target. Horrified, Meddy can't believe Staphanie and her family aren't just like her own, they are The Family—actual mafia, and they're using Meddy's wedding as a chance to conduct shady business. Her aunties and mother won't let Meddy's wedding ceremony become a murder scene—over their dead bodies—and will do whatever it takes to save her special day, even if it means taking on the mafia.
In this sequel to Dial A for Aunties, Meddy travels to Oxford, England along with her Ma and Aunties for her wedding to Nathan. There are no dead bodies to hide this time, however, Meddy and the Aunties spend her wedding day trying to prevent the mafia from carrying out a hit on one of the wedding guests. Still enjoyable, funny and over-the-top ridiculous even if it didn't quite live up to the first book in the series (I'm fully expecting that there will be a third installment).
5. The Magnolia Palace by Fiona Davis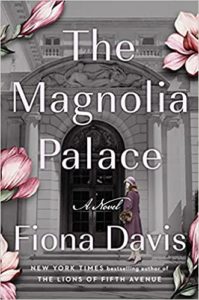 Setting: New York City
Eight months since losing her mother in the Spanish flu outbreak of 1919, twenty-one-year-old Lillian Carter's life has completely fallen apart. For the past six years, under the moniker Angelica, Lillian was one of the most sought-after artists' models in New York City, with statues based on her figure gracing landmarks from the Plaza Hotel to the Brooklyn Bridge. But with her mother gone, a grieving Lillian is rudderless and desperate—the work has dried up and a looming scandal has left her entirely without a safe haven.
So when she stumbles upon an employment opportunity at the Frick mansion—a building that, ironically, bears her own visage—Lillian jumps at the chance. But the longer she works as a private secretary to the imperious and demanding Helen Frick, the daughter and heiress of industrialist and art patron Henry Clay Frick, the more deeply her life gets intertwined with that of the family—pulling her into a tangled web of romantic trysts, stolen jewels, and family drama that runs so deep, the stakes just may be life or death.
Nearly fifty years later, mod English model Veronica Weber has her own chance to make her career—and with it, earn the money she needs to support her family back home—within the walls of the former Frick residence, now converted into one of New York City's most impressive museums. But when she—along with a charming intern/budding art curator named Joshua—is dismissed from the Vogue shoot taking place at the Frick Collection, she chances upon a series of hidden messages in the museum: messages that will lead her and Joshua on a hunt that could not only solve Veronica's financial woes, but could finally reveal the truth behind a decades-old murder in the infamous Frick family.
The Magnolia Palace is an enjoyable read for fans of interesting and well-researched historical fiction. The dual timeline story takes place in 1919 and in 1966 at one of New York City's landmark buildings – The Frick Collection building on the Upper East Side which was originally the Frick family home and is now a museum.
The museum building is currently being restored, however, the novel has sufficiently piqued my interest about the Frick family and their art collection that I will plan to visit on a future trip to New York City. The author, Fiona Davis, was new to me but after reading The Magnolia Palace, I will definitely now read some of her earlier novels which are also set in historic NYC buildings.
I received a digital Advance Review Copy (ARC) from NetGalley.
6. The Diamond Eye by Kate Quinn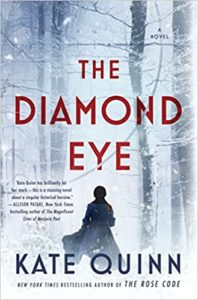 Setting: Ukraine, Russia and Washington, DC
In 1937 in the snowbound city of Kiev (now known as Kyiv), wry and bookish history student Mila Pavlichenko organizes her life around her library job and her young son—but Hitler's invasion of Ukraine and Russia sends her on a different path. Given a rifle and sent to join the fight, Mila must forge herself from studious girl to deadly sniper—a lethal hunter of Nazis known as Lady Death. When news of her three hundredth kill makes her a national heroine, Mila finds herself torn from the bloody battlefields of the eastern front and sent to America on a goodwill tour.
Still reeling from war wounds and devastated by loss, Mila finds herself isolated and lonely in the glittering world of Washington, DC—until an unexpected friendship with First Lady Eleanor Roosevelt and an even more unexpected connection with a silent fellow sniper offer the possibility of happiness. But when an old enemy from Mila's past joins forces with a deadly new foe lurking in the shadows, Lady Death finds herself battling her own demons and enemy bullets in the deadliest duel of her life.
Another compelling, meticulously researched, well-written historical novel about a fascinating woman from Kate Quinn! My favourite historical novels are those where I learn more about real-life events/people and she always delivers on that front.
Quinn deftly weaves factual information about Pavlichenko with fictional elements to create an intriguing story about this brave and patriotic young woman, her accomplishments on the battlefields, the men she loved, and her unlikely friendship with Eleanor Roosevelt. A great read for fans of complex historical fiction!
7. Finlay Donovan Knocks 'Em Dead by Elle Cosimano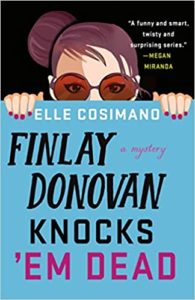 Setting: Fairfax County, Virginia (Washington, DC suburbs)
Finlay Donovan is―once again―struggling to finish her next novel and keep her head above water as a single mother of two. On the bright side, she has her live-in nanny and confidant Vero to rely on, and the only dead body she's dealt with lately is that of her daughter's pet goldfish.
On the not-so-bright side, someone out there wants her ex-husband, Steven, out of the picture. Permanently. Whatever else Steven may be, he's a good father, but saving him will send her down a rabbit hole of hit-women disguised as soccer moms, and a little bit more involvement with the Russian mob than she'd like.
Meanwhile, Vero's keeping secrets, and Detective Nick Anthony seems determined to get back into her life. He may be a hot cop, but Finlay's first priority is preventing her family from sleeping with the fishes… and if that means bending a few laws then so be it.
With her next book's deadline looming and an ex-husband to keep alive, Finlay is quickly coming to the end of her rope. She can only hope there isn't a noose at the end of it…
Finlay Donovan is back and her life is still a hot mess!! She's struggling with being a single mom, sorting out her love life, and writing her overdue next novel when she discovers there's a hitman after her ex-husband. She and her nanny, Vero, are determined to foil the hit and that leads them from one zany plot development to another.
This is is the second in the Finlay Donovan series and is a continuation of the plot in Finlay Donovan is Killing It so they should be read in order. I didn't think it was quite as funny as the first but still enjoyable and it ends with a hint that there'll be a third in the series which I'll definitely read.
I received a digital Advance Review Copy (ARC) from NetGalley.
8. Peach Blossom Spring by Melissa Fu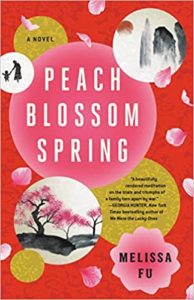 Setting: China, Taiwan and United States
It is 1938 in China and, as a young wife, Meilin's future is bright. But with the Japanese army approaching, Meilin and her four year old son, Renshu, are forced to flee their home. Relying on little but their wits and a beautifully illustrated hand scroll, filled with ancient fables that offer solace and wisdom, they must travel through a ravaged country, seeking refuge.
Years later, Renshu has settled in America as Henry Dao. Though his daughter is desperate to understand her heritage, he refuses to talk about his childhood. How can he keep his family safe in this new land when the weight of his history threatens to drag them down? Yet how can Lily learn who she is if she can never know her family's story?
A beautiful debut novel about three generations of a family that takes place over the course of nearly 70 years (1938-2005). Peach Blossom Spring is a touching story about war, migration, resilience, love of family and the hope for a better future. Throughout the novel there is also a beautiful message about the power of storytelling and the importance of sharing stories between generations.
9. The Library by Bella Osborne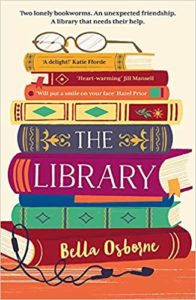 Setting: Small village in England
Tom is invisible. He happily blends into the background of life. But Farah Shah changes everything. Farah makes Tom want to stand up and be seen – at least by her. So Tom quickly decides the best way to learn about women is to delve into romance novels, and he finds himself at the village library where he befriends 72-year-old Maggie.
Maggie has been happily alone for ten years, at least this is what she tells herself. When Tom comes to her rescue after a library meeting, never did she imagine a friendship that could change her life. As Maggie helps Tom navigate the best way to ask out Farrah, Tom helps Maggie realize the mistakes of her past won't define her future.
But when the library comes under threat of closure, it's up to Tom and Maggie to rally the community and save the library!
A heartwarming novel about an unexpected friendship between 72 year-old Maggie and 16 year-old Tom as they rally others to save the local library threatened with closure in their small English village. I enjoyed the way the author used alternating perspective between Maggie in third person and Tom in first person to tell the story. Both characters were flawed yet relatable.
At first glance it might sound like a light and fluffy plot, however, Maggie and Tom are two very lonely people dealing with some heavy emotional burdens and the central theme of The Library is really the importance of human connection in everyone's life regardless of age or circumstance.
I received a digital Advance Review Copy (ARC) from NetGalley.
10. The Secret Love Letters of Olivia Moretti by Jennifer Probst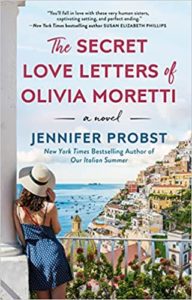 Setting: Positano, Italy
Priscilla, Devon, and Bailey haven't been close in years, but when the sisters are forced to come together to settle their mother's estate, they discover a secret. In an old trunk, they happen upon ownership papers for a house on the Amalfi Coast, along with a love letter to their mother from an anonymous man, promising to meet her in Italy during the summer of her sixty-fifth birthday.

Now they're questioning everything they knew about her history. In order to get answers about the woman they thought they knew, they'll have to go back to where it all started. The sisters embark on a trip to the stunning cliffside village of Positano, Italy, to track down the mysterious ex-lover, and figure out who their mother really was.
A lovely story about three sisters who travel to Italy's Amalfi Coast to figure out who their mother really was. The narrative alternates point-of-view between the three sisters in the present and their mother Olivia who tells the story of her summers in Positano and the great love of her life. The time in Positano helps the three women to feel closer to their mother, reinforces the bonds of sisterly love, and prompts each to consider what steps they need to take to feel happier in their lives. A warmhearted read about love, loss, and families with a captivating setting!
11. In a New York Minute by Kate Spencer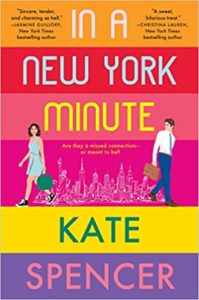 Setting: New York City
Franny Doyle is having the worst day. She's been laid off from her (admittedly mediocre) job, the subway doors ripped her favorite silk dress to ruins, and now she's flashed her unmentionables to half of lower Manhattan. On the plus side, a dashing stranger came to her rescue with his (Gucci!) suit jacket. On the not-so-plus side, he can't get away from her fast enough.

Worse yet? Someone posted their (entirely not) meet-cute online. Suddenly Franny and her knight-in-couture, Hayes Montgomery III, are the newest social media sensation, and all of New York is shipping #SubwayQTs.

Only Franny and Hayes couldn't be a more disastrous match. She's fanciful, talkative, and creative. He's serious, shy, and all about numbers. Luckily, in a city of eight million people, they never have to meet again. Yet somehow, Hayes and Franny keep running into each other—and much to their surprise, they enjoy each other's company. A lot. But when Franny's whole world is turned upside down (again!), can she find the courage to trust in herself and finally have the life—and love—she's always wanted?
A delightful rom-com set against a backdrop of New York City! I loved that the story alternates point-of-view between Franny and Hayes who are both so likable despite being nothing alike, the witty dialogue, the laugh-out loud funny parts and the great friendships that both of them have. A gem of a rom-com that made me miss New York!!
I received a digital Advance Review Copy (ARC) from NetGalley.
12. Truth and Other Lies by Maggie Smith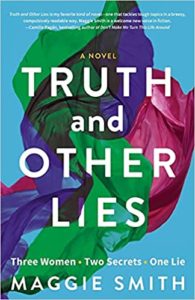 Setting: Chicago
Megan Barnes' life is in free fall. After losing both her job as a reporter and her boyfriend in the same day, she retreats to Chicago and moves in with Helen, her over-protective mother. Before long, the two are clashing over everything from pro-choice to #MeToo, not to mention Helen's run for US Congress which puts Megan's career on hold until after the election.
Desperate to reboot her life, Megan gets her chance when an altercation at a campus rally brings her face to face with Pulitzer-prize-winning journalist Jocelyn Jones, who offers her a job on her PR team. Before long, Megan is pulled into the heady world of fame and glamour her charismatic new mentor represents.
Until an anonymous tweet brings it all crashing down. To salvage Jocelyn's reputation, Megan must locate the online troll and expose the lies. But when the trail leads to blackmail, and circles back to her own mother, Megan realizes if she pulls any harder on this thread, what should have been the scoop of her career could unravel into a tabloid nightmare.
An engaging and thought provoking debut novel that examines truth, lies and secrets in the age of the internet and social media. I enjoyed the descriptions of Chicago as well – I love the city and it has been far too long since I have visited!
I received a digital Advance Review Copy (ARC) from NetGalley.
13. The Next Ship Home by Heather Webb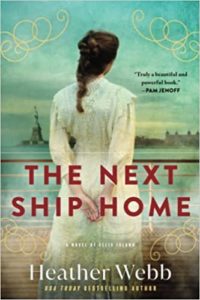 Setting: New York City
Ellis Island, 1902: Two women band together to hold America to its promise: "Give me your tired, your poor … your huddled masses yearning to breathe free…"
A young Italian woman arrives on the shores of America, her sights set on a better life. That same day, a young American woman reports to her first day of work at the immigration center. But Ellis Island isn't a refuge for Francesca or Alma, not when ships depart every day with those who are refused entry to the country and when corruption ripples through every corridor. While Francesca resorts to desperate measures to ensure she will make it off the island, Alma fights for her dreams of becoming a translator, even as women are denied the chance.
As the two women face the misdeeds of a system known to manipulate and abuse immigrants searching for new hope in America, they form an unlikely friendship―and share a terrible secret―altering their fates and the lives of the immigrants who come after them.
This is a novel of the dark secrets of Ellis Island, when entry to "the land of the free" promised a better life but often delivered something drastically different, and when immigrant strength and female friendship found ways to triumph even on the darkest days.
An engaging historical novel set in turn-of-the-century New York City. The Next Ship Home shines a light on Ellis Island and the immigrant experience – not the romanticized Ellis Island where newcomers were welcomed to America but a place where corruption, abuse and mistreatment of immigrants was commonplace and the threat of being refused entry or deported and put on the next ship home was used to coerce new arrivals who would do anything for the chance of starting over again in America. Ultimately though it's an uplifting novel about courage – to start over in a new country and to stand up for what's right and fair.
As a side note, Alma lives on Orchard Street in lower Manhattan which is where the Tenement Museum is located. We visited the museum a couple of years ago and it is an excellent place to learn more about the history of immigrants in New York City.
14. I Must Betray You by Ruta Sepetys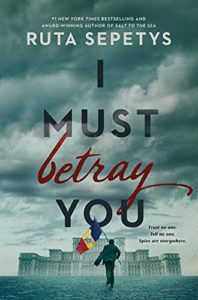 Setting: Romania
Romania, 1989. Communist regimes are crumbling across Europe. Seventeen-year-old Cristian Florescu dreams of becoming a writer, but Romanians aren't free to dream; they are bound by rules and force.

Amidst the tyrannical dictatorship of Nicolae Ceaușescu in a country governed by isolation and fear, Cristian is blackmailed by the secret police to become an informer. He's left with only two choices: betray everyone and everything he loves—or use his position to creatively undermine the most notoriously evil dictator in Eastern Europe.

Cristian risks everything to unmask the truth behind the regime, give voice to fellow Romanians, and expose to the world what is happening in his country. He eagerly joins the revolution to fight for change when the time arrives. But what is the cost of freedom?
A gripping historical fiction novel that takes place in 1989 in Bucharest in the weeks leading up to the Romanian Revolution. The first person narrative is used to great effect to make the reader feel the fear, the deprivation and the cruelty of the tyrannical dictatorship of Ceaușescu as well as the psychological damage inflicted on people who are constantly spied on.
Riveting, educational, meticulously researched and heartbreaking – Ruta Sepetys has written another unforgettable novel that brings history to life and fulfills her objective of "shining a light in the dark corners of the past".
15. One Night on the Island by Josie Silver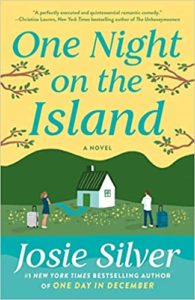 Setting: Ireland
Spending her thirtieth birthday alone is not what dating columnist Cleo Wilder wanted, but she plans a solo retreat―at the insistence of her boss―in the name of re-energizing herself and adding a new perspective to her column. The remote Irish island she's booked is a far cry from London, but at least it's a chance to hunker down in a luxury cabin and indulge in some self-care while she figures out the next steps in her love life and her career.
Mack Sullivan is also looking forward to some time to himself. With his life in Boston deteriorating in ways he can't bring himself to acknowledge, his soul-searching has brought him to the same Irish island to explore his roots and find some clarity. Unfortunately, a mix-up with the bookings means both have reserved the same one-room hideaway on exactly the same dates.
Instantly at odds, Cleo and Mack don't know how they're going to manage until the next weekly ferry arrives. But as the days go by, they no longer seem to mind each other's company quite as much as they thought they would.
Not a traditional rom-com and all the more enjoyable because of that. There's a bit of the enemies to lovers trope but it's more a journey of self-discovery and self-acceptance for both Cleo and Mack and coming to terms with what they want their futures to look like.
The absolute best part of the book is the setting. If Salvation wasn't a fictional island, I'd be packing my bag and booking my flight! The descriptions of the island landscape and the strength, resilience and kindness of the islanders who draw Cleo and Mack into their fold remind me how much I love Ireland and can't wait to visit again.
16. The Mayfair Bookshop by Eliza Knight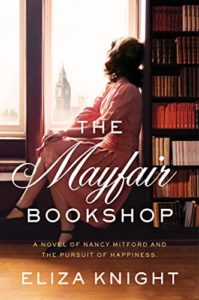 Setting: London, England
1938: She was one of the six sparkling Mitford sisters, known for her stinging quips, stylish dress, and bright green eyes. But Nancy Mitford's seemingly dazzling life was really one of turmoil: with a perpetually unfaithful and broke husband, two Nazi sympathizer sisters, and her hopes of motherhood dashed forever. With war imminent, Nancy finds respite by taking a job at the Heywood Hill Bookshop in Mayfair, hoping to make ends meet, and discovers a new life.
Present Day: When book curator Lucy St. Clair lands a gig working at Heywood Hill she can't get on the plane fast enough. Not only can she start the healing process from the loss of her mother, it's a dream come true to set foot in the legendary store. Doubly exciting: she brings with her a first edition of Nancy's work, one with a somewhat mysterious inscription from the author. Soon, she discovers her life and Nancy's are intertwined, and it all comes back to the little London bookshop—a place that changes the lives of two women from different eras in the most surprising ways.
This is the second historical fiction novel that I have read about Nancy Mitford in the past year and it was much better written and, as a result, more enjoyable than the first. Nancy and her family had fascinating, eventful lives which makes for great fiction but I also enjoyed the author's exploration of the pursuit of happiness and whether Nancy eventually found it in her life. I have been to London several times and not visited Heywood Hill but, after reading The Mayfair Bookshop, I'm determined to visit the bookshop the next time I'm in the city!
17. The Mozart Code by Rachel McMillan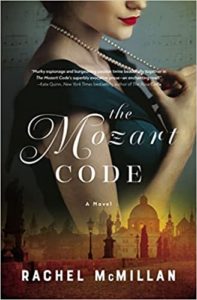 Setting: Vienna, Prague
Lady Sophia Huntington Villiers is no stranger to intrigue, as her work with Alan Turing's Bombe Machines at Bletchley Park during the war attests. Now, as part of Simon Barre's covert team in post-war Vienna, she uses her inimitable charm and code name Starling to infiltrate the world of relics: uncovering vital information that could tilt the stakes of the mounting Cold War. When several influential men charge her with finding the death mask of Mozart, Sophie wonders if there is more than the composer's legacy at stake and finds herself drawn to potential answers in Prague.
Simon Barrington, the illegitimate heir of one of Sussex's oldest estates, used the previous war to hide his insecurities about his past. Now, he uses his high breeding to gain access to all four allied quarters of the ruined city in an attempt to slow the fall of the Iron Curtain. He has been in love with Sophie Villiers since the moment he met her, and a marriage of convenience to save Simon's estate has always kept her close. Until now, when Sophie's mysterious client in Prague forces him to wonder if her allegiance to him—and their cause—is in question. Torn between his loyalty to his cause and his heart, Simon seeks answers about Sophie only to learn that everything he thought he knew about his involvement in both wars is based on a lie.
Well-written and researched, this is a companion novel to McMillan's previous book The London Restoration but stands alone. The Mozart Code is a love story set in a world of espionage in the early days of the Cold War and involves the search for artwork and relics stolen by Nazis particularly the death mask of Mozart. The plot is complex and requires full attention while reading. Loved the setting and enjoyed learning more about what happened in the aftermath of the WWII and the rise of the Iron Curtain in Eastern Europe.
18. Secrets of the Sprakkar by Eliza Reid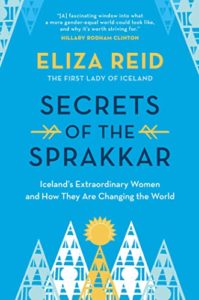 For the past twelve years, the World Economic Forum's Global Gender Gap Report has ranked Iceland number one on its list of countries closing the gap in equality between men and women. What is it about Iceland that makes many women's experience there so positive? Why has their society made such meaningful progress in this ongoing battle, from electing the world's first female president to passing legislation specifically designed to help even the playing field at work and at home? And how can we learn from what Icelanders have already discovered about women's powerful place in society and how increased fairness benefits everyone?
Eliza Reid, the First Lady of Iceland, examines her adopted homeland's attitude toward women―the deep-seated cultural sense of fairness, the influence of current and historical role models, and, crucially, the areas where Iceland still has room for improvement. Reid's own experience as an immigrant from small-town Canada who never expected to become a first lady is expertly interwoven with interviews with dozens of sprakkar ("extraordinary women") to form the backbone of an illuminating discussion of what it means to move through the world as a woman, and how the rules of society play more of a role in who we view as "equal" than we may understand.
An interesting, honest and easy-to-read look at gender equality in Iceland written by Eliza Reid, the country's Canadian-born first lady. Reid brings her curiosity and unique perspective to the topic, conducting interviews with dozens of formidable women from all walks of life to highlight their achievements and to explore what it's like to live as a woman in Iceland as well as the factors that have led to Iceland becoming a more equitable society.
The overall message of the book is that there are "sprakkar" across the planet and the road to equality involves elevating them, letting their voices be heard and advocating for change. Reid concludes with the important message: "Equality is my right. It's yours too."
19. Bluebird by Genevieve Graham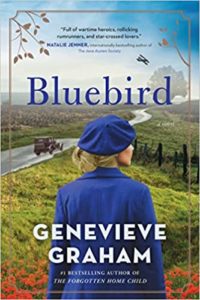 Setting: Belgium and Windsor, Ontario
Present day
Cassie Simmons, a museum curator, is enthusiastic about solving mysteries from the past, and she has a personal interest in the history of the rumrunners who ferried illegal booze across the Detroit River during Prohibition. So when a cache of whisky labeled Bailey Brothers' Best is unearthed during a local home renovation, Cassie hopes to find the answers she's been searching for about the legendary family of bootleggers…
1918
Corporal Jeremiah Bailey of the 1st Canadian Tunnelling Company is tasked with planting mines in the tunnels beneath enemy trenches. After Jerry is badly wounded in an explosion, he finds himself in a Belgium field hospital under the care of Adele Savard, one of Canada's nursing sisters, nicknamed "Bluebirds" for their blue gowns and white caps. As Jerry recovers, he forms a strong connection with Adele, who is from a place near his hometown of Windsor, along the Detroit River. In the midst of war, she's a welcome reminder of home, and when Jerry is sent back to the front, he can only hope that he'll see his bluebird again.
By war's end, both Jerry and Adele return home to Windsor, scarred by the horrors of what they endured overseas. When they cross paths one day, they have a chance to start over. But the city is in the grip of Prohibition, which brings exciting opportunities as well as new dangerous conflicts that threaten to destroy everything they have fought for.
A well-written and informative historical novel that brings to life events in Canadian history that I wasn't familiar with – the nurses who served in the Canadian army in WWI, the dangerous job of tunnelling, and the rumrunners who were smuggling alcohol across the border from Canada into the U.S. during prohibition. Bluebird is a well-researched, enjoyable story and, once again, Genevieve Graham has shared a fascinating Canadian history lesson wrapped up in a love story.
20. Looking for Jane by Heather Marshall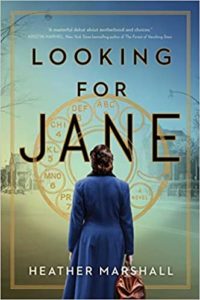 Setting: Toronto, Canada
2017 – When Angela Creighton discovers a mysterious letter containing a life-shattering confession in a stack of forgotten mail, she is determined to find the intended recipient. Her search takes her back to the 1970s when a group of daring women operated an illegal underground abortion network in Toronto known only by its whispered code name: Jane…
1971 – As a teenager, Dr. Evelyn Taylor was sent to a home for "fallen" women where she was forced to give up her baby for adoption—a trauma she has never recovered from. Despite harrowing police raids and the constant threat of arrest, she joins the Jane Network as an abortion provider, determined to give other women the choice she never had.
1980 – After discovering a shocking secret about her family history, twenty-year-old Nancy Mitchell begins to question everything she has ever known. When she unexpectedly becomes pregnant, she feels like she has no one to turn to for help. Grappling with her decision, she locates "Jane" and finds a place of her own alongside Dr. Taylor within the network's ranks, but she can never escape the lies that haunt her.
Looking for Jane is an informative read about the history of women's rights in Canada with respect to reproductive choice and abortion access. I haven't seen this topic covered in fiction before and I expect many younger readers won't be aware of many of the events and circumstances depicted in the novel.
This work of fiction based on historical fact brings to life the heartbreak of the post-war maternity home system, forced adoptions, back alley abortions, and struggles with fertility as well as highlighting the fight for women's rights to control their own bodies in Canada and the realities of the underground abortion networks which provided access to care prior to the Morgentaler decision in 1988. A powerful, unforgettable story!
I received a digital Advance Review Copy (ARC) from NetGalley.
21. Such Big Dreams by Reema Patel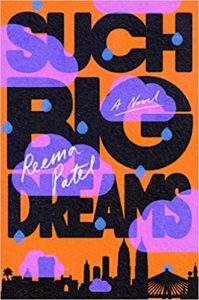 Setting: Mumbai, India
Rakhi is a twenty-three-year-old haunted by the grisly aftermath of an incident that led to the loss of her best friend eleven years ago. Constantly reminded she doesn't belong, Rakhi lives alone in a Mumbai slum, working as a lowly office assistant at Justice For All, a struggling human-rights law organization headed by the renowned lawyer who gave her a fresh start.
Fiercely intelligent and in possession of a sharp wit and an even sharper tongue, Rakhi is nobody's fool, even if she is underestimated by everyone around her. Rakhi's life isn't much, but she's managing. That is, until Rubina Mansoor, a fading former Bollywood starlet, tries to edge her way back into the spotlight by becoming a celebrity ambassador for Justice For All. Steering the organization into uncharted territories, she demands an internship for Alex, a young family friend from Canada and Harvard-bound graduate student. Ambitious, persistent, and naïve, Alex persuades Rakhi to show him "the real" India. In exchange, he'll do something to further Rakhi's dreams in a transaction that seems harmless, at first.
As old guilt and new aspirations collide, everything Rakhi once knew to be true is set ablaze. And as the stakes mount, she will come face-to-face with the difficult choices and moral compromises that people make in order to survive, no matter the cost. Reema Patel's transportive debut novel offers a moving, smart, and arrestingly clever look at the cost of ambition and power in reclaiming one's story.
An enjoyable read about a young woman in Mumbai who is determined to make her own choices on how to live her life. The novel gives a good sense of what life is like in Mumbai and the obstacles to success that people in Rakhi's circumstances face when trying to achieve their dreams.
I received a digital Advance Review Copy (ARC) from NetGalley.
22. Portrait of a Thief by Grace D. Li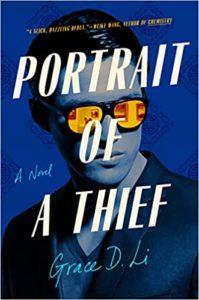 Setting: Various Locations
History is told by the conquerors. Across the Western world, museums display the spoils of war, of conquest, of colonialism: priceless pieces of art looted from other countries, kept even now.
Will Chen plans to steal them back.
A senior at Harvard, Will fits comfortably in his carefully curated roles: a perfect student, an art history major and sometimes artist, the eldest son who has always been his parents' American Dream. But when a mysterious Chinese benefactor reaches out with an impossible—and illegal—job offer, Will finds himself something else as well: the leader of a heist to steal back five priceless Chinese sculptures, looted from Beijing centuries ago.
His crew is every heist archetype one can imag­ine—or at least, the closest he can get. A con artist: Irene Chen, a public policy major at Duke who can talk her way out of anything. A thief: Daniel Liang, a premed student with steady hands just as capable of lockpicking as suturing. A getaway driver: Lily Wu, an engineering major who races cars in her free time. A hacker: Alex Huang, an MIT dropout turned Silicon Valley software engineer. Each member of his crew has their own complicated relationship with China and the identity they've cultivated as Chinese Americans, but when Will asks, none of them can turn him down.
Because if they succeed? They earn fifty million dollars—and a chance to make history. But if they fail, it will mean not just the loss of everything they've dreamed for themselves but yet another thwarted at­tempt to take back what colonialism has stolen.
An enjoyable debut but not the fast-paced heist story that I was expecting from the book's summary. The story raises an interesting point about the spoils of war/colonialism and whether museums should return artifacts to the countries of origin. And what this book does really well is portray the complexity of the Chinese diaspora as each of these five young people contemplate their identity as Chinese-Americans and their personal relationships to China. The heist plot almost takes a back seat to that – which is fine but unexpected.
23. Black Girls Must Die Exhausted by Jayne Allen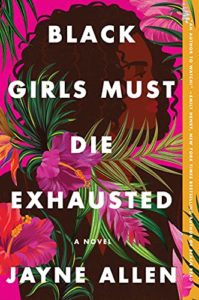 Setting: Los Angeles
Tabitha Walker is a black woman with a plan to "have it all." At 33 years old, the checklist for the life of her dreams is well underway. Education? Check. Good job? Check. Down payment for a nice house? Check. Dating marriage material? Check, check, and check. With a coveted position as a local news reporter, a "paper-perfect" boyfriend, and even a standing Saturday morning appointment with a reliable hairstylist, everything seems to be falling into place.
Then Tabby receives an unexpected diagnosis that brings her picture-perfect life crashing down, jeopardizing the keystone she took for granted: having children. With her dreams at risk of falling through the cracks of her checklist, suddenly she is faced with an impossible choice between her career, her dream home, and a family of her own.
The first book of this trilogy is a great read! Tabitha is a very relatable, modern woman who is dealing with a lot both at work and in her personal life but she has two supportive best friends and a wise grandmother who are always there for her.
Black Girls Must Die Exhausted is a heartwarming and emotional story about a young woman taking steps to live the life she wants but there's also a bit of timely social commentary as it highlights the issues faced by black women and the black community in general in America today. I'm looking forward to spending more time with Tabitha in books #2 (Black Girls Must Be Magic) and #3 (Black Girls Must Have It All)!
24. The Unsinkable Greta James by Jennifer E. Smith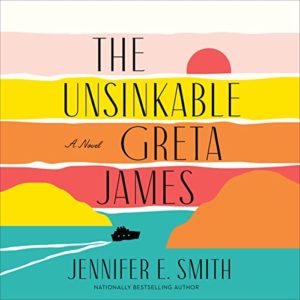 Setting: Alaskan Cruise
Right after the sudden death of her mother – her first and most devoted fan – and just before the launch of her high-stakes sophomore album, Greta James falls apart on stage. The footage quickly goes viral and she stops playing, her career suddenly in jeopardy – the kind of jeopardy her father, Conrad, has always predicted; the kind he warned her about when he urged her to make more practical choices with her life.
Months later, Greta – still heartbroken and very much adrift – reluctantly agrees to accompany Conrad on the Alaskan cruise her parents had booked to celebrate their 40th anniversary. It could be their last chance to heal old wounds in the wake of shared loss. But the trip will also prove to be a voyage of discovery for them both, and for Ben Wilder, a charming historian, onboard to lecture about The Call of the Wild, who is struggling with a major upheaval in his own life. As Greta works to build back her confidence and Ben confronts an uncertain future, they find themselves drawn to and relying on each other.
I haven't had such an emotional reaction to a book in awhile. I think sometimes a story will affect you differently depending on what else is happening in your life at the time of reading and this novel packed a punch for that reason for me.
The Unsinkable Greta James is a heartfelt story about a family experiencing loss and trying to find a way forward. Greta and her dad are both well-written – their grief is palpable and oh so real. It's also a story about hope and healing though – about people recovering from a tragedy that threatens to sink them and finding a way to fly again.
25. Lease on Love by Falon Ballard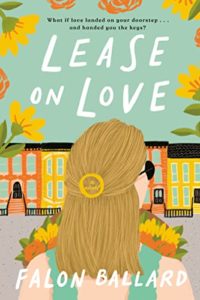 Setting: Brooklyn, New York
After getting passed over for an overdue—and much-needed—promotion, Sadie Green is in desperate need of three things: a stiff drink, a new place to live, and a one-night stand. But when an accidental mix-up lands her on the doorstep of Jack Thomas's gorgeous Brooklyn brownstone, it's too bad Sadie is more attracted to the impressive real estate than she is to the man himself.

Jack, still grieving the unexpected death of his parents, has learned to find comfort in video games and movie marathons instead of friends. So while he doesn't know just what to make of the vivaciously verbose Sadie, he's willing to offer her his spare bedroom while she gets back on her feet. And with the rent unbeatably low, Sadie can finally pursue her floristry side hustle full-time. The two are polar opposites, but as Sadie's presence begins to turn the brownstone into a home, they both start to realize they may have just made the deal of a lifetime.
An enjoyable roommates to lovers rom-com set in Brooklyn with two main characters dealing with serious issues. It's a slow-burn romance that turns hot and steamy but also about the importance of a supportive found family and having the courage to follow dreams.
26. With Love from London by Sarah Jio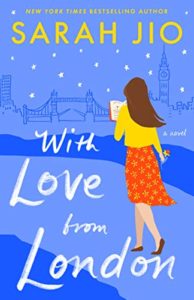 Setting: London
When Valentina Baker was only eleven years old, her mother, Eloise, unexpectedly fled to her native London, leaving Val and her father on their own in California. Now a librarian in her thirties, fresh out of a failed marriage and still at odds with her mother's abandonment, Val feels disenchanted with her life.
In a bittersweet twist of fate, she receives word that Eloise has died, leaving Val the deed to her mother's Primrose Hill apartment and the Book Garden, the storied bookshop she opened almost two decades prior. Though the news is devastating, Val jumps at the chance for a new beginning and jets across the Atlantic, hoping to learn who her mother truly was while mourning the relationship they never had.
A sentimental dual timeline story about love, loss and starting over. This was a very enjoyable read for me – I love books and I love London so it was hard to miss! There were a few plot points that weren't entirely plausible but I still thought this was a beautiful and heartwarming story with an engaging narrative, a great setting and interesting characters.
27. Woman on Fire by Lisa Barr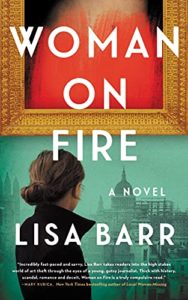 Setting: Various locations in the U.S. and Europe
After talking her way into a job with Dan Mansfield, the leading investigative reporter in Chicago, rising young journalist Jules Roth is given an unusual—and very secret—assignment. Dan needs her to locate a painting stolen by the Nazis more than 75 years earlier: legendary Expressionist artist Ernst Engel's most famous work, Woman on Fire. World-renowned shoe designer Ellis Baum wants this portrait of a beautiful, mysterious woman for deeply personal reasons, and has enlisted Dan's help to find it. But Jules doesn't have much time; the famous designer is dying.
Meanwhile, in Europe, provocative and powerful Margaux de Laurent also searches for the painting. Heir to her art collector family's millions, Margaux is a cunning gallerist who gets everything she wants. The only thing standing in her way is Jules. Yet the passionate and determined Jules has unexpected resources of her own, including Adam Baum, Ellis's grandson. A recovering addict and brilliant artist in his own right, Adam was once in Margaux's clutches. He knows how ruthless she is, and he'll do anything to help Jules locate the painting before Margaux gets to it first.
A fast-paced page-turner about a determined young investigative reporter and the search for a valuable painting stolen by Nazis during World War II. Equal parts thriller and historical fiction with strong female characters – I was hooked from the prologue and could not put it down!
28. Daughters of the Deer by Danielle Daniel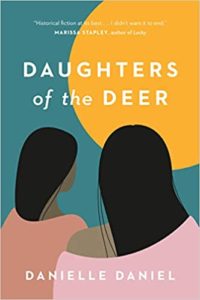 Setting: Algonquin Territories (near Trois-Rivières in what is now Québec)
1657. Marie, a gifted healer of the Deer Clan, does not want to marry the green-eyed soldier from France who has asked for her hand. But her people are threatened by disease and starvation and need help against the Iroquois and their English allies if they are to survive. When her chief begs her to accept the white man's proposal, she cannot refuse him, and sheds her deerskin tunic for a borrowed blue wedding dress to become Pierre's bride.

1675. Jeanne, Marie's oldest child, is seventeen, neither white nor Algonquin, caught between worlds. Caught by her own desires, too. Her heart belongs to a girl named Josephine, but soon her father will have to find her a husband or be forced to pay a hefty fine to the French crown. Among her mother's people, Jeanne would have been considered blessed, her two-spirited nature a sign of special wisdom. To the settlers of New France, and even to her own father, Jeanne is unnatural, sinful–a woman to be shunned, beaten, and much worse.
A beautiful, heartbreaking and educational story. It's the story of one mother and daughter but through their story it also highlights the unjust treatment of First Nations people, how the culture and values of the First Nations differed from the French settlers with respect to the environment and to LGBTQ+ people, violence against Indigenous women that continues even today and the evil that was perpetrated by the Catholic church. An important and revealing look at Canadian history from a perspective that has been missing from our history books for far too long.
29. The School of Mirrors by Eva Stachniak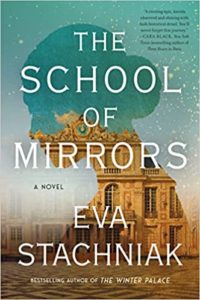 Setting: Paris and Versailles
During the reign of Louis XV, impoverished but lovely teenage girls from all over France are sent to a discreet villa in the town of Versailles. Overseen by the King's favorite mistress, Madame de Pompadour, they will be trained as potential courtesans for the King. When the time is right, each girl is smuggled into the palace of Versailles, with its legendary Hall of Mirrors. There they meet a mysterious but splendidly dressed man who they're told is merely a Polish count, a cousin of the Queen. Living an indulgent life of silk gowns, delicious meals, and soft beds, the students at this "school of mirrors" rarely ask questions, and when Louis tires of them, they are married off to minor aristocrats or allowed to retire to one of the more luxurious nunneries.
Beautiful and canny Veronique arrives at the school of mirrors and quickly becomes a favorite of the King. But when she discovers her lover's true identity, she is whisked away, sent to give birth to a daughter in secret, and then to marry a wealthy Breton merchant. There is no return to the School of Mirrors.
This is also the story of the King's daughter by Veronique—Marie-Louise. Well-provided for in a comfortable home, Marie-Louise has never known her mother, let alone her father. Capable and intelligent, she discovers a passion for healing and science, and becomes an accredited midwife, one of the few reputable careers for women like her. But eventually Veronique comes back into her daughter's life, bringing with her the secret of Marie-Louise's birth. But the new King—Louis XVI—is teetering on his throne and it's a volatile time in France…and those with royal relatives must mind their step very carefully.
An interesting historical fiction novel set in Paris and Versailles that spans several decades in the latter half of the 18th century. The pacing is a bit slow at times, however, the novel is meticulously researched and well-written with detailed descriptions of life in Paris and Versailles during the time period.
The School of Mirrors shines a light on the reality for women in 18th century France including limited legal rights regardless of class, rampant abuse of young girls and women by men in power, unrelenting poverty for many and the dangers of childbirth to mother and child. It's also a story of the strength of women who are survivors and of the love that endures between a mother and daughter despite their physical separation.
I received a digital Advance Review Copy (ARC) from NetGalley.
30. The Swimmers by Julie Otsuka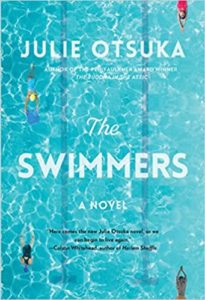 Setting: United States
The swimmers are unknown to one another except through their private routines (slow lane, medium lane, fast lane) and the solace each takes in their morning or afternoon laps. But when a crack appears at the bottom of the pool, they are cast out into an unforgiving world without comfort or relief.

One of these swimmers is Alice, who is slowly losing her memory. For Alice, the pool was a final stand against the darkness of her encroaching dementia. Without the fellowship of other swimmers and the routine of her daily laps she is plunged into dislocation and chaos, swept into memories of her childhood and the Japanese American incarceration camp in which she spent the war. Alice's estranged daughter, reentering her mother's life too late, witnesses her stark and devastating decline.
The Swimmers is a beautiful book – interesting and original but definitely not for everyone. Otsuka has a lyrical almost poetic style of writing using well-crafted short phrases – each word essential and precise – beautiful in its simplicity.
I was drawn into the story from the opening paragraph and easily read the 176 pages in one sitting. The Swimmers is such an empathetic portrayal of the impact of dementia that if you have or have had anyone close to you living with dementia then you may find it a particularly heartbreaking and emotional read.
What are you reading this spring? Let us know in the comments below?
Pin This For Later