Spring is in the air – the weather is slowly warming up, the flowers are starting to blossom and there are so many wonderful new books to read!
My spring 2023 reading list includes recently published contemporary fiction, historical fiction, romance, and mysteries that I have personally read and can recommend.
It's time for a trip to the library or bookstore because no matter your mood, there's a new book for spring 2023 that will offer the perfect escape!
You Might Also Enjoy Reading:
30 of the Best New Books to Read Spring 2022
15 Books for Your Spring 2021 Reading List
25 Books to Read This Spring: A Travel-Inspired List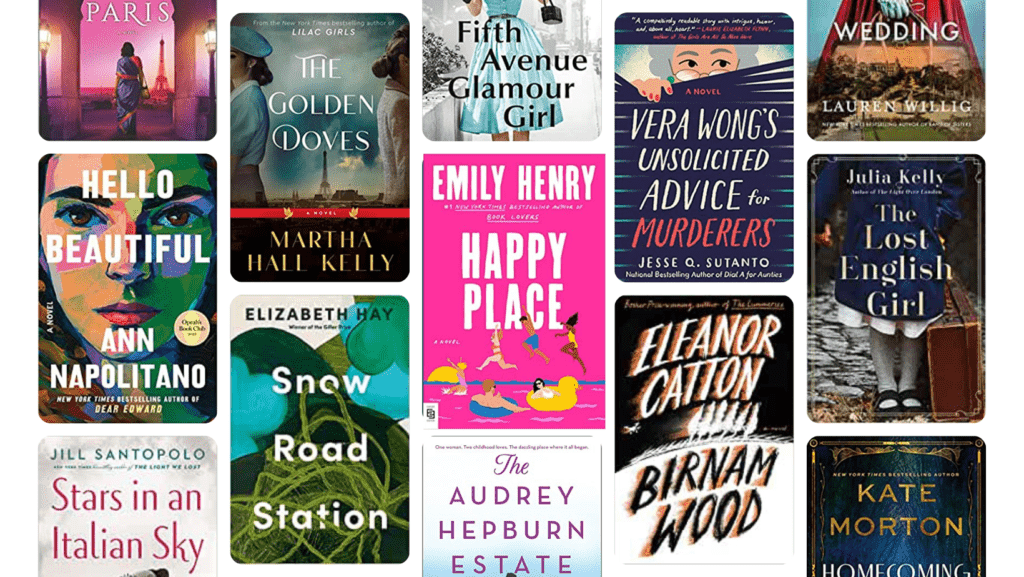 This post may contain affiliate links. If you click an affiliate link and make a purchase then we receive a small commission at no additional cost to you.
We are a participant in the Amazon Services LLC Associates Program, an affiliate advertising program designed to provide a means for us to earn fees by linking to Amazon.com and affiliated sites. As an Amazon affiliate I earn from qualifying purchases.
1. The Perfumist of Paris by Alka Joshi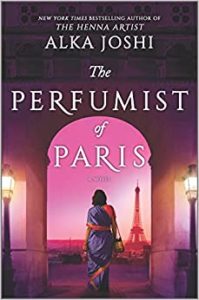 Setting: Paris and India
Paris, 1974. Radha is now living in Paris with her husband, Pierre, and their two daughters. She still grieves for the baby boy she gave up years ago, when she was only a child herself, but she loves being a mother to her daughters, and she's finally found her passion—the treasure trove of scents.
She has an exciting and challenging position working for a master perfumer, helping to design completely new fragrances for clients and building her career one scent at a time. She only wishes Pierre could understand her need to work. She feels his frustration, but she can't give up this thing that drives her.
Tasked with her first major project, Radha travels to India, where she enlists the help of her sister, Lakshmi, and the courtesans of Agra—women who use the power of fragrance to seduce, tease and entice. She's on the cusp of a breakthrough when she finds out the son she never told her husband about is heading to Paris to find her—upending her carefully managed world and threatening to destroy a vulnerable marriage.
2. Happy Place by Emily Henry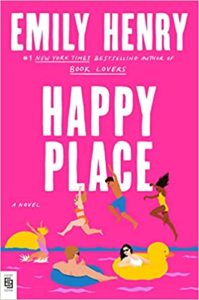 Setting: Maine
Harriet and Wyn have been the perfect couple since they met in college—they go together like salt and pepper, honey and tea, lobster and rolls. Except, now—for reasons they're still not discussing—they don't.
 
They broke up five months ago. And still haven't told their best friends.
 
Which is how they find themselves sharing a bedroom at the Maine cottage that has been their friend group's yearly getaway for the last decade. Their annual respite from the world, where for one vibrant, blissful week they leave behind their daily lives; have copious amounts of cheese, wine, and seafood; and soak up the salty coastal air with the people who understand them most.
 
Only this year, Harriet and Wyn are lying through their teeth while trying not to notice how desperately they still want each other. Because the cottage is for sale and this is the last week they'll all have together in this place. They can't stand to break their friends' hearts, and so they'll play their parts. Harriet will be the driven surgical resident who never starts a fight, and Wyn will be the laid-back charmer who never lets the cracks show. It's a flawless plan (if you look at it from a great distance and through a pair of sunscreen-smeared sunglasses). After years of being in love, how hard can it be to fake it for one week…in front of those who know you best?
Another great summer read from Emily Henry about a second-chance romance set at a cottage in Maine – although it's not as light and breezy as the cover would lead you to believe! This is also about a group of friends who have known each other since they started college a decade earlier and are dealing with how friendships need to adapt as people grow older and their lives change.
3. Homecoming by Kate Morton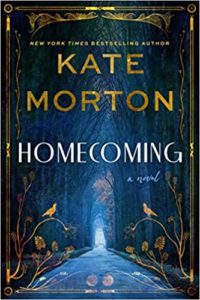 Setting: Australia
Adelaide Hills, Christmas Eve, 1959. At the end of a scorching hot day, beside a creek in the grounds of a grand country house, a local man makes a terrible discovery. Police are called, and the small town of Tambilla becomes embroiled in one of the most baffling murder investigations in the history of South Australia.

Many years later and thousands of miles away, Jess is a journalist in search of a story. Having lived and worked in London for nearly two decades, she now finds herself unemployed and struggling to make ends meet. A phone call summons her back to Sydney, where her beloved grandmother, Nora, who raised Jess when her mother could not, has suffered a fall and is seriously ill in hospital.

At Nora's house, Jess discovers a true crime book chronicling a long-buried police case: the Turner Family Tragedy of 1959. It is only when Jess skims through its pages that she finds a shocking connection between her own family and this notorious event—a murder mystery that has never been satisfactorily resolved.
Kate Morton's latest novel is a very satisfying read. It's slow-paced but I was completely caught up in the narrative within the first few pages and found it very hard to set down! Morton writes beautifully as she weaves together a crime story with themes relating to motherhood, family secrets and lies. The most compelling aspect of Homecoming for me, however, was the mystery of what really had happened in 1959 – there were a few twists that took me quite by surprise!
Homecoming also has a very strong sense of place – I felt that I was transported to this small Australian town. The book is long – around 550 pages and is a bit slow in the middle but picks up dramatically as the mystery unravels in the last 100 or so pages of the book to a very satisfactory conclusion.
I received a digital ARC (Advance Review Copy) from NetGalley.
4. The Mostly True Story of Tanner & Louise by Colleen Oakley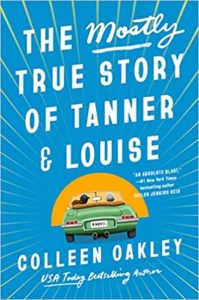 Setting: Atlanta to California road trip
Twenty-one-year-old Tanner Quimby needs a place to live. Preferably one where she can continue sitting around in sweatpants and playing video games nineteen hours a day. Since she has no credit or money to speak of, her options are limited, so when an opportunity to work as a live-in caregiver for an elderly woman falls into her lap, she takes it.

One slip on the rug. That's all it took for Louise Wilt's daughter to demand that Louise have a full-time nanny living with her. Never mind that she can still walk fine, finish her daily crossword puzzle, and pour the two fingers of vodka she drinks every afternoon.Bottom line: Louise wants a caretaker even less than Tanner wants to be one.

The two start off their living arrangement happily ignoring each other until Tanner starts to notice things—weird things. Like, why does Louise keep her garden shed locked up tighter than a prison? And why is the local news fixated on the suspect of one of the biggest jewelry heists in American history who looks eerily like Louise? And why does Louise suddenly appear in her room, with a packed bag at 1 a.m. insisting that they leave town immediately?
A charming, feel-good read! old from the point-of-view of both women, The Mostly True Story of Tanner & Louise is a laugh-out-loud funny, uplifting story about the unlikely friendship that forms between these two delightful characters that you will be rooting for all the way to California. Such an entertaining read and easy to imagine as a movie!
5. The Audrey Hepburn Estate by Brenda Janowitz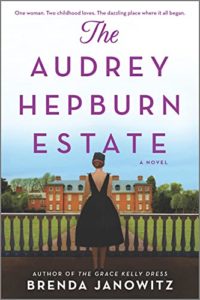 Setting: Long Island and New York City
When Emma Jansen discovers that the grand Long Island estate where she grew up is set to be demolished, she can't help but return for one last visit. After all, it was a place filled with firsts: learning to ride a bike, sneaking a glass of champagne, falling in love.

But once Emma arrives at the storied mansion, she can't ignore the more complicated memories. Because that's not exactly where Emma grew up. Her mother and father worked for the family that owned the estate, and they lived over the garage like Audrey Hepburn's character in the film Sabrina. Emma never felt fully accepted, except by the family's grandson, Henry—a former love—and by the driver's son, Leo—her best friend.

As plans for the property are put into motion and the three are together for the first time in over a decade, Emma finds herself caught between two worlds and two loves. And when the house reveals a shattering secret about her own family, she'll have to decide what kind of life she really wants for herself now and who she wants to be in it.
A dual timeline novel that's an homage to Audrey Hepburn and loosely based on the movie Sabrina that alternates between the present day and the childhood of three main characters who grew up on a Long Island estate. There's a Sabrina-esque love triangle, a message about found family/home, and some mystery relating to events from their childhood that is connected to Nazis and World War II. The timeline in the book seems a bit wonky and there are some implausible plot points but if you're looking for a light, quick beach read then this is a good fit.
6. Two for the Road by Chantal Guertin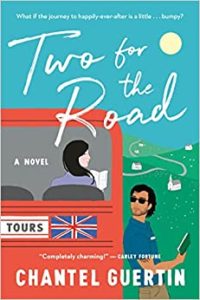 Setting: England
This book will be published as Gigi, Listening in the U.S.
Beyond the walls of her romance bookstore, Gigi Rutherford is out of stock when it comes to her own love interests. And instead of enduring one bad date after another, these days she'd rather curl up at home with her favorite audiobook and the only man who makes her heart skip a beat: Zane Wilkenson, the smooth-voiced narrator Gigi is convinced is her soulmate.
Then, she's presented with the chance of a lifetime: a ten-day bus tour through the hilly English countryside, taking in the sights and sounds of a world an ocean away from her bookstore–all in the presence of the man of her dreams, Zane, as he leads the tour . . . in person.
But things don't go as planned. When Gigi arrives at the bus terminal in London, Zane is nowhere to be found. Until he shows up, she's stuck with an eclectic group of fellow travelers she'd rather not be with on a long road trip, including the brooding bus driver, Taj, who Gigi finds infuriating but also incredibly alluring.
Will Gigi find a happy ending with Zane? Or will each stop on the tour bring her closer to a completely different destination?
A light-hearted romance and armchair travelling all-in-one! Gigi's obsession with Zane's voice which is the premise for Two for the Road is a bit cringey but once you get past that then it's quite a fun read.
I enjoyed the romance, Gigi's journey of self-discovery and the cast of supporting characters but, most of all, I loved vicariously travelling around England with Gigi and the rest of the group. The descriptions of the places they visited stoked my wanderlust reminding me of the ones I have already visited and convincing me to add the others to my travel wish list!
Two for the Road is a charming rom-com (more sweet than steamy) and a fun escape!!
I received a digital ARC (Advance Review Copy) from NetGalley.
7. Vera Wong's Unsolicited Advice for Murderers by Jesse Q. Sutanto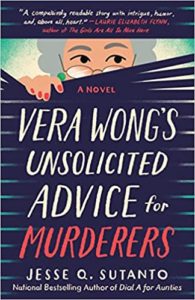 Setting: San Francisco, California
Vera Wong is a lonely little old lady—ah, lady of a certain age—who lives above her forgotten tea shop in the middle of San Francisco's Chinatown. Despite living alone, Vera is not needy, oh no. She likes nothing more than sipping on a good cup of Wulong and doing some healthy detective work on the Internet about what her Gen-Z son is up to.
Then one morning, Vera trudges downstairs to find a curious thing—a dead man in the middle of her tea shop. In his outstretched hand, a flash drive. Vera doesn't know what comes over her, but after calling the cops like any good citizen would, she sort of . . . swipes the flash drive from the body and tucks it safely into the pocket of her apron. Why? Because Vera is sure she would do a better job than the police possibly could, because nobody sniffs out a wrongdoing quite like a suspicious Chinese mother with time on her hands. Vera knows the killer will be back for the flash drive; all she has to do is watch the increasing number of customers at her shop and figure out which one among them is the killer.
What Vera does not expect is to form friendships with her customers and start to care for each and every one of them. As a protective mother hen, will she end up having to give one of her newfound chicks to the police?
This whodunnit has a decent plot with a couple of twists and a satisfactory conclusion but the mystery is less important than the people in this story. Vera Wong's Unsolicited Advice for Murderers is funny and full of heart and will have you craving Vera's home cooking with all the mouthwatering descriptions of Asian comfort food that she lovingly prepares for her found family. A fun read – I loved Vera and this quirky, feel-good murder mystery!
8. Hello Beautiful by Ann Napolitano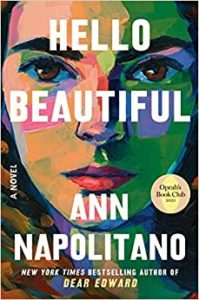 Setting: Chicago
William Waters grew up in a house silenced by tragedy, where his parents could hardly bear to look at him, much less love him—so when he meets the spirited and ambitious Julia Padavano in his freshman year of college, it's as if the world has lit up around him. With Julia comes her family, as she and her three sisters are inseparable: Sylvie, the family's dreamer, is happiest with her nose in a book; Cecelia is a free-spirited artist; and Emeline patiently takes care of them all. With the Padavanos, William experiences a newfound contentment; every moment in their house is filled with loving chaos.
But then darkness from William's past surfaces, jeopardizing not only Julia's carefully orchestrated plans for their future, but the sisters' unshakeable devotion to one another. The result is a catastrophic family rift that changes their lives for generations. Will the loyalty that once rooted them be strong enough to draw them back together when it matters most?
A beautiful, perceptive, heartwrenching novel about sisterhood/familial love/grief/mental health/betrayal/healing with characters who I cared deeply about despite their flaws and bad decisions. My heart broke especially for William and all that he endured – the support that he receives from the Padavano sisters and from his basketball team mates when he is at his lowest points is beautiful.
There are several references to Beth from Little Women and one sister notes the sad reality that one of them will have to die first. If you have read Little Women then you know where this story is going but it's still heartbreaking when it happens. A sentimental, profoundly moving story – you will probably want a box of tissues at hand for the tearjerker conclusion!
9. Fifth Avenue Glamour Girl by Renée Rosen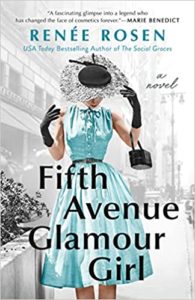 Setting: New York City
In New York City, you can disappear into the crowd. At least that's what Gloria Downing desperately hopes as she tries to reinvent herself after a devastating family scandal. She's ready for a total life makeover and a friend she can lean on—and into her path walks a young, idealistic woman named Estée. Their chance encounter will change Gloria's life forever.
Estée dreams of success and becoming a household name like Elizabeth Arden, Helena Rubinstein, and Revlon. Before Gloria knows it, she is swept up in her new friend's mission and while Estée rolls up her sleeves, Gloria begins to discover her own talents. After landing a job at Saks Fifth Avenue, New York's finest luxury department store, Gloria finds her voice, which proves instrumental in opening doors for Estée's insatiable ambitions.
But in a world unaccustomed to women with power, they'll each have to pay the price that comes with daring to live life on their own terms and refusing to back down.
An interesting story about an icon of the beauty industry told from the point of view of a fictional friend. This reimagining of the life of Estée Lauder takes place primarily in glamorous New York City in the '30s and '40s. It's a story about how Lauder's perseverence and hard work paid off but it's also a story of friendship between two strong women and also of Gloria's journey to believing in herself.
The author does a great job highlighting the difficulties faced by women who wanted a career at the time and how determined Estée was to suceed despite all of the roadblocks she faced. Well-researched and well-written – this is a good choice for anyone who enjoys reading about trailblazing women – and the cover is stunning!!
I received a digital ARC (Advance Review Copy) from NetGalley.
10. The Golden Doves by Martha Hall Kelly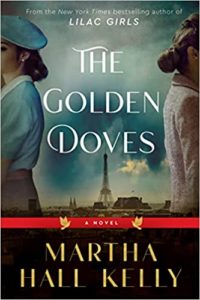 Setting: Primarily Paris and French Guiana
American Josie Anderson and Parisian Arlette LaRue are thrilled to be working in the French resistance, stealing so many Nazi secrets that they become known as the Golden Doves, renowned across France and hunted by the Gestapo. Their courage will cost them everything. When they are finally arrested and taken to the Ravensbrück concentration camp, along with their loved ones, a reclusive Nazi doctor does unspeakable things to Josie's mother, a celebrated Jewish singer who joined her daughter in Paris when the world seemed bright. And Arlette's son is stolen from her, never to be seen again.
A decade later the Doves fall headlong into a dangerous dual mission: Josie is working for U.S. Army intelligence and accepts an assignment to hunt down the infamous doctor, while a mysterious man tells Arlette he may have found her son. The Golden Doves embark on a quest across Europe and ultimately to French Guiana, discovering a web of terrible secrets, and must put themselves in grave danger to finally secure justice and protect the ones they love.
This was the first novel by Martha Hall Kelly that I've read and I loved it! The Golden Doves exemplifies what I love best about historical fiction – a gripping story based on real-life events with strong female characters that shines a light on historical events that I didn't know enough about.
This is a well-researched, well-written, poignant story about two courageous female spies, the horrors of the death camps and the Nazis who evaded justice in the war's aftermath with help from both Western governments and the Catholic church. I had a hard time putting this one down due to the suspense of the 1952 timeline. It's an absorbing pageturner and, given the ending, I couldn't help wondering if there will be a sequel to The Golden Doves featuring Josie and Arlette – I certainly hope so!
I received a digital ARC (Advance Review Copy) from NetGalley.
11. Two Wars and a Wedding by Lauren Willig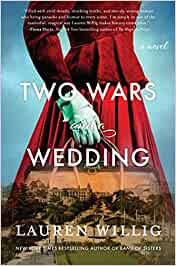 Setting: Greece, Cuba
September 1896: An aspiring archaeologist, Smith College graduate Betsy Hayes travels to Athens, desperate to break into the male-dominated field of excavation. In the midst of the heat and dust of Greece she finds an unlikely ally in Charles, Baron de Robecourt, one of the few men who takes her academic passion seriously. But when a simmering conflict between Greece and Turkey erupts into open warfare, Betsy throws herself into the conflict as a nurse, not knowing that the decision will change her life forever—and cause a deep and painful rift with her oldest friend, Ava.
June 1898: Betsy has sworn off war nursing—but when she gets the word that her estranged friend Ava is headed to Cuba with Clara Barton and the Red Cross to patch up the wounded in the Spanish-American War, Betsy determines to stop her the only way she knows how: by joining in her place. Battling heat, disease, and her own demons, Betsy follows Teddy Roosevelt's Rough Riders straight to the heart of the fighting, where she is forced to confront her greatest fears to save both old friends and new….
A well-written and well-researched, engaging story set in an interesting historical time period amidst two conflicts that I didn't know much about. Betsy is an amalgam of two real-life women and it's mostly her story but Two Wars and a Wedding has three women fighting for the chance to do the work that they are passionate about in a sexist world – Betsy who wants to be an archaelogist, her friend Ava who wants to follow in her father's footsteps and practice medicine, and Kit a reporter working as a nurse so she can write about the war instead of the lastest fashions. There's also a romance in both timelines – one of which leads to the wedding in the title. A very enjoyable read for anyone who likes historical fiction about trailblazing women
12. When in Rome by Liam Callanan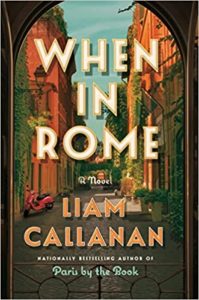 Setting: Rome, Italy
Meet Claire: fifty-two, desperate to do something new and get a fresh start.
Enter the chance to go to Rome: Home to a struggling convent facing a precipitous end, the city beckons Claire, who's long had a complicated relationship with religion, including a "missed connection" with convent life in her teens. Once in Rome, she finds a group of funny, fearless nuns in a gorgeous villa, beautiful runs throughout a color-saturated city, and a chance to reflect. It all leads her to an unexpected question—should she join the convent?—and an answer that startles her as much as it does those closest to her.
It also startles Marcus, a once-buzzy actor, devastatingly handsome, who is eternally in love with Claire. Marcus has come and gone from Claire's life since college but now reappears in Rome just as she's about to decide what's next.
As Claire searches for her higher calling, she finds the key to her future may lay in her past—and involves an actual key. The nuns swear it unlocks nothing, but on a night when choices and voices swirl, Claire finds a long-hidden lock.
A quiet, character-driven read about a woman who finds herself at a crossroads contemplating the next chapter of her life. This is a very reflective novel about starting over in mid-life with Claire taking several months living in Rome, trying to save the convent and enjoying marathon-training runs around the city while going back and forth on whether she wants to take vows. It's a look at faith and at all forms of love – romantic, familial and between friends – enjoyable and beautifully written.
13. The Trackers by Charles Frazier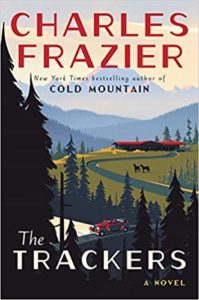 Setting: Wyoming, Washington State, Florida and San Francisco
Hurtling past the downtrodden communities of Depression-era America, painter Val Welch travels westward to the rural town of Dawes, Wyoming. Through a stroke of luck, he's landed a New Deal assignment to create a mural representing the region for their new Post Office.
A wealthy art lover named John Long and his wife Eve have agreed to host Val at their sprawling ranch. Rumors and intrigue surround the couple: Eve left behind an itinerant life riding the rails and singing in a western swing band. Long holds shady political aspirations, but was once a WWI sniper—and his right hand is a mysterious elder cowboy, a vestige of the violent old west. Val quickly finds himself entranced by their lives.
One day, Eve flees home with a valuable painting in tow, and Long recruits Val to hit the road with a mission of tracking her down. Journeying from ramshackle Hoovervilles to San Francisco nightclubs to the swamps of Florida, Val's search for Eve narrows, and he soon turns up secrets that could spark formidable changes for all of them.
A well-written historical novel that paints a detailed picture of life in depression-era America. Don't expect a pageturner – this is a slow-moving, character-focused novel where the plot is less important than the atmosphere, the vivid descriptions of the setting, the political commentary and the way the author brings the historical era to life.
14. Stars in an Italian Sky by Jill Santopolo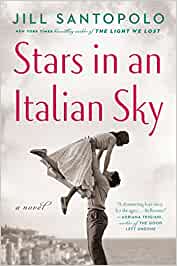 Setting: Genoa, Italy and New York
Genoa, Italy, 1946. Vincenzo and Giovanna fall in love at twenty-one the moment they set eyes on each other. The son of a count and the daughter of a tailor, they belong to opposing worlds. Despite this, the undeniable spark between them quickly burns into a deep and passionate relationship spent exploring each other's minds, bodies and their city, as well as Vincenzo's family's sprawling vineyard, Villa Della Rosa—until shifts in political power force them each to choose a side and commit what the other believes is a betrayal, shattering the bright future they dreamed of together.

New York, 2017. Cassandra and Luca are in love. Although neither quite fits with the other's family, Cass and Luca have always felt like a perfect match for each other. But when Luca, an artist, convinces his grandfather and Cass's grandmother to pose for a painting, past and present collide and reveal a secret that changes everything.
A dual timeline story set in Genoa, Italy in 1946 and New York City in 2017. This is a light historical romance – it's a quick read, a bit predictable with an emotional ending yet enjoyable.
15. The Lost English Girl by Julia Kelly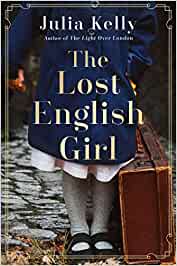 Setting: England
Liverpool, 1935: Raised in a strict Catholic family, Viv Byrne knows what's expected of her: marry a Catholic man from her working-class neighborhood and have his children. However, when she finds herself pregnant after a fling with Joshua Levinson, a Jewish man with dreams of becoming a famous Jazz musician, Viv knows that a swift wedding is the only answer. Her only solace is that marrying Joshua will mean escaping her strict mother's scrutiny. But when Joshua makes a life-changing choice on their wedding day, Viv is forced once again into the arms of her disapproving family.
Five years later and on the eve of World War II, Viv is faced with the impossible choice to evacuate her young daughter, Maggie, to the countryside estate of the affluent Thompson family. In New York City, Joshua gives up his failing musical career to serve in the Royal Air Force, fight for his country, and try to piece together his feelings about the family, wife, and daughter he left behind at eighteen. However, tragedy strikes when Viv learns that the countryside safe haven she sent her daughter to wasn't immune from the horrors of war. It is only years later, with Joshua's help, that Viv learns the secrets of their shared past and what it will take to put a family back together again.
A moving historical novel about Operation Pied Piper – the World War II mass evacuation of millions of children in Great Britain to keep them safe from German air raids while their parents stayed behind to help with the war efforts. The Lost English Girl conveys the devastation and trauma caused by this separation of families and also includes issues relating to anti-semitism, religion, and the limited choices available to women at the time. A story of resilience that highlights a lesser known aspect of World War II history – a poignant, enjoyable read for fans of historical fiction!
16. Snow Road Station by Elizabeth Hay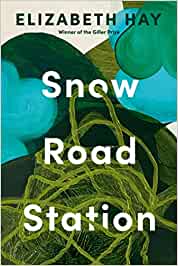 Setting: Ontario, Canada
In the winter of 2008, as snow falls without interruption, an actor in a Beckett play blanks on her lines. Fleeing the theatre, she beats a retreat into her past and arrives at Snow Road Station, a barely discernible dot on the map of Ontario.
The actor is Lulu Blake, in her sixties now, a sexy, seemingly unfooled woman well-versed in taking risks. Out of work, humiliated, she enters the last act of her life wondering what she can make of her diminished self. In Snow Road Station she decides she is through with drama, but drama, it turns out, isn't through with her. She thinks she wants peace. It turns out she wants more.
Looming in the background is that autumn's global financial meltdown, while in the foreground family and friends animate a round of weddings, sap harvests, love affairs, and personal turmoil. At the centre of it all is the friendship between Lulu and Nan. As the two women contemplate growing old, they surrender certain long-held dreams and confront the limits of the choices they've made and the messy feelings that kept them apart for decades.
A quiet novel about a woman in late middle age coming to terms with her life and contemplating what she wants for her remaining years. Beautifully written, pensive, character-driven novel by a Giller Prize winning author about friendships, growing older, acceptance of dreams unachieved and finding the necessary peace for final acts.
17. Birnam Wood by Eleanor Catton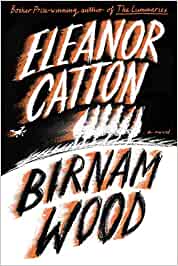 Setting: New Zealand
Birnam Wood is on the move . . . A landslide has closed the Korowai Pass on New Zealand's South Island, cutting off the town of Thorndike and leaving a sizable farm abandoned. The disaster has created an opportunity for Birnam Wood, an unregulated, sometimes-criminal, sometimes-philanthropic guerrilla gardening collective that plants crops wherever no one will notice.

For years, the group has struggled to break even. Then Mira, Birnam Wood's founder, stumbles on an answer: occupying the farm at Thorndike would mean a shot at solvency at last. But Mira is not the only one interested in Thorndike. The enigmatic American billionaire Robert Lemoine has snatched it up to build his end-times bunker, or so he tells Mira when he catches her on the property. Intrigued by Mira and Birnam Wood, he makes them an offer that would set them up for the long term. But can they trust him? And, as their ideals and ideologies are tested, can they trust one another?
A complex literary thriller set in a fictional New Zealand town that starts off slow, gradually builds and finishes with a bang. Booker Prize-winning author Eleanor Catton's writing is witty and just so good and the novel is brilliantly plotted touching on important issues of our time relating to the environment, contemporary politics, technology and capitalism while also considering more personal issues such as betrayal and the individual struggle to make moral choices.
Birnam Wood is a pageturner but at the same time it's also a challenging read partly because it includes a fair bit of philosophical and political discussion as well as technical information about high-tech drones, thermal imagery, rare earth metals etc. but also because it's 423 pages long and is divided into three sections without chapter breaks and many very long paragraphs. It's worth the effort but won't be for everyone. I was completely absorbed and couldn't put it down – it's a memorable read with a conclusion that's worthy of a Shakespearean tragedy!
18. The Golden Spoon by Jessa Maxwell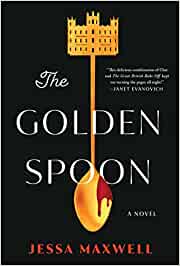 Setting: Vermont
Every summer for the past ten years, six awe-struck bakers have descended on the grounds of Grafton, the leafy and imposing Vermont estate that is not only the filming site for "Bake Week" but also the childhood home of the show's famous host, celebrated baker Betsy Martin.
The author of numerous bestselling cookbooks and hailed as "America's Grandmother," Betsy Martin isn't as warm off-screen as on, though no one needs to know that but her. She has always demanded perfection, and gotten it with a smile, but this year something is off. As the baking competition commences, things begin to go awry. At first, it's merely sabotage—sugar replaced with salt, a burner turned to high—but when a body is discovered, everyone is a suspect.
A fun concept for a murder mystery set at an atmospheric Vermont estate with the two hosts and six contestants of a baking competition reality show. Told from multiple points of view, the characters are well-written with unique back stories and the setting is inspired. There are two mysteries – one connected to the current competition and one that is decades old. The plot is a bit predictable but it's an enjoyable read anyway!
19. Independence by Chitra Banerjee Divakaruni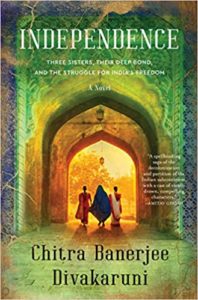 Setting: Bengal, India
India, 1947. In a rural village in Bengal live three sisters, daughters of a well-respected doctor.
Priya: intelligent and idealistic, resolved to follow in her father's footsteps and become a doctor, though society frowns on it.
Deepa: the beauty, determined to make a marriage that will bring her family joy and status.
Jamini: devout, sharp-eyed, and a talented quiltmaker, with deeper passions than she reveals.
Theirs is a home of love and safety, a refuge from the violent events taking shape in the nation. Then their father is killed during a riot, and even their neighbors turn against them, bringing the events of their country closer to home.
As Priya determinedly pursues her career goal, Deepa falls deeply in love with a Muslim, causing her to break with her family. And Jamini attempts to hold her family together, even as she secretly longs for her sister's fiancé.
When the partition of India is officially decided, a drastic—and dangerous—change is in the air. India is now for Hindus, Pakistan for Muslims. The sisters find themselves separated from one another, each on different paths. They fear for what will happen to not just themselves, but each other.
I couldn't put down this moving story told from the alternating point of view of three sisters living in Bengal, India at the time of Partition in 1947. I knew little more than the basic facts about Partition so was most interested in the historical side of this story and was satisfied with the knowledge gained although I would have been happy to have more historical details.
The author effectively weaves the real life stories of actual politicians and political turmoil with the stories of her fictional characters but the focus on the sisters and how their family was affected by Partition and the ensuing violence is what brings the history to life. Independence is a heartbreaking and uplifting story of the bond between sisters, love, betrayal and resilience told against a backdrop of violent political change.
20. In the Upper Country by Kai Thomas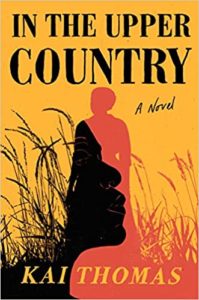 Setting: Canada, United States
Young Lensinda Martin is a protegee of a crusading Black journalist in mid-18th century southwestern Ontario, finding a home in a community founded by refugees from the slave-owning states of the American south—whose agents do not always stay on their side of the border.

One night, a neighbouring farmer summons Lensinda after a slave hunter is shot dead on his land by an old woman recently arrived via the Underground Railroad. When the old woman, whose name is Cash, refuses to flee before the authorities arrive, the farmer urges Lensinda to gather testimony from her before Cash is condemned.

But Cash doesn't want to confess. Instead she proposes a barter: a story for a story. And so begins an extraordinary exchange of tales that reveal the interwoven history of Canada and the United States; of Indigenous peoples from a wide swath of what is called North America and of the Black men and women brought here into slavery and their free descendents on both sides of the border.

As Cash's time runs out, Lensinda realizes she knows far less than she believed not only about the complicated tapestry of her nation, but also of her own family history. And it seems that Cash may carry a secret that could shape Lensinda's destiny.
A powerful debut novel that uses the stories of two women to show the interconnections between Black history and Indigenous history in North America. Numerous characters and stories that flow backward and forward in time make it challenging to keep track of the connections at times but it's worth the effort for the insight into Black and Indigenous history.
21. The Last Russian Doll by Kristen Loesch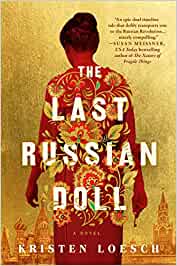 Setting: Russia
In a faraway kingdom, in a long-ago land…

…a young girl lived happily in Moscow with her family: a sister, a father, and an eccentric mother who liked to tell fairy tales and collect porcelain dolls.

One summer night, everything changed, and all that remained of that family were the girl and her mother.

Now, a decade later and studying at Oxford University, Rosie has an English name, a loving fiancé, and a promising future, but all she wants is to understand–and bury–the past. After her mother dies, Rosie returns to Russia, armed with little more than her mother's strange folklore–and a single key.

What she uncovers is a devastating family history that spans the 1917 Revolution, the siege of Leningrad, Stalin's purges, and beyond.
Gripping historical fiction that takes place on two timelines. Atmospheric and great sense of place although the story is focused moreso on the characters than on historical fact. The Last Russian Doll was a pageturner for me so quite enjoyable even though I didn't learn anything new about Russian history. I was on the edge of my seat and it was a solid 4 star read for me all the way through until the conclusion when I found it frustrating that one of the major plot points was left unresolved.
Pin This For Later