That's the thing about books. They let you travel without moving your feet. I love this quote by Jhumpa Lahiri because it captures perfectly how I have always felt about books! I have been a voracious reader all my life and my favourites have always been books that inspire wanderlust by transporting me to another time or place. I hope that the 15 books that I have chosen for spring 2021 will do that for you as well.
Most of my choices are recently published books but a few are older books that I have read in the past couple of months. The list includes contemporary and historical fiction as well as a memoir so hopefully there's a book that appeals to you. Happy reading!
21 of the Best New Books to Read Spring 2023
30 of the Best New Books To Read Spring 2022
25 Books To Read This Spring: A Travel Inspired List
We are a participant in the Amazon Services LLC Associates Program, an affiliate advertising program designed to provide a means for us to earn fees by linking to Amazon.com and affiliated sites. As an Amazon affiliate I earn from qualifying purchases.
This post may contain affiliate links. If you click an affiliate link and make a purchase then we receive a small commission at no additional cost to you.
1. Code Name Hélène by Ariel Lawhon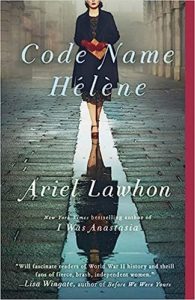 Setting: France
Based on the thrilling real-life story of socialite spy Nancy Wake, comes the newest feat of historical fiction from the New York Times bestselling author of I Was Anastasia, featuring the astonishing woman who killed a Nazi with her bare hands and went on to become one of the most decorated women in WWII.
Told in interweaving timelines organized around the four code names Nancy used during the war, Code Name Hélène is a spellbinding and moving story of enduring love, remarkable sacrifice and unfaltering resolve that chronicles the true exploits of a woman who deserves to be a household name.
One of the things that I love most about historical fiction is that it often introduces me to real life people who did extraordinary things. Nancy Wake is a perfect example of this – an incredibly brave spy who risked her life repeatedly and became one of the most decorated women of WWII. Code Name Hélène is one of the best historical fiction novels that I have ever read.
2. The Prophets by Robert Jones, Jr.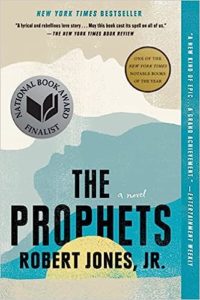 Setting: Deep South plantation
A singular and stunning debut novel about the forbidden union between two enslaved young men on a Deep South plantation, the refuge they find in each other, and a betrayal that threatens their existence.
Isaiah was Samuel's and Samuel was Isaiah's. That was the way it was since the beginning, and the way it was to be until the end. In the barn they tended to the animals, but also to each other, transforming the hollowed-out shed into a place of human refuge, a source of intimacy and hope in a world ruled by vicious masters.
But when an older man – a fellow slave – seeks to gain favor by preaching the master's gospel on the plantation, the enslaved begin to turn on their own. Isaiah and Samuel's love, which was once so simple, is seen as sinful and a clear danger to the plantation's harmony.
A beautifully written debut novel about the love story of two enslaved men on a pre-Civil War plantation in the southern U.S. It started as a slow read for me mostly because I have been reading much lighter fiction recently where I didn't have to think much while absorbing the plot. With The Prophets, I had to pause often to re-read passages in order to fully appreciate the words.
Once I had adjusted to the author's writing style, I was completely absorbed and couldn't put the book down as the story advanced to the conclusion that I was dreading but knew was unavoidable. The Prophets is heartbreaking but also a touching love story and likely one of my most unforgettable reads of 2021.
3. The Four Winds by Kristin Hannah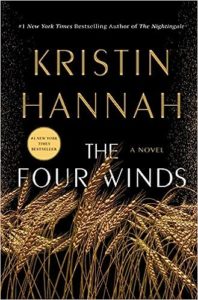 Setting: Texas and California
The Four Winds is a rich, sweeping novel that stunningly brings to life the Great Depression and the people who lived through it – the harsh realities that divided us as a nation and the enduring battle between the haves and the have-nots.
A testament to hope, resilience, and the strength of the human spirit to survive adversity, The Four Winds is an indelible portrait of America and the American dream, as seen through the eyes of one indomitable woman whose courage and sacrifice will come to define a generation.
Another great and impeccably researched historical novel by Kristin Hannah! This one is set in Texas and California during the Great Depression/Dust Bowl era and chronicles the struggles of Elsa Martinelli and her family as they try to survive years of never-ending hardship.
It's heart-wrenching to read (have a box of tissues close at hand) but worth it as the story will leave you with a deeper understanding of the harrowing struggle for survival that defined that era in American history and compassion for the brave people who lived through it. Elsa is a character that you won't soon forget.
4. Fifty Words for Rain by Asha Lemmie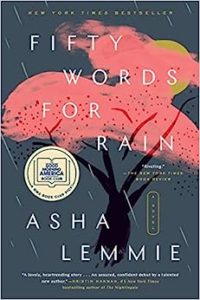 Setting: Japan
The child of a married Japanese aristocrat and her African American GI lover, Nori is an outsider from birth. Her grandparents take her in, only to conceal her, fearful of a stain on the royal pedigree that they are desperate to uphold in a changing Japan. Obedient to a fault, Nori accepts her solitary life, despite her natural intellect and curiosity.
But when chance brings her older half-brother, Akira, to the estate that is his inheritance and destiny, Nori finds in him an unlikely ally with whom she forms a powerful bond – a bond their formidable grandparents cannot allow and that will irrevocably change the lives they were always meant to lead. Because now that Nori has glimpsed a world in which perhaps there is a place for her after all, she is ready to fight to be a part of it – a battle that just might cost her everything.
This debut novel by Asha Lemmie set in post WWII Japan is one of the first books that I read in 2021. It's a beautifully written, coming-of-age story of a young bi-racial girl that is hard to put down. I didn't love the ending but that didn't change how much I enjoyed reading the story.
5. Miss Benson's Beetle by Rachel Joyce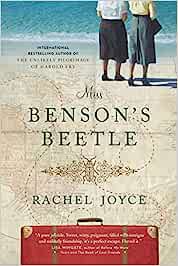 Setting: New Caledonia
It is 1950. London is still reeling from World War II, and Margery Benson, a schoolteacher and spinster, is trying to get through life, surviving on scraps. One day, she reaches her breaking point, abandoning her job and small existence to set out on an expedition to the other side of the world in search of her childhood obsession: an insect that may or may not exist – the golden beetle of New Caledonia.
When she advertises for an assistant to accompany her, the woman she ends up with is the last person she had in mind. Fun-loving Enid Pretty in her tight-fitting pink suit and pom-pom sandals seems to attract trouble wherever she goes. But together these two British women find themselves drawn into a cross-ocean adventure that exceeds all expectations and delivers something neither of them expected to find: the transformative power of friendship.
This is one of two books by the same author that I have read in the past couple of months and both were thoroughly enjoyable. The recently published Miss Benson's Beetle is a wonderful story of friendship between two women who are polar opposites as they set off on the adventure of a lifetime to the exotic location of New Caledonia (in the South Pacific) in search of an elusive beetle. There are some interesting plot points – both humorous and sad – but where Ms. Joyce truly excels is at writing seemingly ordinary characters on a journey of self-discovery.
6. Resistance Women by Jennifer Chiaverini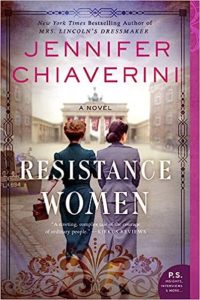 Setting: Germany
From the New York Times bestselling author of Mrs. Lincoln's Dressmaker, an enthralling historical saga that recreates the danger, romance, and sacrifice of an era and brings to life one courageous, passionate American – Mildred Fish Harnack – and her circle of women friends who waged a clandestine battle against Hitler in Nazi Berlin.
This is another historical novel based on the real-life bravery of several women during World War II. Resistance Women is a story about an American woman and her group of friends who were part of resistance efforts in Germany during the war. This is the first novel that I have read about the fight against Hitler that was waged from within Germany and I was captivated from start to finish.
Ms. Chiaverini has several more historical novels that I would now like to read including a new one on the women's suffrage movement called The Women's March coming out this summer.
7. The Transatlantic Book Club by Felicity Hayes-McCoy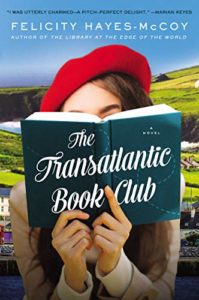 Setting: Ireland
The beloved author of The Mistletoe Matchmaker returns with an enchanting new novel about residents of Ireland's Finfarran Peninsula who set up a Skype book club with the little US town of Resolve, where generations of Finfarran's emigrants have settled. The Transatlantic Book Club continues the stories of the residents of the Finfarran Peninsula and introduces readers to new characters who they will surely fall in love with.
Another heartwarming installment in Felicity Hayes-McCoy's Finfarran series set in a fictional county on Ireland's West Coast. In this one, Cassie Fitzgerald, decides to cheer up her recently-widowed gran by setting up a skype book club with a group of Finfarran emigrants living in the U.S.
The other books available in North America are The Library at the Edge of the World, Summer at the Garden Cafe, and The Mistletoe Matchmaker if you would like to read them in order.
8. A Burning by Megha Majumdar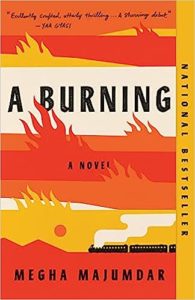 Setting: India
In this National Book Award Longlist honoree and "gripping thriller with compassionate social commentary" (USA Today), Jivan is a Muslim girl from the slums, determined to move up in life, who is accused of executing a terrorist attack on a train because of a careless comment on Facebook.
PT Sir is an opportunistic gym teacher who hitches his aspirations to a right-wing political party, and finds that his own ascent becomes linked to Jivan's fall. Lovely – an irresistible outcast whose exuberant voice and dreams of glory fill the novel with warmth and hope and humor – has the alibi that can set Jivan free, but it will cost her everything she holds dear.
A fast-paced story set in contemporary India about three characters whose lives are intertwined in the aftermath of a terror incident. The ambitious debut novel covers themes of justice, corruption and class in the context of a very quick read that can easily be devoured in a single sitting as it rushes toward the devastating conclusion.
9. The Last Garden in England by Julia Kelly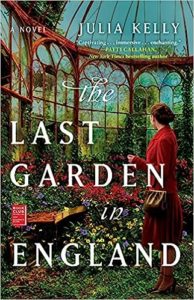 Setting: England
From the author of the international bestseller The Light Over London and The Whispers of War comes a poignant and unforgettable tale of five women living across three different times whose lives are all connected by one very special place.
This is a lovely historical novel telling the story of five women in three different eras (1907, 1944 and present day) whose lives are connected by a special garden. The story is set at the fictional Highbury Estate in England but if it was a real place then I would be adding it to my travel wish list!
10. The Unlikely Pilgrimage of Harold Fry by Rachel Joyce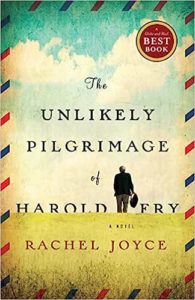 Setting: England
Meet Harold Fry, recently retired. He lives in a small English village with his wife, Maureen, who seems irritated by almost everything he does. Little differentiates one day from the next. Then one morning a letter arrives, addressed to Harold in a shaky scrawl, from a woman he hasn't heard from in twenty years. Queenie Hennessy is in hospice and is writing to say goodbye.
But before Harold mails off a quick reply, a chance encounter convinces him that he absolutely must deliver his message to Queenie in person. In his yachting shoes and light coat, Harold Fry embarks on an urgent quest. Determined to walk six hundred miles to the hospice, Harold believes that as long as he walks, Queenie will live.
This novel was long listed for the 2012 Man Booker Prize but I just read it a few weeks ago. I loved this book that, on the surface, is about a quest to walk across England but is really about Harold's journey of self-discovery as he walks across the country thinking about his life – present and past.
11. The Alice Network by Kate Quinn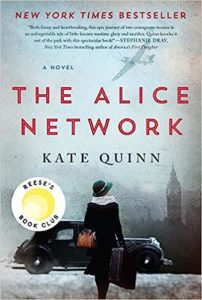 Setting: England and France
In this enthralling novel from New York Times bestselling author Kate Quinn, two women – a female spy recruited to the real-life Alice Network in France during World War I and an unconventional American socialite searching for her cousin in 1947 – are brought together in a mesmerizing story of courage and redemption.
This is another novel that has been around for a few years but I only read recently. It's historical fiction which I love and I enjoyed the dual timeline alternating between World War I and World War II since the majority of historical novels seem to be set during WWII.
I also can't wait to read Ms. Quinn's latest novel to be published this month, The Rose Code, about female code breakers at England's Bletchley Park during WWII.
12. The London Restoration by Rachel McMillan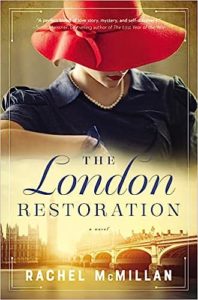 Setting: London, England
Madly in love, Diana Foyle and Brent Somerville married in London as the bombs of World War II dropped on their beloved city. Without time for a honeymoon, the couple spent the next four years apart. Diana, an architectural historian, took a top-secret intelligence post at Bletchley Park. Brent, a professor of theology at King's College, believed his wife was working for the Foreign Office as a translator when he was injured in an attack on the European front.
Now that the war is over, the Somervilles' long-anticipated reunion is strained by everything they cannot speak of. Diana's extensive knowledge of London's churches could help bring down a Russian agent named Eternity. She's eager to help MI6 thwart Communist efforts to start a new war, but because of the Official Secrets Act, Diana can't tell Brent the truth about her work.
Determined to save their marriage and rebuild the city they call home, Diana and Brent's love is put to the ultimate test as they navigate the rubble of war and the ruins of broken trust.
This is an interesting historical novel set in post-World War II London about a couple that are trying to put their lives back together when they are reunited after the war. This is complicated by the secrets that Diana has to keep from Brent relating to her war-time activities as a code-breaker at Bletchley Park and her post-war involvement with the MI6.
13. What Could Be Saved by Liese O'Halloran Schwarz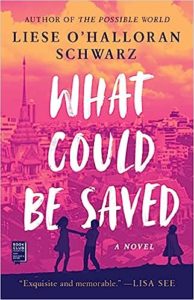 Setting: Bangkok, Thailand and Washington, DC
Washington, DC, 2019: Laura Preston is a reclusive artist at odds with her older sister Bea as their elegant, formidable mother slowly slides into dementia. When a stranger contacts Laura claiming to be her brother who disappeared forty years earlier when the family lived in Bangkok, Laura ignores Bea's warnings of a scam and flies to Thailand to see if it can be true. But meeting him in person leads to more questions than answers.
Alternating between past and present as all of the secrets are revealed, What Could Be Saved is an unforgettable novel about a family shattered by loss and betrayal, and the beauty that can exist even in the midst of brokenness.
This was a quick read for me as I had trouble putting the book down mostly due to the suspense of the slowly drawn out narrative surrounding what happened in Bangkok in 1972 but also with how the family would deal with the aftermath in 2019. The story is compelling yet heartbreaking at times as there are a number of serious issues addressed including kidnapping, sex tourism, forced sex work and racism.
I received a digital review copy of the novel from NetGalley.
14. Between Two Kingdoms by Suleika Jaouad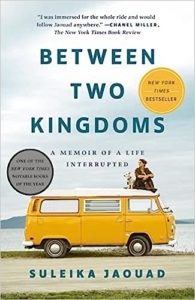 A searing, deeply moving memoir of illness and recovery that traces one young woman's journey from diagnosis to remission and, ultimately, a road trip of healing and self-discovery.
At 22 years of age, when her peers were living carefree lives and establishing careers and relationships, Suleika Jaouad found herself fighting for her life after a devastating cancer diagnosis. In this beautiful and heartrending memoir, Between Two Kingdoms, Suleika shares with us her nearly four years of treatment as well as the aftermath of learning how to live again as a cancer survivor.
While undergoing treatments, Suleika wrote a column about her experiences called Life Interrupted for the New York Times and received correspondence from people across the United States who were touched by her story for one reason or another. Post-treatment, she decides to embark on a 100 day cross-country road trip with her dog Oscar to meet up with about 20 of the people whose letters had touched her. Over the course of those 100 days on the road, she takes the first steps toward healing and is able to see a future for herself once again.
Between Two Kingdoms is not an easy read but it's an honest and beautifully written story that you will never forget. And when you finish reading it, pay a visit to Suleika's Instagram account – you can follow along there as her journey continues.
I received a digital advance review copy of this book from NetGalley.
15. The Paris Library by Janet Skeslien Charles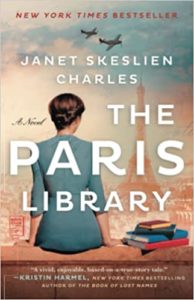 Setting: Paris, France and Montana, US
Based on the true World War II story of the American Library in Paris, an unforgettable novel about the power of books and the bonds of friendship – and the ordinary heroes who can be found in the most perilous times and the quietest places.
The Paris Library is an easy book to read and the author does an excellent job of weaving together historical fact and fiction. As a book lover, I particularly enjoyed the central role that the library and books (and the dewey decimal system) played in the story and was intrigued to discover after reading the book that most of the librarians were actual people who worked at the American Library in Paris during the war years.
What are you reading this spring? Let us know in the comments below!
Pin This For Later