"Reading gives us somewhere to go when we have to stay where we are"

Mason Cooley
There has never been a time in my life that this has been more true than it is this spring. Books have always been an escape for me – a place to dream – and right now I need that more than ever. I'm sure many of you do as well.
Here's my list of 25 books to read this spring. Some are recently published and some have been around awhile. Some are favourites of mine and some are on my "to read" list for this spring. All of them provide an escape to another place or another time or an opportunity to dream about future travels. Happy reading!!
21 of the Best New Books to Read Spring 2023
30 of the Best New Books To Read Spring 2022
15 Books for Your Spring 2021 Reading List
We are a participant in the Amazon Services LLC Associates Program, an affiliate advertising program designed to provide a means for us to earn fees by linking to Amazon.com and affiliated sites. As an Amazon affiliate I earn from qualifying purchases.
This post may contain affiliate links. If you click an affiliate link and make a purchase then we receive a small commission at no additional cost to you.
If you're looking for more inspiration, these previously-published reading lists with travel-inspired books also have some great options.
1. Alone Time: Four Seasons, Four Cities and the Pleasures of Solitude by Stephanie Rosenbloom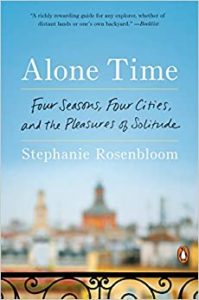 Setting: Paris, Istanbul, Florence, New York
In our increasingly frantic daily lives, many people are genuinely fearful of the prospect of solitude, but time alone can be both rich and restorative, especially when travelling. Through on-the-ground reporting and recounting the experiences of artists, writers, and innovators who cherished solitude, Stephanie Rosenbloom considers how being alone as a traveller–and even in one's own city–is conducive to becoming acutely aware of the sensual details of the world–patterns, textures, colors, tastes, sounds–in ways that are difficult to do in the company of others.
Alone Time is divided into four parts, each set in a different city, in a different season, in a single year. The destinations–Paris, Istanbul, Florence, New York–are all pedestrian-friendly, allowing travelers to slow down and appreciate casual pleasures instead of hurtling through museums and posting photos to Instagram. Each section spotlights a different theme associated with the joys and benefits of time alone and how it can enable people to enrich their lives–facilitating creativity, learning, self-reliance, as well as the ability to experiment and change.
I have never travelled alone and, to be quite honest, the idea scares me a little. And that's why I have added this book to my list for the spring. I'm hoping that reading Alone Time will convince me to push my own boundaries and travel somewhere all by myself.
2. The Little Coffee Shop of Kabul by Deborah Rodriguez
Setting: Afghanistan
After hard luck and heartbreak, Sunny finally finds a place to call home—in the middle of an Afghanistan war zone. There, the thirty-eight-year-old serves up her American hospitality to the expats who patronize her coffee shop, including a British journalist, a "danger pay" consultant, and a wealthy and well-connected woman.
True to her name, Sunny also bonds with people whose language and landscape are unfamiliar to most Westerners, but whose hearts and souls are very much like our own: the maternal Halajan, who vividly recalls the days before the Taliban and now must hide a modern romance from her ultra-traditional son; and Yazmina, a young Afghan villager with a secret that could put everyone's life in jeopardy.
In this gorgeous first novel, New York Times bestselling author Deborah Rodriguez paints a stirring portrait of a faraway place where—even in the fog of political and social conflict—friendship, passion, and hope still exist.
First saw this while browsing in London last spring break and was intrigued by the comparison between Rodriguez and Maeve Binchy whose books I have loved forever. Although Afghanistan isn't on my travel wish list, I am drawn to stories set in a part of the world that I know little about. (This book was originally published as A Cup of Friendship.)
3. Goodbye, Paris by Anstey Harris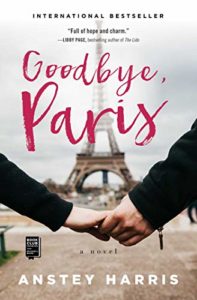 Setting: Paris
From the simple melody of running her violin shop to the full-blown orchestra of her romantic interludes in Paris with David, her devoted partner of eight years, Grace Atherton has always set her life to music.
Her world revolves entirely around David, for Grace's own secrets have kept everyone else at bay. Until, suddenly and shockingly, one act tips Grace's life upside down, and the music seems to stop.
It takes a vivacious old man and a straight-talking teenager to kick-start a new song for Grace. In the process, she learns that she is not as alone in the world as she had once thought, that no mistake is insurmountable, and that the quiet moments in life can be something to shout about…
Filled with charming and lovably flawed characters—and illuminated with the undeniable romance and magic of Paris—Goodbye, Paris is a poignant, compulsively readable novel that shows us that when it comes to love, there's more than one way to find happiness.
I have read quite a few books set in Paris – but there's always room for one more! This seems like the perfect time to escape to Paris in a lovely story about a woman finding her way to happiness.
4. A Long Petal of the Sea by Isabel Allende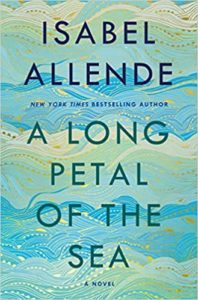 Setting: Spain and Chile
In the late 1930s, civil war grips Spain. When General Franco and his Fascists succeed in overthrowing the government, hundreds of thousands are forced to flee in a treacherous journey over the mountains to the French border. Among them is Roser, a pregnant young widow, who finds her life intertwined with that of Victor Dalmau, an army doctor and the brother of her deceased love. In order to survive, the two must unite in a marriage neither of them desires.
Together with two thousand other refugees, they embark on the SS Winnipeg, a ship chartered by the poet Pablo Neruda, to Chile: "the long petal of sea and wine and snow." As unlikely partners, they embrace exile as the rest of Europe erupts in world war. Starting over on a new continent, their trials are just beginning, and over the course of their lives, they will face trial after trial. But they will also find joy as they patiently await the day when they will be exiles no more. Through it all, their hope of returning to Spain keeps them going. Destined to witness the battle between freedom and repression as it plays out across the world, Roser and Victor will find that home might have been closer than they thought all along.
A masterful work of historical fiction about hope, exile, and belonging, A Long Petal of the Sea shows Isabel Allende at the height of her powers.
Isabel Allende is one of the best writers of our time and I'm looking forward to reading her latest which the New York Times Book Review called: "One of the most richly imagined portrayals of the Spanish Civil War to date, and one of the strongest and most affecting works in [Isabel Allende's] long career."
5. Unmarriageable by Soniah Kamal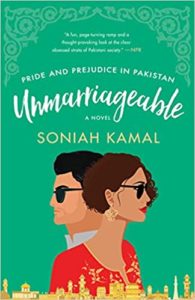 Setting: Pakistan
A scandal and vicious rumor concerning the Binat family have destroyed their fortune and prospects for desirable marriages, but Alys, the second and most practical of the five Binat daughters, has found happiness teaching English literature to schoolgirls. Knowing that many of her students won't make it to graduation before dropping out to marry and have children, Alys teaches them about Jane Austen and her other literary heroes and hopes to inspire the girls to dream of more.
When an invitation arrives to the biggest wedding their small town has seen in years, Mrs. Binat, certain that their luck is about to change, excitedly sets to work preparing her daughters to fish for rich, eligible bachelors. On the first night of the festivities, Alys's lovely older sister, Jena, catches the eye of Fahad "Bungles" Bingla, the wildly successful—and single—entrepreneur. But Bungles's friend Valentine Darsee is clearly unimpressed by the Binat family. Alys accidentally overhears his unflattering assessment of her and quickly dismisses him and his snobbish ways. As the days of lavish wedding parties unfold, the Binats wait breathlessly to see if Jena will land a proposal—and Alys begins to realize that Darsee's brusque manner may be hiding a very different man from the one she saw at first glance.
Told with wry wit and colorful prose, Unmarriageable is a charming update on Jane Austen's beloved novel and an exhilarating exploration of love, marriage, class, and sisterhood.
Just finished reading this retelling of Jane Austen's Pride and Prejudice set in modern day Pakistan and loved it! Even though I technically knew how the story was going to end, I couldn't wait to see how it all worked out for Alys, Darsee and the rest of the characters – such a fun read!
6. The Last Train to Key West by Chanel Cleeton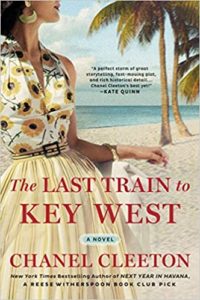 Setting: Key West, Florida
In 1935 three women are forever changed when one of the most powerful hurricanes in history barrels toward the Florida Keys.
For the tourists traveling on Henry Flagler's legendary Overseas Railroad, Labor Day weekend is an opportunity to forget the economic depression gripping the nation. But one person's paradise can be another's prison, and Key West-native Helen Berner yearns to escape.

After the Cuban Revolution of 1933 leaves Mirta Perez's family in a precarious position, she agrees to an arranged marriage with a notorious American. Following her wedding in Havana, Mirta arrives in the Keys on her honeymoon. While she can't deny the growing attraction to her new husband, his illicit business interests may threaten not only her relationship, but her life.

Elizabeth Preston's trip to Key West is a chance to save her once-wealthy family from their troubles after the Wall Street crash. Her quest takes her to the camps occupied by veterans of the Great War and pairs her with an unlikely ally on a treacherous hunt of his own.

Over the course of the holiday weekend, the women's paths cross unexpectedly, and the danger swirling around them is matched only by the terrifying force of the deadly storm threatening the Keys.
I have pre-ordered this book which won't be published until June. I have recently read Cleeton's two books set in Cuba (Next Year in Havana and When We Left Cuba) and loved both of them so can't wait to get my hands on this one and escape to Key West, Florida in the 1930s.
7. The Yellow Envelope: One Gift, Three Rules, and a Life-Changing Journey by Kim Dinan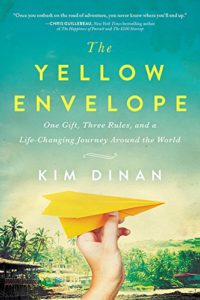 After Kim and her husband decide to quit their jobs to travel around the world, they're given a yellow envelope containing a check and instructions to give the money away. The only three rules for the envelope: Don't overthink it; share your experiences; don't feel pressured to give it all away.
Through Ecuador, Peru, Nepal, and beyond, Kim and Brian face obstacles, including major challenges to their relationship. As she distributes the gift to people she encounters along the way she learns that money does not have a thing to do with the capacity to give, but that giving—of ourselves—is transformational.
This sounds like an interesting travel memoir with a twist. I'm looking forward to reading about Kim and Brian's travels around the world but also to learn how they decide to redistribute the gift and how that affects them.
8. American Dirt by Jeanine Cummins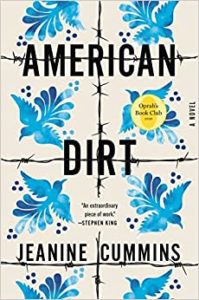 Setting: En route between Mexico and the United States
Lydia Quixano Pérez lives in the Mexican city of Acapulco. She runs a bookstore. She has a son, Luca, the love of her life, and a wonderful husband who is a journalist. And while there are cracks beginning to show in Acapulco because of the drug cartels, her life is, by and large, fairly comfortable.
Even though she knows they'll never sell, Lydia stocks some of her all-time favorite books in her store. And then one day a man enters the shop to browse and comes up to the register with a few books he would like to buy―two of them her favorites. Javier is erudite. He is charming. And, unbeknownst to Lydia, he is the jefe of the newest drug cartel that has gruesomely taken over the city. When Lydia's husband's tell-all profile of Javier is published, none of their lives will ever be the same.
Forced to flee, Lydia and eight-year-old Luca soon find themselves miles and worlds away from their comfortable middle-class existence. Instantly transformed into migrants, Lydia and Luca ride la bestia―trains that make their way north toward the United States, which is the only place Javier's reach doesn't extend. As they join the countless people trying to reach el norte, Lydia soon sees that everyone is running from something. But what exactly are they running to?
This book is intense – I read it over a 24 hour period last week and my heart was racing the entire time! This isn't a journey that any of us would want to take but an important and heart-wrenching story about the hardship and danger faced by those fleeing Central America and Mexico hoping for safety and a better life in the north.
9. Dreamland Burning by Jennifer Latham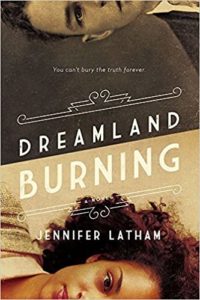 Setting: Tulsa, Oklahoma
When seventeen-year-old Rowan Chase finds a skeleton on her family's property, she has no idea that investigating the brutal century-old murder will lead to a summer of painful discoveries about the present and the past.
Nearly one hundred years earlier, a misguided violent encounter propels seventeen-year-old Will Tillman into a racial firestorm. In a country rife with violence against blacks and a hometown segregated by Jim Crow, Will must make hard choices on a painful journey towards self discovery and face his inner demons in order to do what's right the night Tulsa burns.
Through intricately interwoven alternating perspectives, Jennifer Latham's lightning-paced page-turner brings the Tulsa race riot of 1921 to blazing life and raises important questions about the complex state of US race relations–both yesterday and today.
My 16 year-old read this page-turner in one day last week and recommends it so I have added it to my list. I'm interested in the historical aspect of the story but also in the questions raised about US race relations. It sounds like quite an interesting read.
10. National Geographic 100 Drives, 5000 Ideas by Joe Yogerst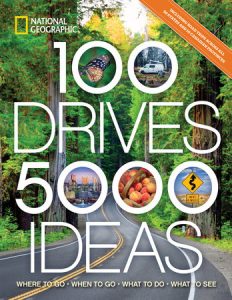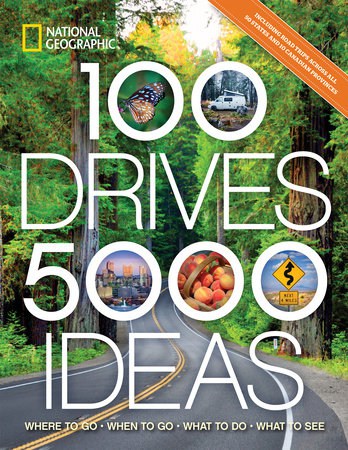 Buckle up for the road trip of a lifetime: 100 epic journeys through all 50 states and 10 Canadian provinces offering thousands of sites and roadside attractions along the way. A sequel to the best-selling 50 States, 5,000 Ideas.
I recently reviewed this new volume published by National Geographic and it is just the book you need right now to satisfy your wanderlust and plan for future road trips in Canada and the U.S.
Book Review: National Geographic 100 Drives, 5000 Ideas
11. The Little Bookshop on the Seine by Rebecca Raisin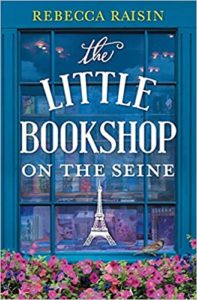 Setting: Paris, France
It's The Holiday on the Champs-Élysées in a great big love letter to Paris, charming old bookstores and happily-ever-afters!
When bookshop owner Sarah Smith is offered the opportunity for a job exchange with her Parisian friend Sophie, saying yes is a no-brainer—after all, what kind of romantic would turn down six months in Paris? Sarah is sure she's in for the experience of a lifetime—days spent surrounded by literature in a gorgeous bookshop, and the chance to watch the snow fall on the Eiffel Tower. Plus, now she can meet up with her journalist boyfriend, Ridge, when his job takes him around the globe.
But her expectations cool faster than her café au lait soon after she lands in the City of Light—she's a fish out of water in Paris. The customers are rude, her new coworkers suspicious and her relationship with Ridge has been reduced to a long-distance game of phone tag, leaving Sarah to wonder if he'll ever put her first over his busy career. As Christmas approaches, Sarah is determined to get the shop—and her life—back in order…and make her dreams of a Parisian happily-ever-after come true.
Another book set in Paris but this one has old bookstores too – so perfect!! I have always dreamed about living in Paris and have never made that dream come true so instead I live vicariously by reading stories (fiction or non-fiction) about people that pack up their lives and move to the City of Light.
If you like books about Paris then you might enjoy 36 Books Set in Paris: A Literary Escape to the City of Light
12. Midnight Train to Prague by Carol Windley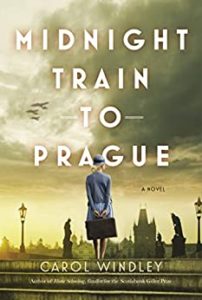 Setting: Various European locations
The acclaimed author of Home Schooling returns with Midnight Train to Prague, a timeless tale of friendship, romance, betrayal, and survival that spans the turbulent decades of the twentieth century, through two world wars and between countries and continents.
In 1927, as Natalia Faber travels from Berlin to Prague with her mother, their train is delayed in Saxon Switzerland. In the brief time the train is idle, Natalia learns the truth about her father―who she believed died during her infancy―and meets a remarkable woman named Dr. Magdalena Schaeffer, whose family will become a significant part of her future. Shaken by these events, Natalia arrives at a spa on the shore of Lake Hevíz in Hungary. Here, she meets Count Miklós Andorján, a journalist and adventurer. The following year, they will marry.
Years later, Germany has invaded Russia. When Miklós fails to return from the eastern front, Natalia goes to Prague to wait for him. With a pack of tarot cards, she sets up shop as a fortune teller, and she meets Anna Schaeffer, the daughter of the woman she met decades earlier on that stalled train. The Nazis accuse Natalia of spying, and she is sent to a concentration camp. Though they are separated, her friendship with Anna grows as they fight to survive and to be reunited with their families.
It's fairly obvious that historical fiction is my favourite genre and I'm particularly drawn to stories such as this set in Europe around WWII.
13. The Henna Artist by Alka Joshi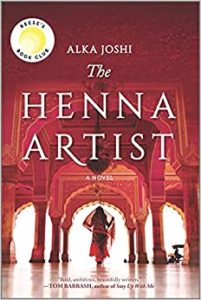 Setting: Jaipur, India
Escaping from an abusive marriage, seventeen-year-old Lakshmi makes her way alone to the vibrant 1950s pink city of Jaipur. There she becomes the most highly requested henna artist—and confidante—to the wealthy women of the upper class. But trusted with the secrets of the wealthy, she can never reveal her own…
India has been on my travel wish list for a long time and, as a result, I read many books that are set in India. This sounds like a great story about a young woman trying to make it on her own in the 1950s in Jaipur.
14. The Year of Living Danishly by Helen Russell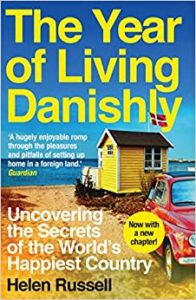 Setting: Denmark
When she was suddenly given the opportunity of a new life in rural Jutland, journalist and archetypal Londoner Helen Russell discovered a startling statistic: the happiest place on earth isn't Disneyland, but Denmark, a land often thought of by foreigners as consisting entirely of long dark winters, cured herring, Lego and pastries.
This book was published a few years ago and I remember thinking at the time that it would be a great read but, for whatever reason, never purchased it. We spent a few days in Copenhagen years ago on our very first family trip to Europe and loved the city so I'm looking forward to hear the author's perspective on what it's like for a foreigner to live there.
15. The Girl with the Louding Voice by Abi Dare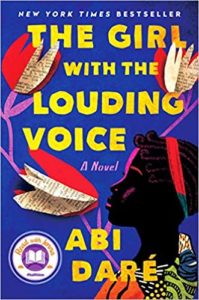 Setting: Nigeria
A powerful, emotional debut novel told in the unforgettable voice of a young Nigerian woman who is trapped in a life of servitude but determined to fight for her dreams and choose her own future.
Adunni is a fourteen-year-old Nigerian girl who knows what she wants: an education. This, her mother has told her, is the only way to get a "louding voice"—the ability to speak for herself and decide her own future. But instead, Adunni's father sells her to be the third wife of a local man who is eager for her to bear him a son and heir.
When Adunni runs away to the city, hoping to make a better life, she finds that the only other option before her is servitude to a wealthy family. As a yielding daughter, a subservient wife, and a powerless slave, Adunni is told, by words and deeds, that she is nothing.
But while misfortunes might muffle her voice for a time, they cannot mute it. And when she realizes that she must stand up not only for herself, but for other girls, for the ones who came before her and were lost, and for the next girls, who will inevitably follow; she finds the resolve to speak, however she can—in a whisper, in song, in broken English—until she is heard.
A great story about a strong young Nigerian girl finding her voice and standing up for herself and for other girls.
16. The Jetsetters by Amanda Eyre Ward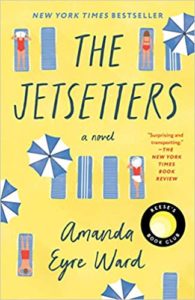 Setting: Mediterranean cruise
When seventy-year-old Charlotte Perkins submits a sexy essay to the Become a Jetsetter contest, she dreams of reuniting her estranged children: Lee, an almost-famous actress; Cord, a handsome Manhattan venture capitalist who can't seem to find a partner; and Regan, a harried mother who took it all wrong when Charlotte bought her a Weight Watchers gift certificate for her birthday. Charlotte yearns for the years when her children were young, when she was a single mother who meant everything to them.
When she wins the contest, the family packs their baggage—both literal and figurative—and spends ten days traveling from sun-drenched Athens through glorious Rome to tapas-laden Barcelona on an over-the-top cruise ship, the Splendido Marveloso. As lovers new and old join the adventure, long-buried secrets are revealed and old wounds are reopened, forcing the Perkins family to confront the forces that drove them apart and the defining choices of their lives.
Can four lost adults find the peace they've been seeking by reconciling their childhood aches and coming back together? In the vein of The Nest and The Vacationers, The Jetsetters is a delicious and intelligent novel about the courage it takes to reveal our true selves, the pleasures and perils of family, and how we navigate the seas of adulthood.
A dysfunctional family taking a Mediterranean cruise together – what could possibly go wrong? I have this on my list partly because I want to relive our own Mediterranean cruise and partly because it sounds like a great story about families and how they function once the kids have grown up.
17. Secret Daughter by Shilpi Somaya Gowda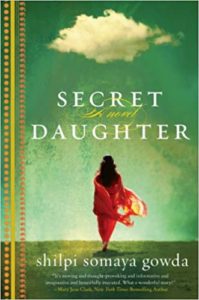 Setting: India and United States
Somer's life is everything she imagined it would be — she's newly married and has started her career as a physician in San Francisco — until she makes the devastating discovery she never will be able to have children.
The same year in India, a poor mother makes the heartbreaking choice to save her newborn daughter's life by giving her away. It is a decision that will haunt Kavita for the rest of her life, and cause a ripple effect that travels across the world and back again.
Asha, adopted out of a Mumbai orphanage, is the child that binds the destinies of these two women. We follow both families, invisibly connected until Asha's journey of self-discovery leads her back to India.
Secret Daughter, a first novel by Shilpi Somaya Gowda, explores powerfully and poignantly the emotional terrain of motherhood, loss, identity, and love through the experiences of two families—one Indian, one American—and the child that binds them together.
A novel set partially in India that covers poverty there as well as issues of adoption and how it affects a person's sense of self and family. I haven't read this yet but as someone who was adopted as an infant, I'm interested to see how the author tackles this subject.
18. On the Corner of Hope and Main by Beverly Jenkins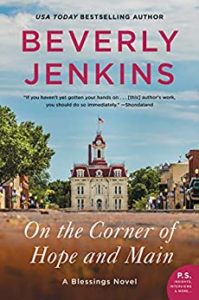 Setting: Kansas, United States
Citizens of Henry Adams, Kansas, know there's never a dull moment in their small town…
Trent July has been the mayor of this historic town for the past four years, but now he's ready to let someone else take up the mantle. Barrett Payne, a former Marine, decides he wants the job. But when a surprise candidate also enters the ring, the town has opinions on who would be the best candidate.
And of course that's not the only drama, as Malachi "Mal" July continues to make reparations for the damage he's caused and to the people he's betrayed, especially his lady love Bernadine. Is she finally ready to forgive him and let the past go?
As the residents of Henry Adams have learned, life will throw obstacles their way, but it's how they come together and rise above these challenges that keep the bonds of their close-knit community strong.
I don't know about you but I could use a heartwarming story right now and this one set in small town America comes highly recommended by Shondaland.
19. Frances Mayes Always Italy by Frances Mayes and Ondine Cohane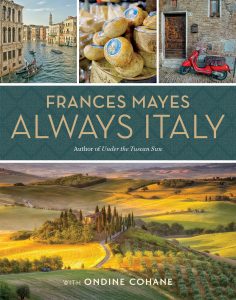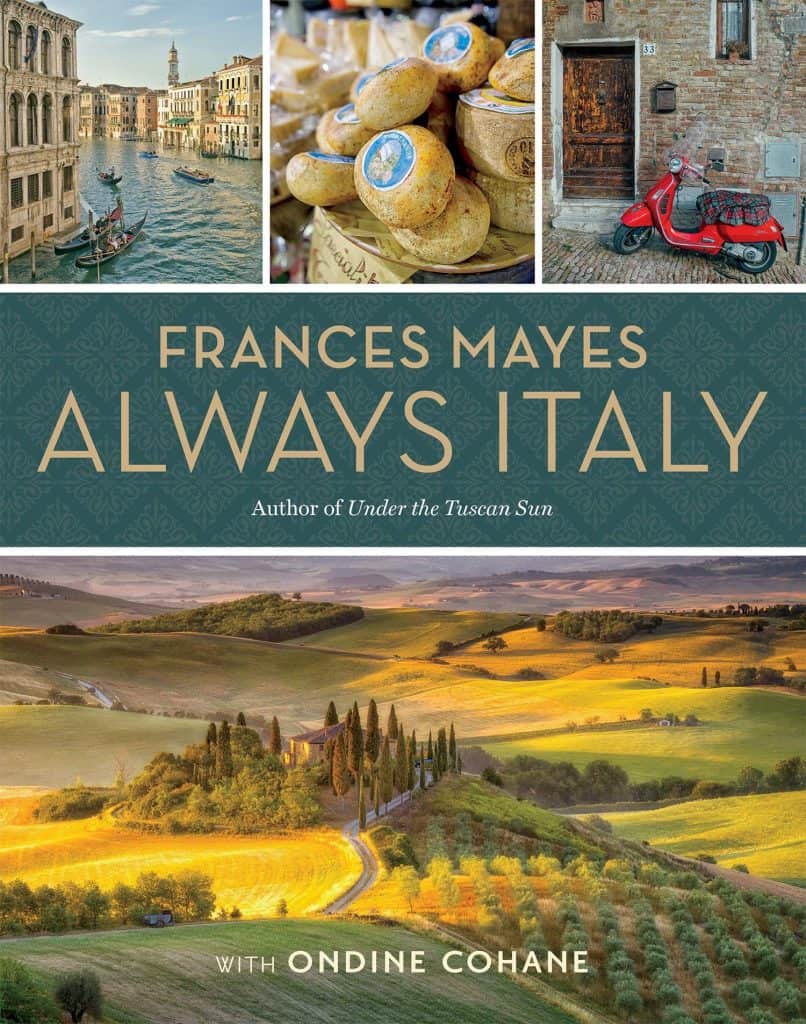 The world's favorite expert on la dolce vita (Under the Tuscan Sun author) guides readers through Italy's iconic regions, replete with lavish National Geographic images.
This lush guide, featuring more than 350 glorious photographs from National Geographic, showcases the best Italy has to offer from the perspective of two women who have spent their lives reveling in its unique joys. In these illuminating pages, Frances Mayes, the author of Under the Tuscan Sun and many other bestsellers, and New York Times travel writer Ondine Cohane reveal an Italy that only the locals know, filled with top destinations and unforgettable travel experiences in every region.
I'm currently reading this guide which is packed with information about every region in Italy and gorgeous photographs that have me dreaming about living la dolce vita. This book will inspire you to plan a future trip to one of the most beautiful countries in the world.
20. A Well-Behaved Woman by Therese Anne Fowler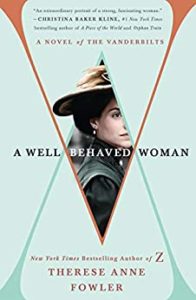 Setting: New York, Newport, Paris
Alva Smith, her southern family destitute after the Civil War, married into one of America's great Gilded Age dynasties: the newly wealthy but socially shunned Vanderbilts. Ignored by New York's old-money circles and determined to win respect, she designed and built nine mansions, hosted grand balls, and arranged for her daughter to marry a duke. But Alva also defied convention for women of her time, asserting power within her marriage and becoming a leader in the women's suffrage movement.
With a nod to Jane Austen and Edith Wharton, in A Well-Behaved Woman Therese Anne Fowler paints a glittering world of enormous wealth contrasted against desperate poverty, of social ambition and social scorn, of friendship and betrayal, and an unforgettable story of a remarkable woman. Meet Alva Smith Vanderbilt Belmont, living proof that history is made by those who know the rules—and how to break them.
I received this as a Christmas gift but hadn't started it yet because it's long (over 500 pages). Now I have the time to immerse myself in the late 19th century world of the wealthy Vanderbilts in this sweeping novel set in Manhattan, Newport and Paris.
21. London by Edward Rutherfurd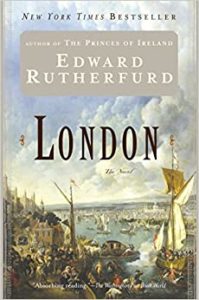 Setting: London, England
A master of epic historical fiction, Edward Rutherford gives us a sweeping novel of London, a glorious pageant spanning two thousand years. He brings this vibrant city's long and noble history alive through his saga of ever-shifting fortunes, fates, and intrigues of a half-dozen families, from the age of Julius Caesar to the twentieth century. Generation after generation, these families embody the passion, struggle, wealth, and verve of the greatest city in the Old World.
I have read all of Edward Rutherfurd's epic works of historical fiction and this is one of my favourites.
22. Miss Julia Knows a Thing or Two by Ann B. Ross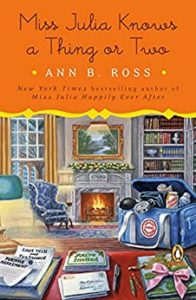 Setting: North Carolina
The delightful new installment of the beloved and New York Times bestselling Miss Julia series.
Miss Julia has decided to turn over a new leaf. It's time to stop meddling in other peoples' lives, she thinks–but her hands are full before long! Her neighbor Mildred is sent into a tizzy when a grandchild she's never met shows up on her doorstep. And Mildred's husband keeps forgetting who she is, so she's all on her own. Meanwhile, Etta Mae is worried about losing her job now that the Handy Home Helpers is up for sale. Luckily, Miss Julia has experience dealing with children dropped on doorsteps, and sweeps in to lend a hand. But there's something missing in that child's life, and Miss Julia knows exactly what it is.
I started this series years ago and have read almost every volume published. They are light reads but I love how they transport me to the American South where Miss Julia lives. Miss Julia is a character and it's fun to catch up on her latest adventures with all the townfolk in Abbotsville, North Carolina.
23. The Greek Escape by Karen Swan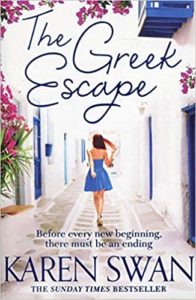 Setting: Greek Islands
Running from heartbreak, Chloe Marston leaves her old life in London for a fresh start in New York. Working at a luxury concierge company, she makes other people's lives run perfectly, even if her own has ground to a halt. But a terrible accident forces her to step into a new role, up close and personal with the company's most esteemed and powerful clients. Charismatic Joe Lincoln is one of them and his every wish is her command, so when he asks her to find him a secluded holiday home in the Greek Islands, she sets about sourcing the perfect retreat.
But when Tom, her ex, unexpectedly shows up in Manhattan and the stability of her new life is thrown off-balance again, she jumps at the chance to help Joe inspect the holiday house; escaping to Greece will give her the time and space to decide where her future truly lies. Tom is the man she has loved for so long but he has hurt her before – can she give him another chance? And as she draws closer to Joe, does she even want to? As magnetic as he is mysterious, there's an undeniable chemistry between them that she can't resist.
If you're looking for a novel that is pure escapism – with a little mystery and romance thrown in – then internationally bestselling author Karen Swan is for you! I read her book, The Spanish Promise, last fall and enjoyed it so I'm looking forward to this one set in the Greek Islands.
24. Winter in Paradise by Elin Hilderbrand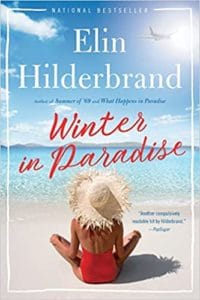 Setting: Caribbean island of St. John
A husband's secret life, a wife's new beginning: escape to the Caribbean with #1 New York Times bestselling author Elin Hilderbrand.
Irene Steele shares her idyllic life in a beautiful Iowa City Victorian house with a husband who loves her to sky-writing, sentimental extremes. But as she rings in the new year one cold and snowy night, everything she thought she knew falls to pieces with a shocking phone call: her beloved husband, away on business, has been killed in a helicopter crash. Before Irene can even process the news, she must first confront the perplexing details of her husband's death on the distant Caribbean island of St. John.
After Irene and her sons arrive at this faraway paradise, they make yet another shocking discovery: her husband had been living a secret life. As Irene untangles a web of intrigue and deceit, and as she and her sons find themselves drawn into the vibrant island culture, they have to face the truth about their family, and about their own futures.
Another bit of escapism literature from bestselling author, Elin Hilderbrand – this one involves a web of intrigue and deceit set in the gorgeous Caribbean island of St. John. I have enjoyed previous books she has written so I'm sure this one will be a good read as well.
25. The Space Between Us by Thrity Umrigar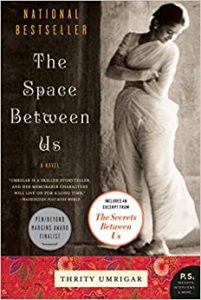 Setting: India
The author of Bombay Time, If Today Be Sweet, and The Weight of Heaven, Thrity Umrigar is as adept and compelling in The Space Between Us—vividly capturing the social struggles of modern India in a luminous, addictively readable novel of honor, tradition, class, gender, and family.
Set in modern-day India, it is the story of two compelling and achingly real women: Sera Dubash, an upper-middle-class Parsi housewife whose opulent surroundings hide the shame and disappointment of her abusive marriage, and Bhima, a stoic illiterate hardened by a life of despair and loss, who has worked in the Dubash household for more than twenty years.
I have had this book set in Bombay in my "to read" pile for years but for some reason passed it over. Now that I have much more time for reading I'm working through my stockpile and plan to read this next.
What are you reading this spring? Let me know what I should add to my reading list!
Pin This For Later