7 reasons why a Mediterranean cruise is a great family vacation and a few tips to help with the planning.

It's hard to believe that there was a time when cruising was considered an adults-only vacation. That perception has been rapidly changing though as mainstream cruise lines court families and parents discover that cruising with kids can be quite an attractive vacation option. The hardest part of cruising is generally deciding where to go as the options include a wide range of worldwide destinations.
This post may contain affiliate links. If you click an affiliate link and make a purchase then we receive a small commission at no additional cost to you.
One of my favourite cruises was in the Eastern Mediterranean which we discovered is a fantastic area for families to visit. Parents might be hesitant to take their kids on a cruise outside the the Caribbean or Mexico but there is really no need to confine family cruising to those regions. Here are 7 reasons to take your kids on a Mediterranean cruise as well as a few tips to help with the planning.
You might also enjoy reading 12 Spectacular Cruises to Add to Your Bucket List
1. The Ease of Travel from Place to Place
Cruising in Europe means an opportunity to visit several different places over a relatively short period of time in a low stress way. Families on a European cruise need only unpack once and the ship will transport them to several destinations.
This ease of travel from place to place is one of the greatest benefits for harried parents who might not otherwise consider foreign travel with their kids due to the logistics of transporting family and luggage from point A to point B.
On our Mediterranean cruise, we boarded the Celebrity Equinox in Rome and visited six ports in Greece, Turkey and Italy over the course of an 11 night cruise. There was no way we could have seen that many different places on our own in less than two weeks while maintaining our sanity.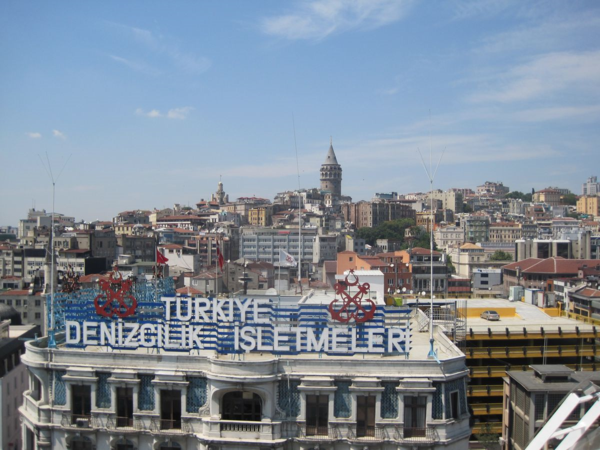 2. Payment in U.S. or Canadian Dollars
North American residents pay for their cruise vacation in Europe up front in either U.S. or Canadian dollars. This means that cruisers don't need to worry about currency fluctuations once the cruise has been paid for as the out-of-pocket expenses that they will have in Europe will mostly be purchases made while ashore in each port. It's helpful to have that reassurance that the cost of a trip isn't going to increase dramatically based on what is happening in the currency markets.
3. The Oboard Experience
Staying aboard a cruise ship while sailing the Mediterranean might not offer the same cultural experience as a land-based vacation but that can be a selling point for families who haven't travelled abroad before and are worried the kids might not adapt well. Returning to a familiar environment where English is spoken can provide the comfort level that some need.
Mainstream cruise lines also have great facilities for the kids with fun and educational programming that provides them with an opportunity to have social time with their peers and which allows parents to spend some time together without the kids.
Families with picky eaters are grateful for the familiar food choices that will please their kids and the extensive onboard entertainment options means that there is no chance that anyone will ever announce that they are bored.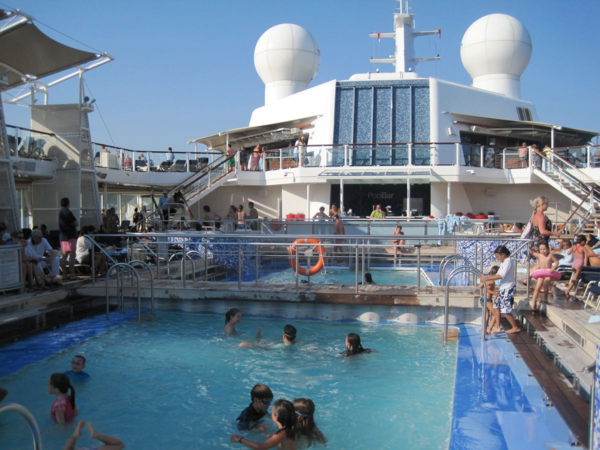 4. History Brought to Life
Mediterranean cruises are a great educational experience as they include ports that will bring ancient history and civilizations to life for everyone in the family.
In Athens, Greece a family can visit the Acropolis to see the Parthenon and other temples; in Kusadasi, Turkey travel to Ephesus to experience one of the best-preserved classical cities in the Mediterranean (or in the words of our younger daughter "see where Cleopatra used to hang out"); and in Rome stroll through the Forum and imagine gladiators doing battle in the Colosseum.
Seeing these ancient sites for oneself has a far greater impact than reading about them in a textbook.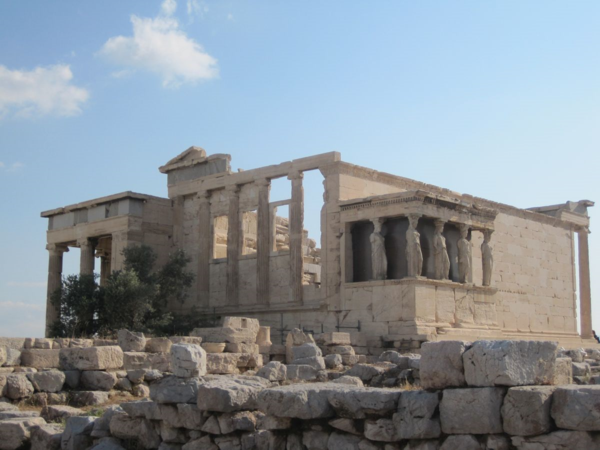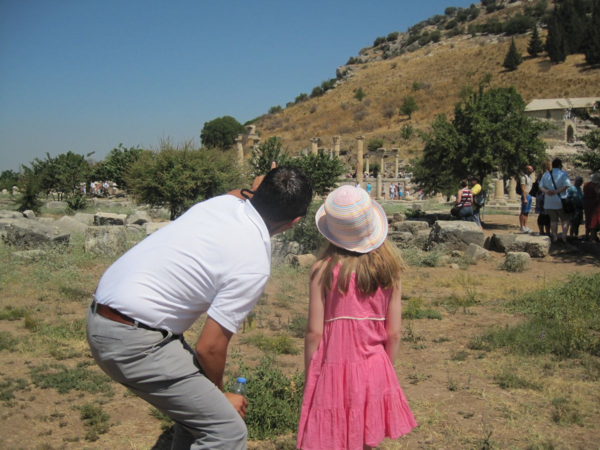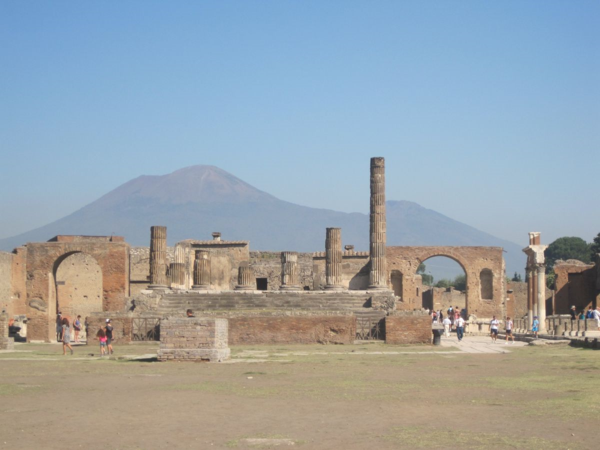 5. The Opportunity to Experience Other Cultures
Kids on a Mediterranean cruise will benefit from the general exposure to other languages and ways of life while visiting countries such as Italy, Greece, Turkey, Spain, France and Croatia. Several of the ports of call also provide the opportunity to visit some of the world's great museums, art galleries and cultural sites such as the Vatican, the Blue Mosque, or the Uffizi Gallery.
Booking a tour with a kid-friendly guide is the best way to get the most out of a visit to many of these attractions. Our family also enjoyed learning more about local traditions at a pizza-making class in Sorrento, Italy and a hands-on pottery demonstration in Istanbul, Turkey.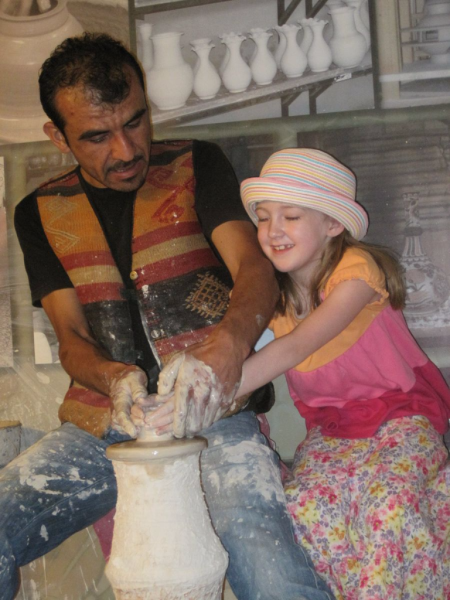 6. Spectacular Weather and Beautiful Beaches
Summer time in the Mediterranean means one spectacular hot, sunny day after another without the risk of hurricanes that there is in the Caribbean. I don't believe we felt even a single drop of rain during our two weeks in the Mediterranean and there was rarely even clouds in the sky. Choosing a cruise that includes stops in the Greek Islands will pretty much guarantee some fabulous family beach days which is also a welcome break from the intensive sightseeing in the city ports.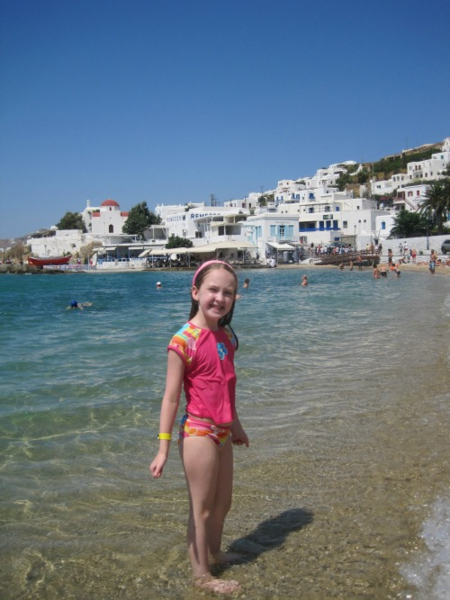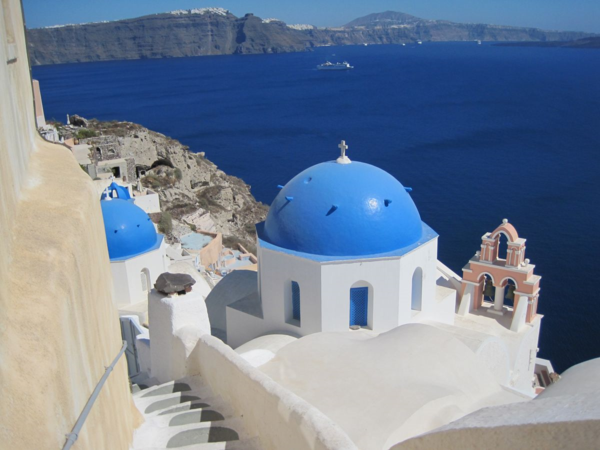 7. Delicious Food
There are few places in the world where the food is as delicious as it is in the Mediterranean. Pasta, pizza, gelato – it doesn't get much better than this and even the pickiest of eaters is going to be thrilled with the selection.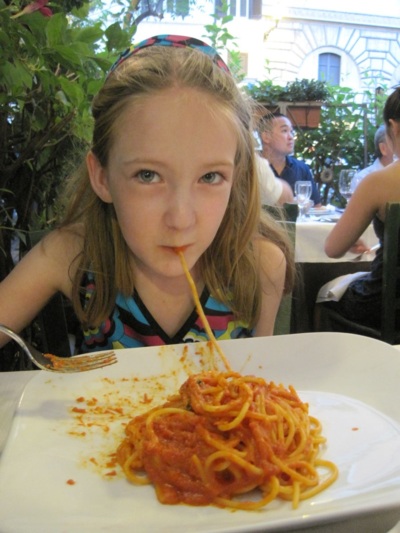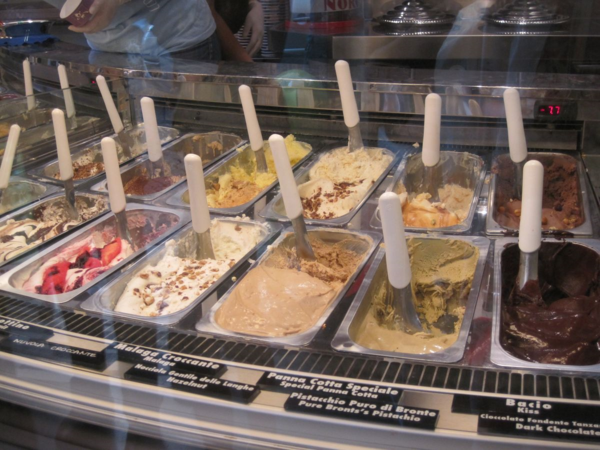 Cruising is a great way to vacation with kids and the Mediterranean can be the perfect choice for families looking for a different sort of cruise.
Tips for Planning a Family Mediterranean Cruise
Here are a few tips to help in planning your family's Mediterranean cruise.
Check out Cruise Critic during the planning process for tips and information from other cruisers and to meet other families who will be on your cruise.

Families travelling from North America should plan to arrive at least one night if not two or three prior to boarding whenever possible. Arriving at least one day ahead of time will reduce the worry that a flight delay could mean missing the ship. Arriving two or three days ahead will mean that any delayed luggage will catch up to you before boarding the ship and it will also give family members a chance to recover from jet lag so that they are able to hit the ground running when the cruise starts.

Cruising in Europe involves just getting a taste of many fabulous destinations so, whenever possible, plan to spend a couple of days pre- or post-cruise to explore a bit more.

Take advantage of sea days to relax a bit. The pace of a Mediterranean cruise can be a lot more hectic than a Caribbean cruise and you want to have enough energy for sightseeing on port days.

Consider exploring on your own especially in the ports where the ship is docked or anchored in the centre of the action. It's amazing what you will find sometimes if you are just wandering.

I recommend hiring private guides instead of booking shore excursions through the cruise line in most instances. A private tour guide is generally not much more expensive for a group than the cost of purchasing the shore excursion for several people and you will have the ability to tailor the tour to suit your family's needs.

Plan plenty of breaks over the course of the day particularly when travelling in the heat of a Mediterranean summer. Ice cream and gelato will go a long way to improving the mood when everyone is hot and tired. Be sure to drink plenty of water as well to stay hydrated and don't forget the sunscreen.