Our family has cruised six times and find that it is a style of vacation that can appeal to everyone. Here is a list of our pros and cons of cruising as a family vacation.
Have you ever thought about going on a family cruise and wondered whether you could do it without losing someone overboard? Or fretted that your kids would be out of place among a boat load of senior citizens playing shuffleboard and bingo?
There's no need to worry as the mainstream lines have transformed themselves over the last few years. Several have become family-friendly floating resorts as they try to woo family travelers and even if your taste runs more to the elegant ships than the party ships you are likely to find that your family is being heartily welcomed to the world of cruising.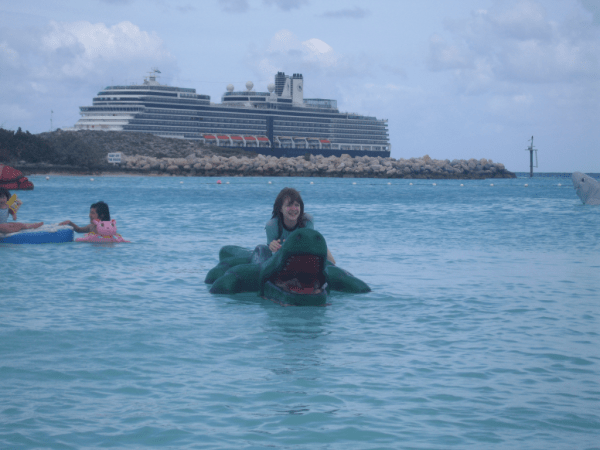 This post may contain affiliate links. If you click an affiliate link and make a purchase then Gone with the Family will receive a small commission at no additional cost to you.
We have completed seven cruises and, although I was a bit hesitant the first time, it has turned out to be a style of vacation that our entire family enjoys. Our experience with cruising is quite broad. We have cruised the Eastern, Western and Southern Caribbean, Alaska, the Baltics and the Mediterranean. We have cruised with grandparents and on our own. We have sailed on Disney, Holland America, Princess and Celebrity. 
We have cruised with our daughters from toddlers to teens and over the years since we first cruised (in 2006), I have formed a number of opinions about the advantages and disadvantages of cruising as a family vacation and have drawn some definite conclusions about how and where I am willing to cruise.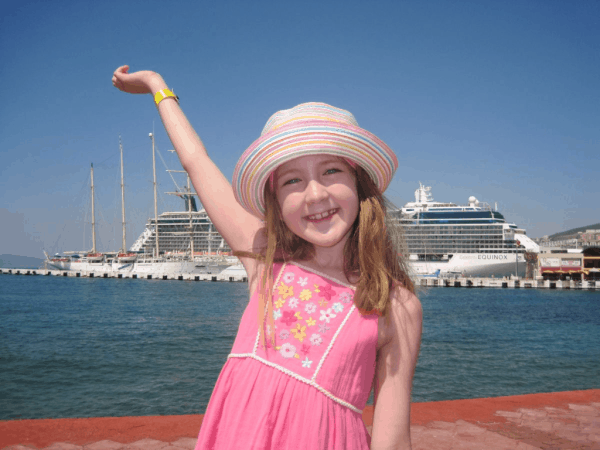 Advantages of a Cruise Vacation
1. Transportation:
A cruise ship can be an excellent mode of transportation either for getting to or between distant locations. For example, our family went to Alaska a few years ago. We sailed for 7 days northbound on the Diamond Princess (stopping in Ketchikan, Juneau and Skagway) and then spent an additional 5 days traveling by rail as far north as Fairbanks (spending 2 days in Denali Park). It would have been impossible to cover the same amount of territory in the same amount of time if the Vancouver to Anchorage portion of the trip had not been by ship.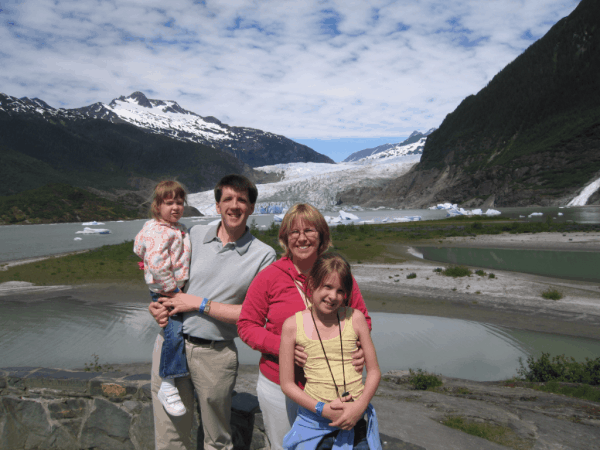 2. Unpack Once:
One of the primary advantages of a cruise vacation is that a number of destinations can be visited without the inconvenience of having to pack and unpack with each change of locale. This is a big advantage with kids who appreciate settling in to one room for the duration of a holiday.
3. Unique Destinations:
A cruise may provide an opportunity to visit destinations that you might not otherwise choose and introduce you to places that you would like to return. For example, when we cruised in the Baltics on the Emerald Princess we started in Denmark and visited Sweden, Finland, Russia, Estonia, Poland and Norway.
It is unlikely that I would have selected any of those countries for a land-based vacation prior to our cruise and through our exposure we discovered that we would love to go back to Sweden and Norway to spend more time.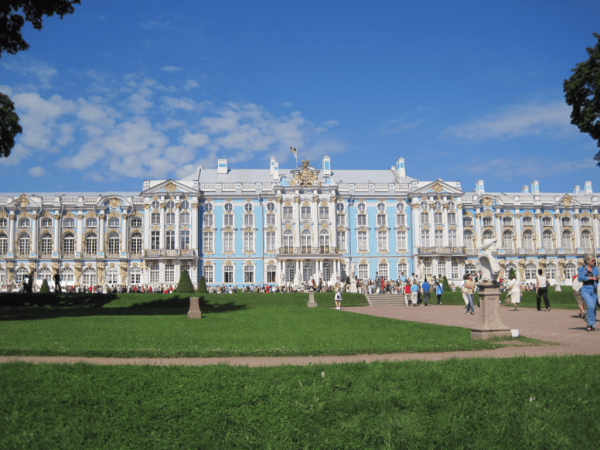 4. Kids Clubs:
Neither of my daughters have ever used a Kids Club at a land-based resort, however, they both frequent them on cruises. The girls have made extensive use of the facilities on Princess, Holland America and Celebrity. This gives them a chance to socialize with kids their own age and also gives Mom and Dad some time together.
On port days the girls will head to the Kids club after we have finished dinner and on sea days they will typically spend as much time as possible there. Technology now allows them to keep in touch with these new friends from around the world even after we have returned home.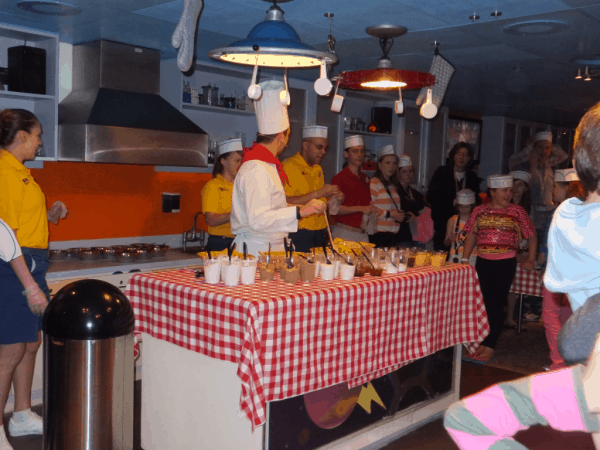 5. Payment in U.S. or Canadian Currency:
Payment for a cruise vacation is made ahead of time in either U.S. or Canadian currency. This is advantageous to North American passengers who no longer need to worry about the effect that currency fluctuations (particularly in Europe) will have on the overall cost of their vacation.
6. Entertainment:
All of the major cruiselines offer a variety of forms of entertainment. Sometimes the shows can be enjoyed by the whole family while other times parents may attend a show while the kids go to the kid's club to hang out with their peers. Either way it's nice to have something to do in the evening whether it's watching a Broadway-style show, getting caught up in a magician's tricks or sitting and sipping a glass of wine while listening to a pianist in one of the lounges.
7. Multi-generational Travel:
Cruising works particularly well for multi-generational travel. The range of activities available on-board allows grandparents, parents, and kids to entertain themselves during the day if they like, participate together in some activities or excursions, and congregate for a family dinner in the main dining room at the end of the day. Everyone is able to pursue their own interests, have time to themselves, and still have quality family time together.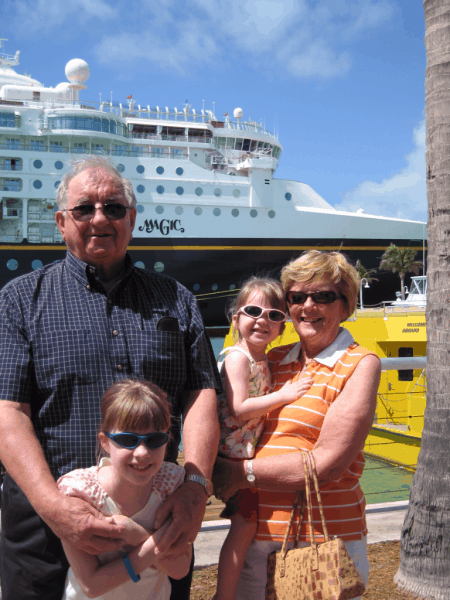 8. Food:
The fact that most meals are taken aboard the ships can be an advantage for families – particularly those with picky eaters. Food choices tend to be familiar so that the less adventurous members of the family can find something to eat. Apart from specialty restaurants, and sometimes items like gelato or ice cream, the food on-board the ship is included in the cost of the cruise.
Food is readily available – not necessarily a good thing for some of the adults on-board who have trouble limiting themselves – but with kids like mine that prefer to graze all day (eating a little every 45 minutes or so) it's nice to have food available.
As well, most cruise lines now have some form of freestyle dining that allows families to eat when they choose rather than at traditional seating times.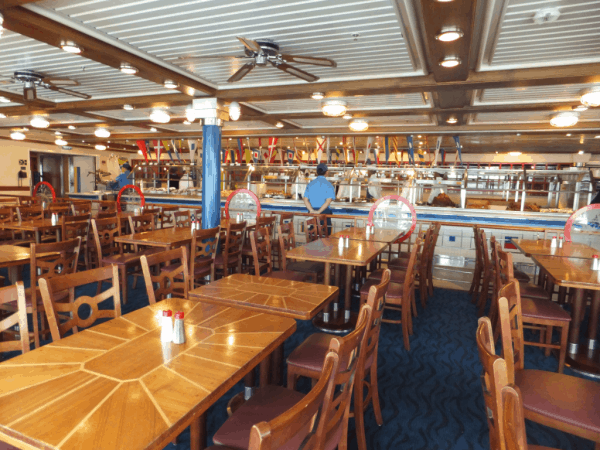 9. Guest Speakers:
Some of the cruise lines that we have been on have had interesting guest speakers conducting talks about the ports that were being visited. Most notably, John Lawrence on the Emerald Princess who discussed each upcoming port in great detail. He provided information on the key sites in each port as well as outlining step by step how passengers could see the port on their own.
The Smithsonian Lectures on the Celebrity Equinox in the Mediterranean were also extremely informative. On our Alaskan cruise one of the guest speakers was Iditarod champion Libby Riddles who, to the delight of the children aboard, brought a couple of her sled dogs with her.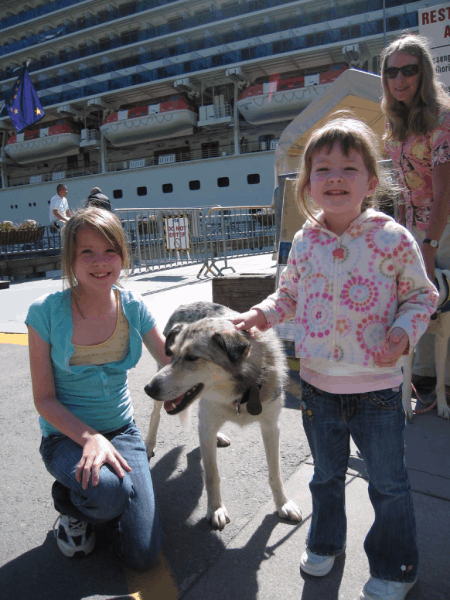 Disadvantages of a Cruise Vacation
1. Limited Time in Port:
The biggest disadvantage to a cruise, in my opinion, is the limited amount of time available in each port. A few cruises have overnight stays in certain ports but the vast majority of the time there is only 8 hours or so available.
This isn't an issue for most Caribbean cruisers, however, it is impossible to fully experience a European city in one day. One of the most frustrating days for me on a cruise was the day that we were in Oslo, Norway when we had only about 5 hours or so to see the city. I fell in love with Oslo and wanted to spend so much more time exploring.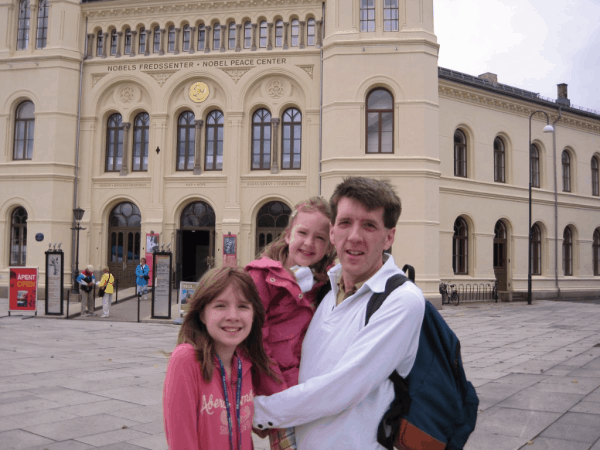 2. Distance from Port to City:
On some cruises, particularly in the Mediterranean, the city that you are visiting may, in fact, be some distance from the port where the ship docks. Cruisers then need to use some form of transportation to get into the city and then back to the ship and the commute cuts down on the time available for sightseeing.
3. Crowds:
Mainstream cruise ships often carry 2000-3000 passengers and the mega ships carry double that. As well, there may be several cruise ships in port on the same day. This can mean very crowded sites during the high season.
This may be a deterrent to many, however, keep in mind that if you are traveling during the high season then tourist sites are going to be busy whether you are a cruise ship passenger or not.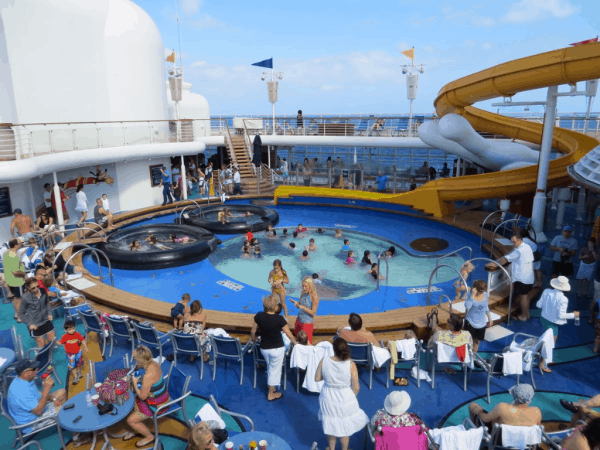 4. Small Rooms:
By North American hotel standards the rooms on cruise ships are quite small although often carefully planned to make the best use of the available space. A solution for families is to book a suite, connecting rooms or a balcony and an inside room that are across from each other.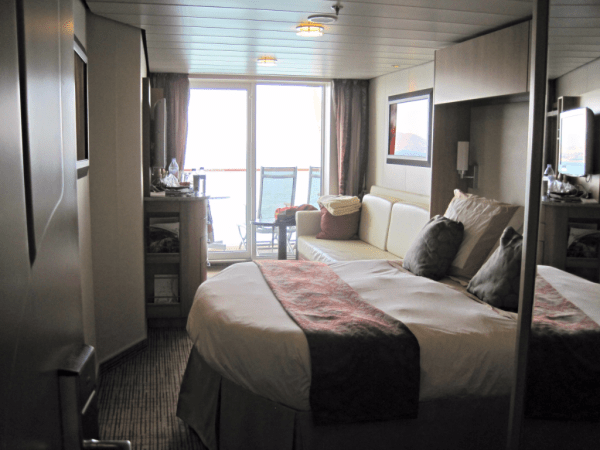 5. Seasickness:
The potential for seasickness can be a significant drawback for many people although there are now a number of simple remedies available. We always travel with Gravol, just in case, but have not had to use it yet.
People who are prone to motion sickness often wear a patch to counteract their nausea.
Certain itineraries and seasons for cruising are also more likely to have rougher seas. As well smaller boats are more susceptible to motion.
Our experience has been that most of the time the motion of the ship is hardly noticeable. The only time that we have ever had rough seas was a March cruise from Fort Lauderdale when the seas were rough during the Atlantic portion of the journey.
6. Dining on Ship:
The fact that most meals are eaten on-board the ship can be a disadvantage as well since cruisers miss out on the opportunity to sample local cuisine.
Cruises are growing rapidly in popularity with families because they truly can offer something for everyone. Cruises can be as short as a weekend or they can sail the world for months on end. They can be floating fun parks or they can transport you to the other side of the world to learn about ancient history and culture. Cruises can be upscale or casual. A ship may be not much larger than a yacht or it could be a floating city. It seems that regardless of one's style of travel that it is possible to find a cruise that will satisfy.
After having cruised seven times, I have concluded that I would continue to cruise for the following reasons: (1) I view a cruise as a reconnaissance mission to determine whether or not I would want to travel to a particular destination and spend more time; and (2) there are certain specific trips that I would like to take that can really only be done via ship.
My wish list for cruise vacations includes the Galapagos Islands, the Norwegian Fjords and a river cruise on the Danube. Hopefully we can fit all three into our family travel plans in the not too distant future.
Related Articles
15 Reasons to Set Sail on an Alaskan Cruise
Tips for First-Time Disney Cruisers: 8 Things to Know Before You Sail
12 Spectacular Cruises to Add to Your Bucket List
7 Reasons to Take Your Kids on a Mediterranean Cruise
Cruising on the Celebrity Equinox with Kids 
A Day in Paradise: Princess Cays in Photos