Top picks for your summer reading – a travel inspired list that will fuel your wanderlust.
If you're anything like me then you do much more reading during summer months than you do the rest of the year. My family's busy schedules lighten up a bit during the summer and with less time spent running to and fro to various activities I find I have more time to get lost in a book. In fact, we're leaving later this month for a 10 day stay at a cottage with no WIFI and I plan to work my way through a stack of books that I haven't had time for all year!
I read a variety of books but my favourites are those with a strong sense of place that fuel my wanderlust. It doesn't matter whether the book is serious or funny, whether it's set in present day or whether it's historical fiction – I just love a good read that transports me to another place and inspires me to visit or to return if I have already been.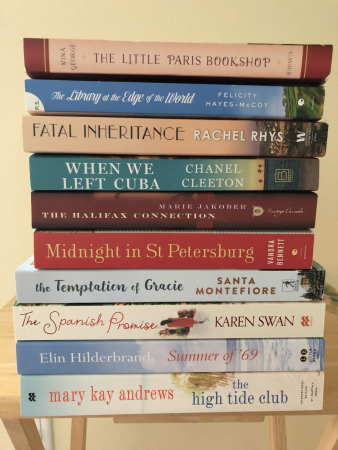 My list of top picks for books to read this summer is comprised of books I have read recently, books I read years ago and plan to read again, and books that I have recently purchased for my stack of summer reading. Some are beach reads and some deal with more serious subject matter. I could go on and on with a list such as this but I decided to limit it to just 21 as that is approximately 2 books a week during summer break. Let me know if you have a favourite or two that I should add to my summer reading list.
We are a participant in the Amazon Services LLC Associates Program, an affiliate advertising program designed to provide a means for us to earn fees by linking to Amazon.com and affiliated sites. As an Amazon affiliate I earn from qualifying purchases.