Top picks for your summer reading – a travel inspired list that will fuel your wanderlust.
If you're anything like me then you do much more reading during summer months than you do the rest of the year. My family's busy schedules lighten up a bit during the summer and with less time spent running to and fro to various activities I find I have more time to get lost in a book. In fact, we're leaving later this month for a 10 day stay at a cottage with no WIFI and I plan to work my way through a stack of books that I haven't had time for all year!
I read a variety of books but my favourites are those with a strong sense of place that fuel my wanderlust. It doesn't matter whether the book is serious or funny, whether it's set in present day or whether it's historical fiction – I just love a good read that transports me to another place and inspires me to visit or to return if I have already been.
My list of top picks for books to read this summer is comprised of books I have read recently, books I read years ago and plan to read again, and books that I have recently purchased for my stack of summer reading. Some are beach reads and some deal with more serious subject matter.
I could go on and on with a list such as this but I decided to limit it to just 21 as that is approximately 2 books a week during summer break. Let me know if you have a favourite or two that I should add to my summer reading list.
ADDITIONAL RECOMMENDATIONS FOR YOUR SUMMER READING LIST
35 of the Best Books To Read Summer 2023
35 of the Best Summer Beach Reads for 2022
29 of the Best Summer Beach Reads for 2021
21 Travel Inspired Books for Your Summer 2020 Reading List
We are a participant in the Amazon Services LLC Associates Program, an affiliate advertising program designed to provide a means for us to earn fees by linking to Amazon.com and affiliated sites. As an Amazon affiliate I earn from qualifying purchases.
This post may contain affiliate links. If you click an affiliate link and make a purchase then we receive a small commission at no additional cost to you.
1. The Spanish Promise by Karen Swan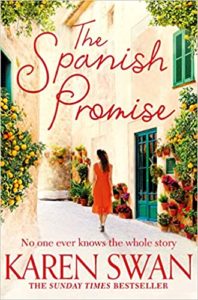 Setting: Madrid, Spain
According to Amazon, "The Spanish Promise is a sizzling summer novel from Sunday Times bestselling author Karen Swan, set in the vibrant streets of Madrid". That description along with the dreamy book cover was enough to put this book at the top of my cottage reading list. Spain has been on my travel wish list for some time and this novel might provide the inspiration I need to finally book that trip to Madrid and Barcelona!
In this novel, one of Spain's richest men is dying and his family is shocked to discover that he plans to give away his wealth to a young woman they have never even heard of. Charlotte Fairfax is asked to travel to the troubled family's home in Spain to get to the bottom of the mysterious bequest and as she digs into the prominent family's history she unearths a dark and shocking past and long-buried secrets come to light. Sounds like a great page turner for me to enjoy while sipping my morning coffee on the cottage deck!
2. The Colony of Unrequited Dreams by Wayne Johnston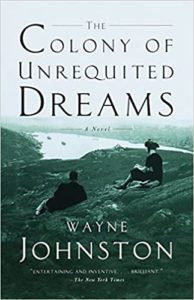 Setting: Newfoundland
A mystery and a love story spanning five decades, The Colony of Unrequited Dreams is an epic portrait of passion and ambition, set against the beautiful, brutal landscape of Newfoundland. In this widely acclaimed novel, Johnston has created two of the most memorable characters in recent fiction: Joey Smallwood, who claws his way up from poverty to become Newfoundland's first premier; and Sheilagh Fielding, who renounces her father's wealth to become a popular columnist and writer, a gifted satirist who casts a haunting shadow on Smallwood's life and career.
I first read Johnston's epic historical novel prior to our trip to Newfoundland and I was captivated by the story and the characters. The book is an excellent introduction to the historical, political and natural landscape of Canada's youngest province.
If you finish this book and find yourself wanting more, you will be happy to know that Johnston followed up this novel several years later with The Custodian of Paradise which delves into Sheilagh Fielding's story more thoroughly and, in 2018, published First Snow, Last Light which also features her as a central character.
3. The Little Paris Bookshop by Nina George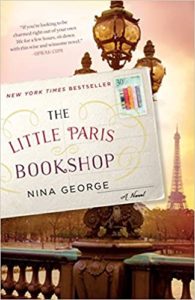 Setting: France
Monsieur Perdu calls himself a literary apothecary. From his floating bookstore in a barge on the Seine, he prescribes novels for the hardships of life. Using his intuitive feel for the exact book a reader needs, Perdu mends broken hearts and souls. The only person he can't seem to heal through literature is himself; he's still haunted by heartbreak after his great love disappeared. She left him with only a letter, which he has never opened. After Perdu is finally tempted to read the letter, he hauls anchor and departs on a mission to the south of France, hoping to make peace with his loss and discover the end of the story.
I first read this charming international bestseller a couple of years ago and I think I might read it again this summer as it features two of my favourite places – Paris and the south of France!
4. Next Year in Havana by Chanel Cleeton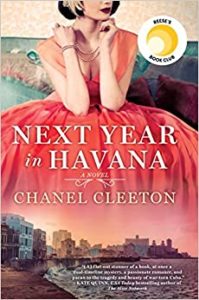 Setting: Cuba
After the death of her beloved grandmother, a Cuban-American woman travels to Havana, where she discovers the roots of her identity – and unearths a family secret hidden since the revolution. Arriving in Havana, Marisol comes face-to-face with the contrast of Cuba's tropical, timeless beauty and its perilous political climate. When more family history comes to light and Marisol finds herself attracted to a man with secrets of his own, she'll need the lessons of her grandmother's past to help her understand the true meaning of courage.
I read this beautiful novel just a couple of months ago and could not put it down! The book alternates between the story of Marisol in present day Cuba and that of her grandmother during the revolution in 1958. It's a story of family secrets and of love but the political history of Cuba is central to the narrative as well. As a Canadian, there are no restrictions to prevent me from travelling to Cuba but for some reason I have yet to visit and it has remained on my travel wish list – it's time to plan that trip!
5. When We Left Cuba by Chanel Cleeton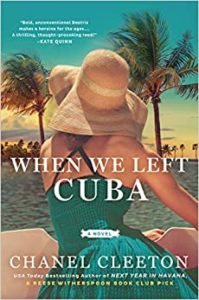 Setting: Cuba and United States
In 1960s Florida, a young Cuban exile will risk her life – and heart – to take back her country in this exhilarating New York Times bestselling historical novel from the author of Next Year in Havana. The Cuban Revolution took everything from sugar heiress Beatriz Perez – her family, her people, her country. Recruited by the CIA to infiltrate Fidel Castro's inner circle and pulled into the dangerous world of espionage, Beatriz is consumed by her quest for revenge and her desire to reclaim the life she lost.
I was so excited when I was browsing our local bookstore the other day and found this novel – I had no idea that Ms. Cleeton had published another book about the Cuban Perez family. This one follows the life of Marisol's free-spirited Aunt Beatriz during the time of the Cuban Revolution and I cannot wait to read her story!
6. The Library at the Edge of the World by Felicity Hayes-McCoy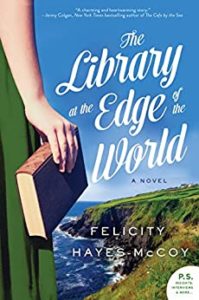 Setting: A fictional village on Ireland's west coast
As she drives her mobile library van between villages of Ireland's West Coast, Hanna Casey tries not to think about a lot of things. Like the sophisticated lifestyle she abandoned after finding her English barrister husband in bed with another woman. Or that she's back in Lissbeg, the rural Irish town she walked away from in her teens, living in the back bedroom of her overbearing mother's retirement bungalow. Or, worse yet, her nagging fear that, as the local librarian and a prominent figure in the community, her failed marriage and ignominious return have made her a focus of gossip.
This is another book that I read this spring and couldn't put down – partly because I adore anything that is set in Ireland! It's the charming story of a woman in her '40s who returns to her hometown to try and rebuild her life after a devastating marital break-up and you can't help but root for her in the struggle to regain her independence and find happiness again.
7. The High Tide Club by Mary Kay Andrews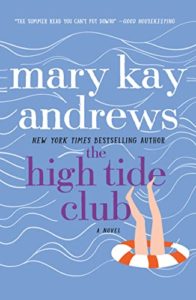 Setting: A fictional island off the coast of Georgia
Eccentric heiress Josephine Warrick is a notorious recluse – reigning over a crumbling pink mansion on a private island, she is rarely seen but often whispered about. So when Brooke Trappnell, a struggling young lawyer, is summoned to the island, she has no idea what's in store. As she listens to Josephine recount a story of old friendship, dark secrets, and a mysterious murder, it becomes clear that Brooke is there for two reasons: to help protect Josephine's beloved island, and to make amends with her old friends, the skinny-dipping, secret-keeping girls of the The High Tide Club.
I read this New York Times bestseller last summer and it's a great summer read – a compelling page turner with a fascinating mystery at the heart of the story. Most of the novel takes place on the fictional island of Talisa, a barrier island off the coast of Georgia, but is based on one of the actual islands.
8. Fatal Inheritance by Rachel Rhys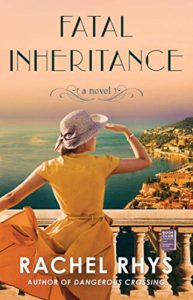 Setting: French Riviera
London 1948: Eve Forrester is stuck in a loveless marriage, isolated in her gray and gloomy house when out of the blue, she receives a letter. A wealthy stranger has left her a mysterious inheritance but in order to find out more, she must travel to the glittering French Riviera. There, Eve discovers she has been bequeathed an enchanting villa overlooking the Mediterranean Sea and suddenly, life could not be more glamorous. But while she rubs shoulders with the rich and famous, challengers to her unexplained fortune begin to emerge – challengers who would love to see Eve gone forever. Alone in paradise, Eve must unlock the story behind her surprise bequest – before her unexpected twist of fate turns deadly…
I don't know about you but the combination of historical fiction, suspense and the south of France gets a definite yes from me! I picked this up at the bookstore yesterday and can't wait to dive into it over summer vacation – it sounds like a great read!
9. Summer of '69 by Elin Hilderbrand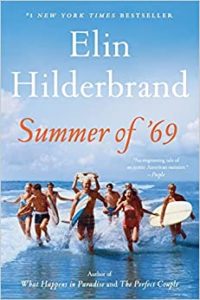 Setting: Nantucket
It's 1969, and for the Levin family, the times they are a-changing. Every year the children have looked forward to spending the summer at their grandmother's historic home in downtown Nantucket. But like so much else in America, nothing is the same: Blair, the oldest sister, is marooned in Boston, pregnant with twins and unable to travel. Middle sister Kirby, caught up in the thrilling vortex of civil rights protests and determined to be independent, takes a summer job on Martha's Vineyard. Only-son Tiger is an infantry soldier, recently deployed to Vietnam. Thirteen-year-old Jessie suddenly feels like an only child, marooned in the house with her out-of-touch grandmother and her worried mother, each of them hiding a troubling secret. As the summer heats up, Ted Kennedy sinks a car in Chappaquiddick, man flies to the moon, and Jessie and her family experience their own dramatic upheavals along with the rest of the country.
Elin Hilderbrand is well-known for her summer romance novels that are set on or near Nantucket Island (and I have read a couple of them) but this is her first historical novel. I also picked this up while shopping yesterday and I'm looking forward to what I'm sure will be a good read and I'm interested to see how she weaves the historical elements into this family story.
10. Midnight in St. Petersburg by Vanora Bennett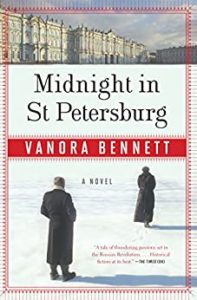 Setting: St. Petersburg, Russia
Set in St Petersburg during the Russian Revolution, a sweeping novel of love and loss as one woman fights for her own personal survival – and for the man she loves.
I purchased this book by acclaimed author, Vanora Bennett, several years ago planning to suggest it as a book club read but put it on my shelf and forgot about it instead. I picked it up again a few days ago and decided to add it to my summer reading list. We visited St. Petersburg for a couple of days on a cruise several years ago and I would love to learn more about the beautiful city by way of this historical novel.
11. A Time of Love and Tartan by Alexander McCall Smith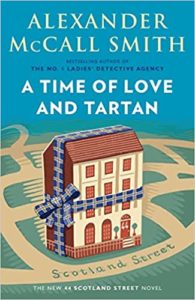 Setting: Edinburgh, Scotland
When Pat accepts her narcissistic ex-boyfriend Bruce's invitation for coffee, she has no idea of the complications in her romantic and professional life that will follow. Meanwhile, Matthew, her boss at the art gallery, attracts the attention of the police after a misunderstanding at the local bookstore. Whether caused by small things such as a cup of coffee and a book, or major events such as Stuart's application for promotion and his wife Irene's decision to pursue a PhD in Aberdeen, change is coming to Scotland Street. But for three seven-year-old boys – Bertie Pollock, Ranald, and Big Lou's foster son, Finlay – it also means getting a glimpse of perfect happiness.
I am a huge fan of Alexander McCall Smith and have lost count of how many of his novels I have read between the various series – The No. 1 Ladies Detective Agency, 44 Scotland Street, and the Sunday Philosophy Club. His books are both witty and charming and they are a guilty pleasure of mine. A Time of Love and Tartan is the latest installment in the popular 44 Scotland Street series set in the Old Town of Edinburgh, Scotland and I can't wait to catch up on some of my favourite literary characters.
12. I Let You Go by Clare Mackintosh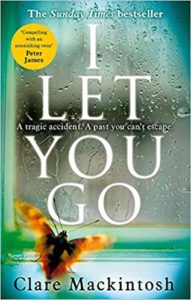 Setting: Wales
On a rainy afternoon, a mother's life is shattered as her son slips from her grip and runs into the street… I Let You Go follows Jenna Gray as she moves to a ramshackle cottage on the remote Welsh coast, trying to escape the memory of the car accident that plays again and again in her mind… At the same time, the novel tracks the pair of Bristol police investigators trying to get to the bottom of this hit-and-run. As they chase down one hopeless lead after another, they find themselves as drawn to each other as they are to the frustrating, twist-filled case before them.
I read this blockbuster novel which was one of The New York Times Book Review's 10 Best Crime Novels of 2016 last year and could not put it down from start to finish. If your idea of a good read is a suspense novel then this book is for you. It might also inspire you to visit the coast of Wales which we just did this past spring break. I'm inclined to read the book again just for the setting even though I already know the ending!
13. A Year in Provence by Peter Mayle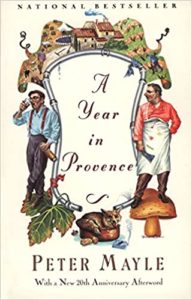 Setting: Provence, France
In this witty and warm-hearted account, Peter Mayle tells what it is like to realize a long-cherished dream and actually move into a 200-year-old stone farmhouse in the remote country of the Lubéron with his wife and two large dogs. He endures January's frosty mistral as it comes howling down the Rhône Valley, discovers the secrets of goat racing through the middle of town, and delights in the glorious regional cuisine. A Year in Provence transports us into all the earthy pleasures of Provençal life and lets us live vicariously at a tempo governed by seasons, not by days.
I first read this bestseller prior to spending two weeks in Provence with my family in 2010 and decided to reread it earlier this month. I think I enjoyed it even more the second time through as Mayle's account of his first year in the Luberon brings back all of my happy memories of the vacation we spent there. It's a great read whether you have been to Provence, are planning a visit or simply enjoy a good travelogue.
14. The Summer Guests by Mary Alice Monroe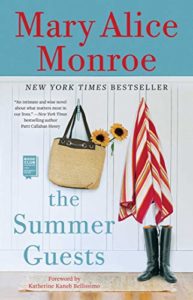 Setting: North Carolina
Late August is a beautiful time on the Southern coast—the peach trees are ripe, the ocean is warm, and the sweet tea is icy. A perfect time to enjoy the rocking chairs on the porch. But beneath the calm surface bubbles a threat: it's also peak hurricane season. When a hurricane threatens the coasts of Florida and South Carolina, an eclectic group of evacuees flees for the farm of their friends Grace and Charles Phillips in North Carolina…During the course of one of the most challenging weeks of their lives, relationships are put to the test as the evacuees are forced to confront the unresolved issues they have with themselves and with each other. But as the storm passes, they realize that what really matters isn't what they brought with them to the mountains. Rather, it's what they'll take with them once they leave.
This recently published novel is the latest book by Mary Alice Monroe, the New York Times bestselling author of the Beach House series. I haven't read any of her other books but I was drawn to this one because, as much as I love visiting Florida, I have always wondered what it must be like to live where there is a risk of hurricanes and how people deal with that threat. This promises to be a heartwarming tale and a great summer read.
15. The Chelsea Girls by Fiona Davis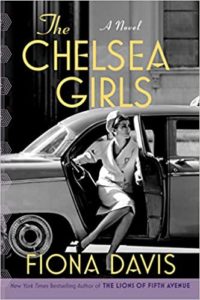 Setting: New York City
The bright lights of the theater district, the glamour and danger of 1950s New York, and the wild scene at the iconic Chelsea Hotel come together in a dazzling new novel about a twenty-year friendship that will irrevocably change two women's lives.
This book which is scheduled to be released on July 30th has a little bit of everything that I love – New York City, political intrigue, Broadway theatre, and a fabulous hotel – so I have pre-ordered and can't wait to read it!
16. Montauk by Nicola Harrison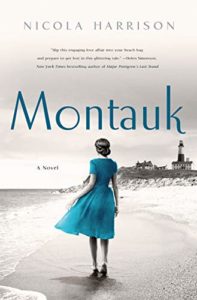 Setting: Montauk, New York
An epic and cinematic novel by debut author Nicola Harrison, Montauk captures the glamour and extravagance of a summer by the sea with the story of a woman torn between the life she chose and the life she desires. For three months, this humble fishing village will serve as the playground for New York City's wealthy elite. Beatrice Bordeaux was looking forward to a summer of reigniting the passion between her and her husband, Harry. Instead, tasked with furthering his investment interest in Montauk as a resort destination, she learns she'll be spending twelve weeks sequestered with the high society wives at The Montauk Manor – a two-hundred room seaside hotel – while Harry pursues other interests in the city.
This novel by a first-time author is set in the glamorous resort town of Montauk, Long Island in 1938 and promises to be a great beach read for anyone who is a fan of historical fiction. I took one look at it and knew that it needed to be on my summer reading list!
17. The Temptation of Gracie by Santa Montefiore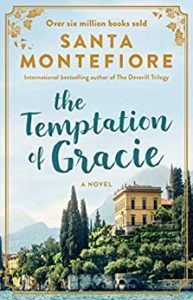 Setting: Tuscany, Italy
When Gracie Burton stumbles upon an advertisement for a week-long cookery course in the heart of the Tuscan countryside, she cannot resist, and ploughs her life savings into the trip. Her only family – daughter Carina and granddaughter Anastasia – are hesitant about what has prompted this seemingly random venture. But they have no sense of Gracie's past; of what could possibly be calling her to Italy. They have no idea that Gracie is harbouring the secret of an extraordinary life that preceded them.
This is another novel purchased on yesterday's book shopping spree! The theme of this latest novel by bestselling author, Santa Montefiore, is that you should never give up on your dreams no matter how long you hold onto them. I can't wait to find out more about Gracie and the dreams that have taken her to the Tuscan countryside (a destination that I have always wanted to visit!).
18. A Year in the World by Frances Mayes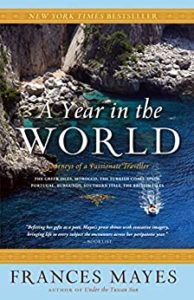 A Year in the World is vintage Frances Mayes – a celebration of the allure of travel, of serendipitous pleasures found in unlikely locales, of memory woven into the present, and of a joyous sense of quest. With her beloved Tuscany as a home base, Mayes travels to Spain, Portugal, France, the British Isles, and to the Mediterranean world of Turkey, Greece, the South of Italy, and North Africa. Weaving together personal perceptions and informed commentary on art, architecture, history, landscape, and social and culinary traditions, Mayes brings the immediacy of life in her temporary homes to readers.
I have had this book by the author of blockbuster hit, Under the Tuscan Sun, on my shelf for years but I have never got around to reading it so I'm packing it for my trip to the cottage and reading it this summer. If you're a fan of Mayes' style of travelogue then you will be pleased to know that her latest book See You in the Piazza was also published earlier this spring and would be a great addition to any summer reading list.
19. Crazy Rich Asians by Kevin Kwan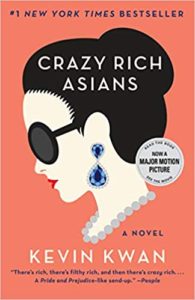 Setting: Singapore
When New Yorker Rachel Chu agrees to spend the summer in Singapore with her boyfriend, Nicholas Young, she envisions a humble family home and quality time with the man she hopes to marry. But Nick has failed to give his girlfriend a few key details. One, that his childhood home looks like a palace; two, that he grew up riding in more private planes than cars; and three, that he just happens to be the country's most eligible bachelor.
This is the first in the Crazy Rich Asians trilogy by Kwan (the others are China Rich Girlfriend and Rich People Problems) and I loved them all! You can't find a better beach read – the stories are hilarious and have everything – love, romance, scheming social climbers and more. The novels are set primarily in Singapore and Hong Kong and have definitely stoked my wanderlust and desire to visit both of these incredible Asian cities. (For visual travel inspiration – watch the film after reading the books!)
20. Anne of Green Gables by Lucy Maud Montgomery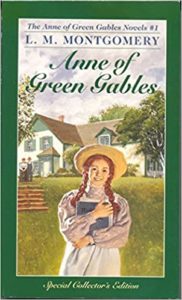 Setting: Prince Edward Island, Canada
I first read Lucy Maud Montgomery's novel Anne of Green Gables when I was 11 or 12 years old and dreamed of someday visiting the land where the spunky redheaded orphan's adventures took place. That dream finally came true about 20 years later on our first family trip to Prince Edward Island and I felt as if I had stepped into the pages of the book and the fictional world of Avonlea. In the years since, we have visited the island a total of 8 times and my daughters have grown up as fans of Anne of Green Gables.
If you're planning a trip to PEI then you should read this book as you'll find that Anne is very important to island tourism. We're returning to Prince Edward Island this summer for the first time in several years so I had to include this family favourite.
I also recently bought a copy of Marilla of Green Gables by Sarah McCoy for my daughter and we're both looking forward to reading this historical novel which imagines the life of Marilla Cuthbert in the years before Anne came to live at Green Gables.
21. The Halifax Connection by Marie Jakober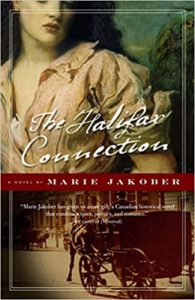 Setting: Montreal and Halifax, Canada
A Canadian counter-intelligence novel with a memorable romance at its heart, The Halifax Connection brings to life 1860s Montreal and Halifax with wit, action and a finale that will leave you breathless. Drawing on actual events, The Halifax Connection captures a fascinating and largely forgotten piece of Canada's history. From the comfortable parlours and ballrooms of the bustling metropolis of Montreal to the back alleyways of the port town of Halifax, to the deadly high seas patrolled by Southern raiders, the novel draws a remarkable picture of Canada in the mid-1800s – its people, its power struggles, its hopes and its dreams.
I bought this book the last time that I was in Halifax several years ago but never got around to reading it (I have a bit of a problem when it comes to bookstores so I have quite a large stack of books in my "to read" pile!). Since I'll be spending a few days in Halifax this summer it has jumped to the top of the pile and I'm looking forward to learning more about this interesting time in early Canadian history.
Pin This For Later