The kids have returned to school, there's a hint of a chill in the air and pumpkin spice lattes are back which can only mean one thing – it's time to plan your fall reading list!
My recommendations for the best books to read fall 2023 include recently published works of contemporary fiction, romance, non-fiction, mystery, and historical fiction that I have read or have on my TBR list for this fall.
So get your cup of tea and cozy blanket ready – it's time to curl up with one of these best books to read fall 2023!
You Might Also Enjoy Reading
22 of the Best Books to Read Fall 2022
29 Books for Your Fall 2021 Reading List
15 Travel Inspired Books for Your Fall 2020 Reading List
15 Books to Read This Fall – A Travel Inspired List (2019)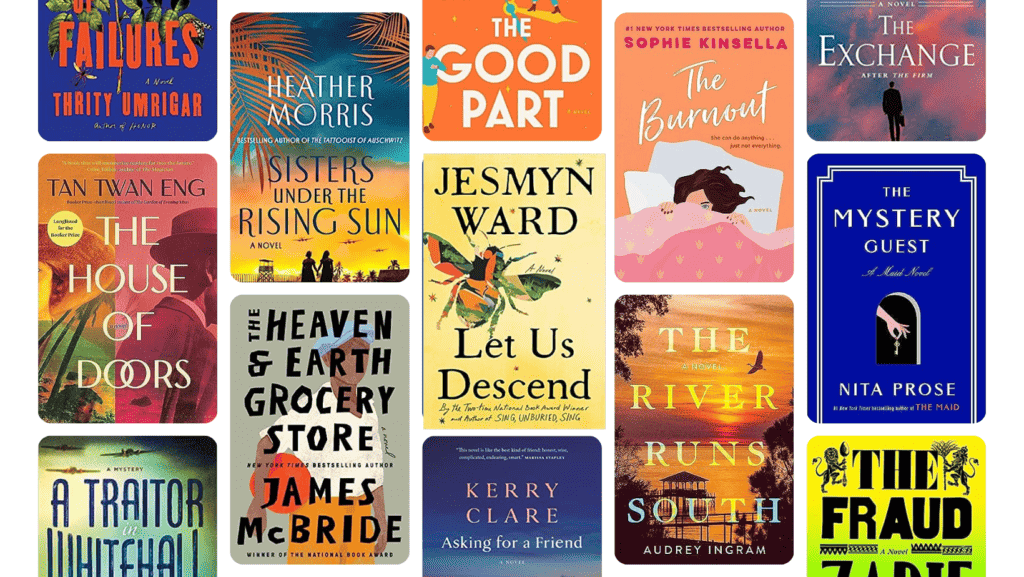 We are a participant in the Amazon Services LLC Associates Program, an affiliate advertising program designed to provide a means for us to earn fees by linking to Amazon.com and affiliated sites. As an Amazon affiliate I earn from qualifying purchases.
This post may contain affiliate links. If you click an affiliate link and make a purchase then we receive a small commission at no additional cost to you.
1. The Fraud by Zadie Smith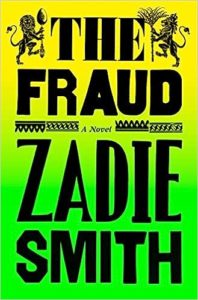 Setting: England
From the Publisher: It is 1873. Mrs. Eliza Touchet is the Scottish housekeeper—and cousin by marriage—of a once-famous novelist, now in decline, William Ainsworth, with whom she has lived for thirty years.

Mrs. Touchet is a woman of many interests: literature, justice, abolitionism, class, her cousin, his wives, this life and the next. But she is also sceptical. She suspects her cousin of having no talent; his successful friend, Mr. Charles Dickens, of being a bully and a moralist; and England of being a land of facades, in which nothing is quite what it seems.

Andrew Bogle, meanwhile, grew up enslaved on the Hope Plantation, Jamaica. He knows every lump of sugar comes at a human cost. That the rich deceive the poor. And that people are more easily manipulated than they realize. When Bogle finds himself in London, star witness in a celebrated case of imposture, he knows his future depends on telling the right story.

The "Tichborne Trial"—wherein a lower-class butcher from Australia claimed he was in fact the rightful heir of a sizable estate and title—captivates Mrs. Touchet and all of England. Is Sir Roger Tichborne really who he says he is? Or is he a fraud? Mrs. Touchet is a woman of the world. Mr. Bogle is no fool. But in a world of hypocrisy and self-deception, deciding what is real proves a complicated task. . . .
2. A Traitor in Whitehall by Julia Kelly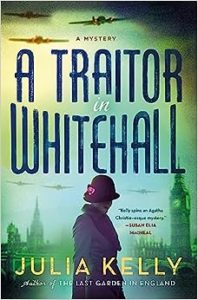 Setting: London, England
Publication Date: October 3, 2023
I love Julia Kelly's historical fiction so was excited to read her latest which is a foray into the mystery genre. A Traitor in Whitehall is set in 1940 London around the start of the Blitz in World War II. Evelyne Redfern has been working at a munitions factory when she is recruited by an old friend of her father to work in the typing pool in Churchill's Cabinet War Rooms (CWR).
Within days of starting her new job, Evelyne stumbles on the body of another secretary and is determined to put her amateur sleuthing skills to work (she's a fan of detective fiction) to solve the crime. She soon teams up with David Poole, a minister's aide who is investigating an information leak from the CWR and believes there might be a link between the murder and the mole who is providing top-secret information to Britain's enemies,
This is an enjoyable read that straddles the line between mystery and cozy mystery. Having visited the CWR a couple of times, I loved the underground setting and could imagine the action taking place there. Evelyne is a fun character – she's a plucky, intelligent young woman who refuses to be limited by gender norms and won't let anyone stand in her way.
It appears that this might be the first in a new "Parisian Orphan" series and a fair bit of the beginning of this book is establishing Evelyne's character and her background particularly the scandalous high-profile divorce of her parents and death of her mother when she was a young girl. Parisian Orphan is the name that was given to young Evelyne by the press. I enjoyed this enough that I'll definitely read the follow-up book to find out how Evelyne's story progresses.
Thank you NetGalley and St. Martin's Press for sending a digital ARC of this book for review consideration. All opinions are my own.
3. The Museum of Failures by Thrity Umrigar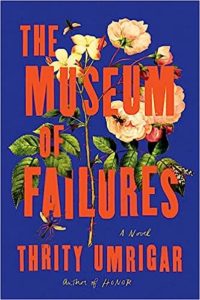 Setting: Bombay (Mumbai), India
Publication Date: September 26, 2023
From the Publisher: When Remy Wadia left India for the United States, he carried his resentment of his cold and inscrutable mother with him and has kept his distance from her. Years later, he returns to Bombay, planning to adopt a baby from a young pregnant girl—and to see his elderly mother again before it is too late. She is in the hospital, has stopped talking, and seems to have given up on life.
Struck with guilt for not realizing just how ill she had become, Remy devotes himself to helping her recover and return home. But one day in her apartment he comes upon an old photograph that demands explanation. As shocking family secrets surface, Remy finds himself reevaluating his entire childhood and his relationship to his parents, just as he is on the cusp of becoming a parent himself. Can Remy learn to forgive others for their human frailties, or is he too wedded to his sorrow and anger over his parents' long-ago decisions?
4. Asking for a Friend by Kerry Clare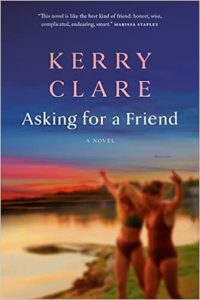 Setting: Toronto, Canada
Asking for a Friend is a well-written book about female friendship from Canadian author, Kerry Clare.
Jess and Clara meet in their dorm during their first year of university in 1998 and feel an instant connection although Jess is a bit awestruck by worldly Clara and Clara who travelled during a two year long "gap year" has struggled to fit in with the other younger girls in the dorm. The two young women become inseparable over the next four years until tragedy tears them apart shortly before graduation. The novel follows them over two decades of friendship as their lives take divergent paths and they deal with relationships, careers, heartbreak, marriage and motherhood.
Jess and Clara's story shows the messy but real ups and downs of friendship, the challenge of maintaining friendships over time and the difficulty of determining whether a friendship is worth maintaining or whether it should be let go when friends no longer have as much in common.
Over the course of their 20 year friendship, there are difficult issues addressed including abortion rights, infertility, and pregnancy loss. The setting of the novel isn't specified but there are enough street names and descriptions of places that it is recognizable as Toronto which I enjoyed as well.
Asking for a Friend is an engaging book that would be a great pick for a book club as it will definitely prompt some meaningful discussions on the nature and importance of friendship.
Thank you to Penguin Randomhouse Canada for the complimentary copy of Asking for a Friend. All opinions are my own.
5. A House for Alice by Diana Evans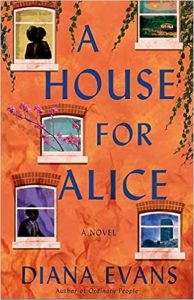 Setting: London, England
From the Publisher: In the early hours of June 14, 2017, the world watches as flames leap up the sides of a residential high-rise in West London, consuming Grenfell Tower and many of the lives within it. Across town, an earlier spark has caught fire. A cigarette left burning in an ashtray. A table strewn with post-it reminders and old newspapers. And one Cornelius Winston Pitt—estranged husband, complicated dad, and Pitt family patriarch—takes his final breaths alone.

These twin tragedies open Diana Evans's A House for Alice, an aching portrait of a family of women shaken by loss and searching for closure. At the novel's center is Alice herself, the Pitt matriarch who, after fifty years in England, now longs to live out her final years in her homeland of Nigeria. Her three daughters are torn on the issue of whether she stays or goes, and while youngest sibling Melissa also grapples with the embers of her own failed relationship, the Pitt family's foundational pillars—of trust, love, and cultural identity—begin to crack.
6. A Winter in New York by Josie Silver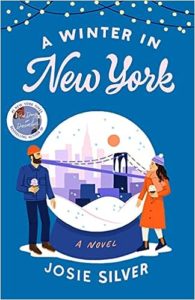 Setting: New York City
Publication Date: October 3, 2023
From the Publisher: When Iris decides to move to New York to restart her life, she realizes she underestimated how big the Big Apple really is—all the nostalgic movies set in New York she'd watched with her mom while eating their special secret-recipe gelato didn't quite do it justice.

But Bobby, Iris's best friend, isn't about to let her hide away. He drags her to a famous autumn street fair in Little Italy, and as they walk through the food stalls, a little family-run gelateria catches her eye—could it be the same shop that's in an old photo of her mother's?

Curious, Iris returns the next day and meets the handsome Gio, who tells her that the shop is in danger of closing. His uncle, sole keeper of their family's gelato recipe, is recovering from a stroke and can no longer remember it, so they can't make more. When Iris samples the last remaining batch, she realizes that their gelato and her gelato are one and the same. But how can she tell them she knows their secret recipe when she's not sure why Gio's uncle gave it to her mother in the first place?

Iris offers her services as a chef to help them re-create the flavor and finds herself falling for Gio and his family. But when Gio's uncle finally wakes up, all of the secrets Iris has been keeping threaten to ruin the new life—and new love—she's been building all winter long.
7. Absolution by Alice McDermott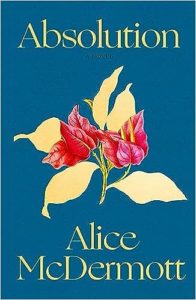 Setting: Vietnam, United States
Publication Date: October 31, 2023
Alice McDermott's Absolution is a beautifully-written historical novel set in Saigon in 1963 when the U.S. had military advisors in Vietnam but not combat troops. McDermott takes us into the lives of two memorable characters – Tricia and Charlene, young American women whose husbands are stationed in Saigon.
Tricia is a demure newlywed who has recently arrived with her engineer husband – self-conscious and unsure of herself as she tries to adjust to this new life in Vietnam. She meets Charlene at an embassy party and the more experienced woman draws Tricia into her "cabal" of do-gooder American wives and their various fundraising projects in Saigon.
The story of these two women is unfurled as a series of letters 60 years later between Tricia and Charlene's daughter, Rainey, who was a young child during the Vietnam years. After meeting a veteran who knew her mother in Vietnam, Rainey felt the need to reach out to Tricia. Tricia tells Rainey about their time in Saigon and also reminisces about growing up in New York.
McDermott has written a captivating and thought-provoking examination of moral ambiguities. Over the course of the novel, the question is raised many times of who actually benefits from actions that are intended to be morally good. Were they trying to heal the world or trying to heal themselves? This moral ambiguity of actions applies to individuals but is also a subtle observation on the motivations of the US government and what they were trying to accomplish in Vietnam.
I thoroughly enjoyed reading Alice McDermott's Absolution – it's a quiet, insightful story told with compassion – highly recommend.
Thank you to NetGalley and Farrar, Straus, and Giroux for sending a digital ARC of this book for review consideration. All opinions are my own.
8. The Second Chance Hotel by Sierra Godfrey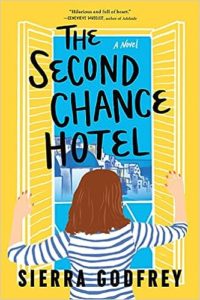 Setting: Greece
Amelia and James have both fled problems at home in the U.S. to travel in Europe for several months when they find themselves as the only guests at a hotel on a small Greek island that doesn't get much tourist traffic. In a strange turn of events, they find themselves married and owners of the hotel. As the book's blurb says: "It's all fun and games until you accidentally marry a stranger in Greece and inherit a hotel!"
Amelia agrees to stay and run the hotel through the busy summer season with James but as she finds her attraction to him growing she begins to wonder if she should be returning to her real life as a project manager in San Francisco or whether the universe has presented her with a second chance to start over and live a different sort of life.
A fun rom-com set in a beautiful destination! I thought this was an enjoyable read – funny with quirky secondary characters and a great sense of place – The Second Chance Hotel made me want to run off to Greece and run a hotel!
Thank you to NetGalley and Sourcebooks Landmark for sending a digital ARC for review consideration. All opinions are my own.
9. Lies and Other Love Languages by Sonali Dev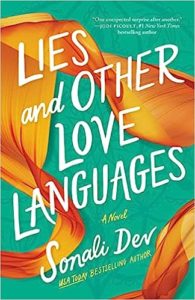 Setting: Los Angeles primarily but also Mumbai
Publication Date: September 26, 2023
An emotional story that takes place over two timelines and told from the point of view of three women. In the present timeline, Vandy Guru is a successful advice columnist/agony auntie grieving her husband who died several months earlier and her 27 year-old daughter, Mallika, is an aspiring choreographer who doesn't quite fit in with her mother's family of successful doctors.
When Mallika goes missing, Vandy's search eventually leads to Rani, her childhood friend now living in Mumbai who she hasn't seen in close to 30 years. Rani's POV tells the story of her friendship with Vandy from the time they met as 12 year-olds in 1979 when Rani moved to California from India through to 1995.
Lies and Other Love Languages is a beautifully-written, thought-provoking story of lies and secrets intertwined with motherhood, friendship, family and love that asks the reader to consider how far they would be willing to go to make someone they love happy and whether getting what you want is worth it if the consequences include losing someone you love. The plot touches on issues relating to grief, the mental and physical impact of infertility, and self-discovery.
This is the first book that I have read by Sonali Dev and I enjoyed her writing style and the characters she created – flawed but likeable with distinctive voices – including the strong cast of supporting characters. It wasn't hard to predict where the story was going (although there are some twists) but getting there was enjoyable.
Thank you to NetGalley and Lake Union Publishing for sending a digital ARC for review consideration. All opinions are my own.
10. The Exchange: After the Firm by John Grisham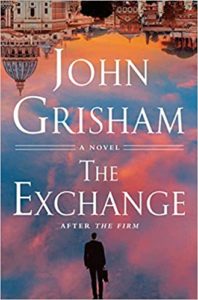 Setting: Rome, Italy
Publication Date: October 17, 2023
From the Publisher: What became of Mitch and Abby McDeere after they exposed the crimes of Memphis law firm Bendini, Lambert & Locke and fled the country? The answer is in The Exchange, the riveting sequel to The Firm, the blockbuster thriller that launched the career of America's favorite storyteller.
It is now fifteen years later, and Mitch and Abby are living in Manhattan, where Mitch is a partner at the largest law firm in the world. When a mentor in Rome asks him for a favor that will take him far from home, Mitch finds himself at the center of a sinister plot that has worldwide implications—and once again endangers his colleagues, friends, and family. Mitch has become a master at staying one step ahead of his adversaries, but this time there's nowhere to hide.
11. Walking With Sam by Andrew McCarthy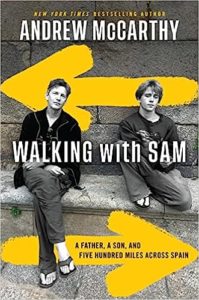 Setting: Camino de Santiago, Spain
This book was published in May but I didn't get around to reading it until August. I mostly read fiction but every once in a while a non-fiction book like Walking With Sam catches my eye and I'm glad it did. I really enjoyed this travel memoir by Andrew McCarthy about walking the Camino de Santiago (a 500 mile pilgrimage across Spain) with his young adult son, Sam – both for the travelogue aspect as well as the exploration of the parent/child relationship.
Andrew shares the experience and the conversations that he and Sam had while walking the Camino as well as thoughts about his relationship with Sam, his relationship with his own dad and other aspects of his life including his previous Camino decades earlier. He also includes some interesting information about the history of the Camino which I enjoyed. The memoir is realistic (the walk is physically grueling in the heat of summer) and it's also relatable (I've been frustrated on many vacations trying to get my kids out of bed).
Walking With Sam didn't inspire me to walk the Camino de Santiago but I enjoyed experiencing it vicariously through Andrew and Sam and it did make me want to plan more travel with my own young adult daughters.
12. Let Us Descend by Jesmyn Ward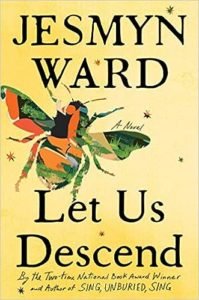 Setting: American South
Publication Date: October 3, 2023
From the Publisher: Let Us Descend is a reimagining of American slavery, as beautifully rendered as it is heart-wrenching. Searching, harrowing, replete with transcendent love, the novel is a journey from the rice fields of the Carolinas to the slave markets of New Orleans and into the fearsome heart of a Louisiana sugar plantation.

Annis, sold south by the white enslaver who fathered her, is the reader's guide through this hellscape. As she struggles through the miles-long march, Annis turns inward, seeking comfort from memories of her mother and stories of her African warrior grandmother. Throughout, she opens herself to a world beyond this world, one teeming with spirits: of earth and water, of myth and history; spirits who nurture and give, and those who manipulate and take. While Ward leads readers through the descent, this, her fourth novel, is ultimately a story of rebirth and reclamation.
13. The House of Doors by Tan Twan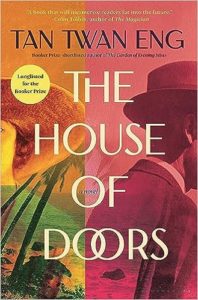 Setting: Penang, Malaysia
Publication Date: October 17, 2023
The House of Doors begins and ends on a farm in South Africa in 1947 but most of it takes place in Malaysia more than 25 years earlier. The story opens with Lesley Hamlyn receiving a package containing a book by famous author W. Somerset Maugham which prompts her to recall a time in 1921 when Maugham (known as Willie) and his secretary, Gerald, visited her and her late husband, Robert, for 2 weeks at their home on the Straits Settlement of Penang.
Lesley is meeting him for the first time as Maugham and Robert are old school friends who haven't seen each other in many years. Maugham has a wife back in London that he doesn't love and has been travelling in Asia for a lengthy period of time with Gerald, who is also his lover, gathering stories for what will be his next book. While in Penang, Maugham learns that he has lost his fortune because of a bad investment and feels immense pressure to write several stories suitable for publication to alleviate his financial problems.
During that visit in 1921, Maugham learns that Lesley was close to Chinese revolutionary Dr. Sun Yat-Sen and probes for information as he suspects the two had an affair – a story which might make good fiction. As the two become closer, Lesley decides to share a story about her life with Maugham that she has never told anyone else – a story that takes place 11 years earlier about a man she fell in love with and the murder trial of an Englishwoman in Kuala Lumpur. The narration alternates between the two time periods and between narrators – Lesley in the first person and Maugham in the third person in both time periods.
Longlisted for the Booker Prize, The House of Doors is a beautifully-written, mesmerizing read. The novel is based on real events – a reimagining of the travels that led Maugham to writing The Casuarina Tree (a collection of short stories set in the Federated Malay States), the activities of Dr. Sun Yat-Sen in Malaysia and the sensational trial of Ethel Proudlock who was charged with murdering a man who she claimed had attempted to rape her. A delicious blend of fact and fiction (like the stories that Maugham himself wrote) – a story about storytelling and the line between fiction and truth or one's perception of the truth
Tan Twan Eng has written an atmospheric historic novel with evocative descriptions that transport readers to the colonial world of Penang early in the 20th century in a slowly revealed story that touches on many issues including colonialism, adultery, betrayal, and sexuality. A fascinating look at human relationships, a compelling plot, and memorable characters – I was lost in the story and the beautiful prose and couldn't put it down.
Thank you to NetGalley and Bloomsbury USA for sending a digital ARC of the book for review consideration. All opinions are my own.
14. The Mystery Guest by Nita Prose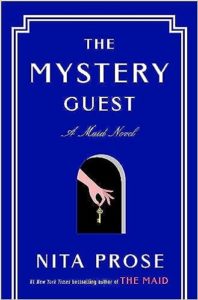 Setting: Unspecified city
Publication Date: November 28, 2023
From the Publisher: Molly Gray is not like anyone else. With her flair for cleaning and proper etiquette, she has risen through the ranks of the glorious five-star Regency Grand Hotel to become the esteemed Head Maid. But just as her life reaches a pinnacle state of perfection, her world is turned upside down when J.D. Grimthorpe, the world-renowned mystery author, drops dead—very dead—on the hotel's tea room floor.

When Detective Stark, Molly's old foe, investigates the author's unexpected demise, it becomes clear that this death was murder most foul. Suspects abound, and everyone wants to know: who killed J.D. Grimthorpe? Was it Lily, the new Maid-in-Training? Or was it Serena, the author's secretary? Could Mr. Preston, the hotel's beloved doorman, be hiding something? And is Molly really as innocent as she seems?

As the case threatens the hotel's pristine reputation, Molly knows she alone holds the key to unlocking the killer's identity. But that key is buried deep in her past—because long ago, she knew J.D. Grimthorpe. Molly begins to comb her memory for clues, revisiting her childhood and the mysterious Grimthorpe mansion where she and her dearly departed Gran once worked side by side. With the entire hotel under investigation, Molly must solve the mystery post-haste. If there's one thing Molly knows for sure, it's that dirty secrets don't stay buried forever…
Thank you to NetGalley and Penguin Random House Canada for sending a digital ARC for review consideration. All opinions are my own.
15. Amazing Grace Adams by Fran Littlewood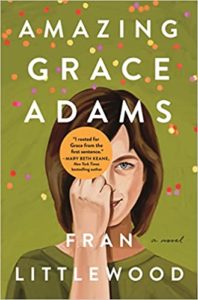 Setting: London, England
Grace is 45, perimenopausal and not sure how she got to this point because she used to be amazing – everyone thought so. But now she's lost her job, her husband has filed for divorce and her teenage daughter, Lotte, has moved in with her father. Today is Lotte's 16th birthday and Grace has been banned from the birthday party but is on her way to pick up an expensive cake to deliver to Lotte so she will know how much Grace cares.
But Grace is stuck on a blistering hot day in gridlocked traffic, horns are blaring and a man in a nearby car is staring at her. Grace has had enough – she snaps and abandons her car sitting in traffic and heads out on foot to pick up the cake and walk across London to get to her daughter on her birthday.
Told in three alternating timelines, Amazing Grace Adams is a family drama with a main character dealing with very relatable stress of going through perimenopause while parenting a teenage girl during the age of social media. As the two past timelines (one starting in 2002 and the other 4 months ago) move forward the reader slowly learns how Grace ended up where she is in the "now" timeline.
I was expecting a light, amusing read about a mom who has just had enough but as the story progresses and we learn what has happened over the past 17 years it became much more serious than I had anticipated. Grace, Ben and Lotte are dealing with some quite serious issues and I had so much empathy for all of them but especially for Grace. I'm surprised she hadn't broken down sooner. Ultimately this is a feel-good story of redemption and the healing of a broken family. An enjoyable debut novel!
16. A New Season by Terry Fallis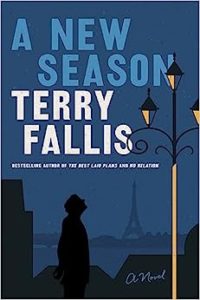 Setting: Toronto, Canada and Paris, France
62 year-old Jack McMaster is a writer living in Toronto who seems to have it all. A beautiful house in a downtown neighbourhood, a successful career, a loving relationship with the young adult son who lives with him and good buddies from his ball hockey league. But Jack has been learning to live with loss for the past 2.5 years and his life feels grey – the colour has vanished and he's not sure how to get it back.
An unexpected video message prompts Jack to plan the trip to Paris that he has always wanted to take. Jack has an obsession with 1920s Paris and The Lost Generation but has never visited the City of Light in person so he rents an apartment, books flights and heads to Paris for 5 months planning to be back before the next season of ball hockey.
As Jack explores Paris wandering the streets of the Left Bank in the footsteps of Hemingway and Fitzgerald, he feels the melancholy start to lift and colour slowly comes back into his life with a little help from someone he meets by chance in a neighbourhood café.
A New Season is a contemplative novel that looks at aging, friendship and loss. The story is told in the first person with much self-deprecating humour – it had the feel of a good friend telling a story and I enjoyed that style.
This is a book that will likely appeal more to readers of a similar age or in similar circumstances who can relate to Jack's mid-life struggle. Parts of the novel are quite poignant and I sobbed through some of the early chapters of the book as Jack slowly reveals the loss he has suffered and his nearly 3 year long experience with grief. His observations on aging and the feeling that life is slowly slipping away are very relatable to anyone in their '50s or '60s.
I loved the Paris setting and learning more about the writers and artists that made Paris their home in the '20s. There are some fun and very Canadian aspects to the plot as well with all of the ball hockey games and Jack's love of music and songwriting that brings Jim Cuddy in as a character. (I doubt there's a Canadian who attended university in the mid to late '80s who didn't enjoy a performance by Jim Cuddy and Blue Rodeo at a campus pub and I was happy to read in the author's note that he's a genuinely nice human being!).
There's also some romance and a little mystery to be solved in Paris but mostly this is the story of a man in late middle age learning to be happy again and enjoy a new season in his life. An enjoyable read!!
Thank you to NetGalley and Penguin Random House Canada for sending a digital ARC of the book for review consideration. All opinions are my own.
17. The Good Part by Sophie Cousens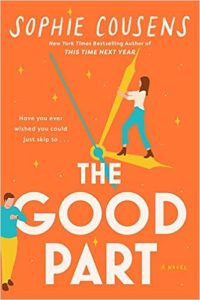 Setting: England
Publication Date: November 7, 2023
From the Publisher: Lucy Young is twenty-six and tired. Tired of fetching coffees for senior TV producers, sick of going on disastrous dates, and done with living in a damp flat with roommates who never buy toilet paper. After another disappointing date, Lucy stumbles upon a wishing machine. Pushing a coin into the slot, Lucy closes her eyes and wishes with all her might: Please, let me skip to the good part of my life.

When she wakes the next morning to a handsome man, a ring on her finger, a high-powered job, and two storybook-perfect children, Lucy can't believe this is real—especially when she looks in the mirror, and staring back is her own fortysomething face. Has she really skipped ahead like she's always wanted, or has she simply forgotten a huge chunk of her life? As Lucy begins to embrace new relationships and the perks of maturity, she'll have to ask herself: Can she go back to her previous life, and if so, can she stand to leave the good part behind?
18. The Burnout by Sophie Kinsella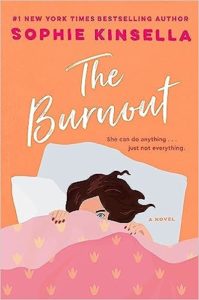 Setting: British seaside resort
Publication Date: October 10, 2023
From the Publisher: Sasha has had it. She cannot bring herself to respond to another inane, "urgent" (but obviously not at all urgent) email or participate in the corporate employee joyfulness program. She hasn't seen her friends in months. Sex? Seems like a lot of effort. Even cooking dinner takes far too much planning. Sasha has hit a wall.
Armed with good intentions to drink kale smoothies, try yoga, and find peace, she heads to the seaside resort she loved as a child. But it's the off season, the hotel is in a dilapidated shambles, and she has to share the beach with the only other occupant: a grumpy guy named Finn, who seems as stressed as Sasha. How can she commune with nature when he's sitting on her favorite rock, watching her? Nor can they agree on how best to alleviate their burnout (Sasha: manifesting, wild swimming; Finn: drinking whisky, getting pizza delivered to the beach).
When curious messages, seemingly addressed to Sasha and Finn, begin to appear on the beach, the two are forced to talk—about everything. How did they get so burned out? Can either of them remember something they used to love? (Answer: surfing!) And the question they try and fail to ignore: what does the energy between them—flaring even in the face of their bone-deep exhaustion—signify?
19. Sisters Under the Rising Sun by Heather Morris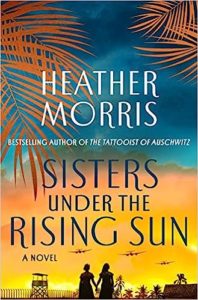 Setting: Indonesia
Publication Date: October 24, 2023
From the Publisher: In the midst of World War II, an English musician, Norah Chambers, places her eight-year-old daughter Sally on a ship leaving Singapore, desperate to keep her safe from the Japanese army as they move down through the Pacific. Norah remains to care for her husband and elderly parents, knowing she may never see her child again.

Sister Nesta James, a Welsh Australian nurse, has enlisted to tend to Allied troops. But as Singapore falls to the Japanese she joins the terrified cargo of people, including the heartbroken Norah, crammed aboard the Vyner Brooke merchant ship. Only two days later, they are bombarded from the air off the coast of Indonesia, and in a matter of hours, the Vyner Brooke lies broken on the seabed.

After surviving a brutal 24 hours in the sea, Nesta and Norah reach the beaches of a remote island, only to be captured by the Japanese and held in one of their notorious POW camps. The camps are places of starvation and brutality, where disease runs rampant. Sisters in arms, Norah and Nesta fight side by side every day, helping whoever they can, and discovering in themselves and each other extraordinary reserves of courage, resourcefulness and determination.
20. The Adversary by Michael Crummey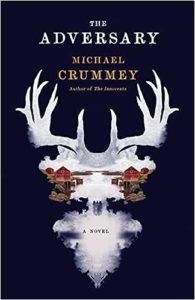 Setting: Newfoundland
Publication Date: September 26, 2023
From the Publisher: In an isolated outport on Newfoundland's northern coastline, Abe Strapp is about to marry the daughter of a rival merchant to cement his hold on the shore when the Widow Caines arrives to throw the wedding and Abe's plans into chaos.
That ruthless act of sabotage is the opening salvo in a battle between the man and woman who own Mockbeggar's largest mercantile firms, each fighting for the scarce resources of the north Atlantic fishery, each seeking a measure of revenge on the person they despise most in the world. As their unshakeable animosity spirals further each year into vendettas and violence, the community is increasingly divided and even the innocents in Mockbeggar find themselves forced to take sides, with devastating consequences.
Through merciless seasons of uncertainty and want, through predatory storms and pandemics and marauding privateers, it is the human heart that reveals itself to be the most formidable and unpredictable adversary for each person drawn, inevitably and helplessly, into that endless feud.
21. The Frozen River by Ariel Lawhon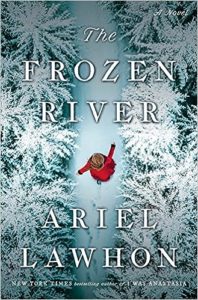 Setting: Maine, USA
Publication Date: November 14, 2023
From the Publisher: Maine, 1789: The Kennebec River freezes, entombing a man in the ice. Martha Ballard is summoned to examine the body and determine cause of death. As the local midwife and healer, Martha is good at keeping secrets. Her diary is a record of every birth and death, every murder and debacle that unfolds in the town of Hallowell. In that diary she also documented the details of an alleged rape that occurred four months earlier. Now, one of the men accused of that heinous attack has been found dead in the ice.
While Martha is certain she knows what happened the night of the assault, she suspects that the two crimes are linked, and that there is more to both cases than meets the eye. Over the course of one long, hard winter, as the trial nears, and whispers and prejudices mount, Martha's diary lands at the center of the scandal and threatens to tear both her family and her community apart.
22. The River Runs South by Audrey Ingram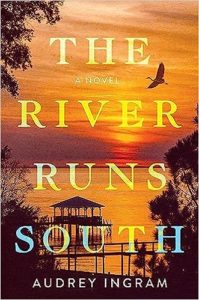 Setting: Southern Alabama coastal town
A heartwarming debut novel about starting over. Camille Taylor, a high-powered lawyer in Washington, DC, is still struggling with overwhelming grief almost a year after the unexpected death of her husband. She is forced to take a leave of absence from her firm and returns home to the Alabama coast with her 6 year-old daughter for the summer to regroup. Not long after arriving in Alabama she learns that a local fisherman is suing a land developer over environmental damage to a river and her father who is a landscaper has been added to the lawsuit.
The River Runs South was an enjoyable read – a well-written, feel-good story about dealing with grief, motherhood, work/life balance and the courage to start over after a devastating loss and find love again.
I appreciated the ecological message about protecting the environment that is deftly woven into the personal story as Camille gets involved in the lawsuit and learns about the environmental issues relating to the destruction of Mobile Bay's fragile ecosystem. I also enjoyed the descriptions of small-town coastal Alabama and the delicious local recipes that Camille cooks. An easy to read, enjoyable book with a good message!
Thank you to NetGalley and Alcove Press for sending a digital ARC of this book for review consideration. All opinions are my own.
23. Rage the Night by Donna Morrissey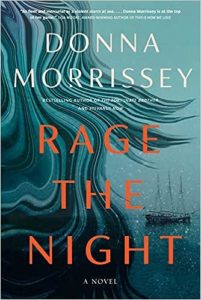 Setting: Newfoundland
Rage the Night is a gripping historical novel that tells the story of one young man's search for a sense of identity in the context of the greatest marine disaster in Newfoundland history now known as the 1914 Sealing Disaster.
20 year-old Roan, raised by Dr. Wilfred Grenfell in the Northern Peninsula, believed that he was an orphan with no last name until a nun's deathbed confession calls into question everything he thought he knew about himself. Despite Dr. Grenfell's pleas, Roan heads out on a quest to find Ashur Genge who he believes is the one person who knows the truth relating to his birth.
Roan's journey takes him across a bitterly cold and snowy landscape first by dog sled and then by train from the remote north to Deer Lake, on to St. John's and then finally, along with Genge and his nephew, aboard the SS Newfoundland sealing boat heading out on the North Atlantic for the spring hunt.
Rage the Night exemplifies what I love about the best historical fiction – a cracking good story that also educates and informs the reader about a place, a time, or an event. Here the reader gains insight into the conduct of the annual seal hunt early in the 20th century and despite personal feelings about the practice, I empathized with these men and what they endured and came away with a much better understanding of the role the seal hunt played in Newfoundland's history and culture.
Morrissey is an exceptionally good writer and I appreciated her vivid descriptions that set the scene of late winter/early spring in the Northern Peninsula, aboard the ship and on the shifting ice of the North Atlantic. I also loved the way she used Roan's story to bring to life this real event from Canadian history and the well-drawn characters who convey the humour of Newfoundlanders and their resiliency in the face of adversity – both individually and as a community. The author made me care deeply about these men and their desperate, heartbreaking struggle for survival. As the tragic events unfolded, I felt their fear and hopelessness and shared their collective grief.
The characters in this novel are unforgettable and the story is spellbinding. I was familiar with the SS Newfoundland and the preventable tragedy that took place in 1914 before reading Rage the Night yet I was still holding my breath and hoping that Roan and the other men that I had come to care about would somehow all survive – one of my favourite reads so far this year!
24. Love Me Do by Lindsay Kelk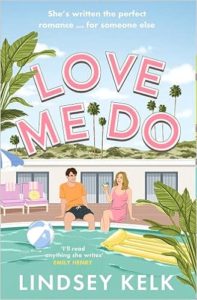 Setting: Los Angeles, California
Phoebe Chapman didn't want to be home in England at the time of her ex's wedding so she travels to Los Angeles for two weeks to visit her sister, Suzanne. Unfortunately, Suzanne has to head out of town immediately on a last-minute business trip but Phoebe soon meets Ren, the handsome carpenter/bird watcher next door, and Bel, her sister's beautiful personal trainer who has a huge crush on Ren.
Phoebe has a way with words so she agrees to play matchmaker for Bel despite her own feelings for Ren and spends her vacation with the two of them. Phoebe also becomes friends with an elderly recluse on the street who was once a Hollywood starlet. LA was meant to be a relaxing vacation but this trip might be life-changing for Phoebe!
I enjoyed this fun friends to lovers rom-com and especially the nod to Cyrano de Bergerac! There's more than just romance here – the story also touches on family, friendship and toxic relationships plus there's some exploring of the hidden gems of Los Angeles as Bel and Ren take Phoebe to the beach, hiking, and to a Dodgers game so she gets to know the real LA. Loved the British humour and the secondary characters – Phoebe's relationships with Bel, Myrna, and Suzanne are every bit as much fun as the one with Ren.
This is a fun, feel-good read – perfect as a summer beach read or when you need an escape to sunny California!
Thank you to NetGalley and HarperCollins Canada for sending a digital ARC of the book for review consideration. All opinions are my own.
25. The Heaven & Earth Grocery Store by James McBride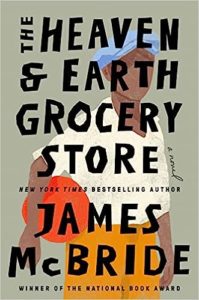 Setting: A small town in Pennsylvania, United States
The Heaven & Earth Grocery Store opens in 1972 with a prologue of sorts when construction workers discover a human skeleton at the bottom of an old well in a small town in Pennsylvania. The police suspect foul play but the evidence is blown away by a hurricane before they can complete an investigation.
After the opening chapter, the reader is taken back in time to the 1930s when a group of African Americans, Jews and other poor immigrants are living in a neighbourhood known as Chicken Hill in Pottstown, Pennsylvania. There's Moshe, a Jewish immigrant who owns an integrated dance hall; Moshe's kindhearted wife, Chona who was crippled by a childhood bout of polio and now runs the Heaven & Earth Grocery store at a loss because she extends credit to whoever needs it; Nate and Addie, a black couple who work for Moshe and Chona; Dodo a 12 year-old orphaned deaf boy living with Nate and Addie who the state wants to institutionalize; and a large cast of secondary characters from the community of Chicken Hill and beyond.
McBride is a masterful storyteller who takes his time setting up the world of the novel and letting the reader get lost in the details. He introduces a large cast of characters and backstories but each of them play an important role in the narrative although it might take some time before the reader realizes just how each detail fits together. I was so completely absorbed in the story of these characters and their community of Chicken Hill that the skeleton plot slipped to the back of mind until the very end of the book.
McBride has written a novel about race and class in a changing America that acknowledges the negative while remaining hopeful and uplifting. The message of The Heaven & Earth Grocery Store is that love, compassion and community are what sustains us – that our purpose here on earth is to love, to form connections and to treat everyone with humanity.
26. The Unsettled by Ayana Mathis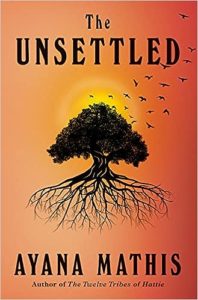 Setting: Philadelphia and Alabama, United States
Publication Date: September 26, 2023
From the best-selling author of The Twelve Tribes of Hattie, The Unsettled is a multigenerational story about a Black family that takes place in Alabama and Philadelphia in the 1980s. Ava Carson and her pre-teen son, Toussaint, are living in a room in a squalid homeless shelter in Philadelphia after leaving her husband, Abemi, in New Jersey. Meanwhile her estranged mother, known as Dutchess, is in rural Bonaparte, Alabama – a historic Black town founded by emancipated slaves although there are now only a few elderly residents left in the community and they are struggling to hold onto what remains of their properties.
Ava, dealing with mental and physical issues, is making poor decisions and Toussaint who is also having difficulty coping stops attending school. They are about to pack up again and leave for Bonaparte when Toussaint's father, Cass, comes back into their lives. Cass is a charismatic former Black Panther who had been a doctor but has become a sort of preacher/activist who wants to set up a commune. Their lives are improved for a short time and then the situation starts to deteriorate while Ava struggles to parent her son and deal with her own escalating issues.
The Unsettled is slow moving – an uncomfortable, difficult yet compelling read. The story is gut-wrenching and tragic with characters who have suffered and are suffering from past trauma, abuse, and mental health conditions. A number of issues are explored including complicated family relationships, intergenerational trauma, racism, abuse, and the dehumanizing impact of living in poverty.
So many characters making bad decisions and my heart broke for them – but especially for Toussaint who just wants to find a home – a place where he belongs – stability. There is no happy ending here – it left me unsatisfied and perhaps a bit unsettled.
Thank you to NetGalley and HarperCollins Canada for sending a digital ARC of this book for review consideration. All opinions are my own.
27. The Vaster Wilds by Lauren Groff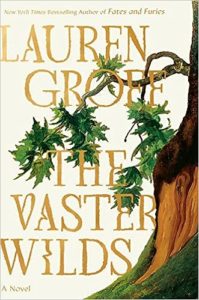 Setting: Colonial America
From the Publisher: A servant girl escapes from a colonial settlement in the wilderness. She carries nothing with her but her wits, a few possessions, and the spark of god that burns hot within her. What she finds in this terra incognita is beyond the limits of her imagination and will bend her belief in everything that her own civilization has taught her.

Lauren Groff's new novel is at once a thrilling adventure story and a penetrating fable about trying to find a new way of living in a world succumbing to the churn of colonialism. The Vaster Wilds is a work of raw and prophetic power that tells the story of America in miniature, through one girl at a hinge point in history, to ask how—and if—we can adapt quickly enough to save ourselves.
Pin This For Later