Fall has arrived and that means cooler weather, cozy sweaters, pumpkin spice latte and curling up with a good book that will transport you to another time or place! My travel inspired picks for best books to read this fall include books that I have already read as well as a few that I have on my fall reading list. Most of the selections are recently published but a couple are old favourites that I think you will enjoy.
Related Articles
22 of the Best Books to Read Fall 2022
29 Books for Your Fall 2021 Reading List
15 Books to Read This Fall – A Travel Inspired List (2019)
We are a participant in the Amazon Services LLC Associates Program, an affiliate advertising program designed to provide a means for us to earn fees by linking to Amazon.com and affiliated sites. As an Amazon affiliate I earn from qualifying purchases.
This post may contain affiliate links. If you click an affiliate link and make a purchase then we receive a small commission at no additional cost to you.
1. The Hundred-Foot Journey by Richard C. Marais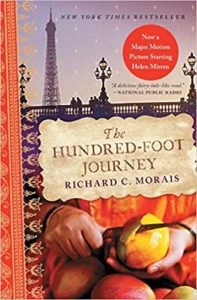 Setting: India, France
Born above his grandfather's modest restaurant in Mumbai, Hassan Haji first experienced life through intoxicating whiffs of spicy fish curry, trips to the local markets, and gourmet outings with his mother. But when tragedy pushes the family out of India, they console themselves by eating their way around the world, eventually settling in Lumière, a small village in the French Alps.
The boisterous Haji family takes Lumière by storm. They open an inexpensive Indian restaurant opposite an esteemed French relais—that of the famous chef Madame Mallory—and infuse the sleepy town with the spices of India, transforming the lives of its eccentric villagers and infuriating their celebrated neighbor. Only after Madame Mallory wages culinary war with the immigrant family, does she finally agree to mentor young Hassan, leading him to Paris, the launch of his own restaurant, and a slew of new adventures.
I first read and reviewed The Hundred-Foot Journey several years ago and loved this story about a young Indian man and his journey to becoming a celebrated three-star chef in Paris. A film based on the book starring Helen Mirren was released in 2014 – but be sure to read the book first!
Read my review of The Hundred-Foot Journey
2. The Beekeeper of Aleppo by Christy Lefteri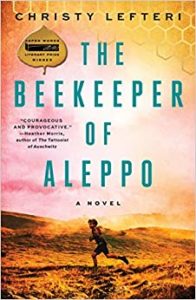 Setting: Syria, Turkey, Greece and England
Nuri is a beekeeper and Afra, his wife, is an artist. Mornings, Nuri rises early to hear the call to prayer before driving to his hives in the countryside. On weekends, Afra sells her colorful landscape paintings at the open-air market. They live a simple life, rich in family and friends, in the hills of the beautiful Syrian city of Aleppo—until the unthinkable happens. When all they love is destroyed by war, Nuri knows they have no choice except to leave their home. But escaping Syria will be no easy task: Afra has lost her sight, leaving Nuri to navigate her grief as well as a perilous journey through Turkey and Greece toward an uncertain future in Britain.
Nuri is sustained only by the knowledge that waiting for them is his cousin Mustafa, who has started an apiary in Yorkshire and is teaching fellow refugees beekeeping. As Nuri and Afra travel through a broken world, they must confront not only the pain of their own unspeakable loss but dangers that would overwhelm even the bravest souls. Above all, they must make the difficult journey back to each other, a path once so familiar yet rendered foreign by the heartache of displacement.
Moving, intimate, and beautifully written, The Beekeeper of Aleppo is a book for our times: a novel that at once reminds us that the most peaceful and ordinary lives can be utterly upended in unimaginable ways and brings a journey in faraway lands close to home, never to be forgotten.
I have just finished reading this beautiful and heartbreaking book about a refugee family trying to get to England after fleeing war-torn Syria. The author draws on her recent experience volunteering in refugee camps in Greece to create this unforgettable story about ordinary people fleeing death and destruction in their homelands in the hopes of rebuilding their lives elsewhere.
3. Sex and Vanity by Kevin Kwan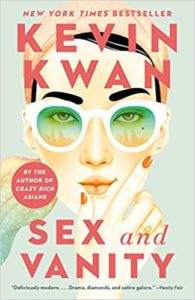 Setting: Capri and New York City
The iconic author of the bestselling phenomenon Crazy Rich Asians returns with a glittering tale of love and longing as a young woman finds herself torn between two worlds–the WASP establishment of her father"s family and George Zao, a man she is desperately trying to avoid falling in love with.
It seems a lot of people were disappointed by this much-anticipated new novel by best-selling author Kevin Kwan but I enjoyed it. Lucie's story takes place in two parts – the first on the island of Capri while attending a friend's wedding and the second several years later in New York City.
I particularly enjoyed reading about the places she visited in Capri and found myself googling them to look at photos and learn more about the island. Is Sex and Vanity as good as the Crazy Rich Asians trilogy? No – but that was always going to be a hard act to follow and as a stand-alone novel this is a fun bit of escapism.
4. Exile Music by Jennifer Steil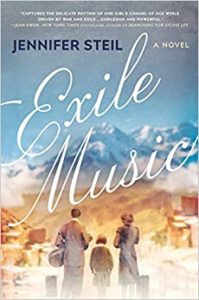 Setting: Bolivia
Based on an unexplored slice of World War II history, Exile Music is the captivating story of a young Jewish girl whose family flees refined and urbane Vienna for safe harbor in the mountains of Bolivia
As a young girl growing up in Vienna in the 1930s, Orly has an idyllic childhood filled with music. Her father plays the viola in the Philharmonic, her mother is a well-regarded opera singer, her beloved and charismatic older brother holds the neighborhood in his thrall, and most of her eccentric and wonderful extended family live nearby.
Only vaguely aware of Hitler's rise or how her Jewish heritage will define her family's identity, Orly spends her days immersed in play with her best friend and upstairs neighbor, Anneliese. Together they dream up vivid and elaborate worlds, where they can escape the growing tensions around them.
But in 1938, Orly's peaceful life is shattered when the Germans arrive. Her older brother flees Vienna first, and soon Orly, her father, and her mother procure refugee visas for La Paz, a city high up in the Bolivian Andes. Even as the number of Jewish refugees in the small community grows, her family is haunted by the music that can no longer be their livelihood, and by the family and friends they left behind. While Orly and her father find their footing in the mountains, Orly's mother grows even more distant, harboring a secret that could put their family at risk again.
Years pass, the war ends, and Orly must decide: Is the love and adventure she has found in La Paz what defines home, or is the pull of her past in Europe–and the piece of her heart she left with Anneliese–too strong to ignore?
This is a beautifully written work of historical fiction about European Jews emigrating to Bolivia to escape the rise of fascism in Europe and also a coming of age story about one young girl and her struggle to find where she belongs.
I previously recommended author Jennifer Steil's memoir The Woman Who Fell From the Sky in 15 Books to Read This Winter – A Travel Inspired List.
5. One By One by Ruth Ware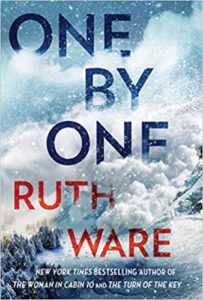 Setting: The French Alps
The #1 New York Times bestselling author of The Turn of the Key and In a Dark Dark Wood returns with another suspenseful thriller set on a snow-covered mountain.
Getting snowed in at a luxurious, rustic ski chalet high in the French Alps doesn't sound like the worst problem in the world. Especially when there's a breathtaking vista, a full-service chef and housekeeper, a cozy fire to keep you warm, and others to keep you company. Unless that company happens to be eight coworkers…each with something to gain, something to lose, and something to hide.
When the cofounder of Snoop, a trendy London-based tech startup, organizes a weeklong trip for the team in the French Alps, it starts out as a corporate retreat like any other: PowerPoint presentations and strategy sessions broken up by mandatory bonding on the slopes. But as soon as one shareholder upends the agenda by pushing a lucrative but contentious buyout offer, tensions simmer and loyalties are tested.
The storm brewing inside the chalet is no match for the one outside, however, and a devastating avalanche leaves the group cut off from all access to the outside world. Even worse, one Snooper hadn't made it back from the slopes when the avalanche hit.
As each hour passes without any sign of rescue, panic mounts, the chalet grows colder, and the group dwindles further…one by one.
This sounds like a good read for anyone who enjoys a good suspense novel. Snowed in at a chalet in the French Alps and co-workers disappearing one by one – I think it will be a daytime read for me!
6. The Book of Lost Names by Kristin Harmel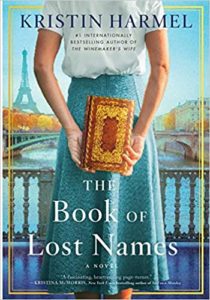 Setting: France
Eva Traube Abrams, a semi-retired librarian in Florida, is shelving books when her eyes lock on a photograph in the New York Times. She freezes; it's an image of a book she hasn't seen in more than sixty years—a book she recognizes as The Book of Lost Names.
The accompanying article discusses the looting of libraries by the Nazis across Europe during World War II—an experience Eva remembers well—and the search to reunite people with the texts taken from them so long ago. The book in the photograph, an eighteenth-century religious text thought to have been taken from France in the waning days of the war, is one of the most fascinating cases. Now housed in Berlin's Zentral- und Landesbibliothek library, it appears to contain some sort of code, but researchers don't know where it came from—or what the code means. Only Eva holds the answer, but does she have the strength to revisit old memories?
As a graduate student in 1942, Eva was forced to flee Paris and find refuge in a small mountain town in the Free Zone, where she began forging identity documents for Jewish children fleeing to neutral Switzerland. But erasing people comes with a price, and along with a mysterious, handsome forger named Rémy, Eva decides she must find a way to preserve the real names of the children who are too young to remember who they really are. The records they keep in The Book of Lost Names will become even more vital when the resistance cell they work for is betrayed and Rémy disappears.
I have been reading quite a bit of historical fiction set during World War II lately yet I learn something new from each of them. I'm looking forward to this novel which alternates the setting between Europe during the war and Florida 60 years later in telling the story of a young woman forging identity documents to help Jewish children flee to Switzerland.
7. Indians on Vacation by Thomas King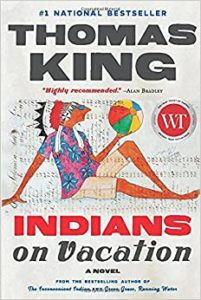 Setting: Prague
Meet Bird and Mimi in this brilliant new novel from one of Canada's foremost authors. Inspired by a handful of old postcards sent by Uncle Leroy nearly a hundred years earlier, Bird and Mimi attempt to trace Mimi's long-lost uncle and the family medicine bundle he took with him to Europe.
"I'm sweaty and sticky. My ears are still popping from the descent into Vaclav Havel. My sinuses ache. My stomach is upset. My mouth is a sewer. I roll over and bury my face in a pillow. Mimi snuggles down beside me with no regard for my distress.
'My god,' she whispers, 'can it get any better?'"
By turns witty, sly and poignant, this is the unforgettable tale of one couple's holiday trip to Europe, where their wanderings through its famous capitals reveal a complicated history, both personal and political.
I have recently read this newly published novel by Thomas King, one of Canada's most celebrated Native writers. King is a recipient of the Order of Canada who has won awards for both fiction and non-fiction books and Indians on Vacation lives up to all expectation.
King weaves a story about middle-aged Bird and Mimi's vacation in Prague as well as their lives together in a witty and entertaining way but also touches on serious issues such as residential schools and the refugee crisis in a way that will give you pause. This novel has just been long-listed for the Giller Prize (the top literary award for Canadian authors) and I hope to see it on the short list as well.
8. The English Wife by Adrienne Chinn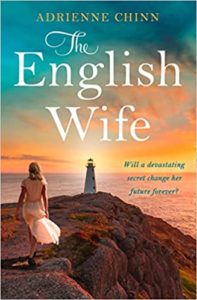 Setting: England and Newfoundland, Canada
VE Day 1945: As victory bells ring out across the country, war bride Ellie Burgess' happiness is overshadowed by grief. Her charismatic Newfoundlander husband Thomas is still missing in action.

Until a letter arrives explaining Thomas is back at home on the other side of the Atlantic recovering from his injuries.
Travelling to a distant country to live with a man she barely knows is the bravest thing Ellie has ever had to do. But nothing can prepare her for the harsh realities of her new home…
September 11th 2001: Sophie Parry is on a plane to New York on the most tragic day in the city's history. While the world watches the news in horror, Sophie's flight is rerouted to a tiny town in Newfoundland and she is forced to seek refuge with her estranged aunt Ellie.

Determined to discover what it was that forced her family apart all those years ago, newfound secrets may change her life forever…
I enjoyed this novel about a young woman living in England during WWII who moves to Newfoundland post-war as a war bride and many years later meets her estranged niece when planes are grounded in Gander on September 11th, 2001.
The novel moves back and forth in time and place between Ellie's life in England during the war and her life post-war in Newfoundland as well as Sophie's time spent in Newfoundland in 2001 and return ten years later but is easy to follow despite all the time slipping. It's primarily a historical romance but there's a family secret thrown in as well to keep things interesting.
9. The Love of My Youth by Mary Gordon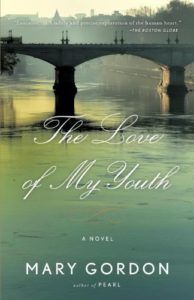 Setting: Rome
Miranda and Adam, high school sweethearts now in their late fifties, arrive by chance at the same time in Rome, a city where they once spent a summer deeply in love. At an awkward reunion, Adam suggests that they meet for daily walks and get to know each other again.
Both have their own sense of who betrayed whom and long-held interpretations of the events that caused them not to part. But gradually, as they take in the pleasures of the city and the drama of its streets, they discover not only what matters to them now but also what happened to them long ago.
From acclaimed author Mary Gordon, The Love of My Youth is a poignant look at first love, at the hopes and dreams of a generation, and at what became of them.
This story is a nostalgic look back at first love and how it shaped two individuals who are trying to understand how they became the people they are and what the past means to them. Over the course of three weeks in Rome, Miranda and Adam agree to meet for daily walks to get to know each other again. As they walk and talk we learn more about their youthful relationship, how it self-destructed and how that led them to become the people they are today.
I first read this book and reviewed it shortly before travelling to Europe to spend a few days in Rome prior to a family Mediterranean cruise. At the time I was anticipating my first visit to the city and loved the descriptions of Adam and Miranda's strolls through Rome as they visited various sites including the Villa Borghese, the Campo dei Fiori, Trastevere, the Museum of Modern Art, the English Cemetery and The Pantheon.
Read Book of the Month: The Love of My Youth
10. The Exiles by Christina Baker Kline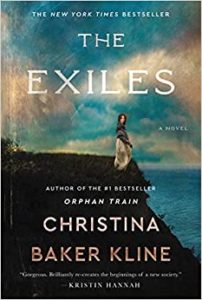 Setting: Australia
Seduced by her employer's son, Evangeline, a naïve young governess in early nineteenth-century London, is discharged when her pregnancy is discovered and sent to the notorious Newgate Prison. After months in the fetid, overcrowded jail, she learns she is sentenced to "the land beyond the seas," Van Diemen's Land, a penal colony in Australia. Though uncertain of what awaits, Evangeline knows one thing: the child she carries will be born on the months-long voyage to this distant land.
During the journey on a repurposed slave ship, the Medea, Evangeline strikes up a friendship with Hazel, a girl little older than her former pupils who was sentenced to seven years transport for stealing a silver spoon. Canny where Evangeline is guileless, Hazel—a skilled midwife and herbalist—is soon offering home remedies to both prisoners and sailors in return for a variety of favors.
Though Australia has been home to Aboriginal people for more than 50,000 years, the British government in the 1840s considers its fledgling colony uninhabited and unsettled, and views the natives as an unpleasant nuisance. By the time the Medea arrives, many of them have been forcibly relocated, their land seized by white colonists. One of these relocated people is Mathinna, the orphaned daughter of the Chief of the Lowreenne tribe, who has been adopted by the new governor of Van Diemen's Land.
In this gorgeous novel, Christina Baker Kline brilliantly recreates the beginnings of a new society in a beautiful and challenging land, telling the story of Australia from a fresh perspective, through the experiences of Evangeline, Hazel, and Mathinna. While life in Australia is punishing and often brutally unfair, it is also, for some, an opportunity: for redemption, for a new way of life, for unimagined freedom. Told in exquisite detail and incisive prose, The Exiles is a story of grace born from hardship, the unbreakable bonds of female friendships, and the unfettering of legacy.
This historical novel appeals to me because I know very little about the history of Australia and the people who were exiled from England and sent there to begin anew or the Aboriginal people who were forcibly removed from their land by the white colonists.
11. Where The Lost Wander by Amy Harmon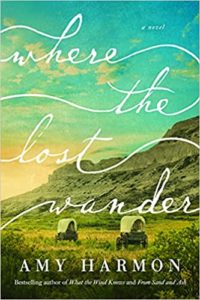 Setting: Western Territories of the U.S.
The Overland Trail, 1853: Naomi May never expected to be widowed at twenty. Eager to leave her grief behind, she sets off with her family for a life out West. On the trail, she forms an instant connection with John Lowry, a half-Pawnee man straddling two worlds and a stranger in both.
But life in a wagon train is fraught with hardship, fear, and death. Even as John and Naomi are drawn to each other, the trials of the journey and their disparate pasts work to keep them apart. John's heritage gains them safe passage through hostile territory only to come between them as they seek to build a life together.
When a horrific tragedy strikes, decimating Naomi's family and separating her from John, the promises they made are all they have left. Ripped apart, they can't turn back, they can't go on, and they can't let go. Both will have to make terrible sacrifices to find each other, save each other, and eventually…make peace with who they are.
I seem to be going through a phase where I'm reading a lot of historical fiction! This novel is set in the Western territories of the United States in the middle of the 19th century and is about a couple who meet on The Overland Trail and are later torn apart by tragedy. I'm looking forward to learning more about this time period in American history from this novel.
12. Queenie by Candice Carty-Williams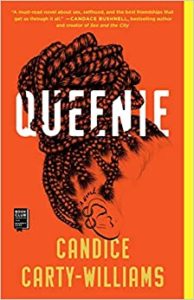 Setting: London, England
Queenie Jenkins is a twenty-five-year-old Jamaican British woman living in London, straddling two cultures and slotting neatly into neither. She works at a national newspaper, where she's constantly forced to compare herself to her white middle class peers. After a messy break up from her long-term white boyfriend, Queenie seeks comfort in all the wrong places…including several hazardous men who do a good job of occupying brain space and a bad job of affirming self-worth.
As Queenie careens from one questionable decision to another, she finds herself wondering, "What are you doing? Why are you doing it? Who do you want to be?"—all of the questions today's woman must face in a world trying to answer them for her.
With "fresh and honest" (Jojo Moyes) prose, Queenie is a remarkably relatable exploration of what it means to be a modern woman searching for meaning in today's world.
Before I read Queenie, the best-selling debut novel by Candice Carty-Williams, I was aware that the character was being described as a "Black Bridget Jones" but it's actually a much deeper story about being a Black woman living in London today.
Queenie the novel is easy to read and is darkly funny at times but the character's downward spiral into despair and self-destruction and her frequent encounters with racism are far more serious than the mostly lighthearted plot of Bridget Jones' Diary.
Queenie is one of the most memorable characters that I have encountered recently and I recommend the book – just be aware that the issues tackled go beyond dating and diets.
13. Eighty Days to Elsewhere by KC Dyer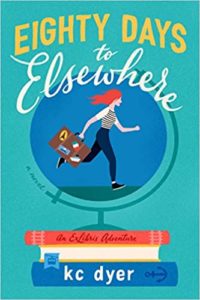 Setting: Around the world trip
Born and raised in New York City, Ramona Keene dreams of attending photography school and traveling to Paris, but her reality never quite catches up with her imagination. Instead, she works at her uncles' quaint bookstore, where the tea is plentiful and all the adventures are between the covers of secondhand books. But when the new landlord arrives with his Evil Nephew in tow, Romy's quiet life comes crashing down. He plans to triple the rent, something her uncles can't afford.
In order to earn the money to help save the bookstore, Romy applies for a job at ExLibris Expeditions, a company that re-creates literary journeys. Romy snags the oddest internship ever: retrace Phileas Fogg's journey from Jules Verne's Around the World in 80 Days and plan a suitable, contemporary adventure for a client. The task is close to impossible; sticking to the original route means no commercial aircraft permitted, and she's got a lot less than eighty days to work with. Shaking off her fear of leaving home, Romy takes on the challenge, only to discover she's got competition. Worse, Dominic Madison turns out to be the – unfortunately hot – nephew of her family's worst enemy.
Can Romy win the race and circle the globe in time to save the bookstore? And what happens when she starts to fall for the very person who may just be the death of her dreams?
This romantic comedy is a fun read as Romy travels the globe in an Amazing Race style (mis)adventure based on Jules Verne's Around the World in 80 Days as part of a competition to land a job at ExLibris Expeditions and save her uncles' bookstore in New York City. Romy documents her journey on Instagram and you can check out her "IG photos" on the author's website which is a fun feature to go along with the story. I'm hoping for a sequel!
14. The Break by Katherena Vermette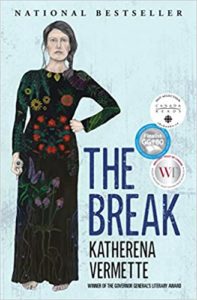 Setting: Winnipeg, Manitoba, Canada
When Stella, a young Métis mother, looks out her window one evening and spots someone in trouble on the Break ― a barren field on an isolated strip of land outside her house ― she calls the police to alert them to a possible crime.
In a series of shifting narratives, people who are connected, both directly and indirectly, with the victim ― police, family, and friends ― tell their personal stories leading up to that fateful night. Lou, a social worker, grapples with the departure of her live-in boyfriend. Cheryl, an artist, mourns the premature death of her sister Rain. Paulina, a single mother, struggles to trust her new partner. Phoenix, a homeless teenager, is released from a youth detention centre. Officer Scott, a Métis policeman, feels caught between two worlds as he patrols the city. Through their various perspectives a larger, more comprehensive story about lives of the residents in Winnipeg's North End is exposed.
A powerful intergenerational family saga, The Break showcases Vermette's abundant writing talent and positions her as an exciting new voice in literary fiction.
This bestselling Canadian novel by Métis writer, Katherena Vermette, about the lives of several people living in a troubled neighbourhood in Winnipeg, Manitoba won several awards including the 2017 Amazon.ca First Novel Award. Vermette, who lives in Winnipeg, also won the Governor General's Award for English-language poetry in 2013 for her collection North End Love Songs.
15. What the Heart Wants by Audrey Carlan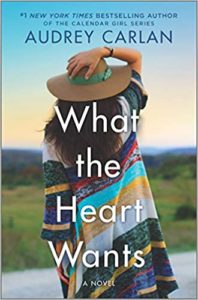 Setting: Colorado
"Fly free."
For ten years those words, written on pink parchment paper in her mother's beautiful handwriting, have been Suda Kaye Ross's guiding star. Every year on her birthday, Suda Kaye opens another of the letters her mother penned before she passed, heeding the advice inside as she fills her life with experiences. From Italy to Australia, from Rio to Russia, she's slaked her wanderlust. And then, on her twenty-eighth birthday, she opens the letter that sends her home.
Returning to Colorado means confronting everything—and everyone—she left behind, including her cherished sister, Evie, and her first love, Camden Bryant. Suda Kaye and Cam spent four years and one unforgettable night together. Given the way she ran out on him, it's no surprise that he's wary, resentful…and engaged to someone else. Evie, hardworking and überresponsible, just wants her sister to put down roots at last.
For Evie's sake, and her own, Suda Kaye is trying to build a new life, all the while wondering whether it's too late to come back home—or if the most important part of her never really left.
I'm feeling a bit grounded at the moment so this sounds like an interesting concept for a novel. Will nomadic Suda Kaye be able to stay put in Colorado and put down roots or will her wanderlust get the better of her in this very steamy romance?
Pin This For Later