As much as I love my summer beach reads, fall and winter are my favourite time to read. Once that chill has hit the fall air, there's nothing better than curling up in a cozy chair with a good book and a hot drink to while away a few hours!
All of my picks for books to read this fall are fiction that will transport you to another place or time (I haven't read much non-fiction lately because I need an escape from real life!). Most of my recommendations for the best fall books have been recently published and all are either books that I have read already or they're on my TBR list for the fall. There's a mixture of both contemporary and historical fiction so hopefully you will find something that appeals to you. Happy Reading!!
22 of the Best Books To Read Fall 2022
Fall 2020 Travel-Inspired Reading List
Fall 2019 Travel-Inspired Reading List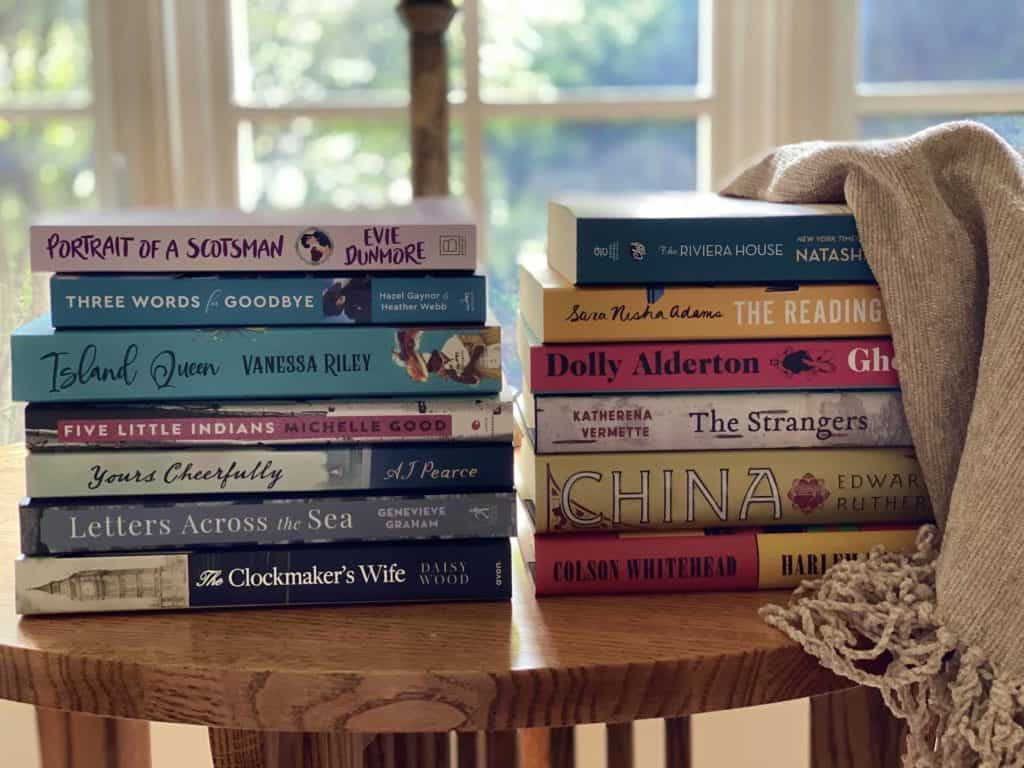 We are a participant in the Amazon Services LLC Associates Program, an affiliate advertising program designed to provide a means for us to earn fees by linking to Amazon.com and affiliated sites. As an Amazon affiliate I earn from qualifying purchases.
This post may contain affiliate links. If you click an affiliate link and make a purchase then we receive a small commission at no additional cost to you.
1. The Clockmaker's Wife by Daisy Wood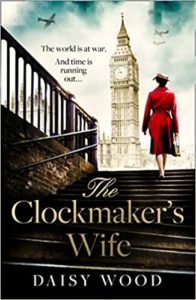 Setting: London (1940 and present day), New York City
London, 1940. Britain is gripped by the terror of the Blitz, forcing Nell Spelman to flee the capital with her young daughter – leaving behind her husband, Arthur, the clockmaker who keeps Big Ben chiming.
When Arthur disappears, Nell is desperate to find him. But her search will lead her into far darker places than she ever imagined…
New York, Present Day. When Ellie discovers a beautiful watch that had once belonged to a grandmother she never knew, she becomes determined to find out what happened to her. But as she pieces together the fragments of her grandmother's life, she begins to wonder if the past is better left forgotten…
The Clockmaker's Wife is an entertaining historical fiction novel with a dual timeline. I thoroughly enjoyed the historical aspect of the novel and the slowly unraveling mystery of what happened to Nell and Arthur as well as the bit of sightseeing that Ellie does in modern day London.
2. Letters Across the Sea by Genevieve Graham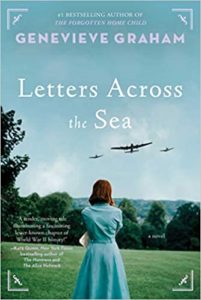 Setting: Toronto and Hong Kong
1933
At eighteen years old, Molly Ryan dreams of becoming a journalist, but instead she spends her days working any job she can to help her family through the Depression crippling her city. The one bright spot in her life is watching baseball with her best friend, Hannah Dreyfus, and sneaking glances at Hannah's handsome older brother, Max.
But as the summer unfolds, more and more of Hitler's hateful ideas cross the sea and "Swastika Clubs" and "No Jews Allowed" signs spring up around Toronto, a city already simmering with mass unemployment, protests, and unrest. When tensions between the Irish and Jewish communities erupt in a riot one smouldering day in August, Molly and Max are caught in the middle, with devastating consequences for both their families.
1939
Six years later, the Depression has eased and Molly is a reporter at her local paper. But a new war is on the horizon, putting everyone she cares about most in peril. As letters trickle in from overseas, Molly is forced to confront what happened all those years ago, but is it too late to make things right?
From the desperate streets of Toronto to the embattled shores of Hong Kong, Letters Across the Sea is a poignant novel about the enduring power of love to cross dangerous divides even in the darkest of times—from the #1 bestselling author of The Forgotten Home Child.
My favourite historical fiction/romance novels teach as well as entertain and I loved Genevieve Graham's latest novel for that reason. Historical events depicted in the novel include the rise of anti-semitism in Toronto during the '30s including the riot at Christie Pits in 1933, the role of Canadian soldiers in the Battle of Hong Kong, the inhumane treatment of POWs by the Japanese, and life on the homefront in Canada during the war years. Well-written and thoroughly researched – one of the best historical novels that I have read this year!
3. Radar Girls by Sara Ackerman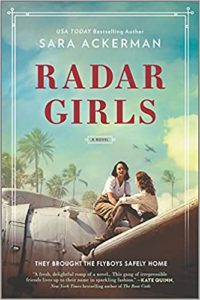 Setting: Hawaii
Daisy Wilder prefers the company of horses to people, bare feet and salt water to high heels and society parties. Then, in the dizzying aftermath of the attack on Pearl Harbor, Daisy enlists in a top secret program, replacing male soldiers in a war zone for the first time. Under fear of imminent invasion, the WARDs guide pilots into blacked-out airstrips and track unidentified planes across Pacific skies.
But not everyone thinks the women are up to the job, and the new recruits must rise above their differences and work side by side despite the resistance and heartache they meet along the way. With America's future on the line, Daisy is determined to prove herself worthy. And with the man she's falling for out on the front lines, she cannot fail.
Radar Girls is a well-researched historical (romance) novel that tells the story of the women who worked as part of the Women's Air Raid Defence in Hawaii in the aftermath of the attack on Pearl Harbour. One of the main reasons that I love historical fiction is the opportunity to learn more about historical events and I enjoyed this aspect of Radar Girls as I have read quite a bit about how WWII played out in Europe but knew very little about the events that took place in the Pacific. I also enjoyed learning about the Women's Air Raid Defence and their contribution to the war effort for the U.S. in Hawaii.
l have also read Ackerman's earlier novel Red Sky Over Hawaii which takes place in the aftermath of Pearl Harbour but on the Big Island and enjoyed it as well.
I received a digital ARC (Advance Review Copy) of Radar Girls.
4. Harlem Shuffle by Colson Whitehead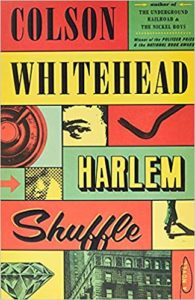 Setting: Harlem, New York City
"Ray Carney was only slightly bent when it came to being crooked…" To his customers and neighbors on 125th street, Carney is an upstanding salesman of reasonably priced furniture, making a decent life for himself and his family. He and his wife Elizabeth are expecting their second child, and if her parents on Striver's Row don't approve of him or their cramped apartment across from the subway tracks, it's still home.
Few people know he descends from a line of uptown hoods and crooks, and that his façade of normalcy has more than a few cracks in it. Cracks that are getting bigger all the time.
Harlem Shuffle's ingenious story plays out in a beautifully recreated New York City of the early 1960s. It's a family saga masquerading as a crime novel, a hilarious morality play, a social novel about race and power, and ultimately a love letter to Harlem.
Exceptionally well-written and entertaining crime/historical fiction novel by Pulitzer-Prize winning author Colson Whitehead about Ray Carney, owner of a furniture store in Harlem in the late '50s/early '60s who "was only slightly bent when it came to being crooked…". It was a bit of a slow start for me but once I got into it then I was hooked. This is the first novel that I have read by Whitehead but I'm now interested in his backlist.
5. Yours Cheerfully by AJ Pearce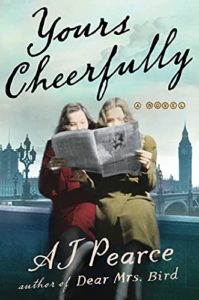 Setting: London, England
London, November 1941. Following the departure of the formidable Henrietta Bird from Woman's Friend magazine, things are looking up for Emmeline Lake as she takes on the challenge of becoming a young wartime advice columnist. Her relationship with boyfriend Charles (now stationed back in the UK) is blossoming, while Emmy's best friend Bunty, still reeling from the very worst of the Blitz, is bravely looking to the future. Together, the friends are determined to Make a Go of It.
When the Ministry of Information calls on Britain's women's magazines to help recruit desperately needed female workers to the war effort, Emmy is thrilled to be asked to step up and help. But when she and Bunty meet a young woman who shows them the very real challenges that women war workers face, Emmy must tackle a life-changing dilemma between doing her duty and standing by her friends.
Yours Cheerfully is the second installment in the charming Emmy Lake Chronicles about a young woman beginning her journalism career at a women's magazine in London during the Second World War. I thoroughly enjoyed Dear Mrs. Bird and was a little worried that Yours Cheerfully wouldn't meet my expectations but it was every bit as good – perhaps even better! Both books are a delight – light, enjoyable reads that manage to be uplifting and heartwarming despite the difficult wartime circumstances.
Yours Cheerfully addresses the difficulties faced by working women during the war particularly the need for childcare. It raises a question that is still relevant today – how are women with children to contribute to society/the economy/the war effort if the availability of reliable, affordable childcare isn't a priority?
6. The Magician by Colm Tóibín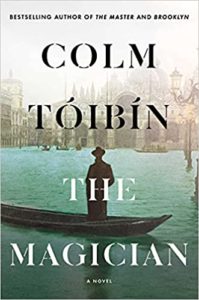 Setting: Various locations in Europe and the U.S.
When the Great War breaks out in 1914 Thomas Mann, like so many of his fellow countrymen, is fired up with patriotism. He imagines the Germany of great literature and music, that had drawn him away from the stifling, conservative town of his childhood, might be a source of pride once again. But his flawed vision will form the beginning of a dark and complex relationship with his homeland, and see the start of great conflict within his own brilliant and troubled family.

Colm Tóibín's epic novel is the story of a man of intense contradictions. Although Thomas Mann becomes famous and admired, his inner life is hesitant, fearful and secretive. His blindness to impending disaster in the Great War will force him to rethink his relationship to Germany as Hitler comes to power. He has six children with his clever and fascinating wife, Katia, while his own secret desires appear threaded through his writing. He and Katia deal with exile bravely, doing everything possible to keep the family safe, yet they also suffer the terrible ravages of suicide among Thomas's siblings and their own children.

In The Magician, Colm Tóibín captures the profound personal conflict of a very public life, and through this life creates an intimate portrait of the twentieth century.
I've added this recently published novel to my fall reading list not because I'm interested in reading a story about Thomas Mann but because I'm interested in how Tóibín tells the story.
7. The Lincoln Highway by Amor Towles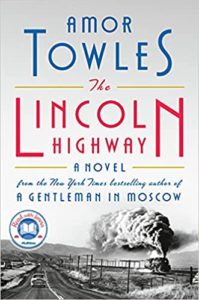 Setting: Road Trip across U.S. Nebraska to New York City
In June, 1954, eighteen-year-old Emmett Watson is driven home to Nebraska by the warden of the juvenile work farm where he has just served fifteen months for involuntary manslaughter. His mother long gone, his father recently deceased, and the family farm foreclosed upon by the bank, Emmett's intention is to pick up his eight-year-old brother, Billy, and head to California where they can start their lives anew. But when the warden drives away, Emmett discovers that two friends from the work farm have hidden themselves in the trunk of the warden's car. Together, they have hatched an altogether different plan for Emmett's future, one that will take them all on a fateful journey in the opposite direction—to the City of New York.
Spanning just ten days and told from multiple points of view, Towles's third novel will satisfy fans of his multi-layered literary styling while providing them an array of new and richly imagined settings, characters, and themes.
I quite enjoyed reading the latest from Amor Towles even though I expected a story about a 1950s road trip on The Lincoln Highway and it turned out to be an altogether different sort of adventure – and not an altogether happy one at that. It's a long novel at nearly 600 pages, however, I finished it in under 48 hours – once I started I just could not put it down! It's a very different sort of story than A Gentleman in Moscow but still incredibly well-written and compelling in its own unique way.
8. The Reading List by Sara Nisha Adams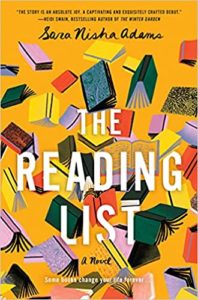 Setting: Wembley District of London, England
Widower Mukesh lives a quiet life in Wembley, in West London after losing his beloved wife. He shops every Wednesday, goes to Temple, and worries about his granddaughter, Priya, who hides in her room reading while he spends his evenings watching nature documentaries.
Aleisha is a bright but anxious teenager working at the local library for the summer when she discovers a crumpled-up piece of paper in the back of To Kill a Mockingbird. It's a list of novels that she's never heard of before. Intrigued, and a little bored with her slow job at the checkout desk, she impulsively decides to read every book on the list, one after the other. As each story gives up its magic, the books transport Aleisha from the painful realities she's facing at home.
When Mukesh arrives at the library, desperate to forge a connection with his bookworm granddaughter, Aleisha passes along the reading list…hoping that it will be a lifeline for him too. Slowly, the shared books create a connection between two lonely souls, as fiction helps them escape their grief and everyday troubles and find joy again.
I loved this heartwarming debut novel by Sara Nisha Adams about the friendship that develops between an elderly widower and a teenage girl in the Wembley district of London – all because of a list of books! One of my favourite reads of 2021 thus far!!
The Reading List is a lovely story about the power of books to forge connections between people and to build communities. Mukesh, Aleisha and several others touched by the reading list discover that books can have a profound impact on readers – books may be an escape but they can also teach us things and show us the world. Books take us on a journey – not just to unfamiliar places but also into the lives and experiences of others.
9. Three Words for Goodbye by Hazel Gaynor and Heather Webb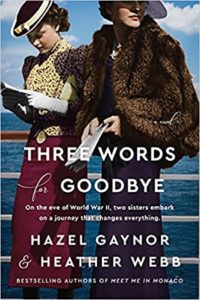 Setting: New York City, Paris, Venice and Vienna
New York, 1937: When estranged sisters Clara and Madeleine Sommers learn their grandmother is dying, they agree to fulfill her last wish: to travel across Europe—together. They are to deliver three letters, in which Violet will say goodbye to those she hasn't seen since traveling to Europe forty years earlier; a journey inspired by famed reporter, Nellie Bly.
The story takes place in the spring of 1937 on the eve of World War II and the rise of Hitler's Nazi party and fascism in Europe. The political climate is the backdrop to a story that is mostly about the sisters, family relationships and the importance of forgiveness as well as what it was like to be an independent-minded young woman at a time when many still thought that it was socially unacceptable for women to have a career, to make their own decisions or even to travel abroad without a male chaperone.
I loved the clever plot that takes the reader on a tour of three grand cities in 1930s Europe as well as three of the most luxurious modes of travel of that era. Pure escapism and a page-turner that I read in just over a day!!
10. China by Edward Rutherfurd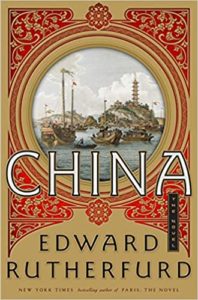 Setting: China
The story begins in 1839, at the dawn of the First Opium War, and follows Chinese history through Mao's Cultural Revolution and up to the present day. Rutherfurd chronicles the rising and falling fortunes of members of Chinese, British, and American families, as they negotiate the tides of history. Along the way, in his signature style, Rutherfurd provides a deeply researched portrait of Chinese history and society, its ancient traditions and great upheavals, and China's emergence as a rising global power. As always, we are treated to romance and adventure, heroines and scoundrels, grinding struggle and incredible fortunes.
I have read all but one of the epic historical novels that Edward Rutherfurd has written so have been awaiting this once since I first heard that it was in the works. China is not quite as sweeping as his earlier novels as it covers only 70 years instead of multiple centuries.
11. Forest Green by Kate Pullinger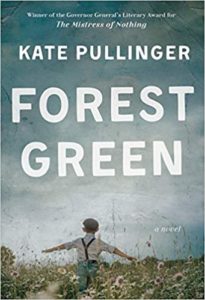 Setting: Okanagan Valley and Vancouver, British Columbia
On a rain-soaked Vancouver sidewalk in 1995, a homeless man fights for breath. Forest Green is the story of how he ended up there.
Arthur Lunn is a golden boy who spends long summer days roaming the hills and swimming in the lakes of the Okanagan Valley. But the Great Depression is destroying lives, even in Art's remote and bucolic hometown. Soon, Art finds himself caught up in a battle between the town and the vagrants flowing through it, and before long the tension reaches a boiling point.
A catastrophe follows–and changes everything. The trauma from this event shapes and haunts Art's life moving forward, from his experiences as a soldier in World War II to his reckless, nomadic working days in logging camps across British Columbia to his turbulent relationship with his one great love–a woman he cannot believe he deserves.
A beautifully written and heartrending story that illustrates how a traumatic childhood event can affect the trajectory of one's life. Forest Green (published in 2020) is the story of one man but through his story the reader also gets an interesting look at the history of the Okanagan Valley over several decades.
12. The Strangers by Katherena Vermette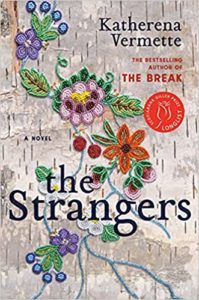 Setting: Winnipeg, Manitoba
Cedar has nearly forgotten what her family looks like. Phoenix has nearly forgotten what freedom feels like. And Elsie has nearly given up hope. Nearly.
After time spent in foster homes, Cedar goes to live with her estranged father. Although she grapples with the pain of being separated from her mother, Elsie, and sister, Phoenix, she's hoping for a new chapter in her life, only to find herself once again in a strange house surrounded by strangers. From a youth detention centre, Phoenix gives birth to a baby she'll never get to raise and tries to forgive herself for all the harm she's caused (while wondering if she even should). Elsie, struggling with addiction and determined to turn her life around, is buoyed by the idea of being reunited with her daughters and strives to be someone they can depend on, unlike her own distant mother. These are the Strangers, each haunted in her own way.
Between flickering moments of warmth and support, the women diverge and reconnect, fighting to survive in a fractured system that pretends to offer success but expects them to fail. Facing the distinct blade of racism from those they trusted most, they urge one another to move through the darkness, all the while wondering if they'll ever emerge safely on the other side.
The Strangers is a companion novel to The Break, Vermette's award-winning novel about the lives of several residents in a troubled Winnipeg neighbourhood. I thought that The Break was a beautifully written, heartbreaking look at the pain and trauma experienced by many women, particularly indigenous women, who are victims of violence. In The Strangers, which has been longlisted for the 2021 Scotiabank Giller Prize, Vermette returns to the same neighbourhood and some of the same characters.
13. Ghosts by Dolly Alderton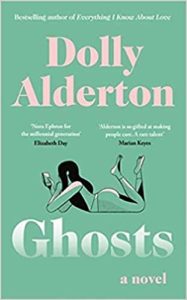 Setting: London
Nina Dean is not especially bothered that she's single. She owns her own apartment, she"s about to publish her second book, she has a great relationship with her ex-boyfriend and enough friends to keep her social calendar full and her hangovers plentiful. And when she downloads a dating app, she does the seemingly impossible: she meets a great guy on her first date. Max is handsome and built like a lumberjack, he has floppy blond hair and is a financially successful accountant. But more surprising than anything else, Nina and Max have chemistry. Their conversations are witty and ironic, they both hate sports, they dance together like fools, they happily dig deep into the nuances of crappy music, and they create an entire universe of private jokes and chemical bliss.
But when Max ghosts her, Nina is forced to deal with everything she"s been trying so hard to ignore: her father's Alzheimer"s is getting worse, and so is her mother"s denial of it; her editor hates her new book idea; and her best friend from childhood is icing her out. Funny, tender and eminently, movingly relatable, Ghosts is a whip-smart tale of relationships and modern life.
An insightful debut novel about a single women living in London and navigating changes in various relationships in her life. Ghosts isn't the romantic comedy that it is marketed as, however, it is a very relatable story about modern relationships. I actually found the narrative relating to Nina's father and her female friends far more compelling than the romantic storyline.
14. Denial by Beverley Maclachlan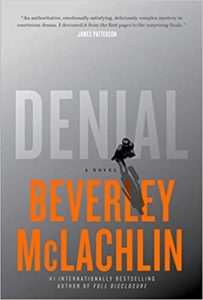 Setting: Vancouver, British Columbia
Jilly Truitt has made a name for herself as one of the top criminal defense lawyers in the city. Where once she had to take just about any case to keep her firm afloat, now she has her pick—and she picks winners.
So when Joseph Quentin asks her to defend his wife, who has been charged with murdering her own mother in what the media are calling a mercy killing, every instinct tells Jilly to say no. Word on the street is that Vera Quentin is in denial, refusing to admit to the crime and take a lenient plea deal. Quentin is a lawyer's lawyer, known as the Fixer in legal circles, and if he can't help his wife, who can?
Anyone who loves a good courtroom drama will enjoy the lastest from Beverley McLachlin, former Chief Justice of the Supreme Court of Canada. Denial, like her bestseller Full Disclosure, is about Jilly Truitt, a tough criminal defence lawyer practicing in Vancouver. Denial raises some very interesting legal and ethical issues relating to medical assistance in dying (a law referred to as MAID in Canada) and there's also a side plot about human trafficking.
I have read quite a few legal thrillers over the years but I think that this is the first that I have read from the Canadian perspective which I quite enjoyed although I think, perhaps, I should have read Full Disclosure first for Jilly's back story.
I received a digital ARC (Advance Review Copy) of Denial.
15. Island Queen by Vanessa Riley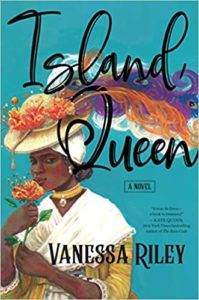 Setting: Caribbean islands, London
Born into slavery on the tiny Caribbean island of Montserrat, Doll bought her freedom—and that of her sister and her mother—from her Irish planter father and built a legacy of wealth and power as an entrepreneur, merchant, hotelier, and planter that extended from the marketplaces and sugar plantations of Dominica and Barbados to a glittering luxury hotel in Demerara on the South American continent.
Vanessa Riley's novel brings Doll to vivid life as she rises above the harsh realities of slavery and colonialism by working the system and leveraging the competing attentions of the men in her life: a restless shipping merchant, Joseph Thomas; a wealthy planter hiding a secret, John Coseveldt Cells; and a roguish naval captain who will later become King William IV of England.
From the bustling port cities of the West Indies to the forbidding drawing rooms of London's elite, Island Queen is a sweeping epic of an adventurer and a survivor who answered to no one but herself as she rose to power and autonomy against all odds, defying rigid eighteenth-century morality and the oppression of women as well as people of color. It is an unforgettable portrait of a true larger-than-life woman who made her mark on history.
This historical novel is based on the life of Dorothy Kirwan Thomas, a free woman of color who rose from slavery to become one of the wealthiest and most powerful landowners in the colonial West Indies. I have it in my TBR stack of books and can't wait to get lost in it!
16. Swimming Back to Trout River by Linda Rui Feng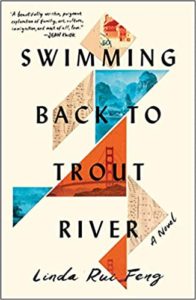 Setting: China and the U.S.
In the summer of 1986, in a small Chinese village, ten-year-old Junie receives a momentous letter from her parents, who had left for America years ago: her father promises to return home and collect her by her twelfth birthday. But Junie's growing determination to stay put in the idyllic countryside with her beloved grandparents threatens to derail her family's shared future.
What Junie doesn't know is that her parents, Momo and Cassia, are newly estranged from one another in their adopted country, each holding close private tragedies and histories from the tumultuous years of their youth during China's Cultural Revolution. While Momo grapples anew with his deferred musical ambitions and dreams for Junie's future in America, Cassia finally begins to wrestle with a shocking act of brutality from years ago. In order for Momo to fulfill his promise, he must make one last desperate attempt to reunite all three members of the family before Junie's birthday—even if it means bringing painful family secrets to light.
I'm about to read this as I was on the waitlist at the library and just picked it up. I have read some good reviews of this debut novel and it sounds like a deeply moving story. I'm also interested in learning more about Chinese culture and history particularly the Cultural Revolution.
17. The Personal Librarian by Marie Benedict and Victoria Christopher Murray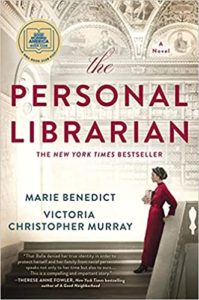 Setting: New York City
In her twenties, Belle da Costa Greene is hired by J. P. Morgan to curate a collection of rare manuscripts, books, and artwork for his newly built Pierpont Morgan Library. Belle becomes a fixture on the New York society scene and one of the most powerful people in the art and book world, known for her impeccable taste and shrewd negotiating for critical works as she helps build a world-class collection.
But Belle has a secret, one she must protect at all costs. She was born not Belle da Costa Greene but Belle Marion Greener. She is the daughter of Richard Greener, the first Black graduate of Harvard and a well-known advocate for equality. Belle's complexion isn't dark because of her alleged Portuguese heritage that lets her pass as white–her complexion is dark because she is African American.

The Personal Librarian tells the story of an extraordinary woman, famous for her intellect, style, and wit, and shares the lengths to which she must go–for the protection of her family and her legacy–to preserve her carefully crafted white identity in the racist world in which she lives.
This is another novel based on the life of a real woman and her story sounds fascinating. I have this on hold at the library but I'm so far down the waitlist that I might buy it if I get too impatient waiting.
18. The Paris Connection by Lorraine Brown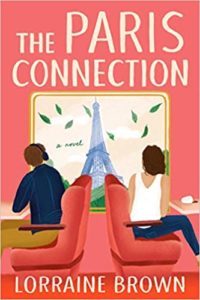 Setting: Paris
When Hannah and her boyfriend, Simon, set out to Amsterdam, they're confident that they'll make it to his sister's wedding in time. However, unbeknownst to them, their train is scheduled to divide in the middle of the night. And when it does, half of it continues the route to Amsterdam. And the other half—the one with Hannah in it—heads three hundred miles away, to Paris.
Left without her belongings or hope of reuniting with Simon, Hannah has no choice but to spend the day in Paris before the next train out. Worse than being stranded in a foreign city alone? Being stuck with Léo, the handsome but infuriating Frenchman who blames Hannah for his own unwanted delay.
The series of mishaps that sends them traipsing through the City of Light is only further proof that Hannah's day has gone from bad to worse. But as she takes in the glorious sights of the city—and spends more time with Léo—Hannah discovers that the unexpected detour might actually be leading her to the life she was always meant to live . . .
A fun, light, enjoyable read! The best part of this book is exploring Paris with the two as Léo takes Hannah to see all of his favourite places in the city. The descriptions of the city made me want to hop on a plane and return to la belle Paris!!
19. Great Circle by Maggie Shipstead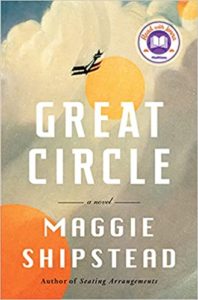 Setting: Various Locations
After being rescued as infants from a sinking ocean liner in 1914, Marian and Jamie Graves are raised by their dissolute uncle in Missoula, Montana. There–after encountering a pair of barnstorming pilots passing through town in beat-up biplanes–Marian commences her lifelong love affair with flight. At fourteen she drops out of school and finds an unexpected and dangerous patron in a wealthy bootlegger who provides a plane and subsidizes her lessons, an arrangement that will haunt her for the rest of her life, even as it allows her to fulfill her destiny: circumnavigating the globe by flying over the North and South Poles.
A century later, Hadley Baxter is cast to play Marian in a film that centers on Marian's disappearance in Antarctica. Vibrant, canny, disgusted with the claustrophobia of Hollywood, Hadley is eager to redefine herself after a romantic film franchise has imprisoned her in the grip of cult celebrity. Her immersion into the character of Marian unfolds, thrillingly, alongside Marian's own story, as the two women's fates–and their hunger for self-determination in vastly different geographies and times–collide.
This novel was published in the spring, however, I'll finally be reading it this fall as I am now almost at the top of the library waitlist. Shortlisted for the Booker prize, this story of adventurous and determined women sounds like an incredible read!
20. The Party Crasher by Sophie Kinsella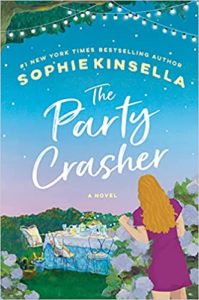 Setting: England
It's been over two years since Effie's beloved parents got divorced, destroying the image of the happy, loving childhood she thought she had. Since then, she's become estranged from her father and embarked on a feud with his hot (and much younger) girlfriend, Krista. And now, more earth-shattering news: Greenoaks, the rambling Victorian country house Effie called home her whole life, has been sold.

When Krista decides to throw a grand "house cooling" party, Effie is originally left off the guest list—and then receives a last-minute "anti-invitation" (maybe it's because she called Krista a gold-digger, but Krista totally deserved it, and it was mostly a joke anyway). Effie declines, but then remembers a beloved childhood treasure is still hidden in the house. Her only chance to retrieve it is to break into Greenoaks while everyone is busy celebrating.
As Effie sneaks around the house, hiding under tables and peeping through trapdoors, she realizes the secrets Greenoaks holds aren't just in the dusty passageways and hidden attics she grew up exploring. Watching how her sister, brother, and dad behave when they think no one is looking, Effie overhears conversations, makes discoveries, and begins to see her family in a new light. Then she runs into Joe—the love of her life, who long ago broke her heart, and who's still as handsome and funny as ever—and even more truths emerge.
Sophie Kinsella has been my guilty pleasure for years and I have read everything that she's written so, of course, I pre-ordered The Party Crasher and can't wait to read it!
21. Three Sisters by Heather Morris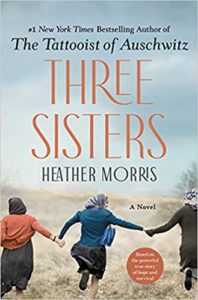 Setting: Nazi Germany and Israel
Against all odds, three Slovakian sisters have survived years of imprisonment in the most notorious death camp in Nazi Germany: Auschwitz. Livia, Magda, and Cibi have clung together, nearly died from starvation and overwork, and the brutal whims of the guards in this place of horror. But now, the allies are closing in and the sisters have one last hurdle to face: the death march from Auschwitz, as the Nazis try to erase any evidence of the prisoners held there. Due to a last minute stroke of luck, the three of them are able to escape formation and hide in the woods for days before being rescued.
And this is where the story begins. From there, the three sisters travel to Israel, to their new home, but the battle for freedom takes on new forms. Livia, Magda, and Cibi must face the ghosts of their past–and some secrets that they have kept from each other–to find true peace and happiness.
This latest novel from New York Times bestselling author, Heather Morris, is one of the historical fiction books that I plan to read this fall. I chose it because it follows the three sisters from Auschwitz to their new home in Israel. I don't think I have ever read a historical novel that takes place in the aftermath of WWII in Israel and I'm interested to learn more about what happened there as Jewish refugees from war-torn Europe started over in the newly-established state.
22. Fault Lines by Emily Itami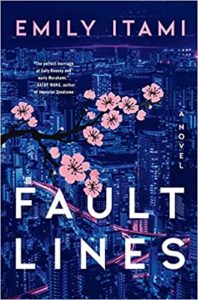 Setting: Tokyo, Japan
Mizuki is a Japanese housewife. She has a hardworking husband, two adorable children, and a beautiful Tokyo apartment. It's everything a woman could want, yet sometimes she wonders whether she would rather throw herself off the high-rise balcony than spend another evening not talking to her husband and hanging up laundry.
Then, one rainy night, she meets Kiyoshi, a successful restauranteur. In him, she rediscovers freedom, friendship, and the neon, electric pulse of the city she has always loved. But the further she falls into their relationship, the clearer it becomes that she is living two lives—and in the end, we can choose only one.
Funny, provocative, and startlingly honest, Fault Lines is for anyone who has ever looked in the mirror and asked, who am I and how did I get here? A bittersweet love story and a piercing portrait of female identity, it introduces Emily Itami as a debut novelist with astounding resonance and wit.
I've read some great reviews of this debut novel including from the New York Times Book Review and I'm drawn to the fact that it's set in Tokyo.
23. The Guilt Trip by Sandie Jones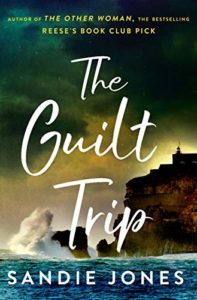 Setting: Portugal
Rachel and Noah have been friends since they met at university. While they once thought that they might be something more, now, twenty years later, they are each happily married to other people, Jack and Paige respectively. Jack's brother Will is getting married, to the dazzling, impulsive Ali, and the group of six travel to Portugal for their destination weekend.
Three couples.
As they arrive at a gorgeous villa perched on a cliff-edge, overlooking towering waves that crash on the famous surfing beaches below at Nazaré, they try to settle into a weekend of fun. While Rachel is looking forward to getting to know her future sister-in-law Ali better, Ali can't help but rub many of the group up the wrong way: Rachel's best friend Paige thinks Ali is attention-seeking and childish, and while Jack is trying to support his brother Will's choice of wife, he is also finding plenty to disagree with Noah about.
One fatal misunderstanding . . .
But when Rachel discovers something about Ali that she can hardly believe, everything changes. As the wedding weekend unfolds, the secrets each of them hold begin to spill, and friendships and marriages threaten to unravel. Soon, jumping to conclusions becomes the difference between life and death.
I don't read a lot of mystery/thriller books but the description of this one which was published at the end of the summer appeals to me as does the setting in Portugal which has been on my travel wish list for the past few years.
24. Portrait of a Scotsman by Evie Dunmore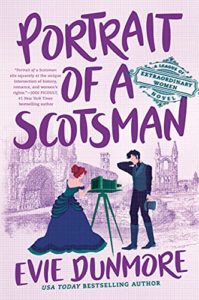 Setting: England, Scotland
London banking heiress Hattie Greenfield wanted just three things in life:
1. Acclaim as an artist.
2. A noble cause.
3. Marriage to a young lord who puts the gentle in gentleman.
Why then does this Oxford scholar find herself at the altar with the darkly attractive financier Lucian Blackstone, whose murky past and ruthless business practices strike fear in the hearts of Britain"s peerage? Trust Hattie to take an invigorating little adventure too far. Now she's stuck with a churlish Scot who just might be the end of her ambitions….
When the daughter of his business rival all but falls into his lap, Lucian sees opportunity. As a self-made man, he has vast wealth but holds little power, and Hattie might be the key to finally setting long-harbored political plans in motion. Driven by an old desire for revenge, he has no room for his new wife's apprehensions or romantic notions, bewitching as he finds her.
But a sudden journey to Scotland paints everything in a different light. Hattie slowly sees the real Lucian and realizes she could win everything–as long as she is prepared to lose her heart.
A steamy romance set in London and Scotland in 1880 that is the 3rd in Evie Dunmore's series, A League of Extraordinary Women, about the group of women first admitted to study at Oxford University. I haven't read the first two but will likely do so now as I enjoyed this historical rom-com that cleverly combines romance with a storyline about the struggle for rights for women and workers.
25. The Women's March by Jennifer Chiaverini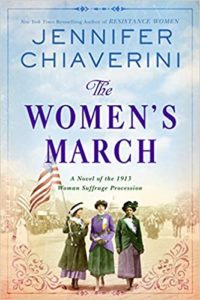 Setting: Washington, DC and other U.S. locations
Twenty-five-year-old Alice Paul returns to her native New Jersey after several years on the front lines of the suffrage movement in Great Britain. Weakened from imprisonment and hunger strikes, she is nevertheless determined to invigorate the stagnant suffrage movement in her homeland. Nine states have already granted women voting rights, but only a constitutional amendment will secure the vote for all.
To inspire support for the campaign, Alice organizes a magnificent procession down Pennsylvania Avenue in Washington, DC, the day before the inauguration of President-elect Woodrow Wilson, a firm antisuffragist.
Joining the march is thirty-nine-year-old New Yorker Maud Malone, librarian and advocate for women's and workers' rights. The daughter of Irish immigrants, Maud has acquired a reputation—and a criminal record—for interrupting politicians' speeches with pointed questions they'd rather ignore.
Civil rights activist and journalist Ida B. Wells-Barnett resolves that women of color must also be included in the march—and the proposed amendment. Born into slavery in Mississippi, Ida worries that white suffragists may exclude Black women if it serves their own interests.
On March 3, 1913, the glorious march commences, but negligent police allow vast crowds of belligerent men to block the parade route—jeering, shouting threats, assaulting the marchers—endangering not only the success of the demonstration but the women's very lives.
Inspired by actual events, The Women's March offers a fascinating account of a crucial but little-remembered moment in American history, a turning point in the struggle for women's rights.
The narrative of this book was a bit dry compared to Chiaverini's historical novel Resistance Women which I read a couple of years ago and loved. This is a very fact-based account of the event as opposed to a fictionalizing of the lives of the three suffragists at the heart of the story (Alice Paul, Maud Malone and Ida B. Wells-Barnett) and the 1913 Woman Suffrage Procession in the U.S. I still enjoyed reading it though for what I learned about the suffrage movement in the U.S. and these three women in particular, the opposition (sometimes violent) to women's suffrage, and the intersection between the movements for women's suffrage and racial equality.
26. The Son of the House by Cheluchi Onyemelukwe-Onuobia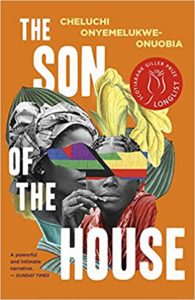 Setting: Nigeria
In the Nigerian city of Enugu, young Nwabulu, a housemaid since the age of ten, dreams of becoming a typist as she endures her employers' endless chores. She is tall and beautiful and in love with a rich man's son.
Educated and privileged, Julie is a modern woman. Living on her own, she is happy to collect the gold jewellery lovestruck Eugene brings her, but has no intention of becoming his second wife.
When a kidnapping forces Nwabulu and Julie into a dank room years later, the two women relate the stories of their lives as they await their fate.
Pulsing with vitality and intense human drama, Cheluchi Onyemelukwe-Onuobia's debut is set against four decades of vibrant Nigeria, celebrating the resilience of women as they navigate and transform what remains a man's world.
Published in spring 2021, this debut novel has been shortlisted for the prestigious Scotiabank Giller Prize 2021 and Winner of the Best International Fiction Book Award. I'm trying to expand my reading to include more diversity and authors outside North America and the U.K. so am looking forward to this debut written by a Nigerian author.
27. A Passage North by Anuk Arudpragasam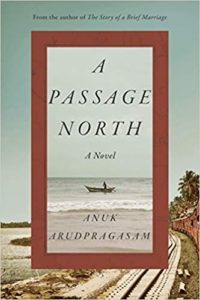 Setting: Sri Lanka
A Passage North begins with a message from out of the blue: a telephone call informing Krishan that his grandmother's caretaker, Rani, has died under unexpected circumstances—found at the bottom of a well in her village in the north, her neck broken by the fall. The news arrives on the heels of an email from Anjum, an impassioned yet aloof activist Krishnan fell in love with years before while living in Delhi, stirring old memories and desires from a world he left behind.

As Krishan makes the long journey by train from Colombo into the war-torn Northern Province for Rani's funeral, so begins an astonishing passage into the innermost reaches of a country. At once a powerful meditation on absence and longing, as well as an unsparing account of the legacy of Sri Lanka's thirty-year civil war, this procession to a pyre "at the end of the earth" lays bare the imprints of an island's past, the unattainable distances between who we are and what we seek.
Published in the summer, A Passage North has been shortlisted for the Booker Prize. I'm interested in learning more about Sri Lanka and the impact of the civil war on the country and the people.
28. Five Little Indians by Michelle Good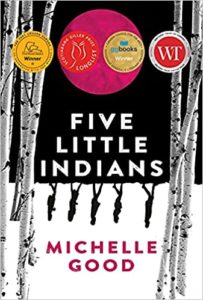 Setting: Vancouver, British Columbia
Taken from their families when they are very small and sent to a remote, church-run residential school, Kenny, Lucy, Clara, Howie and Maisie are barely out of childhood when they are finally released after years of detention.
Alone and without any skills, support or families, the teens find their way to the seedy and foreign world of Downtown Eastside Vancouver, where they cling together, striving to find a place of safety and belonging in a world that doesn't want them. The paths of the five friends cross and crisscross over the decades as they struggle to overcome, or at least forget, the trauma they endured during their years at the Mission.
With compassion and insight, Five Little Indians chronicles the desperate quest of these residential school survivors to come to terms with their past and, ultimately, find a way forward.
Michelle Good's award-winning debut novel tells the interconnecting stories of five survivors of a residential school in British Columbia who end up in Downtown Eastside Vancouver after their release from The Mission. The novel touches on the physical and sexual abuse that the children endured at the hands of the priests and nuns at the school but the focus is the aftermath of the abuse and how it affects the lives of the five over several decades as they try to overcome the trauma and make lives for themselves in the city.
A powerful story of unimaginable suffering but also a story of strength, resilience and healing and an important read for all Canadians as we come to terms with the legacy of residential schools and the trauma and injustice that Canada inflicted on generations of First Nations children, their families and their communities.
29. The Riviera House by Natasha Lester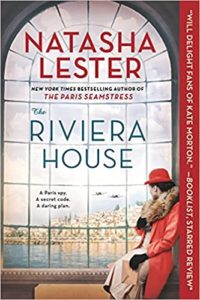 Setting: Paris and French Riviera
Paris, 1939: The Nazis think Éliane can't understand German. They're wrong. They think she's merely cataloging art in the Louvre and unaware they're stealing national treasures for their private collections. They have no idea she's carefully decoding their notes and smuggling information to the Resistance. But Éliane is playing a dangerous game. Does she dare trust the man she once loved with her secrets, or will he only betray her once again? She has no way to know for certain . . . until a trip to a stunning home on the French Riviera brings a whole new level of peril.

Present Day: Wanting to forget the tragedy that has left her life in shambles, Remy Lang heads to a home she's mysteriously inherited on the Riviera. While working on her vintage fashion business, she discovers a catalog of the artworks stolen during World War II and is shocked to see a painting that hung on her childhood bedroom wall. Who is her family, really? And does the Riviera house hold more secrets than Remy is ready to face?
I chose this historical novel for my fall reading list because it's set in Paris and the French Riviera plus I loved the beautiful cover image – it was calling my name!
Pin This For Later