It's October and that means cooler weather, cozy sweaters, pumpkin spice lattes and so many new books to choose from! As much as I love the easy, breezy beach reads of summer, there's nothing like curling up with a good book and a cup of tea to while away a fall afternoon!!
My picks of the best books to read fall 2022 are all recently published or soon to be published works and are primarily fiction – contemporary, historical and romance – but I have also included an anthology of family travel stories that will inspire you to plan some exploring with your kids. I have read all of these books and can personally recommend them. Happy Reading!!
29 Books for Your Fall 2021 Reading List
15 Travel Inspired Books for Your Fall 2020 Reading List
15 Books to Read This Fall – A Travel Inspired List (2019)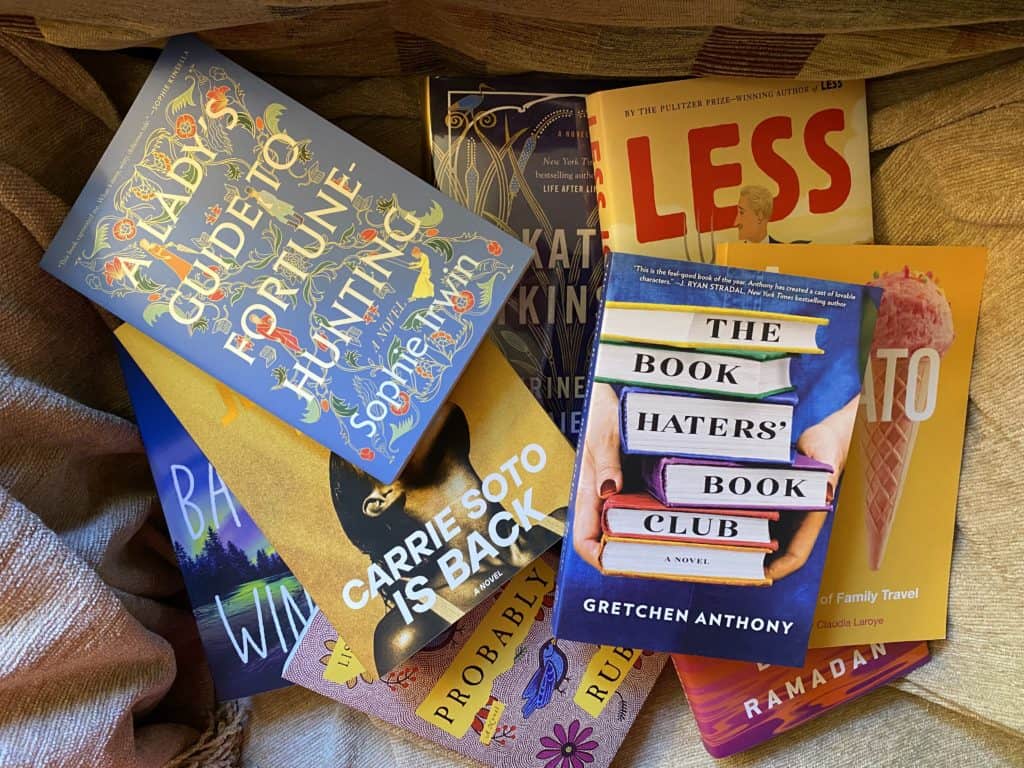 This post may contain affiliate links. If you click an affiliate link and make a purchase then we receive a small commission at no additional cost to you.
We are a participant in the Amazon Services LLC Associates Program, an affiliate advertising program designed to provide a means for us to earn fees by linking to Amazon.com and affiliated sites. As an Amazon affiliate I earn from qualifying purchases.
1. The Code Breaker's Secret by Sara Ackerman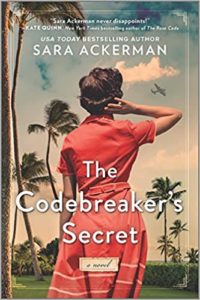 Setting: Hawaii (Oahu and the Big Island)
1943. As war in the Pacific rages on, Isabel Cooper and her codebreaker colleagues huddle in "the dungeon" at Station HYPO in Pearl Harbor, deciphering secrets plucked from the airwaves in a race to bring down the enemy. Isabel has only one wish: to avenge her brother's death. But she soon finds life has other plans when she meets his best friend, a hotshot pilot with secrets of his own.

1965. Fledgling journalist Lu Freitas comes home to Hawai'i to cover the grand opening of the glamorous Mauna Kea Beach Hotel, Rockefeller's newest and grandest project. When a high-profile guest goes missing, Lu forms an unlikely alliance with an intimidating veteran photographer to unravel the mystery. The two make a shocking discovery that stirs up memories and uncovers an explosive secret from the war days. A secret that only a codebreaker can crack.
Secrets, intrigue and romance in the context of a historical novel about wartime in Hawaii makes for a compelling read! This is the third well-researched novel by Sara Ackerman set in Hawaii during WWII that I have read and enjoyed so if you like The Codebreaker's Secret then I can also recommend Radar Girls and Red Sky Over Hawaii.
2. Haven by Emma Donoghue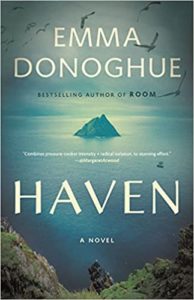 Setting: Skelling Michael, Ireland
In seventh-century Ireland, a scholar and priest called Artt has a dream telling him to leave the sinful world behind. Taking two monks—young Trian and old Cormac—he rows down the river Shannon in search of an isolated spot on which to found a monastery. Drifting out into the Atlantic, the three men find an impossibly steep, bare island inhabited by tens of thousands of birds, and claim it for God. In such a place, what will survival mean?
An unusual, complex historical novel from Emma Donoghue about three 7th century Irish monks who form a settlement on a remote and inhospitable island off the southwest coast of Ireland. Haven is a quiet story about human character, religion and delusional leaders with a nod to environmental issues and a bit of suspense about how this will all end for the three monks. I can't say that I loved this book but it was definitely an interesting, thought-provoking read.
I received a digital ARC (Advance Review Copy) from NetGalley.
3. Carrie Soto is Back by Taylor Jenkins Reid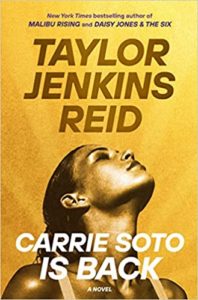 Setting: Various Locations (United States, Europe and Australia)
Carrie Soto is fierce, and her determination to win at any cost has not made her popular. But by the time she retires from tennis, she is the best player the world has ever seen. She has shattered every record and claimed twenty Grand Slam titles. And if you ask Carrie, she is entitled to every one. She sacrificed nearly everything to become the best, with her father, Javier, as her coach. A former champion himself, Javier has trained her since the age of two.
But six years after her retirement, Carrie finds herself sitting in the stands of the 1994 US Open, watching her record be taken from her by a brutal, stunning player named Nicki Chan.
At thirty-seven years old, Carrie makes the monumental decision to come out of retirement and be coached by her father for one last year in an attempt to reclaim her record. Even if the sports media says that they never liked "the Battle-Axe" anyway. Even if her body doesn't move as fast as it did. And even if it means swallowing her pride to train with a man she once almost opened her heart to: Bowe Huntley. Like her, he has something to prove before he gives up the game forever.
In spite of it all, Carrie Soto is back, for one epic final season. In this riveting and unforgettable novel, Taylor Jenkins Reid tells her most vulnerable, emotional story yet.
There's no denying that Taylor Jenkins Reid is a great storyteller – even though I'm not much of a tennis fan, I was on the edge of my seat reading about the tennis matches in Carrie Soto is Back! This is a riveting story about the world of tennis, an ambitious woman obsessed with perfection, sexism in sport, and a lovely father/daughter relationship. As unlikeable as Carrie was at times, I couldn't help rooting for her to realize that there is life beyond tennis and that she deserved to find happiness off the courts.
4. The Lost Ticket by Freya Sampson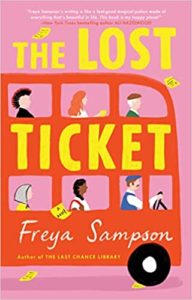 Setting: London, England
When Libby Nicholls arrives in London, brokenhearted and with her life in tatters, the first person she meets on the bus is elderly Frank. He tells her about the time in 1962 that he met a girl on the number 88 bus with beautiful red hair just like hers. They made plans for a date at the National Gallery art museum, but Frank lost the bus ticket with her number on it. For the past sixty years, he's ridden the same bus trying to find her, but with no luck.

Libby is inspired to action and, with the help of an unlikely companion, she papers the bus route with posters advertising their search. Libby begins to open her guarded heart to new friendships and a budding romance, as her tightly controlled world expands. But with Frank's dementia progressing quickly, their chance of finding the girl on the 88 bus is slipping away.

More than anything, Libby wants Frank to see his lost love one more time. But their quest also shows Libby just how important it is to embrace her own chances for happiness—before it's too late—in a beautifully uplifting novel about how a shared common experience among strangers can transform lives in the most marvelous ways.
Sometimes you just need a feel-good book and this sweet, uplifting story will restore your faith in humanity. It's a lovely, heartwarming story about kindness, compassion and a disparate community of people coming together and transforming lives as a result. You might shed tears – both happy and sad!
5. A Gelato a Day edited by Claudia Laroye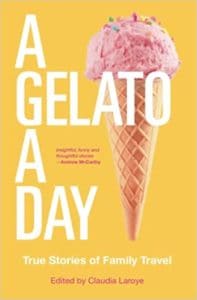 A Gelato A Day is a collection of travel tales that highlights the good, the bad and the not-really-that-ugly of the family travel experience. These stories go beyond holidays-gone-wrong to dive thoughtfully into the deeper parental and family connections that can occur when we take ourselves (or are taken out of) our daily routines and comfort zones. More often than not, entering unfamiliar places, spaces and situations encourages us to open up to one another or react in ways that may surprise, delight or frustrate those we hold most dear.
I loved this diverse collection of family travel stories that prompt the reader to contemplate the impact of family travel on both parents and children. Twenty very different stories demonstrate how much we learn when we travel with loved ones about the past and the world we live in today and, perhaps even more importantly, about ourselves and our relationship to each other. The collection encompasses a wide range of perspectives and experiences from families travelling with toddlers to travel with teens to adult children travelling with parents – providing suitable inspiration for all stages of family travel.
I would have loved to have had a collection of stories such as this when we were travelling with our young daughters to provide reassurance that I was right to believe that travel with young kids was not only possible but something that would be both memorable, enriching and life-shaping for all of us. Hopefully A Gelato a Day will both inspire and encourage more families to take the leap and plan their own family adventures. And having travelled to Italy with young children in the heat of summer, I can confirm that a gelato a day does indeed keep the tantrums away!
I received an advance review copy from the publisher/author.
6. Less is Lost by Andrew Sean Greer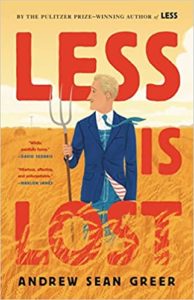 Setting: Road trip across America
"Go get lost somewhere, it always does you good."

For Arthur Less, life is going surprisingly well: he is a moderately accomplished novelist in a steady relationship with his partner, Freddy Pelu. But nothing lasts: the death of an old lover and a sudden financial crisis has Less running away from his problems yet again as he accepts a series of literary gigs that send him on a zigzagging adventure across the US.

Less roves across the "Mild Mild West," through the South and to his mid-Atlantic birthplace, with an ever-changing posse of writerly characters and his trusty duo – a human-like black pug, Dolly, and a rusty camper van nicknamed Rosina. He grows a handlebar mustache, ditches his signature gray suit, and disguises himself in the bolero-and-cowboy-hat costume of a true "Unitedstatesian"… with varying levels of success, as he continues to be mistaken for either a Dutchman, the wrong writer, or, worst of all, a "bad gay."

We cannot, however, escape ourselves—even across deserts, bayous, and coastlines. From his estranged father and strained relationship with Freddy, to the reckoning he experiences in confronting his privilege, Arthur Less must eventually face his personal demons. With all of the irrepressible wit and musicality that made Less a bestselling, Pulitzer Prize-winning, must-read breakout book, Less Is Lost is a profound and joyous novel about the enigma of life in America, the riddle of love, and the stories we tell along the way.
An enjoyable sequel to Less which won the Pulitzer Prize a few years ago. Arthur Less is as hapless and lovable as he was in the first book and this one is both funny and poignant as well but fell a bit short in comparison. I like the character Less so much though that it didn't matter and the writing is beautiful.
7. Probably Ruby by Lisa Bird-Wilson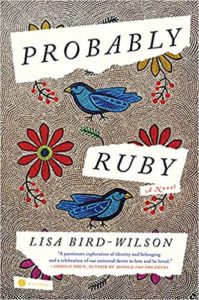 Setting: Saskatchewan, Canada
This is the story of a woman in search of herself, in every sense. When we first meet Ruby, a Métis woman in her thirties, her life is spinning out of control. She's angling to sleep with her counselor while also rekindling an old relationship she knows will only bring more heartache. But as we soon learn, Ruby's story is far more complex than even she can imagine.
Given up for adoption as an infant, Ruby is raised by a white couple who understand little of her Indigenous heritage. This is the great mystery that hovers over Ruby's life—who her people are and how to reconcile what is missing. As the novel spans time and multiple points of view, we meet the people connected to Ruby: her birth parents and grandparents; her adoptive parents; the men and women Ruby has been romantically involved with; a beloved uncle; and Ruby's children. Taken together, these characters form a kaleidoscope of stories, giving Ruby's life dignity and meaning.
Raw, heartbreaking story of a Métis woman, adopted into a white family as an infant, who has been struggling all her life to find a sense of belonging. Ruby's story is told in a series of vignettes that aren't in chronological and are from her point of view as well as those of others who are connected to her at various points in her life.
8. The War Librarian by Addison Armstrong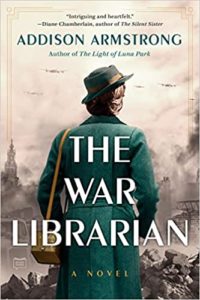 Setting: France and Annapolis, Maryland, United States
1918. Timid and shy Emmaline Balakin lives more in books than her own life. That is, until an envelope crosses her desk at the Dead Letter Office bearing a name from her past, and Emmaline decides to finally embark on an adventure of her own—as a volunteer librarian on the frontlines in France. But when a romance blooms as she secretly participates in a book club for censored books, Emmaline will need to find more courage within herself than she ever thought possible in order to survive.

1976. Kathleen Carre is eager to prove to herself and to her nana that she deserves her acceptance into the first coed class at the United States Naval Academy. But not everyone wants female midshipmen at the Academy, and after tragedy strikes close to home, Kathleen becomes a target. To protect herself, Kathleen must learn to trust others even as she discovers a secret that could be her undoing.
A captivating historical novel about trail-blazing women told in two timelines inspired by the women librarians who volunteered in Europe in World War I (1918) and the first coed class at the United States Naval Academy (1976). A story of female friendship, the importance of books/words, sacrifice, racism, sexism, censorship and a timely message about the importance of having the courage to do the right thing and live a life of honour.
9. That Summer in Berlin by Lecia Cornwall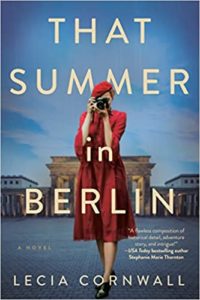 Setting: Berlin, Germany
German power is rising again, threatening a war that will be even worse than the last one. The English aristocracy turns to an age-old institution to stave off war and strengthen political bonds—marriage. Debutantes flock to Germany, including Viviane Alden. On holiday with her sister during the 1936 Berlin Olympics, Viviane's true purpose is more clandestine. While many in England want to appease Hitler, others seek to prove Germany is rearming. But they need evidence, photographs to tell the tale, and Viviane is a genius with her trusty Leica. And who would suspect a pretty, young tourist taking holiday snaps of being a spy?

Viviane expects to find hatred and injustice, but during the Olympics, with the world watching, Germany is on its best behavior, graciously welcoming tourists to a festival of peace and goodwill. But first impressions can be deceiving, and it's up to Viviane and the journalist she's paired with—a daring man with a guarded heart—to reveal the truth.

But others have their own reasons for befriending Viviane, and her adventure takes a darker turn. Suddenly Viviane finds herself caught in a web of far more deadly games—and closer than she ever imagined to the brink of war.
A gripping historical novel that takes place in Berlin around the time of the 1936 Summer Olympics. The Second World War has been covered so thoroughly in historical fiction that it's nice to find a novel that takes an original angle looking at the pre-war period and how the cult of personality was developing around Hitler while he was re-arming Germany in contravention of the peace agreement from World War I. There's also some insight into the behaviour of the appeasers in Britain as well as high-profile members of the British aristocracy and celebrities who believed in fascism and admired Hitler for his efforts in Germany.
10. Our Missing Hearts by Celeste Ng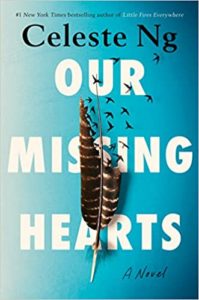 Setting: United States (Cambridge and New York City)
Twelve-year-old Bird Gardner lives a quiet existence with his loving but broken father, a former linguist who now shelves books in a university library. Bird knows to not ask too many questions, stand out too much, or stray too far. For a decade, their lives have been governed by laws written to preserve "American culture" in the wake of years of economic instability and violence.
To keep the peace and restore prosperity, the authorities are now allowed to relocate children of dissidents, especially those of Asian origin, and libraries have been forced to remove books seen as unpatriotic—including the work of Bird's mother, Margaret, a Chinese American poet who left the family when he was nine years old.

Bird has grown up disavowing his mother and her poems; he doesn't know her work or what happened to her, and he knows he shouldn't wonder. But when he receives a mysterious letter containing only a cryptic drawing, he is pulled into a quest to find her.
His journey will take him back to the many folktales she poured into his head as a child, through the ranks of an underground network of librarians, into the lives of the children who have been taken, and finally to New York City, where a new act of defiance may be the beginning of much-needed change.
Celese Ng's beautifully-written novel raises complex and timely issues about authoritarianism, racial violence, economic inequality and censorship in addition to themes about motherhood and the power of storytelling/art as a catalyst for change. The issues in the book are perhaps even more interesting than the story itself making it an excellent choice for book club discussions.
Our Missing Hearts is described as dystopian but is it really dystopian if it's not even a bit difficult to imagine this story happening in the very near future? Reading it made me think quite a lot about the current political climate and the slippery slope that we seem to be on that could ultimately lead to the loss of democracy. Perhaps Our Missing Hearts should serve as a cautionary tale/warning about what we could lose if we aren't willing to take a stand for what's right.
11. The Sweetness of Forgetting by Kristin Harmel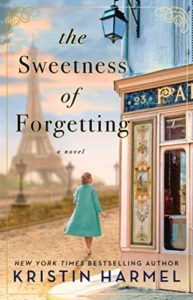 Setting: Cape Cod and Paris
At thirty-six, Hope McKenna-Smith is no stranger to bad news. She lost her mother to cancer, her husband left her for a twenty-two year old, and her bank account is nearly depleted. Her own dreams of becoming a lawyer long gone, she's running a failing family bakery on Cape Cod and raising a troubled preteen.

Now, Hope's beloved French-born grandmother Mamie, who wowed the Cape with her fabulous pastries for more than fifty years, is drifting away into a haze of Alzheimer's. But in a rare moment of clarity, Mamie realizes that unless she tells Hope about the past, the secrets she has held on to for so many years will soon be lost forever. Tantalizingly, she reveals mysterious snippets of a tragic history in Paris. And then, arming her with a scrawled list of names, she sends Hope to France to uncover a seventy-year-old mystery.

Hope's emotional journey takes her through the bakeries of Paris and three religious traditions, all guided by Mamie's fairy tales and the sweet tastes of home. As Hope pieces together her family's history, she finds horrific Holocaust stories mixed with powerful testimonies of her family's will to survive in a world gone mad. And to reunite two lovers torn apart by terror, all she'll need is a dash of courage, and the belief that God exists everywhere, even in cake…
A touching story about family, love, loss and regret. This 10th anniversary edition of the book includes a number of recipes for the pastries that are sold in Hope's family bakery which is fun for anyone who would like to try their hand at baking some of the delicious sweets described in the story.
12. Fayne by Ann-Marie Macdonald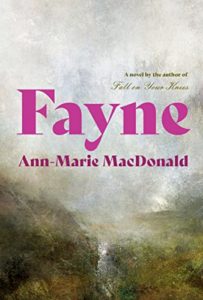 Setting: England/Scotland border and Edinburgh
In the late nineteenth century, Charlotte Bell is growing up at Fayne, a vast and lonely estate straddling the border between England and Scotland, where she has been kept from the world by her adoring father, Lord Henry Bell, owing to a mysterious condition. Charlotte, strong and insatiably curious, revels in the moorlands, and has learned the treacherous and healing ways of the bog from the old hired man, Byrn, whose own origins are shrouded in mystery.
Her idyllic existence is shadowed by the magnificent portrait on the landing in Fayne House which depicts her mother, a beautiful Irish-American heiress, holding Charlotte's brother, Charles Bell. Charlotte has grown up with the knowledge that her mother died in giving birth to her, and that her older brother, Charles, the long-awaited heir, died soon afterwards at the age of two.
When Charlotte's appetite for learning threatens to exceed the bounds of the estate, her father breaks with tradition and hires a tutor to teach his daughter "as you would my son, had I one." But when Charlotte and her tutor's explorations of the bog turn up an unexpected artefact, her father announces he has arranged for her to be cured of her condition, and her world is upended. Charlotte's passion for knowledge and adventure will take her to the bottom of family secrets and to the heart of her own identity.
I loved this sweeping late 19th century story of Charlotte Bell and Fayne – the estate in the moorlands on the border of England and Scotland that has been in her family for centuries. If Fayne hadn't been 700+ pages, I would have devoured it in one sitting – definitely worth the time it takes to read!
The novel is atmospheric and full of twists, includes some magical realism and addresses many themes including gender and identity and the lack of women's rights at the time. I read nothing about the plot of Fayne before I started reading and that is what I would recommend – I would not have wanted to have even a hint ahead of time of the surprises and twists that Fayne held in store. A wonderful and highly recommended read if you're in the mood for a literary novel!!
I received a digital ARC (Advance Review Copy) from NetGalley.
13. Jacqueline in Paris by Ann Mah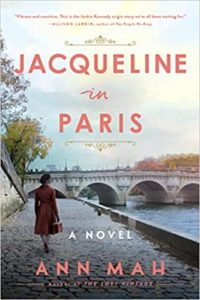 Setting: Paris, France
In September 1949 Jacqueline Bouvier arrives in postwar Paris to begin her junior year abroad. She's twenty years old, socially poised but financially precarious, and all too aware of her mother's expectations that she make a brilliant match. Before relenting to family pressure, she has one year to herself far away from sleepy Vassar College and the rigid social circles of New York, a year to explore and absorb the luminous beauty of the City of Light.
Jacqueline is immediately catapulted into an intoxicating new world of champagne and châteaux, art and avant-garde theater, cafés and jazz clubs. She strikes up a romance with a talented young writer who shares her love of literature and passion for culture – even though her mother would think him most unsuitable.
But beneath the glitter and rush, France is a fragile place still haunted by the Occupation. Jacqueline lives in a rambling apartment with a widowed countess and her daughters, all of whom suffered as part of the French Resistance just a few years before. In the aftermath of World War II, Paris has become a nest of spies, and suspicion, deception, and betrayal lurk around every corner.
Jacqueline is stunned to watch the rise of communism – anathema in America, but an active movement in France – never guessing she is witnessing the beginning of the political environment that will shape the rest of her life—and that of her future husband.
An interesting historical fiction novel about a legendary woman before she became a household name. Jacqueline in Paris is a character driven novel without a great deal of plot but still an enjoyable read as it conveys the sense of what it was like to be in Paris in 1949/50 as the city and the country were recovering from the hardship and deprivation of the war and also provides some insight into an iconic woman during her coming of age in the City of Light.
14. The Book Haters' Book Club by Gretchen Anthony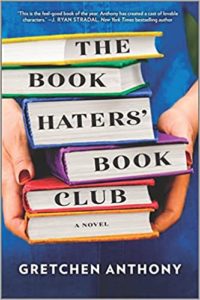 Setting: Minneapolis, Minnesota, United States
That was what Elliot—the beloved co-owner of Over the Rainbow Bookshop—believed before his untimely passing. He always had the perfect book suggestion for the self-proclaimed Book Hater. Now his grief-ridden business partner, Irma, has agreed to sell the cozy Over the Rainbow to condo developers.
But others won't give up the bookshop without a fight. When Irma breaks the news to her daughters, Bree and Laney, and Elliot's romantic partner, Thom, they are aghast. Over the Rainbow has been Bree and Laney's sanctuary since childhood, and Thom would do anything to preserve Elliot's legacy. Together they conspire to save the bookshop, even if it takes some snooping, gossip and minor sabotage.
An enjoyable story that's mostly about saving an independent bookstore in Minneapolis from being sold to condo developers and unearthing secrets about why the deal had been made in the first place. There are also a few interesting book recommendations included via the bookstore's newsletter which is titled "The Book Haters' Book Club Newsletter".
15. Before I Do by Sophie Cousens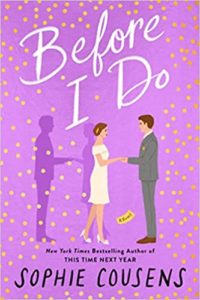 Setting: England (London and Somerset)
Head-in-the-stars Audrey is about to marry down-to-earth Josh. Though they are polar opposites, they have a healthy, stable relationship; Josh is just what Audrey needs. But romance should be unpredictable and full of fireworks, and as the big day approaches, Audrey's found herself wondering if Josh really is "The One."

So, when Josh's sister shows up to the rehearsal dinner with Fred, Audrey's "What If? guy"—the man she met six years ago and had one amazing day with—Audrey finds herself torn. Surely Fred's appearance the night before she is due to get married can't be a coincidence. And when everything that could go wrong with the wedding starts to go wrong, Audrey has to ask herself: Is fate trying to stop her from making a huge mistake? Or does destiny just have a really twisty sense of humor?
A charming rom-com about a woman on the eve of her wedding who begins to doubt that she's marrying the right person. The narrative skips back and forth on timelines from the present day to Audrey's day with Fred and the development of her relationship with Josh. An enjoyable, mostly light with a few serious issues, read that will keep you guessing until near to the end about who Audrey is meant to be with!
16. Demon Copperhead by Barbara Kingsolver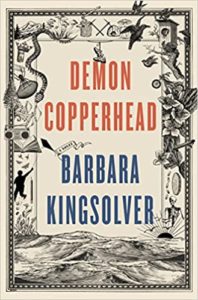 Setting: Mountains of southern Appalachia, United States
"Anyone will tell you the born of this world are marked from the get-out, win or lose."
Demon Copperhead is set in the mountains of southern Appalachia. It's the story of a boy born to a teenaged single mother in a single-wide trailer, with no assets beyond his dead father's good looks and copper-colored hair, a caustic wit, and a fierce talent for survival.
In a plot that never pauses for breath, relayed in his own unsparing voice, he braves the modern perils of foster care, child labor, derelict schools, athletic success, addiction, disastrous loves, and crushing losses. Through all of it, he reckons with his own invisibility in a popular culture where even the superheroes have abandoned rural people in favor of cities.
A riveting, beautifully-written modern day retelling of David Copperfield with an unforgettable main character. Demon Copperhead is a heartbreaking tale of poverty and a blistering indictment of the child welfare system as well as the greedy pharmaceutical companies that fueled the tragic opioid addiction crisis in the name of profit. Along with this social criticism, Kingsolver's love for Appalachia and her sympathy for the struggles of a rural America exploited by industry are also apparent throughout the novel.
17. The Foghorn Echoes by Danny Ramadan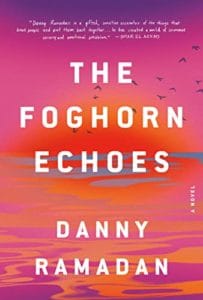 Setting: Damascus, Syria and Vancouver, Canada
Hussam and Wassim are teenage boys living in Syria during America's 2003 invasion of Iraq. When a surprise discovery results in tragedy, their lives, and those of their families, are shattered. Wassim promises Hussam his protection, but ten years into the future, he has failed to keep his promise. Wassim is on the streets, seeking shelter from both the city and the civil war storming his country. Meanwhile Hussam, now on the other side of the world, remains haunted by his own ghosts, doing his utmost to drown them out with every vice imaginable.

Split between war-torn Damascus and Vancouver, The Foghorn Echoes is a tragic love story about coping with shared traumatic experience and devastating separation. As Hussam and Wassim come to terms with the past, they begin to realise the secret that haunts them is not the only secret that formed them.
An incredibly moving novel about the developing love between two young Syrian boys at the time of the Iraq War in 2003 and the tragic consequences that follow the discovery of their relationship. A heartbreaking story of love and war – beautifully written but raw, painful and not at all easy to read account of two men who have had their lives torn apart trying to find a sense of peace and learn to live again.
18. When We Had Wings by Ariel Lawhon, Kristina McMorris and Susan Meissner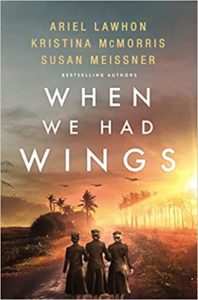 Setting: The Philippines
The Philippines, 1941. When U.S. Navy nurse Eleanor Lindstrom, U.S. Army nurse Penny Franklin, and Filipina nurse Lita Capel forge a friendship at the Army Navy Club in Manila, they believe they're living a paradise assignment. All three are seeking a way to escape their pasts, but soon the beauty and promise of their surroundings give way to the heavy mantle of war.
Caught in the crosshairs of a fight between the U.S. military and the Imperial Japanese Army for control of the Philippine Islands, the nurses are forced to serve under combat conditions and, ultimately, endure captivity as the first female prisoners of the Second World War. As their resiliency is tested in the face of squalid living arrangements, food shortages, and the enemy's blatant disregard for the articles of the Geneva Convention, the women strive to keep their hope— and their fellow inmates—alive, though not without great cost.
This enjoyable multi-author historical novel set in the Philippines is a World War II story told in the context of the friendship that develops between three nurses (a US Army nurse, a US Navy nurse and a Filipina civilian nurse). It's a well-researched read that provides a captivating story as well as a great deal of information about Second World War events in the Pacific Theatre specifically related to the Philippines and the nurses who became known as The Angels of Bataan. This is my favourite type of historical novel – one where I set the book down feeling like I learned a great deal and want to know more!
I received a digital ARC (Advance Review Copy) from NetGalley.
19. The Making of Her by Bernadette Jiwa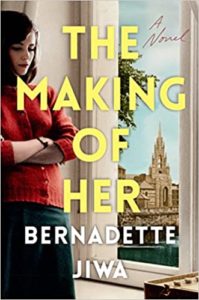 Setting: Dublin, Ireland and London, England
Dublin 1996. Joan Egan lives an enviable life. She and her husband, Martin, and daughter, Carmel, are thriving in Dublin at the dawn of an economic boom. But everything changes when Joan receives a letter from Emma, the daughter who she and Martin gave up for adoption thirty years before, asking for a life-or-death favor.

While Joan grapples with the guilt over giving up her baby long ago, she must confront her present as the cracks in her marriage become impossible to ignore and simmering tension with Carmel boils over. Meanwhile, Carmel and Emma must come to terms with the perceived sins of their mother, to imagine a future for their family before it is too late.
A poignant and thought-provoking debut about an Irish woman who is contacted by the child she gave up for adoption thirty years earlier. The novel shines a light on the agonizing decision faced by women with limited options who were forced to give up children or be ostracized by a church-controlled society and the lifelong impact of those decisions on the mothers as well as the children who were given up. The Making of Her is an engaging story of family secrets, heartbreak and loss but there is also an element of hope for healing and new beginnings.
I received a digital ARC (Advance Review Copy) from NetGalley.
20. The Winners by Fredrik Backman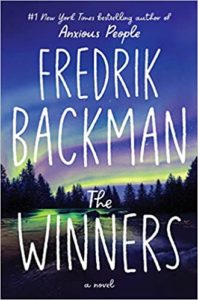 Setting: Northern Sweden
Over the course of two weeks, everything in Beartown will change.
Maya Andersson and Benji Ovich, two young people who left in search of a life far from the forest town, come home and joyfully reunite with their closest childhood friends. There is a new sense of optimism and purpose in the town, embodied in the impressive new ice rink that has been built down by the lake.
Two years have passed since the events that no one wants to think about. Everyone has tried to move on, but there's something about this place that prevents it. The destruction caused by a ferocious late-summer storm reignites the old rivalry between Beartown and the neighboring town of Hed, a rivalry which has always been fought through their ice hockey teams.
Maya's parents, Peter and Kira, are caught up in an investigation of the hockey club's murky finances, and Amat—once the star of the Beartown team—has lost his way after an injury and a failed attempt to get drafted into the NHL. Simmering tensions between the two towns turn into acts of intimidation and then violence. All the while, a fourteen-year-old boy grows increasingly alienated from this hockey-obsessed community and is determined to take revenge on the people he holds responsible for his beloved sister's death. He has a pistol and a plan that will leave Beartown with a loss that is almost more that it can stand.
This is the third book in the Beartown trilogy and you must read the first two (Beartown and Us Against You) in order to do the series justice. I read all three this fall and they are now among my all-time favourites. Backman is a masterful storyteller and this series is a beautiful, emotional read that captures the good and the bad of what it means to be human. My heart was broken yet I loved every minute of it and Benji will forever be one of my favourite characters in any novel.
21. Shrines of Gaiety by Kate Atkinson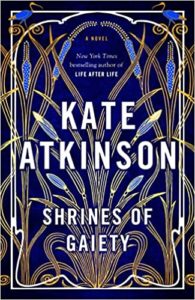 Setting: London, England
1926, and in a country still recovering from the Great War, London has become the focus for a delirious new nightlife. In the clubs of Soho, peers of the realm rub shoulders with starlets, foreign dignitaries with gangsters, and girls sell dances for a shilling a time.

The notorious queen of this glittering world is Nellie Coker, ruthless but also ambitious to advance her six children, including the enigmatic eldest, Niven, whose character has been forged in the crucible of the Somme. But success breeds enemies, and Nellie's empire faces threats from without and within. For beneath the dazzle of Soho's gaiety, there is a dark underbelly, a world in which it is all too easy to become lost.
An entertaining, beautifully-crafted story – part historical novel part mystery – that takes place in London's Soho neighbourhood in 1926. It's a dark story of nightclubs frequented by criminals as well as peers of the realm and Bright Young Things, organized crime, corrupt police officers, dancing girls, and murder but told in a light, jaunty way with witty wordplay and dry humour. The novel starts slow with a huge cast of characters to keep track of and several interwoven narratives but once all the back stories are in place it becomes a fun, fast-paced pageturner that's hard to put down.
22. A Lady's Guide to Fortune Hunting by Sophie Irwin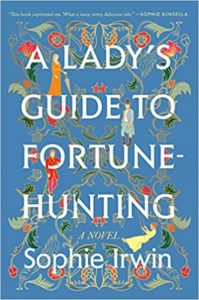 Setting: London, England
Kitty Talbot needs a fortune. Or rather, she needs a husband who has a fortune. Left with her father's massive debts, she has only twelve weeks to save her family from ruin.

Kitty has never been one to back down from a challenge, so she leaves home and heads toward the most dangerous battleground in all of England: the London season.

Kitty may be neither accomplished nor especially genteel—but she is utterly single-minded; imbued with cunning and ingenuity, she knows that risk is just part of the game.

The only thing she doesn't anticipate is Lord Radcliffe. The worldly Radcliffe sees Kitty for the mercenary fortune-hunter that she really is and is determined to scotch her plans at all costs, until their parrying takes a completely different turn….
A fun, witty, fast-paced read that's perfect for fans of Regency romances – comparable to Bridgerton but without the steam!
What are you reading this fall?
Pin This For Later