Disney World at Christmas – 9 favourite holiday experiences not to be missed at Disney World in Orlando, Florida during the Christmas season.
Two of our many visits to Disney World in Orlando, Florida have been during the festive Christmas season. On our first holiday visit, we arrived a few days after Christmas and stayed through New Year's and on the second we arrived on December 23rd and stayed through to the 29th. It's true that Disney World is very crowded during the holiday season but it's also one of the most magical times of the year for families to visit and I love it! These are our 9 favourite holiday experiences at Disney World.
Updated with 2019 dates
We are a participant in the Amazon Services LLC Associates Program, an affiliate advertising program designed to provide a means for us to earn fees by linking to Amazon.com and affiliated sites. As an Amazon affiliate I earn from qualifying purchases.
This post may contain affiliate links. If you click an affiliate link and make a purchase then we receive a small commission at no additional cost to you.
1. Disney Resorts Decked for the Holidays
The first time that we visited Disney World during the holidays we decided to try staying off-property for a change and I deeply regretted it. Disney goes all out decking the resorts for the holidays and I prefer to be surrounded by that festive spirit. Dealing with the crowds during the holiday season is worth it to me just so I can see the Disney World Christmas decorations!
When we spent Christmas at Disney World, we opted to stay at the Grand Floridian and it did not disappoint. The grounds of the resort are decorated with extensive plantings of bright red poinsettia and inside a massive Christmas tree that dominates the lobby makes the perfect backdrop for family photos. The highlight though is the 16 ft. tall Gingerbread House which doubles as a shop selling gingerbread shingles and other treats.
We also visited the Contemporary Resort for breakfast on Christmas morning where we were able to see the Frozen-themed gingerbread castle and enjoyed Christmas dinner at Wilderness Lodge which also has a massive lobby tree but is decorated in a more rustic style. Even if you aren't staying on-property, it's worthwhile taking the time to visit some of the resorts to see the fabulous Christmas decorations.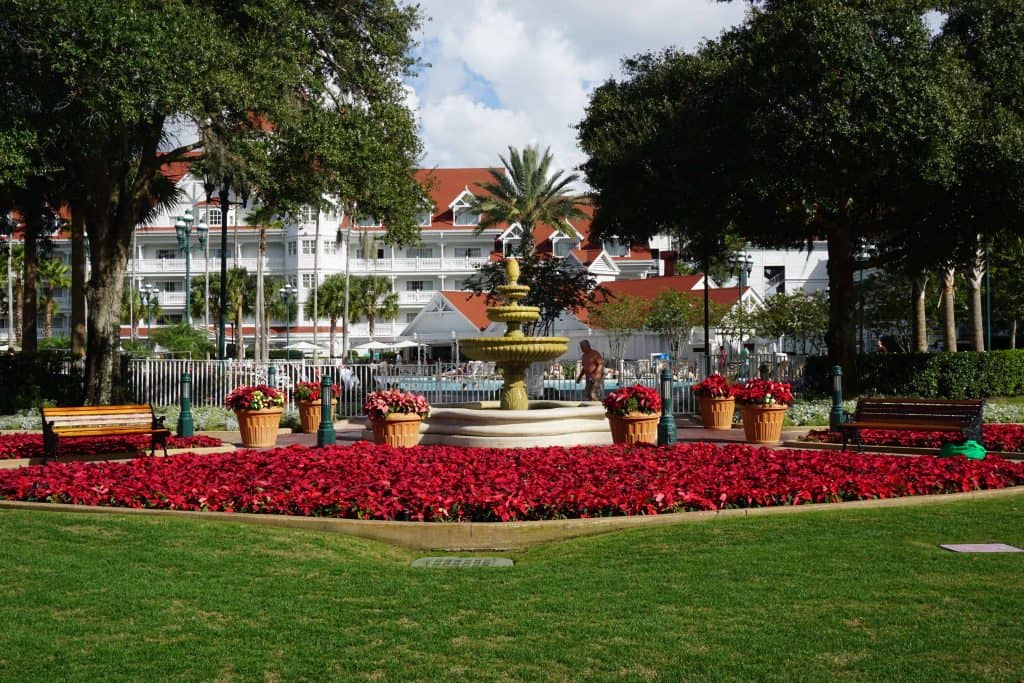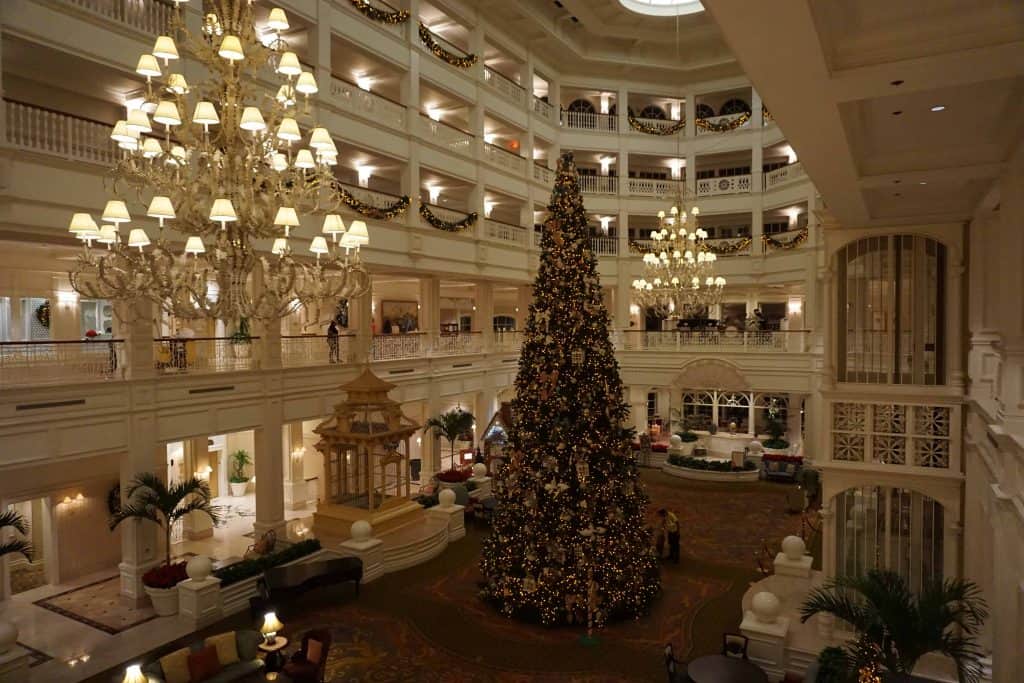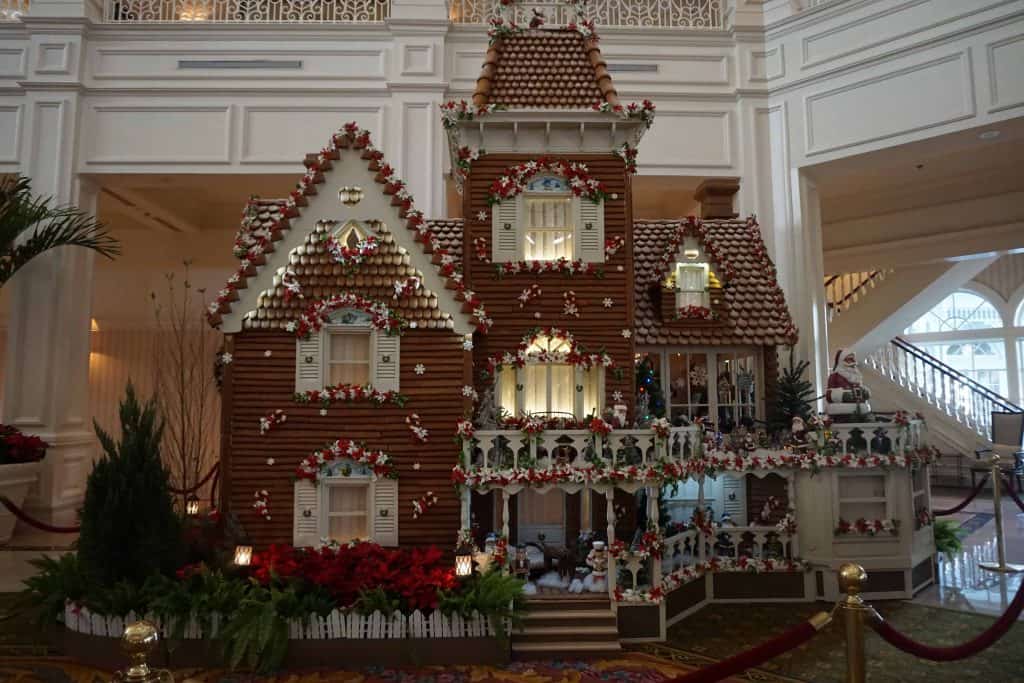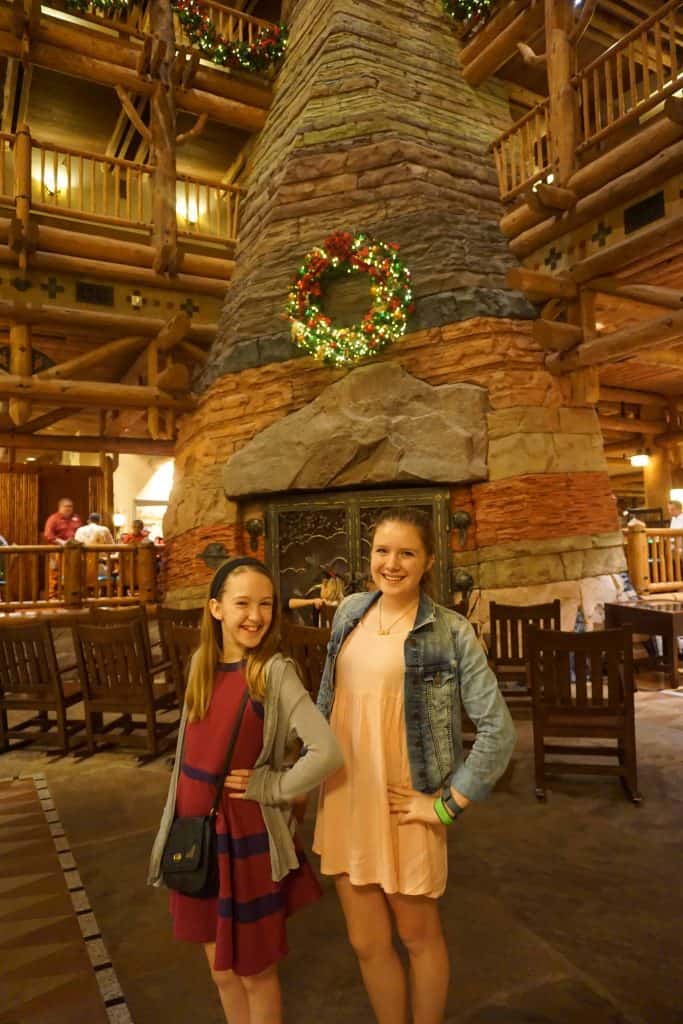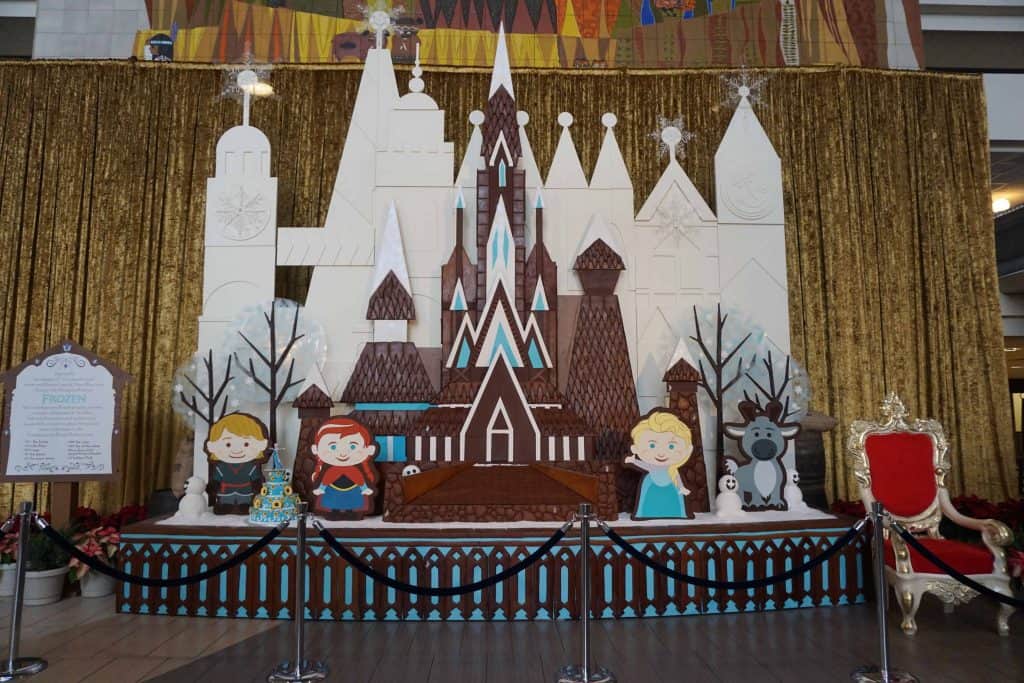 2. The Holiday Spirit on Main Street USA
There's little doubt that the holidays are the most wonderful time of the year on Main Street USA in Magic Kingdom. As visitors walk through the tunnel entrance to the park they leave Florida behind and enter a wonderland featuring a spectacular Christmas tree strung with popcorn garlands in Towne Square, holiday window displays and shops decorated with wreaths and garlands. It's even more beautiful in the evening when the lights come on and the street sparkles.

The highlight for me was the snow flurries falling on Main Street USA after we watched the parade on Christmas Day. Sure you have to suspend your disbelief to accept snow falling in Orlando but it's a magical event that brings out the kid in everyone.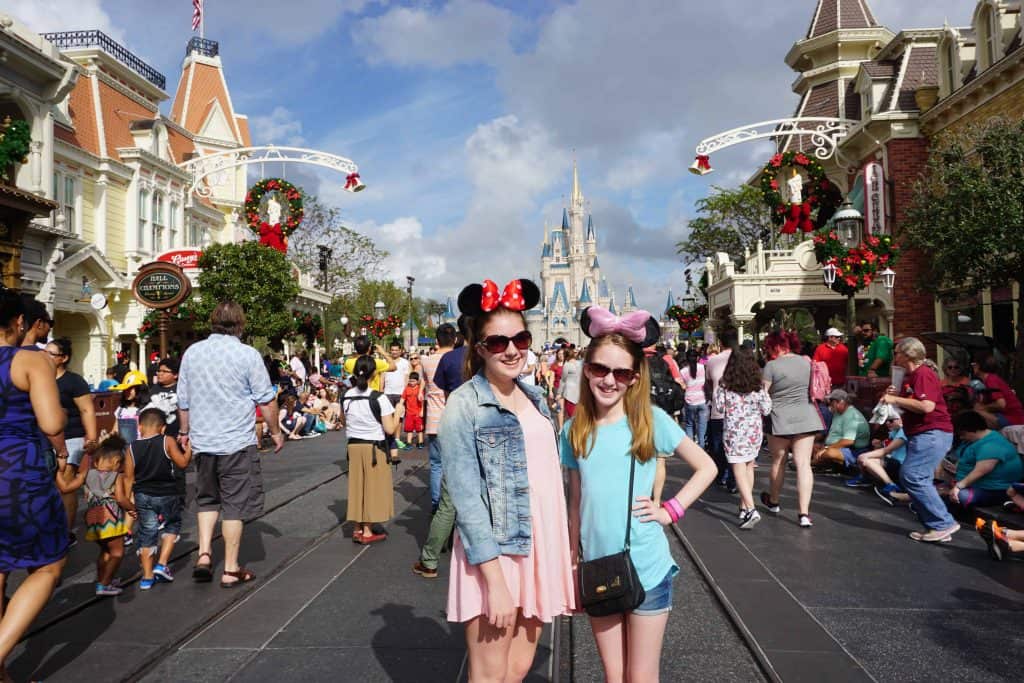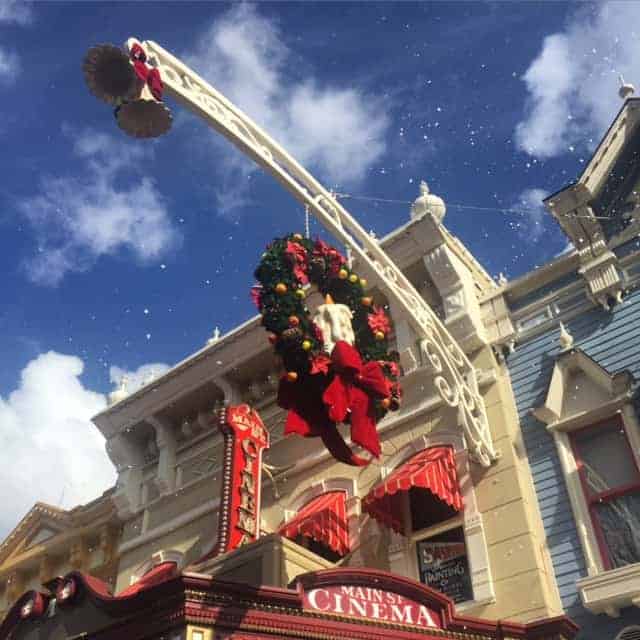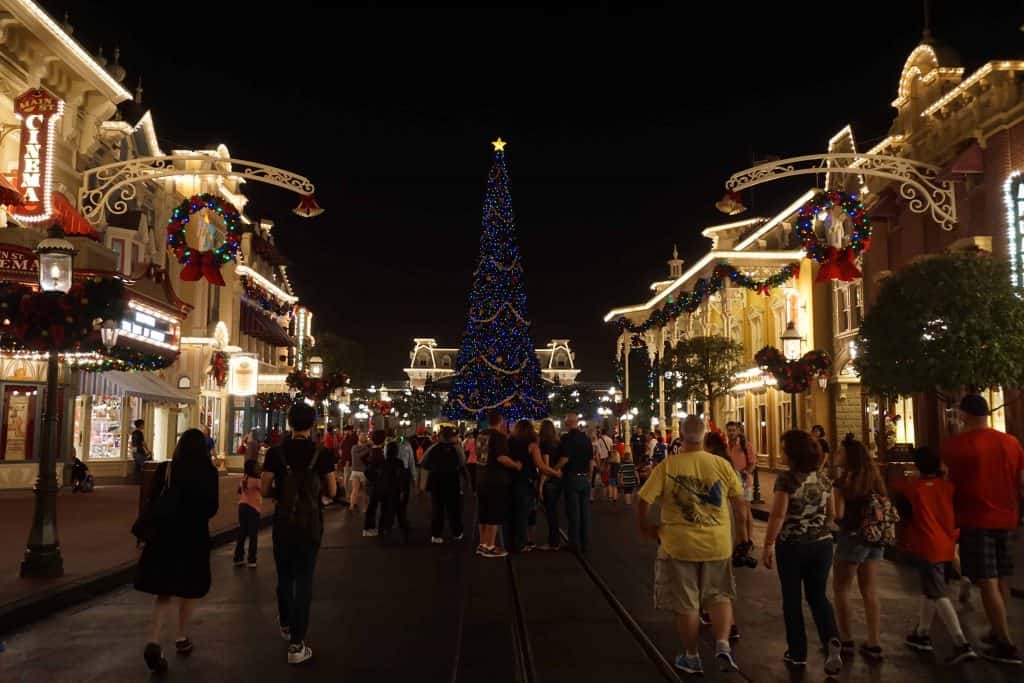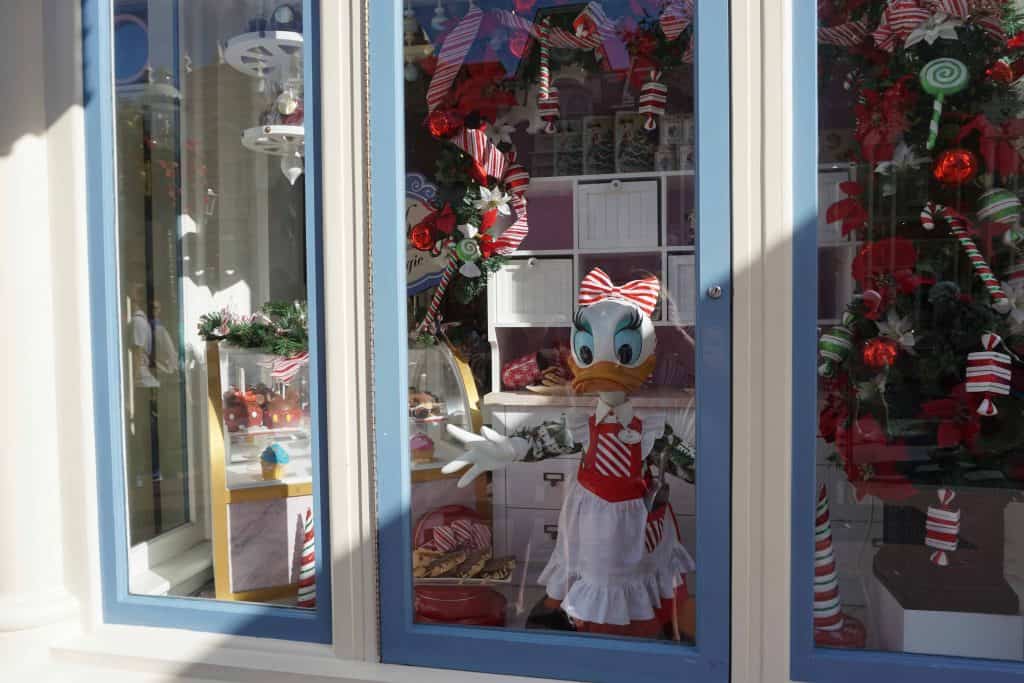 3. A Festive Cinderella's Castle
Cinderella has been my favourite princess since I was a little girl so the holiday transformation of her castle in Magic Kingdom is naturally one of my favourite experiences at Disney World. Cinderella's home is now transformed into a sparkling ice palace as part of the show A Frozen Holiday Wish featuring characters Anna, Elsa, Kristoff and Olaf. The castle is illuminated with 200,000 shimmering white lights as Queen Elsa uses her powers to transform it into a stunning ice palace twice each evening during the holiday season.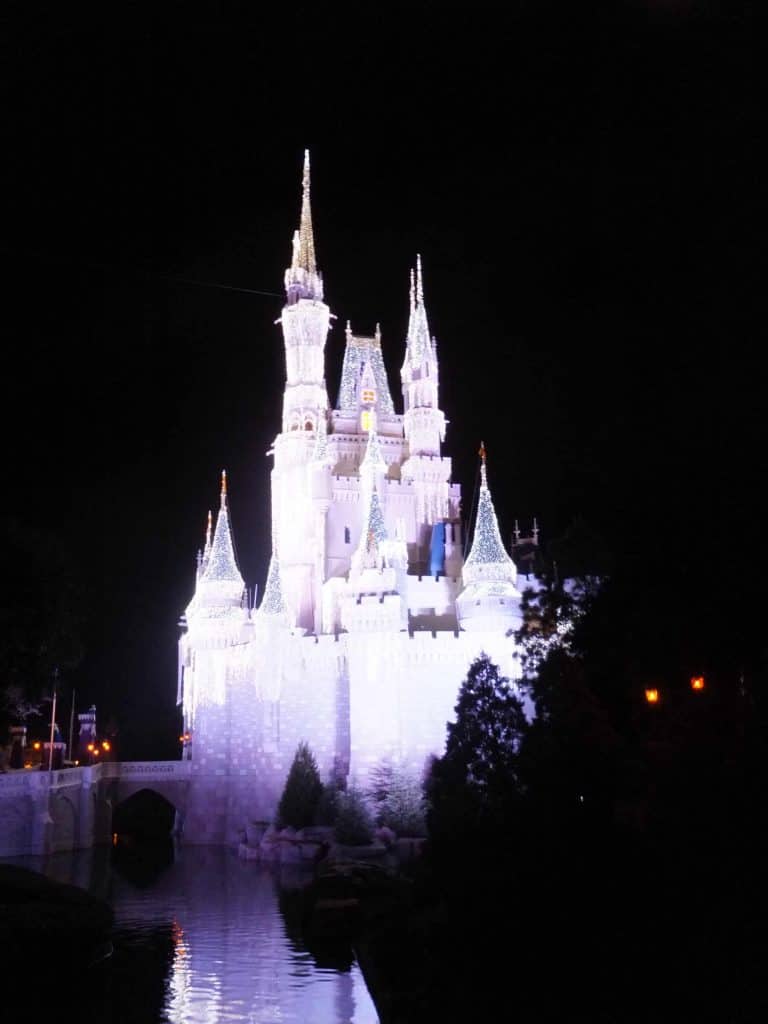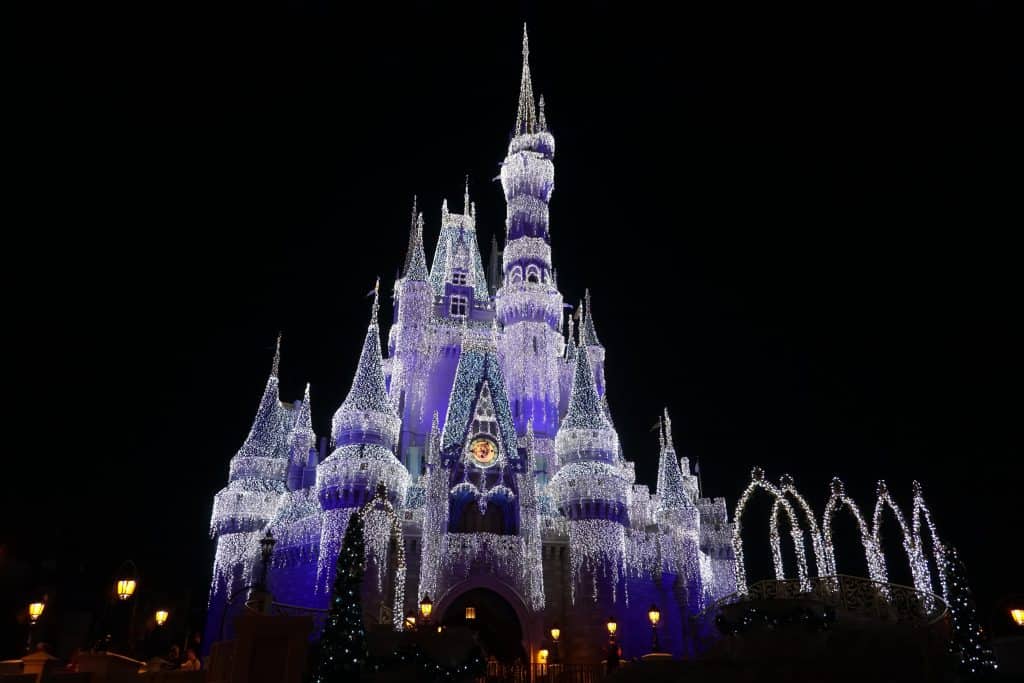 4. Magic Kingdom's Holiday Parade
Mickey's Once Upon a Christmastime Parade is a highlight of the holiday season at Disney World. The parade is exclusive to Mickey's Very Merry Christmas Party, a separately ticketed festive celebration which takes place on select evenings beginning early in November (November 8th – December 22nd, 2019). During Christmas and New Year's weeks, however, the parade is held during the afternoon and is free with admission to the park.

Main Street is the best place to watch the parade which features beautiful floats, holiday music, and favourite Disney characters as well as gingerbread men, elves, toy soldiers and dancing reindeer. Santa Claus also rides in on his sleigh at the end of the parade wishing everyone a Merry Christmas. We watched the holiday parade on Christmas Day and it was a magical way to wrap up our day in Magic Kingdom.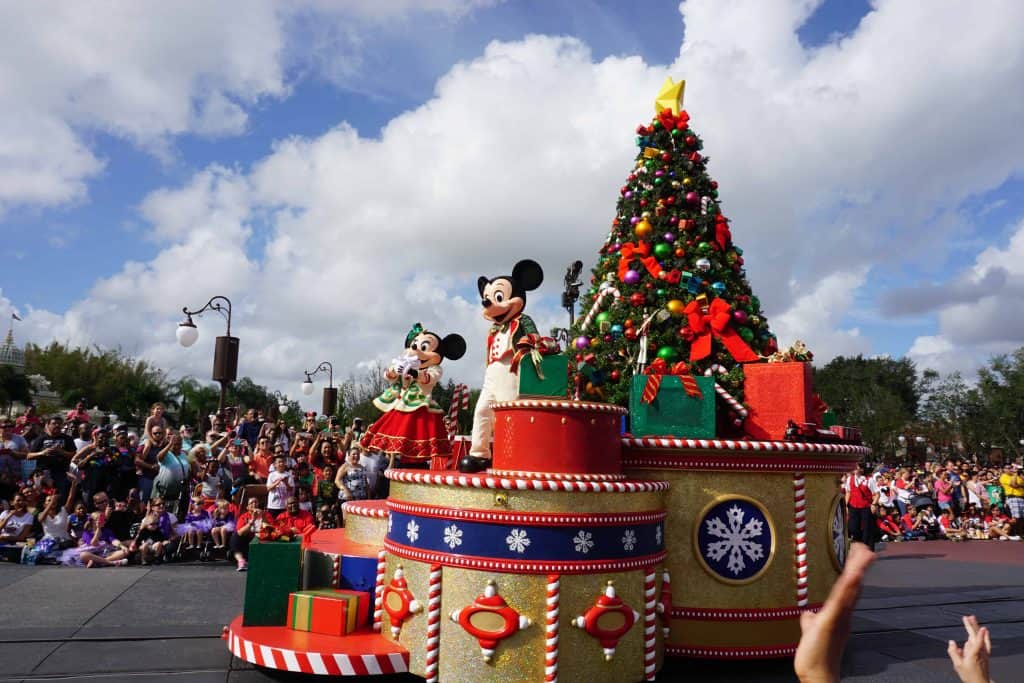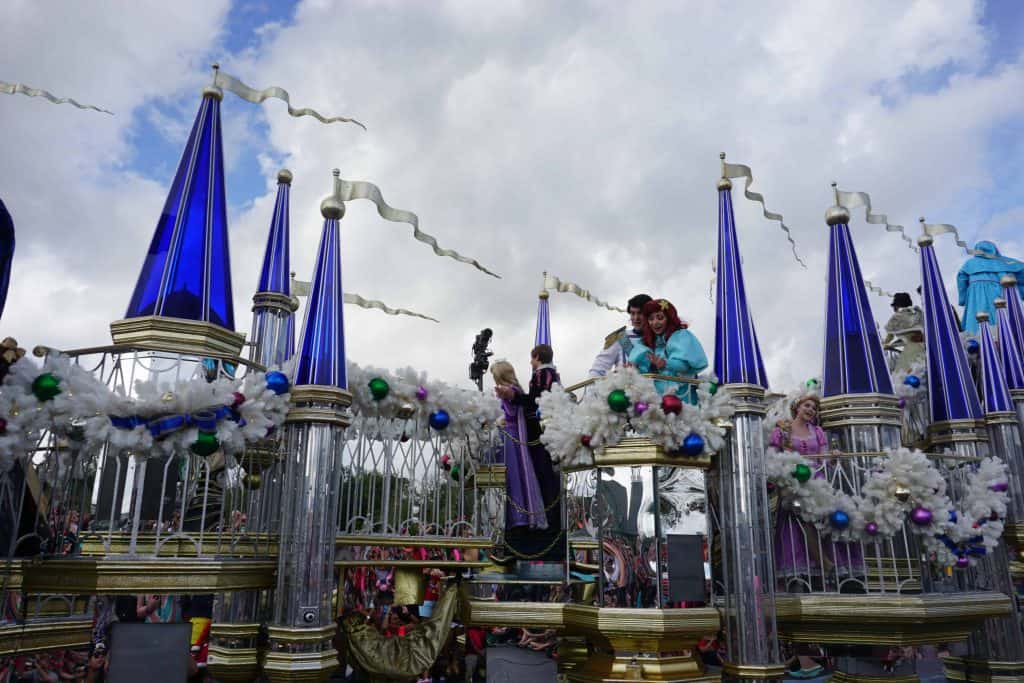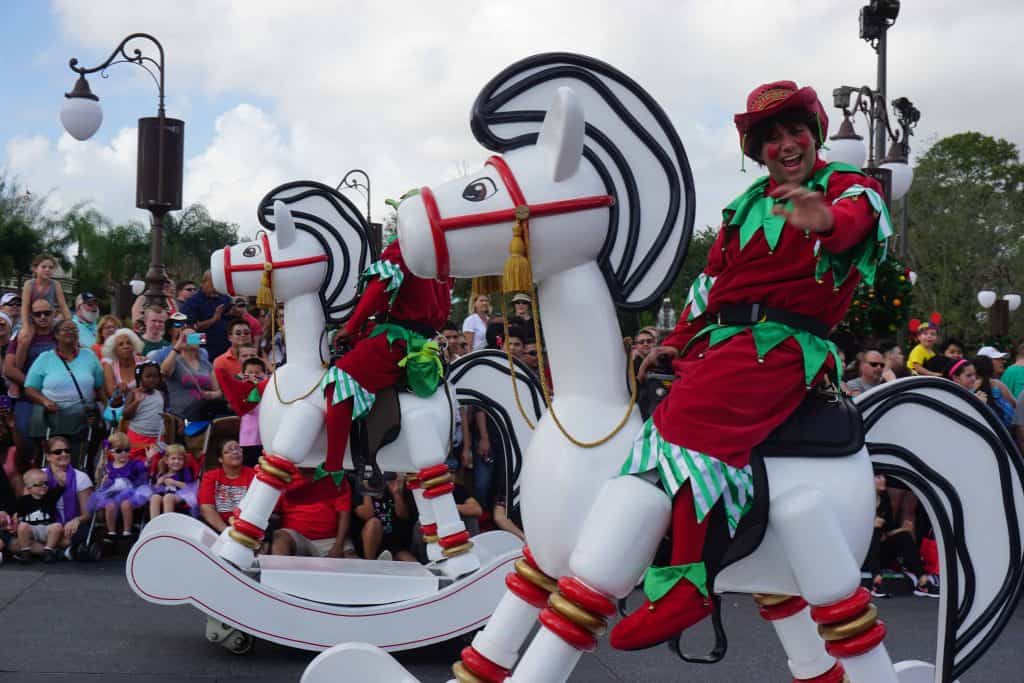 5. Characters Dressed in Holiday Attire
I have a bit of an obsession with seeing the Disney characters in unique outfits so one of my absolute favourite things about visiting Disney World during the holiday season is seeing them dressed up in their festive attire. Last year was particularly special as we met Mickey and Minnie in their Victorian Christmas outfits at the Grand Floridian on Christmas Eve and had family photos taken with them.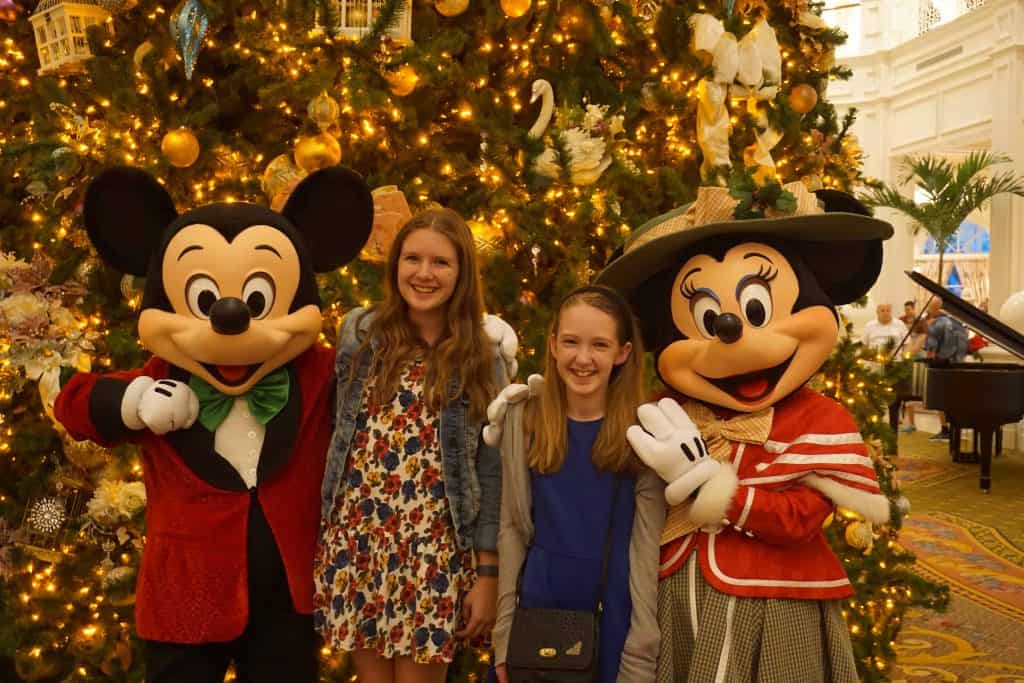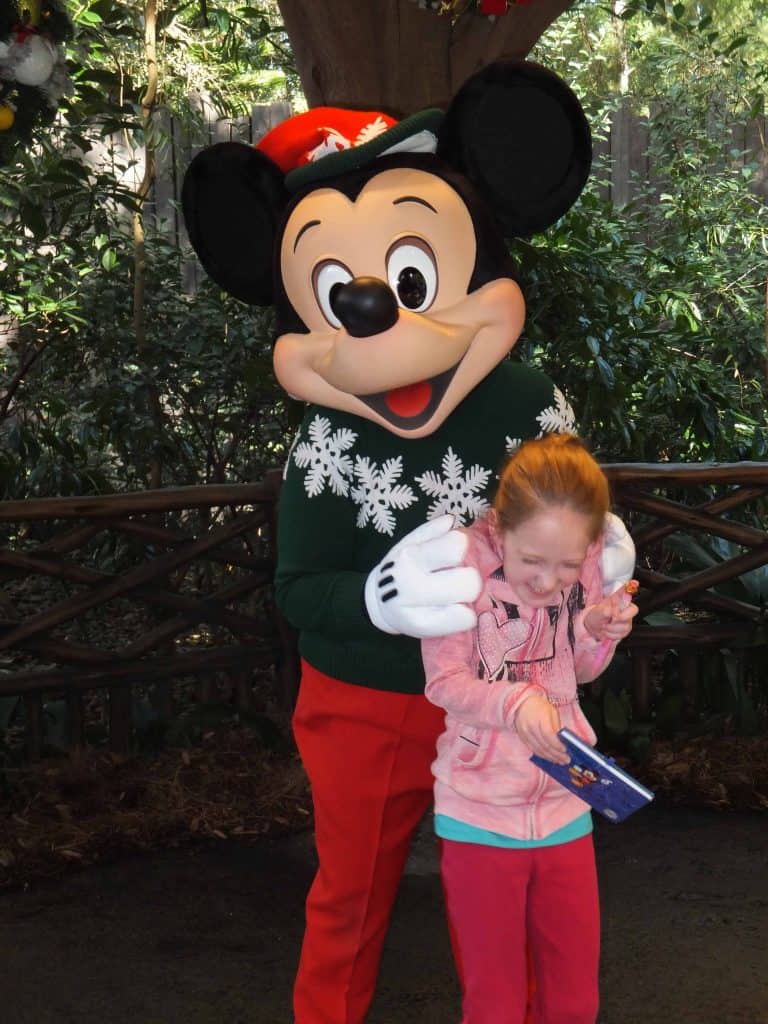 6. Christmas Treats and Souvenirs
The shops have a selection of holiday merchandise for sale and there are delicious holiday-themed treats available in the parks which are impossible to resist and almost too beautiful to eat – almost!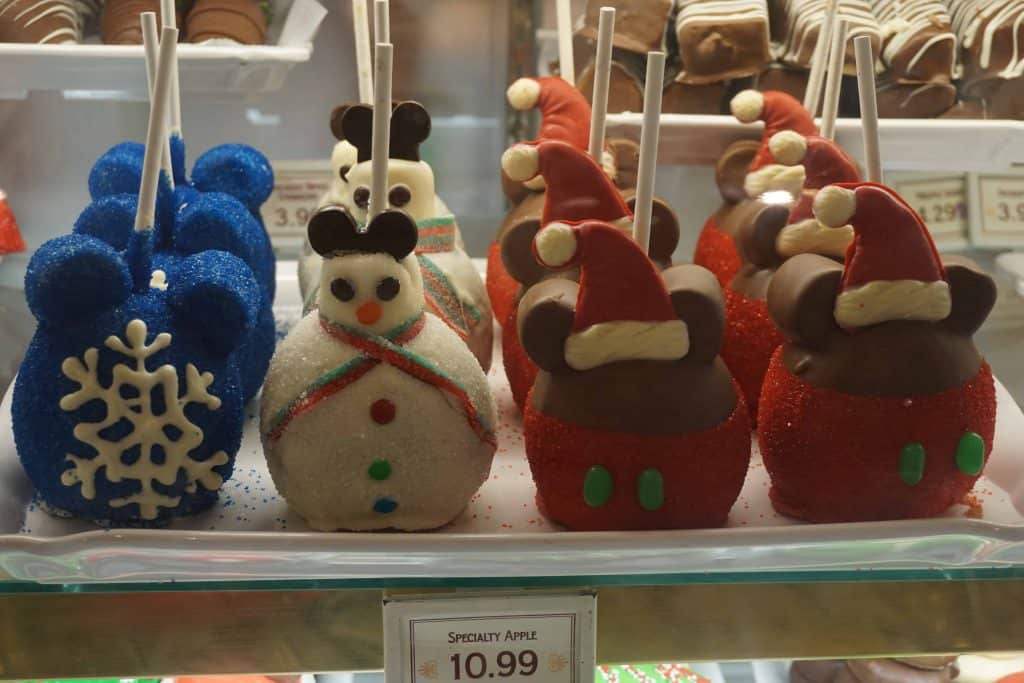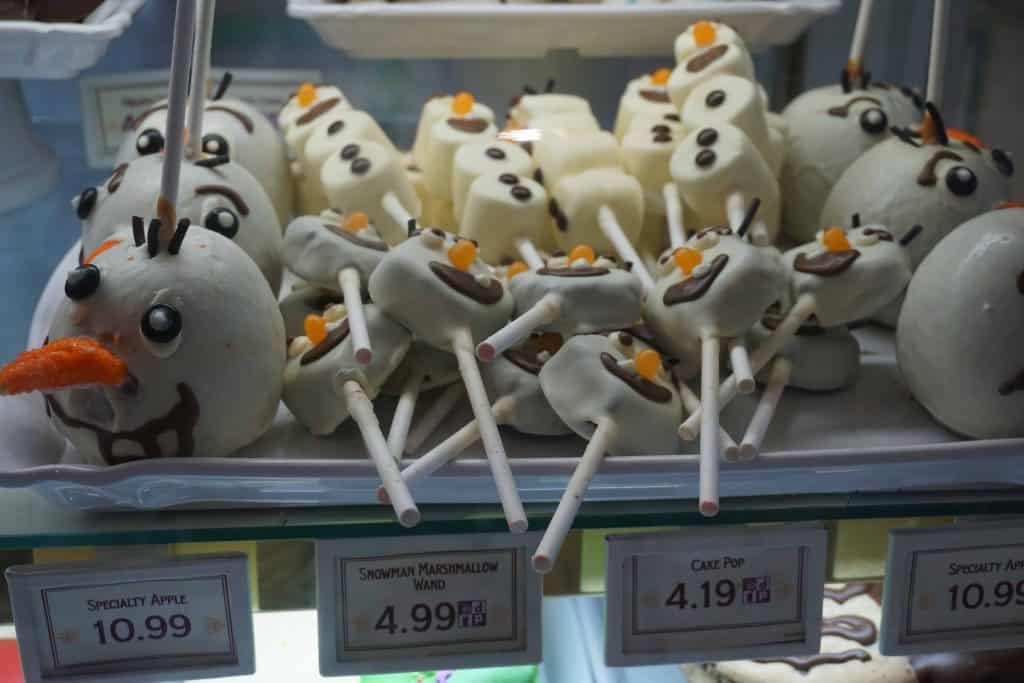 7. EPCOT's Celebration of Holidays Around the World
Christmas is the best time to visit EPCOT, in my opinion, as the International Festival of the Holidays (Holidays Around the World) provides an opportunity to experience holiday traditions of the 11 World Showcase nations (Mexico, Norway, China, Germany, United States, Morocco, Japan, Italy, United Kingdom, France and Canada). During the festival (November 29th-December 30th, 2019), the pavilions are decorated for the holidays and visitors can enjoy musical performances, seasonal food and drink, and costumed storytellers that bring each culture's traditions to life.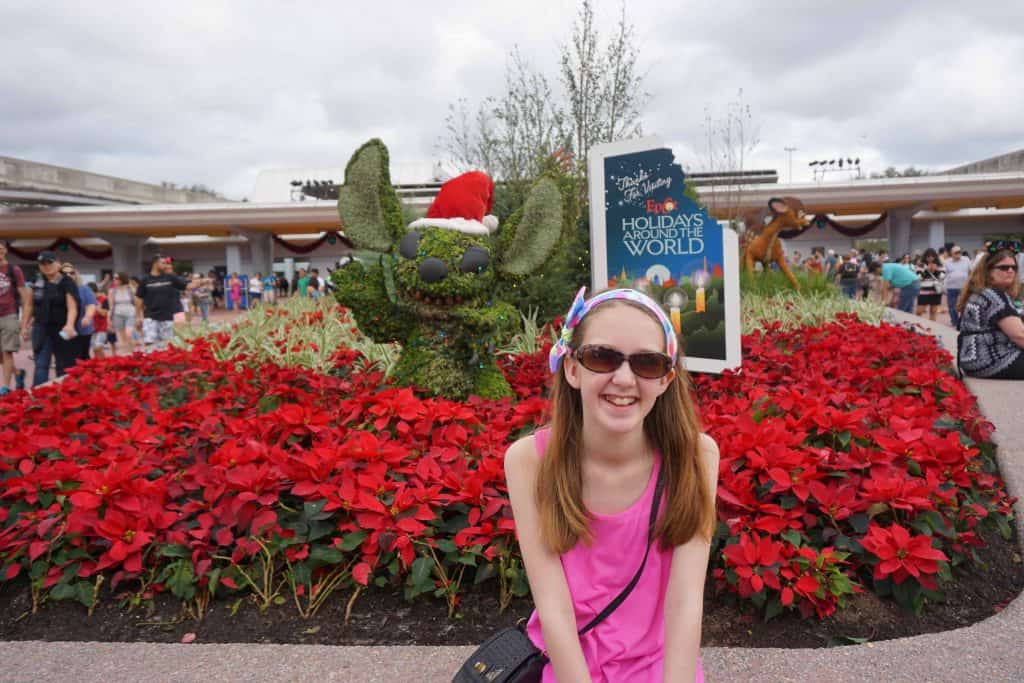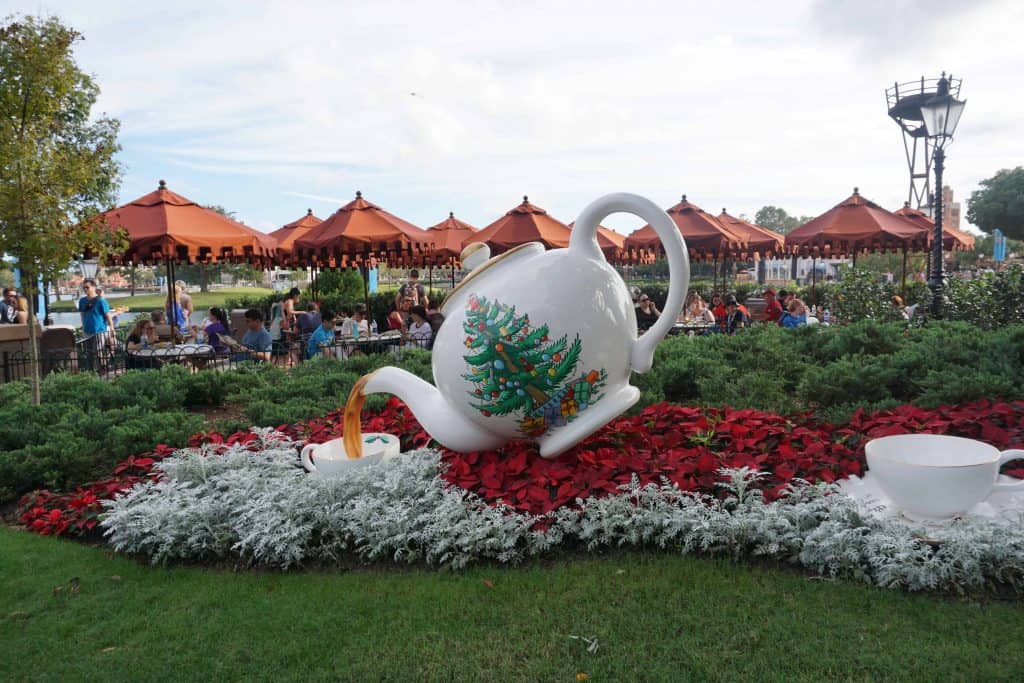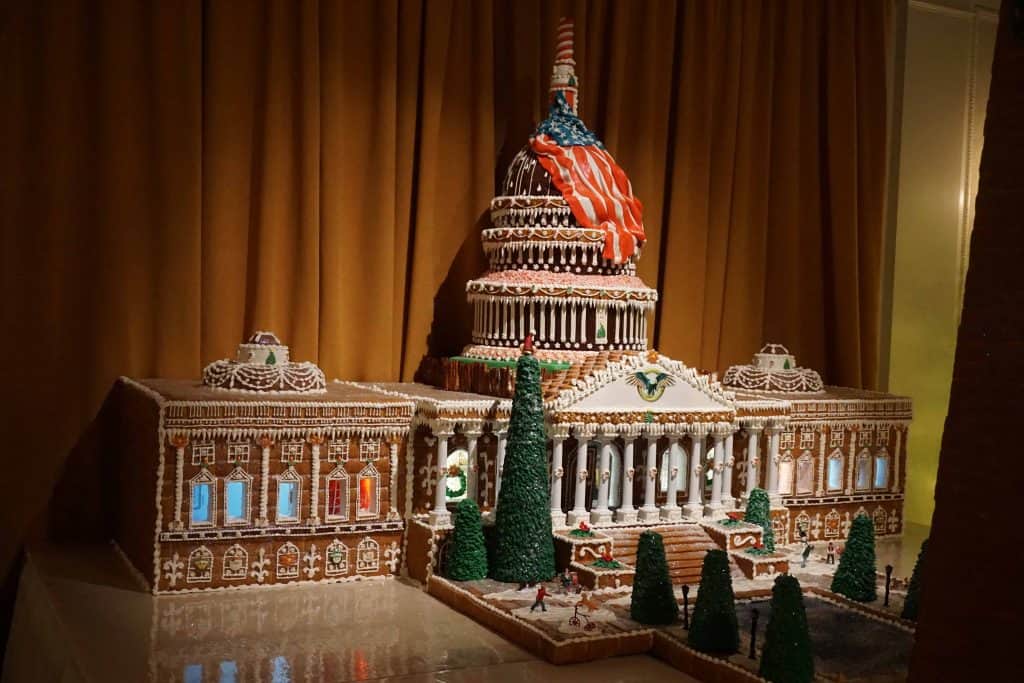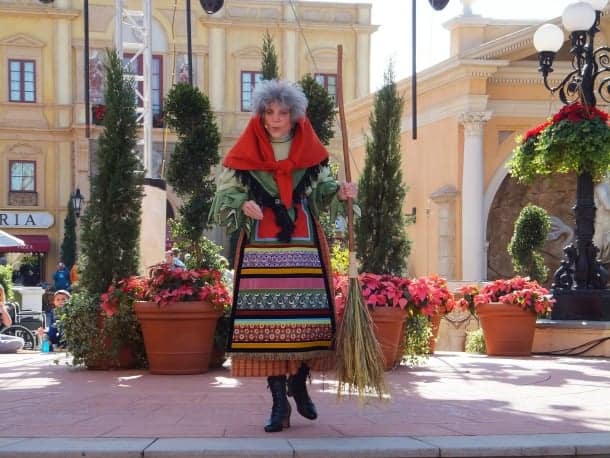 As an Amazon affiliate I earn from qualifying purchases.
8. EPCOT's Voices of Liberty Christmas Carolers
I suppose technically the Voices of Liberty a capella choir could be included in Holidays Around the World but I wanted to give them a special mention. We had visited EPCOT twice prior but somehow missed this choral performance until we visited at Christmas. Voices of Liberty is an eight member a capella choir dressed in 19th century costumes that performs in the rotunda of the American Adventure pavilion of the World Showcase year-round. Most of the year they sing classic patriotic songs but during the holiday season they perform Christmas carols. The performers are exceptionally talented and the acoustics in the domed rotunda are excellent which makes each 15 minute show a pleasure to watch. Showtimes are subject to change so be sure to check the EPCOT guide on the day of your visit.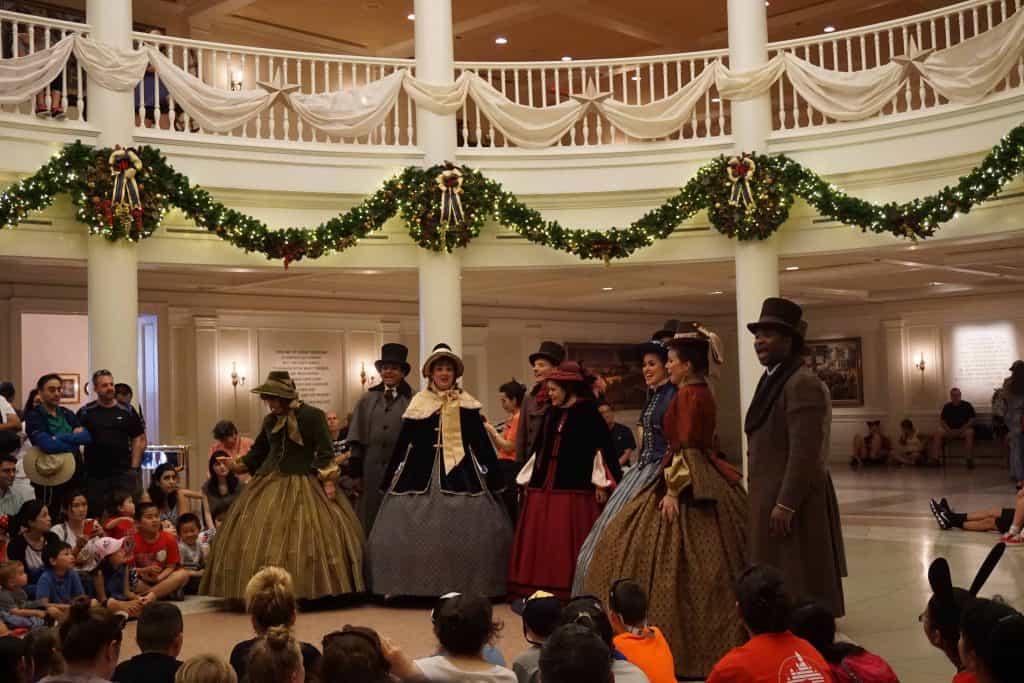 9. Holiday Fireworks Shows
The evening crowd was unbelievable when we stayed in Magic Kingdom to watch Holiday Wishes during our Christmas Disney trip but the spectacular fireworks show was worth it. In 2019, Disney World will debut a new holiday fireworks show called Minnie's Wonderful Christmastime Fireworks Show hosted by Minnie Mouse herself. The show will be part of Mickey's Very Merry Christmas Party but will also be shown for regular park guests during Christmas and New Year's weeks. It is seriously like a tide of people moving after the show so if you have children with you then hold on tightly! The IllumiNations: Reflections of Earth fireworks show at EPCOT also features a holiday finale during the Christmas season.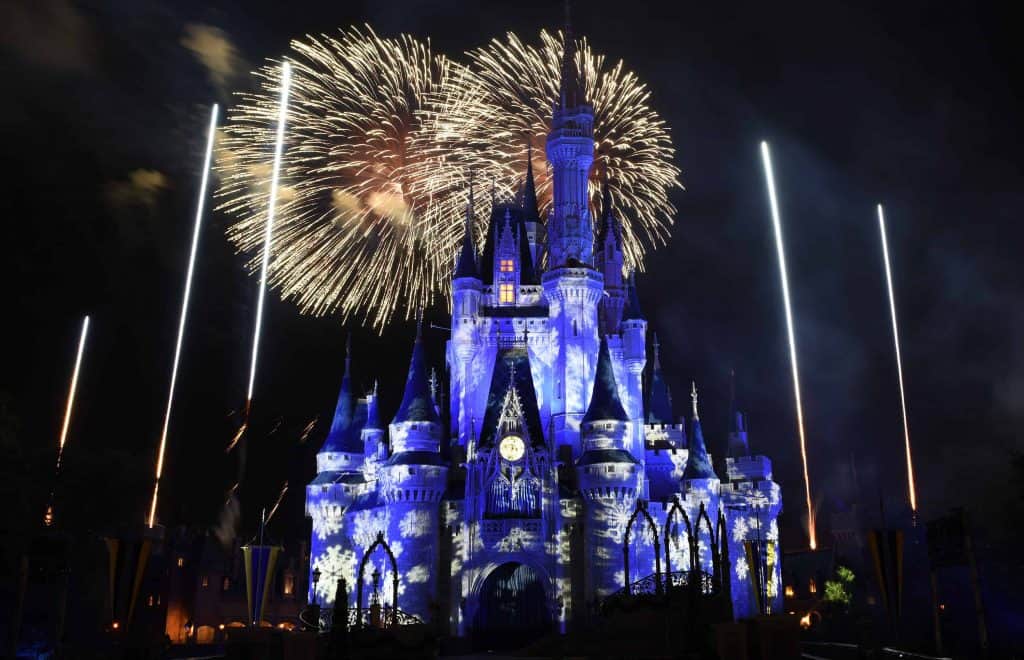 Other Special Events
Even though we have visited Disney World twice during the holiday season there are still a number of special events and activities that we haven't had the opportunity to experience yet and Disney seems to add something new every year. These include:
Mickey's Very Merry Christmas Party – an after-hours Christmas party held on select evenings at Magic Kingdom starting in November and running until a few days prior to Christmas (November 8th-December 22nd, 2019). This is a special ticketed event and the park is closed to other guests.
EPCOT Candlelight Processional – Each year a celebrity narrator tells the biblical story of Christmas accompanied by a 50-piece orchestra and several choirs. Presented 3 times per night from November 29th – December 30, 2019.
Jingle Bell, Jingle BAM at Disney's Hollywood Studios – a mixed-media fireworks show which was new for the 2016 holiday season – held nightly beginning November 8, 2019 through January 5, 2020. There's also a Jingle Bell, Jingle BAM Holiday Dessert Party at Disney's Hollywood Studios November 8, 2019 through January 5, 2020 that includes a reserved viewing area for Jingle Bell, Jingle BAM.
Sunset Seasons Greetings at Disney's Hollywood Studios – Sunset Boulevard will transform into a winter wonderland (complete with falling snow) as the Hollywood Tower Hotel is transformed with projections and laser effects depicting holiday stories of beloved Disney characters.
There will be special holiday touches in Toy Story Land including holiday songs on Alien Swirling Saucers.
Christmas Tree Trail at Disney Springs will be back this year with a collection of custom-decorated trees each inspired by a popular Disney character or theme – on display beginning in November 2019. Visitors will also be able to drop by Santa's Christmas Tree Trail Chalet to say hello. Kids will also enjoy Stitch's Holiday Gift Hunt at Disney Springs.
(Behind the Magic holiday-themed tours – In 2019 there are two behind-the-scenes tours that provide guests with a peek at the holiday transformations that take place at Disney World – Disney's Holiday D-Lights on select dates in December and Disney's Yuletide Fantasy on select dates in November and December.)
Minnie's Holiday Dine at Hollywood & Vine in Disney's Hollywood Studios – seasonal character dining with unique music and décor and menu items commemorating winter holidays. Begins November 8, 2019) Reservations highly recommended.
I wish we would have visited Disney World at Christmas when my girls were younger so that they could have met Santa Claus in Candy Cane Garden next to City Hall in Town Square at Magic Kingdom.
At Disney's Animal Kingdom, Diwali, the holiday Festival of Lights in India will be celebrated and there will be additional holiday touches including festive entertainment, holiday decor and Disney characters in seasonal setting in each of the Animal Kingdom lands.
Toy Story Land will have a holiday overlay with Christmas decor, Christmas music and characters dressed for the holidays.
Have you visited Disney World during the holiday season? What was your favourite experience?
We are a participant in the Amazon Services LLC Associates Program, an affiliate advertising program designed to provide a means for us to earn fees by linking to Amazon.com and affiliated sites.
10 Tips for Disney World at Christmas
Plan your Disney World Christmas vacation as early as possible so that your choices aren't limited – particularly if there is a certain resort that you have your heart set on staying at.
Accept that you won't be able to do everything if you're visiting Disney World at Christmas. There will be crowds of people and that will slow you down. Just enjoy the festive atmosphere and don't worry about what you might be missing.
Priority seating for meals can be made 180 days in advance if you have already booked your resort stay. Book yours as soon as possible particularly if you plan to eat at some of the most popular restaurants. We wanted to have nice dinners since we were visiting for Christmas and weren't able to get all of our top choices as we hadn't booked our stay 6 months in advance.
Be sure to have a plan before heading out to the parks (but it doesn't need to be set in stone). Discuss with everyone in your family what their "must do" attractions are and plan your day in such a way that those are prioritized. Also plan a meeting spot in case anyone is separated for the group – it's easy for it to happen at crowded times particularly after parades and fireworks.
Arrive at the parks as early as you can get your family moving. The fact that most people don't get up early or take the time for a leisurely breakfast can work to your advantage. The parks are far less busy in the morning and you can see the attractions much more efficiently if you are there for opening. This is especially true on New Year's Day because almost everyone was up late the night before!
Use the Disney World app when you're in the parks to check wait times for various rides.
Use Fast Passes as much as possible to save time.
Make sure that you know the daily schedule for parades, shows and fireworks to help with planning your day.
Be aware that the parks might reach capacity levels during Christmas week. If they do then there is a possibility that you won't be able to get into the park of your choice in the afternoon. Park hopping isn't always the best option when it's this busy due to the risk of capacity crowds.
Plan to spend some time away from the parks. Touring the parks when they are crowded is exhausting and it will be good for everyone's anxiety levels to take a break from the madness. Spend some time at Disney Springs for a break, have a look around the hotels on the monorail to see the Christmas decorations or just enjoy some pool time.
Related Articles
10 Magical Christmas Destinations for Your Travel Bucket List
11 Reasons to Stay at the Disneyland Hotel
Disneyland's Diamond Celebration: Marking 60 Years of Magic
A Disney on Broadway Tour with Walks of New York
Celebrating Halloween at Disneyland
Disneyland During the Holidays
Globetrotting at EPCOT's World Showcase
Celebrating the Holidays at Disney World
Pin This For Later