My husband and I honeymooned in the village of Eze along the French Riviera and returned 15 years later with our daughters to show them the village that we loved so much.
In 1995, my husband and I spent a week of our honeymoon in Eze-le-Village which is a medieval village located along the French Riviera about 15 or 20 kilometres from Nice.  The village is perched on a cliff top about 427 metres above sea level which affords magnificent views over the Mediterranean.  The village is accessible only to pedestrians and there are numerous charming boutiques just waiting to be discovered while strolling the narrow, sloping pathways.  Eze was a perfect home base for the week that we spent exploring the French Riviera and, even though it was late March/early April, the sun shone brilliantly every day and there was a hint of the summer to come in the air.  
This article may contain affiliate links which help support this site at no additional cost to the consumer. 
We stayed at the the beautiful Relais & Châteaux property Château de la Chèvre d'Or which  has 30 rooms and 7 suites and sits perched on the side of the cliff overlooking the Bay of Saint Jean Cap Ferrat and which has a gourmet restaurant that boasts 2 Michelin stars.  Our room had a lovely terrace where we could sit and soak up the sun and the view of the sparkling waters of the sea.  The château was by far one of the most luxurious and memorable hotels that we have ever stayed at (although my old scanned photos don't do it justice).
(Read reviews of Chateau de la Chevre d'Or on TripAdvisor)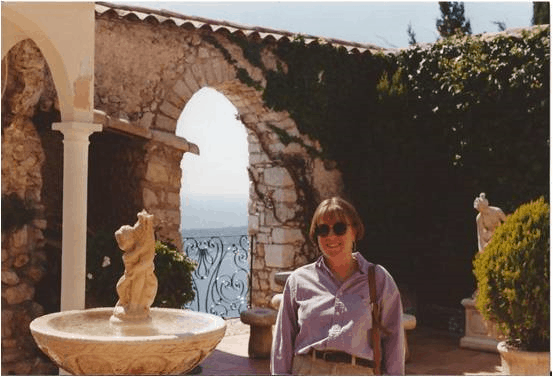 Courtyard at Château de la Chèvre d'Or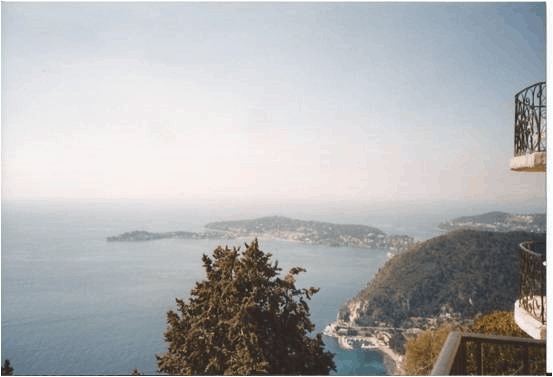 View of the Mediterranean from our terrace in Eze
A little more than 15 years later we returned to the south of France with our daughters and spent two wonderful weeks renting a villa in Provence.  One of the day trips that we made while there was to Eze so that Katie and Emma could see where we had stayed on our honeymoon.  The village was much busier in August than it had been in early April, however, it is definitely still one of the most beautiful places that I have ever visited.  We enjoyed wandering the still familiar streets, browsing the shops and showing the girls the château.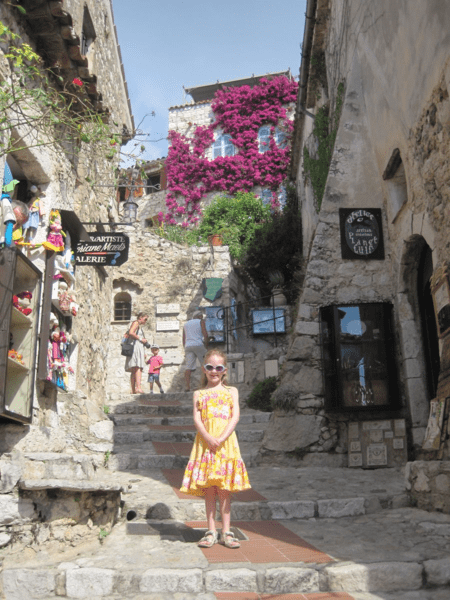 Enjoying the beautiful village of Eze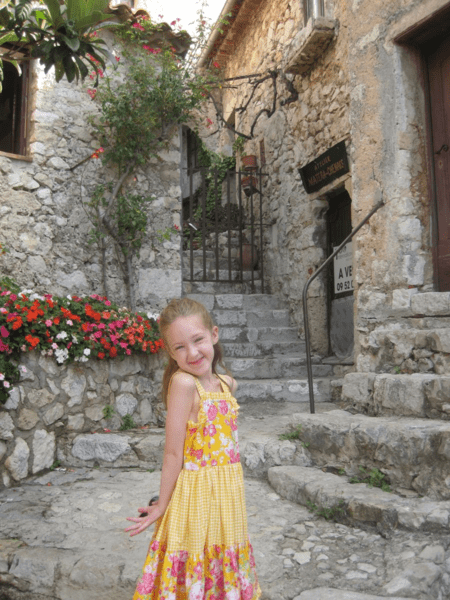 A beautiful place for some posing

With my husband outside the Château de la Chèvre d'Or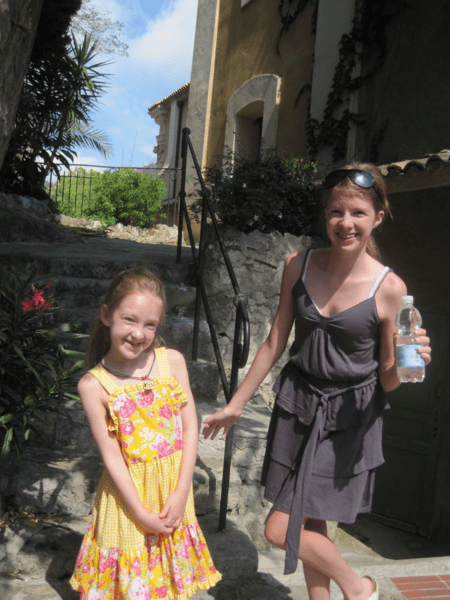 Katie and Emma enjoying our walk in Eze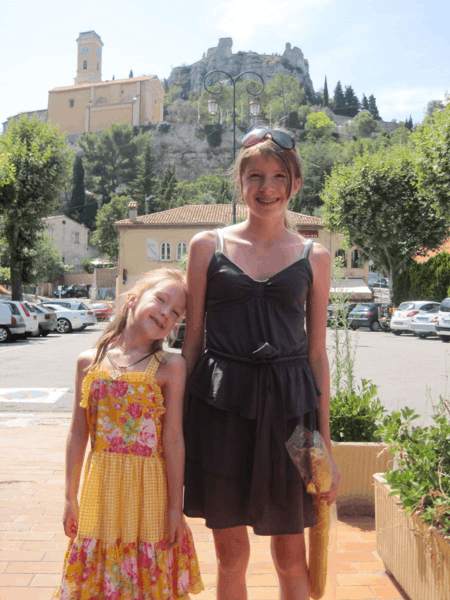 Leaving Eze (note the baguette that was ever present on our trip to France)
We only had a few hours to spend in Eze since it was such a long drive from where we were staying in Gordes but it was definitely worth it to reminisce about our honeymoon trip and show our daughters the charming village that we loved so much. 
Related Links
A Colourful Afternoon in Roussillon, France
Carousels in the South of France
The Village des Bories in Gordes
Have you liked our Facebook page yet? I post articles from the blog there as well as photo albums from our travels and other travel news. Or, if you prefer, you can subscribe to the free RSS feed or sign up for an email subscription to keep up-to-date on our travel adventures.