A fun family skiing lesson – indoors in June at The Snow Centre in Hemel Hempstead near London, England.
When my family moved abroad from Indiana to England, I knew we'd have a lot of new experiences coming our way. Afternoon tea? Medieval castles? Tube rides through London? Yes, please. Skiing? No, thank you. My one and only skiing experience was 15 years ago in Colorado and involved a fun lesson followed by a painful reminder of what a novice I was when I took a tumble. Let's just say I was glad our expat assignment was to rural England, not high atop the Alps.
But when I received an opportunity for my family to visit The Snow Centre on the outskirts of London, I knew it was time to tackle my fear of the slopes and give us all a chance to experience a bit of one of winter's most popular pastimes.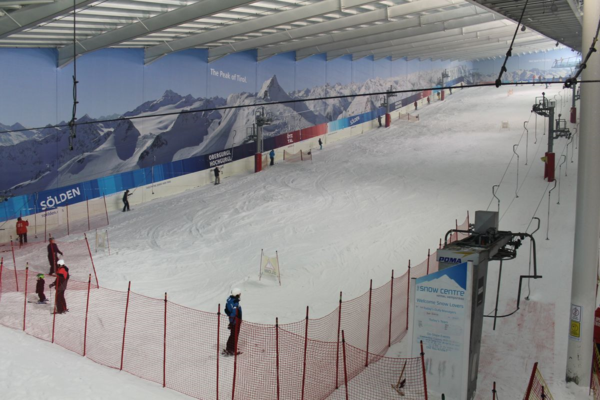 Skiing in England? Yes, it's possible. Even in June! The Snow Centre is an indoor ski slope, with real snow. It has both a training hill for lessons and beginners, and a regular hill for those who have better control. Indeed, as we watched the regular hill from the comfort of the café, I noticed some very experienced skiers and snowboarders getting in some valuable off-season practice.
Family Lesson
We participated in a family lesson, which meant all four of us remained together for an hour with our own private instructor. Given that all four of us are new to the sport, this actually made a lot of sense. On future trips to The Snow Centre, I would probably opt to separate from the kids so that my husband and I could advance our skills a bit more quickly and so that our children could do more age-appropriate activities. But for our first try, this was a great option.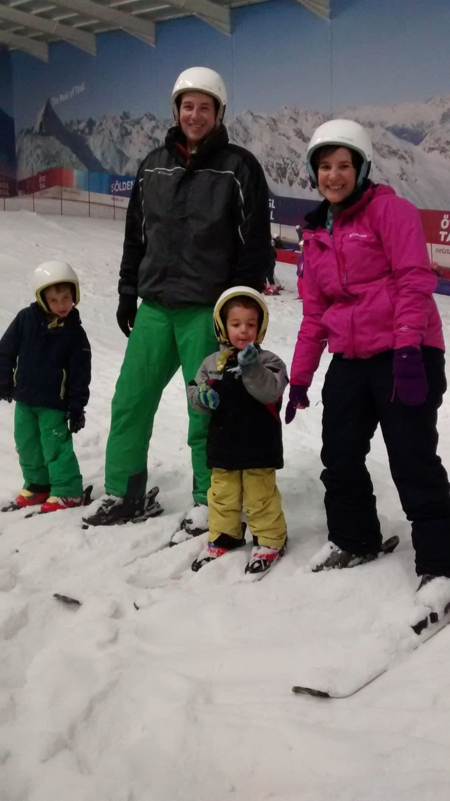 Our instructor met us at the entrance to the training slope, where he spent the next hour explaining our gear, helping us on and off the tow rope, and instructing us on our basic form as we skied down the hill. He was extremely patient with my children, even carrying my youngest up and down. He expertly balanced assisting the kids with providing valuable feedback and corrections to my husband and I, so that all four of us progressed quite a bit during our lesson.
I also loved the family lesson because I got to see the change in my children. As I expected, my youngest was fearless and happy to tackle the challenge. My oldest was hesitant, but I was so proud that he didn't let a few falls and some difficulty with the tow rope stop him. He just kept at it. That's not always his personality, and it was fun to see him show so much perseverance. Truthfully, I think my children equally enjoyed watching my husband and I learn something new, and see how we reacted to the struggle of it.
(While my 3-year-old had a great time during our lesson, I would recommend waiting until your children are 4 or 5 to visit The Snow Centre. He was far too small to manage the tow rope, as he could barely reach it, and required a lot of physical assistance from our instructor in order to get up and down the slope. He was also much more interested in eating the snow than skiing, but that's part of the fun!)
Overall Experience
Because we are not skiers, we opted to rent our gear through The Snow Centre. Our skis and boots were included in the price of our lesson, and we added an extra clothing option, which meant we received ski trousers and jackets. We brought our own gloves and just wore comfortable exercise clothing and warm socks underneath.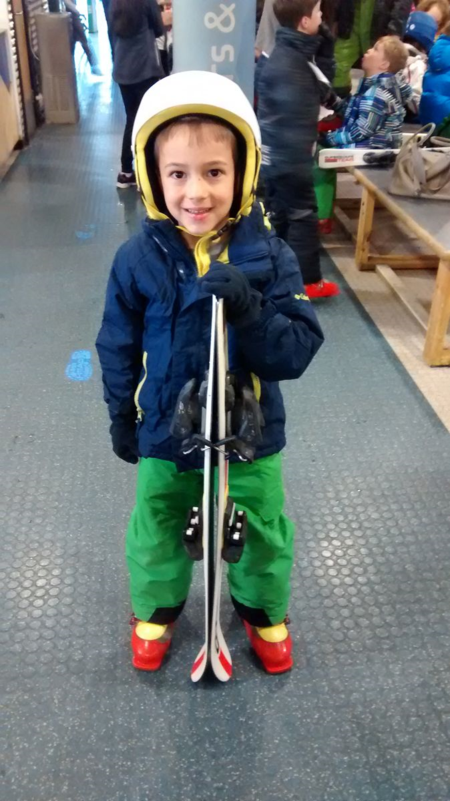 As recommended, we arrived 30 minutes before our lesson time in order to get all our gear and get appropriately dressed. In fact, I'd recommend arriving 45 minutes before your lesson so you have time to view the slopes from the viewing platform and so that you don't feel rushed. It takes a lot of time to get four people dressed and ready for skiing!
We met our instructor at our designated time and then had a full hour of skiing. If you don't need a lesson, you can purchase a lift pass ranging from one hour to all day.
You can also visit The Snow Centre for sledding. If we return, I'd sign us up for lessons and then book an hour on the sledding hill. My kids were really interested in that. (Please note you must be at least 4 years of age for this.)
Amenities
The Snow Centre has a nice café that serves full meals, snacks, and drinks of all kinds, with large windows that overlook the slopes. This was the perfect option as we worked up quite an appetite during our lesson. If any family members don't want to participate, this is a great place for them to relax where they can watch the rest of the group ski.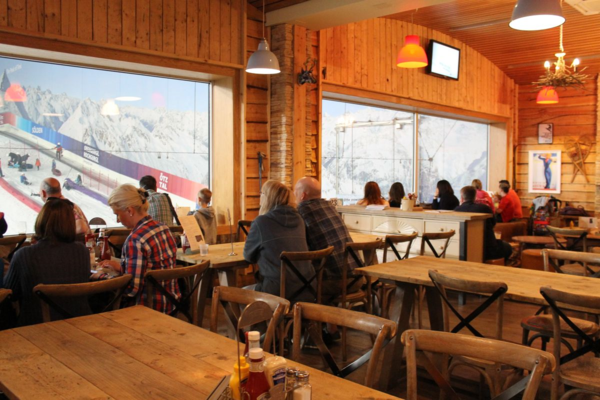 If your time at The Snow Centre inspires you to expand your skiing experience, you'll find lots of travel services for booking ski trips, a full ski shop, and even money exchanging points at the large facility.
Access
The Snow Centre is conveniently located just northeast of London. If you're staying in Central London, just take a train out to Hemel Hempstead from the Euston train station, and then a quick taxi ride from there. If you're driving, there's a car park, but plan to arrive early as it was nearly full by noon on the day we went.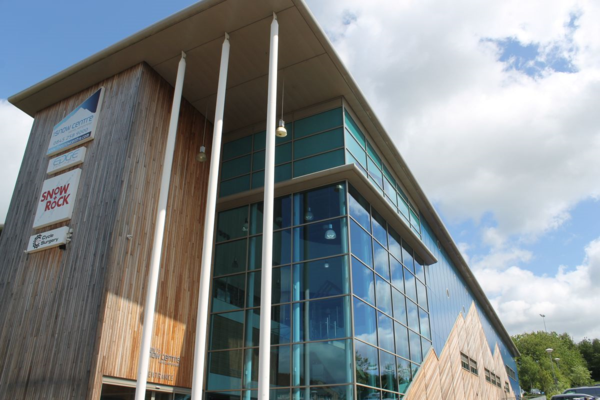 Disclosure: Nicole's family received a complimentary ski lesson and clothing rental for purposes of this review. All opinions are her own.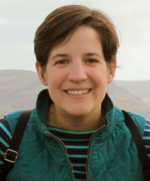 Nicole Wiltrout is a freelance writer and mother to two young sons. Nicole's family moved from Indiana to England two years ago, and she blogs about their family travels all over the U.S. and Europe and life as expats at Arrows Sent Forth . You can follow their adventures on Facebook, Twitter, and Instagram. She's also a regular contributor to the popular Anglotopia website (where she writes the weekly Dispatches from England column) and the award-winning family travel planning website, Ciao Bambino.
Related Articles
London with Kids: 14 Favourite Attractions and Activities
Emma's Favourite Things: London
Experiencing the Magic of Harry Potter at Warner Bros. Studio Tour London
Citadines Trafalgar Square – Ideal for Families Visiting London
A Day in Stratford with London Taxi Tour
London Cabs: Our Photo Collection
Cruising Along the Thames to Greenwich
Visiting Harry Potter Sites with London Taxi Tour
Pin this for later