A review of Canadian eco-friendly clothing company Leave Nothing But Footprints and giveaway of $100 gift card to spend on the website.
UPDATE: LNBF changed its brand name to Terrera.
I am always on the lookout for stylish clothing that is both comfortable and travels well so I was pleased to have an opportunity to try a few items from Canadian company Leave Nothing But Footprints (LNBF) to see whether it would meet my needs.
LNBF: The Back Story
Leave Nothing But Footprints (LNBF) is a Toronto, Canada based company that was started in 2007 with the goal of minimizing the impact that fashion has on the environment. The name of the company was chosen from the age-old saying "Leave nothing but footprints, take nothing but memories" and is in line with their vision of inspiring people to live a sustainable lifestyle by choosing apparel that is both fashionable and environmentally-friendly.
Most of the LNBF garments are made from certified organic bamboo fibre which is one of the fastest growing and sustainable plants in the world. Bamboo is also hypo-allergenic which makes it a great choice for anyone with sensitive skin (like me), is moisture-wicking and has thermo-regulating qualities which means it will keep you warm in the winter and cool in the summer.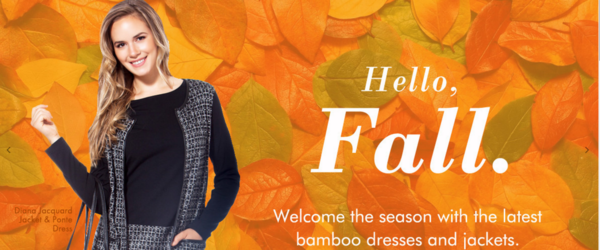 Testing the Clothing
LNBF contacted me to ask if I would like to review their collection and I thought it would be fun if my 18 year-old daughter, Katie, and I each tried a couple of items to see how the clothing appealed to different age groups. I chose the Katie Tunic Dress in Ink and the Flow Cardigan in White. Katie opted for the Ellie Dress in Black/Ivory and the Zoe Lace Tank in White.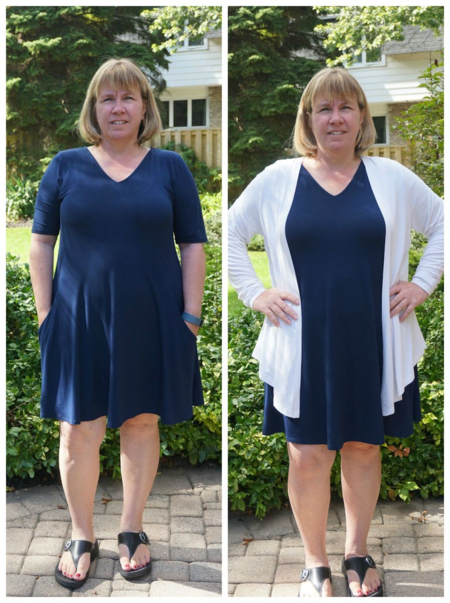 We both loved the look of the clothes on the website and had a hard time narrowing down our choices. In fact, we both liked several of the same pieces and, believe me, we don't often agree on fashion! When our package arrived, I was immediately taken by how soft and luxurious the fabric feels to the touch but soon discovered it feels even better to wear. This is easily the most comfortable dress in my wardrobe and I have been wearing it often. The pieces that we chose are also quite versatile and look great either dressed up or dressed down.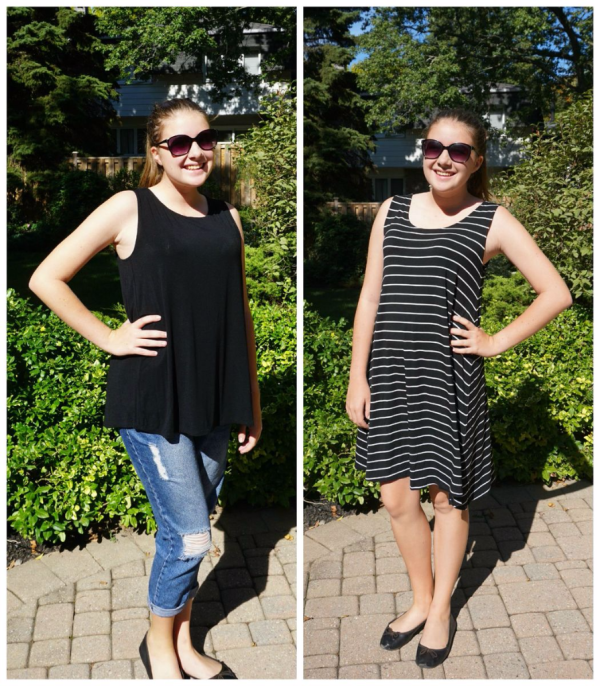 I travel a fair bit and I'm always looking for stylish garments that travel well. On a Labour Day weekend getaway to New York City with my husband and younger daughter, I packed my LNBF dress and cardigan and was very impressed with how well the garments travelled. The dress came out of my suitcase wrinkled but I hung it up and it was soon wrinkle-free and ready-to-wear again.
In fact, I loved the clothes so much that I decided that I needed more items in my wardrobe and purchased two additional dresses (the Katie Tunic Dress in Violet and the Ophelia Dress in Cobalt) prior to a mid-September trip to Disneyland and Legoland in Southern California. I spent three busy days visiting the theme parks wearing my LNBF dresses and felt quite comfortable despite the hotter than average temperatures. These dresses will definitely now be in my suitcase every time I travel!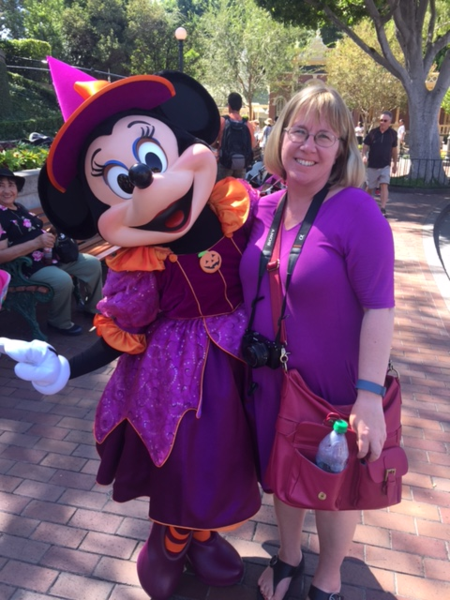 Disclosure: I received a sample of clothing from LNBF for review purposes but received no other compensation. My opinions are, as always, entirely my own.
Pin this for later