A review of 25 Places in Canada Every Family Should Visit by award-winning travel writer Jody Robbins – an excellent resource for planning a family vacation in Canada.
Thinking about travelling in Canada with your family? Then the first thing you should do is pick up a copy of the recently published 25 Places in Canada Every Family Should Visit by award-winning travel writer Jody Robbins of Travels with Baggage. Prior to writing this guidebook, Jody spent 18 months travelling the country from coast-to-coast researching popular destinations and attractions for families. She's done the legwork so you don't have to!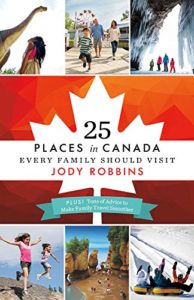 We are a participant in the Amazon Services LLC Associates Program, an affiliate advertising program designed to provide a means for us to earn fees by linking to Amazon.com and affiliated sites. As an Amazon affiliate I earn from qualifying purchases.
This post may contain affiliate links. If you click an affiliate link and make a purchase then we receive a small commission at no additional cost to you.
The publication of this guidebook is perfectly timed as Canada was recently named the #1 travel destination on Lonely Planet's Best in Travel 2017 Top Countries list. July 1, 2017 is also the 150th anniversary of Canadian confederation and birthday celebrations and special events are taking place across the country this year making it the perfect time to explore Canada. Of special note is the fact that admission to all national parks, national historic sites, and national marine conservation areas operated by Parks Canada is free in 2017.
Once you have decided on a vacation in Canada, this guidebook will help you narrow down the choices and select the best destination for your family. (Fair warning – it will also inspire you to draft a wishlist of Canadian destinations that might take you years to complete!) 25 Places in Canada Every Family Should Visit covers Canada from coast-to-coast (all 10 provinces plus one territory) reviewing the best destinations for families and including a few accommodation and dining recommendations for good measure.
Each destination section of the book includes the best family-friendly attractions and activities, beautiful colour photographs, a Taste section on where to eat, a Nap section on the best family-friendly accommodations, tips on Getting Around and Fun Facts about the destination. My favourite section though is Get Excited About Your Trip where Jody provides book recommendations to help parents and kids get familiar with the destination prior to their trip.
The 25 selected destinations include large cities as well as outdoor adventure trips so there's something for everyone no matter their travel style. The book even includes a section on travel tips and advice from industry experts covering a range of topics such as road trips, plane travel, packing and much more.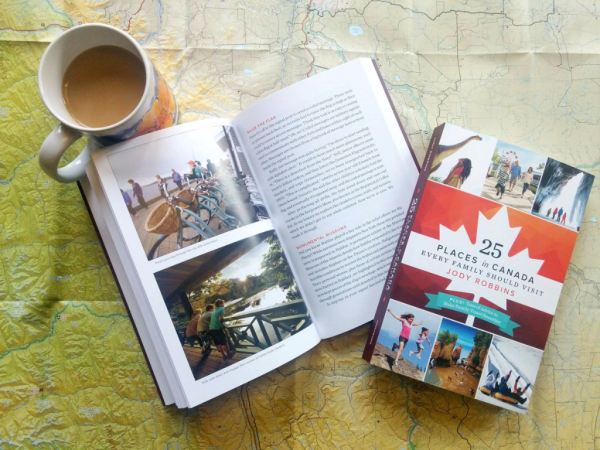 As a fellow Canadian, I was delighted to see many of our family's favourite destinations included. Over the years we have enjoyed wonderful family vacations at nearly all of the destinations that Jody selected east of Manitoba. Reviewing this guidebook has stoked my wanderlust though and made me realize that it's high time that our family plan more visits to Western Canada. All of the destinations that we have yet to visit have now been added to our travel wish list and we plan to get started on crossing them off this summer!
25 Places in Canada Every Family Should Visit is a great resource for both Canadian families and visitors to our country who want to plan a memorable Canadian vacation. It also makes a great bucket list for travelling Canada – 25 places seems like a manageable number of items for a family to check off before the kids head out on their own!
Disclosure: I received a copy of this book for review purposes.