A discussion of the pros and cons of long term sailboat travel by Janis Couvreux, author of Sail Cowabunga who lived on a sailboat with her husband and two young sons for 10 years.
I'm delighted to welcome guest poster Janis Couvreux to share her experience on living on a sailboat with kids. Janis and her husband spent 10 years at sea with their young sons and she has recently published a book about their adventures.
We are a participant in the Amazon Services LLC Associates Program, an affiliate advertising program designed to provide a means for us to earn fees by linking to Amazon.com and affiliated sites. As an Amazon affiliate I earn from qualifying purchases.
This post may contain affiliate links. If you click an affiliate link and make a purchase then we receive a small commission at no additional cost to you.
Why would anyone want to live and travel on a sailboat, crammed into 40 ft. of space with a husband and two small children—indefinitely? Most people would not, but we did, for multiple reasons.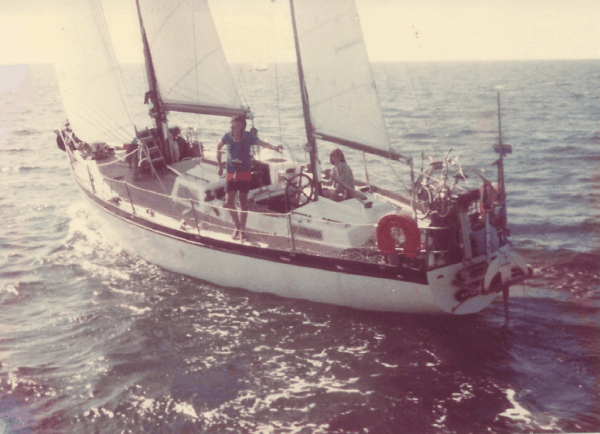 As an Amazon affiliate, I earn from qualifying purchases.
My husband and I had a thirst for travel, but early in our marriage our desire to be rootless and itinerant was beginning to loom incompatible with our increasing desire to have children. We couldn't figure out how to reconcile our wanderlust and start a family.
Then thanks to a spontaneous weeklong sailing invitation from a friend, we discovered cruising and we were hooked. Like snails and turtles (and a similar speed), we could take our home and children with us! Adventure here we come!
We set out upon the ocean with our young family of a 3 year old and 5 month old. We had begun living onboard two years earlier beginning with our one year old. This was our "shakedown" experience to see if we could make it work and smooth out the wrinkles that were sure to surface.
Indeed, we couldn't escape each other, but there is much to be said for our being young and in love at the time, and powered by our dreams.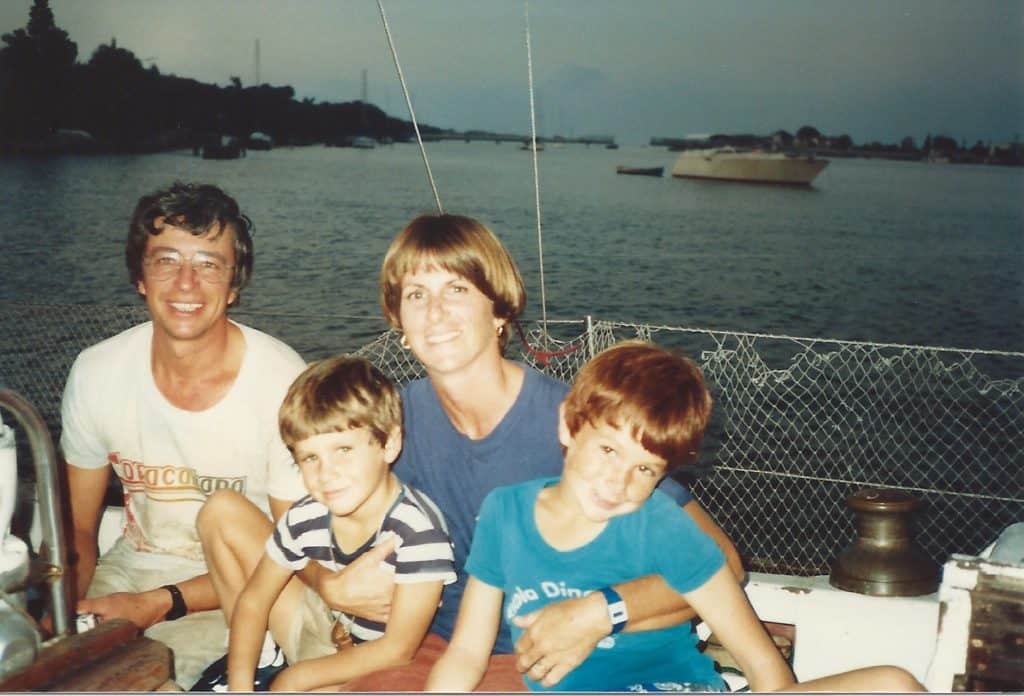 Pros and Cons of Sailboat Living
Obviously there are a lot of pros and cons to such a lifestyle, and I wouldn't be honest if I said it was easy. We met several couples and families in our travels where the experiment fell apart—abandoned boats, or for sale, separations, and divorces.
Wary of this, we knew the risks and had no illusions that it would all be paradise. However, I believe that the downsides and bad episodes were ultimately beneficial—part of the learning process.
Now, many years later, here are some pros and cons that I gleaned from our experience.
The Pros
1. Togetherness
My husband and I were happy being together daily, not living our former 9-to-5-work routine. We had time to be patient (well mostly), with a baby, and a 3 year old's caprices.
When we needed a break from each other, solitary activities such as reading, fishing, or equipment repairs sometimes filled the bill. This was also an excellent argument for our four-hour night watches while we were at sea, affording us our individual time alone.
2. Carving Out Your Own Space
Dovetailing with above, you learn more about yourself and your family members and how to carve out your own spaces—physically and mentally.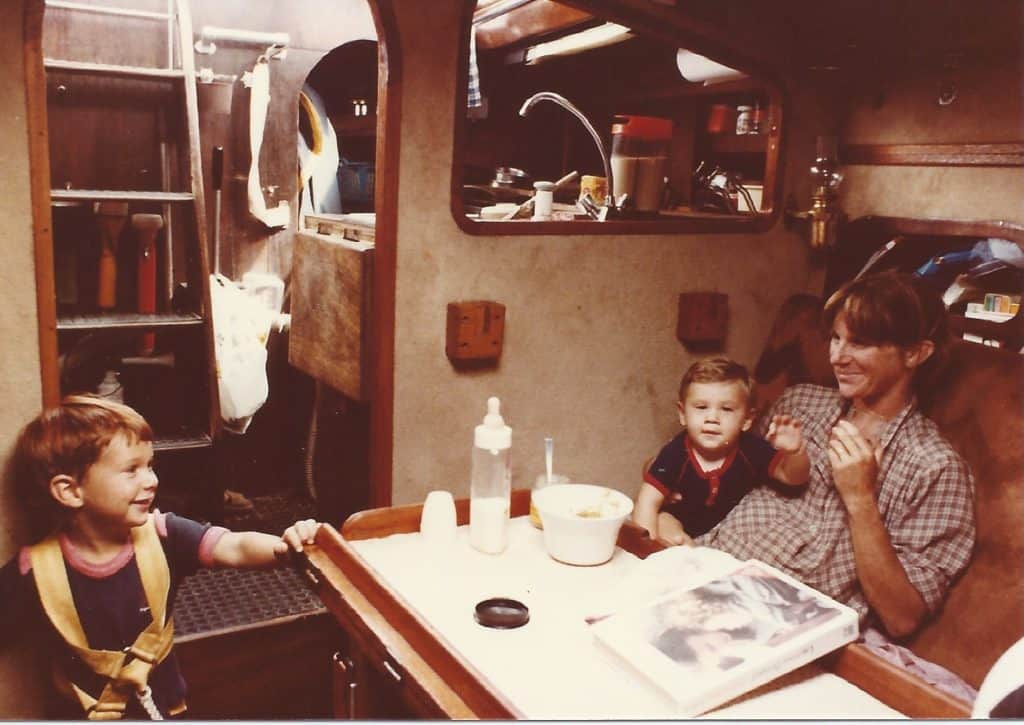 3. Educational Tool
Kids gain a love for travel and since this was a mainstay of our motivation, our grown boys today are fanatics about the outdoors, and appreciate history, geography, languages, and cultures—huge pluses in my book for education.
4. Homeschooling or "Boat" Schooling
Aside from the timesaver of fitting a whole school day program into three or four hours in the mornings, we also gained a keen understanding of how each of our children learned, understood, and deciphered things.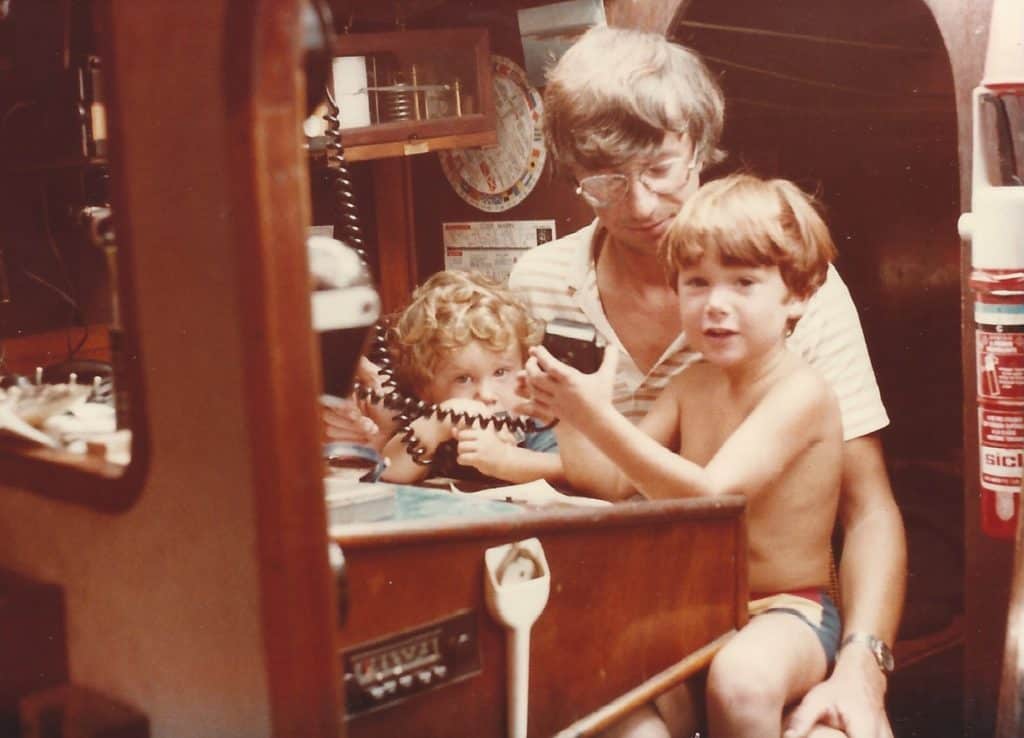 5. Getting Organized.
This may be a "con" for some, but I am generally an organized person and living on a boat made it mandatory! Everything has a place and needs to be in it once you set sail.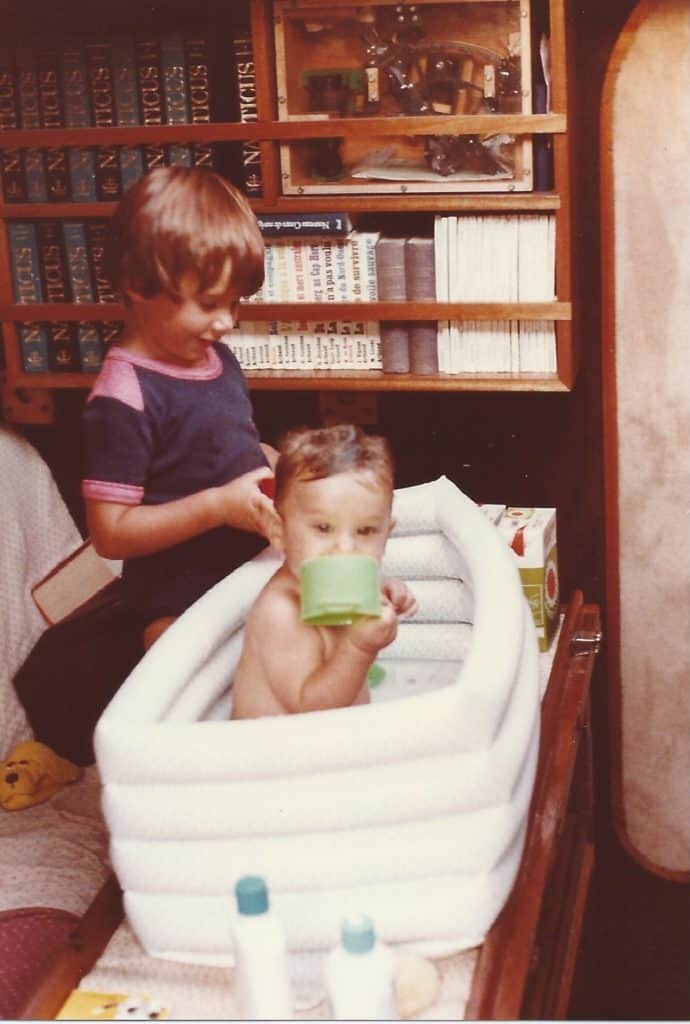 6. Kids Can "Best" You
Accept and revel in that fact that your kids can become better than you at doing certain things. Our oldest loved fishing and became better at it than Dad. I remember being thrilled when my 8 year old suddenly understood the wind direction and relative sail adjustments better than me! I was slowly relieved of main crew duty!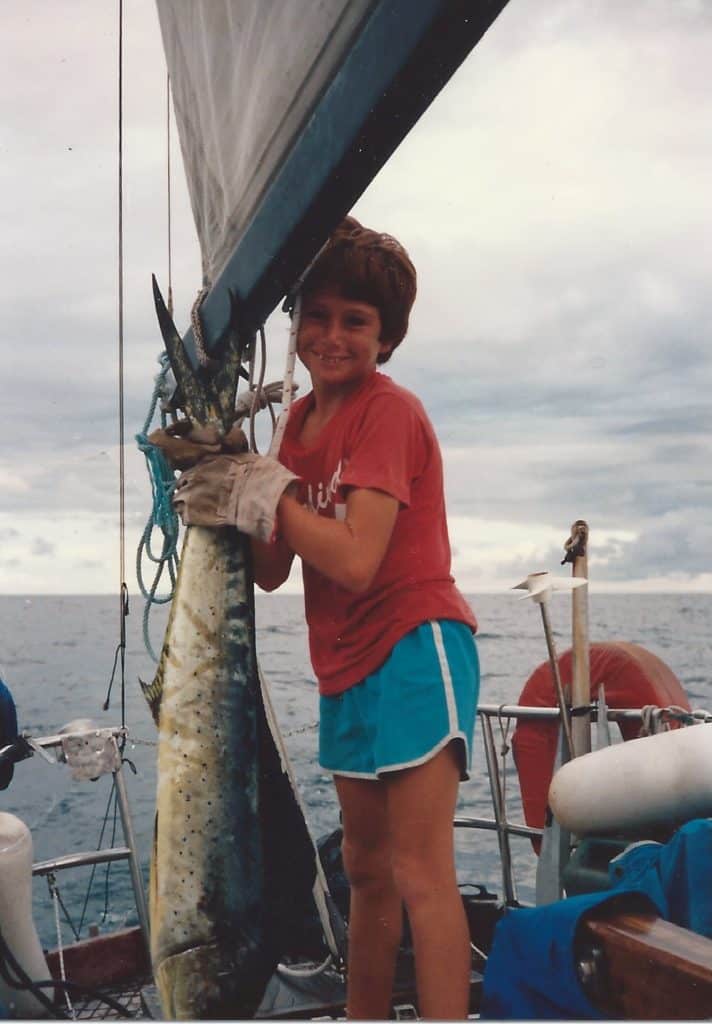 7. Simplification
Life was prioritized for "survival," self-sufficiency, and simple pleasures. Where can we find fresh water? We need to ration our fresh eggs. Hey it's not raining! You learn to eliminate "fluff" and appreciate simplicity: no more stylish hair cuts, no more long nails and nail polish, managing without many kitchen gadgets, keeping toys down to minimum (we pared down almost exclusively to LEGO).
We also learned to explain complicated things simply (or tried!) for child's viewpoint. How do you cross an ocean and arrive at the other side? Why do we change time? With no Internet, no Google, no cell phones or devices in our era of the 1980s, we learned to paraphrase an encyclopedia and use a globe.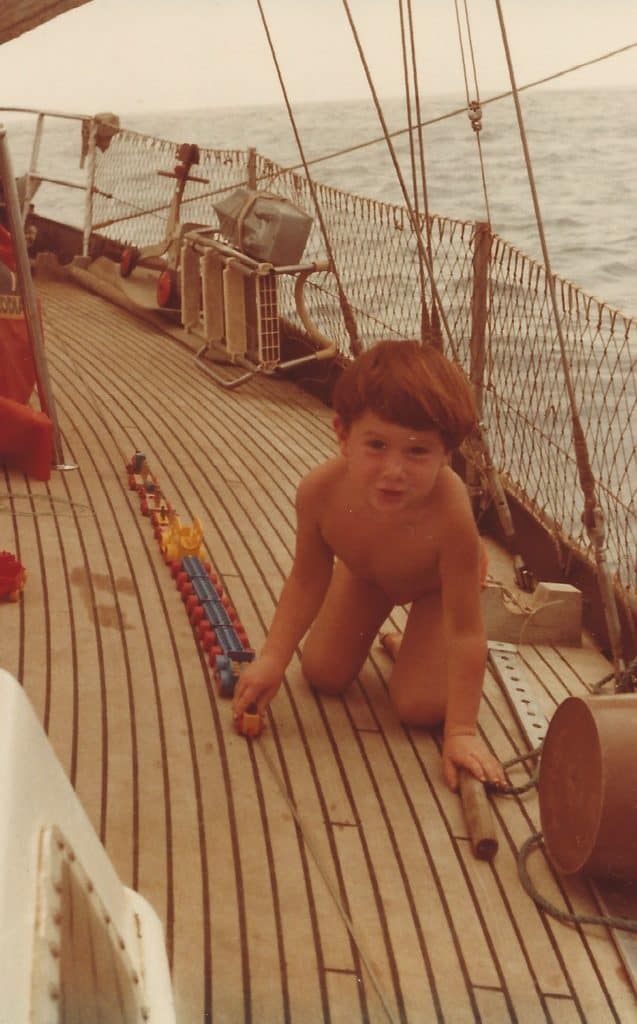 8. Rolling with the Punches
And going with the flow. We learned to tolerate differences in customs and procedures in other countries and deal with the unexpected (but doesn't mean we always handled it well).
The Cons
1. Too Much Togetherness
For the exact reasons of the "pro" above, the opposite applies. All this closeness can wear thin (and did!), breeding bad moods, resentment, and angry outbursts.
2. Homeschooling
Although I realized I learned how my children learned, I also learned that I am not a teacher and lack the patience and motivation of a teacher. Teaching is a vocation, but not mine.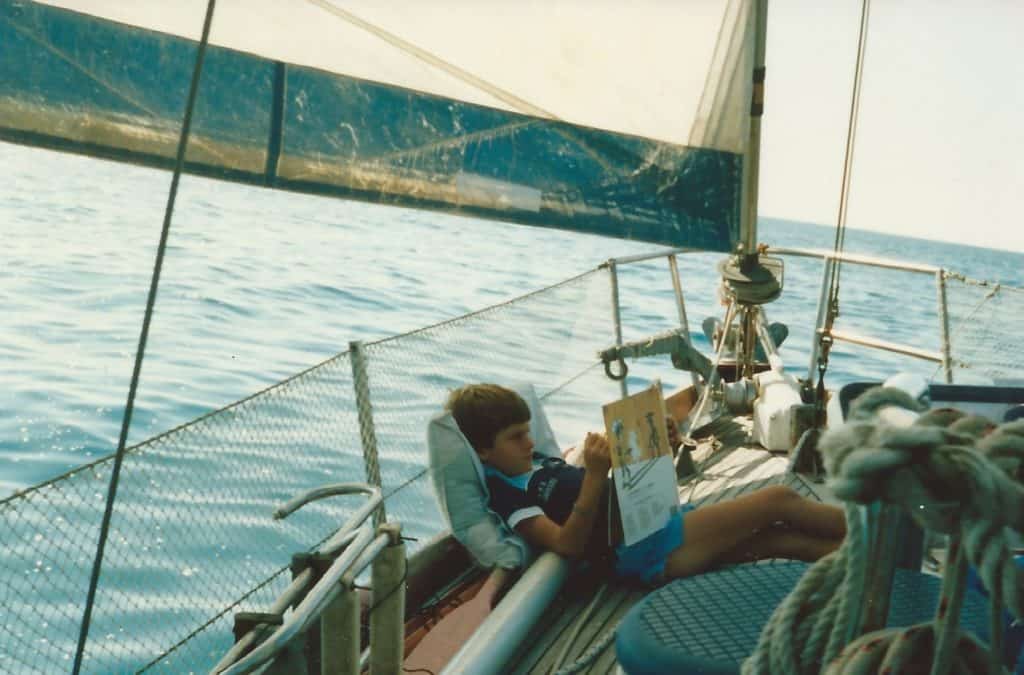 3. Kids Lose Friends Quickly
But the upside is they make friends quickly, since they don't have time to waste when in a new harbor. However, since all the boats continue on their way, the children often never see their new friends again.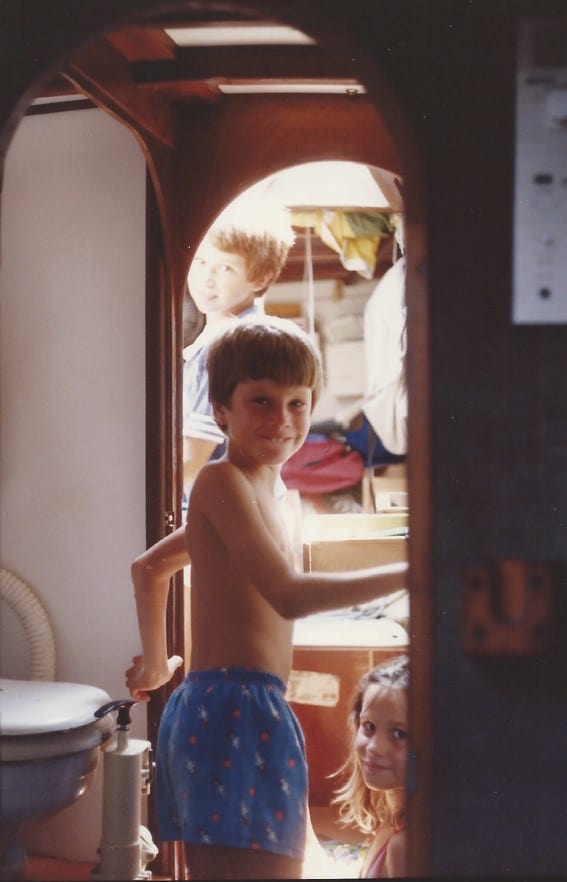 4. Difficulty Easing Back into the Real World
In our case, one child who is very social eased back in to structured society rather effortlessly (albeit with a bit of a learning curve at first), while our other reserved, more solitary child struggled with it.
Being aware of their personality differences and accommodating them ("Yes you have to stay in school until late afternoon, but we'll go hiking or camping this weekend.") helped ease his pain.
5. The "Punches" Can Upset Your Plans
The "punches" can upset your plans short term and long term. As I said, since it is not all paradise, unexpected events can upset things, as they do life on land. Due to a string of upending events, our boat life eventually came to an end.
All in all, I have no regrets. It was bliss, survival, discovery, anger, and happiness. For us, the pros outweighed the cons. And although it was a lot of work, we delighted in the life, and it has had a lasting, positive effect (in our view!) on the adults our two boys have become.
As an Amazon affiliate, I earn from qualifying purchases.
Janis Lasky Couvreux is the author of Sail Cowabunga! A Family's Ten Years at Sea, published in October 2017. A journalist, Franco-American, travel and adventure addict, sailor, mom, and grandmom, she has blogged for the Huffington Post, and written travel and wine-related articles for the Los Angeles Times, San Francisco Chronicle, and Vintage Magazine.
Winner of the 2017 San Francisco Writers Conference Adult Nonfiction award, Janis lives in Petaluma, California. You can find her on Facebook, Twitter, Instagram, LinkedIn, Goodreads and at www.sailcowabunga.com.
Pin This For Later