Drayton Entertainment's production of Annie onstage at the Drayton Festival Theatre until June 30, 2019 is fun for the whole family!!
My 15 year-old daughter and I had the opportunity to attend a performance of Drayton Entertainment's production of Annie this week. We had previously attended a Drayton performance in St. Jacobs but this was our first time visiting the Drayton Festival Theatre, a renovated opera house that was built in 1902 in the small town of Drayton, Ontario.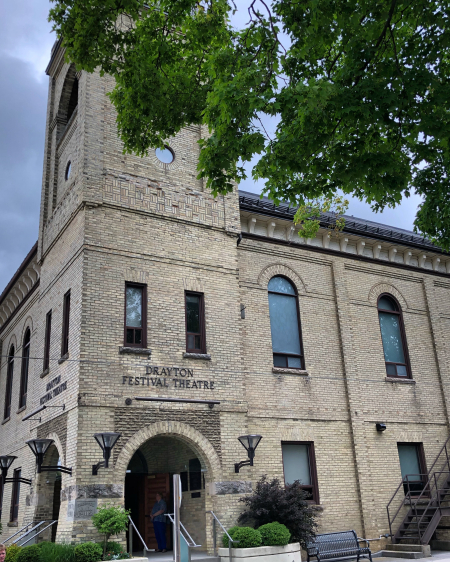 Set in 1930s New York City during the Great Depression, this beloved family musical, based on the 1920s comic strip Little Orphan Annie, is the story of 11 year-old Annie who is living in a city orphanage for girls under the care of a bitter alcoholic named Miss Hannigan.
She has been living at the orphanage since being left on the doorstep as an infant but has never given up on her dream of escaping this hard-knock life and finding her parents.
When Annie is chosen to spend the holiday season at the home of billionaire industrialist, Oliver Warbucks, it looks like she might finally be getting a lucky break.
The original Broadway production of Annie won multiple Tony awards and it is a show that will be familiar to many in the audience who have either seen another live production or one of the film versions of the story or have just heard memorable songs such as Hard Knock Life, Easy Street, NYC, and Tomorrow.
This musical is a long-time favourite of ours. We have seen it performed many times by professional, amateur and youth companies and both of my daughters have been in productions of it as well. As a result, we have high expectations when it comes to performances of Annie and this production, directed and choreographed by David Connolly and music directed by Michael Lerner, exceeded those expectations.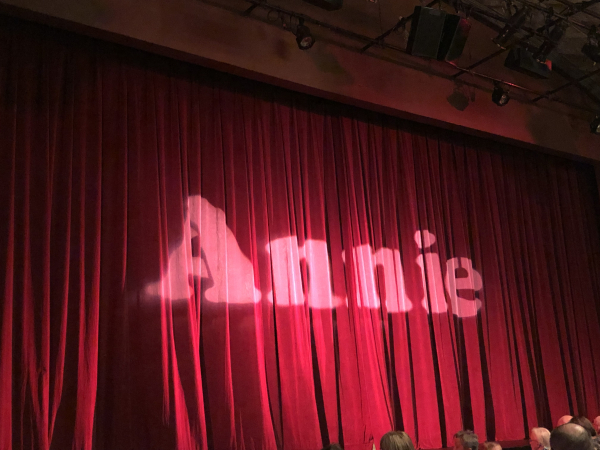 Annie is a musical that can succeed or fail based on the kids in the show and this cast was up to the task. Annie and her ensemble of orphan friends were adorable and so very talented. Riley DeLuca as Annie gave an incredible performance for a young girl her age. Her vocals were great and her portrayal of Annie hit just the right note – spunky and intelligent while never becoming too precocious (a testament to the direction of Connolly).
In addition to Annie and the four named orphans in the show there are also two casts of 10 talented girls that alternate performances. I can almost guarantee you that if you bring young girls to see this show that they are going to decide that they want to be in Annie too!!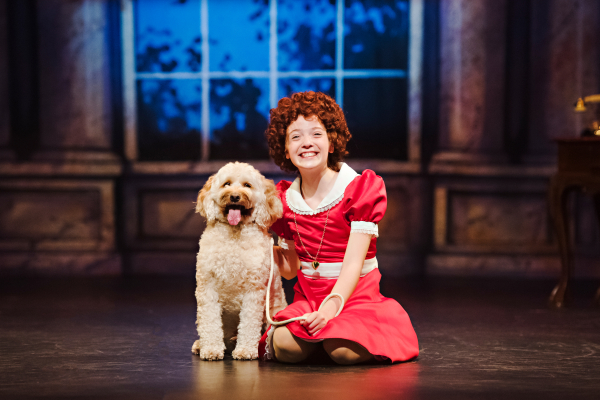 Thom Marriott as the gruff, no-nonsense Daddy Warbucks was great as was Cynthia Smithers as Warbucks' efficient secretary Grace Farrell and Glynis Ranney as Miss Hannigan. A talented ensemble played multiple roles throughout the production – we particularly enjoyed Jacob James as FDR, Jeremy Carver-James as Bert Healy and Sandrine Lessard-Blais as Star to Be.
The adorable Sandy (played by a cockapoo named Charlies) deserves special mention for his ability to draw focus every time he appeared on the stage. One of our favourite moments came during bows when he decided to jump on one of the girls to give her kisses!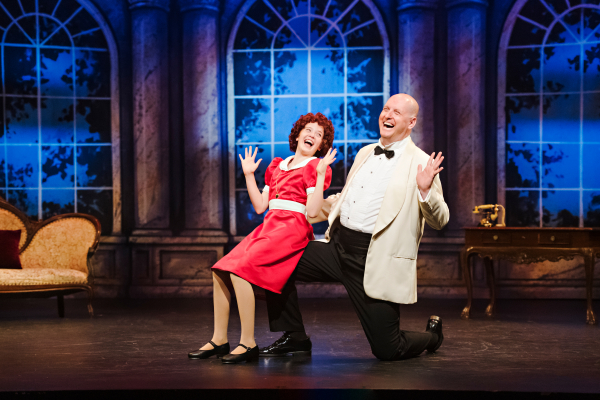 The show also features gorgeous sets designed by Jean Claude Olivier, fabulous costumes (Costume Design by Rachel Berchtold) and Lighting Design by Wendy Lundgren. Overall, we appreciated the direction and attention to detail in the production. As one example, President Roosevelt's cabinet was historically correct with one woman in the cabinet (Frances Perkins was the first woman appointed to the US cabinet ).
We recently saw a professional version of the show in Toronto and could not believe that the director had put multiple women in the cabinet scene – details matter! The choreography also hit just the right note – nothing too flashy as Annie is not a dance show but I loved the addition of a tap number featuring almost the entire cast – something I haven't seen in Annie before.
Annie is a crowd pleaser that has the audience standing for the curtain call (and happily singing along to Tomorrow). It's fun for all ages and a great opportunity to introduce children to live theatre. The show is recommended for ages 5 and up but, depending on the individual child's maturity level, it could be enjoyable for those a bit younger as well.
While you're in Drayton, be sure to stop by the à la mode café & ice cream shop either pre- or post-performance. This charming spot serves breakfast all day, lunch with homemade soup, coffee, tea, espresso, desserts and ice cream. They also sell baked goods packaged up and ready to take away and we can attest to the deliciousness of the cookies and butter tarts.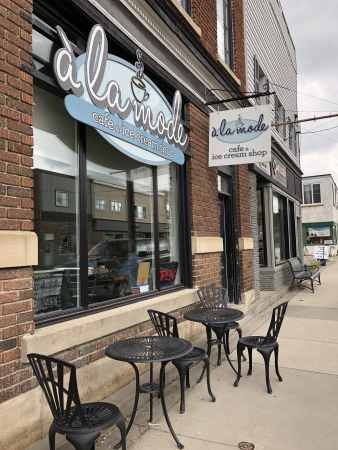 Annie is on stage at the Drayton Festival Theatre (33 Wellington St. S., Drayton) until June 30th. Tickets for Regular Performances are $48 + HST for Adults and $29 + HST for Youth Under 20. There is also special pricing for groups of 20 or more. Tickets may be purchased online or by calling the box office at 1-855-372-9866. Drayton Entertainment will also present Annie on stage at Hamilton Family Theatre Cambridge October 2 – October 27, 2019. The show's running time is 2 hours 30 minutes with one intermission.
Drayton Entertainment is one of Canada's most successful professional theatre companies producing live theatre at 7 venues in southwestern Ontario (Drayton Festival Theatre, Hamilton Family Theatre Cambridge, Huron Country Playhouse, Huron Country Playhouse II, King's Wharf Theatre, St. Jacobs Country Playhouse and St. Jacobs Schoolhouse Theatre) with total annual attendance exceeding 250,000. Drayton is located about 35 minutes from Kitchener/Waterloo and it took us approximately the same amount of time to drive there as it does for us to get to Stratford from our home in Oakville.
We received complimentary tickets for this performance of Annie.