Stop the presses! Drayton Entertainment's production of Disney's Tony Award®-winning Broadway musical Newsies is on stage at the St. Jacobs Country Playhouse and it's a crowd-pleaser that everyone in your family will enjoy!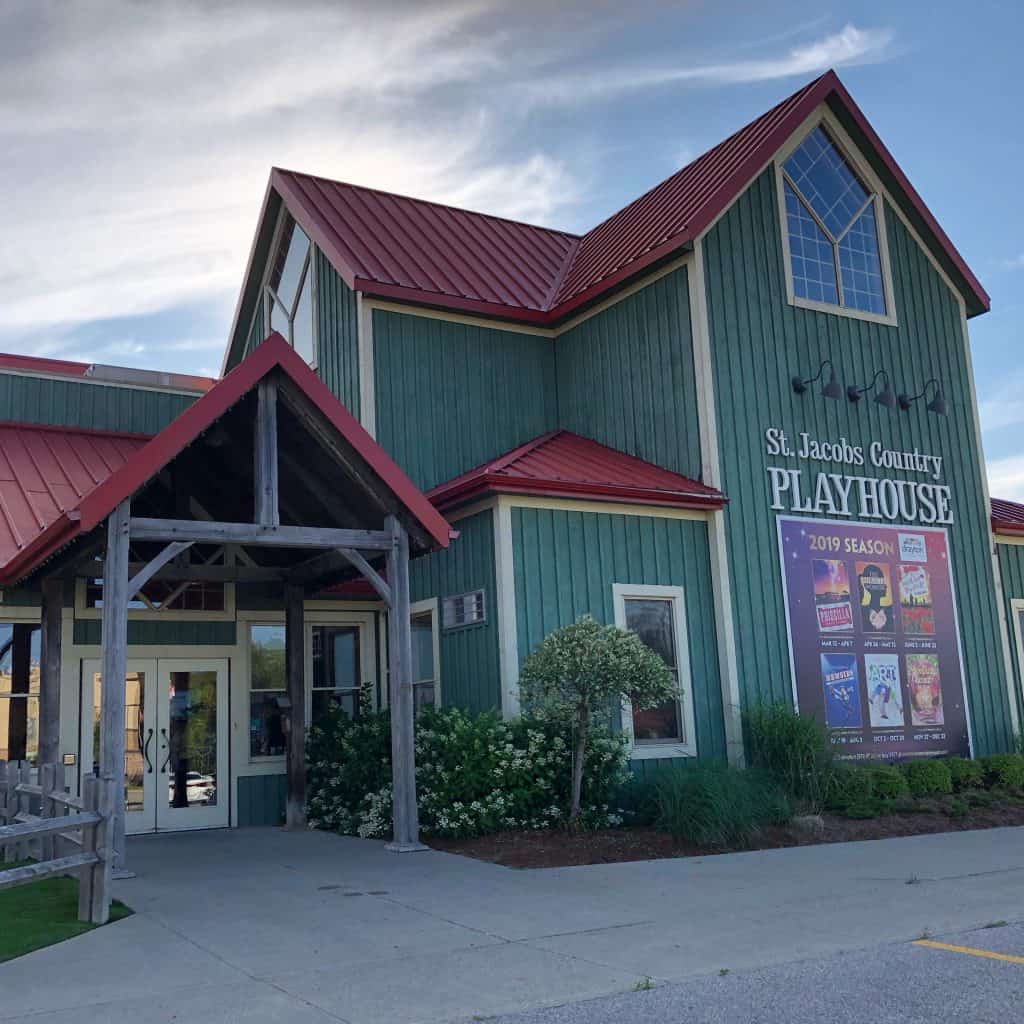 The original Broadway musical, based on the popular 1992 movie, was inspired by the real-life newsboys' strike of 1899 when a group of "newsies" engaged in a two week long strike action against powerful newspaper publishers in New York City.
Newsies, featuring a sensational score by Alan Menken and Jack Feldman and a book by Harvey Fierstein, was nominated for 8 Tony Awards® in 2012 and won Best Choreography and Best Original Score.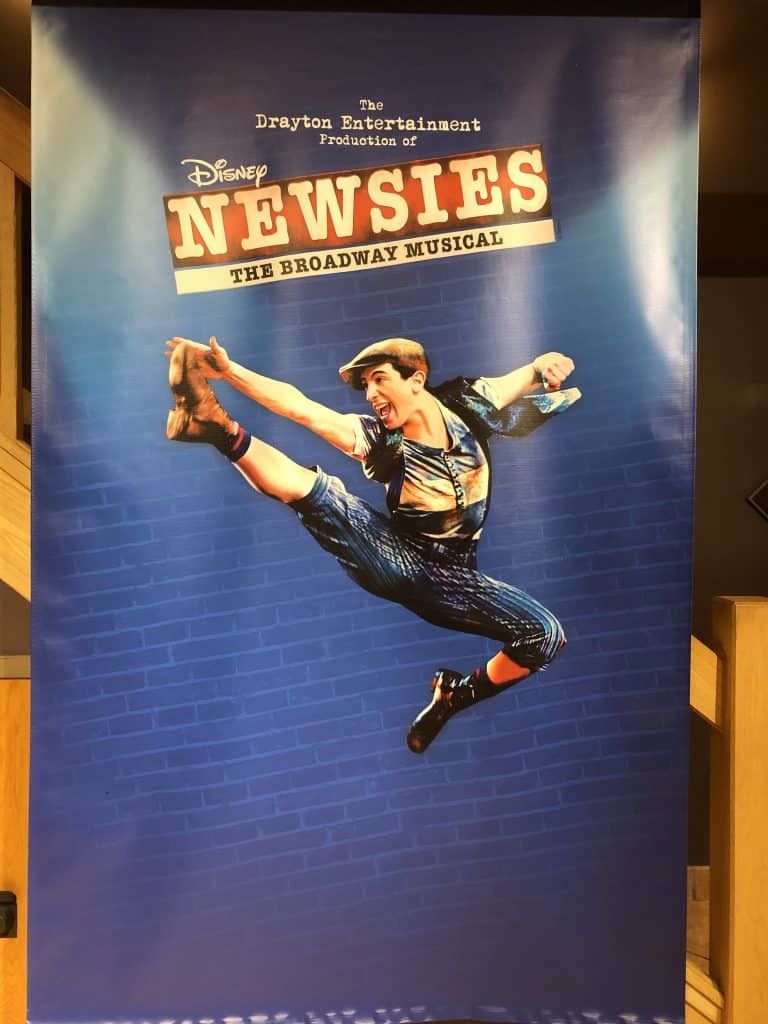 Disney's Newsies tells the story of a group of young, mostly-orphaned, newsboys struggling to survive on the gritty streets of New York City at the turn-of-the-century. Powerful newspaper publishers, including Joseph Pulitzer, decide to increase corporate profits by raising the cost of papers sold to the boys. The newsies, led by the charismatic Jack Kelly, are determined to fight back by forming a union.
It's a classic David and Goliath struggle with the newsies taking on wealthy elites who could care less about the young people at the bottom of the employment chain. Jack meets Katherine, a young reporter trying to make a name for herself, who takes up the cause writing about the plight of the newsies in hopes that public support will force the publishers to back down.
A strong slate of actors bring this tale of underdogs fighting against social injustice to life. Kale Penny does a fine job as Jack Kelly portraying the character's charisma and natural leadership as well as his vulnerability and yearning for a life outside of New York when he sings the beautiful ballad Santa Fe.
Julia McLellan was outstanding as the independent-minded Katherine Plummer. She has a beautiful voice, acted the part with just the right amount of sass, and demonstrated her triple threat ability tap dancing in King of New York.
Other stand-out performances include Gregory Pember as Crutchie, Daniel Greenberg as newcomer Davey – loved his singing voice, Thomas Winiker as Les who is an adorable (and talented) scene stealer, and Stephen Sparks as Pulitzer, the show's chief antagonist.
Menken's score is wonderful and you will likely find yourself humming showstopping numbers such as Seize the Day, Carrying the Banner and King of New York days after seeing the show.
I loved the set design by Brian Dudkiewicz which consisted mainly of movable sets of metal stairs against the backdrop of a brick wall. The design, both functional and attractive, evokes the architecture of late 19th century Manhattan tenements and demonstrates that a great set designer can do a lot even in a relatively small theatre.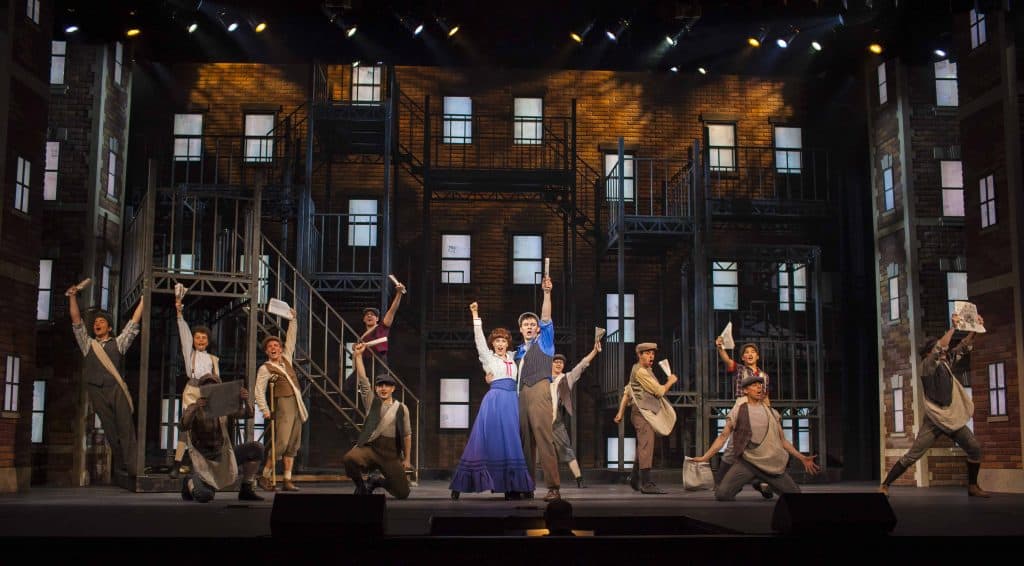 Newsies, known for the energetic, athletic dance numbers, is a show where the ensemble has to shine. I have seen both the Broadway production and the North American tour and those big dance numbers are my favourite part of this musical. I was a bit worried beforehand that I might be disappointed with the dance in this production but there was no need. Choreographer Marc Kimelman has assembled an excellent ensemble of skilled young dancers led by Dance Captain Josh Assor and the dance numbers are spectacular!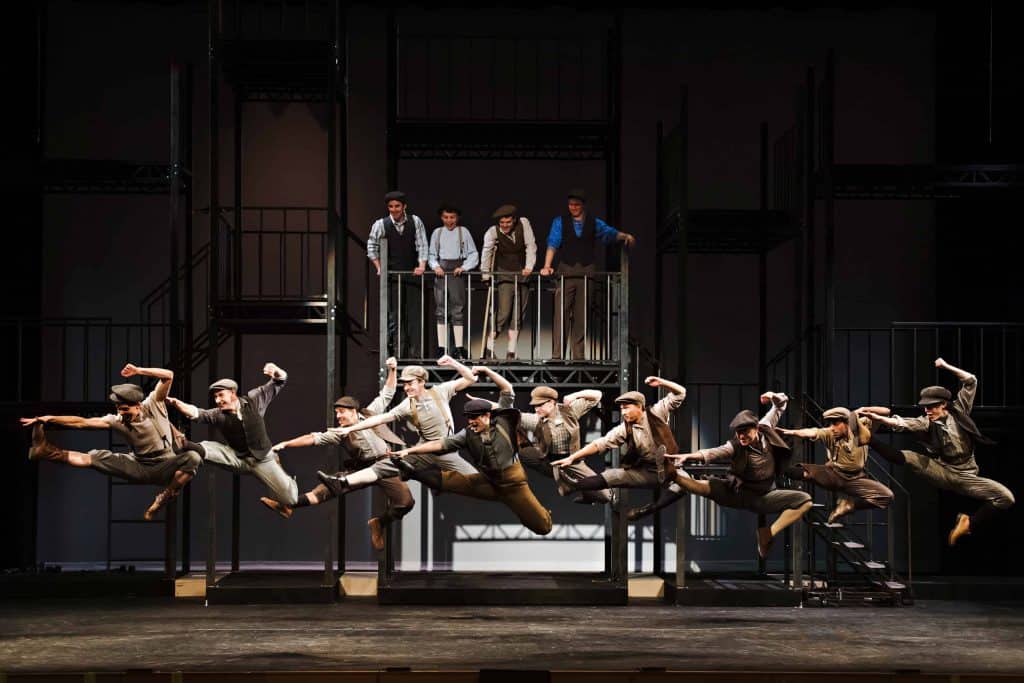 Disney's Newsies is a great family musical – a story full of heart that is entertaining for all ages with an inspiring message about fighting for what's right. The show's run at the St. Jacobs Country Playhouse is already almost 80% sold so act quickly to get your tickets before they are sold out!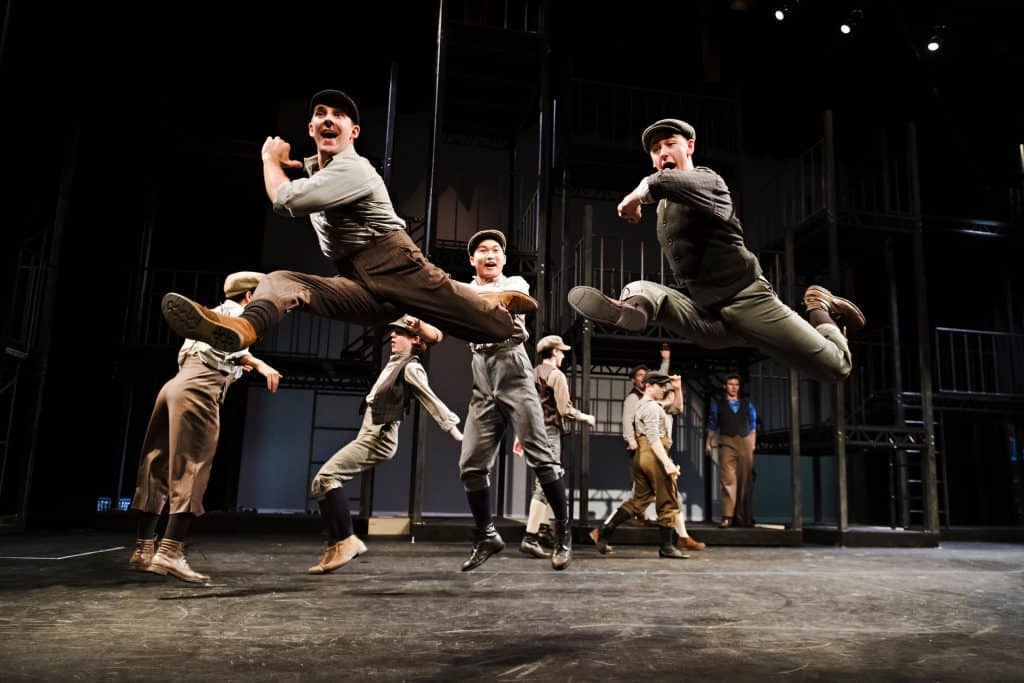 Disney's Newsies is on stage at St. Jacobs Country Playhouse (40 Benjamin Road East, Waterloo) July 18 – August 3. Tickets for Regular Performances are $48 + HST for Adults and $29 + HST for Youth Under 20. There is also special pricing for groups of 20 or more. Tickets may be purchased online or by calling the box office at 1-855-372-9866.
The show's running time is 2 hours 25 minutes with one intermission. (The show is recommended for ages 10 and up but use your judgement as to whether or not your child would enjoy it. My younger daughter was 9 when we saw the Broadway production of Newsies and I think she would have enjoyed it at a younger age as well. There's nothing inappropriate in the show but younger children might not fully understand the plot.)
************************
Drayton Entertainment is one of Canada's most successful professional theatre companies producing live theatre at 7 venues in southwestern Ontario (Drayton Festival Theatre, Hamilton Family Theatre Cambridge, Huron Country Playhouse, Huron Country Playhouse II, King's Wharf Theatre, St. Jacobs Country Playhouse and St. Jacobs Schoolhouse Theatre) with total annual attendance exceeding 250,000. The St. Jacobs Country Playhouse is within easy driving distance of the GTA and southwestern Ontario.
We received complimentary tickets for this production of Disney's Newsies.