Highlights of a day in Helsinki, Finland while on a family cruise in Northern Europe.
Helsinki, Finland was one of the ports of call on the Baltic cruise that we took for our summer vacation when our daughters were 12 and 6 years old.  We tried to make the most of our time there but it is difficult to see more than a few highlights on a one day visit.  Knowing that we had limited time in the port we decided that our goal was to see some of the best known attractions, have fun and try to form an impression of the city that sits on the Gulf of Finland.
Read 12 Spectacular Cruises To Add To Your Bucket List
This post may contain affiliate links. If you click an affiliate link and make a purchase then we receive a small commission at no additional cost to you.
We are a participant in the Amazon Services LLC Associates Program, an affiliate advertising program designed to provide a means for us to earn fees by linking to Amazon.com and affiliated sites. As an Amazon affiliate I earn from qualifying purchases.
Senaatintori (Senate Square)
We decided that our best option for seeing Helsinki was to catch the Hop On Hop Off (HOHO) bus at the pier and use it as transportation to the major sites.  Our first stop was Senaatintori (Senate Square) which is one of the main tourist attractions in Helsinki. 
The Square is flanked by four neoclassical buildings designed by architect Carl Ludvig Engel between 1822 and 1852 –  the Government Palace, the main building of the University of Helsinki, the National Library of Finland and the Lutheran Cathedral.  In the centre of the square is a statue of Tsar Alexander II who was the Grand Duke of Finland.  
The prime attraction in Senate Square is the photogenic Tuomikirkko (the Lutheran Cathedral of Finland) with its striking green domes and the broad, extremely steep flight of stairs in front of it.  The cathedral is visited annually by more than 350 000 people. 
Suomenlinna Fortress
A pleasant 15 minute ferry ride from Kauppatori (Market Square) and we were at Suomenlinna (Finland's Castle), a maritime fortress off the coast of Helsinki, which dates to 1748.  Suomenlinna has been designated a UNESCO World Heritage Site and is one of the most popular attractions in Helsinki with more than 700 000 annual visitors.  
The fortress is set on a series of interconnecting islands and within the mighty stone walls there are a number of historic buildings and museums.  We wandered through the fortress enjoying the beautiful weather and even stopped to sample some Finnish ice cream.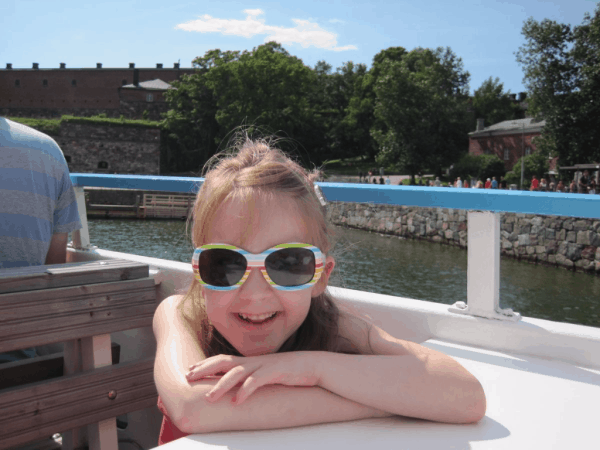 Temppeliaukio Kirkki (The Rock Church)
After disembarking from the ferry in Market Square we re-boarded the HOHO and headed for Temppeliaukio Kirkko (The Temple Square church commonly referred to as the Rock Church).  The church is widely considered to be a thrilling example of modern architecture. 
The church is built inside of a massive block of natural granite and is barely visible from the outside with only the copper dome poking out of the rock.  Our 6 year-old was not the least bit impressed, declaring it the most boring place she had ever been.  Needless to say we didn't stay long to admire the juxtaposition between natural and man-made materials or marvel at the unique acoustics.
Sibelius Park
After ducking under a shop's overhang to avoid a passing shower we got back on the HOHO.  We decided that we had time for only one more stop so we chose Sibelius Park to see the monument to Finnish composer Jean Sibelius.  Sibelius Park is maintained in a natural, rather than manicured, state in order to represent the rugged beauty of Finland.  The weather had cleared again so this also provided time for some much needed running around and letting off steam. 
One of the interesting things that we observed in the Scandinavian countries and in St. Petersburg was the tradition of brides and grooms driving around their cities and having photos taken with well-known landmarks.  Sibelius Park was one of the places where we saw a bride being photographed and tourists taking photos as well. 
As my 6 year-old daughter ran around and played, a Japanese lady asked for permission to take her photo and my husband said that was fine.  We laughed afterward thinking that somewhere in Japan this lady will be showing Emma's picture and saying this is the little Finnish girl that we saw playing in the park in Helsinki.
We spent a great low-key day in Helsinki mostly at outdoor attractions enjoying the fabulous weather.  Given the constraints of our visit we managed to see as much as possible in a short period of time.  I was disappointed that there wasn't enough time for me to shop on The Esplanade but I did come home with a Marimekko umbrella so I can't complain.  Apart from a few minutes at the Rock Church, everyone enjoyed the day and that is the mark of a successful outing.
Related Articles
12 Spectacular Cruises To Add To Your Bucket List