Review of Words in a French Life by Kristin Espinasse.
I have just finished reading this charming book, Words in a French Life: Lessons in Love and Language from the South of France, which combines anecdotes about life in the south of France with French vocabulary lessons.  The author, Kristin Espinasse, was raised in Arizona and traveled to France on a language exchange program while majoring in French in university. 
Kristin met her future husband while she was there and eventually moved to France to get married.  She and her husband are now raising their two children in Provence.  On her website, Kristin says that she still struggles with French everyday but she has two built in tutors (her children) who seem to delight in correcting her  mistakes and laughing at her pronunciation.
Kristin began a blog and corresponding newsletter in 2002 called French Word A Day and excerpts from her blog have been compiled and published in this book.  In her blog posts, Kristin shares stories about her life through the use of an everyday French word.  The blog has now evolved into thrice-weekly posts and continues to be extremely popular with thousands of subscribers.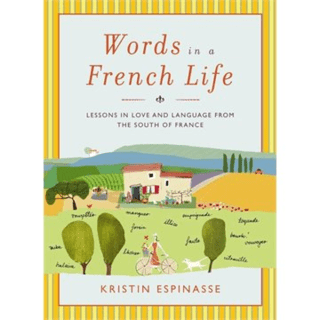 One of the great things about the book is that it does not have to be read all at once as each anecdote stands on its own.  I have been savouring this book since before I left for Provence last summer picking it up from time to time to read a story and then setting it aside again.  I will now have to rely on Kristin's blog for my fix of french-word-a-day stories.
We are a participant in the Amazon Services LLC Associates Program, an affiliate advertising program designed to provide a means for us to earn fees by linking to Amazon.com and affiliated sites. As an Amazon affiliate I earn from qualifying purchases.