Plan to visit outdoor markets when travelling in Europe with kids.
If you will be traveling in Europe with your family then definitely plan to take your kids to an outdoor market.  It may not sound like it would appeal to kids but most village markets are a highly entertaining way to spend an hour or two even for kids who balk at going shopping at home.  There's just something about shopping outside with the crowds, wandering from stall to stall, that makes it seem more like a carnival than a shopping trip.
On a recent summer vacation we spent two weeks in Provence in the small village of Gordes and the two trips that we made to the weekly market were among the highlights of the trip for for my daughters.  We would head into the village with one of the large straw baskets supplied at the villa we were renting and start filling it with all sorts of delights – fresh baguettes and pastries, juicy mouthwatering fruit, delicious cheese and olives and whatever little doodads Emma had poked around and found.  It is a very simple but pleasurable activity that will keep the kids amused and even allow them to practice speaking a little bit of French (or whatever the local language is where you are visiting) while they conduct their business at the market.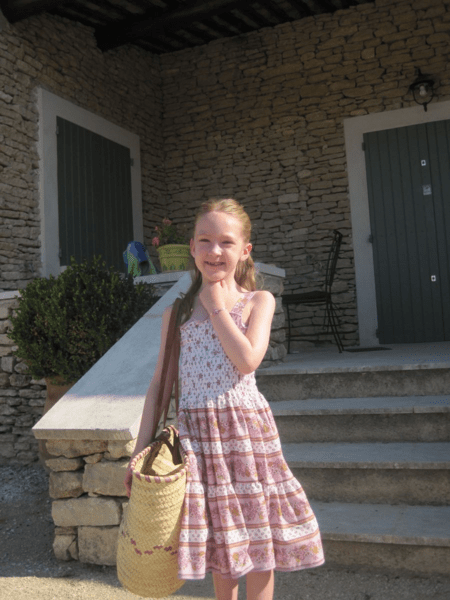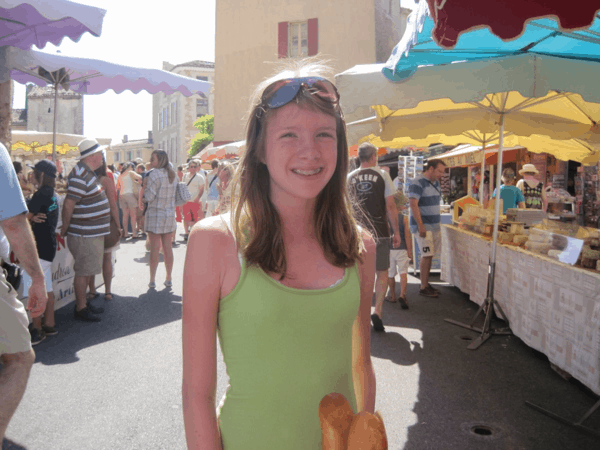 Katie loved the fresh baguettes at the market in Gordes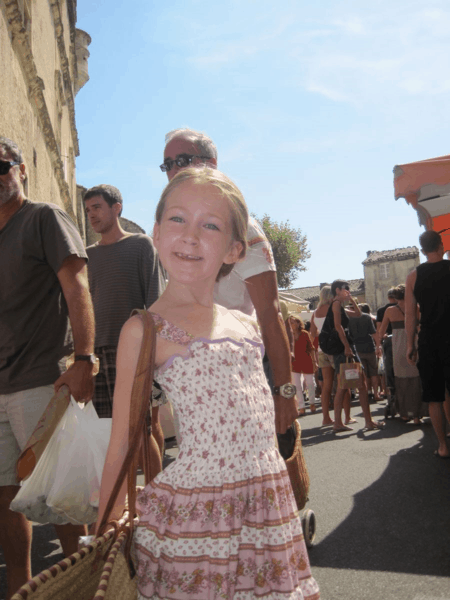 Emma enjoying the market in Gordes, France
Have you liked our Facebook page yet? I post articles from the blog there as well as photo albums from our travels and other travel news. Or, if you prefer, you can subscribe to the free RSS feed or sign up for an email subscription to keep up-to-date on our travel adventures.