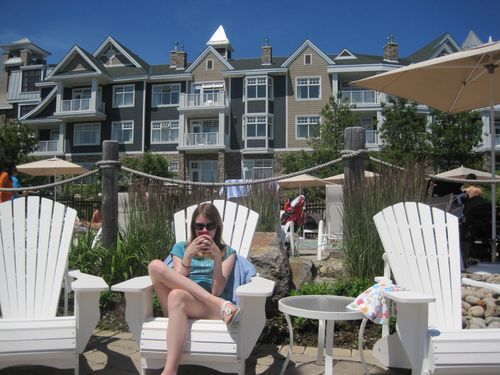 Yes, that's my teen-aged daughter, and no the photo is not posed.  Our family spent the Canada Day long weekend at The Rosseau Muskoka, A JW Marriott Resort & Spa in one of the most picturesque regions of the country.  The weather was absolutely perfect and the resort had an entire booklet of activities to choose from.  So what did Katie want to do - swim, canoe, kayak, melt s'mores on an open fire pit?  No, none of the above – she wanted to sit with her cellphone texting and playing on Facebook.  
Teenagers are notorious for being frustrating travel companions.  They can be worse than toddlers in foiling a parent's well-thought out vacation plans and their mood swings can rival any 2 year old's raging tantrum.  It's honestly enough to drive most parents to throw in the towel and decide either not to go anywhere or to leave the teenagers at home.  Parents who would like to continue to travel with their teen-aged children would be well advised to plan with their teen's needs and interests in mind, learn some coping strategies for dealing with teen behaviour and decide upfront how much freedom to give their teenagers in determining which family activities they are going to participate in on vacation. 
Should I have made her leave the phone in our room?  Maybe.  But if I had she would have been miserable and would have made sure that everyone in her vicinity was miserable as well.  She agreed to come to the beach with us if I let her bring the phone and I decided that I could live with that.  We actually ended up having a very pleasant chat by the lake (she's very adept at multi-tasking) as we sat in the Muskoka chairs and watched my husband and younger daughter playing in the lake and kayaking.  Parenting a teenager, either at home or on vacation, is all about picking your battles.  Knowing that this was one that I couldn't win, I opted for a peaceful afternoon with my daughter even if it meant that others were wondering what kind of crazy mom lets her kid bring a cellphone to the beach.
Related Links
5 Tips for Traveling with a Teenager
Family Fun at the Rosseau Muskoka

Have you liked our Facebook page yet? I post articles from the blog there as well as photo albums from our travels and other travel news. Or, if you prefer, you can subscribe to the free RSS feed or sign up for an email subscription to keep up-to-date on our travel adventures.