Albergo Santa Chiara is a great option for families in central Rome.
One of the most challenging aspects of traveling in Europe with kids is finding accommodations that are suitable for families.  Most European hotels are much smaller than their North American counterparts and many do not accommodate more than three guests in a room.  Apartment rentals are rapidly gaining in popularity, however, they often aren't a viable option for families visiting a European city for only a couple of days as there is generally a minimum rental period.
This post contains affiliate links. If you click an affiliate link and make a purchase then Gone with the Family may receive a small commission at no additional cost to you.
I struggled with finding a suitable hotel for my family while planning a recent three night stay in Rome.  My two daughters, aged 14 and 8, do not sleep well together so three beds (or two and a sofa) are ideal for us.  We also like to find central accommodations as I prefer to explore a city by foot and like to have the option of walking to nearly everything that we want to see.  After a great deal of research, I settled on Albergo Santa Chiara which was recommended for families by a number of guidebooks and websites.  It turned out to be an ideal choice for our family.

The Hotel Albergo Santa Chiara, located at 21 Via Santa Chiara, is a 3-star family-run hotel in the historic area of Rome.  The hotel was originally built as a tavern in 1939 and has expanded so that it now consists of close to 100 rooms spread across three connected buildings.  The hotel is located behind the Pantheon and near Michelangelo's obelisk in Piazza della Minerva.  (I was quite disappointed that the distinctive obelisk was surrounded by scaffolding and not visible while we were there.)  It would be next to impossible to find a better location in central Rome.  We walked nearly everywhere during our three day stay – apart from a cab ride back from the Vatican due to fatigue rather than distance.
The Albergo Santa Chiara has all the amenities of a modern hotel.  It is fully air-conditioned, has in-room safes and there are flat-screen LCD TVs with cable in the rooms – our apartment had one in the master bedroom and one in the living room.  There is fee-based WIFI available in the rooms and in public areas.   All members of the front desk staff that we met spoke English very well and were welcoming, professional and helpful with any requests we had for directions or dinner recommendations.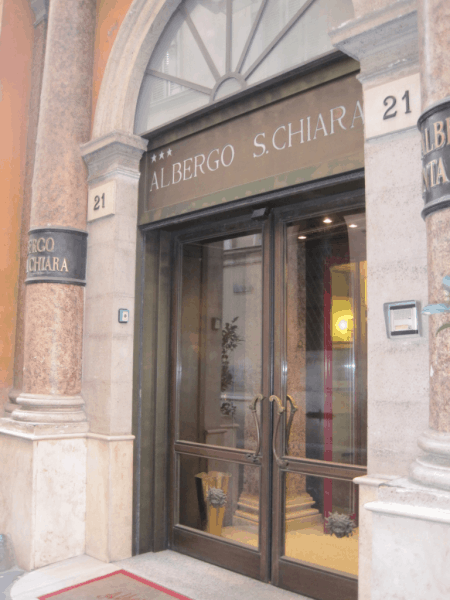 Our reservation at the hotel was for a suite which I expected to have a separate bedroom and two small sofa beds in the living quarters.  When we checked in we were given a 2 bedroom apartment on the 5th floor which had one large bedroom with a king-size bed, a small bedroom with a single bed and a sofa bed in the living room.   Our accommodations were simple, clean, comfortable and spacious.  There was a time when I would have preferred a more luxurious room, however, as our family has grown older (and bigger) having a comfortable, clean space to spread out in trumps all other considerations.  Room rates vary by the time of year and the type of accommodations desired.  We paid 360 Euros a night – certainly not inexpensive but quite reasonable, in my opinion, for central Rome and the amount of space we had and in comparison to other hotels in the area.  (There was also an additional "city tax" of 2 Euros per person and per night.) 
Our apartment had a few interesting quirks that distinguished it from a standard hotel room.  As the hotel itself is spread across three buildings it can be a bit maze-like with numerous corridors and stairways.  I am a bit directionally-challenged at the best of times so I mostly just let the kids lead me to and from our room.  If I had ever gone out on my own I would have been hopelessly lost.
As well, we were on the top floor of the building and the roof was sloped in our rooms (as is apparent in the photo of Emma in her bedroom).  This was particularly amusing in the bathroom where the bathtub and hand-held shower were situated below the slope.  I'm only 5'2″ and I had to be careful not to hit my head on the wooden beams while trying to wash my hair – it was even more difficult for my much taller husband.  We laughed quite a bit about our idiosyncratic shower over the course of our three day stay.  Who knew a shower would become a memorable experience in Rome?  These quirks give the hotel character and are what distinguish it from cookie-cutter North American style hotels.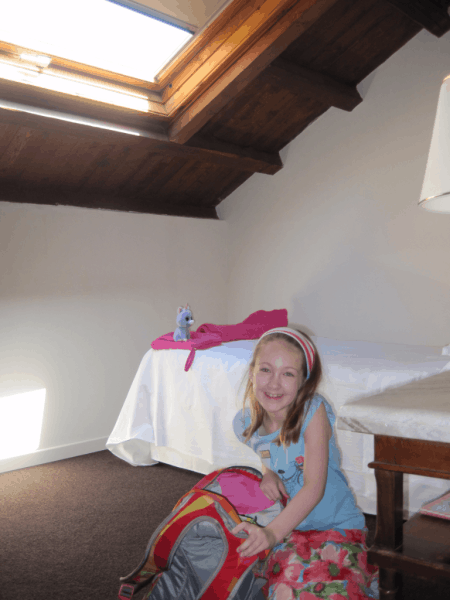 Emma in her bedroom at the Albergo Santa Chiara
One of the loveliest aspects of our apartment was the beautiful terrace overlooking the city.  It was quite peaceful, especially early in the morning, to enjoy the warmth of the sun and the lovely view over the neighbourhood rooftops.  On the terrace, I felt like I was living in Rome and not a guest in a hotel.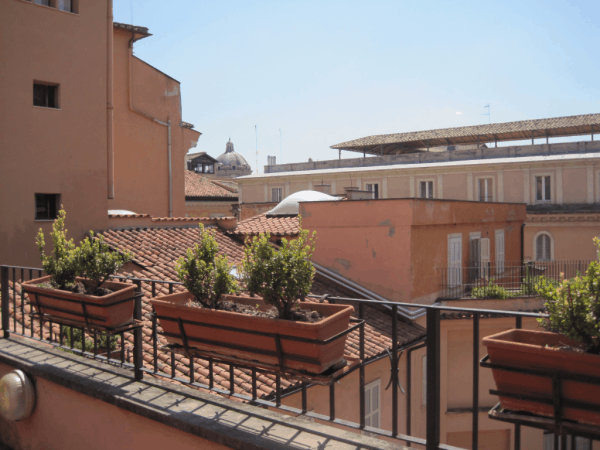 View from our terrace
A breakfast buffet was included in the price of the room so we enjoyed a tasty meal of fruit and pastries in the breakfast room each morning before heading out.  There isn't a restaurant on site, however, there are many restaurants, cafés and gelaterias within easy walking distance of the hotel. 
Our family was thoroughly satisfied with our stay at Albergo Santa Chiara.  We would definitely choose to stay here again on a return trip to Rome and I wouldn't hesitate to recommend it to other families looking for central, spacious, family-friendly accommodations in Rome.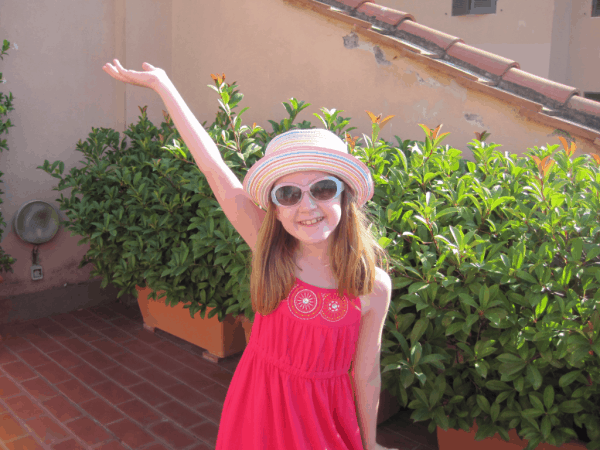 Emma on the terrace our last morning – Arrivederci Roma
Related Links
Budget Tips for Family Travel in Europe
25 Tips for International Travel with Kids
7 Reasons to Take Your Kids on a Mediterranean Cruise
Touring The Vatican With Context Travel
Cruising On The Celebrity Equinox With Kids
Have you liked our Facebook page yet? I post articles from the blog there as well as photo albums from our travels and other travel news. Or, if you prefer, you can subscribe to the free RSS feed or sign up for an email subscription to keep up-to-date on our travel adventures.
Pin this for later