A pizza making class in Sorrento was one of the more memorable experiences on our family cruise in the Mediterranean.
On a recent Mediterranean cruise our family had the opportunity to make our own pizza at Tasso Ristorante E Pizzeria located at Via Correale in Sorrento, Italy.  Our ship was docked in Salerno for the day and we had arranged for a driver to pick us up and drive us to Pompeii. I wasn't sure what else we should do that day as it was the last day of a port-intensive cruise and I knew that the kids would be quite tired by then. 
My contact at Rome in Limo suggested that the driver take us to Sorrento and that we could attend a pizza making class there and explore a bit before returning to our ship via The Amalfi Coast.  I wasn't sure what to expect but it turned out to be one of the most fun things we did on the trip and probably one of the things that the kids will remember the most.
We arrived at Ristorante Tasso which is a fairly large restaurant that can seat more than 250 people.  The restaurant is named after the 16th century poet Torquato Tasso who hailed from Sorrento.  We were taken to our table where we left our things, donned hats, aprons and plastic gloves and then followed our host into the kitchen where we met the man in charge of the wood burning pizza oven.
We were each given some pizza dough which we kneaded and pressed into appropriately-sized discs before adding cheese to each.  Emma was in charge of adding the toppings and as far as she is concerned there can never be enough cheese on a pizza.  (Incidentally, she is also the only family member who agreed to having photos in paper hats published on-line.)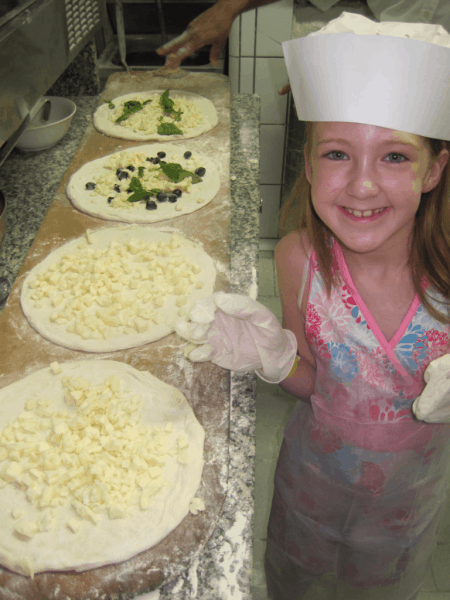 Adding lots of cheese to the pizzas
After adding all the fresh toppings we wanted each pizza was placed in the large wood burning oven to be baked.  When the pizzas were ready we each removed ours from the oven using the long paddle (and with assistance from the pizza maker).  Emma could not believe how hot it was in front of the oven.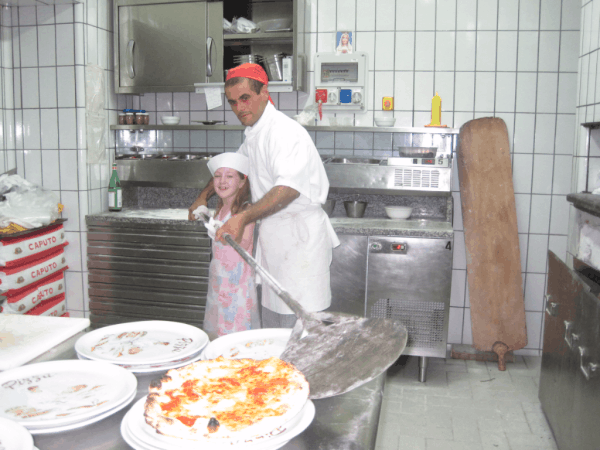 Removing pizza from the wood burning oven
The finished product – doesn't it look delicious??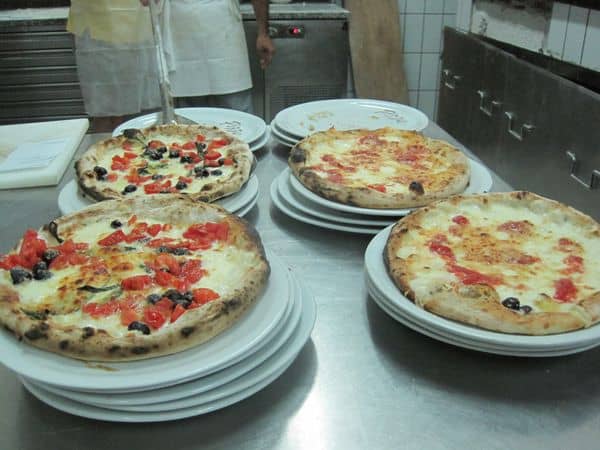 We said grazie and ciao to our teacher and headed to the dining room to eat the pizza that we had made ourselves.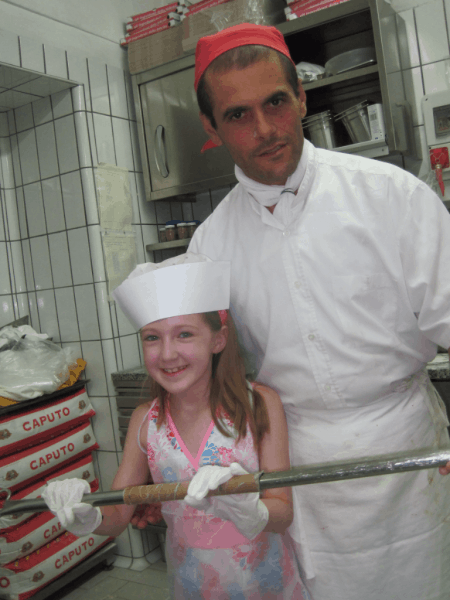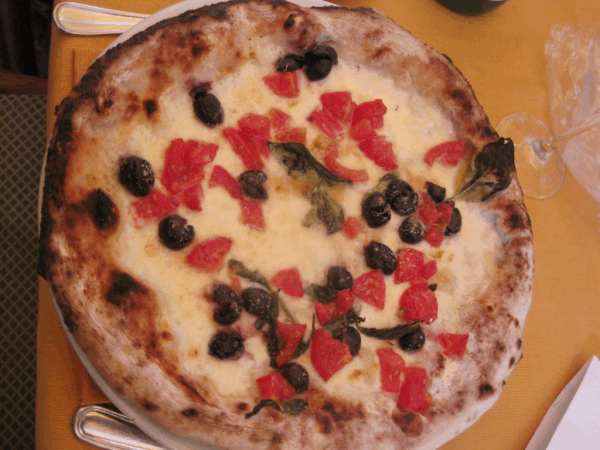 My pizza – tomatoes, black olives, fresh parsley and cheese 
The verdict – best pizza we have ever tasted – and we made it ourselves!  
Related Links
Exploring Rome with Kids in 2.5 Days
Touring the Vatican with Context Travel
Cruising on the Celebrity Equinox with Kids

Have you liked our Facebook page yet? I post articles from the blog there as well as photo albums from our travels and other travel news. Or, if you prefer, you can subscribe to the free RSS feed or sign up for an email subscription to keep up-to-date on our travel adventures.
   Pin this for Later