Highlights of a day spent visiting Pompeii and Sorrento on a family Mediterranean cruise aboard the Celebrity Equinox.
On the final day of our Eastern Mediterranean cruise on the Celebrity Equinox last summer we docked in Salerno, Italy.  This was an almost-last-minute change of port as we had originally been scheduled to dock in Naples which is about 48km away.  I had booked a tour for our family with Rome in Limo and, fortunately, we were able to adjust our itinerary slightly and still tour Pompeii and attend a pizza-making session in Sorrento.  The change in itinerary actually had quite a favourable outcome as it meant that we would now be able to drive back to the ship via the Amalfi Coast.
When we exited the ship, our charming driver/guide, Gennaro, was waiting for us and after a brief discussion we determined that it was best to head to Pompeii first so that we would be there during the earliest part of the day rather than the hottest.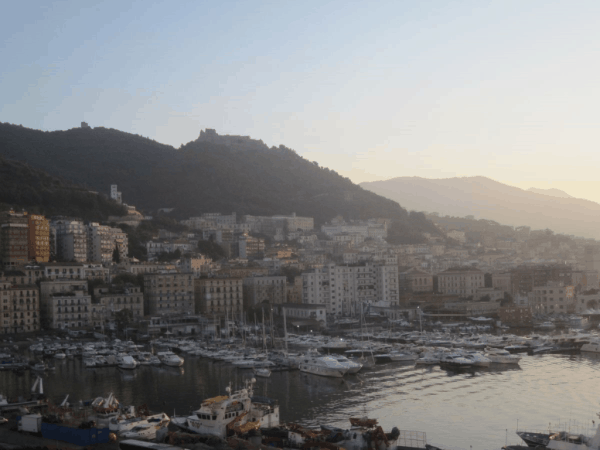 Docking in Salerno in the morning
A Tour of Pompeii
We drove to Pompeii where we met our personal guide, Patrizia (also arranged by Rome in Limo) for our 2 hour tour of ancient Pompeii.  Even though we were starting around 9:30am it was already getting quite hot and there is very little shade among the ruins.  Patrizia was a knowledgeable guide who managed to keep the girls engaged over the course of our tour.  We did have to stop once for a snack break and to get out of the sun partway through the tour as the girls were finding the heat exhausting and we were passing by a shop which clearly had candy bars for sale.
The archaeological site of Pompeii is a UNESCO World Heritage Site that is visited annually by approximately 2.5 million people.  The Roman city of Pompeii, along with the nearby city of Herculaneum, was buried by the eruption of Mount Vesuvius on August 24th A.D. 79 and it wasn't until 1748 that the ruins were rediscovered and excavation began.  Pompeii is located about 8km from Mt. Vesuvius and is now a fair distance inland from the sea although at the time of the volcano's eruption it was nearer to the coast.  Emma was quite interested in visiting Pompeii because she had read Vacation Under the Volcano from the Magic Tree House series of books in which Jack and Annie visit Pompeii just before the volcano's eruption. 
One of the most memorable facts that we learned was that these large stepping stones were used by the people of Pompeii to cross the streets.  Wheeled vehicles could easily pass by them, however, they kept the citizens from getting their feet too messy in any mud and debris that might have been in the streets.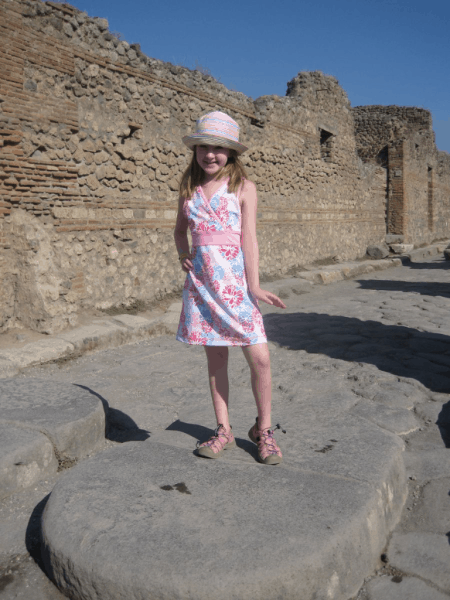 Emma on stones used for crossing the street in Pompeii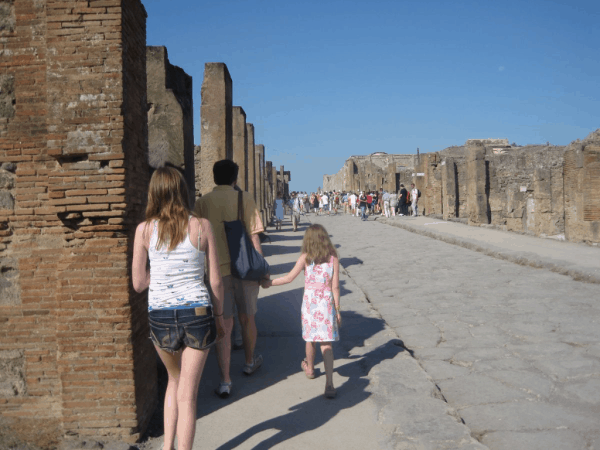 Walking along a street in Pompeii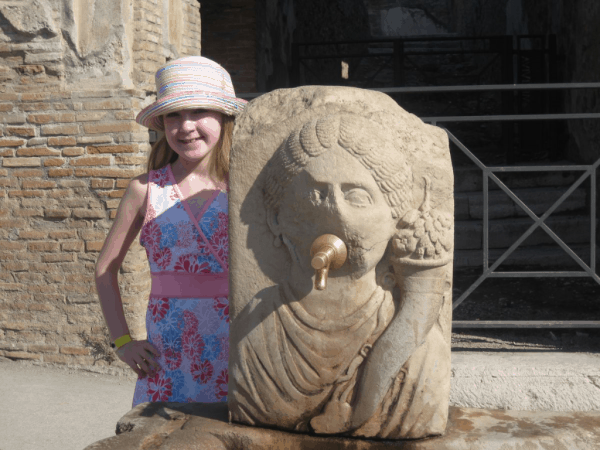 Emma admiring a fountain in Pompeii
Mount Vesuvius looms behind the ruins of Pompeii and makes for such a beautiful photo that it is difficult to imagine that it caused the destruction of the city and neighbouring communities and killed an unknown number of the region's inhabitants.  Vesuvius is still an active volcano and it's seismic activity is carefully monitored today by scientists.  Scientists now know that the more time has passed between seismic events then the more serious an eruption will be.  This is what led to the cataclysmic event of 79 A.D., however, ancient Romans had no way of detecting this pattern and monitoring Vesuvius.
It is quite shocking how well-preserved the ruins of the city have been by the layers of ash that covered them.  The details that have been uncovered in places such as the baths is unbelievable.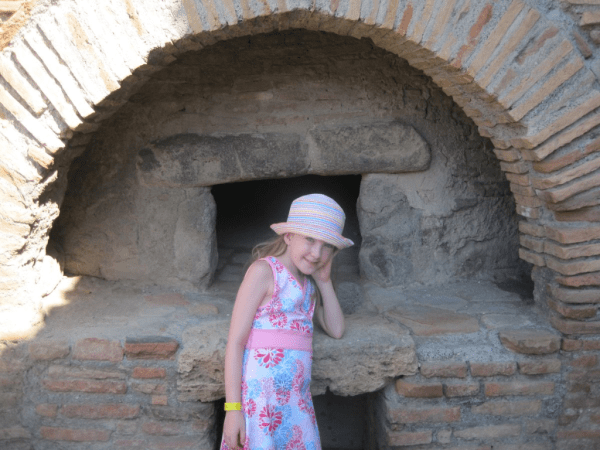 We briefly visited the area of the ruins where the casts of bodies that were recovered is located, however, we did not linger as Katie found it quite disturbing.  If you are traveling with children and they have a tendency to be sensitive about such things then it is probably a wise idea to either discuss it ahead of time or avoid that area altogether. 
Emma was thrilled to find statues of gods in Pompeii as Roman/Greek gods were becoming the central theme of our trip as far as she was concerned.  (I would definitely recommend stoking your elementary school age child's interest in Greek and Roman mythology before heading to the Mediterranean as it will make sightseeing infinitely more exciting for them.)
The ruins of Pompeii are vast – I was taken aback by the extent of the archaeological site as it was much more than what I had expected.  A thorough tour of Pompeii would probably take hours but if you are traveling with children then 1.5 or 2 hours will be adequate as it will be difficult to sustain their interest for longer than that period of time.  Emma was most interested in the facts that she learned about everyday life at the time, such as the large stones that were used for crossing the street and the ovens that were used for cooking, as well as the statues of her favourite gods.  I would recommend hiring a tour guide in order to see the highlights in as short a time as possible and to better understand the ruins.  Without a guide one would undoubtedly waste time attempting to navigate the site and miss out on the context that an informed guide would add to the tour.
It will be particularly important not to plan a lengthy tour if you are visiting during the summer months as the heat can become unbearable quite quickly and there is essentially no shade on the site.  It is imperative that families arrive at Pompeii as early as possible in the morning and be sure to apply sunscreen ahead of time, drink plenty of water to stay hydrated, wear comfortable walking shoes and try to remember to bring a hat (we forgot).
Outside the Pompeii site there is a shopping complex where we paused so that the kids could have some refreshing gelato.  There is also a souvenir shop and restrooms inside with an attendant who expects a tip.
Gennaro was waiting for us when we completed our tour of Pompeii and we started the drive to Sorrento.
An Afternoon in Sorrento
Leaving Pompeii we headed toward Sorrento, a beautiful drive which hints at what was to come as we headed down the Amalfi Coast later in the afternoon.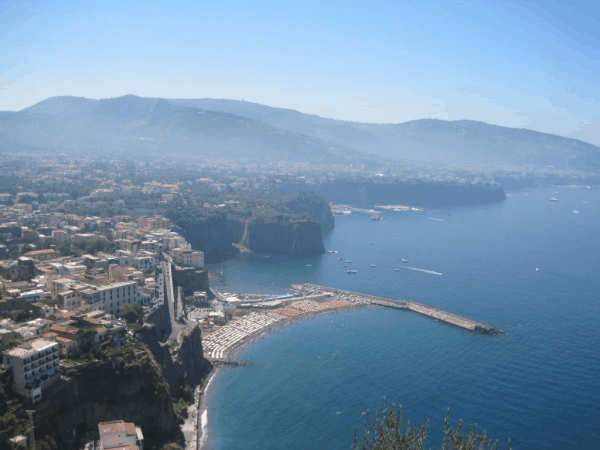 Driving the Italian coastline toward Sorrento
We arrived at the Ristorante Tasso in Sorrento where we were scheduled to attend a pizza making class early in the afternoon.  We were seated at a table and outfitted with hats, aprons and gloves and then escorted back into the kitchen to prepare our pizzas and bake them in the large wood-burning oven.
Once they were baked we headed back out to the dining room to enjoy our handmade pizzas and it was the best pizza that I had ever tasted.  This was easily one of the most memorable experiences of our vacation.
We had some time remaining when we had finished our pizza lunch so we went for a stroll around the beautiful town of Sorrento which is famous for its production of limoncello.
These were the most impressive looking lemons that I have ever seen – they were the size of grapefruits!
The lemon connection was apparent in many of the shops which carried a full array of lemon products.  I purchased one of the most delicious snacks that I have ever had at this shop – almonds covered with a layer of lemon paste and then chocolate as the outer layer.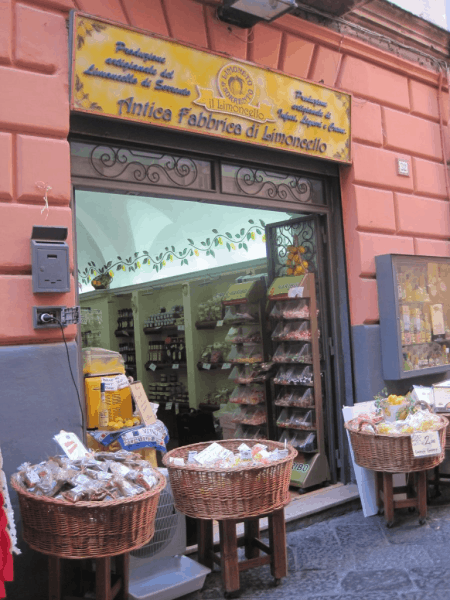 One of many shops selling all things lemon
We were able to drive down the Amalfi Coast on our return trip to Salerno.  It is a stunning drive along a narrow cliff-side road and I was happy that Gennaro was driving as I'm pretty sure that I would have been too nervous to enjoy it if we hadn't been in the hands of an experienced driver.  The traffic that afternoon was getting quite heavy and there were a lot of tour buses on the road.  Watching a bus round the curves in this road is quite interesting.  Unfortunately, there was no time to stop for photos as we had to be sure to return to the ship prior to its departure for Rome.
This is an area of Italy that I would love to return to some day in order to enjoy a few days along the coast as well as a day trip to the island of Capri.
For more tips on exploring Pompeii with children check out Tips For Tackling Pompeii With Kids at Suitcases and Sippycups. 
Related Articles
Cruising On The Celebrity Equinox With Kids
Have you liked our Facebook page yet? I post articles from the blog there as well as photo albums from our travels and other travel news. Or, if you prefer, you can subscribe to the free RSS feed or sign up for an email subscription to keep up-to-date on our travel adventures.